"I Am Fan Yusu" (我是范雨素) (Full Translation)
In late April of 2017, Fan Yusu became an overnight literary sensation in China when her essay "I Am Fan Yusu" was published on online platform Noonstory.com and soon went viral. Here is a full translation of the original Chinese essay. Translation provided by What's on Weibo.
In late April of 2017, Fan Yusu became an overnight literary sensation in China when her essay "I am Fan Yusu" was published on online platform Noonstory.com and soon went viral. Here is a full translation of the original Chinese essay. Translation provided by What's on Weibo.
"I Am Fan Yusu", by Fan Yusu
1
My life is like a book that's dreadful to read – fate has made its bookbinding very messy. I am from Xiangyang in Hubei, and started to do private teaching at the local village school when I was twelve. If I hadn't left, I would have continued to teach and would have become a proper teacher. But I couldn't bear to stay in the countryside and view the sky from the bottom of the well, so I came to Beijing. I wanted to see the world. I was twenty years old then.
Things were not easy after coming to Beijing. It was mainly because I was lazy and stupid, and because I was not skillful with my hands and feet. What other people could do in half an hour, would take me three hours. My hands were too slow – slower than most people. I worked as a waitress at a restaurant and would drop the tray and break the plates. I just made enough money to keep myself from starving. I wasted two years in Beijing; I was the type who couldn't see the flame of my dreams. Then, I rushed myself into marrying a man from the northeast of China.
Within a time frame of just five or six years, we had two daughters. But their father's business was doing worse and worse, and he started to drink heavily every day and became aggressive. I simply couldn't bear the domestic violence and decided to take my daughters back to my village in Xiangyang to ask for help. He never even came looking for us. I later heard he went from Mongolia to Russia. He's probably lying drunk on some Moscow street now. In my hometown, I told my mother that I would go and raise my two daughters myself.
2
During our childhood, my sister and I used to lie leg-to-leg in bed reading novels. When our eyes got tired, we would chat for a bit. I asked my sister: we've read countless biographies, which famous person do you admire the most? My sister said: I cannot see or touch the people described in these books, so they can't really convince me. The person I admire the most is our brother.
"Out of all the people in our lives that we can see and touch, it is our mother I admire the most."
I listened to her, but I could not accept what she said. Sure, we cannot see or touch the people in our books. But out of all the people in our lives that we can see and touch, it is our mother I admire the most. Our brother is nothing but a child prodigy.
My mother's name is Zhang Xianzhi and she was born July 20, 1936. At the age of fourteen, she was asked to become the director of the local Women's Federation because she was a good speaker and problem-solver. She started doing that in 1950 and held that job for forty years, even exceeding the reigning time of Saddam Hussein and Gaddafi. However, that is not why I admire my mother.
When my mother was only a few years old, she was betrothed by my grandfather to the next-door neighbor, my father. The arrangement would later financially benefit my mother's brother. My father was a handsome and elegant man in his younger days, but the relationship between my parents was not good at all and they would fight every day.
For as long as I can remember, the impression I had of my father was like that of the shadow of a big tree: you can see it but it is of no use. He did not talk, his health was not good, and he did not have physical strength. The care for the five children in the house was fully in my mother's hands.
My mother was a rural woman who was born in the evil old society, and she had never attended a single day of school. But she picked out the names for me and my four siblings. She named my oldest brother Fan Yun ['yun' for 'cloud'], and the younger brother Fan Fei ['fei' for 'fly']. She hoped they would grow up like the dragon and the phoenix, riding the clouds and mounting the mist. She gave us three sisters names that were far more casual. My oldest sister was named Fan Guiren, meaning that she was conceived when the osmanthus flowers were in bloom. My other sister was born at the time of the plum blossom, so she should have been named Meiren [梅人 'plum person'] but because it sounded the same as the word for 'moldy person', it was an unlucky name and she was called Fan Meihua [梅花 'plum flower']. I was the youngest child, born when the chrysanthemum flowers were in bloom, so my mother named me Fan Juren ['ju' for chrysanthemum]. When I was twelve, I read that year's most popular romance novel Misty Rain, written by auntie Qiong Yao. I then changed my name into Fan Yusu ['yu' for rain, lit: 'the nature of rain'].
From when he was little, my eldest brother would study independently but he had no talent for going to school. Every night he would rather sleep than study and he did not pass the college entrance exam in the first year. The next year he was also not admitted. My brother was upset and said that if he would not pass the college entrance examination he would leave the countryside. He wanted to become a writer and go to town. Our family is very poor, and with my two sisters both being disabled and having to see doctors for many years, we didn't have a dime. But because brother wanted to be a writer, we had to invest in him. He exchanged the household's wheat and rice for money and bought literary books and classics for it. Without grain, we ate sweet potatoes. Fortunately, not one of mother's five children starved to death, and not one child complained that there was not enough food.
"My mother had five children, and not one of them was worry-free."
My oldest brother read and wrote for several years, but he did not become a writer. He had a very thick literary air about him, he did not care about his appearances, and he would talk a semi-comprehensible gibberish. In the village, these kinds of people would be called "literature drinkers," much despised like the character Kong Yiji in the work of Lu Xun.
However, my brother and Kong Yiji were in different positions, because my brother had our brave mother. Thanks to her, not one person would give my brother a look of disdain.
Mother was very eloquent. When she spoke she sounded like a state leader. She was a matchmaker for a long time, the people in Xiangyang would call her "Red Leaf." She would not charge a penny and just did it to help out – we would call it a volunteer nowadays. In the early eighties of the last century in rural areas, every family had many babies, and the boys would grow up and marry, the girls would grow up to be married off. People with a talent like my mother were most welcome.
That my oldest brother did not become a writer and never left the countryside was not a pressing matter. But it was a big deal for him to get married. In the village, people like my brother were called 'literary madmen,' not worthy of marrying. But since we had such an awesome mother, who could sell black as white, she turned brother's shortcomings into an advantage. With my mother's majestic power and prestige, our dirt-poor household found my big brother a wife as sincere and honest as a spring pagoda tree.
After getting married, my oldest brother was still pedantic. He said to mother that although the village government body was small, it was still part of the government's abuse and corruption. He wanted my mother to quit her job as village official because he found it disgraceful. At that time, although I was young, I thought my big brother was acting silly; what corrupt officials were nibbling on two sweet potatoes for dinner every night?
But my mum did not say anything, and she resigned from the village government after forty years.
Five months after my big sister was born, she got a high fever and developed meningitis. At that time, the traffic was not convenient, and my mother made my fast-running uncle carry my big sister for thirteen miles to the Xiangyang city center hospital. But the hospital could not cure my big sister's disease. My sister did not have a fever, she was mentally retarded.
According to my mother, the injections were too heavy in those days, and she said my big sister had been poisoned by drugs.
Big sister was imbecilic, but my mother never gave up. She believed she had the power to change this. She believed in Western medicine, she believed in Chinese medicine, she believed in spiritual healing, – she would hold on to any remote chance.
Often someone would come to our home telling us that in this or that place there was this immortal person or some spirit. Mother would let father help my big sister to pray to a talisman, and to drink spiritual water. Every time they had hope, and every time they were disappointed. My mother never gave up.
My younger older sister had polio. She continuously received medical treatments until the age of twelve. She had surgery on her legs and then slowly improved.
My mother had five children, and not one of them was worry-free.
3
I used to be very pretentious.
I am my mother's only healthy little daughter, born when she was nearly forty years old. During my childhood, my mother was busy and never paid much attention to me. When I was about six or seven years old, I taught myself to read novels. This is not something to boast about since my sister and cousin could read books as thick as bricks. The only thing that made me really proud of myself as a child, was when I read a vertically printed version of Journey to the West in traditional characters. No one knew it and no one praised me. It was just me being proud of me.
"If a person cannot feel happiness or satisfaction in life, they simply aren't reading enough novels."
At that age, it was easy to become arrogant. My grades were the best of my class. I never paid attention to class, instead I revisited the novels I read in my mind. I must have read the novel Mei Laoyue a thousand times in my mind.
When I was in primary school, the literary publications that came out the most were the 'educated youth literature,' which would teach people about escaping train ticket fares, stealing vegetables from fellow villagers, picking fruit, beat the guard dogs of peasant households, and scheme to make a dog stew.
Looking at these novels, I felt so happy that we were nibbling on two sweet potatoes for every meal. We didn't need to steal, didn't need to fight, there were no people hitting me, and we also had two potatoes, and could do some light reading. At that time, the young me developed a way of thinking that if a person cannot feel happiness or satisfaction in life, they simply aren't reading enough novels.
I didn't just read educated youth literature, I also read Robinson Crusoe, The Mysterious Island, Great Expectations, Oliver Twist, In the World, The Stories of Uncle Lei Feng, The Song of Ouyang Hai, or Golden Light. By reading these novels, I became thoroughly familiar with Chinese geography, world geography, Chinese history, and world history. Just tell me the name of a place, and I know where in the world it is, in which continent. Name a river and I know in which of the world's oceans it flows.
At the age of twelve, I was about to burst. I wrote "walk barefoot to the end of the world" on any blank piece of paper in my room. In the summer vacation when I was twelve, I walked away without saying goodbye and went down south to see the big world.
I chose the south because of a story in a magazine I saw in 1982. It was about a philanthropist who was specialized in taking care of homeless children. She took in a boy from the streets who slept in cement pipelines in the winter and whose legs had frozen and had to be amputated. It left a deep impression on me, and I knew that if I would go and wander around Beijing, my legs could freeze and I could lose them.
"With my short hair and dirty, unwashed face, I looked like a homeless boy nobody cared about."
As I had learned from the seventy-two tricks from educated youth novels, I sneaked in without a ticket and went to Hainan Island, where flowers bloom all year long. There are papaya and coconut trees on the streets. Lying under the tree, you can eat papaya and drink coconut milk. When I grew tired of eating fruit, I went through garbage bins to find something to eat. It was the lifestyle of the heroes in my books. With my short hair and dirty, unwashed face, I looked like a homeless boy nobody cared about. Human traffickers couldn't see my gender and didn't notice me.
But I grew tired of this life. There was no school to go to, there were no novels to read, and there was no mother. I'd wandered around Hainan Island for three months, and decided to return home. I stowed away the entire journey and arrived back to my hometown, returning to my mother's side.
Once I came back, there was only my mother who would still love me with her caring eyes, but my father and eldest brother hated me to the bone and said I had made them lose face. In the village, my oldest male cousin from my father's side went to my mother and said I had made the entire family Fan lose face and that she should give me a good beating and drive me away.
At this time, the twelve-year-old me experienced an awakening. In our Xiangyang village, if baby sons (boys) would leave for several days and come home, it would be a trivial matter. But if a baby girl (daughter) would only leave the home, she would be like the eloped criminal from classic novels. In our village, no girl had ever done such a thing. By leaving home, I had hurt my virtue and shamed my family.
I was embarrassed to face people and was too ashamed to go to school. The crucial point was that I also did not have the courage to wander off. How could I go on living? I was just surviving.
Mother did not abandon me. This time, my child prodigy second eldest brother had finished college, and as a person with a high IQ and EQ became an official. Mother ordered my child prodigy brother to seek a private teacher's job for the twelve-year-old me. He let me teach in a remote primary school and found a place for me.
The years slipped away and crumbled. In the blink of an eye, mother's five children were all grown up. My mother had searched for a medical treatment for my oldest sister for twenty years but still had not cured her illness. In the year my sister turned twenty, she caught a high fever and medical treatment was ineffective. She died.
My second elder sister grew up and became a literature teacher at a rural middle school. When she was teaching, her gifted scholarly boyfriend went to Shanghai to seek a different future. My sister, a thousand classical poems stored in her mind, bitterly said: "Only those who cannot read a single character have a poetic quality." My sister then found an illiterate man who had not attended a single day of school and hastily made arrangements for herself.
My oldest brother was still in the village working on the land. While he was weeding, spading and shoveling, his dreams of becoming a writer were shattered. Big brother is still farming now, and he lives his days in bitterness. He is no longer asking why, nor lamenting his faith.
My second brother who was already accomplished at a young age had turned to gambling at the age of forty. Maybe it was because he had too much luck as an official, but there was only one word for my brother's gambling: losing. My brother took on high-interest loans after losing his money. Before long, he could no longer pay off his debts and would spend every day running, moving, and hiding to shake off debt collectors. He also lost his official title.
Due to the hypocrisy of the world, my brother had no friends or family left. Late at night, he would pace back and forth over the Han River bridge.
At this time, my mother stood up and consoled my brother all the time. Mum said that her forty-year-old son was a good kid. That it was not his fault, that he was misguided by his government official friends.
My mother said that she was sorry that she had not let my brother stay in school longer. If he could have returned, he might have passed the university exam in such a way that he would be admitted to a university in a big city, and would have become a government official of a major metropolis, where the officials are of high quality and where he would not be misguided and would not have become a gambling addict. Mother said: you're not dead, the debt is not bad, there's nothing to be afraid of – just keep on living a good life. With my mother's love, my brother is still living strong.
4
When I returned home to Xiangyang with my two daughters after leaving the violence in my home and my alcoholic husband, my mother was calm and collected and told me not to worry. But my oldest brother avoided me like the plague and wanted me to leave and not cause him any problems.
According to the tradition of rural Xiangyang, adult daughters are like spilled milk, and my mother did not have the power to help me. My mother was a strong politician, but she did not dare to stand up against China's five thousand years of three principles and five virtues. My loving mother told me, it is not important that my baby could not attend school, I will pray to the gods every day that they will give you a way to make a living.
"I understood that I was now merely a passer-by in the village where I was born and raised."
At this moment, I realized I no longer had a home. For us as poor rural people, it is very hard to get by in life, and the affection between family members naturally is not that deep. I did not resent my brother, but I understood that I was now merely a passer-by in the village where I was born and raised. My two children were even more like rootless, floating duckweed. In this world, we only had my mother who loved us.
I took my two children to the capital and became a nanny. I looked after other people's children and had one day off every week. In a rented room in Picun, east of the fifth ring road, my oldest daughter looked after her younger sister.
I was really lucky, as the family where I worked were local tyrants that were on the Hurun list of the rich and powerful. My employer's wife had two children who were already grown up. I looked after the baby of my male employer's mistress.
The mistress of my employer had a boy and a girl, the oldest kid was studying at an international school, the little girl was a three-month-old baby. My employer hired a Shaolin martial arts instructor for his son, and opened a space of three hundred square meters in his own home office building, fitted with pickets, sandbags, and parallel bars….all for the bastard son to use by himself. Besides studying martial arts, he also found him a live-in Renmin University graduate tutor responsible for picking up the child from school and dropping him off, and also guiding him in doing his homework and taking him to martial arts practice. He also taught the six-year-old kid computer programming.
I was only responsible for the three-month-old daughter. The little baby slept irregularly and would often wake up in the middle of the night. I would nurse her and rock her to sleep. At those times I would think of my two girls in Picun. They did not have a mummy to bring them to bed. Would they have nightmares? Would they cry? I kept thinking and thinking, and cried silently. Thanks to the late night, nobody saw my tears.
My female employer was 25 years younger than my male employer. Sometimes I would get up in the middle of the night to comfort the baby, and would see her sitting on the sofa with her delicate make-up, waiting for her husband to come home. Her figure was more graceful than a model's and her face was prettier than that of film star Fan Bingbing. But she was still like an imperial concubine from a Palace drama, painstakingly flattering her husband as if she would not be fed if she did not honor him. Maybe if her predecessors would have enough of the bitter, she would not have put up this useless struggle.
Every time I would absent-mindedly ask myself if I was living in the Tang dynasty, in the Qing dynasty, or if this was the new socialist China. But I had no supernatural powers, I haven't time-traveled!
My eldest daughter made two friends of the same age who did not attend school. One was named Ding Jianping, the other Li Jingni. Ding Jianping came from Tianshui in Gansu, and did not go to school because mum had left dad, and because dad was angry. Dad said that public school did not allow migrant children to attend, and that they could only attend migrant sponsored schools which would have countless different teachers within one semester – the quality of teaching was poor. Anyway, nothing would come of it and he would not let them attend to save some money.
Li Jingni did not attend school because her father had his wife and children in his hometown. He also had Li Jingni by cheating on her with Li Jingni's mother. When Li Jingni's mother discovered she had been cheated, she angrily left. She did not want Li Jingni. The father was a kind-hearted man who did not abandon Li Jingni. But he said that Li Jingni was an illegal child without a residence permit, and that the migrant sponsored school in the city was an illegal school with no credentials. The children attending this school were not registered by the Ministry of Education, and would not be allowed to study in high  school or college. Li Jingni was an illegal person, and did not need to attend an illegal school to become illegal in two ways.
I thought of this unlucky reminder of the Ministry of Education, and wondered who implemented this destructive policy for the children of migrant workers? The newspaper said that the Ministry of Education does this to prevent lower schools from misreporting the number of students, and falsely receiving teaching fundings. But why can't the Ministry of Education punish those minor officials rather than the children of migrant workers?
I had my mother praying for my two children to live happy and long lives. There were three bigger children looking after my youngest child and I felt at ease – my children were doing very well. The three kids would sing the song "Our motherland is like a garden, its flowers are bright-colored" to my younger daughter every day, with great joy.
5
Beijing's Picun [Pi village] where I live, is a very interesting village. Chinese people know that in the suburbs of Beijing, farmers are millionaires because their old real estate has become very valuable. The nouveau riche likes to flaunt their wealth with their cars, watches, and leather bags. We don't do that kind of flaunting in Picun. We flaunt our dogs. We have more dogs than anyone else. I have a friend whom I got to know in Picun, Guo Fulai from Hebei's Wuqiao, and he is a construction worker in Picun who lives in a construction shack. Every day, one of the Picun villagers comes to inspect the shack with an army of twelve dogs, much to the embarrassment of the migrant workers in the shack. Guo Fulai coldly described it in the article "Picun Village Dogs," published in Beijing Literature. It expressed the voice of migrant workers.
"A book that has never been read is like a person that never really lived, and it makes me sad to see."
My landlord was the village secretary, and was regarded as the village's former president. The landlord was a politician, and felt it was beneath him to raise an army of dogs; he just had two. One was a Scotch Collie, the other a Tibetan mastiff. The landlord told me that the Scotch Collie is the world's most intelligent dog and that the Tibetan mastiff is the world's most courageous and fierce dog. The brightest dog and the bravest dog as an alliance – they were invincible. My children lived in the official residence of the Picun retired president, and they had the best security on earth. My children and I felt that this was a happy life.
After my eldest daughter learned to read novels, I continuously went to the Panjiayuan market and many flea markets and waste collection stations to buy over 1000 jin [±500 gram] of books. Why did I buy so much? There are two reasons, one is that it is very cheap to buy per jin, the other is that the books at these waste collection stations are too new. Many are still laminated. A book that has never been read is like a person that never really lived, and it makes me sad to see.
Before, I never wrote essays. But now, if I have the time, I will write a long novel with pen and paper about the previous and current lives of the people I know. I barely went to school and I have no confidence; I will write this to satisfy myself. I already thought of a long title: "To Meet Again." Its story is non-fictional, everything is true. The source of art is in life, and this life is incredible. Every person in my work can be verified. I always think of how I could write this novel even better to please myself.
When the Picun "Worker's Home" started a literature group course, I attended it for a year. I had time to attend the class that year because I needed to take care of my youngest daughter, and I'd found a teaching job in the neighboring village of Yingezhuangcun at a migrant school. The wages at migrant schools are low and everyone would qualify, they gave 1600 [±230$] per month. Later, when my youngest daughter was a bit bigger, she could go to school by herself and buy her own food. I gave up teaching and became a baby-sitter, which paid more than 6000 [±870$] per month. I came back to see my youngest daughter once a week and stopped going to the Worker's Home.
I've always felt that I am an insensitive and weak person. Looking at the newspapers, I would always just look for a basic overview. If you look at the newspapers of the past decades, before migrant workers started coming to the city, so before 1990, the suicide rate of China's rural women was the world's highest. They would hang themselves and make a terrible scene. Since they started working, the newspapers said they did not commit suicide anymore. But then a new odd word appeared: "Motherless Villages." Rural women no longer committed suicide; they ran way. In 2000, I read a report titled "wild mandarin ducks are likely to separate", about the fragile marriages of migrant workers who are living apart from each other. The women who run away also are married women living in a different place.
In Beijing, in these villages within the city, there are many of these migrant children without a mother. Perhaps people like to divide into groups because birds of a feather flock together. The two friends of my eldest daughter both were children like this. Their fate is miserable.
My eldest daughter followed the subtitles on the TV and became literate, reading newspapers and novels. Later, when she no longer needed to take care of her little sister, she started working as a laborer at the age of fourteen. While working hard, she studied more trades. She has turned twenty this year and is now a white-collar worker with an annual salary of 90.000 [±13.000US$]. In comparison, Ding Jianping and Li Jingni of the same age as her, have become screws in the world's factory – because there was no one to pray for them. They are lined up like Terracotta warriors, leading a puppet-like life.
Anyone who has ever raised a cat or a dog knows how they will guard their cubs. Similarly, people are mammals. A woman who abandons her child lives with a bleeding heart.
6
Throughout the many years of my working life, I found that I could no longer trust people. All my contacts were quite superficial, and sometimes I was even afraid to greet people. I helped myself get better through a psychology book, from which I learned it was "social anxiety", also called "social phobia." Once it deteriorates, it can turn into a "clinical depression." It can only be cured with love. I thought of my mother's love for me, and that in this world only my mother will forever love me. I thought about this so hard every day, and my mental condition did not deteriorate.
"I can only be here, writing these words, expressing my shame. What else can I do?"
This year, my mother called me on the phone and told me that our production team was collecting land to build the Zhengwan high-speed train station. The residence permit of my daughters and me and the whole family of my big brother is still registered in the village, where we have land. With the village confiscating land, they only give 23.000 yuan [±3330U$] for an acre. It is unfair. The team leader posted an announcement that every household needed to send a legal representative to file a complaint with the government, and needed to fight for their own rights. Since my brother was out to work, my mother was the only one who could represent our family.
Mother told me that she followed the legal rights team and went to the town hall, county administration, and city hall. Wherever they went, they were pushed back by the youngsters working as guards to maintain social stability. The captain of the legal rights team was sixty years old, the youngest member of the team, and he broke four ribs. The guards were conscientious about my eighty-year-old mother, and they did not push her, but they did pull her away by the arm. In doing so, they dislocated her shoulder.
The acre of land was bought up for 22.000 [±3185$] altogether. Per capita it is already very little, but how can the few people who cannot work continue to live? There are no authorities who want to think about it, there are no people willing to think about their soul. In every corner of the Divine Land, it is this way, and everyone has accepted the misfortunes as decreed by fate.
I think of the cold wind in the first month of the lunar year, and how my 81-year-old mother is still fighting for her children who did not make something of themselves, how she is running for her children. I can only be here, writing these words, expressing my shame. What else can I do?
What can I do for my mother? Mother is a good person. In my childhood, most of the people in our village were picking fights with the immigrants from Jun prefecture behind our house, who moved there to repair the Danjiangkou reservoir. The most famous person of the Jun Prefecture is called Chen Shimei, who was executed by Bao Qingtian. Jun Prefecture city is now underwater. My mother, as a strong person within the village, on top of the pyramid, always appeared to stop the bullying of the immigrants. When I grew up and came to the big city to survive, I became the weak one at the lowest rung of society. As the daughter of a strong rural woman, I was often bullied by people in the city. I would then think: do people bully others who are weaker than they are to get a physiological pleasure? Or is it how genes work? Since then, I have had this idea that I will pass on love and dignity to everyone I meet who is weaker than I am.
Can't you always do something in life? I am incompetent, I am so poor, but I can still do something!
In the streets of Beijing, I embrace every disabled homeless person. I embrace every mentally ill person. I use my hugs to pass on mother's love, to return mother's love.
My eldest daughter told me that since she went to work at a cultural company, she gets a bottle of Huiyuan Juice every day. My daughter is not used to drinking juice. Every day after work, she will take the drink to the homeless grannie who is collecting scraps at the waste bin near the company gate, and she will give it to her.
– – End – –
– Translated by Manya Koetse
Follow @WhatsOnWeibo
[showad block=1]
©2017 Whatsonweibo. All rights reserved. Do not reproduce our content without permission – you can contact us at info@whatsonweibo.com.
The Many Books Lost in the China Floods: Catastrophic Flooding Hits Zhuozhou's Publishing Industry
After Typhoon Doksuri, some major warehouses in Zhuozhou have seen their depots transform into a sea of floating books.
Dozens of prominent Chinese publishing companies and book warehouses based in Hebei's Zhuozhou, a major hub for the publishing industry, have witnessed their book depots destroyed as water levels surged as high as the second floor. Distribution will be at a standstill for at least 15 days.
Zhuozhou (涿州) is a county-level city in Baoding, Hebei Province, known as a major hub for the Chinese publishing industry. It is one of the areas that has been badly affected by the heavy rainfall and flash floodings China has seen this week, after Typhoon Doksuri moved from the Philippines to Taiwan toward Beijing and surrounding regions in mainland China.
In Zhuozhou, dozens of publishing warehouses were affected by floods and water damage due to the storm, resulting in losses amounting to hundreds of millions of yuan. Zhuozhou's print media industry is closely linked with the center of China's publishing industry in Beijing, just 25 miles away.
Some warehouses, such as that of Beijing China Media Times, are as large as 8000 square meters, housing over three million books. According to Sina News, one area that housed around 200 publishing companies was almost entirely flooded.
A Weibo post by the Hong Kong Ta Kung Wen Wei Media Group (HKTKWW, @大公文匯網) showed the status quo at some warehouses, which had changed into a sea of books.
Publisher Books China (中图网), known as an industry "outlet store" for selling discounted and out-of-print books, also saw its central Zhuozhou warehouse completely flooded.
Around 100 of their staff members remained trapped at the office on Tuesday night without any food, drinks, or blankets, while water levels continued to rise. An additional cause for concern was the strong odor emanating from a nearby adhesive tape factory. Some employees suspected that toxic gases might have leaked, leading to several of them feeling unwell and vomiting after exposure.
According to China News (@中国新闻网), all employees were safely evacuated on Wednesday.
In an interview with Chinese newspaper Southern Weekend (南方周末), Beijing China Media Times CEO Ran Zijian (冉子健) revealed that his company had not received any advance warning about the heavy rains and the possibility of flooding, despite the area being prone to floods due to its low-lying terrains. All of the company's 3.6 million books are now submerged underwater.
The water levels rose so rapidly on Tuesday that there was hardly any time to rescue the books, making the evacuation of staff members the first priority. Bookseller Zou Bin (邹斌) told Southern Weekend that he saw the water levels rising so fast in his 5,000 square meter warehouse that he basically witnessed "25 million yuan [$3.5 million] disappear in an hour, powerless to do anything about it."
According to several Chinese news outlets, the distribution and dispatching of books will be impossible for numerous publishing houses based in Zhuozhou for at least the next 15 days. As the local book industry continues to assess the damages, it remains uncertain how severely the companies have been affected at this stage. For some, it feels like they are starting from scratch all over again.
But most netizens emphasize that it's more important that employees are safe, as people's lives are more important than paper books. "Who cares about dispatching books at this time?" some commenters wonder, while others express grief about all the books lost, saying, "It's just such a pity."
By Manya Koetse 
Get the story behind the hashtag. Subscribe to What's on Weibo here to receive our newsletter and get access to our latest articles:
Spotted a mistake or want to add something? Please let us know in comments below or email us. First-time commenters, please be patient – we will have to manually approve your comment before it appears.
©2023 Whatsonweibo. All rights reserved. Do not reproduce our content without permission – you can contact us at info@whatsonweibo.com.
Why Is Kindle Leaving China?
Many netizens are not happy over Kindle exiting the Chinese market: "We never know when the online services we use suddenly stop working."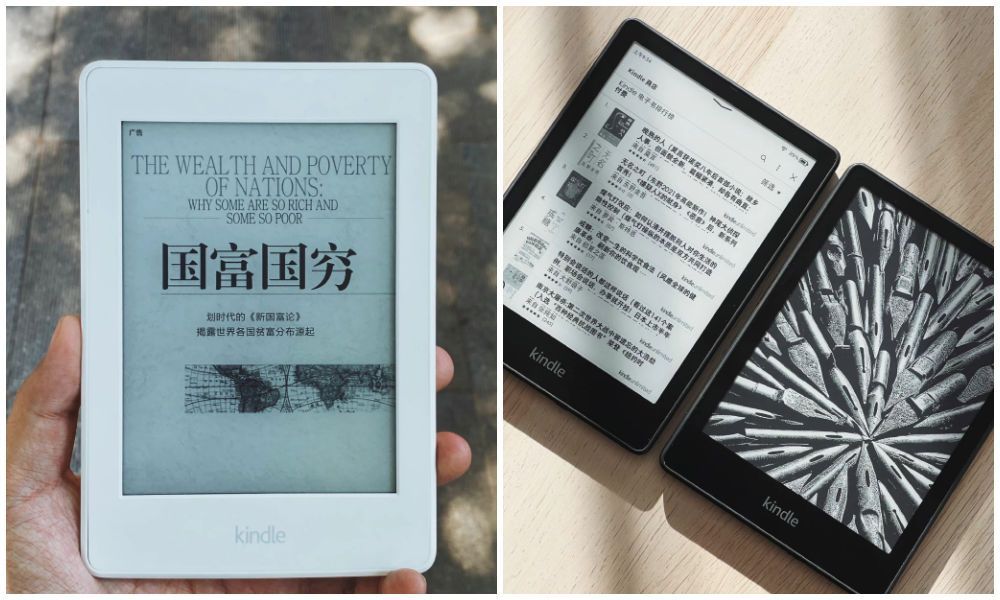 Amazon announced on Thursday that it has stopped supplying retailers in China with its Kindle e-readers and that it will discontinue its Kindle e-bookstore in the Chinese market on June 30, 2023.
Amazon announced its Kindle exit in a statement on its official WeChat account, saying it was because of a shift in the strategic focus of its company's operations.
For Chinese customers who have purchased e-books through Kindle, they will be able to continue downloading them until June 30 of 2024. Customers who would rather return the Kindle devices they bought in 2022 can get a refund.
On Weibo, the hashtags "Kindle Will Be Discontinued in China Next Year" (#Kindle中国明年停止电子书运营#) and "Why Wasn't Kindle Able to Make It in China?" (#为什么Kindle在中国活不下去#) were hot topics on Thursday and Friday.
Some commenters said they were upset about Kindle being discontinued in China: "Why why why!! I really like Kindle and their e-bookstore, I check for interesting and new books on sale on a weekly basis. Which e-reader and e-bookstore are suitable substitutes?"
"Zhangyue, Hisense, Huawei, Onyx Boox, Tencent, Readmoo,.. there are actually a lot of brands," one person responded, but some others said they still preferred Kindle.
"What do I do with my Kindle now? Just use it to cover my noodles?"
In 2021, Amazon's Kindle was among the most popular e-book brands in China. Besides Amazon's Kindle, China's most popular e-reader brands include Onyx Boox, iFlytech, Zhangyue, Xiaomi, Hanvon, Tencent, Boyue, Obook, and Sony (see list).
Some commenters wrote that they understand that companies such as Amazon have to make some tough choices after facing pandemic-related setbacks in China, while there were also many netizens who blamed Kindle's China exit on Chinese consumers illegally downloading pirated books instead of buying them at the Kindle store.
Others said that Kindle e-bookstore prices were often about the same as paper book prices, making the latter more appealing to people who like to read, especially if they also like to make notes in their books. In other words, they say the Kindle e-bookstore is simply too expensive for the Chinese market, where consumers can find many other options, both paper and digital ones.
"It's not so complicated," one Weibo user wrote: "It's all because of market competition reasons. Kindle is facing the impact of Tencent's influence on the e-reading market."
Some people are really disappointed that the books they have bought through Kindle will become unavailable to them, and some wondered if this was legal with regards to consumer rights.
One popular economic blogger wrote: "Kindle has now withdrawn [from China]. Many years ago, when different kinds of online storage spaces starting closing down, I learned one thing: never fully trust internet storage services. Your study material, the things you wrote, your video records, you need to back them up. We never know when the online services we use suddenly stop working."
By Manya Koetse
Featured images by Weibo blogger @钟文泽.
Get the story behind the hashtag. Subscribe to What's on Weibo here to receive our weekly newsletter and get access to our latest articles:
Spotted a mistake or want to add something? Please let us know in comments below or email us. First-time commenters, please be patient – we will have to manually approve your comment before it appears.
©2022 Whatsonweibo. All rights reserved. Do not reproduce our content without permission – you can contact us at info@whatsonweibo.com.
Subscribe to our newsletter
Stay updated on what's trending in China & get the story behind the hashtag
Sign up here to become a premium member of What's on Weibo today and gain access to all of our latest and premium content, as well as receive our exclusive Weibo Watch newsletter. If you prefer to only receive our free newsletter with an overview of the latest articles, you can subscribe for free here.
Would you like to become a contributor, or do you have any tips or suggestions for us? Get in touch with us here.