Chinese State Media Publish Sesame Street-Style 'One Belt, One Road' Propaganda Video
With the big Beijing One Belt, One Road Summit nearing, Chinese state media have sent out a "Sesame Street"-style propaganda video on Weibo, in which singing children praise the Belt and Road initiative. Many netizens think the video is "awkward."
With the big Beijing 'One Belt, One Road' Summit nearing, Chinese state media have sent out a "Sesame Street"-style propaganda video on Weibo, in which singing children praise the Belt and Road initiative. Many netizens think the video is "awkward."
Chinese state media spread a promo video on Wednesday in which a group of children happily praise China's "One Belt, One Road" (OBOR) initiative in English, subtitled in Chinese. The clip comes days before the Beijing One Belt, One Road Summit (May 14-15), which will welcome leaders from around the world.

The Belt and Road Song by Fuxing Road Studios posted by whatsonweibo
In the video, fifteen different children sing and dance to a Sesame Street-style song with cartoon graphics of various countries. According to the opening line, the children come from different countries along the Belt Road, also known as the Silk Road Economic Belt.
The title of the song is "The Road and Belt is How." As noted by Sixth Tone, the word 'how' here alludes to the word 'hao 好', meaning 'good' in Chinese.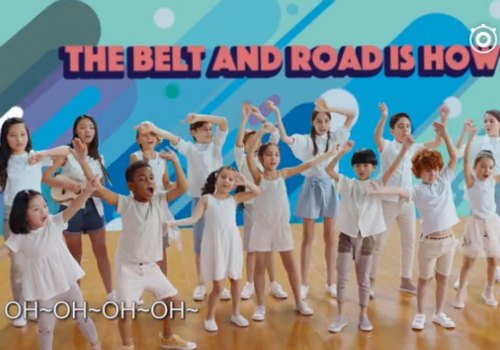 Mixed with laughter, the children sing:
The belt connects the land
The road moves on the sea
The promise that they hold
Is joint prosperity
We're breaking barriers
We're making history
The world we're dreaming of starts with you and me
The future's coming now, oh oh oh oh
The Belt and Road is how
We'll share the goodness now
The Belt and Road is how
Officially announced by the Chines government in 2013, the Belt and Road is an economic initiative focused on connectivity and cooperation between China and the rest of Eurasia, meant to integrate the development strategies of dozens of countries.
The political video was made by Fuxing Road Studios (复兴路工作室), a company that often produces English-language propaganda videos on China's policies, apparently seeking to appeal to both Chinese and Western audiences.
Quartz magazine wrote in 2015 that with its native English singers and slick productions, Fuxing Road Studios has covered numerous major China-related events, including state leaders' overseas visits.
In 2015, Fuxing Road made headlines when it launched a curious video about the 13th Five-Year Plan in which American singers paid tribute to China's latest policies ("Every five years in China, man / They make a new development plan (..) / It's a huge deal, man! / Like how huge? / Huge!").
The latest Belt and Road video was shared on Weibo by major state media outlets, including China Daily, People's Daily, PLA Daily, Communist Youth League, China National Radio, and CCTV.
"What's the purpose of this video? It's awkward," many Weibo commenters said. "It makes me feel like a kid again," some write.
Many people commenting say they find the use of English in the video somewhat strange. "Why is it not in Chinese?," a typical comment read: "I would have expected there to be at least a few sentences in Chinese."
"The Road and Belt is How" is not the only 'Belt and Road song.' Another song was shared on social media today with a cartoon clip showing people of various countries dancing together. The video, issued by China News, has an English segment but is mainly sung in Chinese:
"Try to try to try to find good friends along the Silk Road / Saluting and shaking hands / We can be good friends / The Belt and Road oh oh / Over land over sea oh oh / It's three years old oh oh / It joins the world oh oh."

China News: "The Belt and Road Song" posted by whatsonweibo
Although the second video also received some criticism, it seemed to be appreciated more by Chinese netizens than the Fuxing Road's children's song.
– By Manya Koetse
Follow @WhatsOnWeiboFollow @whatsonweibo
©2017 Whatsonweibo. All rights reserved. Do not reproduce our content without permission – you can contact us at info@whatsonweibo.com.
Chinese Commentator Hu Xijin Expects to "Get Covid Within a Month" (and Why It Matters)
This Hu Xijin commentary can be seen as part of a wider trend of normalizing Covid in the Chinese online media sphere.
Hu Xijin (胡锡进), the Beijing-based retired editor-in-chief of the state-run Global Times, recently published a post on the Chinese social media platform Weibo about him getting mentally ready to be infected with Covid-19 soon.
The former journalist Hu, whose posts and statements often go trending and influence public opinion, also made a few other noteworthy comments.
On Sunday (Dec 4), Hu posted: "Over the past week, China has essentially ended widespread lockdowns, with places like Beijing and others beginning to allow home quarantine for many positive individuals, while reducing the scope of nucleic acid testing. These are amazing changes."
Four weeks ago, right before China introduced its twenty new Covid measures, Hu already argued that strict lockdowns are no longer sustainable and that China should aim for a more relaxed and local approach (which is exactly what happened).
Now, Hu Xijin says that he is "mentally preparing to be infected with Covid within the coming month" ("做好了在一个月之内被感染上的思想准备"), further writing:
"In order for young people to have a colorful young era, in order to save the livelihood of so many service industry workers, in order for people from all walks of life to avoid seeing their wages cut, in order for so many companies to get out of their predicaments, this 62-year-old 'Old Hu' is willing to participate in the risk of getting [a virus that] degenerated to only 2.5 per 10,000 rate of getting seriously ill."
Hu's post was published on December 2nd in the context of Hu Says, a regular video column by Hu Xijin.
A few months ago, such a comment coming from such a big account would have been unthinkable.
In May of this year, those who tested positive still complained about suffering from stigmatization in society.
But Hu's comments come at a time when there are more discussions about getting Covid and sharing the experiences of having Covid.
In the second week of November, shortly after Chinese authorities launched their updated Covid rules, the hashtag "What Is It Like to Catch Covid-19?" (#感染新冠是什么体验#) already went trending on Weibo, along with other hashtags informing Chinese netizens about what it's like to get Covid – a virus that so many in China never experienced first hand.
Since Hu Xijin (1960) ended his career as the editor-in-chief of Global Times in 2021, his role as a political commentator has arguably become even more important and more visible on Weibo than before, especially in China's challenging Covid times of 2021.
Some find him overly nationalistic, for others he is not nationalistic enough; there are those who find him reasonable, and then some say he is repetitive and just dancing to the tune of Party propaganda. But then there have also been some discussions – in light of Pelosi's controversial Taiwan visit – about Hu misleading public opinion by not matching the official stance.
Whichever it is, some things are certain: Hu has some 25 million followers on Weibo, and he is often the first major media account that is allowed to discuss in detail some major sensitive social topics, even if these online discussions are otherwise being tightly controlled (think of the Tangshan BBQ Restaurant incident, the future of zero Covid, the Urumqi fire, and the 11.24 protests across China.)
Hu's comments about 'catching Covid soon' can be seen as part of a wider trend of normalizing Covid in the Chinese online media sphere, preparing people to face a virus they are still unfamiliar with since 'zero Covid' has always been the main goal.
On December 3, Hu further clarified his comments about preparing to getting Covid. He explained he expects to catch the virus because he is active in the media environment, through which he unavoidably is in touch with many different people. He also promised that if he might get infected, he would share his Covid experience with all of his readers.
As the idea of catching Covid is becoming more normalized (there are more and more trending hashtags informing what to expect after getting Covid, e.g. #新冠发病7天内身体会发生什么变化#), people are also exchanging non-scientifical advice on how to prevent catching Covid, such as drinking licorice ginger soup, holding Sichuan peppercorns inside your mouth when going out, or getting silicon covers for the drains in the bathroom to prevent the virus coming through via neighboring apartments.
Some express their worries about catching the virus. "I'm really scared. I've already replaced all of my masks with K95 ones," one Weibo user wrote: "My immune system has been weak since I was little, and I have allergies. I have the feeling that if I get infected I might lose half my life, if I don't die (..) I'm in a state of panic."
Even though China is still far from 'opening up', some people are already preparing to 'live together with the virus,' reminding others that getting vaccinated, keeping social distance, and washing hands are all measures that will help in preventing getting Covid.
"I am worried about getting Covid but I also want to open up," some on Weibo said.
"As much as I wanted it all to end, this feels abrupt," one social media user from Inner Mongolia wrote: "It won't be the same as before. The thorough 'zero Covid' [policy] has gone. The country's protection of our health has gone up to this point. I hope everyone can now take care in prevention themselves, and protect themselves and their families. I hope the epidemic situation will end soon, that the world will be ok, and that we can have our freedom."
Meanwhile, Hu Xijin informed netizens on Saturday that he had some milk, boiled eggs, pastry and pickled mustard greens for breakfast. While working on his condition and nutrition, he says that if his Covid positive time comes, he will not get any VIP treatment. If allowed, he'll either recover from home or go to a centralized Covid location.
He will just have to wait and see what happens, just as millions of other Chinese citizens are waiting to see what this winter is going to bring.
By Manya Koetse , with contributions by Miranda Barnes
The featured images are all images that went viral recently in light of China opening up (including nucleic acid testing booths being taken away).
Get the story behind the hashtag. Subscribe to What's on Weibo here to receive our newsletter and get access to our latest articles:
Spotted a mistake or want to add something? Please let us know in comments below or email us. First-time commenters, please be patient – we will have to manually approve your comment before it appears.
©2022 Whatsonweibo. All rights reserved. Do not reproduce our content without permission – you can contact us at info@whatsonweibo.com.
"Why Is It Always the BBC That Has Problems?" – Chinese Response to Arrest of Foreign Reporter
China's Ministry of Foreign Affairs blamed the BBC for distorting facts and painting China in a bad light.
Chinese media reports about the official response to the arrest of a UK reporter during protests in Shanghai has gone viral on Chinese social media, without explicitly mentioning the circumstances in which the incident occurred. Chinese netizens are now demanding videos to 'expose' how the situation unfolded.
News about the arrest of BBC journalist Edward Lawrence while covering the second night of protests in Shanghai on November 27 has not only made headlines in English-language media, it also became a trending topic on Chinese social media.
On Tuesday, China's Ministry of Foreign Affairs spokesperson Zhao Lijian (赵立坚) responded to the incident in a regular press conference. A day earlier, UK Prime Minister Rishi Sunak denounced the arrest of the BBC journalist as "shocking and unacceptable."
BBC Statement on Ed Lawrence pic.twitter.com/wedDetCtpF

— BBC News Press Team (@BBCNewsPR) November 27, 2022
But according to Zhao, the incident has been distorted by Western media to paint China in a bad light. The Chinese side claims that Lawrence refused to cooperate with the police and failed to show his credentials. "There are many foreign media in China, why is it always the BBC that has problems at the scene? This is a question that must be seriously considered."
Zhao's comments went viral on Weibo in two hashtags, namely "Zhao Lijian Presents the Truth about the BBC Reporter Who Was Taken Away" (#赵立坚介绍BBC记者被带离真相#), and "Why Is It Always BBC That Has Problems at the Scene?"(#为什么每次都是BBC在现场出问题#).
A translation of the full statement by Zhao was also posted on the official website of the Chinese Embassy in the UK. Part of the statement said:
"On the night of November 27, to maintain public order, local police in Shanghai asked people who had gathered at a crossroads to leave. One of  those at the scene is a resident journalist from the BBC. Though the  police made it clear to the journalist and others that they needed to leave, the journalist refused to go and in the entire time did not identify himself as a journalist. The police then took him away from the scene. After verifying his identity and informing him of pertinent laws  and regulations, the police let him leave. Everything was conducted within legal procedures. This BBC journalist refused to cooperate with the police's law enforcement efforts and then acted as if he were a victim. The BBC immediately twisted the story and massively propagated  the narrative that its journalist had been "arrested" and "beaten" by police while he was working, simply to try to paint China as the guilty party. This deliberate distortion of truth is all too familiar as part of the BBC's distasteful playbook."
On Weibo, the statement by Zhao, including video, was published by state media outlet Global Times (环球时报), which did not explicitly report that the incident happened during demonstrations in Shanghai. Instead, they reported about 'the scene' and that it allegedly happened "in the course of his work" "记者在工作中").
One top comment on Weibo said: "The BBC is always making up rumors, there are engaged in an anti-Chinese campaign. They should be punished." That comment received over 6700 likes.
"Are BBC reporters really reporting on the news, or are they making the news up?" another popular reply said.
The idea that Western mainstream media outlets are 'creative' in their reporting has been a long-standing one on Chinese social media. In a well-known example from 2017, social media users accused American broadcaster CNN of staging an anti-ISIS protest in London after a Twitter user uploaded a video that showed how police and TV producers directed a group of Muslim women to stand in line with their protest signs behind the TV anchor. The BBC was also widely criticized for using the allegedly "staged" CNN footage.
Although many netizens gave their thumbs up for Zhao's remarks about the arrest of Lawrence, there were also some who wanted to know more about the incident.
One popular comment said: "Was there just one BBC reporter at the scene? Why would take away a hard-working journalist? What was the BBC reporter recording? Were there also Chinese reporters? If so, can you give us the real recordings of what was happening at the scene?"
"Domestic reporters wouldn't dare to post it," someone replied: "The scene was too electrifying."
There were also those who made sarcastic comments relating to the 'outside force' narrative that became ubiquitous in China's online media sphere in response to the (censored) protests that have been taking place across China.
"Give us the irrefutable evidence to expose these 'outside forces,'" some said.
The idea that "outside forces" or "external forces" (外部势力) had something to do with the protests first started increasingly popping up in social media discussions on late Sunday night, and it was also raised in an online column by the political commentator Hu Xijin (read here).
Zhao Lijian also reiterated this idea in Monday's press conference in by talking about "forces with ulterior motives" who had connected the Urumqi fire, which initially triggered the unrest, with the local response to Covid-19.
"Thousands of people are protesting, they must all be foreigners. CNN and BBC are fully responsible. Except for us and North Korea, the whole world is watching these news channels. The entire world – except for us – is wrong," one commenter wrote.
Many commenters kept asking for video proof of the incident: "I demand you make the video public so we can all denounce them, we will resolutely denounce them" one person wrote, adding a melon-eating emoji (吃瓜 'eating melon' is frequently used as a humorous reference to standing by and watching the scene unfold).
"We firmly denounce disturbing editing, give us the original video!"
Despite the banter, there were also some more serious comments. One Weibo user wrote: "Foreign reporters often do not have good intentions, they are often distorting the facts, and I hate that. But domestic reporters do not dare to face the epidemic situation and only report on the good news."
"So who can actually give us the truth?" others wondered.
Read more about the "11.24" unrest or "white blank paper protests" in China here.
By Manya Koetse , with contributions by Miranda Barnes
If you appreciate what we do, please subscribe here or support us by donating.
Featured image via Zhejiang Daily.
Get the story behind the hashtag. Subscribe to What's on Weibo here to receive our newsletter and get access to our latest articles:
Spotted a mistake or want to add something? Please let us know in comments below or email us. First-time commenters, please be patient – we will have to manually approve your comment before it appears.
©2022 Whatsonweibo. All rights reserved. Do not reproduce our content without permission – you can contact us at info@whatsonweibo.com.