Fury and Loathing in Fengtai: How One Incident Sparked Chaos in Beijing Neighborhood
Fengtai chaos: this is what happens when a person from Dongbei offends Beijingers.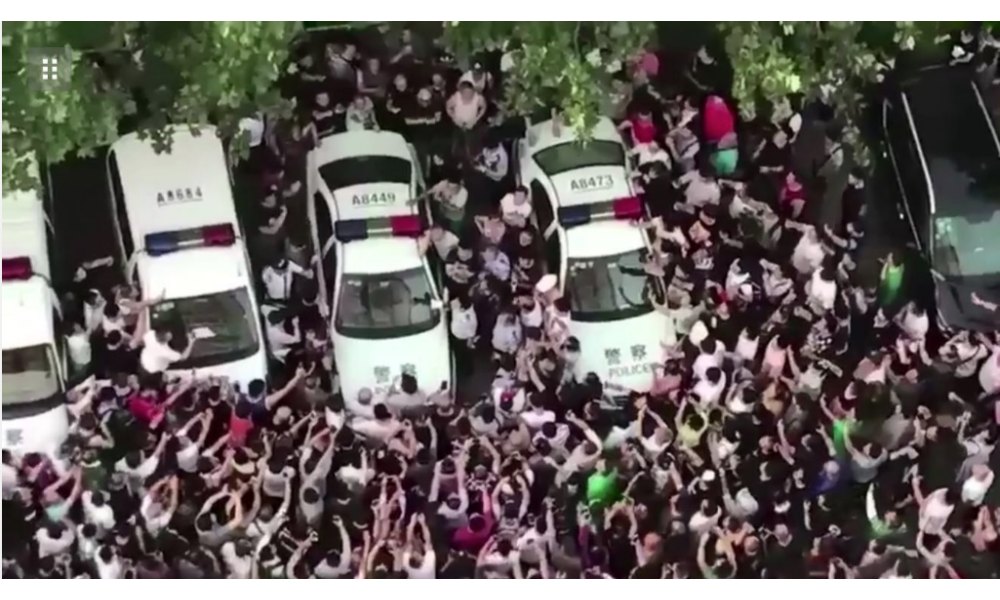 When a video of a man from Northeast China scolding local Beijingers went viral this week, chaos ensued as angry locals went out on the streets of Fengtai district looking for revenge over "regional discrimination."
Over the past few days, news of an incident involving a man scolding people while driving on a restricted traffic lane has spread across Chinese social media.
The incident occurred at Beijing's Fengtai district outside of You'anmen (右安門) during the morning rush hour of August 2nd (Thursday), when a man driving a Mazda illegally entered the restricted traffic lane while honking and yelling at cyclists from his car.
When the man bumped into a person driving an e-bike, he came out of his car and scolded the male cyclist – a Beijinger speaking the local dialect – by allegedly saying things such as: "F*ck you Beijingers!" and "While us outsiders (外地人) are driving cars, you poor-ass Beijingers are still riding miserable e-bikes."
When bystanders' videos and photos of the incident quickly spread on social media (including photos of the man's license plate), many Beijing residents apparently got so upset by the man's behavior and insults that they initiated a man-hunt.
Some online sources claim that by Thursday night, there even were people waiting outside the man's apartment to take revenge.
Chaos outside the police station
By August 3, the man, confirmed to be a 35-year-old from Liaoning (Northeast China aka 'Dongbei'), then turned himself into the local police station, where he was detained – but the chaos did not stop there.
When news of the man's detainment made its rounds through social media, a group of Beijingers came out to the police station in support of the biker, demanding apologies from the Liaoning driver. On one video that has spread online, the large group of people can be heard scanting "F*ck you!" and "Apologies! Apologies!" ("Daoqian! Daoqian!").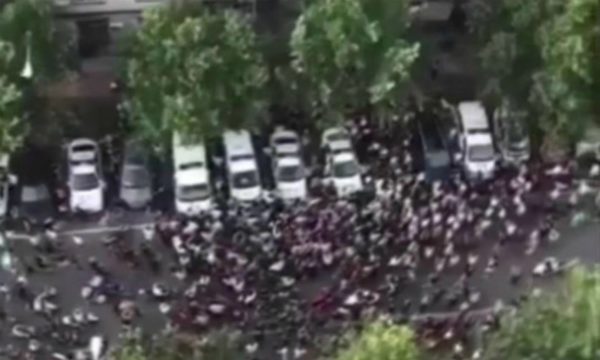 Reports on what exactly happened, however, are a bit conflicting. According to Radio Free Asia Chinese, there was also a large group of people from Northeast China who gathered outside the police station to show their support for the driver.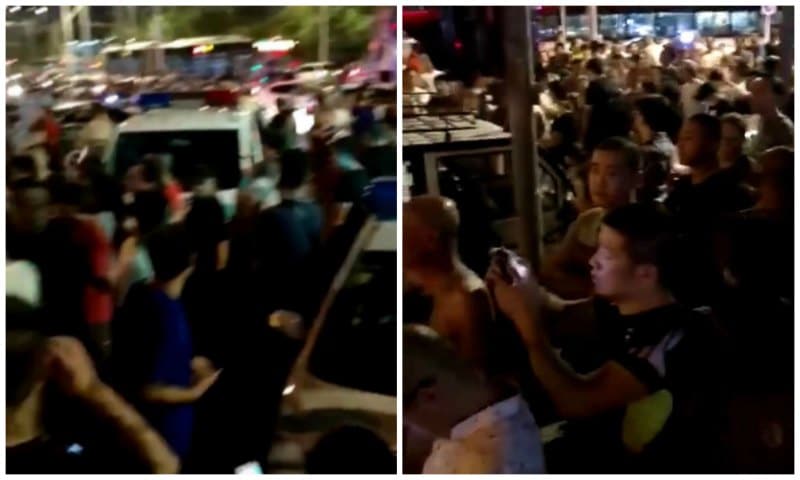 One video captured from a higher level building looking down on the police station shows hundreds of people gathering before the gates around police cars (see embedded media below).
Fury and Loathing in Fengtai: how one incident sparked chaos in Beijing neighborhood: https://t.co/XyaK3FYdYu pic.twitter.com/Ca39rQeHn7

— What's on Weibo (@WhatsOnWeibo) August 4, 2018
Videos of the chaos circulating on Wechat were censored by Friday night – a video of the incident sent by Miranda Barnes to Manya Koetse (authors) was automatically deleted on Wechat.
This video, at 1:50, shows how the situation turned violent, with angry people starting to attack the man as he exits the police station after processing the case.
Realising the situation could potentially be dangerous for the man, the police allegedly took him back in afterward to protect the man from the mob.
On Weibo, the man's detainment was officially confirmed through a public statement by the Fengtai police on Friday.

It is not the first time conflicts erupt within China based on tensions between locals and Chinese immigrants. Especially migrants from Northeast China or Dongbei (provinces of Liaoning, Jilin and Heilongjiang) often suffer a bad reputation in other parts of China. (For more info on this, check out this insightful Quora thread).
Apologies over 'Regional Discrimination'
There is widespread regional discrimination (地域歧視) across China, where people are often prejudiced based on the region they come from or their ethnicity. As the Fengtai incident shows, this discrimination can be directed both ways, from immigrants to locals and vice versa.
In response to the incident, anti-Dongbei sentiments also surfaced on Weibo, with thousands of people discussing the course of events. "I'm from Hebei, I'll join my brothers from Beijing in the fight!", some said.
But there were also those who said: "It doesn't matter where the guy is from, he should be judged for his illegal actions, not his native place."
Beijing blogger Jeremy Goldkorn (@goldkorn) noted that an apology statement from the man from Dongbei has been issued online on August 3rd (see thread including videos here).
In his apology letter, the man, who says his name is Cao Yuanhang (曹远航), writes that he deeply apologizes for his words and behavior and for igniting the anger of Beijingers. He also adds that he guilty of "regional discrimination," and apologizes to his family and company because of the stress they suffered after the video clips of his behavior went viral.
Some netizens, however, could not appreciate the apology, saying: "This kind of rotten person should get the f*ck out of Beijing."
At time of writing, it is yet unclear if the man has been released and whether or not he has gone into hiding.
By Miranda Barnes and Manya Koetse
Follow @whatsonweibo
Spotted a mistake or want to add something? Please let us know in comments below or email us.
©2018 Whatsonweibo. All rights reserved. Do not reproduce our content without permission – you can contact us at info@whatsonweibo.com.
How The Golden Horse Awards Turned Dark after Taiwan Independence Speech
The annual Golden Horse Film Gala has been overshadowed by political controversy over Taiwan issue.
The festive atmosphere at the 55th edition of Taipei's Golden Horse Awards was overclouded by political remarks on stage about both an independent Taiwan and a unified Taiwan. The Film Festival's 'Taiwan independence' controversy has become the talk of the day on Chinese social media.
The annual Taipei Golden Horse Film Awards (台北金馬影展) have been shrouded in controversy since Taiwanese director Fu Yue (傅榆), who won an award for the best documentary, expressed her hopes for an "independent Taiwan" in her acceptance speech, followed by a remark by Chinese mainland actor Tu Men (涂们), who expressed his joy over coming to "China, Taiwan."
During the live-televised event, cameras often zoomed in on the audience. After the remarks by Fu Yue and Tu Men, the divide between Taiwanese and mainland guests became painfully clear from their mixed reactions – with people showing both support and disapproval.
Fu, whose documentary Our Youth in Taiwan focuses on the 2014 Sunflower Movement, was visibly emotional during her speech, which she concluded by saying that she hoped "the country can be regarded as truly independent entity one day" and that this was her "biggest hope as a Taiwanese."
Although her speech received some cheers and applause from the audience, some shots of the audience also showed people clearly disapproving by not clapping or smiling at all.
How The Golden Horse Awards turned dark after Taiwan Independence speech https://t.co/fUk8IfVJHv pic.twitter.com/2XpOK9GvVy

— What's on Weibo (@WhatsOnWeibo) November 19, 2018
Famous Taiwan director Ang Lee (李安), who chairs the Golden Horse committee, could be seen hesistantly smiling, frowning, and holding his hands together without clapping – an image that has since become a meme on Chinese social media.
Later on in the show, actor Tu Men from mainland China struck back at Fu Yue by saying he was honored to present an award in "China, Taiwan" ("很荣幸来到中国台湾") and that "both sides were one big family" ("我感到两岸一家亲").
That remark was followed by some audible gasps from the audience, with some people immediately showing their support by clapping and laughing, with others showing stern faces.
The live streaming of the awards received thousands of live comments on Youtube, with people saying things as: "We want our our Taiwan Island, give Taiwan back to us and give us independence" and "I'll never support Taiwan independence, Taiwan will always be a province of China."
But that was not all – the controversy further grew when leading Chinese actress Gong Li, chair of the jury , declined to stand on stage with Ang Lee at the end of the ceremony to present the award for Best Feature Film. According to the programme, the mainland actress was supposed to present the award together with Ang Lee, but when Li asked Gong to come up on stage with him, she did not respond.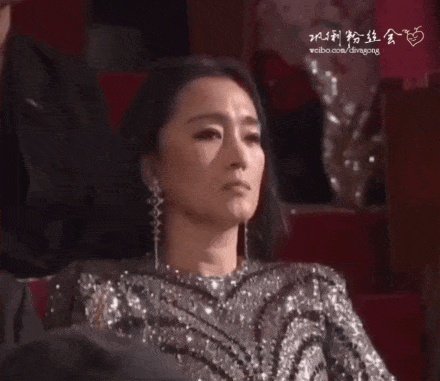 Although it is not entirely clear what the context of this incident is – Ang Lee later explained that it was because she wanted to sit together with the other jury members – most netizens assume Gong's move was a political one in response to the remarks on an independent Taiwan.
The hashtag "Gong Li Refuses to Confer Award" (#巩俐拒绝颁奖#) went trending on Chinese social media, receiving over 1,8 billion views on Weibo at time of writing. "Ang Lee responds to Gong Li Refusing to Confer Award" (#李安回应巩俐拒绝颁奖#) received 110 million views.
Reporter Simon Zhou posted a photo of the post-festival event on Weibo, showing empty chairs, saying that many mainland actors and actresses had refused to join the celebrations after the controversial event, even though Zhang Yimou, one of mainland China's most acclaimed directors, took home the most awards for his film Shadow.
Since the end of the 55th edition of the Golden Horse Festival, the night's events have been snowballing into a larger issue. According to the BBC, Taiwanese President Tsai Ing-wen spoke out after the festival, saying that Taiwan "never accepted the phrase 'China, Taiwan', and never would, because Taiwan is Taiwan".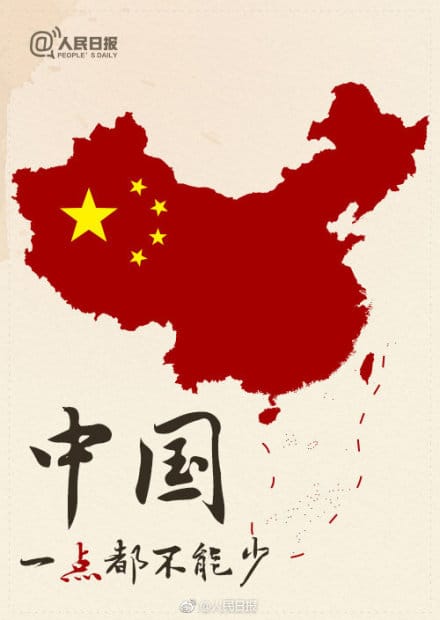 Meanwhile, Chinese state media (People's Daily, China Daily) have been promoting the hashtag "China Can't Become Smaller" or "Not Even a Bit Can Be Removed from China" (#中国一点都不能少#) on social media, which is a slogan that was first used during the South China Sea arbitration in 2016.
The past year, discussions on the ongoing Taiwan Strait Issue have flared up multiple times. In August, Taipei-born actress Vivian Sung (宋芸樺) attracted thousands of comments on Weibo for a comment she made about Taiwan being her "favorite country" in an older interview.
In the same month, Taiwan president Tsai Ing-wen paid a visit to a Los Angeles chain of Taiwanese 85°C Bakery Café (85度C) while on her United States trip. The occasion, captured on photos, triggered major controversy among mainland netizens, who tied the event to the 85°C Bakery supposedly supporting Taiwan independence.
This is the controversial moment at the #GoldenHorseAwards when Chinese director Fu Yue calls for an independent Taiwan. Check out the mixed reactions and the changing atmosphere. Read: https://t.co/m1hDt0VbbM pic.twitter.com/fkdCdJPeXK

— Manya Koetse (@manyapan) 19 november 2018
Oh, the #GoldenHorse 'political drama' just has so many sides to it. This is when mainland actor Tu Men strikes back, saying he's happy to present an award in "China, Taiwan" ("很荣幸来到中国台湾") saying it's "one big family" ("我感到两岸一家亲"): https://t.co/m1hDt0VbbM pic.twitter.com/5TAZk8SPqw

— Manya Koetse (@manyapan) 19 november 2018
By Manya Koetse, with contributions from Miranda Barnes
Follow @whatsonweibo
Spotted a mistake or want to add something? Please let us know in comments below or email us.
©2018 Whatsonweibo. All rights reserved. Do not reproduce our content without permission – you can contact us at info@whatsonweibo.com
Controversy over Yu Minhong Suggesting That Chinese Women Are Responsible for "Decline of the Country"
The famous businessman later apologized for his comments, but the damage was done.
The comments from education mogul Yu Minhong on the moral degeneration of Chinese women leading to the degeneration of the country, have caused major controversy on Chinese social media.
The founder and CEO of the US-listed education institution New Oriental (新东方教育), Michael Minhong Yu (Yu Minhong 俞敏洪), has caused quite some consternation on Chinese social media for holding women responsible for the decline of the country.
The comments in question were made at the Shanghai Educational Forum (2018学习力大会) on Sunday, November 18, where Yu – also known as "the richest teacher in China" – spoke in front of a large audience and said: "Chinese women's standard for picking men is now based on his ability to make a lot of money. In the end, if a country is doing well or not, often leads back to women. And now the degeneration [or 'corruption': duòluò 堕落] of Chinese women is leading to the degeneration of the country."
Yu's remarks, that can be viewed in the video below, drew some laughter from the audience.
The comments by Yu were made in light of his discussion on education, suggesting that people's evaluation standards define the direction of education, just as women's standards for men define the quality of men.
Yu's comments soon went viral on WeChat and Weibo, where the hashtag "Yu Minhong discriminates against women" (#俞敏洪歧视女性#) received over 38 million views.
"What kind of logic is this, to suggest that Chinese women are picking men based on their ability to make money?!", some commenters said: "Don't generalize like that, and please respect women!" "Are all the women he knows like that?" some wondered.
The issue especially captured the attention of netizens when Chinese actress Zhang Yuqi criticized him on Weibo, saying that "[your] Peking University education and New Oriental have not helped you understand the value of females and the meaning of gender equality."

Zhang's post attracted over 92,000 comments at time of writing.
Despite the general anger over Yu's comments, there were also those who expressed some support. "He might be a bit extreme, but many women are actually like that," one male commenter wrote.
Yu Minhong later apologized for his remarks on his Weibo account, where he has over 14 million followers. His post, that had disabled comments, received nearly 240,000 likes. Yu wrote:
"Today at a forum, I mentioned that 'evaluation standards can determine the direction of education,' and I used women's standards for choosing spouses as an example. But I didn't express myself correctly, and it has led to much misunderstanding among netizens – I greatly apologize for that. What I really wanted to say is: the standard of women in a country represents the level of that country. Women who have high inner quality, and mothers who have high quality, will raise high-quality children. Men are also led by women's system of values. If it is an intellecual life that women pursue, then men will become wiser. If women only have money in their eyes, then men will desperately strive to make money, and neglect their spiritual life. If a woman is strong, then a man is strong, then a country is strong."
By now, many (video) reports and comment sections about Yu's remarks have been taken offline.
Yu Minhong founded the educational institute New Oriental in 1993, and it has now become the largest provider of private educational services in China. As a successful businessman and a national political advisor, the "Godfather of English Training" is known for his outspokenness.
By Manya Koetse, with contributions from Miranda Barnes
Follow @whatsonweibo
Spotted a mistake or want to add something? Please let us know in comments below or email us.
©2018 Whatsonweibo. All rights reserved. Do not reproduce our content without permission – you can contact us at info@whatsonweibo.com