How China's New Anti-Crime Policy Made a Hunt for Two Jailbreak Fugitives Go Viral
The CPC actively involves and rewards citizens in their new policy on combatting crimes.
In early October of 2018, a major manhunt on two jailbreak fugitives from a Liaoning prison dominated the news for days and caused a sensation on the Chinese internet. With the 100,000 yuan (US$14,500) reward notice going viral, it marked the first grand online exposure of the Chinese government's policy to involve its citizens in combatting crime actively, but many netizens question how safe it is for citizens to meddle in criminal affairs.
News about a prison escape of two convicted criminals captured the attention of netizens for days in the first week of October, with the fugitives' background information, the thrilling chase, and the 100,000 yuan (US$14,500) reward notice all turning out to be the perfect ingredients to keep people hooked on the story, that also happened to occur during the National Day holiday.
The incident was extra special because it was the first major case in which the Chinese government's 'new' method on battling crime by actively involving the public, received massive attention.
Timeline of the Chase
* Thursday, October 4th, morning:
News comes out that two prisoners have managed to escape from Lingyuan Third Prison in Liaoning province. According to the Beijing Youth Daily, the two criminals stole prison guards' uniforms and used the attached security cards to get out of the building.
The fugitives, two men by the names of Zhang Guilin (33, 张贵林) and Wang Lei (39, 王磊), were both sentenced to life imprisonment for, respectively, armed robbery and the involvement in kidnapping and murder of an 11-year-old child. Zhang, also nicknamed "Flying Zhang," gained a reputation for previous prison escapes in 2011 and 2012; the October jailbreak marks his third successful prison escape.
*October 4th, morning:
Soon after the criminals escaped from prison, the Lingyuan Municipal Public Security Bureau issues a notice sharing the identity of the fugitives, asking the public to provide clues about their whereabouts. They also announce the clue leading to their arrest will be rewarded with a staggering US$14,500.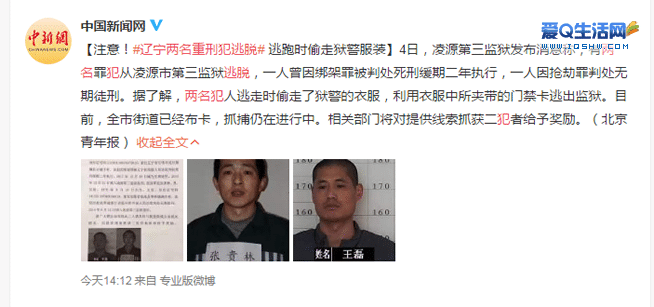 The news quickly spreads on Chinese social media, and within no time, the hashtag "Two heavy criminals escaped from prison" #两名重刑犯逃脱# goes viral and receives 170 million views.
*October 4th, 11 am:
The first tip-off: Beijing News publishes crucial surveillance camera footage that was given to police by a small shop in Songzhangzi, only 20 kilometers away from Lingyuan Third prison. It shows the two fugitives buying some food, beverages, and cigarettes, just hours after their escape from prison.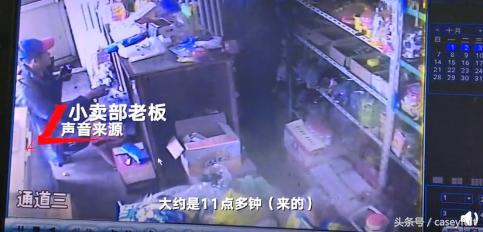 *October 4th, 5 pm:
Wang is spotted at another shop in a village in Pingquan County, in neighboring Hebei province, where he stays for about 10 minutes to buy liquor, beer, mineral water, and sausages.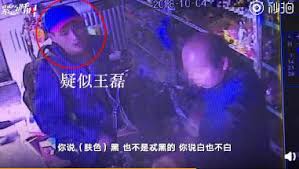 Police rush to the kiosk shortly after. According to China Daily, about 800 police quickly arrive and nearly 1,000 villagers assist in the manhunt, searching the area from north to south.
*Friday, October 5th:
On the second day of the nationwide manhunt, a fatal crash occurs with a police car involved in the chase for the fugitives. The police car, with four police officers from the Hebei Police Department, was on its way to catch the breakers when it crashed into a tree. Two police officers did not survive the crash.
On Friday night, 430 officers are dispatched to Pingquan, along with 100 prison guards.
*Saturday afternoon, October 6th:
Within 50 hours of their escape, Wang and Zhang are captured. Police in the Hebei city of Chengde dispatch drones to scour the area and spot the convicts in the village of Taitoushan.
According to news reports, Zhang is arrested when he stops to ask a villager for directions. His fellow escapee is caught 20 minutes later.
The hashtags "Two escaped criminals from Liaoning are caught" #逃犯落网视频曝光# and "Video showing arrested fugitives" 逃犯落网视频曝光 are viewed millions of times.
Authorities in Liaoning launch an investigation, and the warden of Lingyuan Prison is dismissed from his position.
"Public Reporting on Crime"
The Lingyuan jailbreak fugitive case is the first example of a reward notice going viral since the PRC government launched a new trial policy in combatting corruption and other illegal practices earlier in 2018.
The 'new' policy is called "Public Reporting on Crime" (群众举报黑恶势力违法犯罪), and aims at actively involving and rewarding citizens in providing information about the whereabouts of criminals.
The policy was featured in various media reports in summer of 2018, as a method introduced by the State Council of the People's Republic of China, the Supreme's People's Court, Ministry of Public Security, and the Ministry of Justice.
The policy defines 11 categories in which citizens can report illegal practices, including the misuse of (political) power, illegal gambling practices, fraud in various industry sectors, and extortion.
The official document in which the role of the public in the combat of illegal activities was especially stressed, was already issued by authorities in February of 2018 ("关于依法严厉打击黑恶势力违法犯罪的通告", see Pkulaw.cn).
Amongst the first provinces to experiment with the police are, among others, Henan province, Hainan, and Liaoning province, where the method seems fruitful. In August, the Hainan Police department issued a notice asking for the public's help in finding 17 fugitives. Attached to the notice where their names, addresses, and photographs. Within two days, 11 of these 17 fugitives were caught by the police.
In Liaoning province, the police started a campaign providing digital and non-digital information about the new policy and the criminals they were looking for. According to local media, they soon received 300 clues and 158 fugitives who turned themselves in.
Possibly as a result of the first successes of the trial policy, the Ministry of Public Security of the People's Republic of China, wrote an extension on the policy concerning drugs. On the official website of the Ministry, they published a list of rewards for providing information about 'drugs practices'. On the list, it says precisely what people can earn for providing clues about several kinds of drugs, where clues relating to soft drugs such as marihuana will receive a lower reward than those relating to hard drugs such as heroin.
State media have been actively propagating the measure in 2018, also reporting on occasions where people are rewarded for giving clues to the police. To protect their identity, these people will commonly wear masks – sometimes even cute panda ones.
Scepticism on Safety
Wearing panda masks or not, there is ample skepticism online on whether or not providing information to the police is a dangerous move for those involved.
In the case of the Liaoning fugitives, many worried about the identity of the shopkeepers who provided the police with clues and security footage after the fugitives had visited their shops.
After the first sighting of the two criminals in the small store in Songzhangzi, Chinese media reported details on the shop and its owner, which led to much criticism on Weibo. Some commenters wrote: "You brain-dead media, how can you bring out information like this, and who is going to take responsibility when people retaliate against this man?"
Many others expressed their worries, saying: "Isn't is dangerous to expose the boss [of the shop] like this?", and "Please do protect this shop owner, thank you!"
Other netizens wrote: "After seeing this news, I know for sure, I will never report on crimes. It's too dangerous, I don't want to die."
The public reporting policy states that the personal safety and confidentiality of 'whistleblowers' is guaranteed and that those who turn against these people will be punished severely. According to a post on Weibo by Beijing News, the small shopkeeper in question also received 24-hour police protection in front of his shop.
Concerning the case of the two escaped prisoners, so far, it is not yet clear if the main reward has been given out to citizens for giving the main clue that led to their recapture.
What does seem evident in this case, is that people, despite some worries about their safety, are more than willing to report illegal practices to the police when they know there might be a big reward waiting for them.
By Gabi Verberg and Manya Koetse
Follow @whatsonweibo
Spotted a mistake or want to add something? Please let us know in comments below or email us.
©2018 Whatsonweibo. All rights reserved. Do not reproduce our content without permission – you can contact us at info@whatsonweibo.com.
Fangcang Forever: China's Temporary Covid19 Makeshift Hospitals To Become Permanent
China's temporary 'Fangcang' shelter hospitals are here to stay.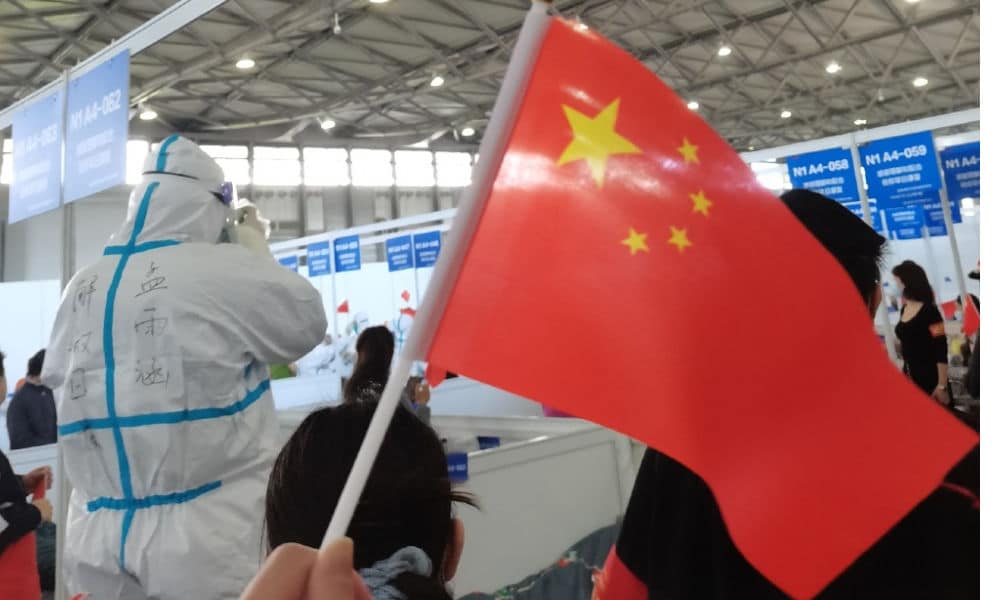 A new term has been added to China's pandemic lexicon today: Permanent Fangcang Hospital. Although China's 'Fangcang' shelter hospitals are, by definition, temporary, these healthcare facilities to isolate and treat Covid patients are now becoming a permanent feature of China's Zero-Covid approach.
Over the past few days, Chinese authorities have emphasized the need for China's bigger cities to build or renovate existing makeshift Covid hospitals, and turn them into permanent sites.
So-called 'Fangcang hospitals' (方舱医院, square cabin hospitals) are large, temporary makeshift shelter hospitals to isolate and treat Covid-19 patients. Fangcang shelter hospitals were first established in China during the Wuhan outbreak as a countermeasure to stop the spread of the virus.
They have since become an important part of China's management of the pandemic and the country's Zero-Covid policy as a place to isolate and treat people who have tested positive for Covid-19, both asymptomatic and mild-to-moderate symptomatic cases. In this way, the Fangcang hospitals alleviate the pressure on (designated) hospitals, so that they have more beds for patients with serious or severe symptoms.
On May 5th, Chinese state media reported about an important top leadership meeting regarding China's Covid-19 situation. In this meeting, the Politburo Standing Committee stressed that China would "unswervingly adhere to the general Zero-Covid policy" and that victory over the virus would come with persistence. At the meeting, chaired by Xi Jinping, the seven-member Politburo Standing Committee also declared that China would fight against any words or acts that "distort, doubt, or deny" the country's dynamic Zero-Covid policy.
Following the meeting, there have been multiple official reports and statements that provide a peek into China's 'zero Covid' future.
On May 13, China's National Health Commission called on all provinces to build or renovate city-level Fangcang hospitals, and to make sure they are equipped with electricity, ventilation systems, medical appliances, toilets, and washing facilities (Weibo hashtag ##以地级市为单位建设或者改造方舱医院#).
On May 16, the term 'Permanent Fangcang Hospital' (Weibo hashtag #永久性方舱医院) became a trending topic on Weibo after Ma Xiaowei (马晓伟), Minister of China's National Health Commission, introduced the term in Qiushi (求是), the leading official theoretical journal of the Chinese Communist Party.
The term is new and is somewhat contradictory as a concept, since 'Fangcang hospitals' are actually defined by their temporary nature.
Ma Xiaowei stressed the need for Chinese bigger cities to be ready for the next stage of China's Covid control. This also includes the need for some central 'Fangcang' makeshift hospitals to become permanent ones.
In order to 'normalize' the control and monitoring that comes with living in Zero-Covid society, Chinese provincial capitals and bigger cities (more than ten million inhabitants) should do more to improve Covid testing capacities and procedures. Ma proposes that there should be nucleic acid sample collection points across the city within a 15-minute walking distance radius, and testing frequency should be increased to maximize efficient control and prevention.
Cities should be prepared to take in patients for isolation and/or treatment at designated hospitals, centralized isolation sites, and the permanent Fangcang hospitals. The recent Covid outbreak in Shanghai showed that local authorities were unprepared to deal with the outbreak, and sites that were used as Fangcang hospitals often lacked proper facilities, leading to chaotic scenes.
The hashtag "Permanent Fangcang Hospitals" received over 140 million views on Weibo on Monday.
One of the Weibo threads by state media reporting on the Permanent Fangcang hospitals and the publication by Ma Xiaowei received nearly 2000 comments, yet the comment section only displayed three comments praising the newly announced measures, leaving out the other 1987 comments.
Elsewhere on Weibo, people shared their views on the Permanent Fangcang Hospitals, and most were not very positive – most commenters shared their worries about China's Covid situation about the stringent measures being a never-ending story.
"We're normalizing nucleic acid test, we're introducing permanent fangcang hospitals, [but] why isn't the third Covid vaccination coming through?" one person wondered.
"If there was still a little bit of passion inside me, it was just killed by reading these words 'Permanent Fangcang Hospital,'" another commenter writes, with one Weibo user adding: "I feel desperate hearing the words 'Permanent Fangcang Hospital.'"
"Building permanent Fangcang? Why? Why don't you use the resources you're now spending on normalizing testing to create more hospital beds, more medical staff and more medications?"
Another commenter wrote: "China itself is one giant permanent Fangcang hospital."
"The forever Fangcang are being built," one Weibo user from Guangdong writes: "This will never end. We'll be locked up like birds in a cage for our entire life."
For more articles on the Covid-19 topics on Chinese social media, check here.
By Manya Koetse, with contributions by Miranda Barnes
Get the story behind the hashtag. Subscribe to What's on Weibo here to receive our weekly newsletter and get access to our latest articles:
Featured image via user tongtong [nickname] Weibo.com.
Spotted a mistake or want to add something? Please let us know in comments below or email us. First-time commenters, please be patient – we will have to manually approve your comment before it appears.
©2022 Whatsonweibo. All rights reserved. Do not reproduce our content without permission – you can contact us at info@whatsonweibo.com.
'Hard Isolation' is Shanghai's New Word of the Day
In line with a new 'hard isolation' measure, the entrances of some Shanghai residential buildings were fenced up.
While some Shanghai households have already endured weeks of isolation, a new word was added to their epidemic vocabulary today: 'hard isolation' or 'strong quarantine' (yìng gélí 硬隔离)
The word popped up on Chinese social media on April 23rd after some Shanghai netizens posted photos of fences being set up around their community building to keep residents from walking out.
"New word: hard isolation. Shanghai is rotten to the core," one commenter wrote.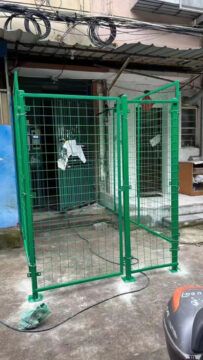 The word soon turned into a hashtag page where people started commenting on the issue of fences being placed around residential buildings, voicing concerns on what a fence around buildings would mean for fire safety, especially after online rumors suggested that there had been a fire at one community in Pudong on Saturday night.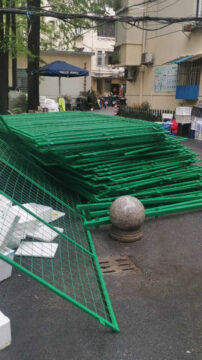 An official document regarding the 'hard isolation' measure was also shared online on Saturday. It is dated April 23, 2022, and its source is the Pudong New Area Office for Epidemic Control.
The document states that in line with the guidelines for the city's epidemic prevention and control, the division between areas or zones that are in certain risk categories should be 'optimized,' with those in the high-risk category requiring a 'hard isolation.' Security guards should also be on duty 24 hours a day at the entrance of the buildings.
Earlier this month, Shanghai adopted "3-level control measures" after its initial phased lockdown. It means that local areas will be classified as "locked-down," "controlled" or "precautionary," based on their Covid19 risk.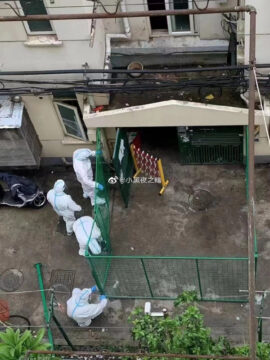 "Could we also put fences around the homes of Shanghai leaders?", one person suggested, while others posted images from the Walking Dead to mock the situation.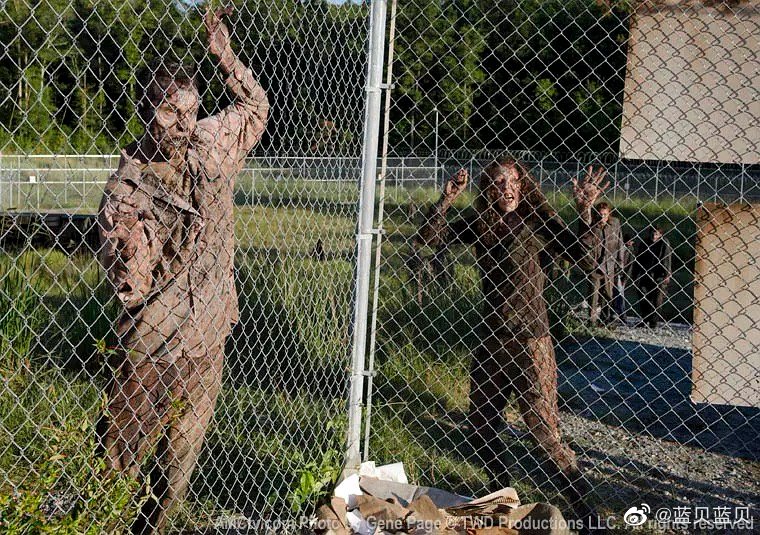 In the hope of Shanghai soon tackling the Covid situation, not everybody disagreed with the decision to fence some buildings or communities in the Pudong area: "I don't disagree with it, as long as there is always someone there to open the fence in case of fire," one person stated.
Although having a fence around their building is currently not a reality for most in Shanghai, the online photos of some communities seeing their buildings being fenced up is a reason to worry for some: "It's been 40 days, and now they start hard isolation? This actually scares me. Before we know it, it's June."
One Weibo user asked: "Why is it possible to implement this hard isolation now? Was this created by the same persons who also implemented the rule to separate children from parents at isolation sites?"
"I truly can't imagine why some people thought this is a good idea," others wrote.
For more articles on the Covid-19 topics on Chinese social media, check here.
By Manya Koetse
Get the story behind the hashtag. Subscribe to What's on Weibo here to receive our weekly newsletter and get access to our latest articles:
Spotted a mistake or want to add something? Please let us know in comments below or email us. First-time commenters, please be patient – we will have to manually approve your comment before it appears.
©2022 Whatsonweibo. All rights reserved. Do not reproduce our content without permission – you can contact us at info@whatsonweibo.com.