How The Golden Horse Awards Turned Dark after Taiwan Independence Speech
The annual Golden Horse Film Gala has been overshadowed by political controversy over Taiwan issue.
The festive atmosphere at the 55th edition of Taipei's Golden Horse Awards was overclouded by political remarks on stage about both an independent Taiwan and a unified Taiwan. The Film Festival's 'Taiwan independence' controversy has become the talk of the day on Chinese social media.
The annual Taipei Golden Horse Film Awards (台北金馬影展) have been shrouded in controversy since Taiwanese director Fu Yue (傅榆), who won an award for the best documentary, expressed her hopes for an "independent Taiwan" in her acceptance speech, followed by a remark by Chinese mainland actor Tu Men (涂们), who expressed his joy over coming to "China, Taiwan."
During the live-televised event, cameras often zoomed in on the audience. After the remarks by Fu Yue and Tu Men, the divide between Taiwanese and mainland guests became painfully clear from their mixed reactions – with people showing both support and disapproval.
Fu, whose documentary Our Youth in Taiwan focuses on the 2014 Sunflower Movement, was visibly emotional during her speech, which she concluded by saying that she hoped "the country can be regarded as truly independent entity one day" and that this was her "biggest hope as a Taiwanese."
Although her speech received some cheers and applause from the audience, some shots of the audience also showed people clearly disapproving by not clapping or smiling at all.
How The Golden Horse Awards turned dark after Taiwan Independence speech https://t.co/fUk8IfVJHv pic.twitter.com/2XpOK9GvVy

— What's on Weibo (@WhatsOnWeibo) November 19, 2018
Famous Taiwan director Ang Lee (李安), who chairs the Golden Horse committee, could be seen hesistantly smiling, frowning, and holding his hands together without clapping – an image that has since become a meme on Chinese social media.
Later on in the show, actor Tu Men from mainland China struck back at Fu Yue by saying he was honored to present an award in "China, Taiwan" ("很荣幸来到中国台湾") and that "both sides were one big family" ("我感到两岸一家亲").
That remark was followed by some audible gasps from the audience, with some people immediately showing their support by clapping and laughing, with others showing stern faces.
The live streaming of the awards received thousands of live comments on Youtube, with people saying things as: "We want our our Taiwan Island, give Taiwan back to us and give us independence" and "I'll never support Taiwan independence, Taiwan will always be a province of China."
But that was not all – the controversy further grew when leading Chinese actress Gong Li, chair of the jury , declined to stand on stage with Ang Lee at the end of the ceremony to present the award for Best Feature Film. According to the programme, the mainland actress was supposed to present the award together with Ang Lee, but when Li asked Gong to come up on stage with him, she did not respond.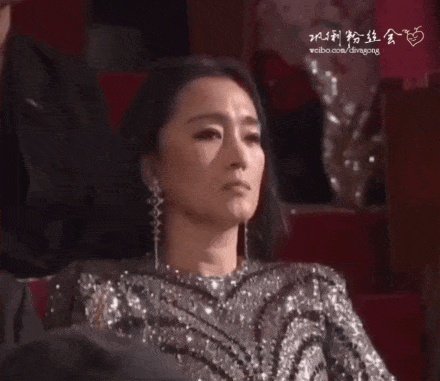 Although it is not entirely clear what the context of this incident is – Ang Lee later explained that it was because she wanted to sit together with the other jury members – most netizens assume Gong's move was a political one in response to the remarks on an independent Taiwan.
The hashtag "Gong Li Refuses to Confer Award" (#巩俐拒绝颁奖#) went trending on Chinese social media, receiving over 1,8 billion views on Weibo at time of writing. "Ang Lee responds to Gong Li Refusing to Confer Award" (#李安回应巩俐拒绝颁奖#) received 110 million views.
Reporter Simon Zhou posted a photo of the post-festival event on Weibo, showing empty chairs, saying that many mainland actors and actresses had refused to join the celebrations after the controversial event, even though Zhang Yimou, one of mainland China's most acclaimed directors, took home the most awards for his film Shadow.
Since the end of the 55th edition of the Golden Horse Festival, the night's events have been snowballing into a larger issue. According to the BBC, Taiwanese President Tsai Ing-wen spoke out after the festival, saying that Taiwan "never accepted the phrase 'China, Taiwan', and never would, because Taiwan is Taiwan".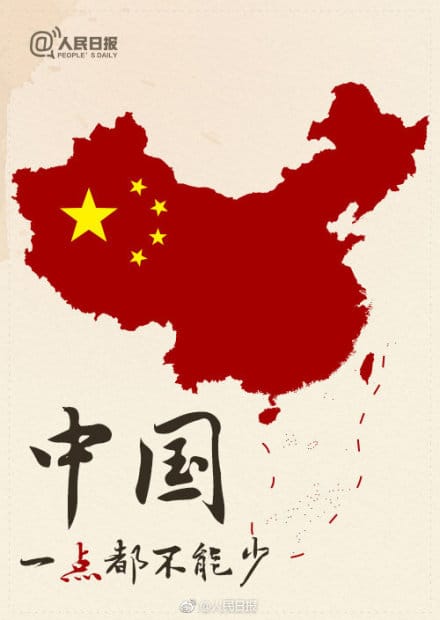 Meanwhile, Chinese state media (People's Daily, China Daily) have been promoting the hashtag "China Can't Become Smaller" or "Not Even a Bit Can Be Removed from China" (#中国一点都不能少#) on social media, which is a slogan that was first used during the South China Sea arbitration in 2016.
The past year, discussions on the ongoing Taiwan Strait Issue have flared up multiple times. In August, Taipei-born actress Vivian Sung (宋芸樺) attracted thousands of comments on Weibo for a comment she made about Taiwan being her "favorite country" in an older interview.
In the same month, Taiwan president Tsai Ing-wen paid a visit to a Los Angeles chain of Taiwanese 85°C Bakery Café (85度C) while on her United States trip. The occasion, captured on photos, triggered major controversy among mainland netizens, who tied the event to the 85°C Bakery supposedly supporting Taiwan independence.
This is the controversial moment at the #GoldenHorseAwards when Chinese director Fu Yue calls for an independent Taiwan. Check out the mixed reactions and the changing atmosphere. Read: https://t.co/m1hDt0VbbM pic.twitter.com/fkdCdJPeXK

— Manya Koetse (@manyapan) 19 november 2018
Oh, the #GoldenHorse 'political drama' just has so many sides to it. This is when mainland actor Tu Men strikes back, saying he's happy to present an award in "China, Taiwan" ("很荣幸来到中国台湾") saying it's "one big family" ("我感到两岸一家亲"): https://t.co/m1hDt0VbbM pic.twitter.com/5TAZk8SPqw

— Manya Koetse (@manyapan) 19 november 2018
By Manya Koetse, with contributions from Miranda Barnes
Follow @whatsonweibo
Spotted a mistake or want to add something? Please let us know in comments below or email us.
©2018 Whatsonweibo. All rights reserved. Do not reproduce our content without permission – you can contact us at info@whatsonweibo.com
(Op-Ed) The Forgotten Genres & Loss of "Intellectual Taste" in Chinese TV Drama
"We need to recall those TV dramas and genres that have vanished into oblivion," Zhao writes.
First published
When What's on Weibo published a list of classics of Chinese TV dramas, Beijing Film Academy graduate Zhao B. felt the list was missing relevant titles and genres. These are the top classic TV dramas that should be added to the list, according to an article sent in to What's on Weibo by Zhao.
The entertainment industry is a hot topic in present-day China, where online videos are being watched by millions of internet users every day. The way in which these videos are created, spread, and consumed, signals a new kind of emotional consumerism.
TV drama is still a benchmark of China's popular culture, but it is no longer the newest one – and might even have started to be somewhat worn out. It has gone into a phase of systematically deleting conflicting memories, in sync with the loud internet environment and the pop culture factory.
Not only has the length of TV drama episodes been shortened for today's 'online binging,' but streaming sites are also filled with certain algorithms and tracking codes that accelerate the obliteration of certain television dramas. The mass 'industrialization' of popular culture has shortened the lifespan of television dramas and its genres.
Which is why if a list such as the Top 30 Classic TV Dramas in China is based on rankings provided by social media sites or online video platforms such as Sougo or Douban, there are certain blind spots.
It is not out of mere nostalgia that we need to recall those TV dramas and genres that have vanished into oblivion. It gives us an overview of marginalized genres and taste, that are different from the current mainstream ones. They are the working memories for contemporary life.
Genres that have come up and have since been forgotten in the People's Republic of China from roughly 1978 to 2018, are:
-the "rural genre" (农村题材)
-the "youth genre" (青少年题材)
-the "army genre" (军旅题材), a sub-category of the military genre.
Theme Productions versus Genre
There is a socio-historical difference in Chinese and English popular culture industries in use of the term 'genre' that should be noted here. Chinese TV dramas are often categorized in 'topics' or 'themes' (tícái 题材) rather than in 'genres' (lèixíng 类型).
Thematic terms were used in planning and reviewing art productions (literature, film, TV drama) in PRC history, but this practice has been transforming over the past forty years. 
With the rise of the pop culture industry, the term 'genre' (类型) also became more popularized, with 'theme' and 'genre' now existing together.
Some productions have been recognized as either an old-fashioned 'theme' product, while also being categorized as a genre. For example, the TV drama Era of Peace (和平年代, 1996) marks the transition from the thematic categorization of 'Revolutionary History theme' (革命历史题材) to the categorization of 'Era genre' (年代戏). Later, the famous production The Year of Burning Passion (激情燃烧的岁月, 2001) was simply categorized as a typical 'Era Genre' rather than a theme production.
But there are also those thematic productions that did not have a 'genre offspring.' One of those is the established "intellectual theme" (知识分子题材) in Chinese literature, film, and TV drama, which is not reflected in today's TV drama industry. Although educated identity plays a key role in today's medical genre (医疗剧) – a subcategory of the 'professional genre' TV drama (职业剧) – the agenda and rhetoric are very different.
To avoid long discussions on the complex nature of theme versus genre productions and categories in Chinese TV dramas, the following overview mixes both thematic and genre TV dramas, using the terms interchangeably.
'Forgotten' TV Dramas
An overview of some series in supplement to the Top 30 Classic Chinese TV dramas article:
#1 'Trilogy of Women's Fate' (女人命运三部曲)
* 篱笆、女人和狗  'Fence, Woman and Dog'
Year: 1989
Episodes: 12
Genre: Rural/Family
Directed by 陈雨田 Chen Yutian
* 辘轳、女人和井 'Windlass, Woman and Well'
Year: 1991
Episodes: 12
Genre: Rural/Family
Directed by 陈雨田 Chen Yutian 可人 Ke Ren
* 古船、女人和网 Ancient Ship, Woman and Net
Year: 1993
Episodes: 14
Genre: Rural/Family
Directed by 吴珊 Wu Shan 张扬 Zhang Yang
In this 1990s 'Trilogies of Country Life' (农村三部曲), China's rural community is still presented as being in a stage of self-reflecting amidst a time of transformation. This portrayal of China's countryside stands in stark contrast to present-day productions that often represent the rural community as either 'to be developed' or to be laughed about, caught in a discourse of urban-rural binary opposition. These series are still available for viewing on sites such as QQ (no English subs).
#2. 'The Flowering Season of Being Sixteen' (十六岁的花季)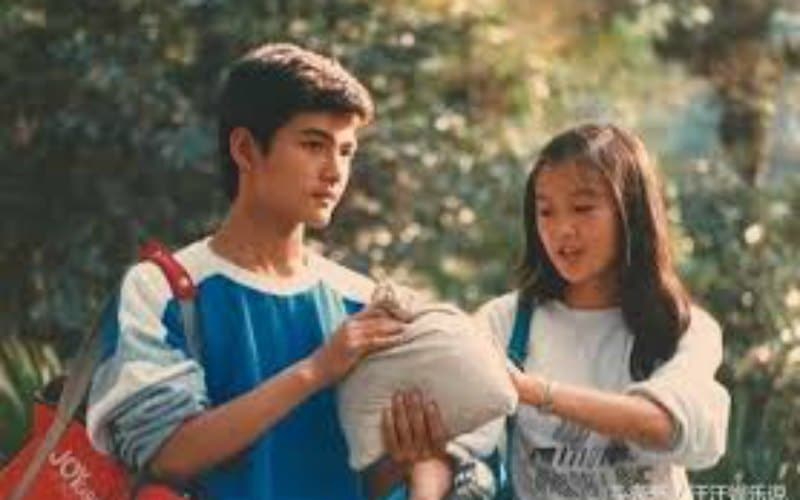 Year: 1990
Episodes: 12
Genre: Youth
Directed by Directed by 富敏 Fu Min 张弘 Zhang Hong
This TV drama, spoken in Shanghai accent, tells the coming-of-age story of a group of middle school students. It represents Chinese youth as being in the age of poetic self-reflection, rather than the 'young idol' genre that is ubiquitous today. The actors and narrator's voice directly reflect on society and question it. The episodes are available for viewing on Youtube here (no English subtitles).
#3. Young Special Force 少年特工
Year: 1992
Episodes: 16
Genre: Military
Directed by 郑方南 Zheng Fangnan
This TV drama, set in contemporary China, tells the story of the experiences of children during a military camp in Shandong, where these young scouts are thrown into a 'battle' between the 'Red Army' and the 'Blue Army.' The military setting and modern timeframe ironically reveal the hidden elite and historical subtext. Link to episodes on Youtube here.
#4. Era of Peace (和平年代)
Year: 1996
Episodes: 23
Genre: Army/History
Directed by 李舒 Li Shu 张前 Zhang Qian
This title represents the difference between the army sub-genre and military genre. It is a retrospective story that describes the transformation of China's armed troops from the Reform and Opening Up (改革开放) (1978-1996) period, going from war preparations to a period of peace.
Over the last two decades, the army sub-genre has gradually allowed new components into the military TV drama genre, which has also led to those narratives in the late 2010s that focus on overseas operations by elite soldiers.
#5. Fortress Besieged (围城)
Year: 1990
Episodes: 10
Genre: No (some will say Historical)
Directed by 黄蜀芹 Huang Shuqin
This drama, a classic adaptation of the same-titled 1947 novel by Qian Zhongshu, is set in the 1930s and portrays Chinese intellectuals, while focusing on the misadventures of Fang Hongjian, who returns to China after studying in Europe. The mild, cautious, ironic yet effortless taste from 1940 Shanghai and the figures of Republic of China's bourgeois intellectuals, showed itself for the very first time to PRC audiences in this classic.
Nobody would like to admit they forgot about this classic adaptation. Actually, people tend to forget it not because of itself, but for its isolation from any current trends. Intellectual taste and artistic pursuit are quite alien to China's current TV drama culture. Intellectual influence and TV as art was a cultural feature of the late socialist planned economy of the 20th century, when the Communist war against intellectuals had ended, and the capitalist front was yet to be developed.
Various episodes are available for viewing on Youtube.
#6. Sinful Debt (孽债)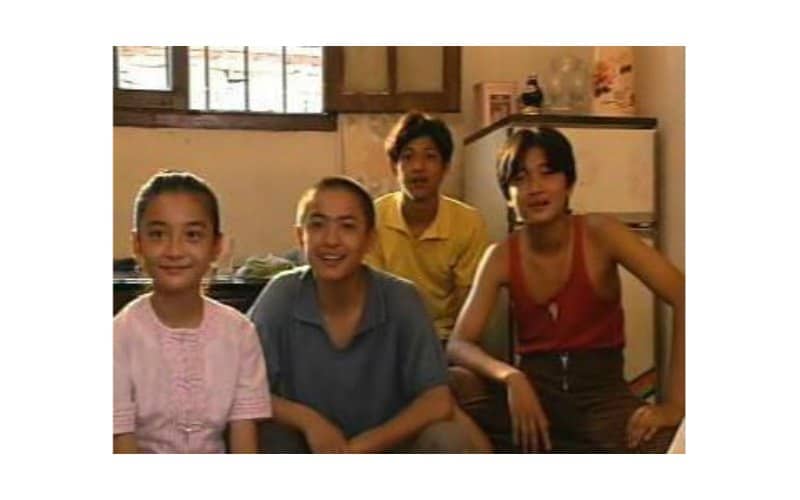 Year: 1995
Episodes: 20
Genre: Family
Directed by 黄蜀芹 Huang Shuqin
This drama, from the same female director Huang Shuqin (黄蜀芹) of Fortress Besieged, tells the story of five left-behind children in pursuit of their fathers – former sent-down "educated youths" as part of the Cultural Revolution crusade. It is a drama of middle-aged males, females and children, affected by historical, geographical, social and ethnic displacement. These series represent a delayed response to Scar Literature on TV.
The portrayal of Shanghai intellectuals in 1990s TV drama was very different from the 1980s intellectual idealism on TV, which then later transformed in the full-fledged populism in today's political discourse of pop culture. In policy and critiques after 1990s, the once legit intellectual theme (知识分子题材) was completely erased.
Episodes of Sinful Debt are available for viewing on Youtube here.
By Zhao B.
Edited for clarity by Manya Koetse
Spotted a mistake or want to add something? Please let us know in comments below or email us.
©2018 Whatsonweibo. All rights reserved. Do not reproduce our content without permission – you can contact us at info@whatsonweibo.com
The Never-Ending Drama: Ma Rong Accuses Wang Baoqiang of Violent Attack, Netizens Don't Buy It
A messy story is flooding Weibo today, as Chinese celebrity Ma Rong accuses ex-husband Wang Baoqiang of assault.
First published
It is the never-ending drama: China's most famous divorced celebrity couple Ma Rong and Wang Baoqiang once again hit the top trending lists on Chinese social media. This time, it concerns an alleged violent outburst during which Ma Rong was injured.
Ever since the 2016 split between Chinese celebrities Wang Baoqiang (王宝强) and his ex-wife Ma Rong (马蓉), the former couple keeps on making headlines. On Sunday, December 2nd, the hashtag "Wang Baoqiang Beats Up Ma Rong" (#王宝强殴打马蓉#) went trending on Weibo, receiving some 520 million views at time of writing (update: the hashtag page has since been taken offline).
According to various Chinese media, Chinese actress Ma Rong stated that her ex-husband attacked her when she wanted to take her children with her in the early morning on Sunday. The children allegedly were not present when the altercation occurred.
Ma Rong claimed that she was hit and kicked in the head and back by Wang, who was accompanied by "four or five" others.
Dramatic photos of a seemingly injured Ma Rong have spread on social media, along with photos of her in the hospital.
A video issued by Sina Entertainment News on Sunday shows Ma Rong lying in her (hospital) bed crying, telling the interviewer that Wang has previously been abusive towards her and their two children.
But there is also another side to this murky story, as security footage from surveillance cameras at Wang's house have leaked, reportedly showing that Ma came to Wang's house with her mother on Saturday night around 19.00 to "cause a scene", carrying scissors with her to intimidate Wang's family. The footage shows how a woman, said to be Ma Rong, jumps up to the camera in an apparent attempt to sabotage it.
According to an "insider" quoted by Sina Entertainment, Ma and her mother were apparently involved in an altercation with Wang Baoqiang's mother, although these rumors have since been refuted by Ma's family.
A report on Jinri Toutiao also claims that the altercation had already started on Saturday night, and that police were present at the scene around 23.00 in an ongoing confrontation that allegedly lasted the entire night.
Wang's mother, who was present at the scene, was apparently so shaken by the turmoil, that she reportedly was also checked into a local hospital with "palpitations" on Saturday night.
As the situation is somewhat messy, and details are still unclear, most netizens side with Wang Baoqiang and are not buying Ma's story, suggesting the photos of the injured actress have been staged. Ma Rong has become very unpopular since her divorce from Wang, with many calling her a "gold digger."
"She's a very good actress," many commenters say. "There's seriously something wrong with her," others write.
The first memes on today's case are also surfacing on WeChat and Weibo, with some photoshopping Ma's photo on a magazine cover of Zhiyin (知音), an old Chinese magazine known for telling dramatic and sensationalized social stories.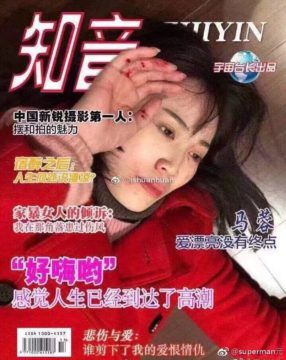 Others post the dramatic photo with the underline: "Oh, my head hurts."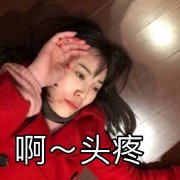 Chinese actor Wang Baoqiang, known for his roles in films such as Blind Shaft (2003) and A Touch of Sin (2013), is highly popular in China. Born into a poor rural family in Hebei Province, the former migrant construction worker rose to fame when he was cast in his first movie. With his rural-to-urban, migrant-to-actor story, Wang has come to represent the Chinese dream in the eyes of many.
In 2016, Wang Baoqiang publicly announced on Weibo that after seven years of marriage, he was divorcing Ma Rong as an exposed illicit affair between his wife and his manager Song Zhe (宋喆) had damaged his marriage "beyond repair."
At the time, the exposure of the alleged relationship between Ma Rong and manager Song Zhe hit Weibo like an earthquake, with millions of netizens jumping on the discussion – many of them scolded Ma and alleged she had only married the Chinese film star for his money. With ten billion views, it became one of the all-time biggest topics on Weibo.
The story has continued to attract people's attention. A year after the initial separation, Song Zhe was arrested in Beijing for embezzlement – a topic that immediately became trending on Chinese social media.
The various court cases between Wang and Ma Rong, who first sued her estranged husband for defamation of character and then refused to sign the divorce papers, has also recurrently been in the media.
According to the latest reports, Ma has now left the hospital. A video that is spreading on Weibo shows how a woman, supposedly Ma Rong, is carried out of the hospital and is put inside a car, while reporters are running after her (see embedded tweet below).
Super bizarre. Videos show how Ma Rong (supposedly) is carried out of the hospital after allegedly being attacked by ex-husband Wang Baoqiang, chased by group of reporters. Why are reporters allowed in there at all? This is like Britney Spears in 2007. https://t.co/ldP8oVO1sY pic.twitter.com/XQFrD49nBq

— Manya Koetse (@manyapan) 2 december 2018
At time of writing, Wang has not posted any statement regarding this incident on his Weibo page, where he has more than 28 million fans.
By Manya Koetse and Miranda Barnes
Follow @whatsonweibo
Spotted a mistake or want to add something? Please let us know in comments below or email us.
©2018 Whatsonweibo. All rights reserved. Do not reproduce our content without permission – you can contact us at info@whatsonweibo.com