'D&G Loves China' Controversy: The Video, the "Racist" Designer, the Canceled Show
"D&G Loves China", but China doesn't really love D&G this week.
It started with a controversial promotional video, got really messy when screenshots went viral of a China-bashing online conversation with the alleged Stefano Gabbana, started snowballing when D&G claimed the account was hacked, and ended with the cancellation of Dolce & Gabbana's big Shanghai show. A classic trending marketing drama has captured the attention of Chinese netizens today.
One of the biggest topics on Chinese social media today is a controversy involving Italian luxury brand Dolce & Gabbana, better known as D&G (Dùjiābānnà 杜嘉班纳 in Chinese), and the cancelation of its high profile Shanghai fashion show that would have taken place on Wednesday night.
1: The Video
The story starts with the Italian fashion house D&G's recent campaign series "DG Loves China," which was launched in order to promote a runway show that was supposed to take place in Shanghai on November 21st.
As part of the campaign, D&G issued multiple videos on social media. One of them shows a Chinese-looking woman – all dressed in D&G – attempting, quite unsuccessfully, to eat a large cannoli bread with chopsticks.
A male Chinese voice over in the video then suggests that the cannoli might be "too big" for the lady (watch one of the videos on Temper Magazine here).
She then takes a small part of the bread with her chopsticks, after which the voiceover says: "Right, now you feel like you're in Italy, while you are in China."
The campaign was promoted through Instagram and also went live on Weibo on November 18, using hashtags as #DGLovesChina# and #DGTheGreatShow#. But it was not received very well by many netizens on Chinese social media, with some calling it "outdated and stereotypical," "racist," or "disrespectful."
China-focused fashion publication Temper Magazine notes that this is not the first time for D&G to trigger this kind of controversy in mainland China.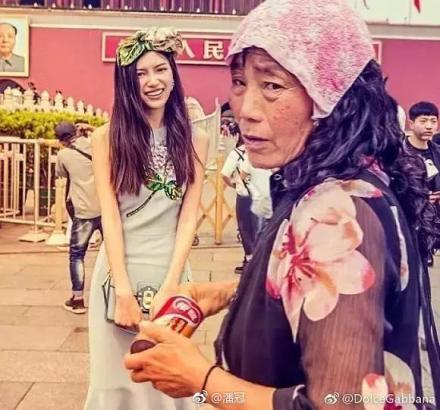 In April of 2017, netizens also reacted angrily to a series of D&G photographs shot in Beijing streets, which featured glam models next to common taxi drivers or impoverished local residents. Many thought the photos purposely showed a more 'ugly' side of China, instead of the more glamorous sides of the city.
Welcome to episode 3 with Dolce&Gabbana's "eating with chopsticks". We will be tackling the Italian Spaghetti al pomodoro! Now even though you think they may be similar to Chinese noodles, there is a GREAT difference in the way you eat them.#DGLovesChina#DGTheGreatShow pic.twitter.com/etzd3b31xe

— Dolce & Gabbana (@dolcegabbana) 17 november 2018
This week, the D&G videos in question were pulled from Weibo following the criticism. On Twitter, the videos are still available (check one of them in embedded Tweet above to judge for yourself).
2: The "Racist" Designer
The social media storm snowballed out of control after screenshots of comments attributed to fashion designer Stefano Gabbana went viral on Wednesday, also being reposted by major Chinese state media accounts such as Global Times.
The screenshots were posted by Instagram user Michaela Phuong Thanh Tranova (@michaelatranova), a fashion business student, although it is stil unclear why this Instagram user would have a private Instagram conversation with Stefano Gabbana and whether or not they are acquainted.
Despite the lack of context and/or veracity of the conversation, the screenshots, in which the alleged fashion designer uses rambling texts and refers to China as the "land of sh*t" and speaks of "China ignorant dirty smelling mafia", soon spread on Chinese social media, where many netizens called for a boycott of D&G.
"This is not just a designer, he is one of the creators of D&G," some commenters said: "The brand literally carries his name." And: "Congratulations with your bankruptcy."
3: The Cancelled Fashion Show
On Wednesday afternoon, Beijing time, Stefano Gabbana published a post on his official Instagram account, in which the designer said his Instagram account had been hacked, adding, "I love China and the Chinese culture. I'm so sorry for what happened."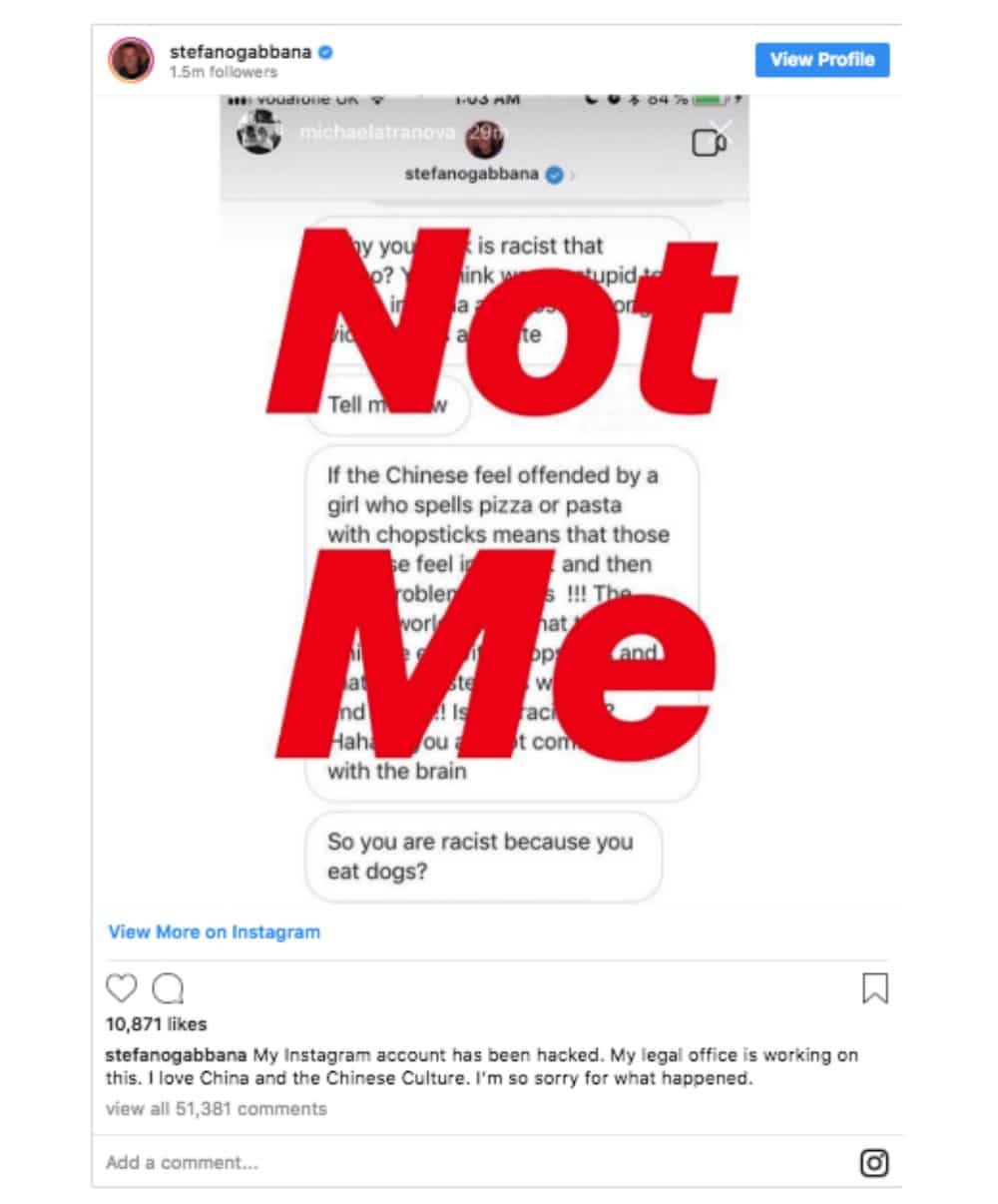 Despite the alleged hack of the Gabbana account, news came out on Wednesday that the much-anticipated Shanghai fashion show of D&G, that would take place this evening, had been canceled.
"The fashion show that was planned on November 21st at 20.00 has been rescheduled due to circumstances, we deeply regret any inconvenience caused," the official D&G account published on Weibo, just some three hours before the show would take place.
The hashtag "DG Show Cancelled" (#DG大秀取消#) had received 340 million 490 million views at time of writing, being one of the top 10 trending topics of this moment.
According to Chinese media, various Chinese celebrities, including Zhang Ziyi (章子怡) and Chen Kun (陈坤) had already refused to attend the show.
On Weibo, many netizens do not believe the claims by D&G that their account had been hacked, saying things such as: "Ha, ha, ha, your show has been canceled, you tried to make money off China, get lost!"
The Sina Fashion Weibo account has since posted photos of the fashion show venue, that is now deserted (images below).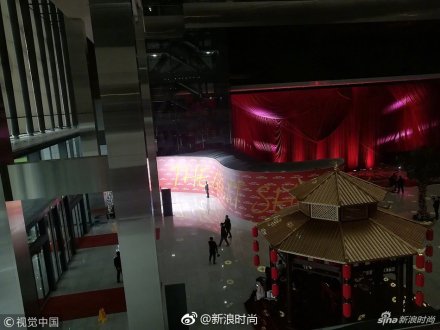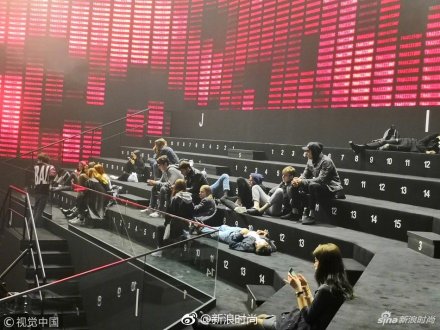 Meanwhile, Instagram user @michaelatranova, who posted the screenshots of the conversation with the alleged D&G designer, posted on Instagram that "we all (not only us Asians) deserve a better treatment from all (fashion) brands that pretend to cater to our needs just to stuff their pockets with our money."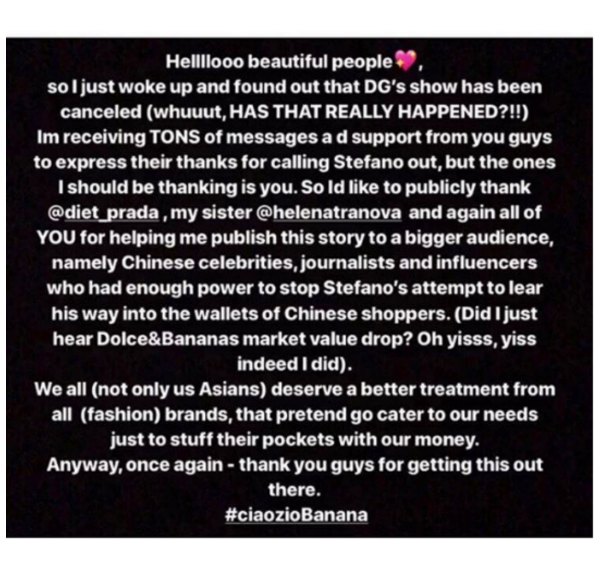 Many Chinese netizens seem to agree with the Instagram user, as hundreds of Weibo commenters are calling for a China boycott of D&G.
As this story is still developing, feel free to share your view on this below in the poll: do you believe Gabbana's account was really hacked, do you think it is an excuse, or is it irrelevant?
For an update of this story, please check this article!
By Manya Koetse, with contributions from Miranda Barnes
Follow @whatsonweibo
Spotted a mistake or want to add something? Please let us know in comments below or email us.
©2018 Whatsonweibo. All rights reserved. Do not reproduce our content without permission – you can contact us at info@whatsonweibo.com
"What Is Peppa?" – Viral Ad Campaign for 'Peppa Pig' Movie Makes the British Pig More Chinese Than Ever
It's the Chinese new year of Peppa Pig.
A new ad campaign for the upcoming Peppa Pig movie features a grandfather living in rural China who goes on a quest to find out what Peppa is. The commercial is a huge success on Chinese social media, and strikes a chord with netizens for touching upon various societal and cultural issues. Peppa is more Chinese than ever now.
"What is Peppa?" That is the question that is currently going viral on Chinese social media, with the hashtag #WhatisPeppa (#啥是佩奇#) receiving a staggering 400 million times on social media platform Weibo at time of writing.
The reason for the trend is an ad campaign, titled 'What's Peppa', promoting the Peppa Pig Celebrates Chinese New Year film, a production by Entertainment One and China's Alibaba Pictures.
The promotional video (5:39 length, watch featured video), that came out via various online channels on January 17, focuses on a grandfather living in a remote rural village who is anticipating the Spring Festival reunion with his son and his family, who now live in a big city.
The grandfather, named Yu Bao, wants to know what gift to get for his little grandson. When calling his family on a bad connection through his old 2G mobile phone, the word "Peppa" is all he gets from his little grandson before his phone breaks down. But what's Peppa?
Yu Bao then goes on a comical mission to find out what Peppa is: looking it up in the dictionary, asking his friends -who are just as oblivious as he is-, and asking the entire village.
At the local shop, it is suggested that 'Peppa' is some kind of shampoo.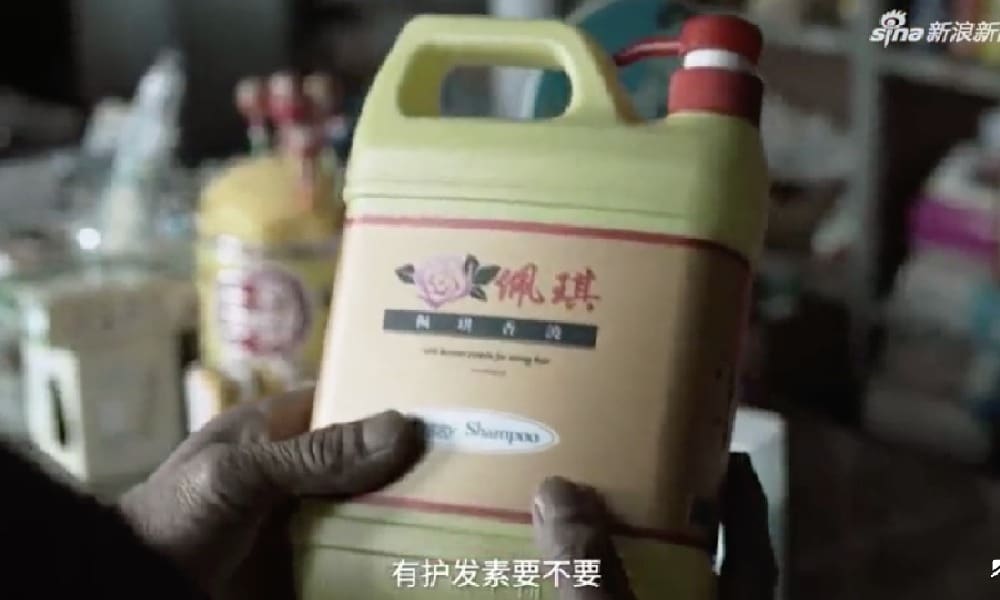 Eventually, one of the female villagers, who used to be a nanny, knows what Peppa is. She tries to explain it to Yu Bao, who now even seems willing to paint his own pig pink for his grandson. She explains that it is a pink cartoon pig whose face looks somewhat like a traditional fire blower.
With some guidance, the grandfather then goes to work and creates a unique 'Peppa Pig' gift from a metal air-blower to surprise his grandson during Chinese New Year.
But much to his disappointment, he then receives a phone call from his son, who tells him they are not coming home for Chinese New Year – before the connection drops again.
As grandpa, sad and lonely, is walking by the side of the road, his son suddenly appears in his car, telling him that the connection dropped too soon; he was not just telling him the family was not coming for Chinese New Year, he was trying to tell him that they invited him to come to their home instead.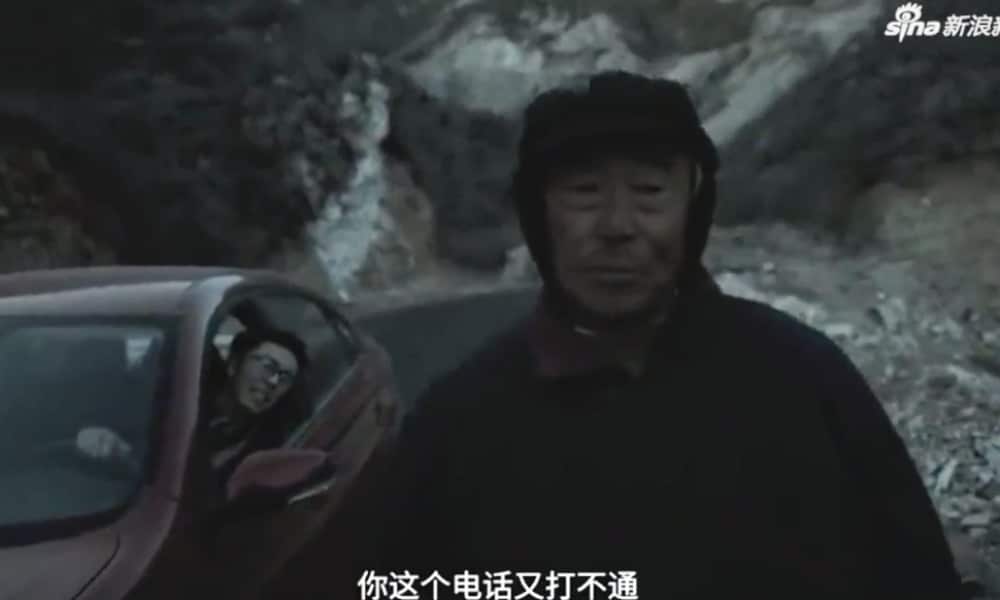 When the family is finally reunited, it is time for the proud grandfather to show the result of his difficult quest for Peppa to his grandson.
The grandpa's mission is complete: he gives his grandson a one-of-a-kind Peppa Pig.
The commercial ends with the entire family enjoying the upcoming Peppa film in the cinema together. When a friend from the village calls the grandfather to let him know he finally found Peppa thanks to his new smartphone, Yu Bao says: "It's okay, I found Peppa already!"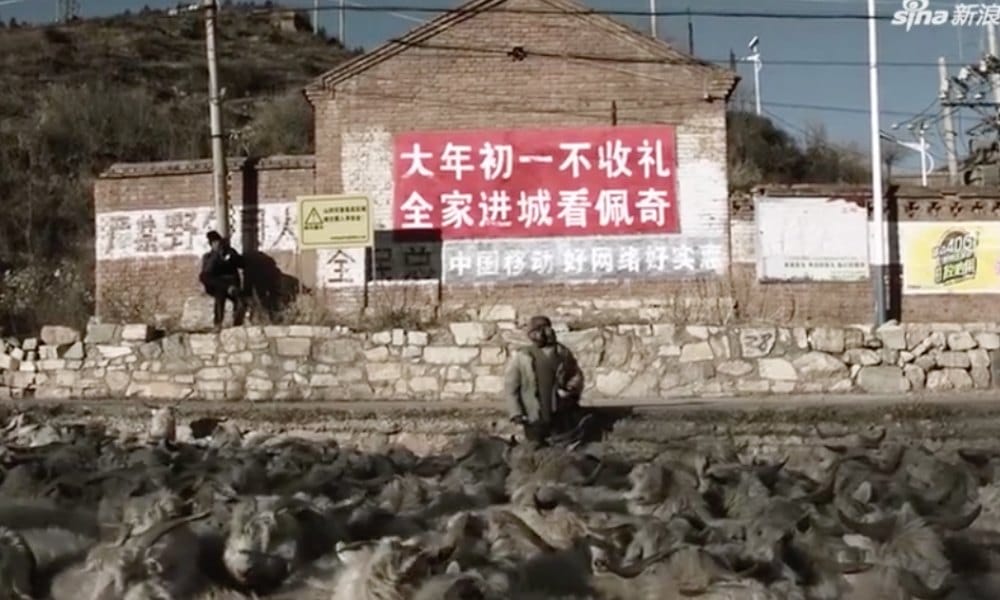 The last shot of the video shows Yu Bao's friend, a sheepherder, standing with his new phone, while someone in the back plays the tune of the Peppa cartoon. The big slogan on the wall is partly based on a popular catchphrase from another Chinese ad, and says: "At the start of the New Year, don't accept gifts; the whole family goes to the city to watch Peppa instead."
What's Peppa Pig?
Peppa Pig is a popular children's cartoon that first aired as a British animated television series (produced by Astley Baker Davies) in May of 2004. It took more than eleven years before the show was officially launched in the PRC (CCTV/June 2015).
Since then, Peppa Pig has become one of the most popular programs for preschoolers in China. But not just preschoolers love the pig; it has also become highly popular among young adults, who wear Peppa t-shirts, Peppa watches, and are major consumers of China's thriving Peppa industry.
In 2018, Chinese popular short video app Douyin (also known in English as Tik Tok) removed approximately 30,000 short videos relating to British cartoon Peppa Pig from its platform, as Peppa had turned into somewhat of a subversive symbol to a Chinese online youth subculture dubbed 'shehuiren' (社会人) (read more here).
This news item led to some confusion in Western media, where it was often suggested that Peppa was completely banned in China. She is, in fact, not banned; she is now more popular than ever.
Peppa the Movie
Amid the huge success of Peppa in China, it was announced in the summer of 2018 that Chinese tech giant Alibaba was working together with Entertainment One on the release of a Peppa Pig movie especially for the Chinese market, as this year's Chinese New Year is the start of the Year of the Pig.
The movie, titled 'Peppa Pig Celebrates New Year' (小猪佩奇过大年), is set for a nationwide release on February 5, the first day of the Chinese Lunar New Year. This is the most popular time for big blockbusters to come out, as many people are free during Chinese New Year and have the time to go out to the cinema together with their families.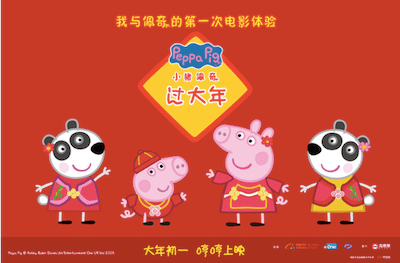 The movie itself revolves around Peppa and little brother George and their parents, who are having a reunion for the Spring Festival. It features various Chinese traditions, and of course, something unexpected will happen.
Why This Peppa Ad Campaign is So Brilliant 
The Peppa ad has really struck a chord on Chinese social media for various reasons. The video was directed by Beijing director Zhang Dapeng (张大鹏, 1984), who also directed the actual Peppa movie, and the campaign is also sponsored by China Mobile.
What this ad campaign does:
– It mixes the love for Peppa with the warm feeling of Chinese family reunions during Chinese New Year.
– It presents a nostalgic idea of the Chinese village community, where neighbors come together and look out for each other.
– It touches upon the issue of China's rapid urbanization, that has caused many villages to become deserted and isolated as younger generations have settled in the cities.
– It highlights how China's digitalization is leaving behind its elderly population (read more here).
– It shows the strong grandparent–grandchild relationship; usually, Chinese grandparents play an active role in raising grandchildren, something that has been changing due to younger generations moving to the city.
In other words; the advertisement completely draws the figure of Peppa Pig into a Chinese socio-cultural context, where it symbolizes the strong connection between Chinese families amid China's rapid urbanization and digitalization.
By now, the Peppa campaign is making its rounds from Weibo to WeChat and elsewhere on the Chinese internet, with some online sellers already offering a remake of the Peppa present for sale as a collector's item. Bloomberg reports that Chinese stocks connected to Peppa Pig have surged after the clip went viral yesterday and today.
"I give this video 100 points!" some commenters on social media write, with others saying it has made them tear up. "This already is the best ad campaign of the year."
Peppa was already a famous figure in China, but with this viral hit and the upcoming movie, the British pig really has become a part of China's popular culture and media environment: it's the Chinese new year of Peppa Pig.
By Manya Koetse and Miranda Barnes
Follow @whatsonweibo
Spotted a mistake or want to add something? Please let us know in comments below or email us.
©2019 Whatsonweibo. All rights reserved. Do not reproduce our content without permission – you can contact us at info@whatsonweibo.com
Living the Dream: Chinese Architect Designs Stunning Six-Story Communal Living Space
This architect from Guangzhou turned her dream of living together with friends in a creative workspace into reality. The building is a hit on Chinese social media.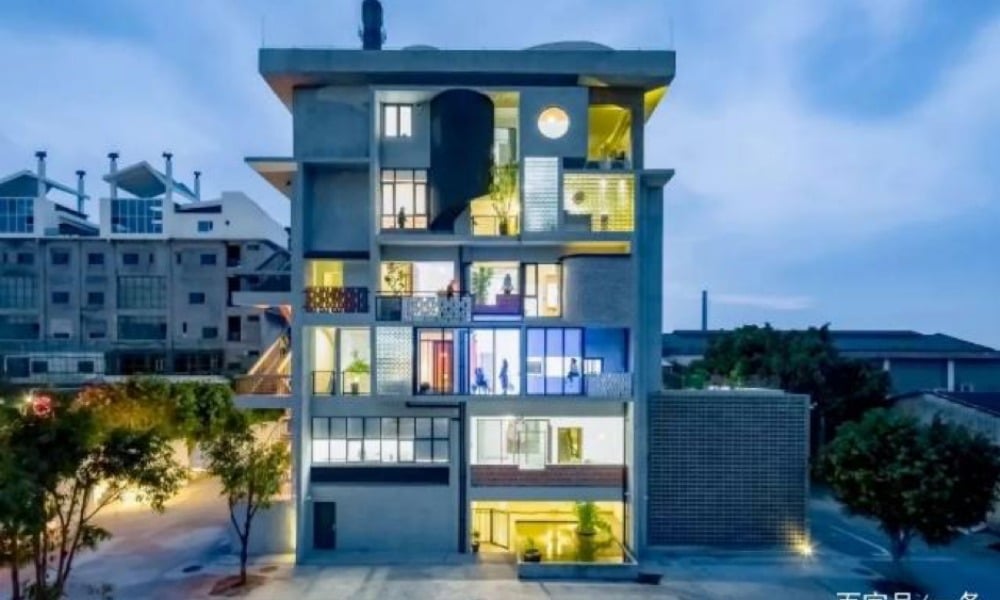 While living together with your best friends in one big house might be a dream of many people, this Chinese architect turned the idea into reality by transforming an old factory into a modern museum-like work- and living space. Through her work, the architect aims to change views on China's urban living spaces.
Guangzhou architect "Michelle" (米歇尔 or Mi Xiao 米笑) and most of her friends work in creative industries. A few years ago, they found that their work and lifestyle required a more flexible and multi-purpose living space; a place where they could live and work together as a small community while also showcasing what they do.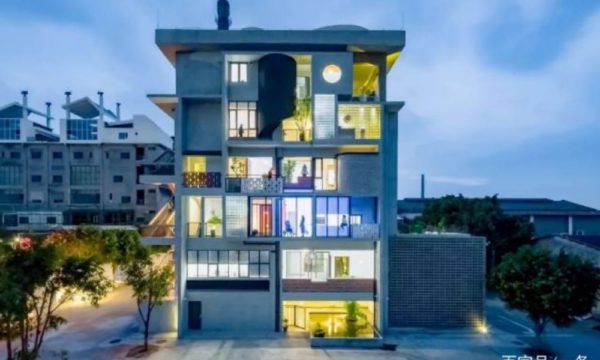 In 2012, the six friends found a workshop in an old abandoned sugar factory, built in the 1950s, located in Guangzhou's Panyu district. More than five years later, they had succeeded in transforming it into a modern six-story work- and living space.
A news story and a video of the building are now attracting major attention on Chinese social media. On Weibo, the hashtag "Six Friends Transform a Building" (#6个好友改造一栋楼#) has been viewed more than 250 million times.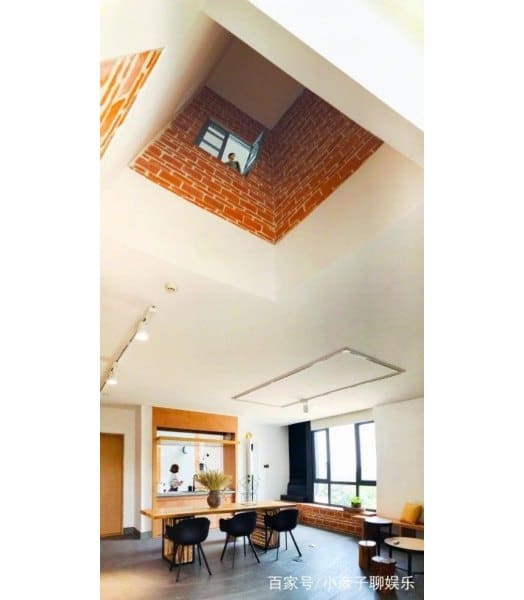 The communal living space, that has been named Boundless Community (无界社区), covers about 1500 square meter and has six completely separate rooms. Originally, the building was made up of only three stories, each with a ceiling height of six to nine meters high.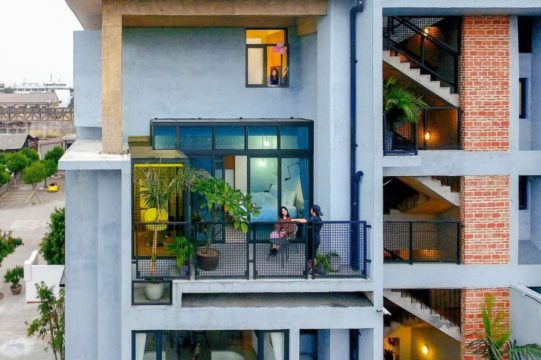 With the reconstruction of the building, the architect reportedly "wanted to break with the traditional urban types of dwellings," where many people live behind locked doors in small spaces. Michelle intended to design the space as a small "village," where people share their living space.
At the same time, the space also allows people to be creative and share their work with the outside world. All of these ideas resulted in a transparent "museum building."
The building itself is almost like a museum by allowing people from outside to look into the various studios.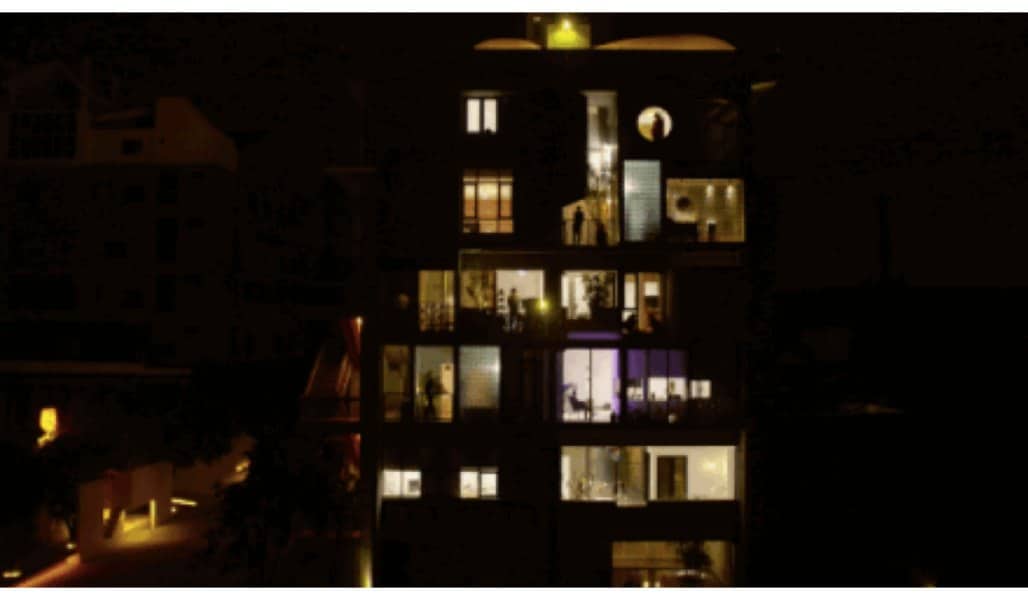 The popular architect is not the only one who is in favor of sharing a living space with her friends. A recent poll on Weibo shows that more than 90% of respondents would also like to live together with their friends; only 10% of the people prefer privacy over a communal living space with good friends.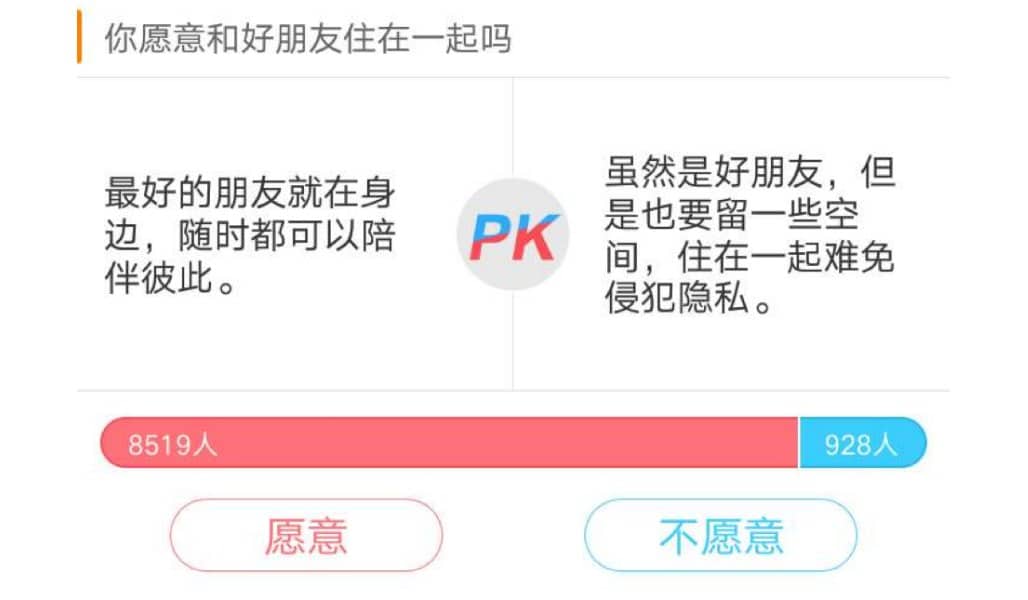 "This is my dream!", many commenters say, with others calling it "simply magical."
To read more about changing attitudes on home and living in China, also check out this article by What's on Weibo. 
By Gabi Verberg
Images via https://sjz.news.fang.com/open/31234746.html.
Spotted a mistake or want to add something? Please let us know in comments below or email us.
©2019 Whatsonweibo. All rights reserved. Do not reproduce our content without permission – you can contact us at info@whatsonweibo.com