Proposal to Teach 'Death Education' in Chinese Schools Goes Trending on Weibo
Many Chinese families refuse end-of-life care for elderly patients for fear of appearing "unfilial."
First published
A proposal from Peking University Cancer Hospital's chief physician and National People's Congress member Dr. Gu Jin has become a top trending topic on Weibo this week.
The hashtags "Proposal to Launch Nationwide Death Education" (#建议全民开展死亡教育#) and "Proposal to Launch Death Education" (#建议开展死亡教育#) were already viewed over 340 million times on Thursday, just 24 hours after it came out.
In a video produced by Beijing News from this year's annual 'Two Sessions' meeting, Dr. Gu Jin proposed that China should start "educating the nation on the topic of death." Dr. Gu's comments underline growing concerns over China's death taboo.
As a cancer surgeon, Dr. Gu explained that he often encountered late-stage cancer patients. Although for these patients, even "extreme treatments" would no longer help, he discovered that families usually refuse to accept palliative care. By focusing on end-of-life care, providing relief and comfort, rather than medical cures, many family members worry that they might appear "unfilial," Gu explains.
Concerned with being good family members, many Chinese do not want to expose their parents and grandparents to death. This aversion to death has deep historical roots.
According to Cheris Shun-Ching Chang, professor of sociology at Hong Kong University, Confucian silence on questions of death and folk Buddhist references to "a dark world (yinjian) and a cruel hell (diyue) historically account for the topic's avoidance. She also points to commonplace fears that a premature death could mark the end of one's lineage (Chan 2012,37). Although religious belief waned over the 20th century, Chan argues the taboo alone still has an "independent power in shaping human action."
The damage caused by China's taboo against discussions of death is not limited to a patient's pain. Aversion to considering one's demise keeps many from writing wills or registering as organ donors. What's more, doctors give diagnoses to family members, not the patients themselves, leaving the patient completely in the dark, and the family with the difficult choice of how to proceed.
Dr. Gu believes that China's conception of death is harmful to the country's youth as well: "[Teen suicide] causes us great sorrow. It makes us feel that, when it comes to our conception of life, or respect for life, there is something lacking in our education." He then proposed that educating students on the topic of life and death ought to begin in primary or middle school. "This will [teach] people to respect life and death."
Many netizens expressed their support for changing Chinese cultural attitudes to death. "This is really of the utmost importance," commented one netizen: "we mustn't merely fear death, but ought to respect it." Another person wondered whether death education ought to start in kindergarten.
Dr. Gu is not alone in the hopes of changing China's conception of death. "The Dead," a Weibo account with over half a million followers, provides netizens with a place to eulogize their lost loved ones and support those who have lost others. In an interview with What's on Weibo, the team expressed a perspective in line with Dr. Gu, stating, "Working hard to live with an understanding of death is a lesson every Chinese person must learn."
Some netizens argue that death is not the only subject insufficiently covered by China's curriculum.  "[A lack of understanding about] death is not the only problem, [not] understanding love and sex has caused many problems [too]," wrote one netizen. "Love, sex, and death education ought to be simultaneously provided," agreed another.
Dr. Gu's proposal might lead to more discussions on 'death education' in Chinese schools in the time to come. As for love and sex education, that's perhaps a topic for the next Two Sessions.
Also read: Weibo's Digital Graveyard: Remembering the Dead on Chinese Social Media
By Brydon Brancart
Follow @whatsonweibo
References (other sources in-text through hyperlinks)
Chan, Cheris Shun-Ching. 2012. Marketing Death: Culture and the Making of a Life Insurance Market in China. Oxford: Oxford University Press.
Featured Image by Photo by Josh Appel @joshappel
Spotted a mistake or want to add something? Please let us know in comments below or email us.
©2019 Whatsonweibo. All rights reserved. Do not reproduce our content without permission – you can contact us at info@whatsonweibo.com.
Exchange Student to Be Deported from China for Harassing Young Woman at University
An exchange student studying at the Hebei University of Engineering has been expelled and will soon be deported after harassing a female student.
An exchange student from Pakistan who was studying at the Hebei University of Engineering (河北工程大学) has been expelled and detained after harassing a female student at the same university.
The incident, that is attracting much attention on Chinese social media this week, adds to the wave of recent controversies over the behavior and status of overseas students in mainland China.
On July 31, a female student at the Hebei university filed a police report against a Pakistani student who allegedly harassed her and attempted to forcefully kiss her and touch her breasts.
Screenshots of a supposed WeChat conversation between the exchange student and the female student, in which the man apologizes and claims the interaction is a "requirement for friendship," are being shared on social media.
According to various reports, the police initially tried to mediate between the two students, which the female student refused.
Together with the school principal, the police then further investigated the case and found ample evidence of harassment after examining the university's surveillance system.
On August 1st, the Hebei University of Engineering announced that they had expelled the student and that he will be deported from China. The announcement received more than 14,000 reactions and 150,000 'likes' on Weibo.
The student is now detained at the local Public Security Bureau and is awaiting his deportation.
A photo of two officers together with a man in front of the detention center in Handan is circulating on social media in relation to this incident.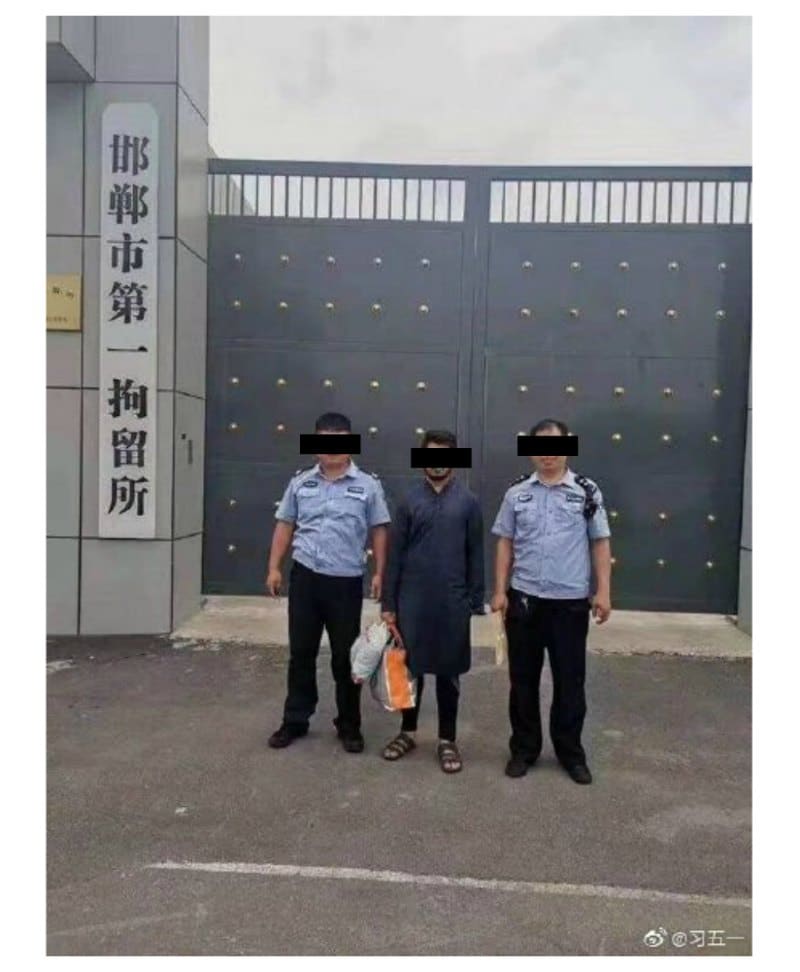 At time of writing, the hashtag page "Exchange Student to Be Deported after Molesting Female Student" (#留学生猥亵女学生将被遣送出境#) has been viewed over 310 million times on Weibo.
Among thousands of reactions, there are many who praise the Hebei university for supporting the female student after she reported the exchange student to the police.
"This may not be the best university, but at least they stand behind their students!", some say, with others calling the university "awesome."
Many say that the Hebei university should serve as an example for other Chinese universities to follow, with Shandong University being specifically mentioned by Weibo users.
Shandong University was widely criticized earlier this summer for its "buddy exchange program," which was accused of being a way to arrange Chinese "girlfriends" for male foreign students.
Another incident that is mentioned in relation to this trending story is that of an exchange student who displayed aggressive behavior towards a Chinese police officer in July of this year. The student was not punished for his actions, which sparked anger on Chinese social media.
By Manya Koetse
Follow @whatsonweibo
Spotted a mistake or want to add something? Please let us know in comments below or email us. Please note that your comment below will need to be manually approved if you're a first-time poster here.
©2019 Whatsonweibo. All rights reserved. Do not reproduce our content without permission – you can contact us at info@whatsonweibo.com
Holiday Homework: Take a Picture with Five Foreigners
Is "take a photo with a foreigner" an appropriate homework assignment? This Zhuhai school teacher thinks it is.
An elementary school in Guangdong's Zhuhai city has become a target of online banter this week for a special holiday homework assignment given to its pupils.
The school's English teacher told students to take a picture with five foreigners this holiday. The pupils' parents were not too happy with this 'homework' and questioned its purpose and validity.
In the eyes of many netizens, the assignment is inappropriate as it supposedly teaches pupils to look up to (or 'worship') foreigners.
Others think the assignment is simply not practical, saying that Zhuhai does not have that many foreigners walking around and that not all foreigners speak English.
With over 110 million views on the hashtag "Holiday Homework to Take Photo with Five Foreigners" (#暑假作业与五个外国人合影#), the topic has blown up on Weibo.
"Just take a photo with the neighbor and tell them they're from Singapore," some people suggested: "Take some photos with Chinese people and say they were from South Korea!"
In an online poll about the issue, initiated by China Daily, nearly 65% of respondents said they did not agree with the assignment.
The school principal responded to the controversy, saying that the assignment was an "optional" one.
The class head also stated that the assignment was not obligatory, but that it was merely meant as an "encouragement" so that students could practice their conversational English by having a short conversation with a foreigner.
Many commenters side with school and condemn all the criticism and banter: "Of course an English teacher would want to tell its pupils to interact with foreigners in English!"
Another person mentions that many Chinese students have high grades in their English exams without actually being able to hold a conversation in English: "Our English education is not focused enough on speaking English."
"This teaches students to take the initiative to start a conversation in English, what's not good about it? You're all too sensitive!"
By Manya Koetse , with contributions from Miranda Barnes
Follow @whatsonweibo
Spotted a mistake or want to add something? Please let us know in comments below or email us. Please note that your comment below will need to be manually approved if you're a first-time poster here.
©2019 Whatsonweibo. All rights reserved. Do not reproduce our content without permission – you can contact us at info@whatsonweibo.com