Proposal to Teach 'Death Education' in Chinese Schools Goes Trending on Weibo
Many Chinese families refuse end-of-life care for elderly patients for fear of appearing "unfilial."
First published
A proposal from Peking University Cancer Hospital's chief physician and National People's Congress member Dr. Gu Jin has become a top trending topic on Weibo this week.
The hashtags "Proposal to Launch Nationwide Death Education" (#建议全民开展死亡教育#) and "Proposal to Launch Death Education" (#建议开展死亡教育#) were already viewed over 340 million times on Thursday, just 24 hours after it came out.
In a video produced by Beijing News from this year's annual 'Two Sessions' meeting, Dr. Gu Jin proposed that China should start "educating the nation on the topic of death." Dr. Gu's comments underline growing concerns over China's death taboo.
As a cancer surgeon, Dr. Gu explained that he often encountered late-stage cancer patients. Although for these patients, even "extreme treatments" would no longer help, he discovered that families usually refuse to accept palliative care. By focusing on end-of-life care, providing relief and comfort, rather than medical cures, many family members worry that they might appear "unfilial," Gu explains.
Concerned with being good family members, many Chinese do not want to expose their parents and grandparents to death. This aversion to death has deep historical roots.
According to Cheris Shun-Ching Chang, professor of sociology at Hong Kong University, Confucian silence on questions of death and folk Buddhist references to "a dark world (yinjian) and a cruel hell (diyue) historically account for the topic's avoidance. She also points to commonplace fears that a premature death could mark the end of one's lineage (Chan 2012,37). Although religious belief waned over the 20th century, Chan argues the taboo alone still has an "independent power in shaping human action."
The damage caused by China's taboo against discussions of death is not limited to a patient's pain. Aversion to considering one's demise keeps many from writing wills or registering as organ donors. What's more, doctors give diagnoses to family members, not the patients themselves, leaving the patient completely in the dark, and the family with the difficult choice of how to proceed.
Dr. Gu believes that China's conception of death is harmful to the country's youth as well: "[Teen suicide] causes us great sorrow. It makes us feel that, when it comes to our conception of life, or respect for life, there is something lacking in our education." He then proposed that educating students on the topic of life and death ought to begin in primary or middle school. "This will [teach] people to respect life and death."
Many netizens expressed their support for changing Chinese cultural attitudes to death. "This is really of the utmost importance," commented one netizen: "we mustn't merely fear death, but ought to respect it." Another person wondered whether death education ought to start in kindergarten.
Dr. Gu is not alone in the hopes of changing China's conception of death. "The Dead," a Weibo account with over half a million followers, provides netizens with a place to eulogize their lost loved ones and support those who have lost others. In an interview with What's on Weibo, the team expressed a perspective in line with Dr. Gu, stating, "Working hard to live with an understanding of death is a lesson every Chinese person must learn."
Some netizens argue that death is not the only subject insufficiently covered by China's curriculum.  "[A lack of understanding about] death is not the only problem, [not] understanding love and sex has caused many problems [too]," wrote one netizen. "Love, sex, and death education ought to be simultaneously provided," agreed another.
Dr. Gu's proposal might lead to more discussions on 'death education' in Chinese schools in the time to come. As for love and sex education, that's perhaps a topic for the next Two Sessions.
Also read: Weibo's Digital Graveyard: Remembering the Dead on Chinese Social Media
By Brydon Brancart
Follow @whatsonweibo
References (other sources in-text through hyperlinks)
Chan, Cheris Shun-Ching. 2012. Marketing Death: Culture and the Making of a Life Insurance Market in China. Oxford: Oxford University Press.
Featured Image by Photo by Josh Appel @joshappel
Spotted a mistake or want to add something? Please let us know in comments below or email us.
©2019 Whatsonweibo. All rights reserved. Do not reproduce our content without permission – you can contact us at info@whatsonweibo.com.
China Youth Federation: Ban Minors from Live Streaming Platforms
If implemented, this would mean a big blow to China's live streaming market.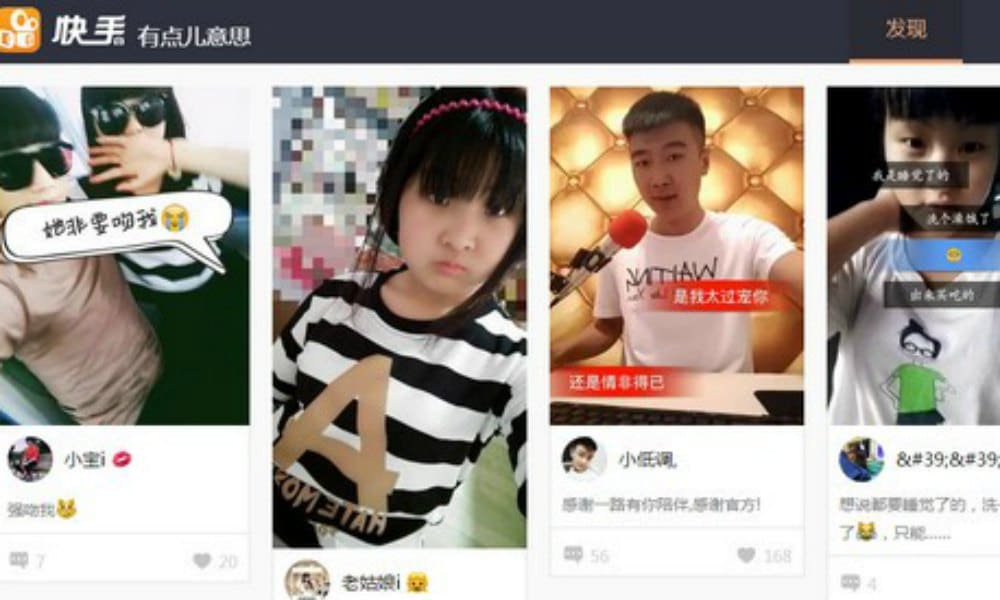 First published
More than 45% of Chinese live stream users are minors. A new proposal by the China Youth Federation wants to ban those under the age of 18 from broadcasting in China's booming live streaming environment.
Chinese minors will no longer be able to do live streaming if it is up to the All-China Youth Federation (ACYF, 中国青联). The China Youth Federation submitted the proposal during the Two Sessions (Lianghui), China's largest annual legislative meetings.
The China Youth Federation is an organization to represent China's youth groups founded in 1949, that has the Communist Youth League of China as its core.
China's live streaming market is booming. Sina News reports that some 425 million netizens used live streaming platforms in 2018. According to the Online Information Center of the Communist Youth League, Chinese minors are particularly active live streamers: 6.4% of live stream users are primary school students, 18.3% of them are junior high school students and 20.3% are senior high schoolers.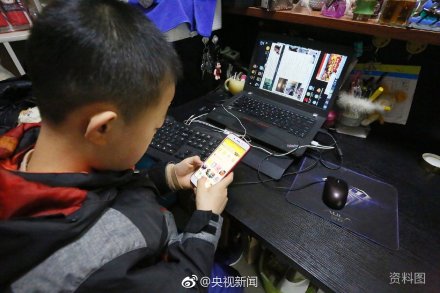 There are dozens of live streaming platforms in China, with this list of apps, including the short video & live stream platforms Douyin and Kuaishou, being among the most popular ones. If the law would be implemented, China's thriving live streaming market would certainly suffer a big blow.
Earlier this week, Sixth Tone already reported that "protecting minors online" would be among one of the important themes discussed by tech leaders at the Two Sessions.
On Saturday, March 9, the hashtag "Proposal to Ban Minors from Engaging in Livestreaming" (#建议禁止未成年人担任网络主播#) [basically meaning "prohibiting minors from being online hosts"] became top trending on Weibo, attracting more than 180 million views. Various Chinese state media sources state that the live streaming industry is in "a state of chaos" and needs stricter control to protect minors, who could easily come into contact with "vulgar" and "inappropriate" content through live streaming platforms.
The ban could be realized by implementing stricter controls on the registration process of China's various live-streaming networks. This could suggest that the measures would go beyond minors just being banned from live streaming themselves.
"I support this proposal, live streaming platforms are not appropriate for minors," a popular comment said, with many Weibo users agreeing: "Young people should focus on their schoolwork instead."
But not everyone agrees with stricter controls on China's online platforms. One commenter wrote: "Officials can have multiple wives, rich people have multiple women, yet if common people watch live streams where some vulgar language or sensitive content occasionally pops up, then it's not allowed."
"What should be banned is vulgar content, not minor users," others write.
Earlier this week, Beijing News reported that Yan Xiaohong (阎晓宏), director of the Chinese Copyright Association, also submitted a proposal relating to minors using the internet. Yan's proposal goes much further than that of the ACYF: he suggests that special online platforms should be developed for minors, and argues that it is not good for China's youth to be able to access the same online content as adults.
By Manya Koetse 
Spotted a mistake or want to add something? Please email us.
©2019 Whatsonweibo. All rights reserved. Do not reproduce our content without permission – you can contact us at info@whatsonweibo.com.
Zhai Tianlin's Alleged Plagiarism Triggers Discussions on Academic Cheating in Chinese Universities
"Colleges and Universities face great corruption problems, that is what you should be looking into."
Earlier this month, Chinese actor Zhai Tianlin (翟天临) drew the public's attention for his appearance at the CCTV Spring Festival Gala, where he starred as a police officer preventing his parents from being scammed. Now, Zhai, again, is at the center of attention: not for his acting skills, but for allegedly committing academic fraud.
The famous actor is a Beijing Film Academy Ph.D. graduate and postdoctoral candidate at Peking University, one of China's most renowned universities.
His alleged academic misconduct has been a topic of discussion for some days now. During a live broadcast with fans, Zhai apparently said he did not know what CNKI (知网) is, an academic database that all scholars in China will be familiar with.
It led to suspicions on Zhai's academic standing, and people on the Quora-like Q&A platform Zhihu accused Zhai of not publishing any academic papers in recognized scholarly journals – something that is mandatory for Ph.D. students in China in order to fulfill their graduation requirements.
Zhai's academic records increasingly became the focus of attention on February 9th, when one Weibo user (PITD亚洲虐待博士组织), a graduate student from Beijing, posted the results of a plagiarism detection test that was run on one of Zhai's papers.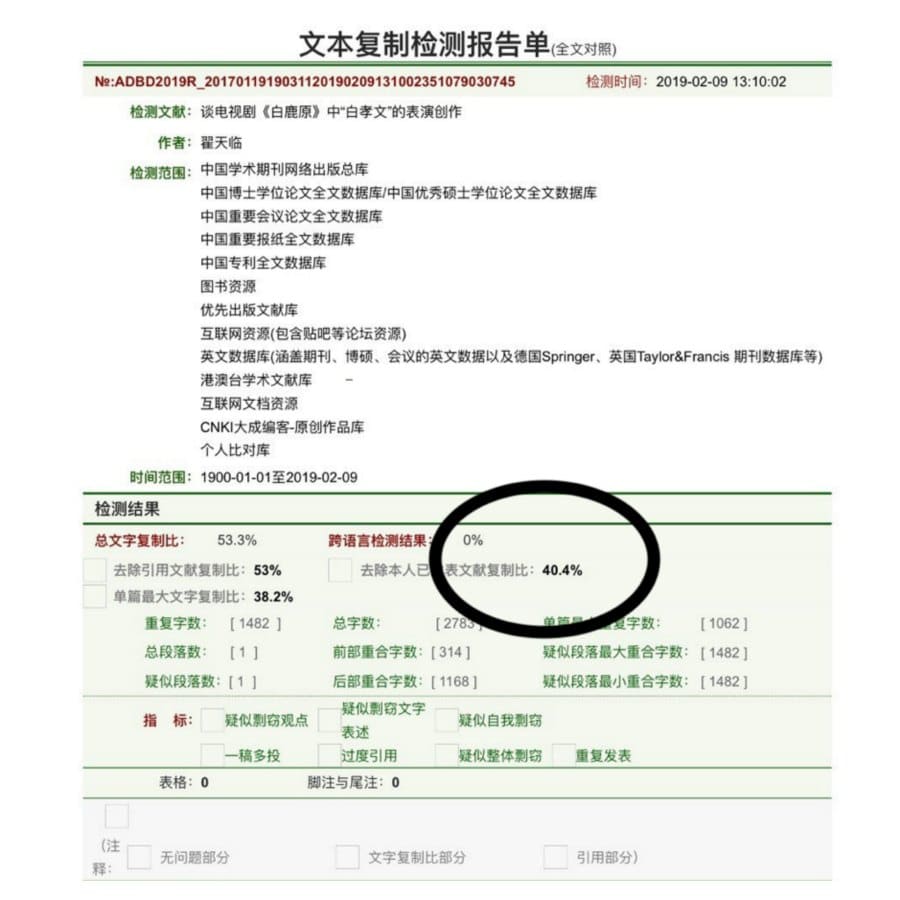 The test result revealed that of the 2783 words used in the paper, that was published last year, 1482 words were copied from other texts, indicating a 40.4% similarity score.
After the Beijing Film Academy released a statement that they would be investigating Zhai Tianlin, state media outlet China Daily posted a message on their Weibo account, stating that "academic standards must be the same for everyone" and that "postdoctoral researchers are a university's greatest honor, " and that "who wants to carry the crown should also carry the weight."
On that same day, Peking University also published a statement saying that they are investigating the incident.
Zhai Tianlin (1987), who is also known as Ronald Zhai, is most known for starring in various popular Chinese TV shows and dramas, such as White Deer Plain and The Advisors Alliance.
The plagiarism allegation case has become a major topic of discussion on Chinese social media this week. The hashtag "Peking University Responds to Zhai Tianlin Case"  (#北大回应翟天临事件#) has been viewed a staggering 650 million times on Weibo at time of writing, while the hashtag "Beijing Film Academy Sets Up Zhai Tianlin Investigation Team" (#北电成立翟天临事件调查组#) received more than 490 million views.
The storm is not likely to blow over soon, as new reports now also allege that Zhai's MA-thesis relies heavily on the scholarly work of Chen Kun, a famous Chinese actor who also attended the Beijing Film Academy.
Although the scandal has triggered countless reactions condemning Zhai, there are also many people on social media who are directing their anger towards the universities and state media, with one typical comment saying: "By solely focusing on Zhai, you are avoiding the real problem. Colleges and universities face great corruption problems, that is what you should be looking into."
Another person wrote: "I feel like the public opinion is focused too much on this case of 'academic misconduct.' What the media should be investigating is: why was the paper not checked for plagiarism before its publication? What the Beijing Film Academy should be looking into is how somebody can graduate with a paper that is not up to standard? And how someone who clearly doesn't hold the appropriate academic abilities has access to its programme."
"Peking University and Beijing Film Academy are both responsible for this fraud. How could they ever enroll such a fraudulent person?!" others wrote. 
Some commenters seem to have no trust in China's academic standard, saying: "Are you telling me you [the universities] didn't know about this when you admitted him? Now you are setting up investigation teams, but it is all just for show."
Academic corruption in the Chinese educational context has been a well-known problem for years. As early as 2002, the Ministry of Education implemented various policies to combat academic misconduct, defining it as an act of academic dishonesty that is punishable, but the problem is still widespread (Kai 2012).
Some studies suggest that one of the factors that play a role in plagiarism in China relate to the fact that 'plagiarism' is something that is often defined in very general terms, with university handbooks nor policies clearly codifying instances of "appropriate and inappropriate source use" (Hu & Lei 2015, 236).
There are also many other factors at play, however, such as the pressure for doctorate students to publish their papers, and the phenomenon of  "publishing cash incentives," which would allegedly trigger more academic fraud.
On Chinese social media, many people express that they hope that the institutions involved will "set an example" for other universities and "be transparent" in the way they'll handle Zhai in case he is found guilty of plagiarism.
Many also pointed out the irony in the fact that it was Zhai who played the police officer that prevented his parents from being scammed during the CCTV New Years' Eve Gala.
"This is just all so embarrassing," some write: "Now it looks like not just Zhai's PhD status should be taken from him, but also his MA title."
Others suggest that this whole scandal would make an excellent topic for another TV drama, starring Zhai Tianlin, doing what he does best: acting. Some voices suggest that people should wait for the investigations into Zhai's work to be completed before condemning him. With the massive online attention for this case, it might not take too long for more facts to surface on the case. We'll keep you updated.
By Gabi Verberg and Manya Koetse
References
Hu, Guangwei and Jun Lei. 2015. "Chinese University Students' Perceptions of Plagiarism." ETHICS & BEHAVIOR 25(3): 233–255.
Kai, Ren. 2012. "Fighting against Academic Corruption: A Critique of Recent Policy Developments in China." Higher Education Policy (25): 19–38.
Spotted a mistake or want to add something? Please let us know in comments below or email us.
©2019 Whatsonweibo. All rights reserved. Do not reproduce our content without permission – you can contact us at info@whatsonweibo.com