Jia Zhangke Responds To Criticism From Global Times Editor Hu Xijin (Full Translation)
When the editor-in-chief of state tabloid Global Times gave Jia Zhangke's latest film a bad review on Weibo, the renowned director responded with a bad review of the bad review.
This week, an online quarrel between Global Times editor-in-chief Hu Xijin (胡锡进) and Chinese director Jia Zhangke (贾樟柯) drew much attention on Chinese social media.
The issue started when Hu Xijin criticized Jia Zhangke's latest film Ash Is Purest White (江湖儿女) on Weibo on September 24, calling the film "depressing" and "full of negative energy," and suggesting the film Dying to Survive is much better.
At SupChina, Jiayun Feng translated Hu's comments. Besides condemning the film for its negativity, Hu also wrote:
"Please don't place stinky tofu under our noses and force us to get used to that particular smell. I am aware that some people love to watch horror movies and negative energy can also attract audiences in a way like how opium gets people hooked. But I still hope filmmakers in China can study movies created by Hollywood and Bollywood and produce some movies with normal views about what's good and what's evil."
Adding:
"I know I can't blame others because I bought the [movie] ticket and no one forced me to watch it. But what I'm doing here is to caution my fans no to be deceived by the movie's title. It uses a gloomy style of filming to tell a banal story of how nice people don't get properly rewarded for good deeds. It's neither pleasant nor sad enough to bring you to tears. It only makes you frustrated and upset."
Hu's criticism was soon after deleted, but the screenshots already circulated online.
Ash Is Purest White, that was released in mainland China on September 21st, is a big box-office success and is Jia Zhangke's highest-grossing film yet. The film revolves around the tumultuous love story between gangster Bin (Fan Liao) and dancer Qiao (Tao Zhao).
Jia's responded to the harsh criticism in a lengthy Weibo post, that has since been shared more than 68,000 times, receiving over 128,000 likes and 30,500 comments.
Here is a full translation of Jia's Weibo post in response to Hu:
"Editor Hu Xijin:
I'm glad you went to watch 'Ash is Purest White'. And I'm sorry it made you feel "depressed" (堵心) during the Mid-autumn Festival. First, I wish you nothing but happiness. Regarding your opinions, I'll respond to them one by one below, comments/suggestions are of course welcome.
1. I also was moved by the movie 'Dying to Survive' (我不是药神). But, as Lu Xun (鲁迅) [famous Chinese writer] once said: "People's joy and sorrows are not connected" (人类的悲欢并不相通). I'm not sure you and I are similar in what makes us happy or sad. That also goes for our feelings on 'Ash is Purest White' – I'm quite confused about how we could be so far apart.
2. About the "negative energy" – I believe energy is built on the basis of telling the truth as much as possible. The truth is the most powerful form of positive energy. Not tolerating truth or facts will bring about negative energy. Seeing or hearing it all the time, but pretending you have not, gains no truth or facts. In the end, it'll lead to even greater negative energy. You should always be seeking truth from facts, don't you agree?
3. Speaking of horror films and their audiences; I've never directed any horror films myself, hence my experience in this area is limited. However, all audiences are equal, regardless of taste. As an atheist, you shouldn't really have any opinion regarding ghosts anyway, as you don't believe in them.
4. With regards to Hollywood and Bollywood; you're a 'complex China' (复杂的中国) reporter, but it would be better for you to further investigate 'complex foreign movies'! Your job is to report 'complex China', and I am interested in making films about 'complex characters.' You can't really be picky about your definition of "complex", now can you?
5. Regarding "normal views about what's good and what's evil" – what I don't really understand is: who should be the judge of what is normal and what is not?
6. About "stinky tofu" – you can certainly use 'fragrant' or 'stinky' as metaphors to comment on a movie. However, I disagree with your slandering of "stinky tofu." For many families in poverty, it is all they eat! I've had a lot myself, and for that I'm eternally grateful.
7. Regarding the fact that you "bought the ticket yourself," great! I'm a big supporter of the 8 provisions [rules stipulated by Chinese government on frugality within Party/government]. We don't give free tickets to chief editors of government media!
8. About "letting your fans know" – I think it's great of you to always have your fans in mind. But your fans might not be exactly the same as you in thinking that a movie is good or bad, in considering stinky tofu edible or not. There are many different colors in this world, if something is not black doesn't mean it's white.
9. About the movie using a "gloomy style" – were your eyes built in Meituxiuxiu? [美图秀秀: Chinese photoshop app]. Things are beautiful because they are real. Accept diversity and this world will be more beautiful.
10. About "nice people not getting properly rewarded for their good deeds" – I also wish good things come to good people, but this world is full of strange circumstances, and no one can have full control over it. Things we can't control are also normal, we should accept that. I didn't know you believed in karma yourself.
11. About it being "a banal story": I've always been curious about strange stories, but would always do my best to understand the lives of ordinary people and this both inspires me and moves me.
12. With regards to you feeling "depressed" (堵得慌) – my apologies for not making you feel all warm and fuzzy during the Mid-autumn festival. I couldn't make you tear up, your feelings didn't get an outlet, instead, you felt "blocked and trapped." But 'feeling trapped' is actually a complicated sensation, a big emotional wave if you will. You've been numb for too long, 'feeling trapped' shows that you still have some emotions. Congratulations! The fact that you 'feel trapped' has raised my hopes for the complexities of China.
Happy Mid-autumn Festival! I wish you all the best."
Many netizens applauded Jia's reaction to the Global Times editor. One of the most popular comments was a wordplay on the two men's names, saying: "Director Jia is not fake ['jia' in Chinese] while Editor Hu is full of nonsense ['hu' in Chinese]. ("贾导不假,胡编真胡 Jiǎ dǎo bù jiǎ, hú biān zhēn hú")
"Perhaps Hu can tell me all the movies he dislikes," another commenter said: "Because I'd sure love to watch them."
At time of writing, the hashtag "Jia Zhangke sents response to Hu Xijin" (#贾樟柯发长文回应胡锡进#) received over 12,5 million views.
Hu dedicated another post to the issue on his Weibo account on Wednesday, saying he had written the bad review in the heat of the moment after watching the film, and that he had deleted it after calming down, never expecting it already went viral.
The editor wrote that he "fully accepted" everything Jia had written, and that he had learned his lesson and will be "more careful" in the future in posting his criticisms on Weibo.
"You have your right to criticize, and Jia has the right to refute it," a popular comment said.
Although many people support Jia's response to Hu, there are also those who are critical of it: "He's just creating a hype to sell more tickets at the box office."
Ash Is Purest White (Director's cut) will also be featured at the upcoming Busan Film Festival.
By Miranda Barnes and Manya Koetse
Follow @whatsonweibo
Spotted a mistake or want to add something? Please let us know in comments below or email us.
©2018 Whatsonweibo. All rights reserved. Do not reproduce our content without permission – you can contact us at info@whatsonweibo.com
.
Chinese Movie 'Home Coming' Becomes National Day Box Office Hit
China's latest patriotic blockbuster 'Home Coming' focuses on Chinese diplomats as the saviours of overseas Chinese in times of trouble.
China has got another patriotic box office hit this National Day holiday. 'Home Coming' (万里归途) is inspired by China's overseas citizens protection response during the 2011 Libya crisis, and is sparking waves of nationalistic sentiments.
On October 1st, China's National Day, the Chinese movie Home Coming (万里归途) became a trending topic on Chinese social media after its cinema debut on September 30. On Saturday, the movie's box office sales hit 200 million yuan ($28 million) (#万里归途票房破2亿#).
The National Day holiday, which started on Saturday, is a common time for Chinese domestic movies – often patriotic ones – to hit the theaters. It is one of the most profitable times of the year for Chinese cinemas and also the time when the biggest domestically-produced films are boosted while Hollywood movies are limited.
The 2022 Home Coming war drama was directed by Rao Xiaozhi (饶晓志) and features major Chinese actors such as Zhang Yi (张译), Wang Junkai (王俊凯) and Yin Tao (殷桃).
The film tells the story of Chinese diplomats Zong Dawei (大伟与) and Cheng Lang (成朗), who are ordered to assist in the evacuation of overseas Chinese when war breaks out in North Africa in 2011. Just when they think they've successfully completed their mission, they learn they have to return to save a group of 125 compatriots who are still left behind.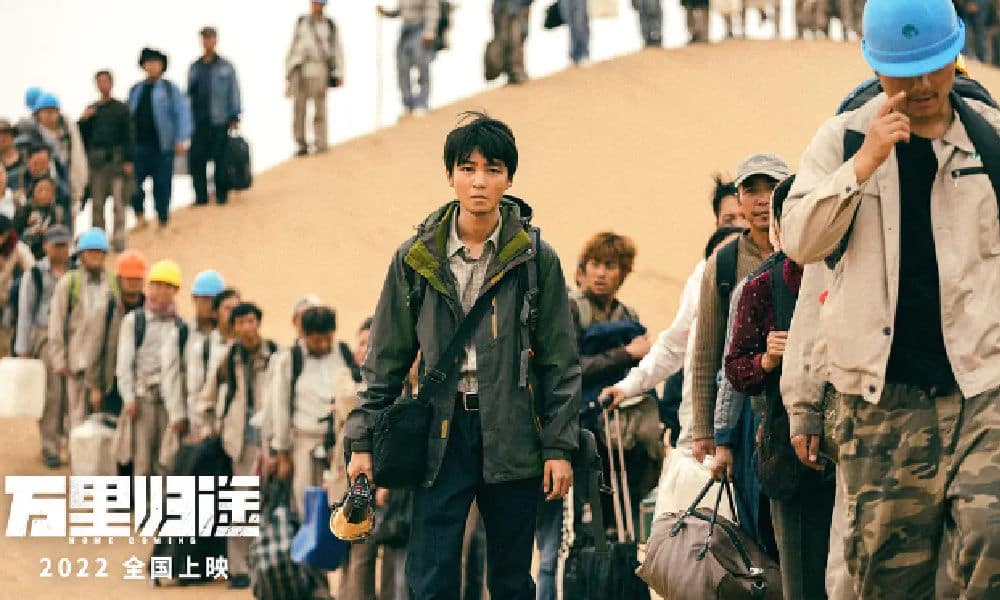 The movie is said to be based on real events but it is set in the fictional Numia Republic (努米亚共和国). According to Chinese state media outlet China.org, Home Coming is inspired by an evacuation event in Libya in 2011, when the Chinese embassy reportedly evacuated more than 30,000 Chinese nationals in a time frame of 12 days.
At the time, Chinese official media called it "the largest such operation China had mounted abroad since the Nationalists fled in 1949" and Chinese nationals were evacuated from the war-torn Libya via land, sea, and air (Zerba 2015, 107).
On Weibo, there are many reviewers giving Home Coming a five-star rating, with some saying the movie moved them to tears. "I needed four tissues," one movie-goer said, while another person complained that they forgot to bring any tissues to dry their tears. In light of the movie's premiere, photos of people crying while watching the film also circulated online.
Although there were also a lot of fans who especially loved the role played by the super popular Wang Junkai, many movie-goers expressed pride in China after watching the movie, which revolves around the idea of finding one's way back home – back to China.
Although Home Coming is said to be the first film about a Chinese foreign evacuation from a diplomat's perspective, there have been multiple domestic movies over the past decade focusing on Chinese civilians needing to be rescued from chaos erupting abroad.
In Operation Red Sea (红海行动, 2018), which also stars Zhang Yi, a Chinese special task force sets out on a risky mission to evacuate civilians amid civil war in the fictional 'Republic of Ihwea' – loosely based on the evacuation of Chinese citizens from Yemen in 2015.
At the end of the Home Coming movie, a text showed up on the screen to remind Chinese viewers to always get in touch with the Foreign Ministry hotline for assistance if they find themselves in an emergency situation while abroad.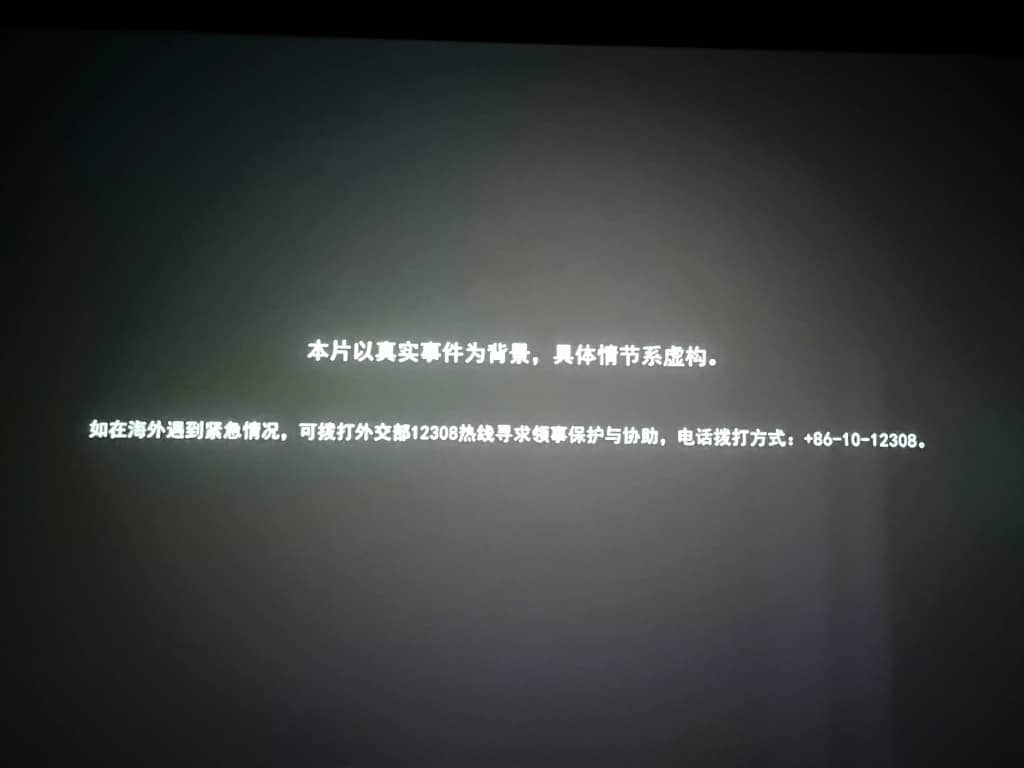 Chinese movie star Wu Jing (吴京) also makes a cameo appearance in this film. Wu is most famous for his role in Wolf Warrior 2, in which he plays a special forces soldier who battles foreign mercenaries and helps Chinese and African citizens during a local war in Africa.
"My love for my country reached a new height after seeing this film," one person wrote, with others applauding the efforts of Chinese diplomats and saying they were so happy be a Chinese national.
While Home Coming was trending on Chinese social media, last year's patriotic hit film also went trending at the same time (#长津湖首播收视率第一#): Battle at Lake Changjin was aired on TV for the first time by CCTV-6 on the evening of October 1st. To read more about why that movie became such a major success, check out our article here.
By Manya Koetse 
References
Zerba, Shaio H. 2015. "China's Libya Evacuation Operation: a new diplomatic imperative – overseas citizen protection." In Suisheng Zhao (ed), China in Africa: Strategic Motives and Economic Interests, p 100-120.
Get the story behind the hashtag. Subscribe to What's on Weibo here to receive our weekly newsletter and get access to our latest articles:
Spotted a mistake or want to add something? Please let us know in comments below or email us. First-time commenters, please be patient – we will have to manually approve your comment before it appears.
©2022 Whatsonweibo. All rights reserved. Do not reproduce our content without permission – you can contact us at info@whatsonweibo.com.
About Lipstick King's Comeback and His 'Mysterious' Disappearance
After Li Jiaqi's return to livestreaming, the 'tank cake incident' has become the elephant in the room on social media.
Earlier this week, the return of China's famous livestreamer Li Jiaqi, also known as the 'Lipstick King', became a hot topic on Chinese social media where his three-month 'disappearance' from the social commerce scene triggered online discussions.
He is known as Austin Li, Lipstick King, or Lipstick Brother, but most of all he is known as one of China's most successful e-commerce livestreaming hosts.
After being offline for over 100 days, Li Jiaqi (李佳琦) finally came back and did a livestreaming session on September 20th, attracting over 60 million viewers and selling over $17 million in products.
The 30-year-old beauty influencer, a former L'Oreal beauty consultant, rose to fame in 2017 after he became a successful livestreamer focusing on lipstick and other beauty products.
Li broke several records during his live streaming career. In 2018, he broke the Guinness World Record for "the most lipstick applications in 30 seconds." He once sold 15000 lipsticks in 5 minutes, and also managed to apply 380 different lipsticks in another seven-hour live stream session. Li made international headlines in 2021 when he sold $1.9 billion in goods during a 12-hour-long promotion livestream for Alibaba's shopping festival.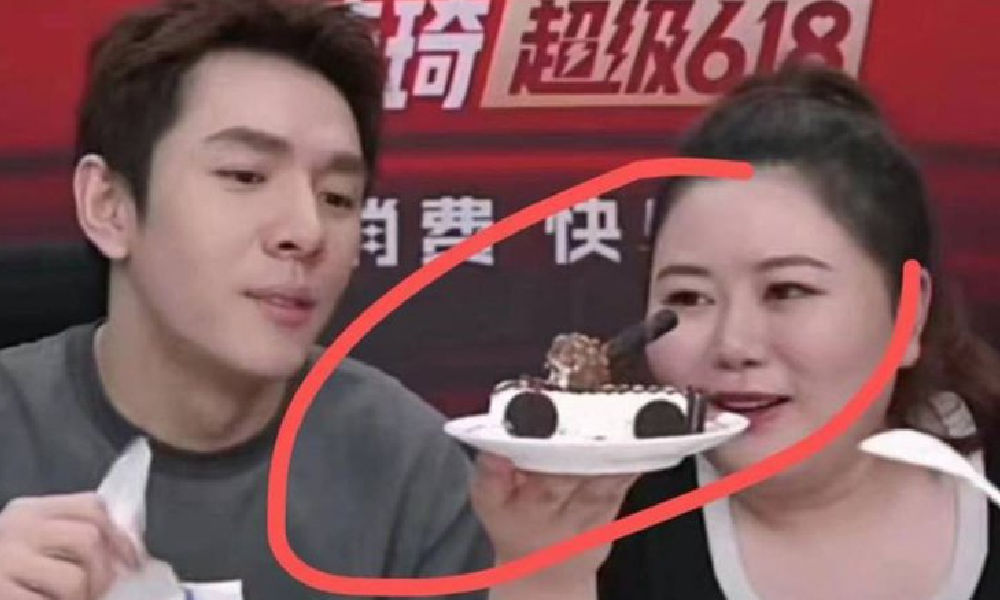 But during a Taobao livestream on June 3rd of this year, something peculiar happened. After Li Jiaqi and his co-host introduced an interestingly shaped chocolate cake – which seemed to resemble a tank, – a male assistant in the back mentioned something about the sound of shooting coming from a tank ("坦克突突").
Although Li Jiaqi and the others laughed about the comment, Li also seemed a bit unsure and the woman next to him then said: "Stay tuned for 23:00 to see if Li Jiaqi and I will still be in this position."
The session then suddenly stopped, and at 23:38 that night Li wrote on Weibo that the channel was experiencing some "technical problems."
But those "technical problems" lasted, and Li did not come back. His June 3rd post about the technical problems would be the last one on his Weibo account for the months to come.
The 'cake tank incident' (坦克蛋糕事件) occurred on the night before June 4, the 33rd anniversary of the violent crackdown of the Tiananmen student demonstrations. The iconic image of the so-called 'tank man' blocking the tanks at Tiananmen has become world famous and is censored on China's internet. The control of information flows is especially strict before and on June 4, making Li's 'tank cake incident' all the more controversial.
But no official media nor the official Li Jiaqi accounts acknowledged the tank cake incident, and his absence remained unexplained. Meanwhile, there was a silent acknowledgment among netizens that the reason Li was not coming online anymore was related to the 'tank cake incident.'
During Li's long hiatus, fans flocked to his Weibo page where they left thousands of messages.
"I'm afraid people have been plotting against you," many commenters wrote, suggesting that the cake was deliberately introduced by someone else during the livestream as a way to commemorate June 4.
Many fans also expressed their appreciation of Li, saying how watching his streams helped them cope with depression or cheered them up during hard times. "What would we do without you?" some wrote. Even after 80 days without Li Jiaqi's livestreams, people still commented: "I am waiting for you every day."
On September 21st, Li Jiaqi finally – and somewhat quietly – returned and some people said they were moved to see their lipstick hero return to the livestream scene.
Although many were overjoyed with Li's return, it also triggered more conversations on why he had disappeared and what happened to him during the 3+ months of absence. "He talked about a sensitive topic," one commenter said when a Weibo user asked about Li's disappearance.
One self-media accountpublished a video titled "Li Jiaqi has returned." The voiceover repeatedly asks why Li would have disappeared and even speculates about what might have caused it, without once mentioning the tank cake.
"This cracks me up," one commenter wrote: "On the outside we all know what's going on, on the inside there's no information whatsoever."
"It's tacit mutual understanding," some wrote. "It's the elephant in the room," others said.
Some people, however, did not care about discussing Li's disappearance at all anymore and just expressed joy about seeing him again: "It's like seeing a good friend after being apart for a long time."
By Manya Koetse 
Elements in the featured image by @karishea and @kaffeebart.
Get the story behind the hashtag. Subscribe to What's on Weibo here to receive our weekly newsletter and get access to our latest articles:
Spotted a mistake or want to add something? Please let us know in comments below or email us. First-time commenters, please be patient – we will have to manually approve your comment before it appears.
©2022 Whatsonweibo. All rights reserved. Do not reproduce our content without permission – you can contact us at info@whatsonweibo.com.