Jia Zhangke Responds To Criticism From Global Times Editor Hu Xijin (Full Translation)
When the editor-in-chief of state tabloid Global Times gave Jia Zhangke's latest film a bad review on Weibo, the renowned director responded with a bad review of the bad review.
This week, an online quarrel between Global Times editor-in-chief Hu Xijin (胡锡进) and Chinese director Jia Zhangke (贾樟柯) drew much attention on Chinese social media.
The issue started when Hu Xijin criticized Jia Zhangke's latest film Ash Is Purest White (江湖儿女) on Weibo on September 24, calling the film "depressing" and "full of negative energy," and suggesting the film Dying to Survive is much better.
At SupChina, Jiayun Feng translated Hu's comments. Besides condemning the film for its negativity, Hu also wrote:
"Please don't place stinky tofu under our noses and force us to get used to that particular smell. I am aware that some people love to watch horror movies and negative energy can also attract audiences in a way like how opium gets people hooked. But I still hope filmmakers in China can study movies created by Hollywood and Bollywood and produce some movies with normal views about what's good and what's evil."
Adding:
"I know I can't blame others because I bought the [movie] ticket and no one forced me to watch it. But what I'm doing here is to caution my fans no to be deceived by the movie's title. It uses a gloomy style of filming to tell a banal story of how nice people don't get properly rewarded for good deeds. It's neither pleasant nor sad enough to bring you to tears. It only makes you frustrated and upset."
Hu's criticism was soon after deleted, but the screenshots already circulated online.
Ash Is Purest White, that was released in mainland China on September 21st, is a big box-office success and is Jia Zhangke's highest-grossing film yet. The film revolves around the tumultuous love story between gangster Bin (Fan Liao) and dancer Qiao (Tao Zhao).
Jia's responded to the harsh criticism in a lengthy Weibo post, that has since been shared more than 68,000 times, receiving over 128,000 likes and 30,500 comments.
Here is a full translation of Jia's Weibo post in response to Hu:
"Editor Hu Xijin:
I'm glad you went to watch 'Ash is Purest White'. And I'm sorry it made you feel "depressed" (堵心) during the Mid-autumn Festival. First, I wish you nothing but happiness. Regarding your opinions, I'll respond to them one by one below, comments/suggestions are of course welcome.
1. I also was moved by the movie 'Dying to Survive' (我不是药神). But, as Lu Xun (鲁迅) [famous Chinese writer] once said: "People's joy and sorrows are not connected" (人类的悲欢并不相通). I'm not sure you and I are similar in what makes us happy or sad. That also goes for our feelings on 'Ash is Purest White' – I'm quite confused about how we could be so far apart.
2. About the "negative energy" – I believe energy is built on the basis of telling the truth as much as possible. The truth is the most powerful form of positive energy. Not tolerating truth or facts will bring about negative energy. Seeing or hearing it all the time, but pretending you have not, gains no truth or facts. In the end, it'll lead to even greater negative energy. You should always be seeking truth from facts, don't you agree?
3. Speaking of horror films and their audiences; I've never directed any horror films myself, hence my experience in this area is limited. However, all audiences are equal, regardless of taste. As an atheist, you shouldn't really have any opinion regarding ghosts anyway, as you don't believe in them.
4. With regards to Hollywood and Bollywood; you're a 'complex China' (复杂的中国) reporter, but it would be better for you to further investigate 'complex foreign movies'! Your job is to report 'complex China', and I am interested in making films about 'complex characters.' You can't really be picky about your definition of "complex", now can you?
5. Regarding "normal views about what's good and what's evil" – what I don't really understand is: who should be the judge of what is normal and what is not?
6. About "stinky tofu" – you can certainly use 'fragrant' or 'stinky' as metaphors to comment on a movie. However, I disagree with your slandering of "stinky tofu." For many families in poverty, it is all they eat! I've had a lot myself, and for that I'm eternally grateful.
7. Regarding the fact that you "bought the ticket yourself," great! I'm a big supporter of the 8 provisions [rules stipulated by Chinese government on frugality within Party/government]. We don't give free tickets to chief editors of government media!
8. About "letting your fans know" – I think it's great of you to always have your fans in mind. But your fans might not be exactly the same as you in thinking that a movie is good or bad, in considering stinky tofu edible or not. There are many different colors in this world, if something is not black doesn't mean it's white.
9. About the movie using a "gloomy style" – were your eyes built in Meituxiuxiu? [美图秀秀: Chinese photoshop app]. Things are beautiful because they are real. Accept diversity and this world will be more beautiful.
10. About "nice people not getting properly rewarded for their good deeds" – I also wish good things come to good people, but this world is full of strange circumstances, and no one can have full control over it. Things we can't control are also normal, we should accept that. I didn't know you believed in karma yourself.
11. About it being "a banal story": I've always been curious about strange stories, but would always do my best to understand the lives of ordinary people and this both inspires me and moves me.
12. With regards to you feeling "depressed" (堵得慌) – my apologies for not making you feel all warm and fuzzy during the Mid-autumn festival. I couldn't make you tear up, your feelings didn't get an outlet, instead, you felt "blocked and trapped." But 'feeling trapped' is actually a complicated sensation, a big emotional wave if you will. You've been numb for too long, 'feeling trapped' shows that you still have some emotions. Congratulations! The fact that you 'feel trapped' has raised my hopes for the complexities of China.
Happy Mid-autumn Festival! I wish you all the best."
Many netizens applauded Jia's reaction to the Global Times editor. One of the most popular comments was a wordplay on the two men's names, saying: "Director Jia is not fake ['jia' in Chinese] while Editor Hu is full of nonsense ['hu' in Chinese]. ("贾导不假,胡编真胡 Jiǎ dǎo bù jiǎ, hú biān zhēn hú")
"Perhaps Hu can tell me all the movies he dislikes," another commenter said: "Because I'd sure love to watch them."
At time of writing, the hashtag "Jia Zhangke sents response to Hu Xijin" (#贾樟柯发长文回应胡锡进#) received over 12,5 million views.
Hu dedicated another post to the issue on his Weibo account on Wednesday, saying he had written the bad review in the heat of the moment after watching the film, and that he had deleted it after calming down, never expecting it already went viral.
The editor wrote that he "fully accepted" everything Jia had written, and that he had learned his lesson and will be "more careful" in the future in posting his criticisms on Weibo.
"You have your right to criticize, and Jia has the right to refute it," a popular comment said.
Although many people support Jia's response to Hu, there are also those who are critical of it: "He's just creating a hype to sell more tickets at the box office."
Ash Is Purest White (Director's cut) will also be featured at the upcoming Busan Film Festival.
By Miranda Barnes and Manya Koetse
Follow @whatsonweibo
Spotted a mistake or want to add something? Please let us know in comments below or email us.
©2018 Whatsonweibo. All rights reserved. Do not reproduce our content without permission – you can contact us at info@whatsonweibo.com
.
Top 10 Overview of China's Most Popular TV Dramas February 2019
The top scoring TV dramas in China of this moment, winter 2018/2019.
First published
From beautiful costume series to suspenseful war-themed productions – these are the most popular TV dramas in China this season, an overview by What's on Weibo.
China has one of the most booming TV drama industries in the world, with dozens of new dramas being released every month, drawing in millions of viewers through the country's most popular online video streaming platforms.
We've compiled a top ten of the most popular Chinese TV dramas of this moment, based on the current popular charts of the leading websites in Chinese online video, including Tencent Video, iQiyi, Sohu, Youku, LeTV, 360kan, Sogou Video, along with Baidu's and Weibo's popular TV drama charts.
Please note that this list has been compiled by combining the top-ranking lists of this moment. And we have chosen to exclude popular drama series that already made it in our previous top-ten lists (here, here, here), despite their ongoing popularity.
Most of these series are available for viewing online, some also with English subtitles. If you need a VPN to circumvent any geo restrictions, we recommend either NordVPN or ExpressVPN to do so. Note: also see our Top 30 of all-time classic Chinese TV Dramas here!
Here we go:
#10 Mystery of Antiques 古董局中局
China Mainland
Chinese title: Gǔdǒng jú zhōng jú 古董局中局
Genre: Suspense, Mystery
Directed by: Wu Bai (五百) aka Guo Shubo (郭书博), Yu Qing (余庆)
Episodes: 36, December 2018, Tencent Video
Mystery of Antiques is an adaption of the like-named novel by award-winning novelist Ma Boyan (马伯庸). The main character in the drama series is played by Xia Yu (夏雨), who previously won awards for acting at various film festivals from Venice to Beijing, and from Taiwan to Singapore.
The series currently ranks fourth on Baidu's most popular drama list, and seventh on the 360kan most popular series rankings.
The drama tells the story of the ordinary small antique shop owner, Xu Yuan (Xia Yu), who comes from a family of antique traders. One day, a visitor coming to the shop brings Xu into a conspiracy that goes beyond his wildest dreams and links him to a legendary treasure. It is the start of a dangerous and tumultuous journey, in which Xu does all he can to clear his family's name and change his fate.
On Weibo, the official account of the series has over 20.000 followers.
The show, in Chinese, is available on QQ.
#9 Forty Years We Walked 我们的四十年
China Mainland
Chinese title: Wǒmen de sìshí nián 我们的西十年
Genre: Coming of age
Directed by: Wang Zi (王梓)
Episodes: 60, November 2018, Jiangsu TV, iQiyi, Tencent Video, Sogou Video, Mango TV, LeTV, Fun TV, PP TV, Youku
This coming of age story, featuring beautiful images of Beijing, is directed by Hunan-born filmmaker Wang Zi. Wang was born in 1986 and started his career as an actor in 2008. Some say that this series is very much based on Wang's own experiences in his journey to becoming a director.
The series is currently the second most popular series on Sogou Video.
Forty Years We Walked tells the life story of Feng Dou, who falls in love with television and film from the first time he ever sees a TV at his friend's house. In middle school, he becomes well-known together with his friend for collecting old tv-parts and building "new" televisions from them. Feng continues to pursue his passion for tv, setting up several businesses. However, as he Feng gets older, he starts to question his purpose in life until he realizes what it is he was always intended to do.
On Weibo, the official account of the series is currently nearing 20.000 followers.
The show is available on AsiaTVSub here or on Youtube here with Chinese subtitles.
#8 Well Intended Love 奈何BOSS要娶我
China Mainland
Chinese title: Nàihé BOSS yào qǔ wǒ (奈何BOSS要娶我)
Genre: Drama, Romance
Directed by: Wu Qiang (吴强)
Episodes: 20, January 2019, Sohu Video TV, Mango TV
Well Intended Love, that features the youngest cast within this overview, including Xu Kaiwei (徐开骋, 1990) and Simona Wang (王双, 1991), tells the love story between a wealthy man and mostly unknown young actress. The series is currently the most popular drama series on Sohu Video.
The series revolves around undiscovered actress Xia Lin who is suffering from leukemia. To afford a surgery that can save her life, she gets involved with the wealthy CEO Ling Yizhou. At the same time, Xia continues to pursue her career as an actress. Ling and Xia eventually get married and live a happy life together in secrecy until Ling finds out that Xia has a hidden agenda.
On Weibo, the official account of the series has over 190.000 followers.
See the complete series including English and Chinese subtitles on YouTube here.
#7 The Legend of Hao Lan 皓镧传
China Mainland
Chinese title: Hào lán chuán  皓镧传
Genre: Costume Drama, War, Romance, Historical Fiction
Directed by: Li Dachao (李达超)
Episodes: 62, January 2019, iQiyi
The historical drama The Legend of Hao Lan, starring Wu Jinyan (吴谨言), Mao Zijin (茅子俊), and Nie Yuan (聂远), chronicles the rise of Li Hao Lan to become the Empress Dowager of the Qin dynasty, after a long drawn battle between Zhao and Qin, towards the end of the Warring States period (475–221 BC).
The series is currently ranked third most popular series on 360kan and fourth most popular on iQiyi. Viewers of the latter evaluate the series with an average of 7.0.
Its popularity shows that historical drama is still very much booming in China's drama industry. Recently, state media critique on period costume dramas that focus on conflicts in the imperial court became a hot topic on Chinese social media. The criticism singled out Yanxi Palace in particular, a show that was then canceled on TV for its "negative impacts," signaling heightened censorship on Chinese costume dramas.
For now, however, The Legend of Hao Lan is going strong – and it stars the same main characters (Wu Jinyan and Nie Yuan). It depicts the story of the brave woman Li Hao Lan, daughter of Imperial censor Li He of Zhao state, who gets framed by her stepmother and is sold as a slave to Lu Buwei. Lu later presents her as a gift to Sun Yiren, a Qin royal that resides in Zhao as a hostage. As Li and Lu arrive in the royal Zhao palace, they unite and start their battle for power.
On Weibo, the official account of the series has over 40.000 followers.
See the complete series including Chinese subtitles here. Also available on Viki (incl. English subtitles).
#6 Candle in the Tomb: The Wrath of Time 鬼吹灯之怒晴湘西
China Mainland
Chinese title: Guǐ chuīdēng zhī nù qíng xiāngxī (鬼吹灯之怒晴湘西)
Genre: Adventure, Suspense
Directed by: Fei Zhengxiang (费振翔), supervised by Guan Hu (管虎)
Episodes: 21, January 2019, Tencent Video
The Wrath of Time is the third season in the fictional Candle in the Tomb series, an adaption from the novels by Zhang Muye. The series chronicles the adventures of a gang of tomb raiders as they excavate the truth behind a mysterious curse. Previous seasons were Candle in the Tomb: Mu Ye Gui Shi (鬼吹灯之牧野诡事) and Candle in the Tomb: The Weasel Grave (鬼吹灯之黄皮子坟). Despite this series being the third season, it's not really necessary to see the first series to understand the third season.
The series, starring Pan Yueming (潘粤明), Gao Weiguang (高伟光), and Xin Yulei, currently ranks third most popular drama series on Tencent Video scoring a 9.3, and fourth most popular serie on 360kan.
This third season of the Candle in the Tomb series is set in a time when the warlords are fighting for power and bring disaster upon the people. With the purpose of finding the ancient tombs from the Yuan dynasty, tomb raider Chen Yulou and warlord Luo Laowai embark on a journey to the Xiangxi Mountains. On their way, they meet Zhe Gushao, who is set on finding a pearl that will end the spell upon his clan. Despite the mutual suspicion of each other's motives, Chen and Zhe rely on each other to get to their destination.
The third season does not have an official account on Weibo, however that the series is quite popular can be seen from the hashtag "Candle in the Tomb: The Wrath of Time" (#鬼吹灯之怒晴湘西#) which already got over 690 million views, and received more than 2.3 million comments on Weibo.
See the complete series including English and Chinese subtitles here.
#5 Behind the Scenes 幕后之王
China Mainland
Chinese title: Mùhòu zhī wáng (Mùhòu zhī wáng)
Genre: Drama, Romance
Directed by: Li Jun (李骏)
Episodes: 42, January 2019, Youku TV, Dragon TV, Beijing TV
Behind the Scenes, starring Zhou Dongyu (周冬雨) and Luo Jin (罗晋), is currently ranking second place on Weibo's top ten most popular TV dramas, and third on Youku's top 10 TV drama series.
The series revolves around ambitious student Bu Xiaogu and the famous producer Chun Yuqiao. Bu is thrilled when she is given the opportunity to work with the man she greatly admires. But she quickly discovers that he is nothing like she imagined. With her hopes and dreams shattered, Bu gets involved in an accident. Chun unexpectedly takes on the sole responsibility for the accident, setting off a special relationship between the two.
On Weibo, the official account of the series has over 80.000 followers
See the complete series including Chinese subtitles here.
#4 Spy Hunter 天衣无缝

China Mainland
Chinese title: Tiānyīwúfèng (天衣无缝)
Genre: Action, Detective
Directed by: Li Lu (李路)
Episodes: 48, January 2019, Zhejiang TV, Jiangsu TV, Tencent Video, Youku, iQiyi, Mango TV
Spy Hunter, starring Lu Yi (陆毅) as one of the main characters, currently ranks second most popular drama series on both 360kan and iQiyi.
This fictional story takes place in the spring of 1931 when the Central Committee of the Communist Party of China is establishing logistic bases in several big cities. Two Special service teams try to establish a new secret underground route and depot. But one day, their secret base in Tianjin is exposed, and the life of agent Wan is sacrificed. In the name of justice, Wan's brother goes looking for the truth behind his brother's death.
On Weibo, the official account of the series has approximately 50.000 followers.
See the complete series including English and Chinese subtitles here.
#3 I Will Never Let You Go 小女花不弃
China Mainland
Chinese title: Xiǎonǚ huā bu qì (小女花不弃)
Genre: Costume Drama, Fantasy, Adventure
Directed by: Cha Chuanyi (查传谊)
Episodes: 51, January 2019, iQiyi, Tencent Video, Youku, PPTV
I'll Never Let You Go is an adaptation of the like-named novel by Zhuang Zhuang (桩桩). The series stars many famous actors including Ariel Lin (林依晨), Lin Bohong (林柏宏), and Zhang Binbin aka Vin (张彬彬).
On Tencent Video the series currently occupies second place in their most popular drama series hotlist, scoring an average of 8.2. And also on Weibo, Youku, and 360kan, the series holds a position in the top five.
I'll Never Let You Go is a coming-of-age story revolving around a young with a unique gift, who wanders the world alone after her entire family was killed to protect the girl's special gift. One day, the girl meets a courageous masked man who saves her life, after which they fall in love. But everything turned around when the girl discovers who the man she loves really is.
On Weibo, the verified Weibo page of the series has over 4.6 million followers, making it the most popular series on Weibo of this list.
See the complete series with Chinese subtitles here. Also available on Viki (including English subtitles).
#2 Anti-Japanese 荡寇

China Mainland
Chinese title: Dàng kòu 荡寇
Genre: Drama, War, History
Directed by: Jiao Xiaoyu (焦晓雨)
Episodes: 60, November 2016, Guizhou TV, iQiyi, Sohu TV, PP TV, Youku
This TV drama, that has the remarkable English title 'Anti-Japanese' (the original Chinese title roughly translates as 'sweeping away the enemy') was first aired by Hunan TV in November of 2016. Since then, it was broadcasted by at least eight different television stations and platforms.
The most recent rebroadcast started on January 19, 2019, and the numbers show that people still can't get enough of the drama. On iQiyi, the series currently ranks first place, and on Sohu and LeTV the series ranks second and fourth place respectively.
The TV drama is set at the start of the War of Resistance again Japan (1937-1945). When an intelligence team of the Communist Party finds out about a box with classified information regarding the development chemical and biological weapons that is sent out by the Japanese army, Yang Erhu is sent to stop their evil plans and to protect his country.
See the complete series including Chinese subtitles here.
#1 The Story Of Minglan 知否知否应是绿肥红瘦

China Mainland
Chinese title: Zhī fǒu zhī fǒu yīng shì lǜféi hóng shòu (知否知否应是绿肥红瘦)
Genre: Historical fiction, Family, Politics
Directed by: Zhang Kaizhou (张开宙)
Episodes: 73, December 2018, iQiyi, Tencent Video, Youku, Youtube, Hunan TV
The fictional Story of Minglan, starring Zhao Liying (赵丽颖) and William Feng (冯绍峰) as main characters, is an adapted screenplay a novel by Chinese author Zheng Yi (郑怡) aka Guanxin Zeluan (关心则乱).
The series currently dominates the drama top charts, occupying the first place on Tencent Video, Youku, Baidu, Weibo, Sogou Video and 360kan.
The story of Minglan tells the coming of age story of an intelligent concubine daughter that has to grow up dealing with her unkind stepmother, an indifferent father, and unreasonable sisters.
Minglan learns to hide her skills and true intentions in order to survive until she meets Gu Tingyu, and the two fall in love. After Gu becomes a powerful official, and the two get married, Minglan rises to prominence.
On Weibo, the official account of the series has nearly 1.7 million followers.
See the complete series including Engish and Chinese subtitles here.
By Gabi Verberg
Spotted a mistake or want to add something? Please let us know in comments below or email us.
©2019 Whatsonweibo. All rights reserved. Do not reproduce our content without permission – you can contact us at info@whatsonweibo.com
Zhai Tianlin's Alleged Plagiarism Triggers Discussions on Academic Cheating in Chinese Universities
"Colleges and Universities face great corruption problems, that is what you should be looking into."
Earlier this month, Chinese actor Zhai Tianlin (翟天临) drew the public's attention for his appearance at the CCTV Spring Festival Gala, where he starred as a police officer preventing his parents from being scammed. Now, Zhai, again, is at the center of attention: not for his acting skills, but for allegedly committing academic fraud.
The famous actor is a Beijing Film Academy Ph.D. graduate and postdoctoral candidate at Peking University, one of China's most renowned universities.
His alleged academic misconduct has been a topic of discussion for some days now. During a live broadcast with fans, Zhai apparently said he did not know what CNKI (知网) is, an academic database that all scholars in China will be familiar with.
It led to suspicions on Zhai's academic standing, and people on the Quora-like Q&A platform Zhihu accused Zhai of not publishing any academic papers in recognized scholarly journals – something that is mandatory for Ph.D. students in China in order to fulfill their graduation requirements.
Zhai's academic records increasingly became the focus of attention on February 9th, when one Weibo user (PITD亚洲虐待博士组织), a graduate student from Beijing, posted the results of a plagiarism detection test that was run on one of Zhai's papers.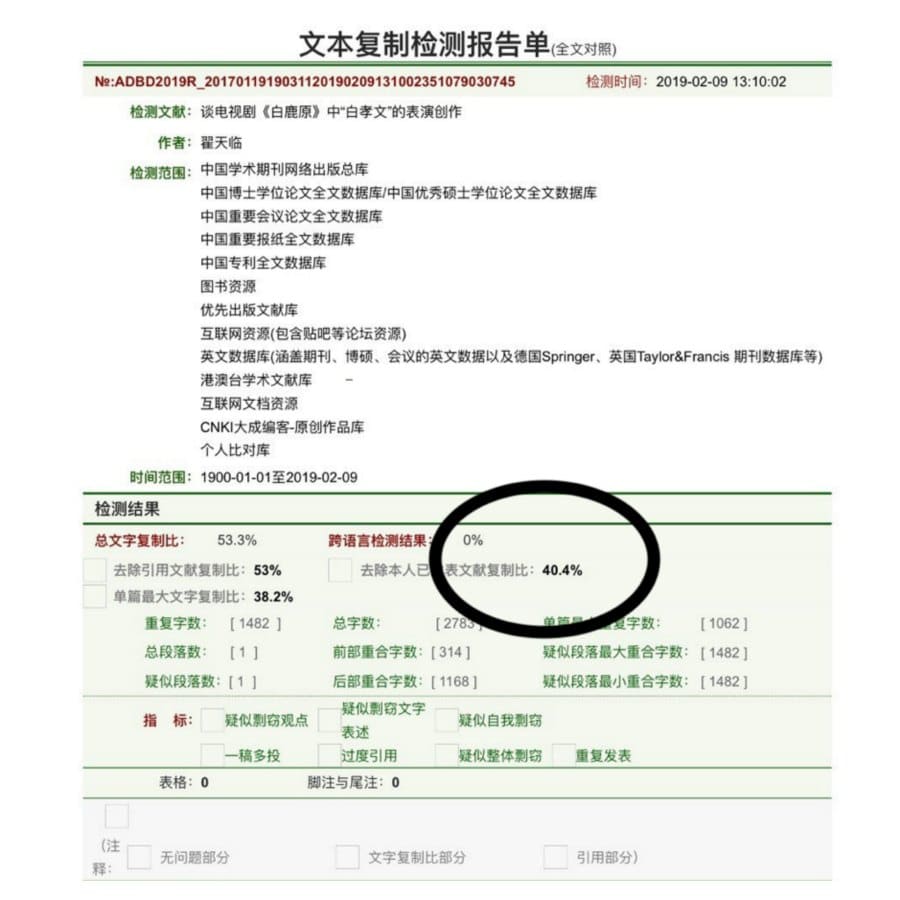 The test result revealed that of the 2783 words used in the paper, that was published last year, 1482 words were copied from other texts, indicating a 40.4% similarity score.
After the Beijing Film Academy released a statement that they would be investigating Zhai Tianlin, state media outlet China Daily posted a message on their Weibo account, stating that "academic standards must be the same for everyone" and that "postdoctoral researchers are a university's greatest honor, " and that "who wants to carry the crown should also carry the weight."
On that same day, Peking University also published a statement saying that they are investigating the incident.
Zhai Tianlin (1987), who is also known as Ronald Zhai, is most known for starring in various popular Chinese TV shows and dramas, such as White Deer Plain and The Advisors Alliance.
The plagiarism allegation case has become a major topic of discussion on Chinese social media this week. The hashtag "Peking University Responds to Zhai Tianlin Case"  (#北大回应翟天临事件#) has been viewed a staggering 650 million times on Weibo at time of writing, while the hashtag "Beijing Film Academy Sets Up Zhai Tianlin Investigation Team" (#北电成立翟天临事件调查组#) received more than 490 million views.
The storm is not likely to blow over soon, as new reports now also allege that Zhai's MA-thesis relies heavily on the scholarly work of Chen Kun, a famous Chinese actor who also attended the Beijing Film Academy.
Although the scandal has triggered countless reactions condemning Zhai, there are also many people on social media who are directing their anger towards the universities and state media, with one typical comment saying: "By solely focusing on Zhai, you are avoiding the real problem. Colleges and universities face great corruption problems, that is what you should be looking into."
Another person wrote: "I feel like the public opinion is focused too much on this case of 'academic misconduct.' What the media should be investigating is: why was the paper not checked for plagiarism before its publication? What the Beijing Film Academy should be looking into is how somebody can graduate with a paper that is not up to standard? And how someone who clearly doesn't hold the appropriate academic abilities has access to its programme."
"Peking University and Beijing Film Academy are both responsible for this fraud. How could they ever enroll such a fraudulent person?!" others wrote. 
Some commenters seem to have no trust in China's academic standard, saying: "Are you telling me you [the universities] didn't know about this when you admitted him? Now you are setting up investigation teams, but it is all just for show."
Academic corruption in the Chinese educational context has been a well-known problem for years. As early as 2002, the Ministry of Education implemented various policies to combat academic misconduct, defining it as an act of academic dishonesty that is punishable, but the problem is still widespread (Kai 2012).
Some studies suggest that one of the factors that play a role in plagiarism in China relate to the fact that 'plagiarism' is something that is often defined in very general terms, with university handbooks nor policies clearly codifying instances of "appropriate and inappropriate source use" (Hu & Lei 2015, 236).
There are also many other factors at play, however, such as the pressure for doctorate students to publish their papers, and the phenomenon of  "publishing cash incentives," which would allegedly trigger more academic fraud.
On Chinese social media, many people express that they hope that the institutions involved will "set an example" for other universities and "be transparent" in the way they'll handle Zhai in case he is found guilty of plagiarism.
Many also pointed out the irony in the fact that it was Zhai who played the police officer that prevented his parents from being scammed during the CCTV New Years' Eve Gala.
"This is just all so embarrassing," some write: "Now it looks like not just Zhai's PhD status should be taken from him, but also his MA title."
Others suggest that this whole scandal would make an excellent topic for another TV drama, starring Zhai Tianlin, doing what he does best: acting. Some voices suggest that people should wait for the investigations into Zhai's work to be completed before condemning him. With the massive online attention for this case, it might not take too long for more facts to surface on the case. We'll keep you updated.
By Gabi Verberg and Manya Koetse
References
Hu, Guangwei and Jun Lei. 2015. "Chinese University Students' Perceptions of Plagiarism." ETHICS & BEHAVIOR 25(3): 233–255.
Kai, Ren. 2012. "Fighting against Academic Corruption: A Critique of Recent Policy Developments in China." Higher Education Policy (25): 19–38.
Spotted a mistake or want to add something? Please let us know in comments below or email us.
©2019 Whatsonweibo. All rights reserved. Do not reproduce our content without permission – you can contact us at info@whatsonweibo.com