An Overview of Chinese Nominations at Busan Film Festival (Part II)
Three Chinese blockbusters & two films touching upon gender issues; these Chinese films at Busan are definitely worth watching.
From Chinese dissident filmmakers to government-funded films, you can find it all at Busan, Asia's biggest film festival. In the weeks leading up to the event, What's on Weibo's Gabi Verberg provides an overview of the Chinese nominees. This week: Part II (See Part I here).
On the 4th of October, the 23th Busan International Film Festival in South Korea will roll out its red carpet to open this year's film festival season in Asia. With the screening of 323 films from 79 countries, it is one of Asia's biggest international film festivals, with China as one of the main suppliers of films.
This week, we will introduce to you to the second batch of the Chinese nominees.
1. Master Z: The Ip Man Legacy (Yèwèn Wàizhuàn: Zhāngtiānzhì 叶问外传:张天志)
Mainland China/Hong Kong
Genre: Action
Selected in the category: Opening Night Film
Director: Woo-ping Yuen (袁和平)
Weibo Hashtag: #张天志# (19.600.000+ views)
Premiere: October 2018, Busan International Film Festival
Starring: Max Zhang (张晋), Dave Bautista (戴夫·巴蒂斯塔), Michelle Yeoh (杨紫琼), Tony Jaa (托尼·贾), Chrissie Chaw (周秀娜)

About the Director:
Woo-ping Yuen was born in 1945, making him the oldest nominated Chinese director at this years' Busan Film Festival. In 1978, Woo-ping Yuen was recognized by the film industry for the first time for his works Snake in the Eagle's Shadow (Shé xíng diāo shǒu 蛇形刁手) and Drunken Master (Zuì quán 醉拳).
With Jackie Chan starring as the male protagonist in Drunken Master, the film was nominated for the Golden Horse awards at the Taiwan International Film Festival. In the 40 years that followed, Woo-ping Yuan's films received numerous nominations and awards at film festivals all over the world.
His most famous contributions to film are as the action director of Crouching Tiger, Hidden Dragon and Kill Bill: vol.2, and as a Kung-fu choreographer for the film The Matrix.
Storyline:
This spinoff focuses on Cheung Tin Chi (a pivotal character from Ip Man 3, played by Zhang), who has been defated by Ip Man and had his house burned down to the ground. He decides to seek shelter on Bar Street, where he quickly finds solace from his neighbors. But when Tin Chi discovers a gang is peddling drugs on Bar street, he takes it upon himself to intervene and gets into a fight with a powerful foreign villain.
Check out the trailer with English subtitles here.
Why you should watch it:
The main actors are internationally renowned. Michelle Yeoh showed off her beautiful martial arts skills in films such as Crouching Tiger, Hidden Dragon. Max Zhang's showed his mastery of wushu in films such as The Grandmaster and Ip Man 3.
On their website, the organization of the Busan International Film Festival calls the film "dazzling, gripping, and an astonishingly action-driven film that will satisfy the audiences who are looking for great action scenes especially on a big screen." They also call it one of the "most essential martial art films" that Hong Kong has ever seen.
2. The Island (Yīchū Hǎoxì 一出好戏)
China Mainland
Genre: Comedy, Drama
Selected in the category: : A Window on Asian Cinema
Director: Bo Huang (黄渤)
Premiere: 10th August 2018
Starring: Bo Huang (黄渤), Qi Shu (舒淇),Baoqiang Wang (王宝强),Yixing Zhang (张艺兴), Hewei Yu (于和伟), Xun Wang (王迅), Qinqin Li (李勤勤), You-lin Li (李又麟 ), Hao Ning (宁浩), Hu Guan (管虎), Jing Liang (梁静), Zheng Xu (徐峥), Teddy Chan (陈德森), Lei Zhang (张磊)

About the Director:
Bo Huang is one of China's most famous comic actors. Except for acting, he is also a singer, tv host, choreographer, and now a film director. Over the last decade, he received nominations for his acting at almost every big Asian Film Festival, such as the Hong Kong Film Festival or the Taipei Golden Horse Film Festival. As an actor, Bo Huang starred in, among others, Journey to the West (Xīyóu Jiàngmópiān 西游降魔篇), No Man's Land (Wúrénqū 无人区), and My Dearest.. The Island is Huang Bo's first work as a director.
Storyline:
News of a meteorite coming towards the earth doesn't seem to affect Ma Jin's everyday life, as he goes about his days; going to work, obsessing over his pretty colleague, and even winning a grand prize lottery during his company's team-building cruise. But Ma Jin's life is about to drastically change, bringing him and his collegues to a deserted island, where they have to remake the world as they know it. This story is a surprisingly funny but critical fable of modern society.
See the trailer with English subtitles here.
Why you should watch it:
The film is already worth watching for its beautiful locations and its spectacular special effects. But another reason to watch the film is for the interaction between Bo Huang and his cast. For the production of The Island, Bo Huang's budget seemed to be endless, allowing him to freely select his cast. As a consequence, almost all of his cast members are former colleagues. For the film Mr. Six (Lǎopào'er 老炮儿), Bo Huang worked with Hu Guan, Jing Liang, Hewei Ju, Hao Ning, and Yi Zhang, who are now all also featuring in The Island.
The Island is the 29th highest-grossing film in China of all time, with a total gross of 1.343 billion yuan ($195+ million).
3. Ash is the Purest White (Jiānghú érnǚ 江湖儿女)
China Mainland/France
Genre: Romance, Crime
Selected in the category: A Window on Asian Cinema
Director: Zhangke Jia (贾樟柯)
Premiere: 11th May 2018, Cannes Film Festival
Weibo Hashtag: #江湖儿女# (44.860.000+ views)
Starring: Tao Zhao (赵涛), Fan Liao (廖凡), Zheng Lu (徐峥), Casper Liang (梁嘉艳), Xiaogang Feng (冯小刚), Yi'nan Diao (刁亦男), Yibai Zhang (张一白), Jiali Ding (丁嘉丽), Yi Zhang (张译), Zijian Dong (董子健), Jiamei Feng (冯家妹), Xuan Li (李宣)
Note:According to some news sources, Xiaogang Feng has been edited out of the movie. The film showed at the Toronto Film Festival was five minutes shorter than the film showed at the Cannes Film Festival in May earlier this year. Xiaogang Feng is alleged of tax evasion and having close ties with actress Fan Bingbing, who hasn't been seen in public since July first after also being accused of tax evasion.
About the Director:
The award-winning Zhangke Jia is one of China's most famous film directors. His debut feature film, The Pickpocket (Xiǎowǔ 小武), won the International Forum of New Cinema at the Berlin International Film Festival in 1998. Ever since, Zhangke Jia is one of the few Asian directors to be a regular at the big international film festivals such as Venice Film Festival, where he won three prices and was nominated five times, or Cannes, where Jia won one award and was nominated five times. Among Zhangke Jia's significant works are movies such as The World (Shìjiè 世界), I Wish I Knew (Hǎishàng chuánqí 海上传奇), A Touch of Sin (Tiān zhùdìng 天注定) or Mountains May Depart
(Shānhé Gùrén 山河故人).
Last year, the very first edition of the 'Pingyao Crouching Tiger Hidden Dragon International Film Festival' (平遥国际电影展), an initiative by Zhangke Jia, was held successfully. The film festival celebrates the latest achievements in international cinema and promotes the work of young Chinese directors. The second edition of this festival will be held in October of this year.
Storyline:
This movie, set in China's underworld, tells the story of love and betrayal between gangster Bin and dancer Qiao. The two lovers have a very strong emotional connection, but their love is severely tested when Qiao winds up going to prison after a violent altercation in which she tried to protect her gangster boyfriend.
See the trailer with Chinese subtitles here.
Why you should watch it:
The Guardian awarded the film four out of five stars calling it an "glorious drama" which feels like a "gripping parable for the vanity of human wishes, and another impassioned portrait of national malaise." Variety called the film a "gangster epic."
Another reason to watch the film is its outstanding cast. The two protagonists are played by award-winning actress and director's muse Tao Zhao (赵涛) and Fan Liao (廖凡). The latter won the Berlin Golden Bear Award, which is the highest prize awarded for the best film at the Berlin International Film Festival; The Golden Horse Award at the Taipei International Film Festival for best actor, and the award for best actor at the Singapore International Film Festival.
4. My Dear Friend (Hǎoyǒu 好友)
Mainland China
Genre: Drama
Selected in the category: A Window on Asian Cinema
Director: Pingdao Yang (杨平道)
Reads on Weibo: 35.000 (#抵达之谜#)
Premiere: 2016
Starring: Starring: Gabby So (蘇子情), Robert Loh
About the Director:
Pingdao Yang is a relatively unknown independent director and screenwriter. His works have appeared at dozens of domestic and international film festivals, and he has won several independent film awards.
Other works from Pingdao Yang are Spring of Yangchun (Yángchūn zhī Chūn 阳春之春), One Day As Usual (Guānyú Zhāng Kēzhǎng de Rìcháng 关于张科长的日常), My Family Tree (Jiāpǔ 家谱); and feature films E Huang Mountain (Éhuángzhàng Yìshì 鹅凰嶂逸事) and The River of Life (Shēngmìng de Héliú 生命的河流).
Storyline:
In a remote village of southern China where spring mist lays, A city woman travels to a remote village in southern China to look for her missing boyfriend. Instead of fining him, she discovers a 60-year-long secret friendship between two elderly men.
This film comes twelve years after the debut of the short film Spring of Yangchun , that came out in 2006. That film also tells about the love between two men; after one of the men's girlfriends unexpectedly passes away, he reunites with his old-time friend who just got back from the army – the two still have issues to resolve.
(The 2006 short film is available online with Chinese subtitles here.)
Why you should watch it:
Despite the fact that the film was released almost two years ago, Busan Film Festival still wants it to be part of the category A Window on Asian Cinema; a noteworthy fact that says much about the film's quality. It is also the only Chinese film in Busan of which the topic is related to homosexuality.
5. The Rib (Yàdāng de Zhùgǔ 亚当的助骨)
Mainland China
Genre: Drama
Selected in the category: A Window on Asian Cinema
Director: Wei Zhang (张唯)
Weibo Reads: 340.000 (#撞死了一只羊#)
Premiere: 4th September 2018, Venice International Film Festival
Starring: Jingyi Huang (黄精一), Wejie Yuan (源唯杰), Hao Meng (孟浩)

About the Director:
Wei Zhang is an independent filmmaker whose work focuses on the lives of people living in the margins of society. For that reason, among others, his work is closely followed by western film media and film festivals.
Zhang's previous films include Factory Boss (Dǎgōng lǎobǎn 打工老板), a story about an entrepreneur who desperately takes on low margin jobs to save his business; Destiny (Xǐhé 喜禾)a tale of an autistic boy and his struggling mother; and The Sound of Dream (Tiānlài mèngxiǎng 天籁梦想), a film about four visually impaired Tibetan children whose dream it is to appear on a TV talent show.
Wei Zhang's films received multiple nominations and won a number of awards, including Best Original Script at the Iranian Fajr International Film Festival, and Most Innovative Film Award at the Asia-Pacific art unit of the Venice Film Festival in Shanghai.
Storyline:
The Rib is based on a collection of true stories, and depicts a Chinese transgender teenager who grows up in a devout Christian family. One day, he tells his parents he wants to undergo surgery to become a woman, and he asks for his parents' consent. It is the start of a tumultuous story that shows a new side of Chinese society.
Why you should watch it:
According to Variety, this "bold drama" is likely to become "a groundbreaking production for China."
In choosing a topic such as this, Wei Zhang has indeed made a bold move, especially considering that previous years have seen an online ban on video content relating to homosexuality. According to ScreenDaily, the filmmaker was very grateful to have obtained permission from the Chinese government to shoot the film, and hopes that his work will have a positive influence on society.
Stayed tuned for more! Meanwhile, also check out part 1 of Chinese films at Busan, and our must-see Chinese film list of 2017 here.
By Gabi Verberg
Follow @whatsonweibo
Spotted a mistake or want to add something? Please let us know in comments below or email us.
©2018 Whatsonweibo. All rights reserved. Do not reproduce our content without permission – you can contact us at info@whatsonweibo.com.
Three Reasons Why Lipstick King's 'Eyebrow Pencil Gate' Has Blown Up
From beauty guru to betrayal: why one livestream moment is shaking China's internet.
PREMIUM CONTENT
Li Jiaqi, also known as Austin Li the 'Lipstick King,' has become the focus of intense media attention in China over the past days.
The controversy began when the popular beauty influencer responded with apparent annoyance to a viewer's comment about the high price of an eyebrow pencil. As a result, his fans began unfollowing him, netizens started scolding him, Chinese state criticized him, and the memes started flooding in.
Li Jiaqi's tearful apology did not fix anything.
We reported about the incident here shortly after it went trending, and you can see the translated video of the moment here:
China's famous make-up influencer #LiJiaqi is in hot water due to an e-commerce livestream he did on Sunday. When viewers complained about an eyebrow pencil being too expensive (79 RMB/$10.9), he got annoyed, insisting that the product was not expensive at all. Translated video: pic.twitter.com/JDKGMKovDX

— Manya Koetse (@manyapan) September 11, 2023
The incident may seem minor at first glance. Li was merely promoting Florasis brand (花西子) eyebrow pencils, and some viewers expressed their opinion that the pencils, priced at 79 yuan ($11), had become more expensive.
In response, Li displayed irritation, questioning, "Expensive how?" He went on to suggest that viewers should also reflect on their own efforts and whether they were working hard enough to get a salary increase.
But there is more to this incident than just an $11 pencil and an unsympathetic response.
#1 The King Who Forgot the People Who Crowned Him
The initial reaction of netizens to Li Jiaqi's remarks during the September 10th livestream was characterized by a strong sense of anger and disappointment.
Although celebrities often face scrutiny when displaying signs of arrogance after their rise to fame, the position of Li Jiaqi in the wanghong (internet celebrity) scene has been especially unique. He initially worked as a beauty consultant for L'Oreal within a shopping mall before embarking on his livestreaming career through Alibaba's Taobao platform.
In a time when consumers have access to thousands of makeup products across various price ranges, Li Jiaqi established himself as a trusted cosmetics expert. People relied on his expertise to recommend the right products at the right prices, and his practice of personally applying and showcasing various lipstick colors made him all the more popular. He soon garnered millions of online fans who started calling him the Lipstick King.
By 2018, he had already amassed a significant fortune of 10 million yuan ($1.53 million). Fast forward three years, and his wealth had ballooned to an astonishing 18.5 billion yuan ($2.5 billion).
Despite his growing wealth, Li continued to enjoy the support of his fans, who appreciated his honest assessments of products during live testing sessions. He was known for candidly informing viewers when a product wasn't worth buying, and the story of his humble beginnings as a shop assistant played a major role in why people trusted him and wanted him to succeed.
However, his recent change in tone, where he no longer seemed considerate of viewers who might find an $11 brow pencil to be expensive, suggests that he may have lost touch with his own customer base. Some individuals perceive this shift as a form of actual "betrayal" (背叛), as if a close friend has turned their back on them.
One cartoon shared on social media shows Li Jiaqi, with mouse ears, as he initially begs his online viewers for money. However, as he becomes more prosperous, the cartoon portrays him gradually growing arrogant and eventually scolding those who helped him rise to fame.
Many people accuse Li of being insincere, suggesting that he revealed his true colors during that short livestream moment. This is also one of the reasons why most commenters say they do not believe his tears during his apology video.
"He betrayed China's working class," one popular vlog suggested.
#2 Internet Celebrity Crossing the Lines
Another reason why the incident involving Li Jiaqi is causing such a storm is related to the media context in which Chinese (internet) celebrities operate and what is expected of them.
Whether you are an actor, singer, comedian, or a famous livestreamer/e-commerce influencer, Chinese celebrities and performers are seen as fulfilling an exemplary role in society, serving the people and the nation (Jeffrey & Xu 2023). This is why, as explained in the 2019 research report by Jonathan Sullivan and Séagh Kehoe, moral components play such a significant role in Chinese celebrity culture.
In today's age of social media, the role of celebrities in society has evolved to become even more significant as they have a vast reach and profound influence that extends to countless people and industries.
Their powerful influence makes celebrities important tools for authorities to convey messages that align with their goals – and definitely not contradict them. Through the media and cultural industries, the state can exert a certain level of control within the symbolic economy in which celebrities operate, as discussed by Sullivan and Kehoe in their 2019 work (p. 242).
This control over celebrities' actions became particularly evident in the case of Li Jiaqi in 2022, following the 'cake tank incident' (坦克蛋糕事件). This incident unfolded during one of his livestreams when Li Jiaqi and his co-host introduced a chocolate cake in the shape of a tank, with an assistant in the back mentioning something about the sound of shooting coming from a tank ("坦克突突"). This livestream took place on June 3rd, on the night before the 33rd anniversary of the crackdown on the Tiananmen protests.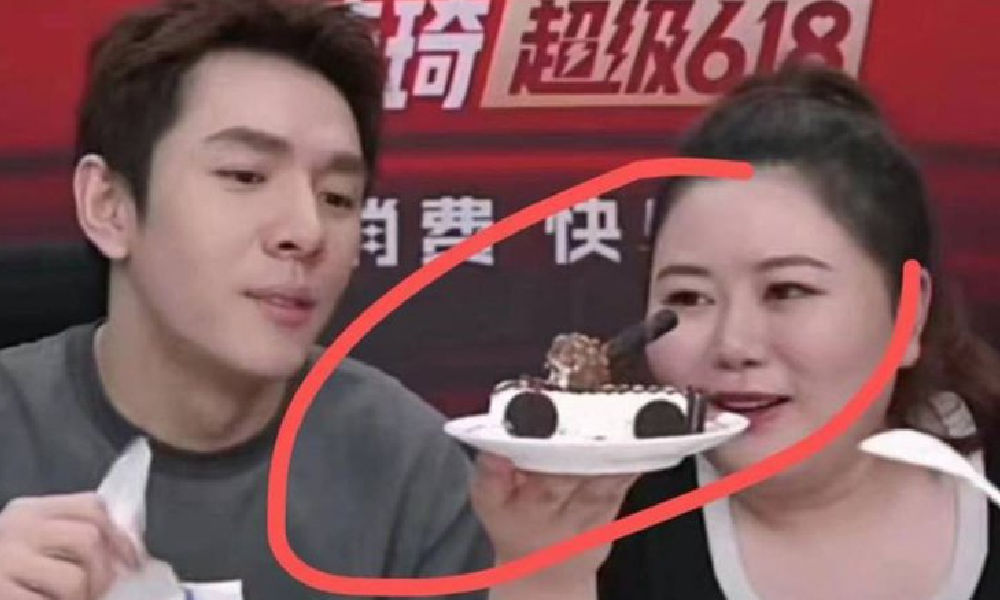 While Li Jiaqi did not directly touch upon a politically sensitive issue with his controversial livestream, his actions were perceived as a disregard for customer loyalty and displayed an arrogance inconsistent with socialist core values. This behavior garnered criticism in a recent post by the state media outlet CCTV.
Other state media outlets and official channels have joined in responding to the issue, amplifying the narrative of a conflict between the 'common people' and the 'arrogant influencer.'
#3 Striking a Wrong Chord in Challenging Times
Lastly, Li Jiaqi's controversial livestream moment also became especially big due to the specific words he said about people needing to reflect on their own work efforts if they cannot afford a $11 eyebrow pencil.
Various online discussions and some media, including CNN, are tying the backlash to young unemployment, tepid consumer spending, and the ongoing economic challenges faced by workers in China.
Since recent years, the term nèijuǎn ('involution', 内卷) has gained prominence when discussing the frustrations experienced by many young people in China. It serves as a concept to explain the social dynamics of China's growing middle class who often find themselves stuck in a "rat race"; a highly competitive education and work environment, where everyone is continually intensifying their efforts to outperform one another, leading to this catch 22 situation where everyone appears to be caught in an unending cycle of exertion without substantial progress (read more here).
Weibo commenters note that, given China's current employment situation and wage levels, hard work is not necessarily awarded with higher income. This context makes Li Jiaqi's comments seem even more unnecessary and disconnected from the realities faced by his customers. One Shanghai surgeon responded to Li's comments, saying that the fact that his salary has not increased over the last few year certainly is not because he is not working hard enough (#上海胸外科医生回应李佳琦言论#).
Some observers also recognize that Li, as an e-commerce professional, is, in a way, trapped in the same cycle of "inversion" where brands are continuously driving prices down to such low levels that consumers perceive it as the new normal. However, this pricing strategy may not be sustainable in the long run. (Ironically, some brands currently profiting from the controversy by promoting their own 79 yuan deals, suggesting their deal is much better than Li's. Among them is the domestic brand Bee & Flower 蜂花, which is offering special skin care products sets for 79 yuan in light of the controversy.)
Many discussions therefore also revolve around the question of whether 79 yuan or $11 can be considered expensive for an eyebrow pencil, and opinions are divided. Some argue that people pay much more for skincare products, while others point out that if you were to weigh the actual quantity of pencil color, its price would surpass that of gold.
The incident has sparked discussions about the significance of 79 yuan in today's times, under the hashtag "What is 79 yuan to normal people" (#79元对于普通人来说意味着什么#).
People have shared their perspectives, highlighting what this amount means in their daily lives. For some, it represents an entire day's worth of home-cooked meals for a family. It exceeds the daily wages of certain workers, like street cleaners. Others equate it to the cost of 15 office lunches.
Amid all these discussions, it also becomes clear that many people are trying to live a frugal live in a time when their wages are not increasing, and that Li's comments are just one reason to vent their frustrations about the situation they are in, In those regards, Li's remarks really come at a wrong time, especially coming from a billionaire.
Will Li be able to continue his career after this?
Some are suggesting that it is time for Li to take some rest, speculating that Li's behavior might stem from burn-out and mental issues. Others think that Li's hardcore fans will remain loyal to their e-commerce idol.
For now, Li Jiaqi must tread carefully. He has already lost 1.3 million followers on his Weibo account. What's even more challenging than regaining those one million followers is rebuilding the trust of his viewers.
By Manya Koetse
with contributions by Miranda Barnes
Jeffreys, Elaine, and Jian Xu. 2023. "Governing China's Celebrities." Australian Institute of International Affairs, 18 May https://www.internationalaffairs.org.au/australianoutlook/governing-chinas-celebrities/ [12 Sep 2023].
Sullivan, Jonathan, and Séagh Kehoe. 2019. "Truth, Good and Beauty: The Politics of Celebrity in China." The China Quarterly 237 (March): 241–256.
Spotted a mistake or want to add something? Please let us know in comments below or email us. First-time commenters, please be patient – we will have to manually approve your comment before it appears.
©2023 Whatsonweibo. All rights reserved. Do not reproduce our content without permission – you can contact us at info@whatsonweibo.com.
Eyebrow Pencil Gate: "Lipstick King" Li Jiaqi Loses 630,000 Fans In One Night
China's famous beauty livestreamer Li Jiaqi is in hot water after his annoyed response about an $11 eyebrow pencil.
Li Jiaqi is facing controversy for remarks he made during his recent e-commerce livestream. When viewers made comments about an eyebrow pencil being expensive, he lashed out and asked them if they worked hard enough. Due to his cold attitude and arrogant comments, the 'lipstick king' seems to have lost his crown.
Li Jiaqi is losing fans. That is according to a Weibo hashtag that went trending today (#李佳琦掉粉#), which highlights a significant drop of 630,000 Weibo followers in just 24 hours.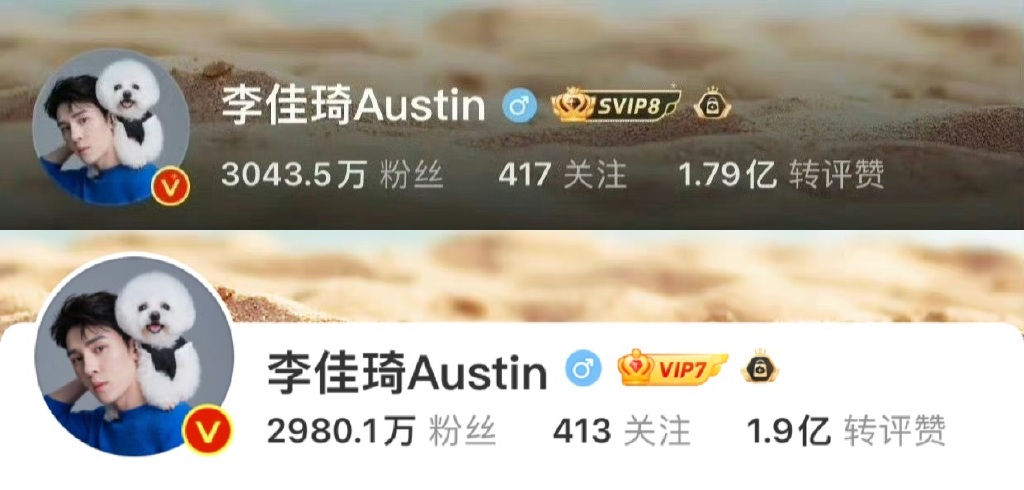 For those unfamiliar with Li Jiaqi (1992, English name Austin Li), he is one of China's most renowned make-up influencers, also known as the "Lipstick King." Previously a cosmetics salesman, Li has since risen to become one of China's most celebrated livestreamers, setting numerous records along the way.
In 2018, he broke the Guinness World Record for "the most lipstick applications in 30 seconds." He once sold 15000 lipsticks in 5 minutes, and also managed to apply 380 different lipsticks in another seven-hour live stream session. Li made international headlines in 2021 when he sold $1.9 billion in goods during a 12-hour-long promotion livestream for Alibaba's shopping festival.
But now Li is in hot water because of an e-commerce livestream he did on Sunday, September 10th. When some viewers complained that the eyebrow pencil by Huaxi Zi (花西子), Florasis, seems to be getting more expensive (79 RMB, $10.9), Li vehemently defended the cosmetic brand. Seemingly annoyed with his viewers, he insisted that the product was reasonably priced, highlighting the brand's use of high-quality ingredients and claiming it had not increased its prices for years.
In addition to this, Li began to lecture his audience, questioning whether they had made significant efforts to have received salary raises over the years (Literally: "Sometimes it's because of yourself, if you haven't seen a raise in so many years, did you work hard enough?" ["有的时候自己原因好吧。怎么多年了工资张没涨有没有认真工作"]). Even his assistant, next to him, seemed visibly uncomfortable when Li lashed out. We added some subtitled to this short fragment here.
China's famous make-up influencer #LiJiaqi is in hot water due to an e-commerce livestream he did on Sunday. When viewers complained about an eyebrow pencil being too expensive (79 RMB/$10.9), he got annoyed, insisting that the product was not expensive at all.raTnslated video: pic.twitter.com/JDKGMKovDX

— Manya Koetse (@manyapan) September 11, 2023
Later on, Li appeared to recognize his mistake and suggested that people weren't obligated to purchase the Florasis brand; instead, they could opt for a more affordable eyebrow pencil that he would be promoting later on.
This incident sparked major backlash from fans who voices their anger and disappointment, accusing Li of losing sight of his humble origins and owing everything to his viewers. Starting out by selling Maybelline makeup behind a shop counter, Li rose to prominence alongside the live e-commerce trend, amassing immense wealth thanks to his dedicated fans and viewers.
Why would he now alienate his viewers in such a way? Furthermore, many argued that the Florasis eyebrow pencil is undeniably expensive, with some even making comparisons to the cost of gold when measured by weight.
In the early morning of September 11, Li apologized on his Weibo account. He wrote that he felt disappointed in himself for responding the way he did. "As a livestream host I should send out positive energy, and learn to control my emotions," he wrote.
Later on, he issued an on-camera apology during a livestream. With tears in his eyes, he expressed heartfelt remorse for letting down so many people and acknowledged his mistakes. A related hashtag on Weibo soon got over 430 million clicks (#李佳琦哭着道歉#).
But many people do not appreciate his apologies. The top comment under his written apology post says: "You are making money out of ordinary people and now you turned around saying ordinary people are too poor," while the most popular comment under the livestream apology said: "If I would earn 5 million yuan a day ($685k), my tears would be much more sincere than yours."
There are more angles to this story. Besides alienating his audience, others also feel he is not being completely transparant. As Li Jiaqi hinted during the livestream, he seems to have a very close relationship with the Florasis brand. Some reports even suggest that the commission rate for his endorsement of the Florasis brand, which was established in Hangzhou six years ago, may have been as high as 80%.
It is not the first time Li gets caught up in controversy. Last year, Li disappeared from China's e-commerce channels for three months after one of his livestreams made references to shooting tanks. The 'cake tank incident' (坦克蛋糕事件) occurred on the night before June 4, the 33rd anniversary of the violent crackdown of the Tiananmen student demonstrations.
However, a notable distinction between that controversy and the current one lies in how his fans reacted. Despite the prior controversy, the majority of his supporters remained loyal to the beauty influencer, extending a warm welcome when he returned in September of 2022.
This time, many followers feel personally attacked by him. While Li Jiaqi defended the brow pencil price by suggesting that "domestic brands are struggling," some commenters ask: "If domestic brands are struggling, don't you think the people are also struggling?" ("国货难,国民难道就不难了吗?")
Earlier this year, a casual remark made by Chinese actress Zhang Yuqi during a livestream also ignited discussions surrounding the stark disparity between the perspectives of celebrities and the financial realities experienced by ordinary individuals. During that promotional livestream, Zhang suggested that 699 yuan ($100) for a cashmere blanket was so cheap, saying: "I don't even think I can buy a pair of socks with that amount."
In response to this incident, some commenters mentioned that they could cover their food expenses for an entire month with that money. Many netizens remarked that some Chinese celebrities seem to not only live in a world where everything costs more, but they also seem to reside in a place where "poverty" is defined differently.
By Monday night, Li Jiaqi still had 29,8 million followers on Weibo, although some wondered how many of them were active and authentic Weibo users. Will Li be able to win back the favor of his fans? The numbers will tell.
By Manya Koetse and Miranda Barnes
Get the story behind the hashtag. Subscribe to What's on Weibo here to receive our newsletter and get access to our latest articles:
Spotted a mistake or want to add something? Please let us know in comments below or email us. First-time commenters, please be patient – we will have to manually approve your comment before it appears.
©2023 Whatsonweibo. All rights reserved. Do not reproduce our content without permission – you can contact us at info@whatsonweibo.com.
Subscribe to our newsletter
Stay updated on what's trending in China & get the story behind the hashtag
Sign up
here
to become a premium member of What's on Weibo today and gain access to all of our latest and premium content, as well as receive our exclusive Weibo Watch newsletter. If you prefer to only receive our free newsletter with an overview of the latest articles, you can
subscribe for free
here.
Would you like to become a contributor, or do you have any tips or suggestions for us? Get in touch with us here.