An Overview of Chinese Nominations at Busan Film Festival (Part II)
Three Chinese blockbusters & two films touching upon gender issues; these Chinese films at Busan are definitely worth watching.
From Chinese dissident filmmakers to government-funded films, you can find it all at Busan, Asia's biggest film festival. In the weeks leading up to the event, What's on Weibo's Gabi Verberg provides an overview of the Chinese nominees. This week: Part II (See Part I here).
On the 4th of October, the 23th Busan International Film Festival in South Korea will roll out its red carpet to open this year's film festival season in Asia. With the screening of 323 films from 79 countries, it is one of Asia's biggest international film festivals, with China as one of the main suppliers of films.
This week, we will introduce to you to the second batch of the Chinese nominees.
1. Master Z: The Ip Man Legacy (Yèwèn Wàizhuàn: Zhāngtiānzhì 叶问外传:张天志)
Mainland China/Hong Kong
Genre: Action
Selected in the category: Opening Night Film
Director: Woo-ping Yuen (袁和平)
Weibo Hashtag: #张天志# (19.600.000+ views)
Premiere: October 2018, Busan International Film Festival
Starring: Max Zhang (张晋), Dave Bautista (戴夫·巴蒂斯塔), Michelle Yeoh (杨紫琼), Tony Jaa (托尼·贾), Chrissie Chaw (周秀娜)

About the Director:
Woo-ping Yuen was born in 1945, making him the oldest nominated Chinese director at this years' Busan Film Festival. In 1978, Woo-ping Yuen was recognized by the film industry for the first time for his works Snake in the Eagle's Shadow (Shé xíng diāo shǒu 蛇形刁手) and Drunken Master (Zuì quán 醉拳).
With Jackie Chan starring as the male protagonist in Drunken Master, the film was nominated for the Golden Horse awards at the Taiwan International Film Festival. In the 40 years that followed, Woo-ping Yuan's films received numerous nominations and awards at film festivals all over the world.
His most famous contributions to film are as the action director of Crouching Tiger, Hidden Dragon and Kill Bill: vol.2, and as a Kung-fu choreographer for the film The Matrix.
Storyline:
This spinoff focuses on Cheung Tin Chi (a pivotal character from Ip Man 3, played by Zhang), who has been defated by Ip Man and had his house burned down to the ground. He decides to seek shelter on Bar Street, where he quickly finds solace from his neighbors. But when Tin Chi discovers a gang is peddling drugs on Bar street, he takes it upon himself to intervene and gets into a fight with a powerful foreign villain.
Check out the trailer with English subtitles here.
Why you should watch it:
The main actors are internationally renowned. Michelle Yeoh showed off her beautiful martial arts skills in films such as Crouching Tiger, Hidden Dragon. Max Zhang's showed his mastery of wushu in films such as The Grandmaster and Ip Man 3.
On their website, the organization of the Busan International Film Festival calls the film "dazzling, gripping, and an astonishingly action-driven film that will satisfy the audiences who are looking for great action scenes especially on a big screen." They also call it one of the "most essential martial art films" that Hong Kong has ever seen.
2. The Island (Yīchū Hǎoxì 一出好戏)
China Mainland
Genre: Comedy, Drama
Selected in the category: : A Window on Asian Cinema
Director: Bo Huang (黄渤)
Premiere: 10th August 2018
Starring: Bo Huang (黄渤), Qi Shu (舒淇),Baoqiang Wang (王宝强),Yixing Zhang (张艺兴), Hewei Yu (于和伟), Xun Wang (王迅), Qinqin Li (李勤勤), You-lin Li (李又麟 ), Hao Ning (宁浩), Hu Guan (管虎), Jing Liang (梁静), Zheng Xu (徐峥), Teddy Chan (陈德森), Lei Zhang (张磊)

About the Director:
Bo Huang is one of China's most famous comic actors. Except for acting, he is also a singer, tv host, choreographer, and now a film director. Over the last decade, he received nominations for his acting at almost every big Asian Film Festival, such as the Hong Kong Film Festival or the Taipei Golden Horse Film Festival. As an actor, Bo Huang starred in, among others, Journey to the West (Xīyóu Jiàngmópiān 西游降魔篇), No Man's Land (Wúrénqū 无人区), and My Dearest.. The Island is Huang Bo's first work as a director.
Storyline:
News of a meteorite coming towards the earth doesn't seem to affect Ma Jin's everyday life, as he goes about his days; going to work, obsessing over his pretty colleague, and even winning a grand prize lottery during his company's team-building cruise. But Ma Jin's life is about to drastically change, bringing him and his collegues to a deserted island, where they have to remake the world as they know it. This story is a surprisingly funny but critical fable of modern society.
See the trailer with English subtitles here.
Why you should watch it:
The film is already worth watching for its beautiful locations and its spectacular special effects. But another reason to watch the film is for the interaction between Bo Huang and his cast. For the production of The Island, Bo Huang's budget seemed to be endless, allowing him to freely select his cast. As a consequence, almost all of his cast members are former colleagues. For the film Mr. Six (Lǎopào'er 老炮儿), Bo Huang worked with Hu Guan, Jing Liang, Hewei Ju, Hao Ning, and Yi Zhang, who are now all also featuring in The Island.
The Island is the 29th highest-grossing film in China of all time, with a total gross of 1.343 billion yuan ($195+ million).
3. Ash is the Purest White (Jiānghú érnǚ 江湖儿女)
China Mainland/France
Genre: Romance, Crime
Selected in the category: A Window on Asian Cinema
Director: Zhangke Jia (贾樟柯)
Premiere: 11th May 2018, Cannes Film Festival
Weibo Hashtag: #江湖儿女# (44.860.000+ views)
Starring: Tao Zhao (赵涛), Fan Liao (廖凡), Zheng Lu (徐峥), Casper Liang (梁嘉艳), Xiaogang Feng (冯小刚), Yi'nan Diao (刁亦男), Yibai Zhang (张一白), Jiali Ding (丁嘉丽), Yi Zhang (张译), Zijian Dong (董子健), Jiamei Feng (冯家妹), Xuan Li (李宣)
Note:According to some news sources, Xiaogang Feng has been edited out of the movie. The film showed at the Toronto Film Festival was five minutes shorter than the film showed at the Cannes Film Festival in May earlier this year. Xiaogang Feng is alleged of tax evasion and having close ties with actress Fan Bingbing, who hasn't been seen in public since July first after also being accused of tax evasion.
About the Director:
The award-winning Zhangke Jia is one of China's most famous film directors. His debut feature film, The Pickpocket (Xiǎowǔ 小武), won the International Forum of New Cinema at the Berlin International Film Festival in 1998. Ever since, Zhangke Jia is one of the few Asian directors to be a regular at the big international film festivals such as Venice Film Festival, where he won three prices and was nominated five times, or Cannes, where Jia won one award and was nominated five times. Among Zhangke Jia's significant works are movies such as The World (Shìjiè 世界), I Wish I Knew (Hǎishàng chuánqí 海上传奇), A Touch of Sin (Tiān zhùdìng 天注定) or Mountains May Depart
(Shānhé Gùrén 山河故人).
Last year, the very first edition of the 'Pingyao Crouching Tiger Hidden Dragon International Film Festival' (平遥国际电影展), an initiative by Zhangke Jia, was held successfully. The film festival celebrates the latest achievements in international cinema and promotes the work of young Chinese directors. The second edition of this festival will be held in October of this year.
Storyline:
This movie, set in China's underworld, tells the story of love and betrayal between gangster Bin and dancer Qiao. The two lovers have a very strong emotional connection, but their love is severely tested when Qiao winds up going to prison after a violent altercation in which she tried to protect her gangster boyfriend.
See the trailer with Chinese subtitles here.
Why you should watch it:
The Guardian awarded the film four out of five stars calling it an "glorious drama" which feels like a "gripping parable for the vanity of human wishes, and another impassioned portrait of national malaise." Variety called the film a "gangster epic."
Another reason to watch the film is its outstanding cast. The two protagonists are played by award-winning actress and director's muse Tao Zhao (赵涛) and Fan Liao (廖凡). The latter won the Berlin Golden Bear Award, which is the highest prize awarded for the best film at the Berlin International Film Festival; The Golden Horse Award at the Taipei International Film Festival for best actor, and the award for best actor at the Singapore International Film Festival.
4. My Dear Friend (Hǎoyǒu 好友)
Mainland China
Genre: Drama
Selected in the category: A Window on Asian Cinema
Director: Pingdao Yang (杨平道)
Reads on Weibo: 35.000 (#抵达之谜#)
Premiere: 2016
Starring: Starring: Gabby So (蘇子情), Robert Loh
About the Director:
Pingdao Yang is a relatively unknown independent director and screenwriter. His works have appeared at dozens of domestic and international film festivals, and he has won several independent film awards.
Other works from Pingdao Yang are Spring of Yangchun (Yángchūn zhī Chūn 阳春之春), One Day As Usual (Guānyú Zhāng Kēzhǎng de Rìcháng 关于张科长的日常), My Family Tree (Jiāpǔ 家谱); and feature films E Huang Mountain (Éhuángzhàng Yìshì 鹅凰嶂逸事) and The River of Life (Shēngmìng de Héliú 生命的河流).
Storyline:
In a remote village of southern China where spring mist lays, A city woman travels to a remote village in southern China to look for her missing boyfriend. Instead of fining him, she discovers a 60-year-long secret friendship between two elderly men.
This film comes twelve years after the debut of the short film Spring of Yangchun , that came out in 2006. That film also tells about the love between two men; after one of the men's girlfriends unexpectedly passes away, he reunites with his old-time friend who just got back from the army – the two still have issues to resolve.
(The 2006 short film is available online with Chinese subtitles here.)
Why you should watch it:
Despite the fact that the film was released almost two years ago, Busan Film Festival still wants it to be part of the category A Window on Asian Cinema; a noteworthy fact that says much about the film's quality. It is also the only Chinese film in Busan of which the topic is related to homosexuality.
5. The Rib (Yàdāng de Zhùgǔ 亚当的助骨)
Mainland China
Genre: Drama
Selected in the category: A Window on Asian Cinema
Director: Wei Zhang (张唯)
Weibo Reads: 340.000 (#撞死了一只羊#)
Premiere: 4th September 2018, Venice International Film Festival
Starring: Jingyi Huang (黄精一), Wejie Yuan (源唯杰), Hao Meng (孟浩)

About the Director:
Wei Zhang is an independent filmmaker whose work focuses on the lives of people living in the margins of society. For that reason, among others, his work is closely followed by western film media and film festivals.
Zhang's previous films include Factory Boss (Dǎgōng lǎobǎn 打工老板), a story about an entrepreneur who desperately takes on low margin jobs to save his business; Destiny (Xǐhé 喜禾)a tale of an autistic boy and his struggling mother; and The Sound of Dream (Tiānlài mèngxiǎng 天籁梦想), a film about four visually impaired Tibetan children whose dream it is to appear on a TV talent show.
Wei Zhang's films received multiple nominations and won a number of awards, including Best Original Script at the Iranian Fajr International Film Festival, and Most Innovative Film Award at the Asia-Pacific art unit of the Venice Film Festival in Shanghai.
Storyline:
The Rib is based on a collection of true stories, and depicts a Chinese transgender teenager who grows up in a devout Christian family. One day, he tells his parents he wants to undergo surgery to become a woman, and he asks for his parents' consent. It is the start of a tumultuous story that shows a new side of Chinese society.
Why you should watch it:
According to Variety, this "bold drama" is likely to become "a groundbreaking production for China."
In choosing a topic such as this, Wei Zhang has indeed made a bold move, especially considering that previous years have seen an online ban on video content relating to homosexuality. According to ScreenDaily, the filmmaker was very grateful to have obtained permission from the Chinese government to shoot the film, and hopes that his work will have a positive influence on society.
Stayed tuned for more! Meanwhile, also check out part 1 of Chinese films at Busan, and our must-see Chinese film list of 2017 here.
By Gabi Verberg
Follow @whatsonweibo
Spotted a mistake or want to add something? Please let us know in comments below or email us.
©2018 Whatsonweibo. All rights reserved. Do not reproduce our content without permission – you can contact us at info@whatsonweibo.com.
(Op-Ed) The Forgotten Genres & Loss of "Intellectual Taste" in Chinese TV Drama
"We need to recall those TV dramas and genres that have vanished into oblivion," Zhao writes.
First published
When What's on Weibo published a list of classics of Chinese TV dramas, Beijing Film Academy graduate Zhao B. felt the list was missing relevant titles and genres. These are the top classic TV dramas that should be added to the list, according to an article sent in to What's on Weibo by Zhao.
The entertainment industry is a hot topic in present-day China, where online videos are being watched by millions of internet users every day. The way in which these videos are created, spread, and consumed, signals a new kind of emotional consumerism.
TV drama is still a benchmark of China's popular culture, but it is no longer the newest one – and might even have started to be somewhat worn out. It has gone into a phase of systematically deleting conflicting memories, in sync with the loud internet environment and the pop culture factory.
Not only has the length of TV drama episodes been shortened for today's 'online binging,' but streaming sites are also filled with certain algorithms and tracking codes that accelerate the obliteration of certain television dramas. The mass 'industrialization' of popular culture has shortened the lifespan of television dramas and its genres.
Which is why if a list such as the Top 30 Classic TV Dramas in China is based on rankings provided by social media sites or online video platforms such as Sougo or Douban, there are certain blind spots.
It is not out of mere nostalgia that we need to recall those TV dramas and genres that have vanished into oblivion. It gives us an overview of marginalized genres and taste, that are different from the current mainstream ones. They are the working memories for contemporary life.
Genres that have come up and have since been forgotten in the People's Republic of China from roughly 1978 to 2018, are:
-the "rural genre" (农村题材)
-the "youth genre" (青少年题材)
-the "army genre" (军旅题材), a sub-category of the military genre.
Theme Productions versus Genre
There is a socio-historical difference in Chinese and English popular culture industries in use of the term 'genre' that should be noted here. Chinese TV dramas are often categorized in 'topics' or 'themes' (tícái 题材) rather than in 'genres' (lèixíng 类型).
Thematic terms were used in planning and reviewing art productions (literature, film, TV drama) in PRC history, but this practice has been transforming over the past forty years. 
With the rise of the pop culture industry, the term 'genre' (类型) also became more popularized, with 'theme' and 'genre' now existing together.
Some productions have been recognized as either an old-fashioned 'theme' product, while also being categorized as a genre. For example, the TV drama Era of Peace (和平年代, 1996) marks the transition from the thematic categorization of 'Revolutionary History theme' (革命历史题材) to the categorization of 'Era genre' (年代戏). Later, the famous production The Year of Burning Passion (激情燃烧的岁月, 2001) was simply categorized as a typical 'Era Genre' rather than a theme production.
But there are also those thematic productions that did not have a 'genre offspring.' One of those is the established "intellectual theme" (知识分子题材) in Chinese literature, film, and TV drama, which is not reflected in today's TV drama industry. Although educated identity plays a key role in today's medical genre (医疗剧) – a subcategory of the 'professional genre' TV drama (职业剧) – the agenda and rhetoric are very different.
To avoid long discussions on the complex nature of theme versus genre productions and categories in Chinese TV dramas, the following overview mixes both thematic and genre TV dramas, using the terms interchangeably.
'Forgotten' TV Dramas
An overview of some series in supplement to the Top 30 Classic Chinese TV dramas article:
#1 'Trilogy of Women's Fate' (女人命运三部曲)
* 篱笆、女人和狗  'Fence, Woman and Dog'
Year: 1989
Episodes: 12
Genre: Rural/Family
Directed by 陈雨田 Chen Yutian
* 辘轳、女人和井 'Windlass, Woman and Well'
Year: 1991
Episodes: 12
Genre: Rural/Family
Directed by 陈雨田 Chen Yutian 可人 Ke Ren
* 古船、女人和网 Ancient Ship, Woman and Net
Year: 1993
Episodes: 14
Genre: Rural/Family
Directed by 吴珊 Wu Shan 张扬 Zhang Yang
In this 1990s 'Trilogies of Country Life' (农村三部曲), China's rural community is still presented as being in a stage of self-reflecting amidst a time of transformation. This portrayal of China's countryside stands in stark contrast to present-day productions that often represent the rural community as either 'to be developed' or to be laughed about, caught in a discourse of urban-rural binary opposition. These series are still available for viewing on sites such as QQ (no English subs).
#2. 'The Flowering Season of Being Sixteen' (十六岁的花季)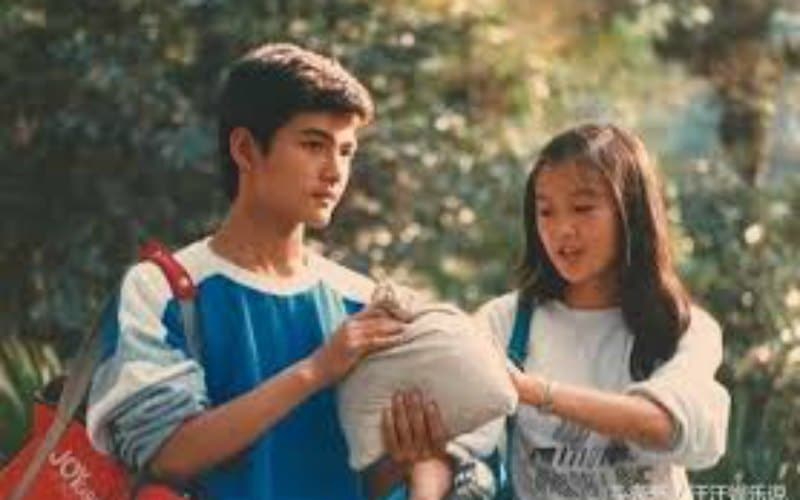 Year: 1990
Episodes: 12
Genre: Youth
Directed by Directed by 富敏 Fu Min 张弘 Zhang Hong
This TV drama, spoken in Shanghai accent, tells the coming-of-age story of a group of middle school students. It represents Chinese youth as being in the age of poetic self-reflection, rather than the 'young idol' genre that is ubiquitous today. The actors and narrator's voice directly reflect on society and question it. The episodes are available for viewing on Youtube here (no English subtitles).
#3. Young Special Force 少年特工
Year: 1992
Episodes: 16
Genre: Military
Directed by 郑方南 Zheng Fangnan
This TV drama, set in contemporary China, tells the story of the experiences of children during a military camp in Shandong, where these young scouts are thrown into a 'battle' between the 'Red Army' and the 'Blue Army.' The military setting and modern timeframe ironically reveal the hidden elite and historical subtext. Link to episodes on Youtube here.
#4. Era of Peace (和平年代)
Year: 1996
Episodes: 23
Genre: Army/History
Directed by 李舒 Li Shu 张前 Zhang Qian
This title represents the difference between the army sub-genre and military genre. It is a retrospective story that describes the transformation of China's armed troops from the Reform and Opening Up (改革开放) (1978-1996) period, going from war preparations to a period of peace.
Over the last two decades, the army sub-genre has gradually allowed new components into the military TV drama genre, which has also led to those narratives in the late 2010s that focus on overseas operations by elite soldiers.
#5. Fortress Besieged (围城)
Year: 1990
Episodes: 10
Genre: No (some will say Historical)
Directed by 黄蜀芹 Huang Shuqin
This drama, a classic adaptation of the same-titled 1947 novel by Qian Zhongshu, is set in the 1930s and portrays Chinese intellectuals, while focusing on the misadventures of Fang Hongjian, who returns to China after studying in Europe. The mild, cautious, ironic yet effortless taste from 1940 Shanghai and the figures of Republic of China's bourgeois intellectuals, showed itself for the very first time to PRC audiences in this classic.
Nobody would like to admit they forgot about this classic adaptation. Actually, people tend to forget it not because of itself, but for its isolation from any current trends. Intellectual taste and artistic pursuit are quite alien to China's current TV drama culture. Intellectual influence and TV as art was a cultural feature of the late socialist planned economy of the 20th century, when the Communist war against intellectuals had ended, and the capitalist front was yet to be developed.
Various episodes are available for viewing on Youtube.
#6. Sinful Debt (孽债)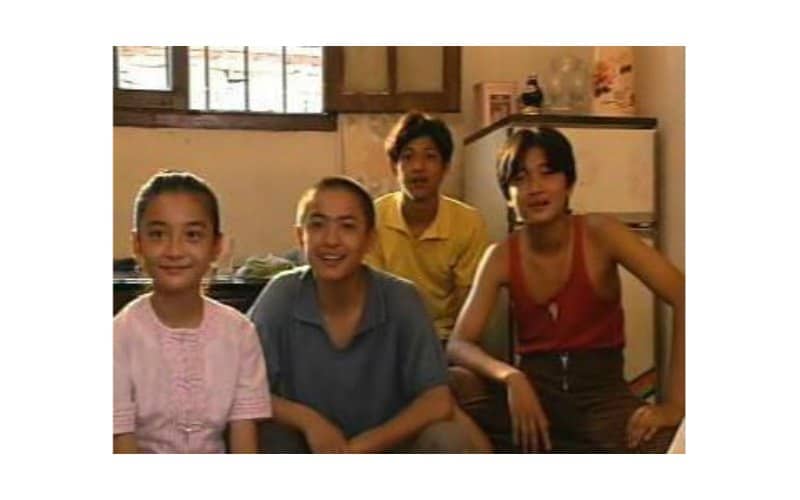 Year: 1995
Episodes: 20
Genre: Family
Directed by 黄蜀芹 Huang Shuqin
This drama, from the same female director Huang Shuqin (黄蜀芹) of Fortress Besieged, tells the story of five left-behind children in pursuit of their fathers – former sent-down "educated youths" as part of the Cultural Revolution crusade. It is a drama of middle-aged males, females and children, affected by historical, geographical, social and ethnic displacement. These series represent a delayed response to Scar Literature on TV.
The portrayal of Shanghai intellectuals in 1990s TV drama was very different from the 1980s intellectual idealism on TV, which then later transformed in the full-fledged populism in today's political discourse of pop culture. In policy and critiques after 1990s, the once legit intellectual theme (知识分子题材) was completely erased.
Episodes of Sinful Debt are available for viewing on Youtube here.
By Zhao B.
Edited for clarity by Manya Koetse
Spotted a mistake or want to add something? Please let us know in comments below or email us.
©2018 Whatsonweibo. All rights reserved. Do not reproduce our content without permission – you can contact us at info@whatsonweibo.com
The Never-Ending Drama: Ma Rong Accuses Wang Baoqiang of Violent Attack, Netizens Don't Buy It
A messy story is flooding Weibo today, as Chinese celebrity Ma Rong accuses ex-husband Wang Baoqiang of assault.
First published
It is the never-ending drama: China's most famous divorced celebrity couple Ma Rong and Wang Baoqiang once again hit the top trending lists on Chinese social media. This time, it concerns an alleged violent outburst during which Ma Rong was injured.
Ever since the 2016 split between Chinese celebrities Wang Baoqiang (王宝强) and his ex-wife Ma Rong (马蓉), the former couple keeps on making headlines. On Sunday, December 2nd, the hashtag "Wang Baoqiang Beats Up Ma Rong" (#王宝强殴打马蓉#) went trending on Weibo, receiving some 520 million views at time of writing (update: the hashtag page has since been taken offline).
According to various Chinese media, Chinese actress Ma Rong stated that her ex-husband attacked her when she wanted to take her children with her in the early morning on Sunday. The children allegedly were not present when the altercation occurred.
Ma Rong claimed that she was hit and kicked in the head and back by Wang, who was accompanied by "four or five" others.
Dramatic photos of a seemingly injured Ma Rong have spread on social media, along with photos of her in the hospital.
A video issued by Sina Entertainment News on Sunday shows Ma Rong lying in her (hospital) bed crying, telling the interviewer that Wang has previously been abusive towards her and their two children.
But there is also another side to this murky story, as security footage from surveillance cameras at Wang's house have leaked, reportedly showing that Ma came to Wang's house with her mother on Saturday night around 19.00 to "cause a scene", carrying scissors with her to intimidate Wang's family. The footage shows how a woman, said to be Ma Rong, jumps up to the camera in an apparent attempt to sabotage it.
According to an "insider" quoted by Sina Entertainment, Ma and her mother were apparently involved in an altercation with Wang Baoqiang's mother, although these rumors have since been refuted by Ma's family.
A report on Jinri Toutiao also claims that the altercation had already started on Saturday night, and that police were present at the scene around 23.00 in an ongoing confrontation that allegedly lasted the entire night.
Wang's mother, who was present at the scene, was apparently so shaken by the turmoil, that she reportedly was also checked into a local hospital with "palpitations" on Saturday night.
As the situation is somewhat messy, and details are still unclear, most netizens side with Wang Baoqiang and are not buying Ma's story, suggesting the photos of the injured actress have been staged. Ma Rong has become very unpopular since her divorce from Wang, with many calling her a "gold digger."
"She's a very good actress," many commenters say. "There's seriously something wrong with her," others write.
The first memes on today's case are also surfacing on WeChat and Weibo, with some photoshopping Ma's photo on a magazine cover of Zhiyin (知音), an old Chinese magazine known for telling dramatic and sensationalized social stories.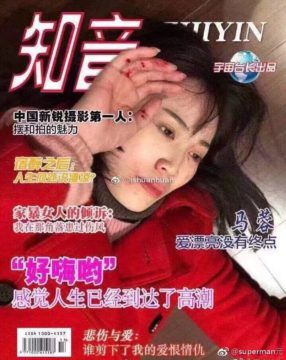 Others post the dramatic photo with the underline: "Oh, my head hurts."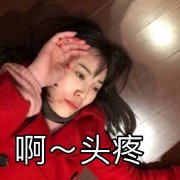 Chinese actor Wang Baoqiang, known for his roles in films such as Blind Shaft (2003) and A Touch of Sin (2013), is highly popular in China. Born into a poor rural family in Hebei Province, the former migrant construction worker rose to fame when he was cast in his first movie. With his rural-to-urban, migrant-to-actor story, Wang has come to represent the Chinese dream in the eyes of many.
In 2016, Wang Baoqiang publicly announced on Weibo that after seven years of marriage, he was divorcing Ma Rong as an exposed illicit affair between his wife and his manager Song Zhe (宋喆) had damaged his marriage "beyond repair."
At the time, the exposure of the alleged relationship between Ma Rong and manager Song Zhe hit Weibo like an earthquake, with millions of netizens jumping on the discussion – many of them scolded Ma and alleged she had only married the Chinese film star for his money. With ten billion views, it became one of the all-time biggest topics on Weibo.
The story has continued to attract people's attention. A year after the initial separation, Song Zhe was arrested in Beijing for embezzlement – a topic that immediately became trending on Chinese social media.
The various court cases between Wang and Ma Rong, who first sued her estranged husband for defamation of character and then refused to sign the divorce papers, has also recurrently been in the media.
According to the latest reports, Ma has now left the hospital. A video that is spreading on Weibo shows how a woman, supposedly Ma Rong, is carried out of the hospital and is put inside a car, while reporters are running after her (see embedded tweet below).
Super bizarre. Videos show how Ma Rong (supposedly) is carried out of the hospital after allegedly being attacked by ex-husband Wang Baoqiang, chased by group of reporters. Why are reporters allowed in there at all? This is like Britney Spears in 2007. https://t.co/ldP8oVO1sY pic.twitter.com/XQFrD49nBq

— Manya Koetse (@manyapan) 2 december 2018
At time of writing, Wang has not posted any statement regarding this incident on his Weibo page, where he has more than 28 million fans.
By Manya Koetse and Miranda Barnes
Follow @whatsonweibo
Spotted a mistake or want to add something? Please let us know in comments below or email us.
©2018 Whatsonweibo. All rights reserved. Do not reproduce our content without permission – you can contact us at info@whatsonweibo.com