An Overview of Chinese Nominations at Busan Film Festival (Part II)
Three Chinese blockbusters & two films touching upon gender issues; these Chinese films at Busan are definitely worth watching.
From Chinese dissident filmmakers to government-funded films, you can find it all at Busan, Asia's biggest film festival. In the weeks leading up to the event, What's on Weibo's Gabi Verberg provides an overview of the Chinese nominees. This week: Part II (See Part I here).
On the 4th of October, the 23th Busan International Film Festival in South Korea will roll out its red carpet to open this year's film festival season in Asia. With the screening of 323 films from 79 countries, it is one of Asia's biggest international film festivals, with China as one of the main suppliers of films.
This week, we will introduce to you to the second batch of the Chinese nominees.
1. Master Z: The Ip Man Legacy (Yèwèn Wàizhuàn: Zhāngtiānzhì 叶问外传:张天志)
Mainland China/Hong Kong
Genre: Action
Selected in the category: Opening Night Film
Director: Woo-ping Yuen (袁和平)
Weibo Hashtag: #张天志# (19.600.000+ views)
Premiere: October 2018, Busan International Film Festival
Starring: Max Zhang (张晋), Dave Bautista (戴夫·巴蒂斯塔), Michelle Yeoh (杨紫琼), Tony Jaa (托尼·贾), Chrissie Chaw (周秀娜)

About the Director:
Woo-ping Yuen was born in 1945, making him the oldest nominated Chinese director at this years' Busan Film Festival. In 1978, Woo-ping Yuen was recognized by the film industry for the first time for his works Snake in the Eagle's Shadow (Shé xíng diāo shǒu 蛇形刁手) and Drunken Master (Zuì quán 醉拳).
With Jackie Chan starring as the male protagonist in Drunken Master, the film was nominated for the Golden Horse awards at the Taiwan International Film Festival. In the 40 years that followed, Woo-ping Yuan's films received numerous nominations and awards at film festivals all over the world.
His most famous contributions to film are as the action director of Crouching Tiger, Hidden Dragon and Kill Bill: vol.2, and as a Kung-fu choreographer for the film The Matrix.
Storyline:
This spinoff focuses on Cheung Tin Chi (a pivotal character from Ip Man 3, played by Zhang), who has been defated by Ip Man and had his house burned down to the ground. He decides to seek shelter on Bar Street, where he quickly finds solace from his neighbors. But when Tin Chi discovers a gang is peddling drugs on Bar street, he takes it upon himself to intervene and gets into a fight with a powerful foreign villain.
Check out the trailer with English subtitles here.
Why you should watch it:
The main actors are internationally renowned. Michelle Yeoh showed off her beautiful martial arts skills in films such as Crouching Tiger, Hidden Dragon. Max Zhang's showed his mastery of wushu in films such as The Grandmaster and Ip Man 3.
On their website, the organization of the Busan International Film Festival calls the film "dazzling, gripping, and an astonishingly action-driven film that will satisfy the audiences who are looking for great action scenes especially on a big screen." They also call it one of the "most essential martial art films" that Hong Kong has ever seen.
2. The Island (Yīchū Hǎoxì 一出好戏)
China Mainland
Genre: Comedy, Drama
Selected in the category: : A Window on Asian Cinema
Director: Bo Huang (黄渤)
Premiere: 10th August 2018
Starring: Bo Huang (黄渤), Qi Shu (舒淇),Baoqiang Wang (王宝强),Yixing Zhang (张艺兴), Hewei Yu (于和伟), Xun Wang (王迅), Qinqin Li (李勤勤), You-lin Li (李又麟 ), Hao Ning (宁浩), Hu Guan (管虎), Jing Liang (梁静), Zheng Xu (徐峥), Teddy Chan (陈德森), Lei Zhang (张磊)

About the Director:
Bo Huang is one of China's most famous comic actors. Except for acting, he is also a singer, tv host, choreographer, and now a film director. Over the last decade, he received nominations for his acting at almost every big Asian Film Festival, such as the Hong Kong Film Festival or the Taipei Golden Horse Film Festival. As an actor, Bo Huang starred in, among others, Journey to the West (Xīyóu Jiàngmópiān 西游降魔篇), No Man's Land (Wúrénqū 无人区), and My Dearest.. The Island is Huang Bo's first work as a director.
Storyline:
News of a meteorite coming towards the earth doesn't seem to affect Ma Jin's everyday life, as he goes about his days; going to work, obsessing over his pretty colleague, and even winning a grand prize lottery during his company's team-building cruise. But Ma Jin's life is about to drastically change, bringing him and his collegues to a deserted island, where they have to remake the world as they know it. This story is a surprisingly funny but critical fable of modern society.
See the trailer with English subtitles here.
Why you should watch it:
The film is already worth watching for its beautiful locations and its spectacular special effects. But another reason to watch the film is for the interaction between Bo Huang and his cast. For the production of The Island, Bo Huang's budget seemed to be endless, allowing him to freely select his cast. As a consequence, almost all of his cast members are former colleagues. For the film Mr. Six (Lǎopào'er 老炮儿), Bo Huang worked with Hu Guan, Jing Liang, Hewei Ju, Hao Ning, and Yi Zhang, who are now all also featuring in The Island.
The Island is the 29th highest-grossing film in China of all time, with a total gross of 1.343 billion yuan ($195+ million).
3. Ash is the Purest White (Jiānghú érnǚ 江湖儿女)
China Mainland/France
Genre: Romance, Crime
Selected in the category: A Window on Asian Cinema
Director: Zhangke Jia (贾樟柯)
Premiere: 11th May 2018, Cannes Film Festival
Weibo Hashtag: #江湖儿女# (44.860.000+ views)
Starring: Tao Zhao (赵涛), Fan Liao (廖凡), Zheng Lu (徐峥), Casper Liang (梁嘉艳), Xiaogang Feng (冯小刚), Yi'nan Diao (刁亦男), Yibai Zhang (张一白), Jiali Ding (丁嘉丽), Yi Zhang (张译), Zijian Dong (董子健), Jiamei Feng (冯家妹), Xuan Li (李宣)
Note:According to some news sources, Xiaogang Feng has been edited out of the movie. The film showed at the Toronto Film Festival was five minutes shorter than the film showed at the Cannes Film Festival in May earlier this year. Xiaogang Feng is alleged of tax evasion and having close ties with actress Fan Bingbing, who hasn't been seen in public since July first after also being accused of tax evasion.
About the Director:
The award-winning Zhangke Jia is one of China's most famous film directors. His debut feature film, The Pickpocket (Xiǎowǔ 小武), won the International Forum of New Cinema at the Berlin International Film Festival in 1998. Ever since, Zhangke Jia is one of the few Asian directors to be a regular at the big international film festivals such as Venice Film Festival, where he won three prices and was nominated five times, or Cannes, where Jia won one award and was nominated five times. Among Zhangke Jia's significant works are movies such as The World (Shìjiè 世界), I Wish I Knew (Hǎishàng chuánqí 海上传奇), A Touch of Sin (Tiān zhùdìng 天注定) or Mountains May Depart
(Shānhé Gùrén 山河故人).
Last year, the very first edition of the 'Pingyao Crouching Tiger Hidden Dragon International Film Festival' (平遥国际电影展), an initiative by Zhangke Jia, was held successfully. The film festival celebrates the latest achievements in international cinema and promotes the work of young Chinese directors. The second edition of this festival will be held in October of this year.
Storyline:
This movie, set in China's underworld, tells the story of love and betrayal between gangster Bin and dancer Qiao. The two lovers have a very strong emotional connection, but their love is severely tested when Qiao winds up going to prison after a violent altercation in which she tried to protect her gangster boyfriend.
See the trailer with Chinese subtitles here.
Why you should watch it:
The Guardian awarded the film four out of five stars calling it an "glorious drama" which feels like a "gripping parable for the vanity of human wishes, and another impassioned portrait of national malaise." Variety called the film a "gangster epic."
Another reason to watch the film is its outstanding cast. The two protagonists are played by award-winning actress and director's muse Tao Zhao (赵涛) and Fan Liao (廖凡). The latter won the Berlin Golden Bear Award, which is the highest prize awarded for the best film at the Berlin International Film Festival; The Golden Horse Award at the Taipei International Film Festival for best actor, and the award for best actor at the Singapore International Film Festival.
4. My Dear Friend (Hǎoyǒu 好友)
Mainland China
Genre: Drama
Selected in the category: A Window on Asian Cinema
Director: Pingdao Yang (杨平道)
Reads on Weibo: 35.000 (#抵达之谜#)
Premiere: 2016
Starring: Starring: Gabby So (蘇子情), Robert Loh
About the Director:
Pingdao Yang is a relatively unknown independent director and screenwriter. His works have appeared at dozens of domestic and international film festivals, and he has won several independent film awards.
Other works from Pingdao Yang are Spring of Yangchun (Yángchūn zhī Chūn 阳春之春), One Day As Usual (Guānyú Zhāng Kēzhǎng de Rìcháng 关于张科长的日常), My Family Tree (Jiāpǔ 家谱); and feature films E Huang Mountain (Éhuángzhàng Yìshì 鹅凰嶂逸事) and The River of Life (Shēngmìng de Héliú 生命的河流).
Storyline:
In a remote village of southern China where spring mist lays, A city woman travels to a remote village in southern China to look for her missing boyfriend. Instead of fining him, she discovers a 60-year-long secret friendship between two elderly men.
This film comes twelve years after the debut of the short film Spring of Yangchun , that came out in 2006. That film also tells about the love between two men; after one of the men's girlfriends unexpectedly passes away, he reunites with his old-time friend who just got back from the army – the two still have issues to resolve.
(The 2006 short film is available online with Chinese subtitles here.)
Why you should watch it:
Despite the fact that the film was released almost two years ago, Busan Film Festival still wants it to be part of the category A Window on Asian Cinema; a noteworthy fact that says much about the film's quality. It is also the only Chinese film in Busan of which the topic is related to homosexuality.
5. The Rib (Yàdāng de Zhùgǔ 亚当的助骨)
Mainland China
Genre: Drama
Selected in the category: A Window on Asian Cinema
Director: Wei Zhang (张唯)
Weibo Reads: 340.000 (#撞死了一只羊#)
Premiere: 4th September 2018, Venice International Film Festival
Starring: Jingyi Huang (黄精一), Wejie Yuan (源唯杰), Hao Meng (孟浩)

About the Director:
Wei Zhang is an independent filmmaker whose work focuses on the lives of people living in the margins of society. For that reason, among others, his work is closely followed by western film media and film festivals.
Zhang's previous films include Factory Boss (Dǎgōng lǎobǎn 打工老板), a story about an entrepreneur who desperately takes on low margin jobs to save his business; Destiny (Xǐhé 喜禾)a tale of an autistic boy and his struggling mother; and The Sound of Dream (Tiānlài mèngxiǎng 天籁梦想), a film about four visually impaired Tibetan children whose dream it is to appear on a TV talent show.
Wei Zhang's films received multiple nominations and won a number of awards, including Best Original Script at the Iranian Fajr International Film Festival, and Most Innovative Film Award at the Asia-Pacific art unit of the Venice Film Festival in Shanghai.
Storyline:
The Rib is based on a collection of true stories, and depicts a Chinese transgender teenager who grows up in a devout Christian family. One day, he tells his parents he wants to undergo surgery to become a woman, and he asks for his parents' consent. It is the start of a tumultuous story that shows a new side of Chinese society.
Why you should watch it:
According to Variety, this "bold drama" is likely to become "a groundbreaking production for China."
In choosing a topic such as this, Wei Zhang has indeed made a bold move, especially considering that previous years have seen an online ban on video content relating to homosexuality. According to ScreenDaily, the filmmaker was very grateful to have obtained permission from the Chinese government to shoot the film, and hopes that his work will have a positive influence on society.
Stayed tuned for more! Meanwhile, also check out part 1 of Chinese films at Busan, and our must-see Chinese film list of 2017 here.
By Gabi Verberg
Follow @whatsonweibo
Spotted a mistake or want to add something? Please let us know in comments below or email us.
©2018 Whatsonweibo. All rights reserved. Do not reproduce our content without permission – you can contact us at info@whatsonweibo.com.
Surprise Attack: CCTV6 Unexpectedly Airs Anti-American Movies as China-US Trade War Intensifies
"They have no new anti-American films, so they're showing us the old ones instead."
First published
CCTV 6, the movie channel of China's main state television broadcaster, has gone trending on Chinese social media today for changing its schedule and playing three anti-American movies for three days in a row.
Some suggest the selection for the movies is no coincidence, and that it's sending out a clear anti-US message while the trade war is heating up.
The three movies are the Korean war movies Heroic Sons and Daughters (英雄儿女, 1964), Battle on Shangganling Mountain (上甘岭, 1954), and Surprise Attack (奇袭, 1960), airing from May 17-19 during prime time at 20:15.
Ongoing trade tensions between China and the United States heightened when Trump raised an existing 10 percent tax on many Chinese imports to 25 percent earlier this month. Chinese authorities responded by raising taxes on many American imports.
Over the past week, anti-American propaganda has intensified in Chinese state media, with the slogan "Wanna talk? Let's talk. Wanna fight? Let's do it. Wanna bully us? Dream on!"* ("谈,可以!打,奉陪!欺,妄想!") going viral on Chinese social media.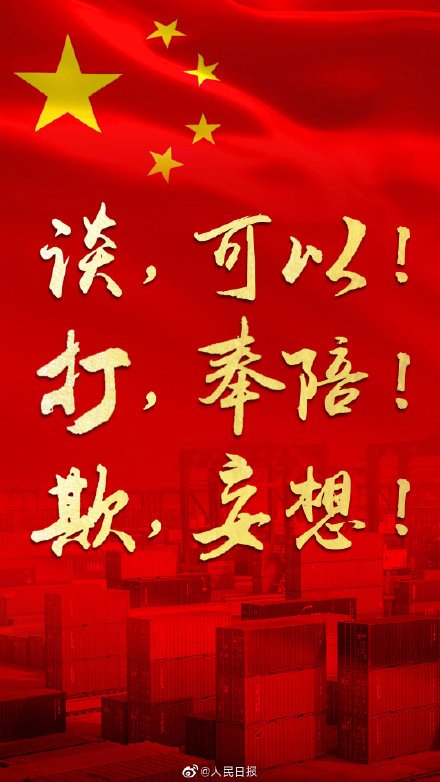 The movies broadcasted by CCTV these days are so-called "Resist America, Help North Korea" movies ("抗美援朝影片").
The 'Resist the USA, Help North Korea' (or: "Resist American Aggression and Aid North Korea") was a propaganda slogan launched in October 1950 during the Korean War (1950-1953). China came to the assistance of North Korea after the war with the South had broken out in June that year and the UN forces intervened in September.
The government, led by Mao Zedong, sent troops to fight in the war. Mao's own son, Mao Anying, was killed in action by an air strike a month after the start of this 3-year war against US aggression in support of North Korea. The war ended with the armistice of July 1953.
All three movies aired on CCTV6 are set during the "War to Resist US Aggression and Aid Korea."
Battle on Shangganling Mountain focuses on a group of Chinese People's Volunteer Army soldiers who are holding Triangle Hill for several days against US forces.
Heroic Sons and Daughters tells the story of a political commissar in China's volunteer army who finds his missing daughter on the Korean battlefield.
Surprise Attack revolves around the mission of the Chinese army to blow up the strategic Kangping Bridge, cutting off supplies to the American army and allowing the Chinese to engage in a full attack.
On Chinese social media, the unexpected decision of the CCTV to change its original schedule and to air the three historical films has become a much-discussed topic, with many people praising CCTV6 for showing these movies.
The issue was also widely reported on by Chinese media, from Sohu News to Global Times, which called the broadcast programming itself a "Surprise Attack."
Not all netizens praise the initiative, however, with some commenting: "It seems that there are no new anti-American TV series or movies now, so they've come up with these old films to brainwash us." Others said: "This kind of brainwashing is not useful."
Many Weibo users, however, just enjoy seeing classic movies, saying "They don't make movies like this anymore," and "It's good for the younger generation to also see these classics."
If you're reading this article on Saturday night China Central Time, you're still in time to watch the airing of Battle on Shangganling Mountain on CCTV6 here.
Update 18th May CST: It seems that a fourth movie has been added to the series now. This might just become the CCTV6 Anti-American movies month! We'll keep you updated.
By Manya Koetse and Miranda Barnes
*Translation suggested by @kaiserkuo.
Spotted a mistake or want to add something? Please let us know in comments below or email us.
©2019 Whatsonweibo. All rights reserved. Do not reproduce our content without permission – you can contact us at info@whatsonweibo.com
The Lawyers Are Here: Chinese State Media Popularize 'Rule of Law'
The Chinese TV show 'The Lawyers are Here' is "helping the people through the rule of law."
First published
The Lawyers are Here (律师来了) is a weekly television program by state broadcaster CCTV that focuses on the legal struggles of ordinary Chinese citizens. The program educates through entertainment, and in doing so, propagates core socialist values such as equality, justice, and rule of law.
You just bought a new house when you discover its locks have been changed and you're denied access. Together with five colleagues, you've been working in a factory when your boss suddenly lays you off without explanation. You won a lawsuit but still have not received the settled compensation. What to do? What kind of rights do you have as a Chinese citizen?
These kinds of legal cases are at the center of a weekly Chinese TV show called The Lawyers Are Here (律师来了), which was first aired on CCTV's Legal Channel in 2017 as a follow-up to the 2016 I am a Barrister (我是大律师).
The Lawyers Are Here introduces a different legal issue every week. The problems range from the aforementioned examples to people wanting custody over their child or a former patient fighting a negligent hospital for financial compensation.
Besides the TV host (Cao Xuanyi 曹煊一) and the people involved in the case, every 45-minute episode features various topic experts and four lawyers who offer their views and advice on the matter.
Each show begins with a short video explaining the story behind the case, after which the participants analyze the different legal aspects. One person provides further clarification at certain moments throughout the show by reading from Chinese legal texts.
Once everybody has a clear picture of the current situation, the show enters its most thrilling stage. Background music heightens the tension as the lawyers have to answer the most crucial question of the night: are they willing to take this case? It is then up to the party involved in the case to choose the lawyer they trust the most to win their case.
The Lawyers Are Here describes itself as "China's first legal media public service platform." It does not only offer help to the common people on the show who are caught up in legal issues, but it also informs viewers on how to handle certain problems, and educates people on China's legal system.
One 2018 episode featured a female nurse from Beijing who was seeking help in getting divorced from her abusive husband. The woman only wanted a divorce if she could get full custody over her 15-month-old son. The lawyers on the show explained that if the woman could prove she suffered from abuse at the hands of her husband, she had a stronger case in getting full custody.
The woman, visibly upset, tells that she has never reported the abuse to the police, but that she did go to the hospital and took photos of her injuries. Although the lawyers on the show predicted that the pictures and hospital records would be sufficient evidence for the court, they also strongly advised all viewers to always report these incidents to the police.
Legal advice on the show goes beyond family-related issues. In another episode, a victim of a fraudulent car dealer was reprimanded by the lawyers for signing a contract before thoroughly reading it. "Never sign a contract before reading it completely", the show warned, also telling viewers never to be pressured into signing a contract.
The Lawyers Are Here also often shows how the people featured on the show receive help from their lawyer after filming, and how a dispute is finally settled in court.
Popularizing Rule of Law
Every episode of The Lawyers Are Here starts with the slogan "The law is the rule, help is the intention" or "Helping the people through the rule of law" ("法为绳墨, 助为初心").
By clearly reinforcing the message of 'live by the law and justice will prevail,' The Lawyers Are Here serves as a media tool to propagate the idea of 'Governing China with Rule of Law,' which is emphasized by the Party leadership.
"Rule of law" is one of the 14 principles of 'Xi Jinping Thought' and one of the 12 Core Socialist Values. This idea is clearly promoted throughout the show, along with other socialist values such as equality, justice, and integrity.
An important aspect of promoting the idea of a nation that is ruled by law is educating people on Chinese law, and, perhaps more importantly, creating more trust in legal institutions among the people.
Besides news media and other forms of propaganda, TV shows such as The Lawyers Are Here are effective tools for doing so. Not only does it present legal cases in a popular and modern way, even adding a game factor to it, it also personalizes it by letting the people tell their emotional stories – sometimes even moving the TV host to tears – and showing that the law can resolve complex family or business problems in an efficient matter.
On social media, people compliment the CCTV show for "bringing justice to ordinary people" and "standing up for the weak."
"I hope we can have more programs such as these," one Weibo commenter writes.
The Lawyers are Here is broadcasted every Saturday on 18:00 at CCTV12.
Spotted a mistake or want to add something? Please let us know in comments below or email us.
©2019 Whatsonweibo. All rights reserved. Do not reproduce our content without permission – you can contact us at info@whatsonweibo.com