LEI YANG CASE UPDATE: Policemen Arrested Over Controversial Death
Beijing Supreme People's Procuratorate has published an update on the investigation into the Lei Yang case. The autopsy results on Lei Yang's body were publicly released on July 30. Two policemen involved in Lei Yang's arrest are suspected of "neglect of duty" and have been placed under arrest
Beijing Supreme People's Procuratorate has published an update on the investigation into the Lei Yang case, that had thousands of netizens outraged over suspected police brutality. The autopsy results on Lei Yang's body were publicly released on June 30. Two policemen involved in Lei Yang's arrest are suspected of "neglect of duty" and have been placed under arrest.
News has come out following the completed autopsy on Lei Yang (雷洋), the 29-year-old Beijing environmentalist who died shortly after being arrested in May of this year. His death sparked national outrage, with many connecting Lei's death to police brutality. Netizens feared that anybody could be "the next Lei Yang", and some already called the case one of the "biggest controversies of 2016".
According to previous police statements, Lei Yang was arrested by 5-6 plainclothes officers on May 7, 2016, for visiting a brothel (featured image) and died while resisting his arrest. Camera recordings of his arrest were reportedly unavailable after the police phone device that was used for filming the arrest broke down. According to one officer, Lei had "stopped resisting and was very quiet" in the car on the way to the police station. He was pronounced dead at a nearby hospital within two hours after his arrest.
Lei's family was not satisfied with police reports on the circumstances that led to Lei's death. Lei just had a baby two weeks earlier and was on the way to the airport to pick up relatives. According to family members who had seen Lei's body under police supervision, he was bruised on his head and arms, and also had sustained other injuries.
The Beijing prosecutor's office publicly released news about the autopsy results in the Lei Yang case on its official Weibo account on June 30. According to the report, the autopsy results revealed Lei Yang's cause of death to be choking due to "inhaled food content into his respiratory system" ("死者雷洋符合胃内容物吸入呼吸道致窒息死亡").
They also wrote that the investigation was still ongoing, but that 2 policemen by the names of Xing and Zhou that were involved in Yang Lei's arrest have now been arrested as they are suspected to be guilty of "neglect of duty" (玩忽职守). Both officers were working at the Beijing local Changping police station.
According to Chinese news site Legal Daily, the lawyer of one of the suspects (Xing) handed over an official complaint to the Beijing prosecutor's office earlier this week, in which was suggested that the procedures of the forensic center were against the law as the credentials of the concerning evaluation center were called into question. Beijing prosecutors later announced that the autopsy by the forensic center was lawful.

This article will be updated if more information on this case comes out.
– By Manya Koetse & Diandian Guo
Follow @WhatsOnWeibo
©2016 Whatsonweibo. All rights reserved. Do not reproduce our content without permission – you can contact us at info@whatsonweibo.com.
Made-in-China Halal: Online Discussions on 'Halalification'
As a form of protest against the growing prevalence of halal food, some groups of Chinese netizens vow not to eat or buy halal products.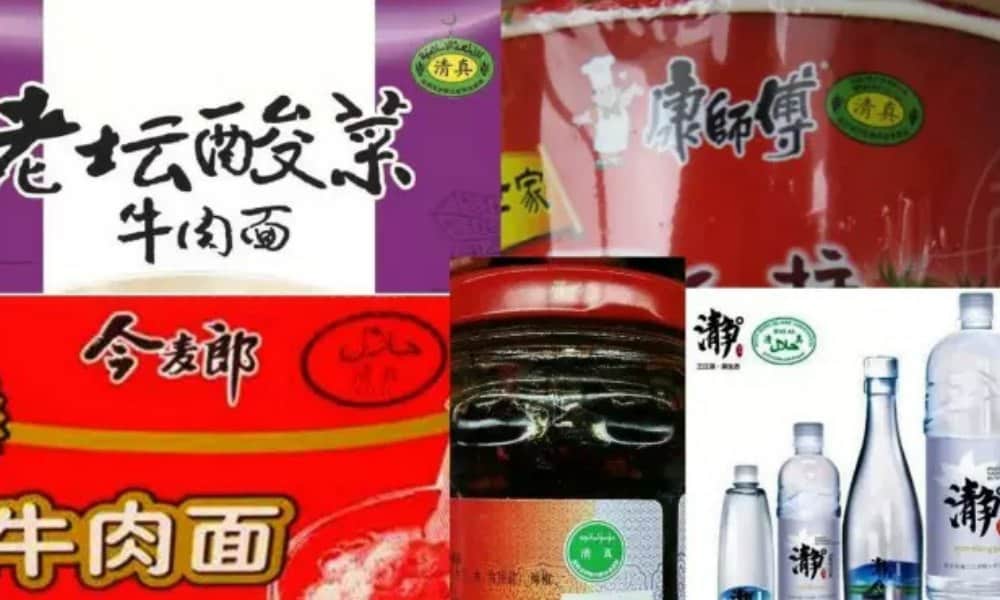 Over recent years, the rise of made-in-China halal food and services have increasingly generated heated online debates on the so-called 'halalification' of China. Many netizens condemn the country's growing prevalence of halal products and join the online protest against their normalization.
Halal sesame paste from Shaanxi, halal bubble-gum from Gansu, or halal instant noodles from Shandong – under the hashtag "halalification" (#清真泛化#), photos of regular food products that carry the 'halal' label are being posted on social media platform Sina Weibo every day to 'name and shame' Chinese companies for turning their products Muslim-friendly.
China currently has some 23 million Muslims, the majority being based in the country's north-western regions, mostly belonging to the Uyghur and Hui ethnic groups. According to Pew Research (2011), the Chinese Muslim population is expected to be the 19th largest in the world in 2030.
The global market for halal food is thriving, with latest figures suggesting it will be worth close to USD 2.10 trillion by 2025. Although China – with its One Belt One Road initiative in full swing – could potentially be a major player on the halal market, it now only has an approximate 0.1 percent of global halal food exports.
With an interesting market both domestically and internationally, it seems that more products in China are now turning halal to reach a wider consumer group. In doing so, Chinese producers of halal food can both boost their local economies and access the booming worldwide halal business (Erie 2016b).
But a large group of people in China are not comfortable with this trend and condemn the growing prevalence of regular Chinese food products carrying the halal label – both in- and outside the PRC.
Last week, some netizens' discovery of globally distributed 'halal' sunflower seeds produced in China's Shandong province caused some surprise amongst commenters on Weibo: "These are Halal sunflowers seeds that are locally sold at an American supermarket in Portland," one author on Weibo (@弗虑弗为) wrote:
"I saw the halal logo on the back and figured it was imported from Malaysia or Indonesia (..), but then I saw "Shandong Halal Certification Service" on the logo! Amazing, now China's halalification is also expanding to the rest of the world."
"The spread of halal is just everywhere," some people on Weibo complain. "Can't we investigate more into the situation and policies regarding halal and its subsidies in our country?" author Fan Niuwen (@范_纽文) asks.

Halal in the PRC: an "Islamic Revival"

Halal in Chinese is referred to as qīngzhēn (清真), which can also mean "Islam", "Islamic", or "Muslim." Since China has no national halal certification legislation, many local and provincial governments, such as Ningxia or Shanghai, have implemented their own halal regulations.
In 2002, the Chinese government actually made beginnings in drafting a law to regulate nationwide halal food production. The proposal received much opposition within various circles within China, however, and was eventually halted in April of 2016.
In China and Islam (2016), Matthew S. Erie argues that China has seen "an Islamic revival" over the recent years, particularly among Hui communities, that is, amongst others, visible in a growing number of mosques and in a proliferation of halal food restaurants and factories (10-12).
There are now thousands of companies across China's provinces producing halal food for consumers in mainland China, and some of them also export to other countries.
Besides a rise in halal food products, China has also seen an increase in other signs of Islam in public life in many cities, such as stores that sell "Muslim use products" including perfumes and soaps that are "free of any porcine products" (Erie 2016, 12) or special facial tissues, water, and toilet paper.

"Pan-Halal Tendencies"

Both the spread of halal food products in the PRC and the increase in special "Muslim use products" have caused waves of backlash on Chinese social media over recent years. The outrage over Meituan's special halal delivery boxes or the controversy over Huawei phones with built-in prayer alarms are just some of many incidents causing anger on Weibo and Wechat over the past year.
Since 2017, Chinese state-run newspaper Global Times has introduced the concept of "pan halal tendency" to describe the idea that "some Muslims are demanding things to be halal which cannot really be halal, such as water, roads and toilets."
The trend is presented as 'dangerous' for making "Islamic rituals penetrate into secular life."
In a local compaign in Gansu, around 760 shops selling these so-called "pan-halal products" were closed down in early March of this year to "safeguard ethnic unity," Global Times reports. Recent online backlash and local anti-'pan halal'-campaigns are a sign of existing tensions between Islamic laws and China's secular laws and policies.

Anti-Halalification Movement: "#IDontEatHalal"

In any social media discussion on China's halal food debate, the term qīngzhēn fànhuà (清真泛化) inevitably pops up now. It is a new term that first appeared in Chinese media in 2016. It basically means 'the spread of halal' or 'halalification,' but since qīngzhēn also means 'Islamic,' it can also imply 'Islamization' – discussions thus also go beyond the topic of food alone.
This so-called 'Islamization' of China seems to be a recurring source of concern for some netizens. Just are there are many Chinese social media accounts promoting halal food, there are also dozens of popular accounts on Chinese social media sites opposing the spread of halal in the country, arguing it is a threat to "national unity" (民族团结).
Some of the accounts promoting anti-Islamic sentiments have been deleted or heavily censored since Chinese authorities banned various anti-Islam terms in September of 2017, leading to more fragmented online debates on the issue.
Author Li Mu (李牧) writes on Weibo: "There are more and more state-funded Muslim canteens, Muslim public baths, (..) who approves of this? Since some of these activities are explained through the Koran, does this mean Islamic laws are already taking effect in China?"
As a form of protest, some groups of Chinese netizens vow never to eat halal again. On Weibo, some people tag their posts with the hashtag "I don't eat halal" (#我不吃清真食品#) – viewed more than 460,000 times at time of writing. The hashtag 'halalification' received more than 38 million views.

A Multi-layered Debate

Closely looking at debates on Chinese social media, the online resistance against China's 'halalification' is multi-layered. Although much of it goes hand in hand with an increasing tide of overall anti-Islam sentiments in which people connect Islam to terrorism and extremism, there are also more nuanced reasons why so many people oppose to the spread of the halal industry in the PRC.
A general reasoning amongst Chinese netizens is that the Chinese government is officially atheist and therefore should not regulate dietary measures as implemented by Islamic law or that of any other religion. Many people say the same holds true for Chinese companies such as Huawei or Meituan, which they argue should be neutral in the services they provide.
Just as Muslim consumers should have the right to eat halal, non-Muslim consumers should be able to consume products that do not carry the halal label, a prevalent viewpoint persists.
"I am not a Muslim, but I also do not oppose to Muslims' halal diet at all," one popular comment on Quora-like platform Zhihu.com says: "In fact, I hope they can all eat halal. But now it's been taken a step further, which is the expansion of halal food."
This commenter, along with many others on platforms such as Zhihu or Weibo, argue that in order for a product to get the halal certification, it naturally needs to adhere to the proper Islamic laws in their preparation. This includes the ritual slaughter of animals with the thorough drainage of blood, the reciting of scripture, etc. The comment continues:
"If you now go into the supermarkets, you'll see that about half of the products on some shelves have the halal label. What's unbearable is that even products such as salt, tea, or popsicles now carry this label, while (..) it is impossible for products that do not contain any ingredients such as pork or blood to be non-halal [haram]. So why does this 'halalification' pose a risk? Because Islam [organizations] oversee halal certifications, meaning that they have a monopoly on this business, and use it to expand their religion."
Others also complain about the prevalence of halal-labeled products in shops: "If school canteens can have a 'halal dining' section, why can't supermarkets have a special section for halal products?", a Weibo user named 'Simple Dog' (@一只单纯的颜狗) writes: "It takes me ages to check all the labels of the products I buy and it's very tiring. Can you also respect the [wishes of] Han people?"
"I can't believe it; I just bought a box of plain noodles online and now it turns out they are halal," another netizen says.
There is a myriad of voices on social media backing this idea that the spread of halal products is going too far. Legal service app Ilvdo (@律兜) published an article on Weibo that mentions that many Chinese consumers might buy halal products such as halal ice cream or milk without even knowing it: "You perhaps drank [halal] water and indirectly funded Islam religion – because the companies that have halal certifications have to pay Islamic organizations for them."

The Right (Not) to Eat Halal

"Why I don't eat halal?", another Weibo user writes: "Firstly, because I do not believe in Islam, and eating Islamic food clashes with my own beliefs. Second, halal food needs to be prepared by Muslims, and by consuming it as a non-Muslim that means I give fewer opportunities to my non-Muslim compatriots to produce food and earn an income. I am in support of Muslims being free to halal food produced by Muslims, and non-Muslims being free to eat food products that are not."
It is a recurring logic that is at the heart of the discussion on the spread of halal food on Chinese social media: many of those who oppose the spread of halal food in the PRC connect the normalization of Islamic dietary laws to an alleged greater societal shift towards Islam.
The spread of 'Islam' and 'halal food' are practically the same things in these discussions through the concept of qingzhen ('halal') certifications, which allegedly sustains and supports the Islamic religion through Chinese secular society. "I am not Muslim and refuse to eat Islamic food and refuse to pay its religious taxes," a popular Weibo blogger (463880 fans) writes.
But the account of the China Muslim Youth Group (@中穆青社), which has over 15800 fans on Weibo,  refutes these allegations when it writes on March 13: "Of course the right-wing people [右右们] have the right to refuse halal food, the wide sales of halal food also have not been established because of your offerings. Whatever you say about 'religious taxes' is just nonsense and is obscuring the facts."
There are also those who point out that halal food, in the end, is an integral part of Chinese cuisine and society. Islam is part of China's history; Muslims have lived in China from as early as the eight century. One netizen, the CEO of "China's Muslim Net" @XiaoMa writes: "Halal food is an important part of Chinese food culture. It is made by Chinese Muslims for all of China to enjoy. We cannot underestimate its contribution to the development of China's food industry."
With a growing consumer group of halal products and a rise in companies producing halal, China's halalification debates are likely to continue in the years to come. For some participants in these online discussions, however, the answer to the debate is simple: "I respect Muslims' right to eat halal, and they should respect my right not to."
By Manya Koetse
Follow @whatsonweibo
References
Erie, Matthew S. 2016. China and Islam: The Prophet, the Party, and Law. Cambridge: Cambridge University Press.
Erie, Matthew S. 2016b. "China's Halal Constitution: 'Islamic' Legislation Stirs Debate at the PRC Engages the Muslim World." The Diplomat. May 27. https://thediplomat.com/2016/05/chinas-halal-constitution/
Spotted a mistake or want to add something? Please let us know in comments below or email us.
©2018 Whatsonweibo. All rights reserved. Do not reproduce our content without permission – you can contact us at info@whatsonweibo.com.
On 'Sharp Power' & the China Threat 3.0: "The West Is Mentally Stuck in Cold War Era"
Chinese authorities respond to allegations of China meddling in foreign affairs through its 'sharp power.'
Over the past few months, 'sharp power' has become a buzzword to describe new ways in which the Chinese government allegedly meddles in foreign affairs. China's top political advisory body has struck back in a press conference on Friday which caused somewhat of a stir both in- and outside China. Western views on China are biased and unrealistic, Chinese netizens respond.
"It is not the first time that new expressions have been concocted [by the West] to vilify China, and I believe it won't be the last time. Some Westerners may have physically entered the 21st century, but are mentally stuck in the Cold War era," said Wang Guoqing, the spokesperson for China's top advisory body, during a press conference on March 2nd.
The press conference, which has been making headlines both in- and outside China, precedes the annual parliamentary and consultative sessions which open on Monday (March 5). An important part of the press conference focused on the idea of China's 'sharp power' (锐实力), an American concept that refers to the new ways in which China and Russia allegedly meddle in the internal affairs of foreign countries.
Wang Guoqing responded to the claims that China "infiltrates" in the political and information environments of other nations, saying that the accusations are "filled with prejudice, discrimination, and hostility."

Sharp Power

The term 'sharp power' has become somewhat of a buzzword since it was first coined by Christopher Walker (@Walker_CT) and Jessica Ludwig (@JesLudwig) in a Foreign Affairs article in November 2017.
The concept was also explained in the December 2017 New Forum Report Sharp Power: Rising Authoritarian Influence published by the National Endowment for Democracy (NED), a Washington-based think tank funded largely by the US Congress. Walker and Ludwig both work for NED. The term was also featured on the frontpage of The Economist in December '17.
In their report and article, Walker and Ludwig argue that China and Russia influence in foreign countries' spheres of media, culture, and academia in "malign and aggressive" ways, using "modern and sophisticated tools" (Walker & Ludwig 2017b, 9-13).
In the NED report, Walker and Ludwig write: "In the case of China, (..), educational and cultural initiatives are accompanied by an authoritarian determination to monopolize ideas, suppress alternative narratives, and exploit partner institutions" (2017b, 13). In this way, the Chinese government allegedly is able to suppress the overseas voices that are critical of the Party.
The authors call this international influence "sharp power" to distinguish it from the term "soft power," introduced by Joseph Nye, which describes the kinds of influence which are not "hard" military forces, but more economic or cultural influence. Also, the authors argue, authoritarian influence efforts are 'sharp' in the sense that they "pierce, penetrate, or perforate the political and information environments in the targeted countries" (2017a).
Nye recently published an article titled "China's Soft and Sharp Power" (2018), in which he notes that "sharp power" is actually a "type of hard power" that can come from "soft power".
He writes:
"The United States has long had programs enabling visits by young foreign leaders, and now China is successfully following suit. That is a smart exercise of soft power. But when visas are manipulated or access is limited to restrain criticism and encourage self-censorship, even such exchange programs can shade into sharp power."

"New Edition of the China Threat Theory"

While media outlets such as The Economist treat the "sharp power" term as a new type of behavior in international relations, Chinese state media regard it as a novel way to frame old biases, writing: "One may find that the term is no more than a language trap, coined and manipulated by some Western countries with 'zero-sum' mentality and cultural hegemony" (Liu 2018).
On March 2nd, the spokesperson for China's parliament's advisory body also said that "sharp power" was just a new version of the old "China threat" rhetoric.
Wang Guoqing quoted Martin Luther King Jr in making clear that, in Beijing's official view, the accusations against China come from fear and misunderstanding, saying:
"Men often hate each other because they fear each other; they fear each other because they don't know each other; they don't know each other because they cannot communicate; they cannot communicate because they are separated" (O'Connor 2018).
Although news sites such as Reuters interpreted the press conference as an aggressive move against Western countries (see: "China kicks off parliament season with attack on the West" by Ben Blanchard), Chinese media described it as a response to efforts to smear China (see: China News).

China Threat 3.0

On Weibo, the issue of "sharp power" and the "new edition of the China threat" has become a topic of some discussions over the past few days. Lu Ge, an international relations scholar at Tsinghua University with a following of 1.7 million on Weibo (@北京鲁戈), writes that countries such as the US and Australia fear that China is aiming to spread communist ideologies, and is connivingly finding ways to dominate the world.
The majority of commenters responding to the news opposed the idea that China posed a threat to the 'Western world.' "Good friends come with good wine [spirits], bad people come with shot guns," one popular comment to the press conference segment said.
"There will always be some Western countries meddling with others, although they don't even understand what's going on in their own country," another netizen writes: "It's better to make sure things are okay in your own country before smearing China, it won't help."
Another comment says: "Some people in the West say things that are completely false and do not line up with reality at all. They are deliberately creating a hype."
"Some foreigners who have nothing better to do have made us a target of criticism. Firstly, China is not exporting a revolution. Second, we're not exporting hunger nor poverty. Third, we are not tormenting them. I don't know what else is left to say," one person wrote.
The 'sharp power' concept could perhaps be called the 'China Threat theory 3.0', since there is not just one "China Threat theory"; there have been many different perceptions of ways in which China could possibly pose a threat to the rest of the world since the early 1990s.
In The China Threat: Perceptions, Myths and Reality (2005), Storey and Yee call the 'China Threat' "one of the most significant debates since the end of the Cold War." The authors describe various ways in which China is represented as a threat to the world. The background to the issue, they write, is China's rapid economic growth in the 1990s, but contributing factors to the theory include the PRC's socialist political system which rejects Western political values.
Fear of political and economic collapse in China, rising Chinese nationalism, increasing military capability, and impact on regional security, are all named as factors contributing to the ways in which China is constructed as a potential ideological, economic, military and ecological threat to the rest of the world. The 'sharp power' concept can now be added to this list of theories.
But while the international community is watching China's every step, China also closely observes how it is viewed from outside.
"Western countries and Western people look at China with colored glasses, it has nothing to do with us, the normal persons in the street," one Weibo commenter writes.
"Since when is protecting the normal interests of our country and participating in normal international exchange a sign of exercising power?", another netizen writes.
Although some critical voices raise the topic of Chinese social media censorship, most voices on Weibo seem to agree with Wang Guoqing's statements. One netizen by the name of Lu Xixin (@陆锡鑫) writes: "Regardless whether this [concept] could be prejudice or discrimination, the issue is that it is hostile in nature. It is not surprising that Western media are vilifying China, but they don't only do it to denounce China – they also do it to create chaos in China, and to disturb the momentum of China's development."
By Manya Koetse
Follow @whatsonweibo
References
Blanchard, Ben. 2018. "China kicks off parliament season with attack on the West." Reuters, March 2, 2018. https://www.reuters.com/article/us-china-parliament/china-kicks-off-parliament-season-with-attack-on-the-west-idUSKCN1GE1IP [4.3.18].
China News 中国新闻网. 2018. "王国庆回应"锐实力"说:炮制新词"黑"中国." China News, March 2, 2018. http://www.chinanews.com/gn/2018/03-02/8458485.shtml [4.3.18].
Liu Si. 2018. "Spotlight: Who's behind the term "Sharp power"?" Xinhua News, February 13, 2018. http://www.xinhuanet.com/english/2018-02/13/c_136972986.htm [4.3.18].
Nye, Joseph S. 2018. "China's Soft and Sharp Power." Project Syndicate, Jan 4, 2018. https://www.project-syndicate.org/commentary/china-soft-and-sharp-power-by-joseph-s–nye-2018-01 [4.3.18].
O'Connor, Tom. 2018. "China quotes Martin Luther King Jr. to attack U.S. Cold War "discrimination"." Newsweek, March 2, 2018. http://www.newsweek.com/china-attacks-us-cold-war-discrimination-using-martin-luther-king-jr-829073 [4.3.18].
Storey, Ian, and Herbert Yee (eds.). 2005 (2002). The China Threat : Perceptions, Myths and Reality. London, New York: RoutledgeCurzon.
The Economist. 2017. "What To Do About China's "Sharp Power"." The Economist, December 14, 2017. https://www.economist.com/news/leaders/21732524-china-manipulating-decision-makers-western-democracies-best-defence [4.3.18].
Walker, Christoper, and Jessica Ludwig. 2017a. "The Meaning of Sharp Power –
How Authoritarian States Project Influence." Foreign Affairs, November 16, 2017. https://www.foreignaffairs.com/articles/china/2017-11-16/meaning-sharp-power?cid=int-fls&pgtype=hpg [4.3.18].
Walker, Christopher, and Jessica Ludwig. 2017b. "From 'Soft Power' to 'Sharp Power': Rising Authoritarian Influence in the Democratic World." In Sharp Power: Rising Authoritarian Influence, National Endowment for Democracy New Forum Report, December 5, 2017. https://www.ned.org/sharp-power-rising-authoritarian-influence-forum-report/ [4.3.18].
Xinhua. 2018. ""Sharp power" a new version of "China threat" rhetoric: spokesperson." Xinhua News, March 2, 2018. http://www.xinhuanet.com/english/2018-03/02/c_137011743.htm [4.3.18].
Spotted a mistake or want to add something? Please let us know in comments below or email us.
©2018 Whatsonweibo. All rights reserved. Do not reproduce our content without permission – you can contact us at info@whatsonweibo.com.