Woman Fakes Kidnapping to Test Husband's Love
A 43-year-old woman from Chongqing recently faked her own kidnapping, leading to a team of 29 policemen searching for her for 2 days and 2 nights. When they found her unharmed, she said she staged her own abduction to "test if her husband still loved her".
When a 43-year-old Chongqing housewife named 'Huang' suddenly disappeared on June 22nd, her family was worried sick as repeated phone calls to her smartphone were left unanswered – except for one.
During the evening of June 23rd, when Huang's phone was suddenly answered, her husband heard a muzzled sound and could make out the voice of his wife saying: "Please don't kidnap me. I know you are from Changshou [district of Chongqing]!", before the connection was cut off.
The woman's family immediately called emergency number 110, after which the local police station sent out a team of 10 officers to rescue her, Chongqing Evening News reported on June 30.
Potentional mine abduction
The local police station took immediate action after the emergency call. In the end, a rescue team was set up with a total of 29 officers working on the case. Various police officers scanned different areas in Chongqing and did house-to-house investigations while fully armed.
Through technological methods, the police traced that Huang had to be near a village in the vicinity of the Changshou suburban district, which corresponded to what Huang had mentioned on the phone about her abductor.
Investigators discovered that the Huang's ex-brother-in-law also lived in the same area. When they called his house, the phone was repeatedly hung up. As this brother-in-law was known to work in a remote mining area, police suspected Huang might have been brought there and called reinforcement to go to the mines. After finding them empty, they went to her house where they finally discovered the true identity of the "abductor" – Huang herself.
"Fun" experience to "test" husband's love
According to Chongqing Evening News, Huang's former brother-in-law stated that Huang had been at his home all along and had done all she could to repeatedly hang up incoming phone calls. When he demanded an explanation, she had left his home on the night of June 23.
Police finally tracked down Huang on the streets of the village, where she acted as if "nothing had happened". Investigators later found out that Huang had fully staged her own kidnapping, for which she was sentenced to a 10-day detainment for "fabricating this affair".
Huang later stated that, although she was happy with her marriage of ten years to her second husband and their family of two daughters, she just thought it "would be fun" to experience this "kidnapping", and that she wanted to "test" how much her husband loved her.
Classical case of "urban empty individual"
According to psychological expert Gang Tanqiang quoted by the Chongqing Evening News, Huang represents the "classical urban empty person" ("典型的都市空心人") who leads a "boring, monotonous and lonely" life and will go to extremes to put themselves at the center of attention.
Gang Tanqiang says: "If you experience feelings of emptiness as an urban citizen, be extra vigilant to avoid psychological problems. Talk about your feelings with relatives or close friends." Gang also advises people to undertake outings to relieve boredom, and to join clubs for regular social interaction.
"Beyond any joke"
"This woman has a problem," one Weibo user comments: "There's always something, whether he loves her or not – she is too focused on what others think of her. And she has wasted the time of 29 police officers because of it. She should be detained."
"These kind of police officers are hard to find, and yet she deceives them!" another commenter writes.
"Detaining her for 10 days is too light of a punishment…" one Weibo user writes. "To make false police reports, this goes beyond any joke," another netizen says.
– By Manya Koetse
Follow @WhatsOnWeibo
Featured image: police officer during one of the house-to-house searches for Mrs. Huang, picture by Chongqing Evening News.
©2016 Whatsonweibo. All rights reserved. Do not reproduce our content without permission – you can contact us at info@whatsonweibo.com.
Delivery Man in Anhui Run Over by Ambulance Sent to Rescue Him
From bad to worse: this Eleme delivery man was run over by an ambulance after being hit by an SUV.
On April 12, a delivery man in the city of Bozhou, Anhui province, was run over by an ambulance arriving at the scene of an accident where he had just been injured.
Shocking footage circulating on Chinese social media shows the delivery man lying in the middle of the road when the ambulance arrives and runs over his leg. The incident happened around 12:00 in the afternoon (link to video, viewer discretion advised).
While the delivery man already suffered injuries because he was hit by an SUV shortly before, things quickly went from bad to worse when the ambulance that was supposed to come to his rescue crushed his leg. The man is currently undergoing treatment at a local hospital in Mengcheng county.
According to recent news reports, the ambulance driver has currently been suspended and is under investigation.
The incident received a lot of attention on Weibo today, where the hashtag page discussing the double accident received over 150 million views (#外卖员被救护车二次碾压#).
Many comments relating to this incident are focused on the role of the traffic police at the scene of the accident, with people wondering why there was no guard standing next to the victim.
Thousands of commenters also address how sorry they feel for the victim, especially because the lives of many food delivery drivers – facing long working hours and low wages – is already tough enough.
According to Toutiao News (头条新闻), the delivery man works for Chinese food delivery giant Eleme. Wang Gang (王刚, alias) is approximately 30 years old and has a wife and a child. He had only been working for Eleme for a few months and reportedly did not have any prior accidents.
In Monday's double accident, Wang suffered a mild skull fracture, seven broken ribs, and a fractured lower leg. He is in stable condition.
By Manya Koetse
Spotted a mistake or want to add something? Please let us know in comments below or email us. First-time commenters, please be patient – we will have to manually approve your comment before it appears.
©2021 Whatsonweibo. All rights reserved. Do not reproduce our content without permission – you can contact us at info@whatsonweibo.com.
Video Showing Suihua Female Worker Hitting Deputy Director with a Mop Goes Viral on Weibo
The Suihua deputy director was attacked with a mop after female workers accused him of harassing them.
A video showing a woman beating the director of her work department with a mop has gone viral on Chinese social media. The woman who posted the video accuses the office leader of harassing his female subordinates.
The incident took place on April 11th in the city of Suihua, Heilongjiang province. The man who was beaten in the video is Mr. Wang, the deputy director of the poverty alleviation department of the Beilin district of Suihua.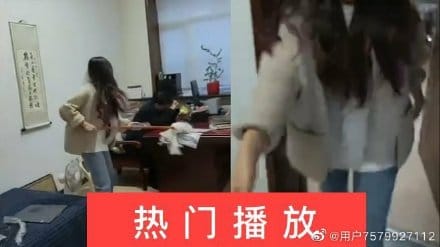 The 14-minute video shows a woman storming into Wang's office while another woman is behind her, filming. The first woman initially goes to Wang's desk and throws some stuff on the ground, before she asks the other woman to give her the mop. She then proceeds to hit Wang in the face and head with the mop multiple times. The other woman yells at Wang that she cannot put up with his harassing texts anymore.
At one point in the video, Wang claims he was "just joking," but the woman claims he is guilty of harassing multiple women in the department. Local authorities investigated the case after the video went viral.
According to Chinese news reports, Mr. Wang has now been removed from his office and Party position for "lifestyle violations of discipline" (for more information on this, China Law Translate has translated the Chapter XI of the Chinese Communist Party Disciplinary Regulations here.)
The woman hitting Wang with the mop reportedly has not been punished for her actions due to "mental illness."
On Weibo, many people praise the women for stepping up and rebelling against the deputy director, and fighting to protect themselves. Some people call it "courageous" and a "brave revenge."
"Harassers deserve to be hit," one commenter writes, with another person adding: "It is good that young people nowadays come forward against older and more powerful leaders."
There are also people on Weibo who question the reported "mental illness" condition of the woman who hit Wang, with some suggesting she could have not been a state office worker if she suffered from serious mental issues. Others also denounce the fact that the woman was labeled this way, while allegedly having been harassed and finding no help after reporting it to the police. At the same time, a majority of commenters express relief that the woman will not face punishment for hitting Wang with the mop.
Since the outcome of the investigations has not been made public, some netizens demand to see the investigation's conclusions to know if the official was indeed guilty of sexual harassment and why nothing was done about the female worker's alleged reports to police about his behaviour.
Over the past year, the problem of sexual harassment in the workplace has been receiving more attention on Chinese social media. In March of this year, a Shanghai court awarded approximately $15,000 to a plaintiff in a sexual harassment suit against a colleague who had sent disturbing text messages to her over a period of six months (link). In December of 2020, a landmark court case of the female scriptwriter Zhou Xiaoxuan versus Chinese famous TV host Zhu Jun attracted major attention on social media.
By Manya Koetse, with contributions by Miranda Barnes
Spotted a mistake or want to add something? Please let us know in comments below or email us. First-time commenters, please be patient – we will have to manually approve your comment before it appears.
©2021 Whatsonweibo. All rights reserved. Do not reproduce our content without permission – you can contact us at info@whatsonweibo.com.