Let's (Not) Talk About Sex, Weibo – Cleaning Up China's Internet
The Chinese government has released its 2014 'anti-porn' campaign. What's the history behind China's crusade against pornography?
On April 13th 2014, the Chinese government released an announcement about its renewed nationwide campaign against pornography. The campaign, tagged 'Eradicating Pornography & Illegal Publications – Cleaning the Web 2014', will be held from mid April until November 2014. Contrary to previous campaigns against pornography, this one specifically targets online activities (Sina News 2014). Since when did pornography become such a sensitive topic within China, and how political is the 'anti-porn' battle?
China's war against obscenity is in full swing. Over 3000 Weibo accounts and 100 websites have already been shut down for disseminating pornographic information (NDTV 2014). Despite the current anti-porn campaign and overall strict censorship, pornography is very much alive on Weibo and the Chinese Internet. The number of porn users within Mainland China has reached millions (Bin&Hong 2012, 111).
Pornography in Chinese History
Pornography has existed in China for thousands of years, and is imbedded in its cultural history. The origins of Chinese erotica and pornography can be traced back to the Han Dynasty (206 B.C. to A.D. 220), and remained prevalent up to the Qing Dynasty (1644-1911). Erotic images and symbols were expressed through literary fiction, paintings and sculptures, displaying different sexual practices- from lesbian sex or homosexuality to threesomes and anal sex (Griffiths 2011; Bin&Hong 2012, 114).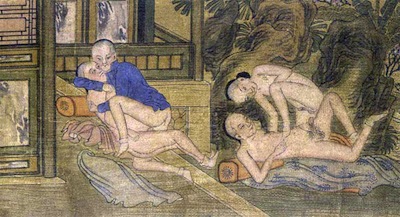 Beijing handscroll, late 19th century
The explicit erotic images within China's historical art were not necessarily intended to be 'pornographic'; they were influenced by practices from the ancient
Daoist religion
. In Daoism, sex was a way to be one with nature and to reach happiness and long life. The importance of Daoist practices made sex a major issue throughout dynastic history (AFP 2014; Griffiths 2011).
Mao & Sex
Sex is still a major issue in China, but campaigns against pornography have put a different light on erotica. Since the start of the rule of the Chinese Communist Party in 1949, censorship became prevalent throughout the country. During the Mao years, sexual expression was considered taboo. Love and sex did not contribute to the common good, and erotic material was banned in every form. The government determined what was allowed to be published on the subject, which was limited material on reproduction within the context of marriage (Koetse 2012, 6-16).
Although written or visual material on sex was practically non-existent during the rule of Mao, it became more prevalent after Deng Xiaoping introduced economic reforms and the Open Door Policy in 1978.The first political campaign against pornography, called "sweeping away the yellow subjects" ('yellow'meaning 'erotic/pornographic'), was launched in 1989. It banned all publications describing sexual behavior. Punishment or infringement was heavy; over twenty people were sentenced to death for distributing pornography. Other campaigns against pornographic material took place in 2004, 2007 and 2009 (Pan 1993, 59; Bin&Hong 2012, 116).
What is 'pornography'?
The government officially views pornography as something that "perverts China's young minds" and harms the country's "social ethos"(Kuo,2014). The first definition of 'pornography' was laid out in 1988. It makes a difference between "obscene" (yinhui) and "pornographic" (seqing) material, although both are illegal. The first is something that "portrays and promotes obscene acts, which appeals to the prurient interest in sex, leads to the corruption of the average person, and lacks artistic or scientific value" (Bin&Hong 2012, 121), while the latter is "that which, taken as a whole, is not obscene but contains some obscene content, which is harmful to the health and spirit of an average person, especially an adolescent, and lacks artistic or scientific value" (ibid., 121). The problem of these definitions is that they are open for discussion: who decides, for example, what 'artistic value' is?
To further enlarge the scope of the battle against "unhealthy" information, the Chinese government launched a new term in 2007 to define other illegal online material, calling it the "low and vulgar" (disu). This includes, quoting Bin Liang and Hong Lu (2012):
(…) (1) illegal material portraying extreme violence, murder, cursing, and libel; (2) material that leads juveniles to wrongful thinking and behavior and disturbs their normal study and lives, including material directly or implicitly showing human sexual organs and sexual behavior, and pictures, sound, cartoons, or articles with a titillating or derogative nature; (3) illegal commercials for sex drugs and treatment, as well as information spreading sexual transactions and illegal friend- making; (4) material invading others' privacy including exposure, secret photographing, and spreading others' private information via the Internet; (5) material violating correct marriage and family values, such as material encouraging extra-marital affairs, one-night stands, or swinging (wife-swapping) (…) (122).
The current '2014 anti-porn campaign' also includes this definition of the 'low and vulgar', which goes far beyond the scope of pornography.The government's broad definition of what 'obscenity' and 'porn' entails has caused many critics to believe that China's battle against porn is in fact a way to justify the censorship of political material.
Many Chinese artists have pushed the boundaries of censorship by playing with the concept of 'pornography' – after all, according to the legal definition, eroticism is not 'pornographic' when it has artistic value. Over the last decade, many cases have shown that government and artists have different views on what 'art' is.During his 2011 exhibition at Beijing's museum of Contemporary Art, performance artist Cheng Li publicly had sex with a woman – the performance was titled Art Whore. Cheng was arrested and sentenced to one year in labor camp. Artist Ou Zhizhang is well-known for doing naked push-ups in front of famous Chinese places. He was arrested for public nudity at multiple occasions (Keating 2011).
Ou Zhizhang doing naked push-ups in front of China's scenic spots
Another example is one of Ai Wei Wei's pictures titled 'One Tiger, Eight Breasts'. In this picture, Ai Wei Wei poses naked with four women, who are also naked. The photo led authorities to investigate Ai Wei Wei for the dissemination of pornography.This led to furious reaction of Weibo netizens, who believed the action was more about politically silencing Ai Wei Wei than about correcting his morality. They responded by putting naked pictures of themselves online to prove that nudity is not pornography (An 2011).
Pornography as Political Weapon
The battle against pornography has strengthened the government's control and supervision over China's Internet. 'Obscenity', 'porn' and the 'low and vulgar' have become buzz words that give grounds for the emergence of new technologies to screen the net. High-tech filter software, virtual police squads and online observation forces are important countermeasures against the fight for an 'online civilization'.
China Internet specialist Rebecca MacKinnon has already stated that anti-porn technology has ended up being used more for the purpose of censoring political content than to eradicate 'obscenities' (Kuo 2014).
So is pornography a thing of the past for Chinese internet users? Most probably- no. The number of Chinese netizens using porn is still increasing. China already holds 28% of the world's porn consumption. These kind of numbers show that a large part of China's netizens does not take the government's crusade against pornography that serious. It also means that online police squads and censor forces still have a lot of work ahead of them in the years to come. Good luck to them.
References
AFP-Jiji.2014."Erotic Art Offers Glimpse of China's Lost Sexual Philosophy. "The Japan Times (April 18)
http://www.japantimes.co.jp/news/2014/04/18/asia-pacific/erotic-art-offers-glimpse-of-chinas-lost- sexual-philosophy/#.U1fwdeaSwxm
(Accessed April 22, 2014).
An Xiao. 2011. "Getting Naked for Ai Wei Wei."
Hyperallergic
(November 21)
http://hyperallergic.com/41010/ai- weiwei-one-tiger-eight-breasts/
(Accessed April 22, 2014). Bin Liang and Hong Lu. 2012. "Fighting the Obscene, Pornographic and Unhealthy- an Analysis of the Nature, Extent and Regulation of China's Online Pornography Within a Global Context."
Crime Law Social Change
58: 111-130. Griffiths, James. 2011. "A Brief History of Chinese Porn."
Danwei
(August 14)
http://www.danwei.com/a- brief-history-of-chinese-porn/
(Accessed online April 21, 2014). Keating, Joshua E. 2011. "Cultural Revolutionaries." Foreign Policy (May 10) http://www.foreignpolicy.com/
articles/2011/05/10/cultural_revolutionaries (Accessed online April 22, 2014). Koetse, Manya. 2012(2008). "Shanghai Baby: Beyond China. A Chinese Novel Banished to the West." Bachelor Thesis, University of Amsterdam.  Kuo, Lily. 2014. "China's Latest Crackdown on Porn has Little to do with Porn."
Quartz
(April 14) 
http://qz.com/198932/china-latest-crackdown-on-porn-has-little-to-do-with-porn/
(Accessed online April 22, 2014). NDTV Gadgets. 2014. "China Shuts Down 110 Porn Sites as Part of Internet 'Cleanup' Drive."
NDTV
(April 21)
http://gadgets.ndtv.com/internet/news/china-shuts-down-110-porn-sites-as-part-of-internet-cleanup- drive-511567
(Accessed online April 21, 2014). Pan, Sui-ming.1993."China:AcceptabilityandEffectof ThreeKindsof SexualPublication."
Archivesof Sexual Behavior
(22)1: 59-71. Sina News. 2014. "
Zhongguo 'Saohuang' Xingdong Shenru Wangluo Shijie
中国
'
扫黄
'
行动深入网络世 界
[China's 'Campaign against Pornography' Infiltrates the World Wide Web]"
http://news.sina.com.cn/o/2014-04-17/093029952736.shtml
(Accessed April 18, 2014).
Images:
An Xiao. 2011. "Getting Naked for Ai Wei Wei."
Hyperallergic
(November 21)
http://hyperallergic.com/41010/ai-
weiwei-one-tiger-eight-breasts/
(Accessed April 22, 2014).
Keating, Joshua E. 2011. "Cultural Revolutionaries." 
Foreign Policy
(May 10) http://www.foreignpolicy.com/articles/2011/05/10/cultural_revolutionaries (Accessed online April 22, 2014). Tan Chong Kee. 2007. "Same-sex Love in Ancient and Modern Chinese History".
Fridae
(June 19)
http://www.fridae.asia/gay-news/2007/06/19/1879.same-sex-love-in-ancient-and-modern-chinese-history-2- 2
(Accessed online April 22, 2014).
"Opposing Dog Meat Consumption Is Hypocritical" – Weibo Discussions on Anti-Dog Meat Protests
Eating dog meat is a personal choice, many commenters argue.
Last week's anti-dog meat protests in South Korea have triggered discussions on Chinese social media on the status quo of the dog meat industry in China. An overview of the sentiments on social media and the background of dog eating in the PRC.
South Korea's dog meat industry made headlines on Friday after protesters in Seoul, joined by actress Kim Basinger, called for an end to the decade-old dog meat trade in the country.
Not far from the protesters were farmers who raise dogs that are sold to restaurants. They brought steamed dog meat and ate it with kimchi (featured image).
In China, where the eating of dog meat has a long history, the Seoul protests triggered some discussions on social media.
The hashtags "Hundred People Gather in South Korea to Stop the Eating of Dog Meat" (#韩国百人集会呼吁停食狗肉#) and "Big Protest in South Korea against Eating of Dog Meat" (#韩国大规模抗议吃狗肉#) received over 83 million views.
In South Korea, the overall demand for dog meat has plummeted over the years. Earlier this month, one of the largest dog meat markets in the country, the Gupo dog meat market, was shut down. In November of 2018, Seongnam city already demolished South Korea's largest dog slaughterhouse.
Friday's protesters hope to shut down dog meat trade in the country completely. The latest protests have put the thorny issue of the dog meat industry back in the limelight.
HYPOCRITICAL PROTESTS?
"I don't eat dog meat, but I don't oppose it."
On Chinese social media site Weibo, hundreds of netizens expressed their opinion on the matter, that has been a hot topic in China for years.
According to polls from the past and present, the topic of dog meat in China is clearly a divisive one.
But over the past few days a seeming majority of commenters on Weibo spoke out about the issue in a remarkably similar way, with thousands of netizens highlighting one issue in the matter: hypocrisy.
"I won't oppose to the eating of dog meat," one person writes: "Because if I support the anti-dog meat movement today, then tomorrow it will turn against the eating of cows, then the eating of pigs, and then the eating of fish.."
Many people on social media agree with this point of view, arguing that no matter one's personal ideas about dog meat, condemning the dog meat practice in specific would be hypocritical: "Pigs are so cute, why do we eat pigs then?" many say, with others arguing: "Aren't cows also spiritual animals?"
"I also raise dogs, I also love dogs," another commenter says: "But I think that if they legally breed dogs for the dog meat [industry], then we have no right to prevent them from doing so."
"I don't eat dog meat, but I don't oppose it, as long as it's legal it's ok," with others writing: "I am opposed to the eating of any living creature."
"Eating dog is not illegal, why all this sentimental nonsense? Why don't you also defend chickens, ducks, geese, pigs, sheep, and cows?!"
"As long as they're not abused, I don't see a problem with it."
"Dog meat is tasty," one commenter from Zhejiang writes: "I like it, although I rarely eat it. I don't see a problem with it, it's a personal choice."
SHORT OVERVIEW OF DOG EATING IN CHINA
"To them, dog meat was just like any other meat."
The tradition of dog eating in China can be traced back as far as the Shang Dynasty (ca. 1558 to 1046 BC), when dog meat was considered a delicacy for the upper class.
Later on in Chinese history, during the Han Dynasty (202 BC-220 AD), it became more and more common until the practice saw a general decline, especially in northern China, during and after the tenth century (Li et al 2017, 513-514).
Despite the rising and declining popularity of dog meat throughout China's history, the practice of eating dog has never completely disappeared, particularly in southern China.
In a book on China from 1878 by John Henry Gray, the author notes the popularity of restaurants serving dog and cat meat in 'Canton' (Guangzhou):
"I do not think (..) that I exaggerate in saying that there are no fewer than twenty such places in Canton. Each restaurant contains only one public apartment. The approach to this dining-room is generally through the kitchen, where cooks may be seen standing in front of slow fires over which the flesh of cats and dogs is being cooked. The flesh is cut into small pieces and fried with water chestnuts and garlic in oil. In the windows of the restaurant dogs' carcasses are suspended, for the purpose, I suppose, of attracting the attention of passengers" (75).
He further writes:
"The flesh of black dogs and cats is generally preferred because it is supposed to possess more nutriment than that of cats and dogs of any other color. At Ying-tong, a suburban district of Canton, a fair is held at which dogs are sold for food; and in one of the streets dogs and cats are daily exposed for sale. The dogs are put to death by strangling, stabbing, or felling with clubs" (76).
Something that has not changed since the days described in Gray's book is the belief in the medicinal benefits of dog meat.
Especially in summer, dog's flesh is believed to serve as an antidote against summer heat, and to be nutritious and beneficial as a source to enhance male virility or to boost the liver. Even at present, Chinese media promote the eating of dog meat to boost the immune system and help stimulate better blood circulation.
It should be noted that although China has a long history of dog meat consumption, it also has a long history of dog domestication and dog-human comradery. Dogs were pets, guarded the house, used in hunting, and also used in rituals of sacrifice.
Most of the 20th century (1900-1978) was a tough time for people in mainland China, and it was a tough time for dogs too. In many times, there was barely enough food to eat, and under Mao's rule, dogs were considered "parasites" and were outlawed as pets (Coren 2018; Li et al 2017, 514).
Those who kept pets were seen as part of the 'bourgeoisie,' and during the Cultural Revolution, pet dogs were reportedly seized and beaten to death in front of their owners (Coren 2008, ch. 21).
Much has changed since those days. Although (stray) dogs, as carriers of diseases and potentially aggressive, are often still considered a drain on society, having a dog as a pet has become much more commonplace in China since the late 1980s and early 1990s.
Eating dog meat has become less popular, especially among young people in China, who have grown up very differently from their parents and have different perceptions of dogs.
Chinese writer Bang Xiao looks back on the first time his mother served him dog meat during Chinese New Year, writing:
"For them, dog meat was just like any of the other meats, and coming from a generation who lived through famine and the Cultural Revolution, I was told I should be grateful. For me though, it meant I was eating my own pet Duo Duo. I cried."
Later on, he writes about his parents:
"They weren't "dog eaters". They were just people that happened to have a different history that led to different animals being on the menu."
THE YULIN DOG MEAT FESTIVAL
"Don't go, don't eat it, don't pay attention to it."
Despite the general unpopularity of dog meat in China, there is one time of the year when the discussions on the practice of dog eating flare up again, and that is during the Yulin Lychee & Dog Meat Festival, an annual event that's been held over the past decade in the Chinese city of Yulin intended to generate income from tourism (Brown 2018).
Some 10,000 to 15,000 dogs and cats are slaughtered during the 10-day event that starts on June 21st every year. The event attracts hundreds of people every day. There is a restaurant strip and a market where dozens of vendors cook various dog meat dishes in large woks and where live dogs are sold and slaughtered.
Although the voices of those people protesting the festival seem to grow louder year on year, the dog meat festival continues. It is not illegal, and its economic benefits have become of crucial importance for many in the city of Yulin.
A 2016 media survey held among 2000 people from various ages and places in China found that 64% of the people opposed to the festival, 52% thinks that dog meat should be banned in China, and 70% said they had never had dog meat themselves.
"Don't go, don't eat it, don't pay attention to it. When there's no business, the killing will stop," one Weibo commenter suggests.
A MURKY MARKET
"There does not seem to be a Chinese dog meat market that is both cruel-free and completely legal."
Apart from Yulin, the eating of dog meat is barely a celebrated tradition in China anymore.
For a What's on Weibo article from 2015, we could still find 122 restaurants listed as 'dog meat' specialty restaurants in the city of Beijing on restaurant site Dianping. But at present, Dianping no longer publicly lists any restaurants when searching for 'dog meat' specialty places (note that there still are restaurants serving dog meat, but they might not be listed due to controversy or for fear for activists).
China's biggest e-commerce websites sell different herb mixes for dog stews or dog meat hotpots (see tweet below), but the market could hardly be called thriving.
What to put on a package for spicy dog meat stew? A happy dog, of course🙄 #taobao #dubiousmarketing pic.twitter.com/XYsXBebYbB

— Manya Koetse (@manyapan) July 12, 2019
Yet, despite all those people on Chinese social media saying that eating dog meat should not be a problem for those who still want to eat it, China's dog meat market does actually have a problem.
China has no law that bans the eating of dogs; eating dog meat is a personal freedom. But what makes the issue murky and troublesome is that China actually has no large-scale legal dog farms, nor legal dog slaughterhouses.
The very few dog farms in existence in China would never be adequate to provide the meat for the industry in southern China, let alone for the estimated 10,000+ dogs slaughtered in Yulin every year.
It is therefore not clear where the dogs that are used for their meat in China come from. Are they stray dogs? Are they stolen from the streets? And if so, would this not be considered illegal (Brown 2018; Cao 2014; Yan 2015, 46)?
Every now and then scandals appear in the media of restaurants slaughtering and killing dogs that were actually people's pets (for example, this scandal in Jilin in 2018 or in Chengdu this year).
Another issue making the dog meat market a problematic one is the cruel treatment of the dogs.
China has seen countless of food scandals over the years, and some of them involve the selling of poisoned dog meat. As a result, many people have a general distrust in (frozen) meat products and want to make sure they are consuming good quality meat.
Dog meat markets such as Yulin, therefore, often sell living dogs. They are virtually like 'wet markets' for dogs, where those who want to eat dog meat can do so with the assurance that the meat they are eating is fresh and safe. The dogs are slaughtered at the spot or are sold alive for home consumption (Brown 2018).
The process of being transported, being displayed in tiny cases in the summer heat, and being killed in often cruel ways all add to the enormous stress and pain the animals at the live dog market are suffering.
China currently has no laws from the perspective of animal welfare to minimize the pain and suffering during transport, the selling, or at the point of slaughter (Brown 2018).
For the aforementioned reasons and more, festivals such as the Yulin Dog Meat one are getting more controversial year on year, with more and more Chinese calling for a boycott and a ban.
DISTORTED DISCUSSIONS
"If you eat dog meat of unknown origin, you might be participating in the killing of someone else's pet."
As the discussions on dog meat in China are ongoing following the South Korea protests, one blogger posted a survey asking netizens if they support the eating of dog meat.
Despite the many commenters who also defend the practice of dog eating, a majority of 67% percent among the 32.000 participants said they do not support it as "dogs are our friends."
A recurring sentiment expressed on Chinese social media on the issue is that there essentially is nothing wrong with eating dog meat – and that it would be hypocritical to only oppose to eating dog without also opposing eating sheep, cows, chickens, and so on – as long as it is legal, and as long as the dogs are not stolen, poisoned, or abused.
But that's the whole issue at hand: all those things are in fact happening in the dog meat industry today. It is difficult to discuss the eating of dogs based on the hypothetical assumption that these things are not occurring.
Consumers are not buying (frozen) meat from legal dog farms and certified dog slaughterhouses, they are mostly buying living dogs or dog meat from unknown origins, and the process of selling and slaughtering often goes hand in hand with cruel treatment.
"I don't oppose to eating dog, but I hate the dog trafficking market," one person says. Another commenter agrees, writing: "I don't oppose to the eating [of dogs] that are bred for it, but I do oppose to those who steal other people's dogs. Most of the dog meat I've seen comes from unknown origins. (..) If you eat dog meat that you don't know the origin of, you might be participating in the killing of someone else's pet."
For now, China and South Korea are very different when it comes to their dog meat industries and their (legal) changes. The countries do seem to have one thing in common, which is that the practice of eating dog meat is no longer popular among the younger generations.
This might suggest that as sales are dropping, the dog meat market will shrink and might eventually disappear altogether if there is no interest in it.
"Don't hype the dog meat festival," one Weibo commenter writes: "It's the hype that made it big and that led to more dogs being killed.
This basically reiterates the advice of one of the aforementioned commenters: don't go, don't eat it, don't pay attention to it, and the business will, eventually, die out.
Want to read more? Also see:
20 Facts About Dogs & Dog-Eating in China
The Yulin Dog Meat Festival: 10 Views From Chinese Netizens
Tradition or Abuse? Chinese Views on the Yulin Dog Meat Festival
By Manya Koetse
Want to see more articles such as these? Please donate to keep What's on Weibo going.
References
Brown. Hannah. 2018. "Yulin Lychee and Dog Meat Festival: A Shift in Focus." In: Tourism Experiences and Animal Consumption: Contested Values, Morality and Ethics, Carol Kline (eds), Chapter 15. London: Routledge.
Cao Yin. 2014. "Experts: Dog Meat Festival 'Illegal'." China Daily (June 16). Online at http://www.chinadaily.com.cn/china/2014-06/16/content_17589087.htm [6.23.16].
Coren, Stanley. 2008. The Modern Dog: A Joyful Exploration of How We Live with Dogs Today. New York: Free Press.
–. 2018. "What Is China's Current Attitude Concerning Dogs?" Psychology Today, Feb 21 https://www.psychologytoday.com/us/blog/canine-corner/201802/what-is-chinas-current-attitude-concerning-dogs [7.15.19].
Gray, John Henry. 1878. China: A History of the Laws, Manners, and Customs of the People (Volume II). London: MacMillan & Co.
Li, P. J., Sun, J., & Yu, D. 2017. "Dog "Meat" Consumption in China: A Survey of the Controversial Eating Habit in Two Cities." Society and Animals, 25(6), 513–532. http://doi.org/10.1163/15685306-12341471
Xiao, Bang. 2018. "Chinese New Year: Remembering how I first ate dog meat, and how differences bring us together." ABC, February 17 https://www.abc.net.au/news/2018-02-17/chinese-dog-meat-eating-linked-to-history-of-famine/9454394 [7.15.19].
Yan Wei. 2015. "Dog Meat Festival: Traditional Custom or Abuse?" Beijing Review (29): 46-47.
Spotted a mistake or want to add something? Please let us know in comments below or email us. Please note that your comment below will need to be manually approved if you're a first-time poster here.
©2019 Whatsonweibo. All rights reserved. Do not reproduce our content without permission – you can contact us at info@whatsonweibo.com
Over a Third of China's Babies Are Delivered via C-Section – The National Health Commission Wants to Change That
Fear of pain is a major reason for nonmedical cesarian deliveries on maternal request.
China's National Health Commission wants to lower the nation's high C-section rates. On Chinese social media, many women argue it should be up to the mother to decide how she wants to give birth.
In 2018 the percentage of deliveries by cesarean was 36.7% in mainland China, according to the latest Report on Women's & Children's Health (中国妇幼健康事业发展报告) that was launched by the National Health Commission on May 27.
This means that together with Hong Kong, Taiwan, Brazil, Egypt, and Turkey, the People's Republic of China (PRC) now has the highest C-section rates in the world.
A World Health Organization report from 2010 estimated that 46% of Chinese babies were delivered via C-section. In 2017, another study found that this percentage was incorrect, although some urban and wealthier regions in China, such as Shanghai, did see C-section (CS) rates as a high as 68% (Black & Bhattacharya 2018, 1; McNeil 2017).
China's CS rates have recently become a hot topic in Chinese newspapers and on social media. On May 27, the National Health Commission of the People's Republic of China held a Beijing news conference in which Qin Geng (秦耕), the director, announced that more actions will be taken to encourage natural childbirth among Chinese women.
These actions will, among others, include stricter regulation of cesarian section operations and the provision of more support and pain relief for laboring women, as well as a higher hospital income for natural births. The National Health Comission hopes to significantly reduce the number of unneccesssary C-sections without medical indication in this way (Beijing News 2019; Caijing 2019).
Since 1985, the international healthcare community has considered 10-15% to be "the ideal rate" for C-sections, of which the highest percentage are those CS deliveries with medical indications that can actually save the lives of mothers and babies.
Although the worldwide rates for CS deliveries have increased throughout the years, there is no evidence for the benefits of nonmedically indicated C-sections for women or children, according to the World Health Organization.
This is not the first time Chinese authorities try to combat the country's high CS rates. After reports by the World Health Organization from 2010 and 2015 pointing out the potential hazards of unnecessary C-sections, there have been various state efforts to reduce the number of nonmedical cesarian surgeries.
Besides the introduction of free prenatal education classes, these efforts included monitoring public hospital CS rates and removing bonuses or cutting portions of a hospital's income once their CS rates reached a certain threshold (e.g. 40%) (Wang 2017, 3). These government initiatives seem to have had effect: the country's C-section growth rates have slowed down, but were not decreasing yet.
Since the Chinese government announced an end to its one-child policy in 2015, lowering cesarean sections rates has become a more urgent matter, as Chinese couples are now allowed to have a second child.
Although various studies from mainland China and beyond challenge the idea that nonmedical C-sections are less 'safe' than vaginal births for single deliveries, this risk changes when a woman who previously had a CS section plans another pregnancy: multiple cesarean sections are associated with additional risks including CS scar rupture and abnormal placental invasion (Biler et al 2017, 1074; Black & Bhattacharya 2018, 2; Liu et al 2015, 817).
Why So Many C-sections in China?
But why does China have such a high cesarian delivery rate at all? Since the early 1990s, mainland China saw a more dramatic rise in CS rates than, for example, the USA; from less than 10% (with only 3.4% in 1988), China went to one of the highest in the world (Hellerstein 2011; Wolf 2018, 13).
The answer to why this is, is not so straightforward and relates to socio-economic changes as well as cultural factors that come into play.
One reason is that there is a general belief in the 'safety' of cesarian births that influence women's choices for a (nonmedical and planned) C-section (Black & Bhattacharya 2017, 2).
An insightful study into this matter is that of researcher Eileen Wang (2017), who found that anxiety about giving birth and fear of pain is also a major reason for nonmedical cesarian deliveries on maternal request, especially considering that only a minority of Chinese women are given any form of pain relief during labor. Besides traditional concepts, this is also because China faces a shortage of anesthetists and because obstetricians are not always well-informed to prescribe other forms of pain medication (2017, 5).
As noted by Wang, epidurals are denied to laboring women not just because anesthesiologists are too busy, but also because of various other factors: different from a scheduled C-section on their agenda, they are not always available during nighttimes and in weekends to administer anesthesia to women in labor, do not have the time to monitor a patient for hours during labor (whereas a cesarean could be done in an hour), or were not even trained to administer epidurals (2017, 5).
According to Wang, the concerns about labor pain result in more requests for C-sections, both before and during labor. With relatively low awareness and availability of labor pain relief methods many Chinese women simply opt for a C-section as a way to control their pain.
But there are also other factors that contribute to the relatively high rate of women requesting C-sections for nonmedical reasons. One of them is the importance placed in the astrological calendar: having a baby on that one 'lucky day' or within that 'lucky year' is considered enough reason to plan a cesarian birth for many Chinese families.
In early 2015, ahead of the Chinese New Year, many women rushed to the hospital to make sure their baby was born in the Year of the Horse (2014) as the Year of the Goat (2015) was coming up. There is an old Chinese saying that nine out of ten people born in the Year of the Goat are incomplete and will suffer from great misfortune throughout their life ("十羊九不全").
Another factor that leads to more cesareans on maternal request relates to the existing concerns among women that vaginal delivery will affect their figure or sex life (Wang 2017, 2).
Responses on Chinese Social Media
Since the Beijing news conference of May 27, the hashtag "Reducing Unnecessary Cesarean Section Surgery" (#减少非必需剖宫产手术#) has taken off on Chinese social media.
On Weibo, the hashtag page received 340 million views at time of writing. One thread about this topic even received over 28400 comments.
"What do you call 'unnecessary cesarian'?" one of the most popular comments said: "Isn't it that so many women in labor choose to have a C-section because natural childbirth is too painful?"
Other commenters also called for a normalization of pain relief in labor, saying that the high percentage of C-sections lies in the fact that Chinese women lack access to "wútòng fēnmiǎn" (无痛分娩) or "painless birth," meaning vaginal delivery with pain relief.
Some Weibo users also stress that women should have the freedom of choice on how they wish to give birth, saying: "C-section or natural should be my own choice" and "If you leave me no choice I might as well not give birth at all."
Multiple commenters write: "The lower the C-section rate, the higher the suicides," referring to an incident that occurred in Shaanxi in 2017 when a pregnant woman committed suicide by jumping from the fifth floor of the hospital after she was allegedly denied a CS delivery.
Other Chinese netizens also complain about the fact that it seems to be men who are promoting the new policies to combat the high C-section rates, writing: "Isn't there a way to have them suffer the pain of labor instead?"
In her study, scholar Eileen Wang also argues that the lack of pain relief is one of the major issues that should be addressed by policymakers who are hoping to reduce the number of C-sections in China. Further improving the childbirth experience by, for example, integrating a midwifery model, is also essential in making natural childbirth more attractive for Chinese women, Wang argues.
For now, many hospitals in China are still offering C-section "packages": some prices start at RMB 5800 ($840) for a C-section, other hospitals have packages that start from RMB 88,000 ($12,741) including a three-day hospital stay in a private room.
"It's a pregnant's woman body, so she should decide how she wants to deliver her baby," one commenter on Weibo writes: "It should be a woman's right to decide."
By Manya Koetse
Follow @whatsonweibo
References
Biler, A., Ekin, A., Ozcan, A., Inan, A. H., Vural, T., & Toz, E. 2017. "Is It Safe to Have Multiple Repeat Cesarean Sections? A High Volume Tertiary Care Center Experience." Pakistan Journal of Medical Sciences 33(5): 1074–1079.
Black, Mairead & Sohinee Bhattacharya. 2018. "Cesarean Section in China, Taiwan, and Hong Kong— A Safe Choice for Women and Clinicians?" PLOS Medicine 15(10): 1-3.
Caijing. 2019. "卫健委:全国剖宫产率为36.7% 积极推广分娩镇痛." Caijing , May 27 http://economy.caijing.com.cn/20190527/4591594.shtml [5.31.19].
Hellerstein, Susan Celia. 2011. "Cesarean Delivery in China Analysis of Cesarean Deliveries Without Indication." The American College of Obstetricians and Gynecologists: 20s.
McNeil, Donald. 2017. "Study Finds Lower, but Still High, Rate of C-Sections in China." New York Times, Jan 9 https://www.nytimes.com/2017/01/09/health/c-section-births-china.html [6.2.19].
Wang, Eileen. 2017. "Requests for Cesarean Deliveries: The Politics of Labor Pain and Pain Relief in Shanghai, China." Social Science and Medicine (173): 1–8.
WHO. 2015. "WHO statement on caesarean section rates." World Health Organization, April https://www.who.int/reproductivehealth/publications/maternal_perinatal_health/cs-statement/en/ [6.2.19].
Wolf, Jacqueline H. 2018. Cesarean Section – An American History of Risk, Technology, and Consequence. Baltimore, Maryland: Johns Hopkins University Press.
Featured image by Sohu News.
Spotted a mistake or want to add something? Please let us know in comments below or email us. Please note that your comment below will need to be manually approved if you're a first-time poster here.
©2019 Whatsonweibo. All rights reserved. Do not reproduce our content without permission – you can contact us at info@whatsonweibo.com