"My Life Changed Forever After A Car Crash" – Story of Duped Victim Finds Resonance on Weibo
Often it is the 'victim' scamming the driver in staged accidents, but now it is the driver who has scammed the victim.
The story of a young Chinese man desperately trying to keep his father alive over the past two years after a car accident, has become a trending topic on Chinese social media. The case has found resonance with millions for the social injustice it involves: the woman responsible for the accident has refused to pay for medical costs.
Stories of traffic accident scams often make the news in China, as there are many who try to win financial compensation by setting up an accident. But what if it is not the driver, but the victim who gets scammed, because the guilty party pretends not to have the money to pay for compensation?
It is what happened to the family of Zhao Yong (赵勇), whose emotional essay and video post have become a major topic of discussion on Chinese social media over the past week.
"It has been 776 days since the day of my father's accident," Zhao says at the start of his post of November 22, in which he tells the story of how his life changed forever when his father, riding a bicycle, was hit by a car in Tangshan (Hebei) in 2015. "During this time, my father, who is now lying beside me in a vegetative state, had to undergo four surgeries."
The story of Zhao Yong has been discussed by thousands of Weibo netizens over the past few days, especially when Zhao announced that his father had passed away on December 1st as a result of his injuries. "We were unable to save him. Today, my father has gone," Zhao posted on his Weibo account (@认真的赵先森) on Friday afternoon.
In a moving essay, Zhao describes how his happy family life suddenly turned into a nightmare on October 6th 2015; the day of his father's grave accident. As his father had to undergo heavy injuries and had to receive immediate medical care at the hospital, Zhao Yong struggled to pay the hospital's 10,000 yuan-per-day (±1510$) fees. Living as a vagabond, Zhao did everything he could to scrape together the money to keep his father alive; selling his house, selling his paintings, and seeking media attention for his case.
Zhao's essay, that features a black and white photo of his parents in happy times, has gained over 10 million views on Weibo this week, and the video in which he tells his story has been shared more than 400,000 times, receiving over 116,000 comments.
Through text and video (which also includes recorded talks with the responsible driver), Zhao discloses how the current legal in system in China "is only effective when it comes to people with morals, not when it comes to the scum of society."
Although the local court in Hebei ordered the responsible driver Huang Shufen (黄淑芬) to pay 850,000 RMB (±128.550$) in compensation to Zhao's family for medical costs, not only did Huang not come up with the money, she also treated the victim's family in a rude and unreasonable way.
"I don't have a low income," she said in one of the conversations recorded by Zhao in the video: "But I have loans to pay and I have no morals. So what's the use in talking to me?" Zhao says that although Huang never paid the ordered money, she did buy a house and a car and went on a New Year's holiday to Thailand.
Zhao describes how she told him: "I have bought a house and a car now, my money is gone." Through a friend, Zhao discovered that within months after the accident, Huang bought the car and the house and registered them under her daughter's name to transfer all of her assets.
Chinese media reporting on this story have dubbed it as a "textbook example" ("教科书式耍赖") of "shameless refusal" to accept (legal) responsibility.
According to the latest news, the Tangshan local court has frozen the assets that are still under Huang Shufen's name on November 24, and has since detained her for 15 days for failing to comply with the court's order. Meanwhile, Zhao's family still never received a single penny and have not received any messages from the driver's family concerning the death of Zhao's father.
In Zhao's post, he shared a picture of how his appearances have changed over the past two years, during which he grew from an ambitious young graduate with a job, house, girlfriend, and hopeful future, into a worn-out man who has given up everything to save his father and is stuck in a pile of debt.
Addressing Huang Shufen, Zhao writes: "I hope you'll also read this essay with your daughter. I have used up all my youth over these past two years. I have no escape. But you also cannot hide. It is not hard to discover you actually do have a conscience. Don't leave me out in the cold, and show some basic humanity. The court has decided – you have no excuses left."
On Weibo, netizens strongly condemn Huang Shufen's actions, and also speak out against China's legal system. "Can't they auction all of her family property?" one netizen wonders.
"This just shows that China's law is not healthy and that the system of legal enforcement is weak," one person writes: "It gives scammers too much opportunity."
"People like her are morally bankrupt. She has money to buy a house and a car, but can't compensate the person she hit with her car. She simply has no morals," some commenters say.
In China, traffic accidents and their aftermath often become much-discussed topics. According to Chinese law, persons who injure a victim in such accident often have to pay large sums in compensation.
This has led to situations in which it has occurred that drivers intentionally kill the pedestrians they have hit, because the compensation for killing a victim in a traffic accident is relatively small compared to paying for the care for a disabled or seriously injured survivor. This phenomenon has been researched and described by Geoffrey Sant in "Driven to Kill" (link).
It has also generated a business of professional scammers, also called 'pengci,' who deliberately crash against cars and then demand compensation. These kinds of fraud cases make drivers in China very vulnerable. But, as Zhao's story points out, when a person is truly a victim of an accident and the culprit refuses to pay, they are not just vulnerable – but also become powerless.
By Manya Koetse
Follow @whatsonweibo
Spotted a mistake or want to add something? Please let us know in comments below or email us.
©2017 Whatsonweibo. All rights reserved. Do not reproduce our content without permission – you can contact us at info@whatsonweibo.com.
"Goodbye, Health Code": Chinese Netizens Say Farewell to the Green Horse
"For three years, I was able to guard my green horse," some said after many places in China have now stopped checking Health Code apps.
China's Health Code apps and the green QR code have been a crucial part of China's Covid strategy for nearly three years. Today, many Chinese bid farewell to the Health Code app and their lucky 'Green Horse.'
Since 2020, China's Health Code apps have become utterly ingrained in everyday life as a pivotal tool in the country's ongoing fight against Covid-19. The Health Code system (there are at least 31 different regional health code applications across China) uses different sources of information, from self-reported health status to travel history and Covid test results, to determine whether or not a person gets a Green QR Code, a Yellow one, or a Red one.
Health Code scans are required when entering communities, malls, supermarkets, commercial buildings, and are basically key to moving around the city.
The Green color means you're safe (low-risk) and have free movement, the Yellow code (mid-risk) requires self-isolation and the Red color code is the most feared one: it means you either tested positive or are at high risk of infection. Clinging on to one's green code was also referred to as 'Guarding the Green Horse' (read all about this in our article on Health Codes).
'Health Code' in Chinese is jiànkāngmǎ 健康吗. 'Green Horse' in Chinese is lǜmǎ 绿马 , which sounds exactly the same as the word for 'green code' (绿码). In a social media environment where homophones and online puns are popular and ubiquitous, it did not take long for the 'green code' to turn into the 'green horse.'
But a lot is changing when it comes to China's fight against Covid. Following an unstoppable Omicron outbreak across China, earlier optimization of Covid measures in November, major Covid outbreaks and unrest at Foxconn in Zhengzhou, and protests in various Chinese cities, and a prior easing of Covid measures in various cities, Chinese central authorities announced far-reaching changes to the country's dynamic Zero Covid policy on Wednesday.
These changes also include a stop to Health Code checks when traveling, and an end to the requirement of negative nucleic acid tests for many places (unless it is about special places such as nursing homes, orphanages, medical institutions, etc.)
On Thursday, December 6, Chinese social media users started saying goodbye to the Health Code system (#告别健康码#), posting photos and videos of QR posters and travel code information being taken down at stations.
The hashtag "Saying Goodbye to Health Code" became a top trending hashtag on Weibo, and by 22:00 local time, had already received over 660 million clicks on the platform.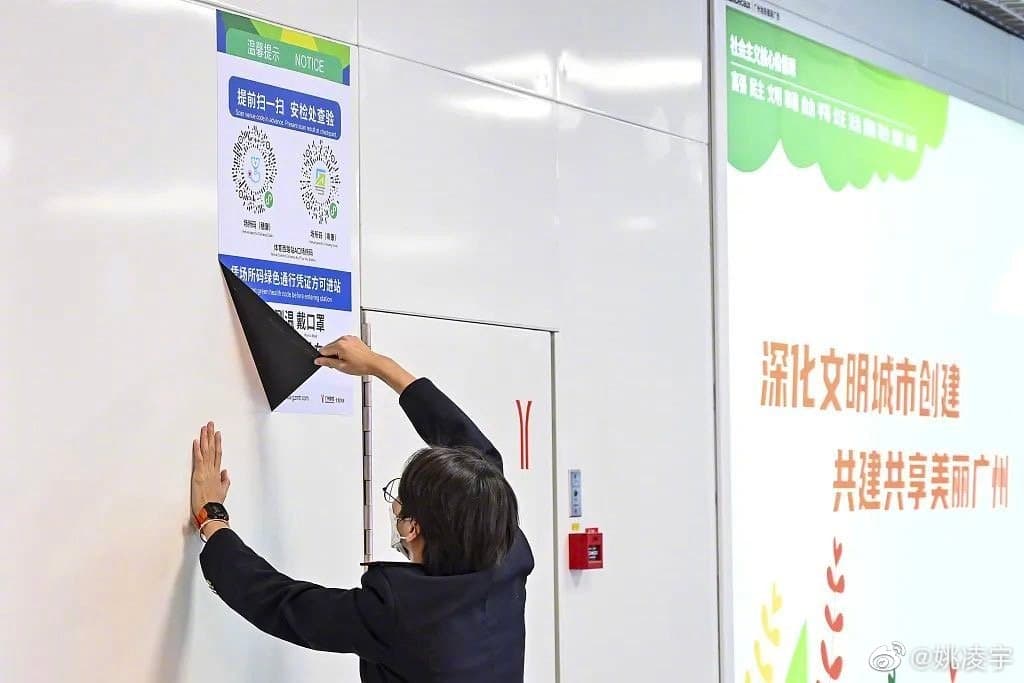 The Zhengzhou subway station is among the places that have already removed their Health Code posters (#郑州地铁撤下健康码海报#).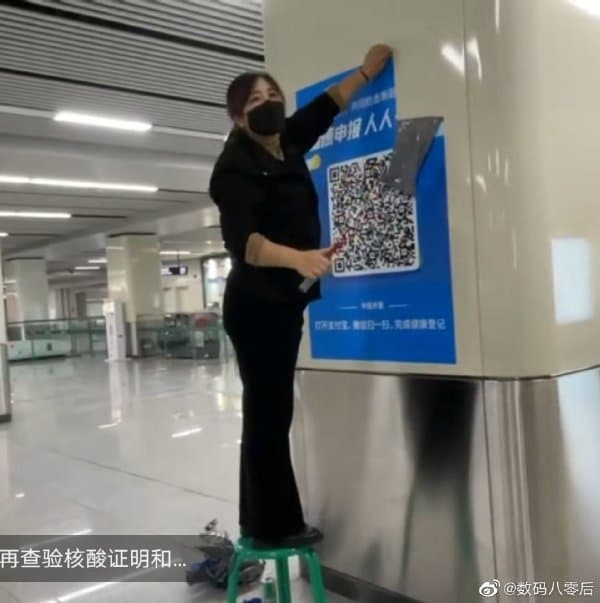 In the Guangzhou subway, posters were already removed on Wednesday.
Chinese media outlet The Observer (观察者网) also published various photos of station staff taking down QR code posters, using the hashtag "Many Stations Removing Health Code Posters" (#多地车站撤下健康码海报#).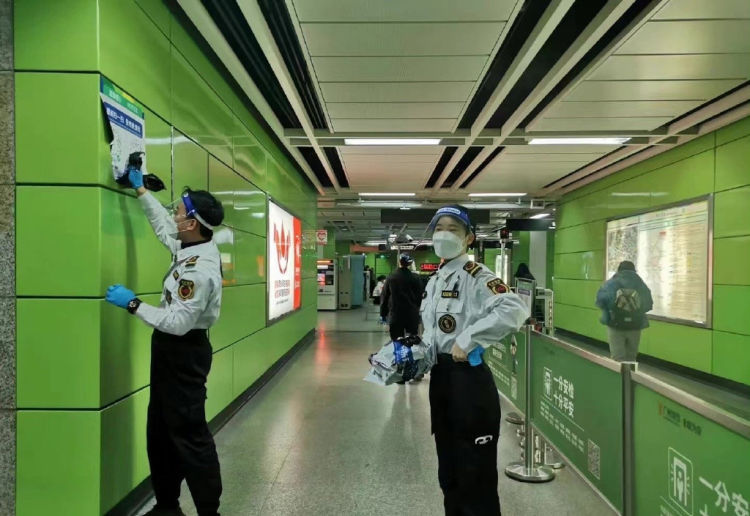 "I didn't need to scan the Health Code when entering university today. Bye bye, Health Code!" one netizen said, with another Sichuan-based blogger also writing: "The sport stadium, the mall, I didn't need to scan anything today."
"I've been waiting for this for so long, and it still came unexpectedly. From now on, we will need to protect ourselves," one comment said. "This just feels amazing," one Guangdong blogger wrote.
This idea of the government protecting people for three years, and that it is now up to the Chinese people to protect themselves, is a recurring one that you can see all over social media. Many people feel that zero Covid measures such as mass testing, local lockdowns, centralized quarantines, Health Code systems, 48-hour negative nucleic acid tests requirements, etc. were all government measures that were protecting the people.
Without this layer of protection, many say that individuals should now take responsibility for their own health.
But there are also those who criticize this line of thinking:
"I particularly dislike that talk of 'the nation has protected you for three years, you can't count on them any more and will have to rely on yourself now,' the people who say this are either stupid or spoiled. What is the nation? The nation is the people, the people are the nation, the three-year-long fight against the epidemic is one in which the masses sacrificed their time, space, money, and even their freedom. Every person paid their share of obligations. What is your talk of 'they won't look after us, it's up to you now'? The best fight against the epidemic is one with an objective and scientific approach. Not a single country in this world really 'laid flat' [to be completely passive in light of epidemic]; every country has actively explored and sought for better ways to live with the virus. This is a people's war. And in war, you'll always have casualties. What we need to do is to balance between survival and development, to minimize the damage as much as possible."
"There's no use in saying goodbye to it," one netizen said: "The most crucial time will be when the virus is gone."
There are also those who expect the coming time is going to be strange: "I think most people will have a moment after this that they'll take out their QR code for scanning whenever they enter a public place. After all, this wasn't just a few days, it's a habit we learned for three years."
Some people are complaining that they are not seeing any differences yet in their area or city, from Changsha to Shenzhen, and that they are eagerly waiting for changes to be implemented.
Meanwhile, green horse images are circulating on Weibo, where many bid farewell to the mystical creature. "For three years, I was able to guard my green horse," one person wrote: "Goodbye, green horse."
"Goodbye and I hope never to see you again," another Weibo user replied.
Read more about China's Health Codes here. To read more about 'Zero Covid' ending, read here.
By Manya Koetse 
Get the story behind the hashtag. Subscribe to What's on Weibo here to receive our newsletter and get access to our latest articles:
Spotted a mistake or want to add something? Please let us know in comments below or email us. First-time commenters, please be patient – we will have to manually approve your comment before it appears.
©2022 Whatsonweibo. All rights reserved. Do not reproduce our content without permission – you can contact us at info@whatsonweibo.com.
Announced Changes in Nucleic Acid Testing and Further Easing of Covid Measures Across China
Bus and subway operators in Beijing will no longer refuse entry to passengers without a 48-hour negative nucleic acid certificate.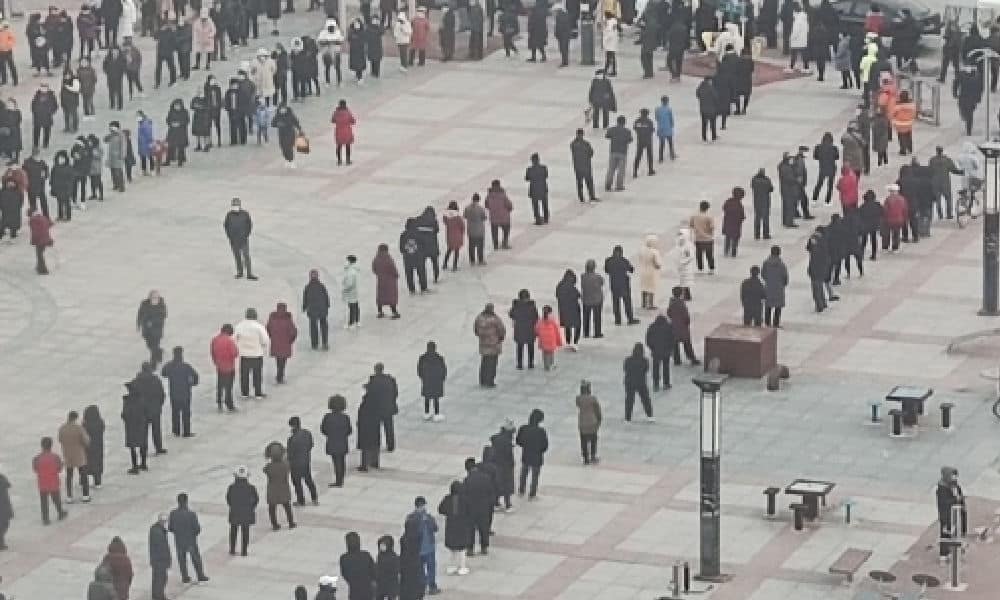 On Monday, directly after that noteworthy unrest-filled weekend, the hashtag "Multiple Locations Announce Nucleic Acid Testing Changes" (#多地核酸检测通知发生变化#) went trending on Chinese social media, receiving over 660 million clicks by Monday evening.
Immediately following demonstrations in Beijing and a second night of protests in Shanghai and elsewhere, various Chinese media reported how different areas across the country are introducing changes to their current Covid19 testing measures.
On Wednesday, November 30, China's vice-premier Sun Chunlan made remarks at a meeting on epidemic prevention, underlining the importance of "constantly optimizing" China's Covid-19 response and talking about a "new stage and mission" – without ever mentioning "zero Covid."
This is what we know about easing Covid measures thus far:
▶ Strict lockdowns have been lifted in Guangzhou, Zhengzhou, and Chongqing.
▶ On November 28, Guangzhou announced that people who do not actively participate in social life will no longer need to participate in continuous nucleic acid screening. This includes elderly people who stay indoors for long periods of time, students who take online classes, and those who work from home. The change will apply to residents in seven districts, including Haizhu, Panyu, Tianhe, and Baiyun (#广州7区无社会面活动者可不参加全员核酸#).
▶ Guangzhou, according to Reuters, also scrapped a rule that only people with a negative COVID test can buy fever medication over the counter.
▶ Harbin will follow the example of Guangzhou, and will also allow people who are mostly based at home to skip nucleic acid test screenings.
▶ Same goes for Shenyang, and Taiyuan.
▶ In Chongqing, various districts have done widespread Covid testing campaigns, but the local authorities announced that those communities that have not had a positive Covid case over the past five days do not need to participate in nucleic acid screening anymore. This means an end to district-wide testing.
▶ On November 30, Beijing also announced that it will start exempting some people from frequent Covid testing, including those elderly residents who are bound to home and other people who do not go out and have social interactions. This also includes younger students who are following classes online.
▶ Starting from December 5, bus and subway operators in Beijing will no longer refuse entry to passengers without a 48-hour negative nucleic acid certificate (announced on December 2nd).
▶ Although not officially announced, there have been various social media posts and reports about Covid-positive people in Beijing being allowed to quarantine at home if they meet conditions.
▶ Chengdu Metro announced on December 2nd that it will no longer check passengers' nucleic acid test reports. Passengers still need to scan their travel code and those with a green code can enter. Other public places will reportedly also start to accept the 'green code' only without a time limit on nucleic acid testing.
▶ Tianjin metro announced that the 72-hour nucleic acid certificate check will be also be canceled for passengers on the Tianjin metro lines. As in other places, people will still need to wear proper face masks and undergo temperature checks.
▶ In Hangzhou, except for at special places such as nursing homes, orphanages, primary and secondary schools, people's nucleic acid tests will no longer be checked in public transportation and other public places. They will also stop checking people's Venue Codes (场所码).
By Manya Koetse , with contributions by Miranda Barnes
Get the story behind the hashtag. Subscribe to What's on Weibo here to receive our newsletter and get access to our latest articles:
Spotted a mistake or want to add something? Please let us know in comments below or email us. First-time commenters, please be patient – we will have to manually approve your comment before it appears.
©2022 Whatsonweibo. All rights reserved. Do not reproduce our content without permission – you can contact us at info@whatsonweibo.com.