No A4 Waist or iPhone6 Legs? Here's The 2B Pencil Face
"If you don't have an A4 waist or iPhone 6 legs, there's still the 2B pencil face", various Weibo accounts wrote on Sina Weibo on April 1st, making '2B face' (2B的脸) yet another trending beauty hype.
"If you don't have an A4 waist or iPhone 6 legs, there's still the 2B pencil face", various Weibo accounts wrote on Sina Weibo on April 1st, making '2B face' (2B的脸) yet another trending beauty hype.
Most of Weibo's netizens seem to be fed up with China's latest beauty trends. Messages about skinny A4 waists and iPhone 6 legs have been flooding Chinese social media.
On April 1st, yet another phenomenon was introduced through Chinese social media. The '2B face' (#2B的脸) is supposed to be the remaining option for people without the A4 waist or iPhone 6 legs. "I don't have the A4 waist or iPhone 6 legs, but it's okay – at least I have a 2B face," was the trending sentence (没有A4腰,也没有iPhone6腿,没关系,我还有一张2B的脸啊), together with an image showing two 2B pencils across a round face.
The '2B face' joke is twofold, as it is also a word joke; the pronunciation of 2B in Chinese sounds like Èrbī (二逼), a somewhat playful term meaning "stupid c*nt" or to show extremely stupid behaviour.
The 2B face meme soon went viral on Sina Weibo, where many netizens appreciated the joke. Although April Fools was "banned" in China this year, many social media users still found ways to fool each other and mock China's (social) media, along with its recent beauty trends.
– By Manya Koetse
Follow @WhatsOnWeibo
©2016 Whatsonweibo. All rights reserved. Do not reproduce our content without permission – you can contact us at info@whatsonweibo.com.
"Goodbye, Health Code": Chinese Netizens Say Farewell to the Green Horse
"For three years, I was able to guard my green horse," some said after many places in China have now stopped checking Health Code apps.
China's Health Code apps and the green QR code have been a crucial part of China's Covid strategy for nearly three years. Today, many Chinese bid farewell to the Health Code app and their lucky 'Green Horse.'
Since 2020, China's Health Code apps have become utterly ingrained in everyday life as a pivotal tool in the country's ongoing fight against Covid-19. The Health Code system (there are at least 31 different regional health code applications across China) uses different sources of information, from self-reported health status to travel history and Covid test results, to determine whether or not a person gets a Green QR Code, a Yellow one, or a Red one.
Health Code scans are required when entering communities, malls, supermarkets, commercial buildings, and are basically key to moving around the city.
The Green color means you're safe (low-risk) and have free movement, the Yellow code (mid-risk) requires self-isolation and the Red color code is the most feared one: it means you either tested positive or are at high risk of infection. Clinging on to one's green code was also referred to as 'Guarding the Green Horse' (read all about this in our article on Health Codes).
'Health Code' in Chinese is jiànkāngmǎ 健康吗. 'Green Horse' in Chinese is lǜmǎ 绿马 , which sounds exactly the same as the word for 'green code' (绿码). In a social media environment where homophones and online puns are popular and ubiquitous, it did not take long for the 'green code' to turn into the 'green horse.'
But a lot is changing when it comes to China's fight against Covid. Following an unstoppable Omicron outbreak across China, earlier optimization of Covid measures in November, major Covid outbreaks and unrest at Foxconn in Zhengzhou, and protests in various Chinese cities, and a prior easing of Covid measures in various cities, Chinese central authorities announced far-reaching changes to the country's dynamic Zero Covid policy on Wednesday.
These changes also include a stop to Health Code checks when traveling, and an end to the requirement of negative nucleic acid tests for many places (unless it is about special places such as nursing homes, orphanages, medical institutions, etc.)
On Thursday, December 6, Chinese social media users started saying goodbye to the Health Code system (#告别健康码#), posting photos and videos of QR posters and travel code information being taken down at stations.
The hashtag "Saying Goodbye to Health Code" became a top trending hashtag on Weibo, and by 22:00 local time, had already received over 660 million clicks on the platform.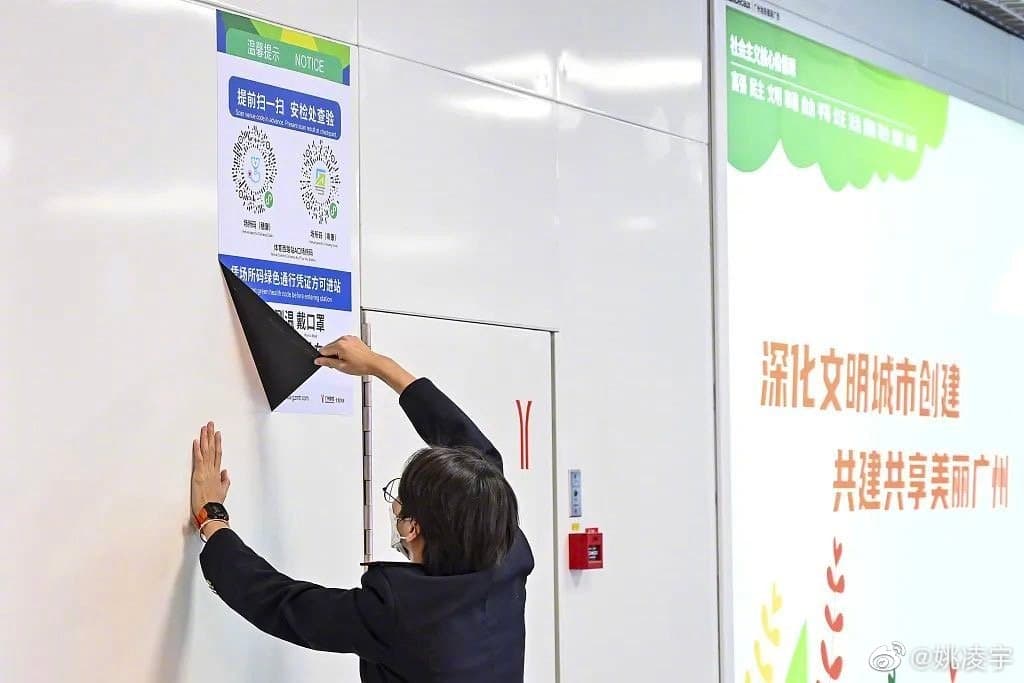 The Zhengzhou subway station is among the places that have already removed their Health Code posters (#郑州地铁撤下健康码海报#).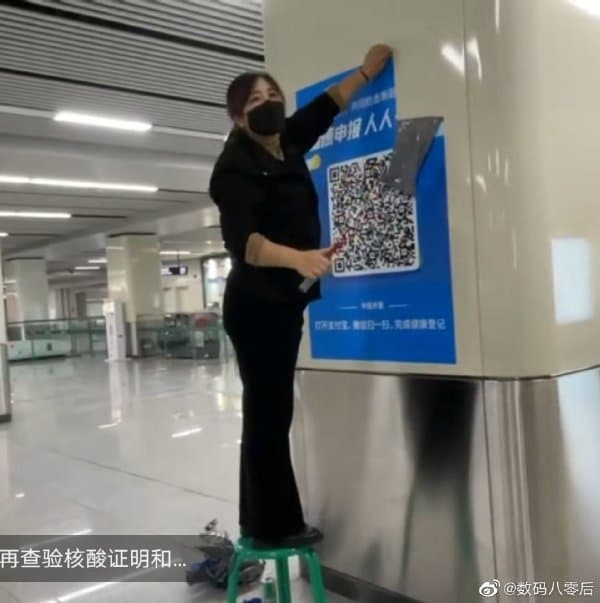 In the Guangzhou subway, posters were already removed on Wednesday.
Chinese media outlet The Observer (观察者网) also published various photos of station staff taking down QR code posters, using the hashtag "Many Stations Removing Health Code Posters" (#多地车站撤下健康码海报#).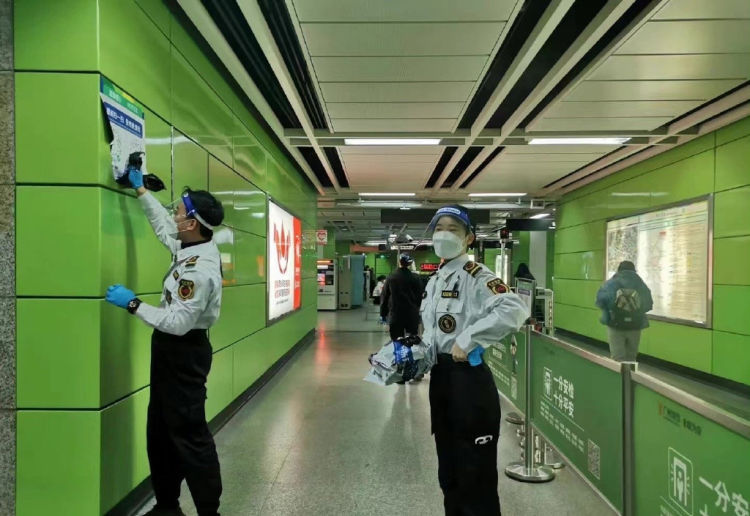 "I didn't need to scan the Health Code when entering university today. Bye bye, Health Code!" one netizen said, with another Sichuan-based blogger also writing: "The sport stadium, the mall, I didn't need to scan anything today."
"I've been waiting for this for so long, and it still came unexpectedly. From now on, we will need to protect ourselves," one comment said. "This just feels amazing," one Guangdong blogger wrote.
This idea of the government protecting people for three years, and that it is now up to the Chinese people to protect themselves, is a recurring one that you can see all over social media. Many people feel that zero Covid measures such as mass testing, local lockdowns, centralized quarantines, Health Code systems, 48-hour negative nucleic acid tests requirements, etc. were all government measures that were protecting the people.
Without this layer of protection, many say that individuals should now take responsibility for their own health.
But there are also those who criticize this line of thinking:
"I particularly dislike that talk of 'the nation has protected you for three years, you can't count on them any more and will have to rely on yourself now,' the people who say this are either stupid or spoiled. What is the nation? The nation is the people, the people are the nation, the three-year-long fight against the epidemic is one in which the masses sacrificed their time, space, money, and even their freedom. Every person paid their share of obligations. What is your talk of 'they won't look after us, it's up to you now'? The best fight against the epidemic is one with an objective and scientific approach. Not a single country in this world really 'laid flat' [to be completely passive in light of epidemic]; every country has actively explored and sought for better ways to live with the virus. This is a people's war. And in war, you'll always have casualties. What we need to do is to balance between survival and development, to minimize the damage as much as possible."
"There's no use in saying goodbye to it," one netizen said: "The most crucial time will be when the virus is gone."
There are also those who expect the coming time is going to be strange: "I think most people will have a moment after this that they'll take out their QR code for scanning whenever they enter a public place. After all, this wasn't just a few days, it's a habit we learned for three years."
Some people are complaining that they are not seeing any differences yet in their area or city, from Changsha to Shenzhen, and that they are eagerly waiting for changes to be implemented.
Meanwhile, green horse images are circulating on Weibo, where many bid farewell to the mystical creature. "For three years, I was able to guard my green horse," one person wrote: "Goodbye, green horse."
"Goodbye and I hope never to see you again," another Weibo user replied.
Read more about China's Health Codes here. To read more about 'Zero Covid' ending, read here.
By Manya Koetse 
Get the story behind the hashtag. Subscribe to What's on Weibo here to receive our newsletter and get access to our latest articles:
Spotted a mistake or want to add something? Please let us know in comments below or email us. First-time commenters, please be patient – we will have to manually approve your comment before it appears.
©2022 Whatsonweibo. All rights reserved. Do not reproduce our content without permission – you can contact us at info@whatsonweibo.com.
Barbie Hsu, Wang Xiaofei, and the Mattress Incident: Weibo's Divorce Drama of the Year
The post-divorce fight between Wang Xiaofei and 'Big S' Barbie Hsu is taking place online, like a serialized drama going on for too long.
It's the messy divorce drama that just keeps going: Taiwanese actress Barbie Hsu ('Big S') and mainland Chinese businessman Wang Xiaofei got divorced last year and recently aired their dirty laundry on social media. Even the expensive mattress the couple once shared suddenly became the focus of public attention.
One of the biggest celebrity topics on Weibo recently is the divorce drama between Taiwanese actress and tv host Barbie Hsu (Xu Xiyuan 徐熙媛, also known as Big S/大S) (45) and her former partner, Chinese mainland businessman Wang Xiaofei (汪小菲) (41).
In June of 2021, 'Big S' and Wang announced that they were in the process of divorce. The two were married for over a decade, since March 2011, and have two children together, an eight-year-old daughter and six-year-old son.
Less than a year later, in March of 2022, Barbie Hsu tied the knot with her former flame, South Korean musician DJ Koo Jun-Yup.
In November of this year, 'Big S' accused her ex-husband of failing to pay alimony since March of 2022. The accumulated amount reportedly had reached more than NT$5 million (US$160,000). The court ruled that some of Wang Xiaofei's assets in Taiwan will be seized.
Wang Xiaofei then publicly responded to the accusations and aired the dirty laundry about the aftermath of the separation from Hsu.
Everyone and everything got involved afterward, from Wang's mother to Barbie Hsu's sister, and brother-in-law – the entire family got dragged into the drama.
The former couple's old mattress even got dragged out for everyone to see. Meanwhile, Chinese netizens were eating popcorn and staying online to watch the divorce drama unfold.
Here is a timeline of what has happened.

▶︎▶︎ In the morning of November 21, Taiwanese media first reported that 'Big S' had accused Wang Xiaofei of not complying with their divorce agreement and had not paid alimony since March of 2022 and that Barbie Hsu had already taken legal steps to enforce the court order.
Via her lawyer, Barbie Hsu issued a statement about the matter, which went absolutely viral on Weibo. One post including the statement received over one million likes (#大S发声明稿#).
In the statement, dated November 21, 'Big S' expressed hopes that the dispute between her and her ex-husband could be solved as soon as possible for the sake of the children.

▶︎▶︎ Wang Xiaofei publicly responded to the issue in over twenty angry and emotional posts on his Weibo account (@汪小菲), where he has over seven million followers.
Wang, who is based in Beijing, complained about being smeared and not being able to see his children. According to Wang, he paid more than enough – millions – for child support and maintenance. He wrote he was unwilling to pay for an electricity bill that is not his after paying for the house where Barbie Hsu is living in and the custom-made mattress she is sleeping on, which allegedly cost him over US$320,160.
"Someone else is living there, fine," he wrote: "Can you at least change the mattress, you wimp? Still letting me pay for the f*cking electricity bill."
When Wang vowed to personally go back to Taiwan, some commenters reminded him not to forget to bring back his mattress.
(It later turned out that Wang did not fly to Taiwan after all.)

▶︎▶︎ Wang Xiaofei claimed that Mike Hsu (Xu Yajun 许雅钧), husband of Barbie Hsu's sister and Taiwanese tv host Dee Hsu (徐熙娣 aka 'Little S' 小S) has a mistress (#汪小菲发博曝许雅钧养小三#).

▶︎▶︎ Wang Xiaofei's mother Zhang Lan (张兰) got involved in the drama and posted a lengthy statement on her own Weibo account on Tuesday, November 22.
Zhang Lan (@张兰俏江南创始人) is a billionaire business woman and the founder of the upscale restaurant chain South Beauty Group. She has her own livestream e-commerce channel.
Zhang accused her former daughter-in-law 'Big S' Barbie Hsu of hurting her son, not letting her see her grandchildren, while also caller her a liar and even suggesting she is a bad mother.
Zhang also accused her and her younger sister, Dee Hsu (徐熙娣), of having a history of drug abuse.

▶︎▶︎ On November 23, Barbie Hsu defended herself against drug abuse allegations in a social media post, stating both her and her sister suffer from bad hearts and are not even able to use drugs.

▶︎▶︎ The mother of Barbie Hsu and Dee Hsu also got involved, talking to the media and complaining that she has been scolded by Wang Xiaofei's mother Zhang Lan, and saying that Wang and his mother are more than welcome to see the children; they would just need to come over in order to meet with them.

▶︎▶︎ November 23 became 'Mattress D-day' after it became known that Barbie Hsu had delivered the much talked-about mattress to the S Hotel in Taipei, which Wang owns (the hotel was named after 'Big S' in 2017). As reported by Taiwan News, the hotel's general manager surnamed Lee (李) claimed the mattress arrived on Tuesday, and he stated that discarded mattresses are professionally destroyed.
On that Wednesday, the S Hotel held a press conference and allowed Taiwanese media to film and photograph the mattress being destroyed by workers.
The hashtag "Taiwan Media Live-Broadcasts the Handling of Wang Xiaofei & Big S Mattress" #台媒直播汪小菲大S床垫处理过程# went viral on 23 November, receiving over 270 million views on Weibo in one single day. A 23-minute video showed Big S's mattress carried out of the hotel and being completely cut open by several men as a crowd of media stands by.
Some on Weibo said: "The drama is too much."

▶︎▶︎ On Mattress Day, Wang posted again on social media, claiming that he had lost his temper after Hsu sued him for not paying alimony. As reported by Taiwan News, he wrote: "I don't want to say anything anymore, burn the damn mattress, it's all in the past, let's not attack each other anymore." The post was deleted soon after.

▶︎▶︎ With the mattress incident going viral, many netizens soon guessed that if it was about such an expensive mattress, it must have been one by the Swedish Hästens company.
Hästens (海丝腾) itself then responded to the drama via Weibo with an older video that showed its mattresses are of such good quality that they will never go up in flames.
Hastens' post received nearly 20,000 likes on Weibo.

▶︎▶︎ On Thursday, November 24, Wang Xiaofei's mother Zhang Lan seized the opportunity to start selling mattresses on her livestream shopping channel (#张兰卖床垫#).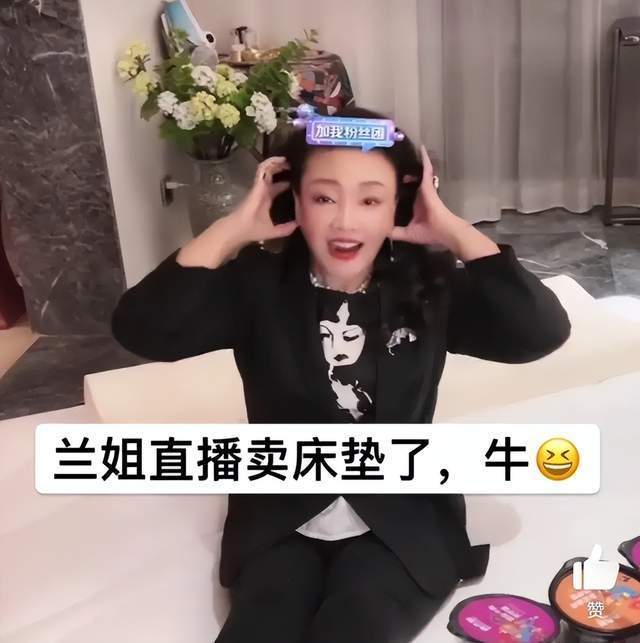 Besides all the personal drama, Zhang commercially profited from the current developments. According to recent reports, she did a total of nine live broadcasts from November 21 to 23, and saw 820,000 new followers flocking to her channel, with an average of 5.3 million viewers per livestream, and up to 25 million RMB ($3,5 million) in sales.

▶︎▶︎ On the same day, as reported by Singaporean Yahoo News, Wang Xiaofei declared that he wants to end the conflict with his wife, only to later delete the post from his Weibo account. Somewhere in all this, Wang also accused Big S of cheating on him since 2018.
He reportedly wrote: "I don't want to say anything anymore. The mattress is burned. It's over. We won't hurt each other anymore."
By that time, the drama was so big on social media that some netizens wrote: "I can't wait for Wang Xiaofei to be gone from my timeline!"

▶︎▶︎ On November 25, Wang Xiaofei started a livestream while laying in his bed, offering viewers a look into his private bedroom. He seemed to be pleased about getting so many views and some suggested he seemed to be drunk. During this livestream, an unknown woman suddenly seemed to lay down beside him, making the livestream comments explode. The livestream stopped shortly after.

▶︎▶︎ Another character stepped on this stage. Chinese actress Gina Zhang (Zhang Yingying 张颖颖) went online to defend Wang (who may be her good friend or something more), saying he is on the verge of a mental breakdown. She also wrote that she hoped to convince him to stop sharing all of his struggles on public platforms for the entire world to see.
She also turned out to be the woman in the livestream. Over 250,000 people liked her post.

▶︎▶︎ Meanwhile, Barbie Hsu publicly posted bank account statements from 2016 to prove her financial independence and that she had paid for the downpayment of their house at the time herself.

▶︎▶︎ On December 3, again another hashtag related to this divorce drama came out, getting up to 200 million views in a day (#大S再婚头纱是刷汪小菲信用卡买的#).
The trend relates to the story of 'Big S' reportedly asking Wang to leave his credit card after the separation, and that the veil that she wore during the wedding with her second husband, among other things, was bought with Wang's credit card.
On the same day, Wang's mother Zhang Lan again commented on the issue in one of her livestreams, saying that Wang and Barbie Hsu officially are not even divorced yet since their marriage was registered in Beijing and had not been dissolved yet (#张兰说大S和汪小菲还没有离婚#).

▶︎▶︎ On December 4, the hashtag "Wang Xiaofei or Big S – Who Is Telling Lies?" (#汪小菲大s谁在说谎#) went viral, getting an astonishing 560 million clicks on Sunday.
It is clear that two former have actually ruined their reputation by airing their dirty online like this. This especially matters for Big S, who used to do commercials for many brands.
"It's like we're watching a theater play," some said.
Others are also tired of their drama dominating social media topics: "I don't care which one is lying, I care about their kids."
"This serialized drama is going on for too long now," others wrote.
This is not the first big celebrity divorce drama to go viral on Weibo. In 2021, there was the big fall-out between Wang Leehom and Lee Jinglei. The separation between actor Wang Baoqiang and Ma Rong became one of the biggest trending topics on Weibo of all time.
Meanwhile, some netizens can't seem to get enough of the drama: "From the mattress to the veil, I'm just enjoying the spectacle."
By Manya Koetse 
Get the story behind the hashtag. Subscribe to What's on Weibo here to receive our newsletter and get access to our latest articles:
Spotted a mistake or want to add something? Please let us know in comments below or email us. First-time commenters, please be patient – we will have to manually approve your comment before it appears.
©2022 Whatsonweibo. All rights reserved. Do not reproduce our content without permission – you can contact us at info@whatsonweibo.com.