Love at First Sight? Man Attempts to Sue Woman after Instant Crush at Beijing Bookstore
After waiting for 50 days to see her again, the man decided to sue a woman he met at a bookstore to trace her down.
Every now and then, romantic trending stories pop up on Chinese social media in which people try to reconnect with people they've met. But the story of Mr. Sun, who tried to find the girl he met in a bookstore by suing her, has caused unease among netizens.
When a man named Sun saw a young woman during a visit to the Wangfujing bookstore in Beijing, it was love at first sight for him.
He first saw the woman in the afternoon of September 24th in the well-known bookstore, where she was wearing a yellow hoodie and "skin-colored stockings." The two allegedly had prolonged eye contact, which is when he realized he had a special connection with her, according to Chinese news platform Pear Beijing.
Within no time, he lost sight of the girl, and was not able to find her again. Without knowing her name, age, or other details, the search for the woman was virtually impossible.
But Sun was reportedly so desperate to see the young lady again, that he went back to the store in the fifty following days to wait for her. Since the man went to the bookstore instead of to work, he had to borrow money from friends and family to sustain a living.
According to Chinese media, Sun has waited in the store all those days from 11 in the morning to 7 in the evening.
On December 10th, the man went down to the local Dongcheng courthouse in order to sue the woman, hoping to find her through the legal system.
According to the petition for appeal, the man sought to sue the woman for emotional distress. By tracing her down through the legal system, he further hoped to get some answers that would "solve his mental anguish."
The Dongcheng courthouse, however, has advised the man not to sue the woman, and his case was not accepted. Sun now says he will think of another way to find the woman – whom he thinks might be the love of his life, – telling reporters that he will "figure out other ways if the normal way is not working."
On Weibo, Sun's case has received a lot of attention today. One Toutiao News post dedicated to the story received almost 30,000 shares and over 40,000 comments at the time of writing.
More than 170 million people have now viewed the Weibo hastag "Man Attempts to Sue the Person He's Looking for" (#男子欲起诉寻人#).
Many netizens think there is nothing romantic about this story. Instead, they label Sun as a "maniac" and are worried about the safety of the girl if he were to find her. One Weibo user writes: "This is sexual harassment, not LOVE. He is a stalker, and totally has no respect for the girl. The girl should stay far away from him."
Others suggest that reporters should find out more about the man and his situation. In the papers he prepared for court, which were readable in the Pear Video report of the case, he wrote down that he "possibly lost the love of life, as well as the meaning of life," leading to some worrying about the man's mental well-being.
In 2016, another bizarre love story also went trending on Chinese social media, involving a Dutchman who waited for over ten days at Changsha airport in hopes of meeting his online Chinese girlfriend – who failed to show up. After eating nothing but instant noodles and sleeping on airport benches, the man was even admitted to the local hospital due to physical exhaustion.
For that Dutchman, the story unexpectedly took a happy turn when it was widely reported in Chinese media. It turned out that due to poor communication, the 'online girlfriend' did not know the Dutchman was waiting for her, and still wished to pursue a romantic relationship with him.
As for Sun, if it were up to the people in the social media comments sections, he will never find his "true love" again. "Girl, if you see this Weibo post, please remember how this guy looks, and stay far, far away from him," one popular blogger writes.
By Manya Koetse and Wendy Huang
Follow @whatsonweibo
Spotted a mistake or want to add something? Please let us know in comments below or email us.
©2018 Whatsonweibo. All rights reserved. Do not reproduce our content without permission – you can contact us at info@whatsonweibo.com
When Hotpot Gets Really Hot: Haidilao Customers Shocked by Steamy TV
Haidilao is taking its customer service to a whole new level.
First published .
Customers dining at a Haidilao hotpot restaurant in Wuhan on January 5th were shocked when the big television screen in the restaurant, usually used for showing Haidilao ads, suddenly showed an X-rated film.
Haidilao is China's most famous hotpot chain, and is usually known for its excellent service. On busy nights, people stand in line for hours at the Haidilao restaurants, that are always packed full of people enjoying the good food and outstanding hospitality.
The incident, that happened on Saturday afternoon at the restaurant's Great Ocean mall location, has now made its rounds on Chinese social media after one Haidilao customer shared photos of the embarrassing moment on Weibo. At time of writing, the hashtag "Haidilao TV shows vulgar scene" (#海底捞电视播不雅画面#) has received more than 240 million views.
Waiters at the restaurant were fast to turn off the television. According to some online reports, a reporter visited the restaurant a few hours after the incident happened, and confirmed the television was still turned off at night.
On Sunday, January 6, Haidilao issued a statement in which the restaurant apologized to the customers for the "vulgar content" that was displayed on the television, and that police are investigating the case. Online pornography is banned in China, and spreading X-rated films is illegal.
It is yet unsure how the film ended up on the restaurant's screen, and whether it was a Haidilao employee who was watching the video and then made a mistake, or that a customer was using IR or Bluetooth on their smartphone and (purposely) connected it to their screen.
The incident has provoked hilarity on social media, where some netizens suggest that the X-rated film perhaps was a "customer demand" and that "Haidilao's service is beyond expectations," or that people were "eating and getting hard."
The incident, as of now, does not seem to negatively affect people's love for the Haidilao brand. "Please don't close it down, I still want to eat hotpot," some netizens comment, while others simply state: "Haidilao, I'm coming!"
(PS Want to know more about steamy hotpots? Check out What's on Weibo's sister site Hotpot Ambassador!)
By Manya Koetse and Miranda Barnes
Spotted a mistake or want to add something? Please let us know in comments below or email us.
©2019 Whatsonweibo. All rights reserved. Do not reproduce our content without permission – you can contact us at info@whatsonweibo.com
This is "Chinese Santa": Weibo Launches Lei Bao 'Santa Claus' Emoticon for Christmas
The Chinese Santa emoticon is here!
On Christmas day, Sina Weibo released a new emoticon in the image of a character named Lei Bao (雷豹, literally 'thunder leopard') from the 1990s comedy movie Hail the Judge (九品芝麻官), for his costumes, beard, and impressive eyebrows, that bear some resemblance to Santa Claus.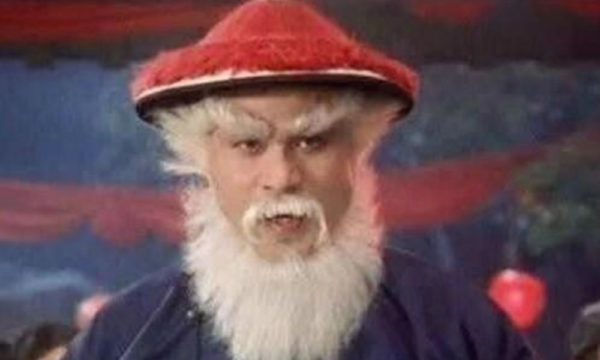 The emoticon was created by the cartoonist @大绵羊BOBO after social media users started using images of 'Lei Bao' to celebrate Christmas on Weibo and WeChat, writing: "It is said that Santa is a man with a white beard wearing a red hat."
The Chinese actor Xu Jinjiang (@徐锦江/Elvis Tsui), who played this entertaining character in the movie, posted a response on his Weibo saying: "Best wishes to you all from an old man with white beard and wearing on Christmas."
According to an online announcement issued on the official account of the Sina Weibo content center, the social media website first received permission from the emoticon's creator and from Xu Jinjiang to launch the image, and then posted a message to look for the copyright owner of the movie.
Later, Tiffany Chen (@向太Tiffany陳嵐), wife of Win's Entertainment founder Charles Heung Wah-Keung (向华强), the copyright holder of the movie, replied on Weibo and gave permission to launch the emoticon online.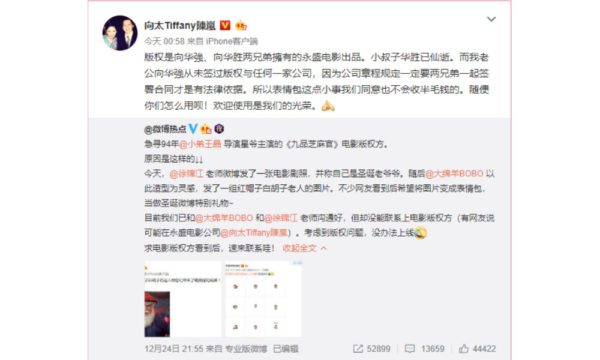 Within less than 24 hours, Weibo managed to solve the copyright issue and to release the emoticon online – just in time for Christmas.
In response to the 'Chinese Santa' emoticon, two hashtags became popular on Weibo: "Weibo Santa Claus Emoticon" (#微博圣诞老人表情#) and "Christmas Emoticon of Xu Jinjiang" (#圣诞徐锦江表情包#), attracting some 370 million views in total on Weibo at time of writing.
Thousands of netizens have started to use the new emoticon and joke around with it, with many expressing some Christmas joy over this new 'Chinese Santa,' that will undoubtedly make a comeback next year again.
By Wendy Huang
Follow @whatsonweibo
Spotted a mistake or want to add something? Please let us know in comments below or email us.
©2018 Whatsonweibo. All rights reserved. Do not reproduce our content without permission – you can contact us at info@whatsonweibo.com