"Making the Most of Every Second": Man Visits Prostitute during Dinner with Wife
A dinner with his wife and a short stop to buy cigarettes has turned into jail time for one man from Jiangxi. The peculiar news story of his very short visit to a prostitute is now making its rounds on Weibo.
A peculiar news story about a 27-year-old man from Jiangxi making "good use of his time" has attracted the attention of Weibo netizens today. The man ended up in trouble for combining a dinner with his wife with a visit to a prostitute.
Phoenix News reports on Weibo that the man took his wife out for dinner at a BBQ restaurant in Nanchang this week, when he stepped outside to buy some cigarettes. On his way to the store, the young man saw a prostitute on a street corner and ended up making use of her services. Unfortunately for him, he was caught red-handed by local police raid team and was arrested for consorting with a prostitute. The raid was captured on video.
Holding back a smile, local police officer Luo Gang spoke to reporters about the incident. Luo said the man had left his wife and a friend at the BBQ restaurant for just a few minutes when he ran into the prostitute and decided to go up to a hotel room with her. When his wife was informed of his arrest after the raid, she asked police if they might have caught the wrong man. She had been waiting for her husband to return to the restaurant and could not believe the story.
On Weibo, the news story is referred to with the Chinese expression "Jiànfèng Chāzhēn" (见缝插针), which literally means "to see a gap and stick in a needle", meaning "to make use of every second."
The man is currently detained. According to Chinese law, visiting a prostitute may be punishable with imprisonment of 10 to 15 days and a fine of 5000 RMB (±740$).
Chinese netizens have responded to the incident with much banter, praising the man for his promptitude. "My colleague also just went out the door to buy some cigarettes, now I get what it means," some people said.
This news story shows resemblance to another incident that made its rounds on Chinese social media this week. On July 24, one man also got in trouble while visiting a spa in Zhengzhou with his wife and son. His son, being old enough, got a separate room on the first floor, while his parents resided in a room on the third floor.
During the time at the spa, the man kept leaving his room to 'check on his son.' When his wife later noticed another hotel key wrist band on her husband, she went to check the room next to her son's room and caught her husband with a young lady. Police were later involved to give the man a "stern lecture."
"At least you can say this guy really does have some courage," some commented on Weibo.
By Miranda Barnes
Follow @whatsonweibo
©2017 Whatsonweibo. All rights reserved. Do not reproduce our content without permission – you can contact us at info@whatsonweibo.com.
Online Anger over "Special Treatment" for Quarantined Foreigners in China
Are foreigners in quarantine being treated better than Chinese nationals? This Nanjing Daily article has triggered controversy.
On March 27, an article titled "For the Good Health of 684 Foreigners" ("为了684个"老外"的安康") sparked controversy online over the alleged special treatment of foreign nationals during their mandatory 14-day quarantine period.
According to the article published by Nanjing Daily, Nanjing's Xianlin Subdistrict set up a special WeChat group for foreign nationals and their families returning to the city after the Spring Festival holiday, which coincided with the outbreak of the new coronavirus.
In special WeChat groups, subdistrict officers, doctors, translators, and property managers provide assistance and daily services to these China-based foreigners. Examples of such "daily services" include delivering fresh bread or contacting pet boarding facilities.
"One young man loved online shopping on Taobao, and once we delivered twenty packages for him within one day," one member of the service group told Nanjing Daily.
Although foreign residents in China and foreigners with previously issued visas are currently no longer allowed to enter China, they needed to undergo a two-week quarantine period upon entry until the travel ban of a few days ago.
Jiangsu Province, of which Nanjing is the capital, tightened quarantine rules on March 23, making every traveler from abroad subject to a centralized quarantine (e.g. in a hotel) for fourteen days.
The special services for returning foreigners reported by Nanjing Daily triggered controversy on Chinese social media this week. Many netizens criticized it as a "supra-nationals treatment" (超国民待遇).
Under one Weibo post by media outlet The Cover (@封面新闻), which received over one million views, many people are criticizing local officers' favorable treatment of foreigners. One commenter writes: "Will they provide the same comprehensive services to their compatriots?"
Another person writes: "Why don't they also adhere to the slogan of 'Serve the People' (..) when dealing with Chinese citizens?"
In discussing the supposed inequality between the treatment of foreigners and Chinese nationals in quarantine, many netizens raise a recent example of a quarantined Chinese student who asked the civil police staff for mineral water. In a video that circulated online in mid-March, the girl quarrels with the police for not being offered mineral water. The student, demanding mineral water over the available boiled tap water, was ridiculed for suggesting that having mineral spring water is a "human right."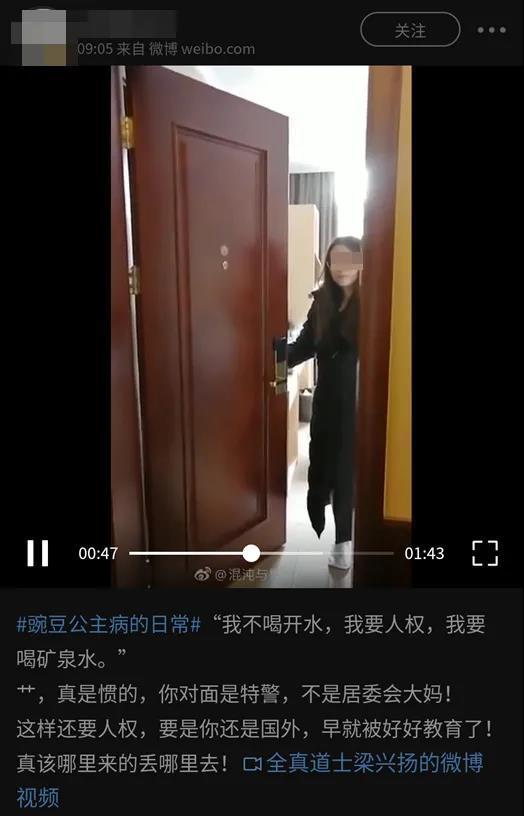 Ironically, the Nanjing Daily article explicitly mentions how the Xianlin Subdistrict deals with foreigners drinking purified water: "[This] Laowai [foreigner] wants to drink bottled purified water, [so] we bought four barrels for him (..) and carried them from the community gate to his apartment."
The contrast in treatment of quarantined foreigners versus Chinese nationals prompted some Weibo users to reflect on their previous remarks on the female student: "I apologize for previously mocking the Chinese student at the quarantine center in Pudong, Shanghai, for demanding to drink mineral water," one commenter writes.
In response to the online controversy, the office of the Xianlin Subdistrict clarified that Chinese nationals would receive "corresponding services" during their quarantine period. Some netizens question what these alleged "corresponding services" exactly entail.
In another media report, the official reply was that "the Subdistrict treats Chinese and foreign citizens the same."
Over recent years, there have been many online controversies on the issue of privilege in China. Earlier this year, there was public outrage over two women driving a Benz SUV into the Palace Museum, where cars are usually not allowed.
The issue of the perceived privileges of foreigners in China has particularly triggered anger among netizens. The "preferential treatment" of overseas students and the "dorm disparities" between Chinese and foreign students in China, for example, previously became major topics of online discussion.
A popular WeChat article that comments on the Nanjing controversy of this week also lists examples of special treatment for foreigners, including cases where foreigners were not fined when breaking rules in China or being "treated better" in other ways. By now, the article has received over 100,000 views.
For more COVID-19 related articles, please click here.
By Bobby Fung (@bobbyfungmr)
Spotted a mistake or want to add something? Please let us know in comments below or email us. First-time commenters, please be patient – we will have to manually approve your comment before it appears.
©2020 Whatsonweibo. All rights reserved. Do not reproduce our content without permission – you can contact us at info@whatsonweibo.com.
Children of Hubei Medical Workers to Receive 10 Extra Points on High School Enrolment Examination
Hubei officials announced a controversial measure to reward frontline medical workers.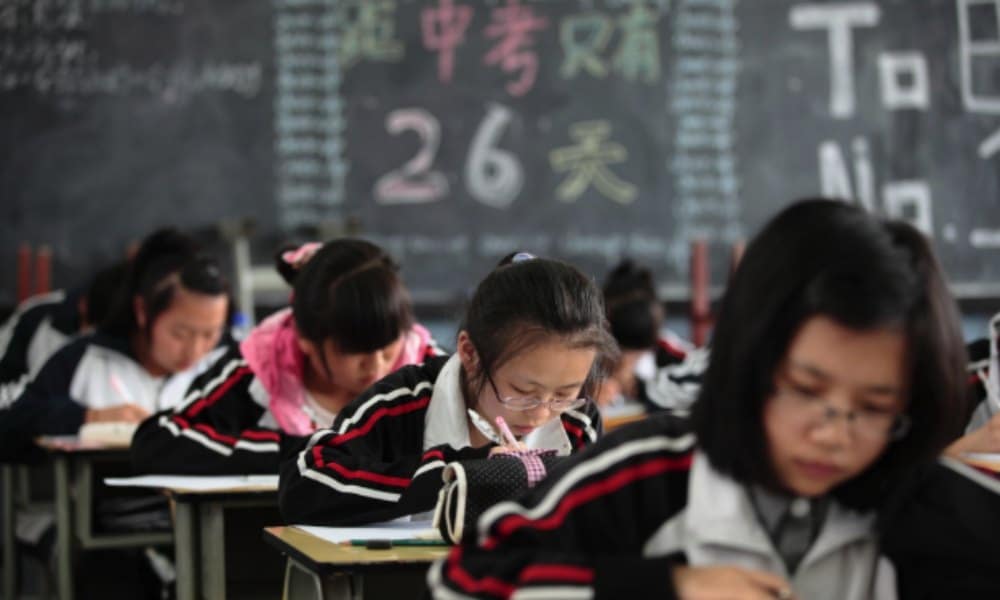 First published
Hubei authorities announced new measures on Tuesday to encourage and support the work of Hubei's front-line medical workers during the coronavirus crisis.
One of these measures, rewarding the children of medical staff an extra ten points in their zhongkao examination, became a somewhat controversial top trending topic on Chinese social media today.
The zhongkao is an important academic examination in China taken during the last year of junior high school, right before entering education institutions at the senior high school level. These enrollment examinations are held annually in June or July, depending on the region.
A good mark on the exam is of crucial importance for many students, as it will give them admission to their preferred senior high school, which then could have more profound effects on their education after high school and their further career.
According to the new policy, children of Hubei's medical workers would be rewarded with ten extra points on top of their overall score for the exams if they take it. Since the exams are highly competitive, every extra point could mean a world of difference since it will mean leaving hundreds of other students behind you.
On Weibo, one announcement of the new measure published by Chinese news source The Paper received over 938.000 likes and more than 11.000 comments. Many Weibo users do not agree with the policy.
"It should be the medical workers themselves who are rewarded through promotion or a salary increase," a top comment says: "It shouldn't be their children who are rewarded."
Although a majority of commenters say that medical workers should be given special rewards in these times of hardships, most also agree that rewarding their children in their exam results is not the way to go. "This only makes the exam system more unfair," a recurring comment says.
With 610 million views at the time of writing, the hashtag "The kids of Hubei frontline medical staff will get extra 10 points on zhongkao score" (#湖北一线医务人员子女中考加10分#) is one of the most-dicussed topics on Weibo of the day.
For more COVID-19 related articles, please click here.
By Manya Koetse (@manyapan)
Follow @whatsonweibo
Spotted a mistake or want to add something? Please let us know in comments below or email us. First-time commenters, please be patient – we will have to manually approve your comment before it appears.
©2020 Whatsonweibo. All rights reserved. Do not reproduce our content without permission – you can contact us at info@whatsonweibo.com.