Man Beats His Wife to Death in Street in Shanxi, Bystanders Look On
A man killed his wife in Shanxi in the middle of the street, yet nobody intervened.
What started with a minor accident ended with a fatal beating on October 31st in Shuozhou (朔州), Shanxi province, where a man got outraged after a traffic collision and then killed his wife.
On Saturday morning, around 10:00 AM, the man was riding a small electric car with his wife as a passenger, when they bumped into another vehicle.
According to witnesses, the man tried to flee the scene of the accident but was held back by his wife. The elderly couple then started arguing, after which the man threw his wife to the ground and started beating her with a brick. The man also attacked his wife with a farming pitchfork.
Shocking videos of the scene, shot by various bystanders, are making their rounds on social media. (Viewer discretion advised – warning for very graphic content.)
Some footage shot at the start of the incident shows that there are at least four bystanders looking on while the man drags the woman to the ground and hits her in the head with a stool.
Shanxi, yesterday – at least 4 people stand around as this man beats his wife. Nobody steps in to stop this 'marital conflict.' This is how it starts, but it ends up with the woman being stabbed & killed by her husband.

Many people looked on and filmed, yet nobody stopped him. pic.twitter.com/mzYRfJ6e2l

— Manya Koetse (@manyapan) November 1, 2020
Footage shot at a later moment shows how the man stabs the woman's body and face with the pitchfork as she lies motionless in the street.
As reported by various Chinese news outlets, there were many people at the scene; the incident occurred in a busy street in broad daylight. But before the police arrived, nobody stepped in to stop the man. The woman did not survive the attack.
On Sunday, the incident, including video footage shot by bystanders, went viral on Chinese social media. Some unofficial sources claimed the man had been intoxicated.
Local police issued a statement saying that the man has been detained.
Most of the discussions regarding this incident on Weibo focus on the fact that there were so many people passing by and watching this scene unfold while not stepping in.
"The coldness of the bystanders shocks and infuriates me," one popular comment on Weibo said. "How can they just stand there with their arms folded?"
"Why is it more important to record this incident than to take action?"
"They're worse than people witnessing an accident on a high-speed road," one person wrote: "They're so detached."
There have been various incidents over the past decade in which China's "bystander problem" became a topic of discussion, saying it relates to the Chinese concept of "mind your own business," "shaoguanxianshi" (少管闲事), where people are accustomed to remaining uninvolved when it does not concern them.
The most well-known example is that of Wang Yue, the little toddler from Foshan who was run over by two vehicles in 2011 and laid in the street with 18 people passing her by without doing anything.
A notorious 2013 case is that of a 26-year-old Beijing woman who got her head stuck between railings next to a road. Although there were many people passing by and taking pictures, it took thirty minutes to call the police. The woman was later pronounced brain dead in the hospital.
Another incident that triggered a lot of anger in 2016 was that of an assault on a woman at a Beijing hotel. Video footage revealed how bystanders and hotel staff did not help the woman when she was attacked.
Sometimes people do not step in because they simply do not want to get involved and think someone else will solve the situation, and then there are those who do not intervene because they think it involves a marital dispute that an outside should not mingle in.
The first is an (arguably) global phenomenon also known as the 'bystander effect' or 'bystander apathy', where people will not help a victim in need when other people are present. It is a social psychological matter – the more people who witness a person in peril, the less the chances are that one of them intervenes. In other words: one is more likely to help out in an emergency situation when one is alone than when there are ten people standing by.
But the second relates more to existing cultural and societal ideas about relationships and 'private' issues that nobody should interfere with. This topic recently also came up when Chinese vlogger Lhamu was killed by her ex-husband, with many people calling for more action against domestic abuse – stressing how important it is for people to realize that domestic violence is not a private matter.
"My god, why didn't they just step in," multiple people write: "This poor woman!"
"Would you dare to step in if you were present at the scene?", one Weibo user asked other commenters.
"I would," one person answered: "The guy uses a brick, not a gun. All it would take is for one person to go up and step forward."
By Manya Koetse
Follow @WhatsOnWeibo
Spotted a mistake or want to add something? Please let us know in comments below or email us. First-time commenters, please be patient – we will have to manually approve your comment before it appears.
©2020 Whatsonweibo. All rights reserved. Do not reproduce our content without permission – you can contact us at info@whatsonweibo.com.
Delivery Man in Anhui Run Over by Ambulance Sent to Rescue Him
From bad to worse: this Eleme delivery man was run over by an ambulance after being hit by an SUV.
On April 12, a delivery man in the city of Bozhou, Anhui province, was run over by an ambulance arriving at the scene of an accident where he had just been injured.
Shocking footage circulating on Chinese social media shows the delivery man lying in the middle of the road when the ambulance arrives and runs over his leg. The incident happened around 12:00 in the afternoon (link to video, viewer discretion advised).
While the delivery man already suffered injuries because he was hit by an SUV shortly before, things quickly went from bad to worse when the ambulance that was supposed to come to his rescue crushed his leg. The man is currently undergoing treatment at a local hospital in Mengcheng county.
According to recent news reports, the ambulance driver has currently been suspended and is under investigation.
The incident received a lot of attention on Weibo today, where the hashtag page discussing the double accident received over 150 million views (#外卖员被救护车二次碾压#).
Many comments relating to this incident are focused on the role of the traffic police at the scene of the accident, with people wondering why there was no guard standing next to the victim.
Thousands of commenters also address how sorry they feel for the victim, especially because the lives of many food delivery drivers – facing long working hours and low wages – is already tough enough.
According to Toutiao News (头条新闻), the delivery man works for Chinese food delivery giant Eleme. Wang Gang (王刚, alias) is approximately 30 years old and has a wife and a child. He had only been working for Eleme for a few months and reportedly did not have any prior accidents.
In Monday's double accident, Wang suffered a mild skull fracture, seven broken ribs, and a fractured lower leg. He is in stable condition.
By Manya Koetse
Spotted a mistake or want to add something? Please let us know in comments below or email us. First-time commenters, please be patient – we will have to manually approve your comment before it appears.
©2021 Whatsonweibo. All rights reserved. Do not reproduce our content without permission – you can contact us at info@whatsonweibo.com.
Video Showing Suihua Female Worker Hitting Deputy Director with a Mop Goes Viral on Weibo
The Suihua deputy director was attacked with a mop after female workers accused him of harassing them.
A video showing a woman beating the director of her work department with a mop has gone viral on Chinese social media. The woman who posted the video accuses the office leader of harassing his female subordinates.
The incident took place on April 11th in the city of Suihua, Heilongjiang province. The man who was beaten in the video is Mr. Wang, the deputy director of the poverty alleviation department of the Beilin district of Suihua.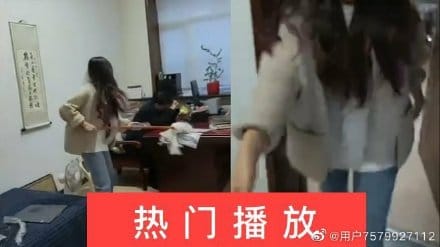 The 14-minute video shows a woman storming into Wang's office while another woman is behind her, filming. The first woman initially goes to Wang's desk and throws some stuff on the ground, before she asks the other woman to give her the mop. She then proceeds to hit Wang in the face and head with the mop multiple times. The other woman yells at Wang that she cannot put up with his harassing texts anymore.
At one point in the video, Wang claims he was "just joking," but the woman claims he is guilty of harassing multiple women in the department. Local authorities investigated the case after the video went viral.
According to Chinese news reports, Mr. Wang has now been removed from his office and Party position for "lifestyle violations of discipline" (for more information on this, China Law Translate has translated the Chapter XI of the Chinese Communist Party Disciplinary Regulations here.)
The woman hitting Wang with the mop reportedly has not been punished for her actions due to "mental illness."
On Weibo, many people praise the women for stepping up and rebelling against the deputy director, and fighting to protect themselves. Some people call it "courageous" and a "brave revenge."
"Harassers deserve to be hit," one commenter writes, with another person adding: "It is good that young people nowadays come forward against older and more powerful leaders."
There are also people on Weibo who question the reported "mental illness" condition of the woman who hit Wang, with some suggesting she could have not been a state office worker if she suffered from serious mental issues. Others also denounce the fact that the woman was labeled this way, while allegedly having been harassed and finding no help after reporting it to the police. At the same time, a majority of commenters express relief that the woman will not face punishment for hitting Wang with the mop.
Since the outcome of the investigations has not been made public, some netizens demand to see the investigation's conclusions to know if the official was indeed guilty of sexual harassment and why nothing was done about the female worker's alleged reports to police about his behaviour.
Over the past year, the problem of sexual harassment in the workplace has been receiving more attention on Chinese social media. In March of this year, a Shanghai court awarded approximately $15,000 to a plaintiff in a sexual harassment suit against a colleague who had sent disturbing text messages to her over a period of six months (link). In December of 2020, a landmark court case of the female scriptwriter Zhou Xiaoxuan versus Chinese famous TV host Zhu Jun attracted major attention on social media.
By Manya Koetse, with contributions by Miranda Barnes
Spotted a mistake or want to add something? Please let us know in comments below or email us. First-time commenters, please be patient – we will have to manually approve your comment before it appears.
©2021 Whatsonweibo. All rights reserved. Do not reproduce our content without permission – you can contact us at info@whatsonweibo.com.