No Chunyun but Staycation: Chinese New Year Won't Be the Same This Year
From local governments to brand commercials, "staying put for the holidays" (就地过年) is the trend of this Spring Festival.
As China is seeing the worst wave of new infections since March of last year, staying put for Chinese New Year is the trend for this holiday season.
China's chūnyùn (春运), the travel season around Chinese New Year, started on January 28. It usually is a chaotic and exciting time as people travel home to be reunited with their families.
But this year, Chinese New Year and its travel season, which starts 15 days prior to the Spring Festival and lasts 40 days, will be different from other years due to the Covid-19 pandemic and local outbreaks across China, with the country seeing the worst wave of new infections since March of last year: 2,016 cases were reported from Jan. 1-30.
Nevertheless, officials still expect about 1.7 billion trips to be made during this time period. Although this number is higher than last year, when Spring Festival commenced just shortly after the initial Wuhan outbreak, the number of total trips is lower than during other years. In 2016, for example, around 2.9 billion trips were made and in 2019 that number rose to around 3 billion.
In order to minimize domestic migration during Chinese New Year, many places around China encourage people to stay put instead of going back home to celebrate, with some Chinese media calling "staying home" the trend of the year.
The keywords this year are "stay put for the holidays" (jiùdì guònián 就地过年) and "New Year's policies" (guònián zhèngcè 过年政策). State media outlets like Xinhua also initiate hashtags on social media such as "This Year Stay Put For New Year's" (#今年就地过年#).
Stay Home Subsidies
One way to encourage people to refrain from traveling during Chinese New Year is by offering people monetary compensation when they stay home. These measures are called "subsidy policies" (bǔtiē zhèngcè 补贴政策).
Earlier in January of this year, the city of Suzhou announced that it would offer compensation of 500 yuan ($77) to people who stay home during the Spring Festival. The city of Beijing promised domestic helpers in Beijing to give them a bonus if they would continue working from February 4 to February 26.
The city of Yiwu, Zhejiang, also gives out 500 yuan to every resident who does not travel from February 1st to February 26th to cover their electricity bill. The city also gives out 20GB of mobile data for all phone users to use for free, and promises free public transport to Yiwu residents during the Spring Festival period. The initiative was promoted on social media using the hashtag "Yiwu Issues 500 Yuan Consumption Vouchers to Encourage Staying Put for the New Year' (#义乌发500元消费券鼓励就地过年#).
The cities of Hangzhou, Hefei, and Foshan also give out bonuses from 1000 up to 2000 yuan ($155-310) to various (migrant) working groups to stay put.
There are many more initiatives though, such as Beijing giving out 20GB of free mobile data and companies in cities such as Zhejiang, Ningbo and Quanzhou issuing "red packets" for workers choosing not to go home.
There are various ways for residents to check which benefits they could get if they stay put this year. The Alipay app, for example, allows people to check the local policies in their area ("各地过年福利政策查询"服务").
Quarantine & Testing
For those people who would still like to travel despite the various incentives to stay home, there are some extra hurdles to take.
China's National Health Commission has stated that people returning to rural areas will need to produce a negative Covid-19 test issued up to seven days before their departure during the Spring Festival, BBC reports.
In fact, virtually everyone taking part in the chunyun travel season will need to have a negative Covid-19 test with them. All travelers entering or returning to Beijing will also need a negative Covid-19 test taken within seven days.
Travelers will also have to be under a 14-day "home observation" period. This means they need to monitor their health and temperature daily. They are still allowed to leave their home, but they cannot participate in any group activities.
Chinese state media CCTV also reminds travelers to make sure they wear their mask the right way and to maintain hand hygiene.
Promoting Staycation
The 'staycation' New Year is also promoted in various other ways. Commercial brands are sending out the message of celebrating the Spring Festival at home through their ads and commercials.
The new ad video by antibacterial soap brand Safeguard (舒肤佳), for example, shows a family preparing for New Year's festivities.
Although it first seems as if the grandparents, children and grandchildren are all celebrating together in one home, it then turns out that they are all 'united' at the dinner table via video connection.
The brand's message is that this year, the most valuable gift families can give each other is the gift of safeguarding each other's health.
There is also public service advertising initiated by local governments to promote staying at home during Chinese New Year. The image below was published through social media by Linyi city, Shandong.
Meanwhile, in a video promoted by Chinese state media People's Daily, Zhang Wenhong (张文宏), leader of the Shanghai Covid-19 Medical Treatment Expert Group, said that "spending New Year's in situ is a sacrifice," also adding: "I have great admiration for the comrades who spent New Year's Eve locally", calling it "a contribution for all Chinese people."
A hashtag page added to Zhang's words received over 490 million views at time of writing (#张文宏称就地过年是作出了牺牲#).
Although many people express their understanding of the situation, not going home to spend New Year's with their families is a big disappointment for many Weibo commenters – especially when it's the second year to skip the Spring Festival family reunion.
"We've been setting aside too much over Covid-19," one commenter writes, but others say: "Special circumstances require special treatment. It's ok, we can stay put for Spring Festival."
But there are also those who are just sad about missing out on the celebrations. "I understand the reasoning. But I'll be spending Chinese New Year all alone by myself. Just thinking of it makes me want to cry."
"I'll spend New Year's at home. I can have a family reunion another time. I just want this pandemic to go away."
By Manya Koetse, with contributions by Miranda Barnes
Follow @WhatsOnWeibo
Spotted a mistake or want to add something? Please let us know in comments below or email us. First-time commenters, please be patient – we will have to manually approve your comment before it appears.
©2021 Whatsonweibo. All rights reserved. Do not reproduce our content without permission – you can contact us at info@whatsonweibo.com.
"Love the Motherland" – New Moral Guidelines for Chinese Performers Come Into Force
New "Self-Disciplinary Measures" for performers in China come into force on March 1st.
On February 5th of 2021, the China Association of Performing Arts (中国演出行业协会), which is run by China's Ministry of Culture and Tourism, officially released new guidelines for Chinese performers in order to promote the idea that Chinese performers should abide by rules of 'social morality,' stating they could face a permanent ban from their profession if they fail to comply.
The guidelines, that come into force on a trial basis starting from March 1st, are meant to "promote the healthy development of the performer industry" ("促进演出行业健康发展"). It is the first time for the Association, which was established in 1988, to introduce "clear regulations" in this way.
The regulations are presented as being "self-disciplinary measures" for actors, musicians, dancers, opera performers, acrobats, and any other people engaged in performing within China.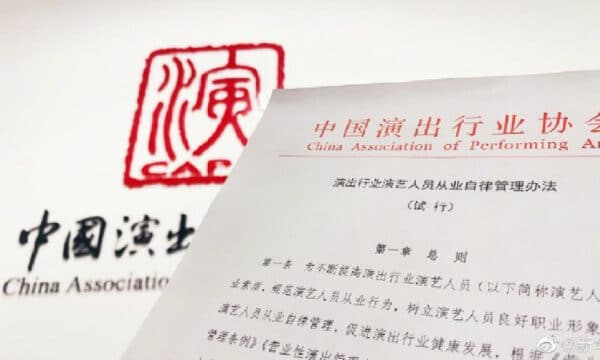 Part of the article presented by the China Association of Performing Arts includes the "practice norms", which stipulate that performers, among other things, should abide by national laws and regulations, should honor their contracts and comply with copyright laws. The article also lists other things. For example, performers should:
"..love the motherland, and support the Party's line and policies" ("热爱祖国,拥护党的路线方针政策")
"..persevere in the orientation that literature and art should serve the people and socialism" ("坚持文艺为人民服务、为社会主义服务的方向")
"..actively uphold a positive image" ("积极树立正面形象")
"..actively participate in social charity events, help the development of public welfare undertakings, consciously put social responsibility into practice" ("积极参与社会公益活动,助力公益事业发展,自觉践行社会责任")
Another part describes what performers are not allowed to do. Among other things – of which some seem obvious, such as 'do not violate the basic principles of the Constitution' – they include things like 'performers may not..':
"..jeopardize national unity, sovereignty and territorial integrity, endanger national security or damage national honor and interests" ("危害国家统一、主权和领土完整,危害国家安全,或者损害国家荣誉和利益")
"..encite hatred against ethnic groups, discriminate against ethnic groups, infringe the customs and habits of ethnic groups, insult ethnic groups or undermine national unity" ("煽动民族仇恨、民族歧视,侵害民族风俗习惯,伤害民族感情,破坏民族团结")
"..organize, participate in, or promote illegal activities regarding obscenities, pornography, gambling, drugs, violence, terrorism, or criminal elements etc" ("组织、参与、宣扬涉及淫秽、色情、赌博、毒品、暴力、恐怖或者黑恶势力等非法活动 ")
"..violate national religion policies, promote cults or superstition" ("违反国家宗教政策,宣扬邪教、迷信")
"..do lip-sync in professional performances, deceive the audience by fake playing instruments etc" ("在营业性演出中以假唱、假演奏等手段欺骗观众")
The punishment for going against these regulations is an industry-wide boycott of one year, three years, five years, or even a permanent ban depending on how serious the case is.
By stressing that art should serve the people, the China Association of Performing Arts reiterates President Xi Jinping's views on the arts, which he previously shared at a symposium of prominent artists and writers in Beijing in 2014, and where he also said that "the arts must serve the people and serve socialism."
As discussed by Chinese author Murong Xuecun in the New York Times in 2014 ('The Art of Xi Jinping' link), President Xi's comments reminded of the famous Yan'an talks by Mao Zedong in 1942 where he prescribed the new direction for art and literature in China, saying they should serve the 'people' – the workers, peasants, and soldiers – and not the petty bourgeoisie or intellectuals.
The Beijing comments by Xi signaled that the Chinese government fixed its sights on literature and the arts, with Murong Xuecun already predicting that it would be the start of new lists of forbidden films, broadcasts, and publications. Those lists may now also include banned performers.
"Idols should be a good example for others"
The China Association of Performing Arts also has a Weibo account (@中国演出行业协会) where they posted about the new regulations.
"I support this, idols should be a good example for others," one top commenter reacted to the regulations.
Others suggested that there should be a blacklist of performers engaged in illegal activities in order to "warn the industry."
But there are also voices, such as some on Q&A site Zhihu, expressing that the current regulations are too vague, as they include stipulations that are already part of the law. Some argue that there should be a clearer description of the consequences artists will face when they violate industry guidelines or when they engage in acts that are illegal.
"Surrogate pregnancies, insulting China, taking drugs, evading taxes, etc etc – this should be banned forever," another person said.
The 'surrogate pregnancy' comment refers to the controversy involving Zheng Shuang (郑爽). It already is the biggest celebrity controversy of the year in China. The 29-year-old famous Chinese actress dominated all trending topics in January of 2021 when news came out that the actress and her husband Zhang Heng (张恒) had separated and that she had left behind two children born out of surrogacy in the United States. Surrogacy is not legal in China.
Since the controversy, Zheng Shuang was dropped by the brands she represented, she was shut down by China's State Administration of Radio, Film and Television, and her honorary titles were revoked by Huading Awards.
Among all Weibo comments on the new regulations, there also many mocking them – especially the rule that stipulates performers should not lip-sync and deceive their audiences. "What about the Spring Festival Gala?", multiple commenters say, referring to the biggest live televised state media event, that is often criticized for lip-synced performances.
"Can Zheng Shuang still make a comeback?"
The recent regulations come at a time when Chinese celebrities have enormous influence in popular culture due to the blossoming of various social media platforms – some of Weibo's top celebrities have over 120 million fans.
At the same time, the past decades have seen a higher grade of commercialization of Chinese media, with entertainment and celebrities being a major driving force behind the success of hundreds of Chinese television stations. This has only further accelerated the influence of China's top performers.
Loved by millions of fans, the power of Chinese celebrity artists is often also used by authorities to promote Party ideology and policies. This is done in myriad ways. In 2017, a group of Chinese celebrities praised China's "New Era" in a song supporting Xi Jinping Thought; in 2019, influential pop stars sang about the importance of social credit.
In this thriving celebrity culture, Chinese authorities are tightening control on the culture & entertainment content that reaches millions of fans within the country. In 2019 there was a crackdown on the rising popularity of Chinese costume dramas. In 2017, China's State Administration of Press, Publication, Radio, Film and Television (SAPPRFT) issued a notice that Chinese television stations should refrain from broadcasting TV dramas "focused on entertaining" during primetime. These are just minor examples of ways in which authorities are shaping a popular culture environment that is not just about the entertainment alone – it should also serve the Party's goals.
As the "self-discipline management measures" have now gone into effect, some discussions on social media are focused on whether or not these measures should be applied retroactively, and if Chinese celebrities could still be affected now for past behaviors.
In a previous interview with Xinhua News, The Secretary-General of the China Association of Performing Arts Pan Yan (潘燕) stated that previous actions or situations will not be taken into account when it comes to the current guidelines.
"Does this mean Zheng Shuang can still make a comeback?", some netizens wondered.
Pan Yan also said that the Association has an 'ethics committee' which will be involved in the process of assessing whether or not artists have violated the practice norms.

By Manya Koetse
Spotted a mistake or want to add something? Please let us know in comments below or email us. First-time commenters, please be patient – we will have to manually approve your comment before it appears.
©2021 Whatsonweibo. All rights reserved. Do not reproduce our content without permission – you can contact us at info@whatsonweibo.com.
Chinese Doctor Knocks Herself Out in Controversial Self-Experiment
Dr. Chen wanted to warn about the dangers of sevoflurane and other drugs.
A female doctor has become a topic of discussion on Chinese social media for her self-experimentation with anesthesia.
Dr. Chen (陈大夫), a Nanjing doctor who works in the Obstetrics and Gynecology department, conducted the experiment in response to an ongoing discussion on whether or not a handkerchief dipped in inhalation anesthetics could cause immediate unconsciousness ("一捂就晕").
The discussion was triggered by news of the death of a 23-year-old woman from Foshan, Guangdong Province, on February 8. The recent college graduate was found in a hotel room and it was later ruled that the cause of death was acute respiratory failure due to sevoflurane toxicity. The victim's company supervisor, a 39-year-old man named Peng, is now suspected of fatally sedating and raping the young woman.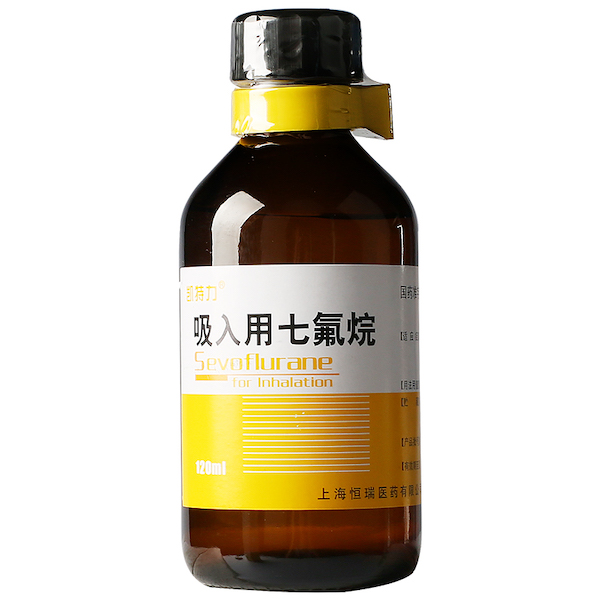 The case led to speculation among netizens whether or not sevoflurane could have knocked out the woman in seconds. There have been ongoing debates on the effects of general anesthetics used to sedate unsuspected victims, with some specialists arguing that it is not so easy to make someone slip into unconsciousness within a matter of seconds – saying it would take much longer than and only if an unusually high dosage is used.
Dr. Chen posted on February 10 that she was certain that it is possible for certain inhalation anesthetics to immediately make someone pass out, but her claim was refuted by others. The popular Weibo blogger Jiangning Popo (@江宁婆婆), a police officer, was one of the persons involved in the discussion claiming Chen was wrong.
Dr. Chen is active on Weibo under the handle @妇产科的陈大夫, and with over two million followers on her account, she is somewhat of a 'celebrity' doctor.
Instead of spending time arguing back and forth on the internet, Dr. Chen decided to put the issue to the test herself with an unopened bottle of sevoflurane that she had previously purchased for the planned sterilization of her dog. The sevoflurane had already passed its expiry date.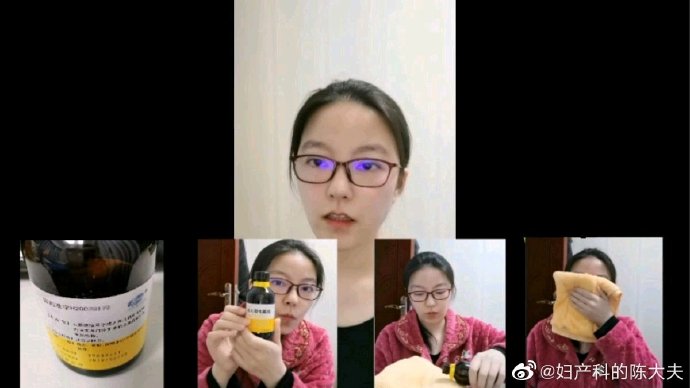 On February 16, Dr. Chen then asked someone else to film her doing the self-experiment and she posted the video on Weibo, in which she inhaled sevoflurane on a cloth. The doctor soon passed out in the video, which has since been deleted.
The experiment in the video lasts 64 seconds, and shows Chen:
– 00:01-00:06 Opening the bottle of sevoflurane
– 00:07-00:12 Preparing a cloth
– 00:13-00:23 Putting the sevoflurane on the cloth
– 00:23-00:26 Closing the cap of the bottle
– 00:27-00:28 Putting the cloth on her mouth and nose
– 00:29-01:33 = the time frame of losing consciousness (with first symptoms starting at 0:44) to going limp and falling on the floor (1:20) and being completely unconscious (1:21-1:33).
Dr. Chen's experiment immediately sparked controversy after she posted the video on social media.
Although sevoflurane is a prescription drug and a controlled substance, it is also sold online as a type of drug. According to The Paper, the number of rape cases in China facilitated by drugs have risen over the past three years, with many 'date rape drugs' being sold and bought over the internet.
With sevoflurane being a controlled substance, Dr. Chen's video triggered discussions on whether or not she was actually involving in a criminal act by doing the self-experiment. She also received criticism from within the medical community that she used this medication outside of the hospital environment.
Dr. Chen soon deleted the video herself and then called the police to personally explain and apologize for the incident, with the news soon going viral (#女医生拿自己做实验后报警并致歉#, 270 million views).
But despite the controversy, the doctor still defends her actions to some extend. Although Chen stated on February 17 that her self-experiment was "not right," dangerous, and should never be imitated by anyone, she later also explained on her Weibo page that she thinks sevoflurane as a prescription drug is too easy to get your hands on and that the existing laws to prevent people from buying it are too weak.
The doctor has succeeded in raising public awareness on the dangers of these kinds of drugs. She also reminds both women and men never to leave their drink unattended, as the dangers of someone slipping something in your drink are real and the consequences can be grave.
As the incident has gone trending on Chinese social media, many commenters praise Dr. Chen for her experiment, while others also praise her for being transparent and admitting her mistakes.

By Manya Koetse
with contributions by Miranda Barnes
Follow @whatsonweibo
Spotted a mistake or want to add something? Please let us know in comments below or email us. First-time commenters, please be patient – we will have to manually approve your comment before it appears.
©2021 Whatsonweibo. All rights reserved. Do not reproduce our content without permission – you can contact us at info@whatsonweibo.com.