No Chunyun but Staycation: Chinese New Year Won't Be the Same This Year
From local governments to brand commercials, "staying put for the holidays" (就地过年) is the trend of this Spring Festival.
As China is seeing the worst wave of new infections since March of last year, staying put for Chinese New Year is the trend for this holiday season.
China's chūnyùn (春运), the travel season around Chinese New Year, started on January 28. It usually is a chaotic and exciting time as people travel home to be reunited with their families.
But this year, Chinese New Year and its travel season, which starts 15 days prior to the Spring Festival and lasts 40 days, will be different from other years due to the Covid-19 pandemic and local outbreaks across China, with the country seeing the worst wave of new infections since March of last year: 2,016 cases were reported from Jan. 1-30.
Nevertheless, officials still expect about 1.7 billion trips to be made during this time period. Although this number is higher than last year, when Spring Festival commenced just shortly after the initial Wuhan outbreak, the number of total trips is lower than during other years. In 2016, for example, around 2.9 billion trips were made and in 2019 that number rose to around 3 billion.
In order to minimize domestic migration during Chinese New Year, many places around China encourage people to stay put instead of going back home to celebrate, with some Chinese media calling "staying home" the trend of the year.
The keywords this year are "stay put for the holidays" (jiùdì guònián 就地过年) and "New Year's policies" (guònián zhèngcè 过年政策). State media outlets like Xinhua also initiate hashtags on social media such as "This Year Stay Put For New Year's" (#今年就地过年#).
Stay Home Subsidies
One way to encourage people to refrain from traveling during Chinese New Year is by offering people monetary compensation when they stay home. These measures are called "subsidy policies" (bǔtiē zhèngcè 补贴政策).
Earlier in January of this year, the city of Suzhou announced that it would offer compensation of 500 yuan ($77) to people who stay home during the Spring Festival. The city of Beijing promised domestic helpers in Beijing to give them a bonus if they would continue working from February 4 to February 26.
The city of Yiwu, Zhejiang, also gives out 500 yuan to every resident who does not travel from February 1st to February 26th to cover their electricity bill. The city also gives out 20GB of mobile data for all phone users to use for free, and promises free public transport to Yiwu residents during the Spring Festival period. The initiative was promoted on social media using the hashtag "Yiwu Issues 500 Yuan Consumption Vouchers to Encourage Staying Put for the New Year' (#义乌发500元消费券鼓励就地过年#).
The cities of Hangzhou, Hefei, and Foshan also give out bonuses from 1000 up to 2000 yuan ($155-310) to various (migrant) working groups to stay put.
There are many more initiatives though, such as Beijing giving out 20GB of free mobile data and companies in cities such as Zhejiang, Ningbo and Quanzhou issuing "red packets" for workers choosing not to go home.
There are various ways for residents to check which benefits they could get if they stay put this year. The Alipay app, for example, allows people to check the local policies in their area ("各地过年福利政策查询"服务").
Quarantine & Testing
For those people who would still like to travel despite the various incentives to stay home, there are some extra hurdles to take.
China's National Health Commission has stated that people returning to rural areas will need to produce a negative Covid-19 test issued up to seven days before their departure during the Spring Festival, BBC reports.
In fact, virtually everyone taking part in the chunyun travel season will need to have a negative Covid-19 test with them. All travelers entering or returning to Beijing will also need a negative Covid-19 test taken within seven days.
Travelers will also have to be under a 14-day "home observation" period. This means they need to monitor their health and temperature daily. They are still allowed to leave their home, but they cannot participate in any group activities.
Chinese state media CCTV also reminds travelers to make sure they wear their mask the right way and to maintain hand hygiene.
Promoting Staycation
The 'staycation' New Year is also promoted in various other ways. Commercial brands are sending out the message of celebrating the Spring Festival at home through their ads and commercials.
The new ad video by antibacterial soap brand Safeguard (舒肤佳), for example, shows a family preparing for New Year's festivities.
Although it first seems as if the grandparents, children and grandchildren are all celebrating together in one home, it then turns out that they are all 'united' at the dinner table via video connection.
The brand's message is that this year, the most valuable gift families can give each other is the gift of safeguarding each other's health.
There is also public service advertising initiated by local governments to promote staying at home during Chinese New Year. The image below was published through social media by Linyi city, Shandong.
Meanwhile, in a video promoted by Chinese state media People's Daily, Zhang Wenhong (张文宏), leader of the Shanghai Covid-19 Medical Treatment Expert Group, said that "spending New Year's in situ is a sacrifice," also adding: "I have great admiration for the comrades who spent New Year's Eve locally", calling it "a contribution for all Chinese people."
A hashtag page added to Zhang's words received over 490 million views at time of writing (#张文宏称就地过年是作出了牺牲#).
Although many people express their understanding of the situation, not going home to spend New Year's with their families is a big disappointment for many Weibo commenters – especially when it's the second year to skip the Spring Festival family reunion.
"We've been setting aside too much over Covid-19," one commenter writes, but others say: "Special circumstances require special treatment. It's ok, we can stay put for Spring Festival."
But there are also those who are just sad about missing out on the celebrations. "I understand the reasoning. But I'll be spending Chinese New Year all alone by myself. Just thinking of it makes me want to cry."
"I'll spend New Year's at home. I can have a family reunion another time. I just want this pandemic to go away."
By Manya Koetse, with contributions by Miranda Barnes
Follow @WhatsOnWeibo
Spotted a mistake or want to add something? Please let us know in comments below or email us. First-time commenters, please be patient – we will have to manually approve your comment before it appears.
©2021 Whatsonweibo. All rights reserved. Do not reproduce our content without permission – you can contact us at info@whatsonweibo.com.
Chinese Netizens Are Seeking the Truth Behind the Mysterious Death of a Chengdu High School Student
The "Chengdu 49 Middle School Incident" has been dominating discussions on Chinese social media.
First published
The death of Lin, a student from Chengdu, has become a national issue this week, leading to a wave of online rumors and theories on what might have happened to him. Some even claim the protests that erupted in response to the student's death were set up by "foreign forces."
The mysterious death of a high school student in Chengdu has been trending on Chinese social media and in mainstream media over the past few days, with bloggers and netizens looking for the truth behind the incident.
The 16-year-old Lin Weiqi (林唯麒), a student of Chengdu No. 49 Middle School, fell to his death around 18:40 on Sunday, May 9.
Lin's parents allegedly were not notified about their son's death until over two hours later, at 21:00, and were not allowed to see enter the school, see their son, nor talk to teachers. And where was the surveillance video showing how this incident took place?
The case started getting major attention on social media after Lin's mother (later switching to username @四十九中林同学妈妈) posted about her son's death and the dubious circumstances surrounding it on Weibo on Monday morning. In the post, the mother suggested it took over an hour for an ambulance to reach her son's school.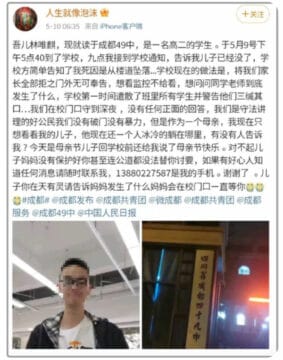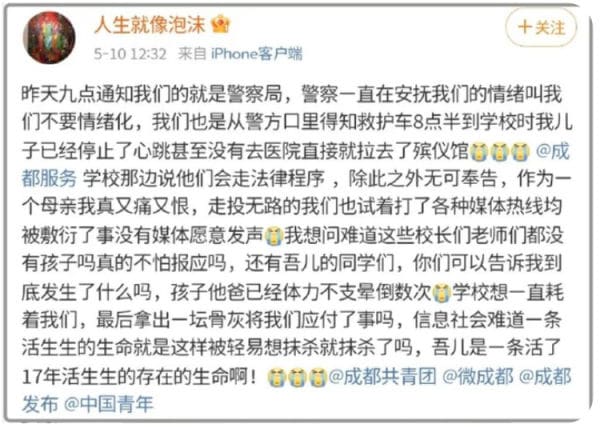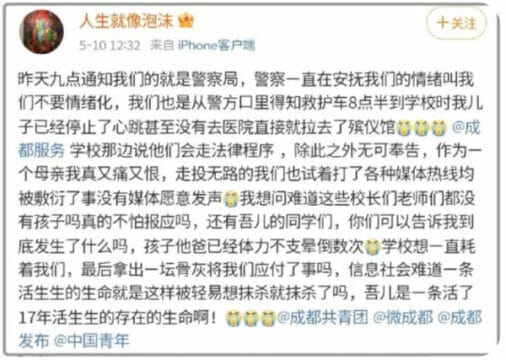 The case set off a stream of wild rumors. There was online speculation about corporal punishment and abuse taking place in the school, with one theory suggesting Lin had been pushed to his death by a chemistry teacher. Netizens speculated that the school was trying to cover up the incident.
The school responded to the issue on May 10, confirming that a student from their school fell "from height" in their school's 'Zhixing' building. According to the school, they immediately called the police after the incident, and have now set up a special team to assist in any ongoing investigations.
The official Weibo account of Chenghua district of the city of Chengdu (@平安成华官方微博) issued a statement on the evening of May 11, ruling out any criminal elements to the death of Lin.
As reported by South China Morning Post, a joint statement by the district propaganda department, the police and the education bureau then stated that investigators had come to the initial conclusion that "the student took his own life due to personal problems."
On the night of May 11, students gathered at the school and protested for the truth to come out. Videos shared on social media show dozens of students carrying flowers and chanting "Truth! Truth!"
Other videos show chaotic scenes of the rare demonstration, where protesters and police guards clashed.
成都49中的學生們,聚集在學校,高喊著"真相真相"! pic.twitter.com/97k1DZuixy

— 新聞看點 (@MuYangLee_XWKD) May 12, 2021
On May 12, the popular Wechat blogging account 'Yi Jie' (熠杰) published a lengthy post about the incident and its aftermath. The article claims that Lin committed suicide by jumping after an argument with his girlfriend. The reason Lin's parents were not allowed to enter the school after their son's death, Yi Jie writes, is because the forensic investigation was still ongoing.
Any rumors of teachers pushing students down the stairs or abusing students are false, the article says. Although the school could surely improve its crisis communication, the fact that it did not handle the communication about the incident in a professional way does mean there is a 'cover up' going on.
The article, that was soon spread around on Weibo, also questioned the authenticity of the mother's account, writing that three different cell phones were used to log in to Weibo and publish various posts, suggesting that the mother either has three different mobile phones or that there are different people in charge of her account.
Although he does not believe there is anything concealed behind the death of Lin, the blogger Yi Jie does have a theory about the ensuing protests, claiming those who demonstrated belonged to an "organized group" linked to "hostile forces." Yi Jie even connects the protests to the CIA, claiming the protesters were paid to be there.
By Wednesday, many netizens were unsure of what to believe anymore. The hashtag "Chengdu 48 Middle [School]" (#成都49中#) had 1.6 billion views on Weibo at the time of writing.
"No wonder many people do not believe [what happened], I don't believe it either. It's always that the news is blocked once it comes out, it's always that the surveillance camera records were lost, it's been like that for many years. It's not a method to protect social stability anymore," one Weibo user writes.
Others blame Lin's mother for causing all rumors: "After reading so much, I get the feeling we were cheated by that parent. This is not the first time that a victim's family has gone crazy with public opinion, and it's not the first time that I've fallen for it."
There are also many who sympathize with Lin's parents: "The loss of a child, it's something that needs so many years to recover from. There's so much pain. I just hope they'll find answers."
Update May 13
On May 13, Chinese media published a reconstruction of the May 9 incident, which attracted much attention online, with one page about the news (#监控还原成都49中学生坠亡前轨迹#) getting 1,3 billion views.
People's Daily's post including the video received over 100,000 comments and 2,7 million likes.
The reconstruction is based on surveillance camera videos and police investigation, starting at 18:16 on Sunday night when Lin leaves a classroom on the 4th floor of the school building, going down the stairs to the 3rd floor on 18:17.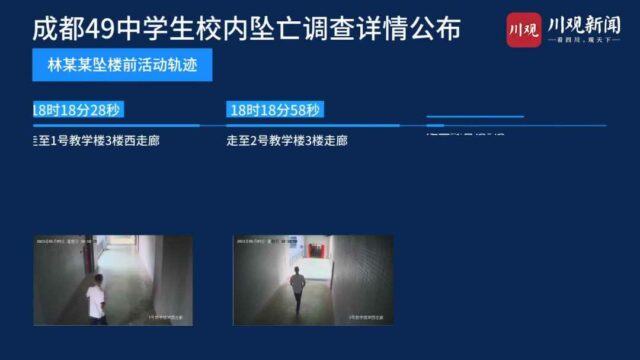 Surveillance cameras captured Lin leaving the 4th floor via the stairs and recorded how he was heading down the western hallway on the 3rd floor, walking on through various parts of the school, reaching the basketball court at 18:23, and then walking on to the building's water pump room, where he stayed for over ten minutes.
A security camera recorded how Lin stayed in the corner of the room, holding a knife in his right hand and cutting himself in his left wrist.
After Lin leaves the room, he keeps on walking through the school's hallways, reaching the fifth floor by 18:39. The next ten minutes have not been captured by security cameras, since Lin was located in blind spot areas outside of the vision of the installed security cameras. One camera from another building does capture a person's silhouette falling from the building at 18:49.
"There are blind spots in the surveillance footage. I don't think it's unreasonable for the parents to initially doubt [the incident]. I think it's the duty of the public security authorities to explain the course of the events of the incident and the crucial time points to the public," one popular comment on Weibo said.
Others think the record has been set straight by this reconstruction, and are hoping Lin can now rest in peace.
The idea that the death of Lin was used by 'evil forces' for their own agenda, which was previously also raised by the Yi Jie blogger, is still circulating on Chinese social media – a theory that is supported by many.
The term "color revolution" is recurring in these discussions, with some netizens suggesting that foreign forces, such as the CIA, are trying to get local people to cause unrest through riots or demonstrations to undermine the stability of the government. There are people who believe those demonstrating in front of the Chengdu school were paid to do so.
"Certain hostile countries are watching all the time. Be alert," one person wrote on Weibo.
By Manya Koetse, with contributions by Miranda Barnes

For information and support on mental health and suicide, international helplines can be found at www.befrienders.org.

Spotted a mistake or want to add something? Please let us know in comments below or email us. First-time commenters, please be patient – we will have to manually approve your comment before it appears.
©2021 Whatsonweibo. All rights reserved. Do not reproduce our content without permission – you can contact us at info@whatsonweibo.com.
Train Fight Between Chinese and Foreign Passenger over Mask-Wearing Goes Viral on Douyin
A video that shows a foreign man yelling at a Chinese woman on the high-speed train has gone viral on Chinese social media.
"She is not the owner of the train! Shut up!" A short video of a quarrel on a train between a foreign man and a Chinese woman has gone viral on Chinese social media.
In the video, a Chinese woman can be heard yelling to a foreign man, saying: "Why can he go without a face mask?! Does he have special privilege? What is he doing in China if he doesn't follow the rules?" The man then says: "She needs to shut up, she is harassing me!" A train attendant standing in between the passenger seats tries to calm down both passengers.
The incident reportedly took place on the G7530 high-speed train from Ninghai to Shanghai on May 5, where a dispute started over the man allegedly refusing to wear a face mask. The man does wear a face mask in the video.
The video went viral on Douyin, the Chinese TikTok, and also made its rounds on Kuaishou and Weibo (#阿姨怒怼不戴口罩外籍乘客#, #外籍男子未戴口罩还狂怼邻座阿姨#, #官方回应老外乘高铁拒戴口罩#).
The video sparked some anti-foreign sentiments on Weibo, where some commenters called the man a "foreign devil" or "foreign trash," with others condemning his aggressive behavior and telling him to get out of China.
Shanghai Railways addressed the incident on its social media channel, confirming that the train conductor on the G7530 train indeed came across two passengers arguing because the foreign man was not wearing his mask correctly. In the post, the railways reminded all passengers to properly wear their masks while on the train.
Among the hundreds of people commenting on the statement, there are many who feel the train staff have been too lenient with the passenger.
This is not the first incident where foreigners make it to the (local) news in China for not wearing a mask. In April of 2020, a foreign man was detained in Beijing after he attempted to walk into a neighborhood community without a mask and then became aggressive with local security guards who wanted him to wear a face mask.
In December of 2020, another foreign man was filmed and triggered online anger as he walked around Wenzhou station not wearing a face mask, without anyone reminding him to wear one.
Over the past two days, a video showing an argument between a Chinese woman and a foreigner who allegedly did not wear a face mask on the high-speed train to Shanghai went viral on social media. (link: https://t.co/yPDutuzNCX ) pic.twitter.com/LvAySlSgPR

— Manya Koetse (@manyapan) May 8, 2021
When it comes to train fights, the most famous ones are that of the 'high speed train tyrant' and the 'train tyrant women.' Both passengers went viral in 2018 for refusing to give up their seats although they were assigned to other passengers. At the time, both passengers were fined for their unruly behavior.
By Manya Koetse
Spotted a mistake or want to add something? Please let us know in comments below or email us. First-time commenters, please be patient – we will have to manually approve your comment before it appears.
©2021 Whatsonweibo. All rights reserved. Do not reproduce our content without permission – you can contact us at info@whatsonweibo.com.