No 'Novoland': This Really Is a Tough Year for Chinese Costume Dramas
After the sudden cancellation of the much-anticipated 'Novoland' premiere, Chinese fantasy costume dramas are facing grim prospects.
First published
With 1,4 billion views on its Weibo page, the Chinese fantasy drama Novoland: Eagle Flag was one of the most-anticipated series of the year. This week, the show was suddenly canceled twenty minutes ahead of its premiere. The incident is indicative of recent tensions within China's TV drama industry, where some costume dramas have apparently failed to win the support of official regulators.
Just a week ago, What's on Weibo reported about the Chinese fantasy drama Novoland: Eagle Flag (九州缥缈录, Jiǔzhōu piāomiǎo lù) being one of the most anticipated TV dramas in China this summer. On June 3rd at 21:40 CST, however, just twenty minutes before the drama's much-awaited premiere on Tencent, Youku, and Zhejiang TV, the show was suddenly canceled.
Novoland: Eagle Flag, which has been called China's answer to Game of Thrones, is a costume drama that tells a story of war, conspiracy, love, and corruption in a fantasy universe called Novoland. It is based on a popular web fantasy novel series by Jiang Nan (江南), and produced by Linmon Pictures. Production costs reportedly were as high as RMB 500 million ($72 million).
Why was the show's premiere suddenly canceled? The only reason given for it on June 3rd was that there was a 'medium problem' ("介质原因").
China's English-language state tabloid Global Times reported on June 4th that their official sources also did not know the reason for the withdrawal, although they did admit to having received an order from "higher level," which would come from China's National Radio and Television Administration (NRTA,国家广播电视总局).
In March of 2018, China's State Administration of Press, Publication, Radio, Film, and Television (SAPPRFT), the former top regulatory body overseeing television productions, was officially abolished and replaced by three different state administrations in the ideological sector.
The NRTA is responsible for media control on radio and TV, and falls directly under the State Council. It is led by Nie Chenxi (聂辰席), who is also the deputy director of the Publicity Department of the Communist Party of China. This appears indicative that the Party now has more direct influence over this industry, as also recently suggested by Global Policy Watch, SupChina, and Variety. Under the NRTA, the regulation and censorship of Chinese TV dramas are as strict, and arguably stricter, than under the SAPPRFT.
Costume dramas: not enough "spiritual guidance"?
The strict control of the NRTA over China's TV industry is especially visible this year. As reported by CCTV News, China's regulatory body started to severely crack down on the rising popularity of Chinese costume dramas (古装剧) in March of 2019.
Regulatory rules were supposedly issued for costume dramas with 'themes' (题材) such as martial arts, fantasy, history, mythology, or palace, stating that they should not air or were to be taken down from online video homepages. The strictest crackdown would allegedly last until July.
From early on in 2019, it was already rumored that Chinese costume dramas would face a tough year.
On January 28 of 2019, Beijing Daily, the official newspaper of the CPC Beijing Municipal Committee, published a critical post on its social media account listing negative influences of court-themed TV dramas (宫廷剧).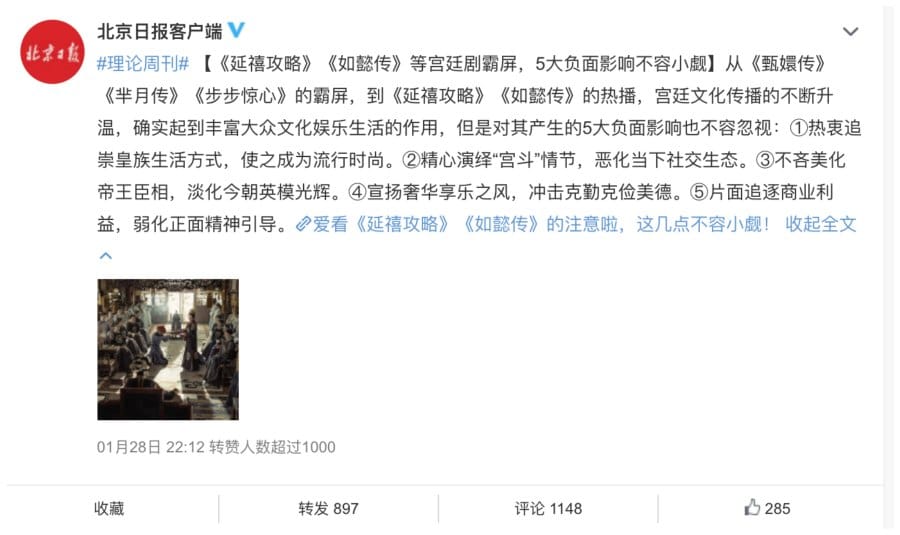 The critique included arguments such as that the imperial lifestyle was being hyped in these dramas, that the social situation of the dynastic era was being negatively dramatized, and that these productions are just aimed at commercial interests while weakening China's "positive spiritual guidance."
In February of this year, two weeks after the Beijing News post, Eduardo Baptista at CNN.com reported on the abrupt cancelation of the planned rebroadcasting of two costume dramas that were also targeted by Beijing News, namely the super TV drama hit Story of Yanxi Palace (延禧攻略) and period drama Ruyi's Royal Love in the Palace (如懿传).
Other costume dramas such as iQiyi's The Legend of White Snake (新白娘子传奇) or The Longest Day in Chang'an (长安十二时辰) were also withdrawn (or postponed) in March. Investiture of the Gods (封神) was replaced by another drama on Hunan TV this month.
"Historical dramas in many cases twisted the narrative of the country's past and the image of historical figures," TV critic Shi Wenxue was quoted by Global Times recently: "[they are] having an adverse effect on teenagers who may regard such fictional stories as real history."
A state and marketplace collusion
With China being the world's largest consumer of TV dramas in the world, the drama industry is a powerful channel for spreading Party ideology.
The political and cultural agenda is especially apparent in those TV dramas that are official propaganda productions. But since the TV drama industry has become increasingly commercialized and TV dramas became more market-oriented in the 1990s, their programming is no longer a mirror reflection of 'Party narratives.'
The number of profit-driven productions has grown over the past 25 years and has skyrocketed with the arrival of video streaming sites such as iQiyi or Tencent Video.
Although non-official productions are ultimately still regulated and overseen by the relevant state departments, they also have to compete for viewer ratings in a highly competitive (online) media environment.
There are many visible trends in China's TV drama industry. There have been peaks of popularity in those TV dramas depicting rural struggles or urban family life, for example, but historical costume dramas (especially dynasty dramas) have consistently been popular and rising since the mid-90s.
One reason for the growing popularity of these historical or fantasy costume dramas is that official censors initially had different standards for them than for more contemporary storylines, resulting in more creative freedom for scriptwriters (see Zhu et al 2008, 7).
There also have been many popular Chinese dynasty dramas that were commercial successes while also serving as propaganda tools.
As pointed out by Shenshen Cai in her work Television Drama in Contemporary China (2017), for example, TV drama serials such as Yongzheng Dynasty (雍正王朝) or The Great Han Emperor Wu (汉武大帝) promoted the ideal of strong central government, harmonious relations between the fatherly ruler and his devoted people, or the exemplary ruler cracking down on corruption – these narratives contributed to the leadership agenda in "stabilizing and re-energizing the dominant moral order" (Cai 3-4; also see Schneider 2012).
But more recent historical dramas have taken a fantasy route that, apparently, resonates with viewers but does not successfully appropriate the official propaganda apparatus.
The sudden withdrawal of new costume dramas is actually not about costume dramas at all. It just shows that although China's TV drama industry is no longer the propaganda machine it once used to be, it still needs to adhere to those narratives that are in line with Party ideology.
Even if their scripts and productions were apparently given the green light in earlier stages, the official supervision bodies still have the power to intervene until the last moment before airing – even if that, apparently, means that moment is twenty minutes ahead of the grand premiere.
"Things don't look too optimistic"
For Chinese drama fans, the recent cancellations have been a real slap in the face. The Novoland: Eagle Flag TV serial was super popular before it even aired: its hashtag page has a staggering 1.4 billion views on Weibo.
"I cried," one 'Novoland' fan comments: "Why such a sudden and abrupt withdrawal?"
"When can we finally see this show?" others wonder.
[Eng Sub] #Novoland: #EagleFlag director's edition – Dir. #ZhangXiaobo talks about his vision for the drama, his understanding of the three main characters (ft. #LiuHaoran, #SongZuer, and #ChenRuoxuan), the harsh conditions during filming, and more

Full – https://t.co/Jqa2z7LMEm pic.twitter.com/2RvsrMcsNW

— NOVOLAND: EAGLE FLAG (@eagleflag_intl) 3 juni 2019
For now, the show's premiere has officially been "postponed" and is "waiting for specific broadcasting time." Whether or not the 55-episode series will be allowed to broadcast after June is still to be seen.
On Twitter, the fan account of Liu Haoran (刘昊然), one of the show's main stars, writes: "You're going to see rumors of tentative dates flying around this week, but note that it's more of a deadline to get things sorted, not an air date. As of right now, things don't look too optimistic. We'll just have to be patient!
More: For an overview of all of our articles on Chinese TV Dramas, please check this list.
By Manya Koetse
Follow @whatsonweibo
References
Cai, Shenshen. 2017. Television Drama in Contemporary China: Political, social and cultural phenomena. London and New York: Routledge Taylor & Francis Group.
Schneider, Florian. 2012. Visual Political Communication in Popular Chinese Television Series. Leiden and Boston: Koninklijke Brill NV.
Zhu, Ying, Michael Keane, Ruoyun Bai (eds). 2008. TV Drama in China. Hong Kong University Press.
Spotted a mistake or want to add something? Please let us know in comments below or email us. Please note that your comment below will need to be manually approved if you're a first-time poster here.
©2019 Whatsonweibo. All rights reserved. Do not reproduce our content without permission – you can contact us at info@whatsonweibo.com
When a Scene from a 2010 Chinese TV Drama Goes Viral: The 'Cao Cao Flips Rice Bowl' Meme
Cao Cao flipping the rice bowl is another Cao Cao meme that's widely used to convey internal struggles about facing reality.
These days, a viral meme originating from the Chinese TV series Three Kingdoms (三国) has gained significant traction on Chinese social media.
In a memorable scene from the 2010 series, Cao Cao, a prominent warlord in Chinese history played by actor Chen Jianbin (陈建斌), angrily flips his rice bowl upon receiving news of a surprise attack, only to gather the spilled rice back into the bowl later.
This scene featuring an enraged Cao Cao has resurfaced and struck a chord with individuals reluctantly facing reality.
This short scene from the 2010 Chinese historical drama "Three Kingdoms" – in which Cao Cao angrily flips over his rice bowl on the table and then shortly after puts it all back in the bowl – has gained significant traction on Chinese social media recently. pic.twitter.com/DrM3Xgi35F

— What's on Weibo (@WhatsOnWeibo) June 3, 2023
Turning into a popular meme, Cao Cao flipping the rice bowl has become widely employed to convey sentiments of self-inflicted humiliation or the hesitation to undertake certain actions.
The Context of the Scene
The specific scene comes from episode 12 of the Three Kingdoms. Warlord Cao Cao, who is governor of Yan Province, is enjoying his meal when his advisor comes in to inform him about a surprise attack by Chinese military general Lü Bu (吕布), capturing almost the entire province.
Upon receiving this alarming report, Cao Cao's anger flared, and he promptly flipped his rice bowl upside down on the table, an act now commonly referred to as "Cao Cao flips the rice bowl" (曹操盖饭).
Cao Cao's anger was intertwined with disbelief at Lü Bu's audacity to execute such a daring attack. Cao Cao's advisor swiftly clarified that the mastermind behind the attack was Lü Bu's strategist, Chen Gong (陈宫), who was also renowned as a brilliant strategist during the Three Kingdoms era.
As he grasped the true situation, Cao Cao gradually regained his composure and meticulously gathered the spilled rice back into his bowl – an act now known as "Cao Cao retrieving his bowl of rice" (曹操撤回了一碗饭),- before resuming his meal.
The catchphrase that is used to describe Cao Cao retrieving his rice utilizes the word "chèhuí" (撤回), which means "to recall" or "to retract." It can be understood as "Cao Cao recalled his bowl of rice," drawing a parallel to the recall function in WeChat that allows users to retract or cancel a message after it has been sent.
How To Use the Meme
The contrast between the forceful act of flipping the rice bowl and the subsequent unwillingness and silence displayed while putting the scattered rice back into the bowl is a key factor contributing to the meme's viral nature on the internet.
Netizens have creatively applied Cao Cao's meme in various situations to express their own internal struggles or a sense of self-inflicted humiliation they experience (自己打自己脸).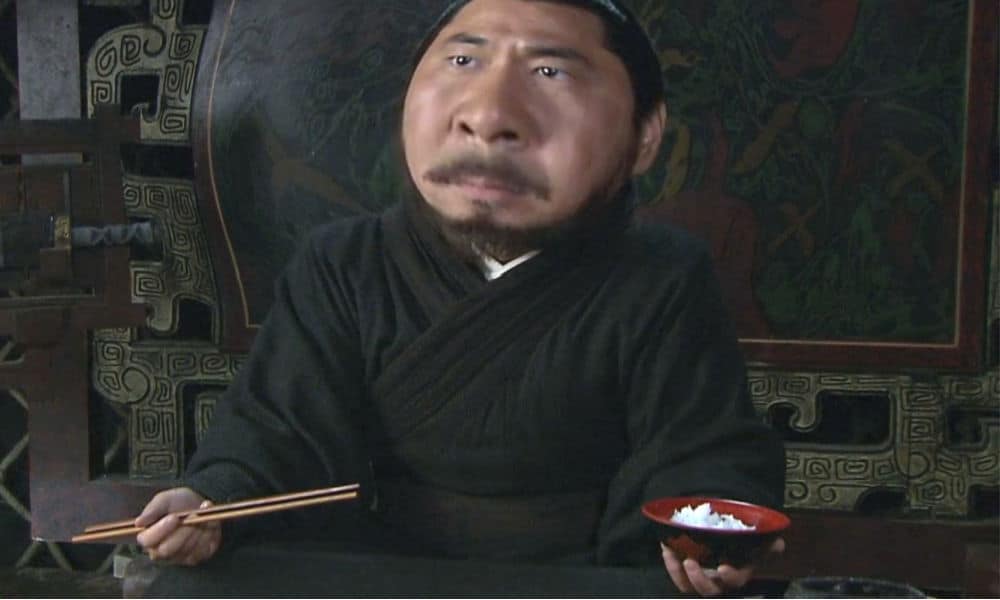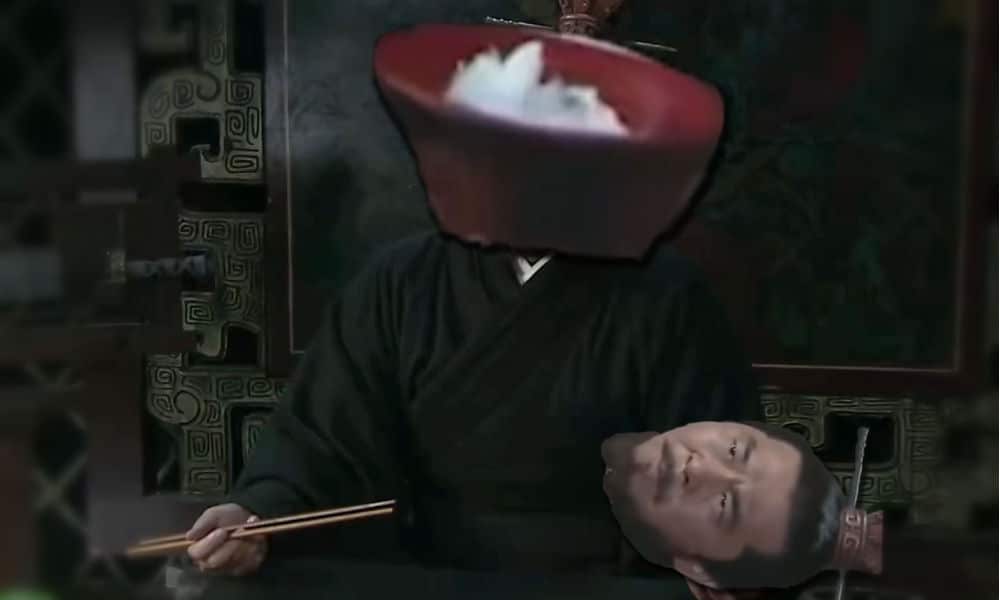 For instance, the meme effectively captures the feelings of both white-collar workers and students who utilize the "Cao Cao flips the rice bowl" meme on Fridays. On this day, they express their frustration with the demanding work week and their eagerness to leave their tasks behind.
On Friday it's f*ck this job… pic.twitter.com/S8cHTQOzgX

— What's on Weibo (@WhatsOnWeibo) June 3, 2023
However, the arrival of Monday brings a sense of reality as they realize the necessity of returning to the office or school. The "Cao Cao retrieves his bowl of rice" meme is then employed to represent the unavoidable resumption of their daily routines.
…on Monday, it's back to work… pic.twitter.com/ST1v8eqjyq

— What's on Weibo (@WhatsOnWeibo) June 3, 2023
In this regard, the meme is somewhat comparable to the English "F*ck This Job, *Goes to Work*" meme (link).
"Not Possible, Absolutely Not Possible"
It is not the first time for Three Kingdom's Cao Cao to achieve viral status through memes.
Prior to the emergence of the 'Cao Cao flips/retrieves the rice' meme, Cao Cao was already well-known for another meme phrase: "Not possible, absolutely not possible" ("不可能,绝对不可能").
This meme originated from a scene where Cao Cao received news of Liu Bei's rebellion, immediately after confidently asserting that Liu Bei, another major warlord, would never betray him.
The meme captures the essence of self-deception and the unwillingness to accept the truth. Similar to the current popular meme, this meme is often used to depict situations where someone unintentionally exposes their own flaws or contradicts their previous statements, symbolizing a self-inflicted "slap in the face."
Read more of our articles about memes in China here.
By Zilan Qian
Get the story behind the hashtag. Subscribe to What's on Weibo here to receive our newsletter and get access to our latest articles:
Spotted a mistake or want to add something? Please let us know in comments below or email us. First-time commenters, please be patient – we will have to manually approve your comment before it appears.
©2023 Whatsonweibo. All rights reserved. Do not reproduce our content without permission – you can contact us at info@whatsonweibo.com.
Let's Plant: China's Variety Show "Become a Farmer" Is Harvesting Success Online
As iQIYI's 'Become a Farmer' gains momentum, it highlights China's growing trend of embracing rural themes in mainstream entertainment.
With its focus on hard farm work and meeting actual targets, Become a Farmer is a fresh breeze of air for China's variety show business, especially among young Chinese viewers who appreciate the show's authenticity and the calmness of the rural scenes that pose a stark contrast with stressful urban life.
The Chinese variety show Become A Farmer has achieved tremendous popularity in China recently through the iQIYI platform, which is often hailed as the Chinese equivalent of Netflix. Become A Farmer recently gained over 4.6 billion (!) views on Weibo through the hashtag #种地吧# (Zhǒng dì ba), which translates to "Let's Plant" or "Let's Farm" in English and also happens to be the show's name in Chinese.
Produced by iQIYI and Blue Sky Media Group (BSMG), Become A Farmer (Young Men edition) is a documentary-style interactive reality show that revolves around the theme of farming, with actual farm work as its central focus.
The show handpicked ten young men out of 300 candidates to assemble a "farming team." With unwavering dedication, they toiled for over 190 days, diligently cultivating 142.8 mu (approximately 95,200 square meters) of land. They actively engaged in every aspect of farm work, starting from planting a single seed and guiding the audience through the complete journey of rice germination, growth, flowering, and ultimately reaping the harvest.
Chinese netizens have drawn comparisons between the show and the British television documentary series Clarkson's Farm. Playfully, they remarked that if Clarkson's Farm were to be introduced in the Chinese market, it could aptly be renamed "Become A Farmer (Old Men Edition)."
Become A Farmer released its first episode on February 4 of this year, initially receiving limited attention. However, as subsequent episodes were released, the show started garnering increased interest, with the audience discovering the genuine dedication of the ten young men towards their farming endeavors – and that it was not just for show.
Its rating on Douban, China's IMDB, has climbed up to 8.9 out of 10. Meanwhile, the series has been nominated for the prestigious Magnolia Award for Best Variety Program at the 28th Shanghai TV Festival.
A Fresh Take on Chinese Idol Survival Shows
Become A Farmer initially caught the attention of many Chinese netizens through the humorous jokes of veteran comedian Pang Bo during the fifth season of the stand-up comedy competition Rock & Roast.
At that time, the show had not yet been aired but its format had already been introduced during a media conference, and Pang Bo (庞博) had heard about it.
In Pang's joke, he compared the show to a farmer version of idol survival shows, proposing that the four individuals who made the greatest contributions to the final harvest could come together as a group, forming a new generation of F4 (referring to the popular Asian boy band), playfully dubbed "Farmer 4."
While Chinese netizens were initially amused by this joke, little did they realize that iQIYI was actually turning it into a reality, albeit without the comedic intent.
"Food is not something we can take lightly with jokes and banter, especially considering the size of our farmland, which spans approximately 140 mu and has the potential to provide sustenance for many people. This is a matter of responsibility and morality," stated Yang Changling (杨长岭), the show's director.
Normally, Chinese entertainers are compensated for their involvement in reality or variety shows, as they play a crucial role in generating engaging content. Such shows often seek out celebrities with a large online fan base to ensure a favorable viewership.
But Become A Farmer is different. Among the ten young men, no one is a typical celebrity that has a huge fan base online. Moreover, they are not paid for filming the show but have to earn from the land rented from local farmers through their own hard work.
To legally sell the products grown on their farmland, the ten young men took the step of registering an official company. This registration allowed Chinese netizens to verify the company's information on the government website, providing evidence of the project's authenticity. As the information about the company circulated, the related hashtag (#种地吧 开公司#) gained traction on Weibo, eventually trending when the ten young men received their official company certificate.
Become A Farmer leans more towards being a documentary rather than a traditional entertainment program. To underscore its authenticity, a novel approach has been adopted in China's variety show landscape. It airs live for one hour every day, beginning at 9:30 am, synchronizing with the young men's start of work. This timing allows netizens, who typically commence their own workday around that time, to actively participate as 'online supervisors,' overseeing the ten young men's daily tasks while starting on their own tasks of the day.
Through livestreaming on both Weibo and Douyin (the Chinese version of TikTok), the show creates a natural teaser for the edited reality series while embodying its interactive nature.
As an additional element, the ten young men occasionally share vlogs on Weibo and Douyin during the filming process. This unique combination of long-form reality show footage + livestreaming + vlogs allows the audience to closely follow and stay updated on the progress of the ten young men's work over the span of more than 190 days.
The show's concept of gathering relatively unknown young men aspiring to make a breakthrough in the entertainment industry bears resemblance to popular shows like Youth With You, also produced by iQIYI. However, Youth With You's third season was suspended in 2021 for wasting large amounts of milk amid the China's strengthened efforts in eradicating wasting food; viewers were ecouraged to buy bottled Mengniu milk and scan QR codes inside the caps to vote for their favorite trainees, which led to fans buying tons of bottles only to vote and getting rid of the milk.
Clearly, iQIYI has learned from the past and taken a different approach with Become A Farmer. In this show, there are no milk-wasting competitions or cutthroat rivalries. Instead, the ten young men are united in their goal to complete the farm work together and to run the company and get rid of its debt.
Focus on Vital China Topics: Empowering Youth, Food Security, and Rural Revitalization
Various topics that are relevant in today's China come together in Become a Farmer. The show also explicitly addressed its objectives in producing this diverse variety show and released a pre-episode to emphasize the importance of food security and shed light on the challenges faced by Chinese youth upon entering the workforce.
In recent years, China has placed significant emphasis on food security, with leaders repeatedly stressing the need to ensure that "the Chinese rice bowl is firmly held in our own hands."
The China Agricultural Outlook Report (2023-2032), released on April 20, outlined the ongoing consolidation of China's food security foundation for the next decade. Notably, all 103 million hectares of permanent farmland will be transformed into high-standard farmland. The report also highlighted plans to diversify import channels for agricultural products, improve the trade structure, and reduce grain imports by 19.7 percent over the next decade.
During the pre-episode of the show, an expert who provided training courses to ten young men emphasized the need to address the aging agricultural workforce in China's agricultural development.
Simultaneously, in 2023, China witnessed a record-breaking number of graduates, reaching 11.58 million.
Given the increasing digitalization in agriculture, encouraging young people to pursue farming careers emerges as a viable solution. By becoming New Era Farmers (新农人) and actively participating in the nine tasks outlined in China's "No. 1 central document" for 2023, which promotes rural vitalization comprehensively, young talent can contribute to the development of rural areas instead of solely pursuing white-collar jobs in urban areas.
A Rural Trend in Chinese Entertainment
The increasing appeal of rural life among young people in China is reflected in a survey conducted by the Social Survey Center of China Youth Daily (中国青年报社社会调查中心) in September 2022. The survey revealed that 70.9% of the respondents believed that the countryside has become more attractive to young individuals. Factors such as a slower pace of life, lower pressure, and reduced costs were cited as the main reasons why young people find rural areas appealing.
As transportation and internet connectivity have gradually improved, rural life in China is no longer seen as isolated and cut off from the rest of the world. This transformation has sparked a growing interest in living in the countryside, particularly among young people. The countryside's allure lies in its simplicity, natural beauty, and the chance to escape the fast-paced and hectic city life.
This growing interest in rural life may explain the popularity of shows like Become a Farmer. The commitment demonstrated by the ten young men to their farm work has garnered applause from Chinese netizens. Overcoming challenges such as working in adverse weather conditions, assisting with difficult births for animals, and engaging in physically demanding tasks have showcased their dedication and hard work. These aspects have resonated with the audience and contributed to the show's success.
Originally planned to conclude after 39 episodes, the show's production team has decided to extend it to 50 episodes due to the abundance of material gathered from over 190 days of farm work and the increasing interest and positive feedback from viewers. This extended episode count goes beyond the typical duration for a variety show, highlighting its exceptional popularity.
It is evident that iQIYI, the broadcasting platform behind the show, is keen on fulfilling its alleged social responsibility to promote the importance of food security and sustainable food production, farming, and showing that young individuals that they can thrive in rural areas.
Capitalizing on the success of the reality show, iQIYI has also released a teaser for an upcoming drama called Romance on the Farm (田耕纪), which also revolves around farming. This drama portrays a contemporary woman unexpectedly finding herself in the countryside during the Song Dynasty and embarking on a journey of farming, prosperity, and love alongside the enigmatic Shen Nuo.
In the last couple of years, there were several countryside-themed dramas that showcased China's rural revitalization efforts and highlighted the involvement of younger generations in supporting their rural hometowns, such as On The Way to Hope (在希望的田野上) or The Story of Xing Fu (幸福到万家) which starred the renowned Chinese actress Zhao Liying.
The success of Become a Farmer, the upcoming Romance on the Farm, and the overwhelming enthusiasm among Chinese viewers for these shows suggest that farming has become the latest 'hip' trend in China's entertainment industry. It seems that plowing fields and tending to crops have now found their place in the limelight. With the growing interest and excitement surrounding these shows, it's safe to say that we can expect a blooming harvest of more Chinese productions focused on farm work and rural life in the near future.
Watch "Become a Farmer" on Youtube here (including English subtitles).
By Wendy Huang
Follow @whatsonweibo
Spotted a mistake or want to add something? Please let us know in comments below or email us. Please note that your comment below will need to be manually approved if you're a first-time poster here.
©2023 Whatsonweibo. All rights reserved. Do not reproduce our content without permission – you can contact us at info@whatsonweibo.com
Subscribe to our newsletter
Stay updated on what's trending in China & get the story behind the hashtag
Sign up
here
to become a premium member of What's on Weibo today and gain access to all of our latest and premium content, as well as receive our exclusive Weibo Watch newsletter. If you prefer to only receive our free newsletter with an overview of the latest articles, you can
subscribe for free
here.
Would you like to become a contributor, or do you have any tips or suggestions for us? Get in touch with us here.