"Oh, How Free America Is" – George Floyd Case Goes Trending on Chinese Social Media
"Are these the 'human rights' that you are advocating?"
First published
The George Floyd case and protests are trending on Weibo. In a time of China-US escalating tensions, many Chinese web users are using these developments in global news media to point out American hypocrisy regarding freedom and human rights.
UPDATE 15 JULY 2020: There's an expanded and more recent version of this article here.
The entire world is talking about the events surrounding the George Floyd case after the shocking bystander video of a white police officer using his knee to pin down an African-American man during an attempted arrest – leading to his death – has been making international headlines.
The case of George Floyd (transcribed as 乔治•弗洛伊德 Qiáozhì Fúluòyīdé in Chinese) and its aftermath have also become a big news topic on Chinese social media this week and is still top trending on Weibo today.
George Floyd Incident
As now widely known, the George Floyd incident took place in Minneapolis, Minnesota, on May 25, when police responded to a shopkeeper's call about someone potentially using a counterfeit bill. Floyd was sitting in his car when officers arrived at the scene and was asked to step out of his vehicle.
Even though Floyd was compliant and unarmed, the bystander video shows how he was held face-down on the ground, the officer pressing his knee into the side of his neck, while Floyd was begging for air, literally stating: "I can't breathe."
While the officer knelt on Floyd's neck for over seven minutes, the 46-year-old could be seen losing consciousness and going limp.
The video of the fatal arrest went viral on social media overnight, leading to people protesting in Minneapolis and elsewhere across the US, demanding justice over the fatal arrest.
The four officers involved in George Floyd's death have since been fired from the Minneapolis Police Department.
Tensions in Minnesota have now reached a boiling point and protests have escalated to riots and lootings, leading to the governor Tim Walz of Minnesota ordering the deployment of the National Guard to restore order in the city. Minneapolis Mayor Jacob Frey declared a state of emergency.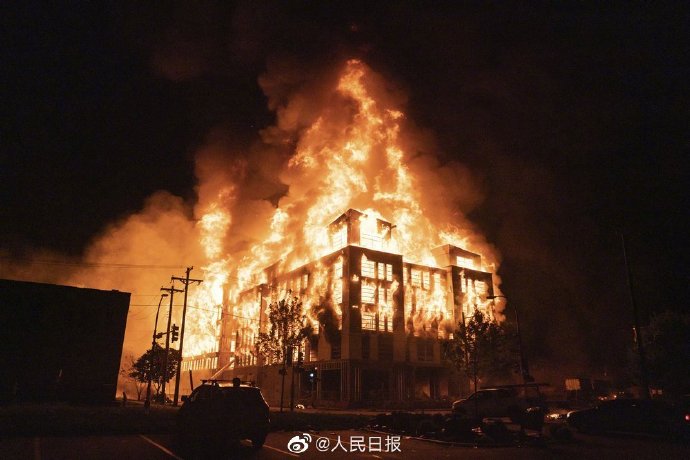 On Friday morning local time, CNN correspondent Omar Jimenez – a reporter of color – was arrested and handcuffed on live television together with his cameraman and producer while reporting on the situation in Minneapolis. Although the CNN crew was released shortly after, this incident also further intensified the debate on discrimination and racism in America.
Weibo Discussions
On Weibo, news of the George Floyd incident and the Minneapolis protests is trending with various related hashtags.
One of the top hashtags at the time of writing regarding the protests is "CNN Crew Arrested by Police" (#CNN报道团队被警方逮捕#) -50 million views-, "Minneapolis Enters State of Emergency" (#美国明尼阿波利斯市进入紧急状态#) with 150 million views and "U.S. Riots" (#美国暴乱#) with 240 million views.
Other related hashtags are:
#美国多地抗议警察跪压黑人致死# "American Protests over Cop Pushing Down and Killing Black Man" (3+ million views)
#美警察压颈致黑人死亡引发抗议# "Protests Erupt over Case of Black Man Dying after American Police Applies Pressure on Neck" (6+ million views)
#明尼苏达骚乱成聚众哄抢# "Minnesota Riots Turn to Looting" (266,000+ views)
#美国示威者暴力冲击3家警局# "American Protesters Violently Attack Three Police Stations" (120 million views)
#美国明尼苏达州骚乱# "U.S. Minnesota Riots" (29+ million views)
The news regarding Floyd and the American protests and riots are attracting thousands of reactions on Chinese social media today. Some threads, such as those regarding the arrest of the CNN reporter, are also being heavily censored.
Many of the Weibo responses to the news of George Floyd and its aftermath are incorporating these developments into a bigger framework of strained US-China relations, pointing out the supposed American hypocrisy for criticizing China regarding freedom and human rights, especially in light of the COVID19-crisis and Hong Kong protests.
"Oh how free America is," one popular comment on Weibo said ("多么自由的米国"), with others saying things such as: "Are these the human rights you are advocating?"
News of CNN reporter Jimenez being arrested by the American state patrol was also shared on Weibo by the Communist Youth League, leading to many reactions criticizing America's "freedom of press."
"So this is so-called equality? Freedom? Democracy?"
Another user writes: "So this is the freedom I'm yearning for? Is this called freedom?"
Some Weibo users are sharing compilations showing American officers using excessive force and violence while beating and shooting down people and animals during their work.
Although criticism of the US is dominating Chinese online discussions of the latest developments in America, social media users also show their support for the protesters.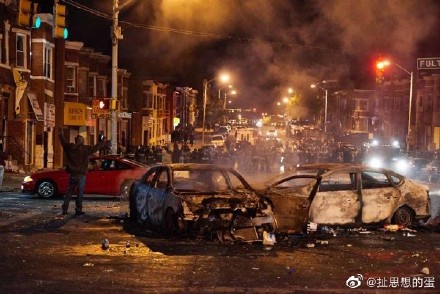 "I fully support the movement of Black Americans fighting for the rule of law, equality, and freedom," one popular comment- receiving over 14,000 likes – said (@平衡的小窝).
Many commenters are writing to express their disgust at the death of George Floyd, calling the police officers "ruthless" and "sadistic."
There are also some commenters with a different stance on the matter. One blogger with over 123,000 followers writes:
"The riots erupting in the US will surely have a negative impact on society. But looking at it from another perspective, it still makes me envious because they have the guts to speak up, the courage to resist. If such a thing would happen in China, would you stand up?"
By Manya Koetse
Follow @WhatsOnWeibo
Spotted a mistake or want to add something? Please let us know in comments below or email us. First-time commenters, please be patient – we will have to manually approve your comment before it appears.
©2020 Whatsonweibo. All rights reserved. Do not reproduce our content without permission – you can contact us at info@whatsonweibo.com.
Why Russia Is Nicknamed the "Weak Goose" on Chinese Social Media
Multiple Chinese (military) bloggers started using 'weak goose' (菜鹅) term in light of Russia's fading victory.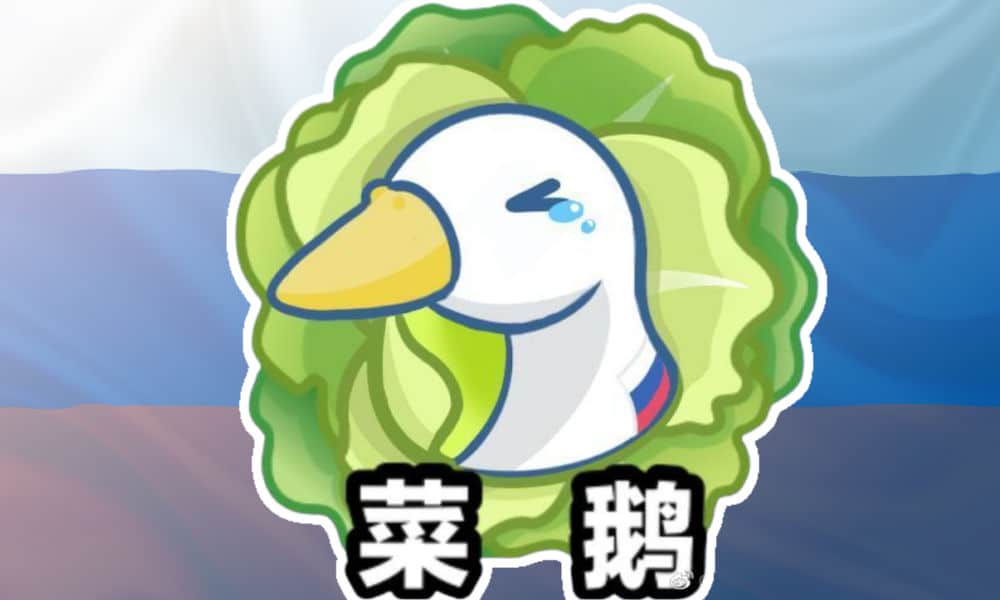 While the latest developments in the Russia-Ukraine war are closely watched by millions of Chinese social media users, the 'Weak Goose' meme is becoming more popular among military bloggers and Weibo users, signaling a shift in online sentiments regarding Russia's position and its military competence.
Since the beginning of the Russian invasion of Ukraine, the latest developments regarding the war in Ukraine are a big topic on Chinese social media, where military bloggers, academics, political commentators, and ordinary netizens have been sharing their views on the conflict over the past seven months.
Back in February of 2022, many Weibo commenters expressed anti-war sentiments and worries about the situation of the Ukrainian people and Ukraine-based Chinese compatriots.
At the same time, there was also a growing group of Chinese netizens who said they supported Russia. One top commenter at the time wrote: "I resolutely support the Russian military action! This is the evil result of Ukraine following the Yankees (美国佬). We should seize the opportunity to liberate Taiwan and to recover the Diaoyu Islands."
Those speaking out in favor of Putin and the Russian military mainly focused on anti-Western sentiments, and this online discourse was only strengthened by media narratives that also framed the Russia-Ukraine war – commonly referred to as Russia's "special military operation" – within a Chinese context that stressed the humiliation and injustice suffered by China at the hands of the very same Western powers that were now condemning Russia and were trying to get China on their side (read more in this article).
Others also saw the Russian military invasion of Ukraine as a warning to Taiwan, semi-jokingly writing that Chinese troops could arrive in the morning, that unification would be completed by noon, and that they would all be raising the flag and singing the national anthem together the next day.
But now, seven months and nine days later, it is clear that Russia's "special military operation" in Ukraine is anything but a quick 'victory.'

"We're Witnessing History"

This week, after Russia proclaimed the annexation of four territories in Ukraine, the Russia-Ukraine war has reached a pivotal phase and this is receiving a lot of attention on Chinese social media.
After a series of so-called "referendums" which supposedly showed it was the "will of the millions of people," Putin claimed that Luhansk, areas of Donetsk, Kherson, and Zaporizhzhia were now part of the Russian Federation. Using increasingly threatening rhetoric, Putin said in his September 30 speech that Russia would defend these areas with "all the means at our disposal." On Weibo, the topic received over 220 million views (#普京签署顿涅茨克等四地入俄条约#).
That very same day, Ukraine applied for fast-track NATO accession, and Ukrainian President Zelensky said that they are ready for peace talks with Russia, but only with a different Russian president. The topic of Ukraine's application to join NATO became a trending topic on Weibo, receiving over 190 million views on Saturday (#泽连斯基签署乌克兰加入北约申请#).
When Jake Sullivan, the U.S. President's National Security Advisor, stated that it was "not the right time" for Ukraine's admission to the alliance, China Daily initiated the hashtag "Ukraine's Application to Join NATO Is Met with a Cold Shoulder by the U.S." (#乌克兰申请加入北约遭美国冷遇#).
On Sunday, news of President Zelensky declaring the key eastern Ukrainian town of Lyman "fully cleared of Russian forces" also became trending. A Weibo hashtag dedicated to the topic of Russian forces retreating from Lyman (#俄军从红利曼撤退#) received over 150 million views.
"We're witnessing history," some Chinese netizens commented, with others replying: "We've been witnessing history for the past two years already."

Shifting Online Sentiments

But the online sentiments regarding the war in Ukraine have shifted over the past months, and there is now more emphasis on the weakness of the Russian military strategy. There are also more voices criticizing those who cheer for Putin.
Qu Weiguo (@曲卫国), a professor at Shanghai's Fudan College of Foreign Languages and Literatures, denounced fellow Chinese who seemed "happy and excited" about Putin signing the decree annexing four regions of eastern Ukraine and who called it a "checkmate move" that put the West in a difficult position.
According to Qu Weiguo, these "patriotic" fellow Chinese – "I am not sure whether they actually love China or Russia," he wrote – were overseeing the fact that it is not just the West that is being affected by the annexation, of which the legality is more than questionable. Qu mentioned the 2013 PRC-Ukraine Treaty of Friendship & Cooperation, which conveys Chinese support for Ukraine's "sovereignty, security, and territorial integrity." Qu suggests that in this context, China could not possibly recognize the four annexed territories as being part of Russia; and Beijng would also be obliged to support Ukraine in case it would be attacked by Russian nuclear weapons.
Author Du Zijian (@杜子建) also spoke out on Weibo, saying the referendum regarding the four regions claimed by Russia cannot be recognized: "It's Ukrainian territory, it can't be stolen by anyone."
Military blogger 'Littlepigpig' (@用户littlepigpig1), who focuses on the war in Ukraine, provided another perspective on the recent developments, suggesting that Putin's nuclear rhetoric is just bluff and likely stems from despair over Russia's inability to defeat Ukraine: "What would be the point of sending hundreds of thousands of Russians to Ukraine to be brutally slaughtered before launching a nuclear strike!?"

The 'Weak Goose' Meme

There are more people who now express that they see little chance of Russia winning this war. One regular Weibo user wrote: "The soldiers have no morale, the country has no money, and their equipment technology lags behind NATO." "They're so disappointing," others wrote.
One term that recurringly comes up in these discussions, from Weibo to Zhihu, is that of 'Weak Goose' (菜鹅 cài'é).
The term, that has been surfacing for a few months, is a wordplay on 菜俄 (also cài'é), which means 'Weak Russia' and is short for "the weak Russian army" ("俄军很菜").
Although '菜' (cài) actually means 'vegetable,' it is also slang for 'poor' or 'weak' when used as an adjective (see this video for explanation.)
According to Jikipedia, 'Weak Goose' started to be used by Chinese political and military bloggers after they found that the Russian army advanced much slower than they had expected. They came up with the word to make fun of Russia struggling with basic military mistakes and low military capabilities.
Recently, instead of 'weak goose,' the term 'weak Russia' has also been used more often (so 菜俄 rather than 菜鹅; just for clarity, we'll translate them both as 'Weak Goose' here). Russia is usually also nicknamed 'big goose' in China (大鹅) since the words for 'goose' and 'Russia' sound the same.
The past week, multiple Chinese (military) bloggers have started using this term again in light of Putin's fading victory and the retreat from Lyman. Reports about Russian recruits allegedly being instructed to use tampons and pads on war wounds in light of a shortage of military supplies further strengthen the Weak Goose meme: "Who thought the 'Weak Goose' was so weak?"
Those using the 'Weak Goose' term are definitely not necessarily anti-Russian and also not pro-Ukrainian – they are just using the word as a joke and comic relief in a military conflict that has been dragging on for much longer than Chinese netizens had anticipated.

"The Russia-Ukraine conflict is not entertainment"

But not everyone on Weibo appreciates these kinds of jokes. "The Russia-Ukraine conflict is not some entertainment variety show," one blogger (@Aglaia柒y) with over 220,000 fans wrote, criticizing those who are using the war as a source of drama and entertainment with Putin starring as the main "idol."
Others also reminded people that the 'Weak Goose' is actually very resilient. Well-known finance blogger Liu Zhongling (刘忠岭), known under the alias of @笑看红绿, noted that there were many Chinese people cheering for the latest victory of the Ukrainian army recently. But according to Liu, it is not necessarily something to cheer about: "All the progress that the Ukrainian army is making now, comes at the cost of many injuries and military casualties. Considering that this war is going to take a long time, soldiers are far more important than weaponry."
He added: "The 'weak goose' army is getting worn out (..) but by pulling back they are also preserving strength and that is not a bad choice. People who know their history already anticipated the Russians would get pulled down, but they also know the 'Weak Goose' is actually tough."
Although the 'Weak Goose' meme is one that is just alive within particular online circles, it is telling of a shift in sentiments on Chinese social media regarding a conflict in which many initially believed Russia was like a strong brown bear fiercely attacking Ukraine, rather than a worn out goose nibbling on its neighboring country (reference post).
Chinese well-known political commentator Hu Xijin stirred away from any jokes. In his recent post on Weibo, he warned that "the world must be prepared for a further escalation of the war in Ukraine, even beyond Ukraine."
By Manya Koetse 
With contributions by Miranda Barnes.
Get the story behind the hashtag. Subscribe to What's on Weibo here to receive our weekly newsletter and get access to our latest articles:
Spotted a mistake or want to add something? Please let us know in comments below or email us. First-time commenters, please be patient – we will have to manually approve your comment before it appears.
©2022 Whatsonweibo. All rights reserved. Do not reproduce our content without permission – you can contact us at info@whatsonweibo.com.
About Lipstick King's Comeback and His 'Mysterious' Disappearance
After Li Jiaqi's return to livestreaming, the 'tank cake incident' has become the elephant in the room on social media.
Earlier this week, the return of China's famous livestreamer Li Jiaqi, also known as the 'Lipstick King', became a hot topic on Chinese social media where his three-month 'disappearance' from the social commerce scene triggered online discussions.
He is known as Austin Li, Lipstick King, or Lipstick Brother, but most of all he is known as one of China's most successful e-commerce livestreaming hosts.
After being offline for over 100 days, Li Jiaqi (李佳琦) finally came back and did a livestreaming session on September 20th, attracting over 60 million viewers and selling over $17 million in products.
The 30-year-old beauty influencer, a former L'Oreal beauty consultant, rose to fame in 2017 after he became a successful livestreamer focusing on lipstick and other beauty products.
Li broke several records during his live streaming career. In 2018, he broke the Guinness World Record for "the most lipstick applications in 30 seconds." He once sold 15000 lipsticks in 5 minutes, and also managed to apply 380 different lipsticks in another seven-hour live stream session. Li made international headlines in 2021 when he sold $1.9 billion in goods during a 12-hour-long promotion livestream for Alibaba's shopping festival.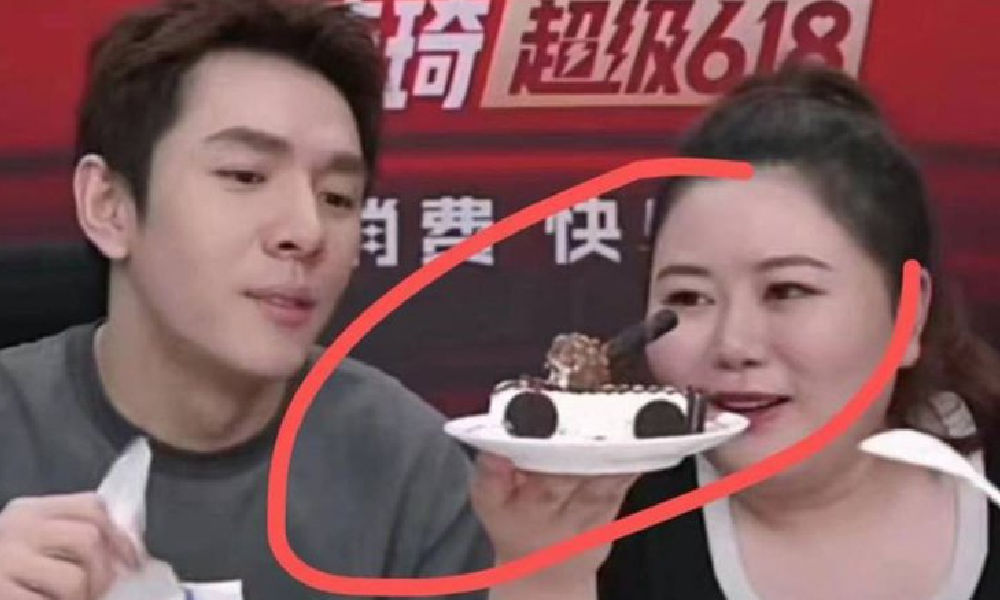 But during a Taobao livestream on June 3rd of this year, something peculiar happened. After Li Jiaqi and his co-host introduced an interestingly shaped chocolate cake – which seemed to resemble a tank, – a male assistant in the back mentioned something about the sound of shooting coming from a tank ("坦克突突").
Although Li Jiaqi and the others laughed about the comment, Li also seemed a bit unsure and the woman next to him then said: "Stay tuned for 23:00 to see if Li Jiaqi and I will still be in this position."
The session then suddenly stopped, and at 23:38 that night Li wrote on Weibo that the channel was experiencing some "technical problems."
But those "technical problems" lasted, and Li did not come back. His June 3rd post about the technical problems would be the last one on his Weibo account for the months to come.
The 'cake tank incident' (坦克蛋糕事件) occurred on the night before June 4, the 33rd anniversary of the violent crackdown of the Tiananmen student demonstrations. The iconic image of the so-called 'tank man' blocking the tanks at Tiananmen has become world famous and is censored on China's internet. The control of information flows is especially strict before and on June 4, making Li's 'tank cake incident' all the more controversial.
But no official media nor the official Li Jiaqi accounts acknowledged the tank cake incident, and his absence remained unexplained. Meanwhile, there was a silent acknowledgment among netizens that the reason Li was not coming online anymore was related to the 'tank cake incident.'
During Li's long hiatus, fans flocked to his Weibo page where they left thousands of messages.
"I'm afraid people have been plotting against you," many commenters wrote, suggesting that the cake was deliberately introduced by someone else during the livestream as a way to commemorate June 4.
Many fans also expressed their appreciation of Li, saying how watching his streams helped them cope with depression or cheered them up during hard times. "What would we do without you?" some wrote. Even after 80 days without Li Jiaqi's livestreams, people still commented: "I am waiting for you every day."
On September 21st, Li Jiaqi finally – and somewhat quietly – returned and some people said they were moved to see their lipstick hero return to the livestream scene.
Although many were overjoyed with Li's return, it also triggered more conversations on why he had disappeared and what happened to him during the 3+ months of absence. "He talked about a sensitive topic," one commenter said when a Weibo user asked about Li's disappearance.
One self-media accountpublished a video titled "Li Jiaqi has returned." The voiceover repeatedly asks why Li would have disappeared and even speculates about what might have caused it, without once mentioning the tank cake.
"This cracks me up," one commenter wrote: "On the outside we all know what's going on, on the inside there's no information whatsoever."
"It's tacit mutual understanding," some wrote. "It's the elephant in the room," others said.
Some people, however, did not care about discussing Li's disappearance at all anymore and just expressed joy about seeing him again: "It's like seeing a good friend after being apart for a long time."
By Manya Koetse 
Elements in the featured image by @karishea and @kaffeebart.
Get the story behind the hashtag. Subscribe to What's on Weibo here to receive our weekly newsletter and get access to our latest articles:
Spotted a mistake or want to add something? Please let us know in comments below or email us. First-time commenters, please be patient – we will have to manually approve your comment before it appears.
©2022 Whatsonweibo. All rights reserved. Do not reproduce our content without permission – you can contact us at info@whatsonweibo.com.