China's Belt and Road Propaganda Machine Running at Full Speed: An Overview
The Beijing 'One Belt, One Road' (OBOR) summit is about to take place, and the Belt and Road propaganda machine is running at full speed. Chinese state media spotlight children in promotional campaigns, and emphasize the idea of China as a harmonious global leader.
The Beijing 'One Belt, One Road' (OBOR) summit is about to take place, and the Belt and Road propaganda machine is running at full speed. Chinese state media spotlight children in promotional campaigns, and emphasize the idea of China as a harmonious global leader. Here is an overview of the various recent public promo videos backed by different state media outlets, including the latest one by People's Daily.
As the 'One Belt, One Road' (aka OBOR or Silk Road Economic Belt) summit takes place in Beijing on May 14-15, the promotion of this enormous development strategy is in full swing. Chinese state media outlets China Daily, CCTV, and People's Daily have all published their own OBOR promotion clips through Youku or Weibo.
All the latest promo clips on the Belt and Road strategy have clear characteristics in common. Besides that young people and children play a major role in them, they are all global focused; they use many languages and feature people of various backgrounds.

1. Communist Party: The Belt and Road is How

Over the past week, it was especially the Sesame Street-style video with children from various countries singing about the Belt and Road that made international headlines. It was the only promotion video that was posted on Chinese social media by a wide range of official media, including China Daily, People's Daily, PLA Daily, Communist Youth League, China National Radio, Xinhua, and CCTV.

The Belt and Road Song by Fuxing Road Studios posted by whatsonweibo
In the video, fifteen different children sing along in English to a catchy song with cartoon graphics. The political video was made by Fuxing Road Studios (复兴路工作室), a company that often produces English-language propaganda videos on China's policies.
China's English-language public communication videos are not necessarily only targeted at foreign audiences. The Belt and Road is How video was widely shared by official channels on Chinese social media, and was initially not even posted on YouTube. The use of an English song (providing Chinese subtitles) helps convey the idea of the Belt and Road as a very global initiative, both for Chinese and non-Chinese audiences.
Featuring a group of cute and diverse children in this clip also boosts the global image of the OBOR project, and stresses its unthreatening character. Although the Chinese government and state media have continuously represented the initiative as one of peaceful development that has no regional or military agenda, there are still international concerns over China's strategic goals. The choice for such a "Sesame Street-style" promo video, in that sense, is quite telling; the 'One Belt, One Road' initiative couldn't be represented in any cuter or more innocuous way.
Fuxing Road Studios has covered numerous major China-related events in the past, including state leaders' overseas visits. Using pop songs and modern graphics, their videos target the younger, social-media generations. Although the company is secretive about its affiliation, The Wall Street Journal reported in 2016 that the production house is part of the Chinese Communist Party's international department.

2. China Daily: Belt and Road Bedtime Stories

State newspaper China Daily recently launched its 'Bedtime Stories' campaign. It is a series of clips in which Erik Nilsson, assistant director at China Daily, tells his little daughter Lily stories about the 'One Belt, One Road' initiative before she goes to sleep.
These China Daily series are mainly aimed at English-speaking audiences; newspaper China Daily has pushed these videos through its official channel on YouTube, a platform that is inaccessible from mainland China. They were also posted on Weibo, but the videos made less of an impact on Chinese social media than they did on YouTube, where the last clip received over 63,000 views within 24 hours.
When China Daily introduced the first video of the bedtime series on its official Weibo account on May 9, it emphasized the video's sentence "It is China's idea. But it belongs to the world," as a key sentence from the campaign. This sentence is crucial in the promotion of the idea behind the Belt and Road initiative, that emphasizes China as the harmonious leader that helps the whole world become a more prosperous place.
The concept of 'bedtime stories' gives China Daily the freedom to tell the story of the Belt and Road initiative in a very clear way through a father explaining the strategy to his daughter. This makes it easy for all people to understand, also for those who are not familiar with OBOR.

3. CCTV: Prosperous Together

China's state broadcaster CCTV published its own promo video this week that shows, amongst others, children from around the world playing with miniature cars, boats, and trains that then turn into reality along the Silk Route belt (see video below). The video's main theme is how OBOR connects the people of the world.

CCTV One Belt One Road Promo Video by whatsonweibo
The clip, titled "Together Prosperous," ends with the slogan: "Discuss Together, Build Together, Enjoy Together" ("共商, 共建, 共享"). It very much highlights the international impact of the One Road One Belt initiative – something that is given more weight through the use of dramatic music.
As in the other clips, this public communication video also gives prominence to the role of children from different countries. The point is not that these videos are targeted at kids, but that they are the perfect propaganda messengers: they represent the new future of China and the world.

4. People's Daily: WE Make It Happen

On May 12, another video came out which shows students from eight different countries painting together and talking about their home and interests. They mostly speak in Mandarin Chinese, but some also speak in their native languages. The students come from Hungary, Kenya, Spain, Argentia, Russia, China, Kazakstan, and Thailand.

"WE Make It Happen" – One Belt, One Road Promo… by whatsonweibo
While the other students talk about soccer, food, and dance, the Russian and Chinese students bring out the video's main message.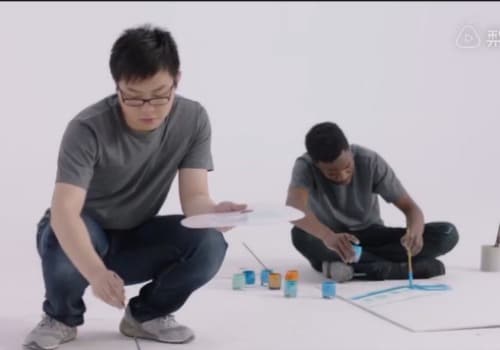 "Today, I drew a bridge," the Russian student named Mikhail says: "It connects Russia and China. Two different countries, two different nations. They can get to know each other. Every person or every nation can act as a bridge."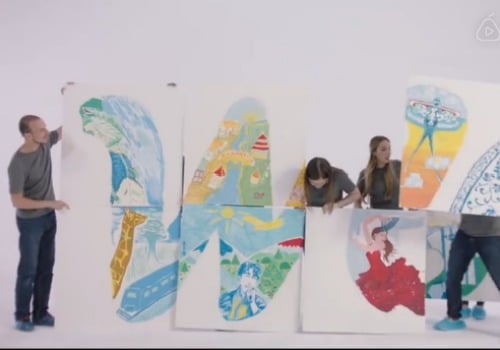 The Chinese student Yu then tells: "The kite was invented by ancient Chinese people. I think they had a dream. They wanted to know the outside world. A bigger world." The students then put their paintings together, forming the word "WE", followed by the message: "The Belt and Road – WE make it happen."
The video is an initiative by Communist Party newspaper People's Daily and was shared on Weibo by various media sources, including the Global Times.
Like the other videos, the focus is on how the Belt and Road strategy connects people of various nations. It is a new kind of public promo video, as Chinese public campaigns commonly always include references to the flag of China or other national symbols like the panda or the Forbidden City; something which does not comes up in this clip.
On China, netizens have responded in different ways to the various videos. Although many people said they think the Fuxing Road Studios clip is somewhat "awkward," the other campaigns are more popular.
Especially the "WE make it happen" campaign seems to be liked by many netizens. Many people comment on the video with: "We like WE!"
"This is a successful promo video," one person says: "It makes people feel proud."
The CCTV promo video also received praise on Sina Weibo. "It's very well done," many said.
"When I finished watching, I felt like this is the best Chinese promo video I've seen thus far," one Weibo user writes.
There are also those who wonder about the role of the USA, as America seems to play no role whatsoever in the various Belt and Road promo films. But there were also those who were not surprised about America's invisiblity in the videos: "This is the 'One Belt, One Road'," one person commented: "And it is China that is leading the way."
– By Manya Koetse
Follow @WhatsOnWeibo
©2017 Whatsonweibo. All rights reserved. Do not reproduce our content without permission – you can contact us at info@whatsonweibo.com.
"Dreaming of Warmth" – China's Anti-Coal Measures Leave Villagers out in the Cold
While coal heating is being banned, many villagers are left in the cold as they have no access to electric or gas heating systems.
Chinese authorities are on a crusade against the burning of low-quality coal in the north of China this winter. The switch from coal to natural gas in the northern regions is meant to reduce air pollution. But for those with no access to gas or electric heating, the measures mean that they are left in the cold while temperatures are dropping.
Recent measures by the Chinese government that limit coal burning in the winter in northern China, while encouraging the use of natural gas, are aimed at improving the country's air quality.
But as many people – mainly villagers and migrant workers – in China's northern provinces such as Shanxi or Hebei still depend on coal for their residential heating, and with natural gas resources both scarce and increasingly costly, some households or schools simply have no option but to endure the cold.
"This is a predicament that northerners have not encountered before: people are prohibited to burn coal, but natural gas is expensive and scarce."
On WeChat, an article about the situation by 'Brother News' (新闻哥), a well-read news blog, has been widely shared since December 6. The article was pulled offline on Thursday.
"It's December and winter is here. But the heating, that is often envied by many people in the South, has not arrived as scheduled. In Shaanxi, Shanxi, Hebei, and other regions in the North, people are caught in cold circumstances as they are unable to warm up [their houses]."
"This is a predicament that the northerners have not encountered before: people are prohibited to burn coal, while natural gas is expensive and often limited, which means that they cannot use it – even if they want to. Some people complain that they can't sleep at night because of the freezing cold, while here in Beijing, some hundred kilometers away, my problem is that I can't sleep at night because the central heating is too hot."
"The real situation at hand, which I learned about from dozens of readers, is really heartwrenching."
In the article, 'Brother News' reports about a small kindergarten and primary school in a village in Shanxi where the use of coal heating is no longer allowed this winter – the coal heating systems were already demolished last summer. But the building, that only has three classrooms, cannot be supplied with gas heating. The use of electric heating is also impossible, as it trips off the electricity.
In order to stay warm, the school can only burn wood alcohol (methyl alcohol) as a last resort. "But that costs us about 400 to 600 dollars a day [3000-4000 yuan]," one of the kindergarten teachers said.
"I long for blue skies and smog-free air, but if it means that so many people have to freeze out there, I don't want it."
Teachers have started to take their children outside during school time, as it is warmer there than inside the building when the sun is out. But as the temperatures are dropping below 1 degree celsius, the situation is getting more difficult – especially for the teachers and the older children who also live in the on-campus dorm rooms.
For people who do have access to natural gas heating, the costs are often too high. If a household would be heated 24 hours a day, the minimal costs are 60-70 yuan (±9-10$) per day. Considering the monthly and seasonal costs for heating, people would have to spend thousands on heating, something which is simply unattainable for many ordinary people with a moderate monthly income.
On Weibo, one news account based in Binzhou (Shandong), writes that gas boilers have already been installed in some parts of the town, but that there is no gas yet. "And we also cannot burn coal, so now we just have to endure the cold."
The 'Brother News' article concludes that people do want to support the transition from coal to gas that will reduce air pollution, but that it is difficult to support these measures when there are people suffering from the freezing cold: "I long for blue skies and smog-free air," he writes: "But if it means that so many people have to sacrifice their warmth and freeze out there, I don't want it."
"I also don't hope," the article says: "that we have to rely on our dreams to keep ourselves warm."
"Same thing, different era."
Authorities have now responded to the freezing predicament facing many households and public buildings in northern China by allowing the use of coal to those who have no access to electric or gas heating.
In an "urgent notice" ("特急件") the environment ministry said that "villages that have not converted to gas may still use coal for heating, or other substitute fuels," as reported by Financial Times. The ministry also called for a "stable gas supply" to areas in the northern regions that had already converted to gas.
Many people on Weibo are skeptical about the notice. "What about the coal furnaces that have already been taken away," one person asks on Weibo: "Will they be brought back? (..) And what about the people who have already been freezing cold for a month, how can they be compensated?"
Other people also wonder about all the coal heating systems that have already been removed from homes and buildings, asking if people should now install new ones to keep themselves warm this winter.
There are more people on Weibo who criticize the anti-coal measures, comparing it to measures taken by the Chinese regime from 1958 to 1962. One netizen from Shanxi writes: "Isn't this just like the people's communes during the Great Leap Forward? In those days the pots and pans of people were smashed, and they were told to have their meals in the communes where they went hungry. Now you no longer allow farmers to have their coal furnaces and tell them to use gas while the installations are not properly set up, letting them freeze. It's the same thing, it's just a different era."
There are also those who just care about the temperature in their room: "I have been without heating for five days. It 10 degrees [celsium] in my house. I'm slowly starting to freeze out here."
For many, the urgent notice has not brought the warmth back yet. "The only way to keep myself warm is by trembling," one netizen writes.
By Manya Koetse and Miranda Barnes
Follow @whatsonweibo
Spotted a mistake or want to add something? Please let us know in comments below or email us.
©2017 Whatsonweibo. All rights reserved. Do not reproduce our content without permission – you can contact us at info@whatsonweibo.com.
China's Central Commission for Discipline Inspection's New Online Campaign: "Anti-Corruption" Gifs & Video
China's Central Commission for Discipline Inspection is propagating old ideas in new ways.
Five years after launching its "Eight-point Regulation," the Central Commission for Discipline Inspection (CCDI) turns to Weibo and WeChat to propagate its core values amongst Chinese netizens.
China's Central Commission for Discipline Inspection (CCDI/中纪委), the highest internal-control institution of the Communist Party of China that enforces internal regulations and combats corruption and wrongdoings in the Party, has been remarkably active on social media this week.
Not only did the CCDI issue a set of 16 GIF images for netizens to use; they also launched a new public ad campaign reiterating their "Eight-point Regulation" (八项规定), a set of regulations aimed at instilling more discipline among Party members.
The rules were issued on December 4th, 2012, and relate to how Party members "should improve their work style in eight aspects, focusing on rejecting extravagance and reducing bureaucratic visits, meetings and empty talk," according to Xinhua (2012).

8 Rules, 16 Gifs

On December 3rd, the CCDI issued its set of 16 gifs. The images, that are meant to share as downloadable 'stickers' on WeChat, are all themed around regulations to fight corruption and malfeasance in the Party.
The images warn against things such as the private use of cars meant for official business, or using public money for festive dinners and drinking.
The WeChat stickers became a hot topic on Chinese social media this weekend, although many netizens did not necessarily appreciate the latest addition to the wide collection of WeChat gifs.
"You can use them among your 80 million [Party members], the commoners have no use for them!", some wrote. "What are the normal people supposed to do with them?" others wondered. Many comments on the stickers were soon taken offline.

"No Need to Spend Your Free Nights at Social Parties"

The CCDI is increasingly using digital media to communicate its core values to a large online audience. On Monday, Chinese state media also shared a short public ad campaign video by the CCDI.
It reflects on how the "Eight-point Regulation" have "changed people's lives."
The introduction text says:
"You do not have to spend your after work hours on social events – coming home after drinking alcohol to find your child and wife fast asleep, leaving nobody to talk to. You do not have to spend you half-monthly wages on gifts to people who you barely even know. You do not have to surrender to the unwritten rules. In five years, the eight provisions have changed China – changing the lives of you and me."
The voice-over in the video suggests that people now have more time to read books, work out, and spend time with family. The campaign's main message is: "You can, but you don't have to."
Although the video was praised by some, there were also many who said its message might fall on deaf ears: "These 'unwritten rules' are not about Chinese bureaucracy, they are about Chinese culture," some pointed out. "If you don't give presents, you won't succeed."

Propaganda 3.0

Over the past few years, Chinese authorities are increasingly using social media as an important channel to share propaganda. This is often done in creative ways.
Information about important events and state visits of Chinese president Xi Jinping, for example, is often propagated online by means of a gif or short animated film, with Xi as a cartoon figure.
Both the One Belt, One Road initiative and the 19th Party Congress saw many gifs, cartoon, videos, rap songs, and even online mobile games that conveyed the government's main message on core Party aims and values.
With the Chinese online population growing every day, and a great majority of this online population using WeChat and Weibo for daily communication and news-checking, social media have become an effective channel for propaganda in China today.
By Manya Koetse
Follow @whatsonweibo
Spotted a mistake or want to add something? Please let us know in comments below or email us.
©2017 Whatsonweibo. All rights reserved. Do not reproduce our content without permission – you can contact us at info@whatsonweibo.com.