China's Belt and Road Propaganda Machine Running at Full Speed: An Overview
The Beijing 'One Belt, One Road' (OBOR) summit is about to take place, and the Belt and Road propaganda machine is running at full speed. Chinese state media spotlight children in promotional campaigns, and emphasize the idea of China as a harmonious global leader.
The Beijing 'One Belt, One Road' (OBOR) summit is about to take place, and the Belt and Road propaganda machine is running at full speed. Chinese state media spotlight children in promotional campaigns, and emphasize the idea of China as a harmonious global leader. Here is an overview of the various recent public promo videos backed by different state media outlets, including the latest one by People's Daily.
As the 'One Belt, One Road' (aka OBOR or Silk Road Economic Belt) summit takes place in Beijing on May 14-15, the promotion of this enormous development strategy is in full swing. Chinese state media outlets China Daily, CCTV, and People's Daily have all published their own OBOR promotion clips through Youku or Weibo.
All the latest promo clips on the Belt and Road strategy have clear characteristics in common. Besides that young people and children play a major role in them, they are all global focused; they use many languages and feature people of various backgrounds.

1. Communist Party: The Belt and Road is How

Over the past week, it was especially the Sesame Street-style video with children from various countries singing about the Belt and Road that made international headlines. It was the only promotion video that was posted on Chinese social media by a wide range of official media, including China Daily, People's Daily, PLA Daily, Communist Youth League, China National Radio, Xinhua, and CCTV.

The Belt and Road Song by Fuxing Road Studios posted by whatsonweibo
In the video, fifteen different children sing along in English to a catchy song with cartoon graphics. The political video was made by Fuxing Road Studios (复兴路工作室), a company that often produces English-language propaganda videos on China's policies.
China's English-language public communication videos are not necessarily only targeted at foreign audiences. The Belt and Road is How video was widely shared by official channels on Chinese social media, and was initially not even posted on YouTube. The use of an English song (providing Chinese subtitles) helps convey the idea of the Belt and Road as a very global initiative, both for Chinese and non-Chinese audiences.
Featuring a group of cute and diverse children in this clip also boosts the global image of the OBOR project, and stresses its unthreatening character. Although the Chinese government and state media have continuously represented the initiative as one of peaceful development that has no regional or military agenda, there are still international concerns over China's strategic goals. The choice for such a "Sesame Street-style" promo video, in that sense, is quite telling; the 'One Belt, One Road' initiative couldn't be represented in any cuter or more innocuous way.
Fuxing Road Studios has covered numerous major China-related events in the past, including state leaders' overseas visits. Using pop songs and modern graphics, their videos target the younger, social-media generations. Although the company is secretive about its affiliation, The Wall Street Journal reported in 2016 that the production house is part of the Chinese Communist Party's international department.

2. China Daily: Belt and Road Bedtime Stories

State newspaper China Daily recently launched its 'Bedtime Stories' campaign. It is a series of clips in which Erik Nilsson, assistant director at China Daily, tells his little daughter Lily stories about the 'One Belt, One Road' initiative before she goes to sleep.
These China Daily series are mainly aimed at English-speaking audiences; newspaper China Daily has pushed these videos through its official channel on YouTube, a platform that is inaccessible from mainland China. They were also posted on Weibo, but the videos made less of an impact on Chinese social media than they did on YouTube, where the last clip received over 63,000 views within 24 hours.
When China Daily introduced the first video of the bedtime series on its official Weibo account on May 9, it emphasized the video's sentence "It is China's idea. But it belongs to the world," as a key sentence from the campaign. This sentence is crucial in the promotion of the idea behind the Belt and Road initiative, that emphasizes China as the harmonious leader that helps the whole world become a more prosperous place.
The concept of 'bedtime stories' gives China Daily the freedom to tell the story of the Belt and Road initiative in a very clear way through a father explaining the strategy to his daughter. This makes it easy for all people to understand, also for those who are not familiar with OBOR.

3. CCTV: Prosperous Together

China's state broadcaster CCTV published its own promo video this week that shows, amongst others, children from around the world playing with miniature cars, boats, and trains that then turn into reality along the Silk Route belt (see video below). The video's main theme is how OBOR connects the people of the world.

CCTV One Belt One Road Promo Video by whatsonweibo
The clip, titled "Together Prosperous," ends with the slogan: "Discuss Together, Build Together, Enjoy Together" ("共商, 共建, 共享"). It very much highlights the international impact of the One Road One Belt initiative – something that is given more weight through the use of dramatic music.
As in the other clips, this public communication video also gives prominence to the role of children from different countries. The point is not that these videos are targeted at kids, but that they are the perfect propaganda messengers: they represent the new future of China and the world.

4. People's Daily: WE Make It Happen

On May 12, another video came out which shows students from eight different countries painting together and talking about their home and interests. They mostly speak in Mandarin Chinese, but some also speak in their native languages. The students come from Hungary, Kenya, Spain, Argentia, Russia, China, Kazakstan, and Thailand.

"WE Make It Happen" – One Belt, One Road Promo… by whatsonweibo
While the other students talk about soccer, food, and dance, the Russian and Chinese students bring out the video's main message.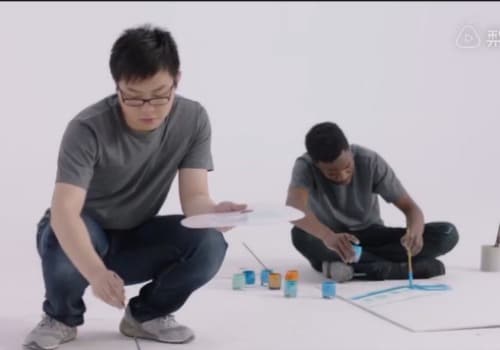 "Today, I drew a bridge," the Russian student named Mikhail says: "It connects Russia and China. Two different countries, two different nations. They can get to know each other. Every person or every nation can act as a bridge."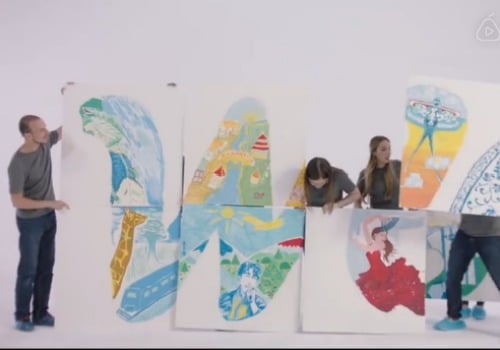 The Chinese student Yu then tells: "The kite was invented by ancient Chinese people. I think they had a dream. They wanted to know the outside world. A bigger world." The students then put their paintings together, forming the word "WE", followed by the message: "The Belt and Road – WE make it happen."
The video is an initiative by Communist Party newspaper People's Daily and was shared on Weibo by various media sources, including the Global Times.
Like the other videos, the focus is on how the Belt and Road strategy connects people of various nations. It is a new kind of public promo video, as Chinese public campaigns commonly always include references to the flag of China or other national symbols like the panda or the Forbidden City; something which does not comes up in this clip.
On China, netizens have responded in different ways to the various videos. Although many people said they think the Fuxing Road Studios clip is somewhat "awkward," the other campaigns are more popular.
Especially the "WE make it happen" campaign seems to be liked by many netizens. Many people comment on the video with: "We like WE!"
"This is a successful promo video," one person says: "It makes people feel proud."
The CCTV promo video also received praise on Sina Weibo. "It's very well done," many said.
"When I finished watching, I felt like this is the best Chinese promo video I've seen thus far," one Weibo user writes.
There are also those who wonder about the role of the USA, as America seems to play no role whatsoever in the various Belt and Road promo films. But there were also those who were not surprised about America's invisiblity in the videos: "This is the 'One Belt, One Road'," one person commented: "And it is China that is leading the way."
– By Manya Koetse
Follow @WhatsOnWeibo
©2017 Whatsonweibo. All rights reserved. Do not reproduce our content without permission – you can contact us at info@whatsonweibo.com.
Chinese State Media Launch 'Hold Your Mother's Hand' Campaign with Xi Jinping at Forefront
"Go back home often and hold your mother's hand, as Xi Jinping does too."
With the online 'hold your mother's hand' campaign, various Chinese state media stress the idea of 'homecoming' and the importance of family ties. President Xi Jinping is represented as the perfect 'family man' leader.
During the Lunar New Year Holiday, the 'coming home' theme is always an important one on Chinese social media. For many people, the Spring Festival is the only time of the year to reunite with their families, something which is annually highlighted by media and social media users.
This year, however, it seems that Chinese state media outlets such as People's Daily, China Daily, and CCTV have a special focus on the 'homecoming' theme. Besides subjects such as 'China's new era', the Belt & Road Initiative, and the 40th anniversary of China's Reform and Opening-up policy, the idea of people 'coming home' and being home in China was an important subject woven throughout the 2018 CCTV New Year Gala last Thursday.
The New Year Gala, that is China's biggest live televised event, is produced by the CCTV and is an important opportunity for Chinese authorities to propagate political ideas and concepts.
This time, the show featured a comical sketch about a Taiwanese couple in the PRC, which was literally called 'homecoming' (回家). A special part of the show featured the 'homecoming' of a 'national treasure' painting to the Palace Museum. A public service ad broadcasted during the show also stressed the idea that there is 'no place like home.'
But the 'homecoming' idea is also propagated beyond the Gala, as various online campaigns are now themed around 'homecoming' and family ties. One of them, featuring an image of Xi Jinping and his mother, was published by various official state media Weibo accounts.
"How long has it been since you spoke to your mum?"
On February 19, People's Daily started its "Hold Mother's Hand" (#牵妈妈的手#) social media campaign by posting a video about urban white-collar workers who are "too busy" to visit their mother.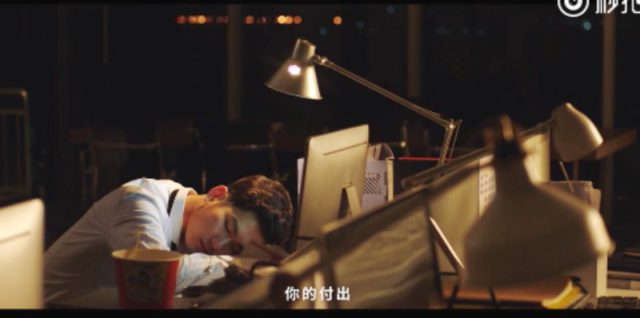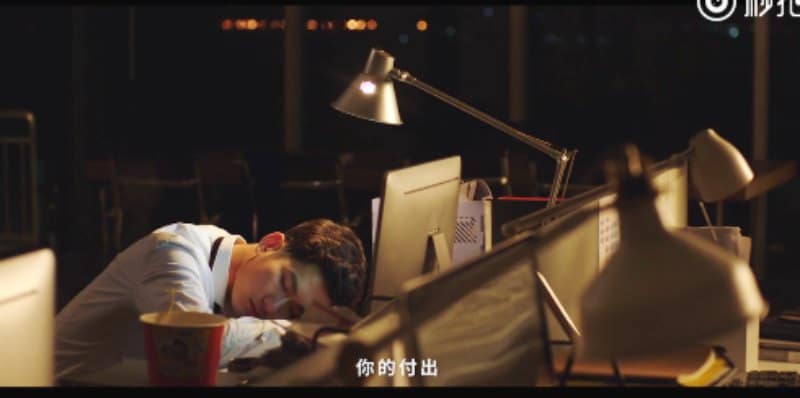 The video first shows images of people at working, going into meetings, and sleeping at their desk. The voiceover says: "You want a stable job. You want to succeed in life. Be acknowledged by others. You want to stay ahead of others, or at least, you don't wanna fall behind. You want a better future than the hard times in the present. You're busy, super busy. (..)"
The video then shifts to images of several older women, waiting by the phone, or sitting at the kitchen table. "How long has it been since you spoke to your mother about what's on your mind?" the voiceover asks: "How long has it been since you had a taste of your mother's cooking? Or since you went together on a walk? How long has it been since you held her hand?"
Then we see a woman at her desk, scrolling through her phone and looking at a picture of Xi Jinping walking hand in hand with his mother, with a Tang poem depicted beside it and read aloud by Xi ("慈母手中線,遊子身上衣"). The first part of the poem loosely translates as "The threads coming from a caring mother's hand, are in the clothes of a traveling son."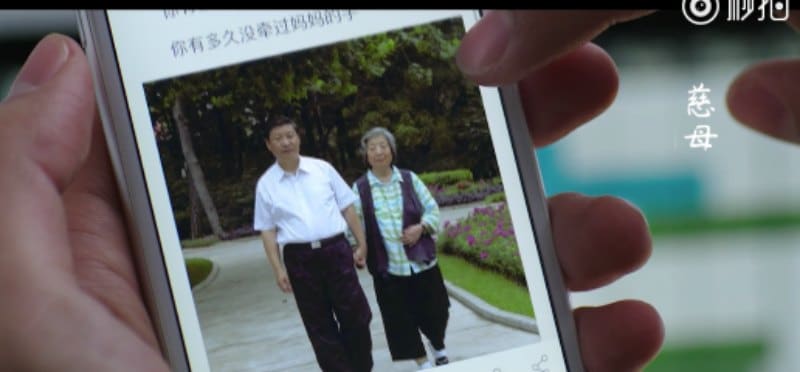 The smiles appear on people's faces when they pick up the phone to call their mother and then go to visit her. "Go home for Spring Festival. Give your mum a hug, give yourself some warmth," the final slogan says.
'Daddy Xi' as the "People's Leader"
The campaign video was promoted online through the "Hold Your Mum's Hand" hashtag #牵妈妈的手#, which had received 500 million views on Weibo by Monday night.
The photo of President Xi Jinping holding the hand of his mother, Qi Xin, was used in the campaign 'profile' photo. This image reiterates the idea of Xi as the 'People's Leader' ("人民领袖"), an idea that was recently also propagated through another video by People's Daily and CCTV, as described by Sinocism editor-in-chief Bill Bishop in "The People's "Leader" Xi Jinping Gets A New Propaganda Title."
New York Times reporter Chris Buckley (@ChuBailiang) noted that the new propaganda about Xi Jinping promotes the term "family-state realm" (家国天下), with Xi as the "father of the nation."
The new CCTV propaganda about Xi Jinping is interesting not only because it hints that he may come from another planet, but also because it promotes the term "family-state realm" (家国天下) with Xi as the father of the nation. https://t.co/fQR5UfdrSC pic.twitter.com/ie6Sqb4aFZ

— Chris Buckley 储百亮 (@ChuBailiang) 18 februari 2018
President Xi Jinping is also nicknamed "Xi Dada" or "Big Daddy Xi" because of his approachable and friendly image (although that moniker was banned from Chinese media in 2016).
Strong nation built on strong family ties
It is not the first time that 'homecoming' and taking care of one's parents is an important subject in state media propaganda; not just for the sake of promoting the image of China as a strong nation built on strong family ties, but also to actually encourage children to look after their parents.
China faces an aging population, and because of the One-Child Policy and the huge migration from rural to urban areas, there is a problem in providing sufficient care for China's senior citizens. It is one of the reasons why children are spurred to visit their parents often – it was even stipulated in a 2013 law.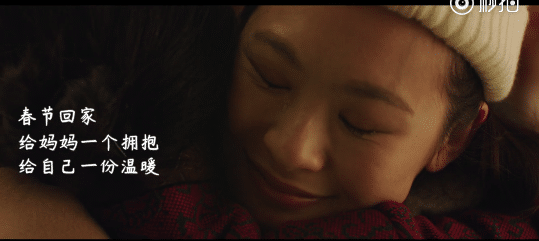 "Now People's Daily is also encouraging us to show filial piety," one commenter wrote.
But there are also people who were seemingly affected by the campaign: "My mum is the best mother in the world. She's invested so much in me. Now I feel so guilty," one netizen said.
"I'm happy I could go home and see my parent's this Chinese New Year," another person commented below the video: "Their hair has turned white, but we get along better now – our bond is stronger than before."
There are also commenters, however, who have different – more practical -concerns on the issue: "My mum doesn't like holding my hand. She thinks it's too mushy and says it feels like she's holding a rat."
By Manya Koetse
Follow @whatsonweibo
Spotted a mistake or want to add something? Please let us know in comments below or email us.
©2018 Whatsonweibo. All rights reserved. Do not reproduce our content without permission – you can contact us at info@whatsonweibo.com.
CCTV Spring Festival Gala 2018 (Live Blog)
It's time for the CCTV 2018 New Year's Gala – follow the highlights and the low points here.
It is time for the CCTV Spring Festival Gala, one of the most-watched, most-discussed, and most mocked lived television events in the world, taking place on the Lunar New Year's Eve. What's on Weibo discusses the ins & outs of the 2018 edition and the social media frenzy surrounding it in this live blog.
The biggest live televised event in the world, the CCTV New Year's Gala, also known as the Spring Festival Gala or Chunwan (春晚), is a true social media spectacle. On February 15th 2018, the 36th edition of the 4-hour-long live production is taking place.
The show, that is organized and produced by the state-run CCTV since 1983, is not just a way for millions of viewers to celebrate the Lunar New Year (除夕); it is also an important opportunity for the Communist Party to communicate official ideology to the people and to showcase the nation's top performers.
Watch the live stream here on What's on Weibo (if you have no access to YouTube, please check the CCTV live stream here).
What's on Weibo provides you with the ins & outs of the 2018 Gala and its social media frenzy, with updates before, during and after the show. Follow our liveblog below (we recommend you keep your browser open – you'll hear a 'beep' when updated). (Note: this live blog is now closed, thank you!).
By Manya Koetse, with contributions via WeChat from Boyu Xiao, Diandian Guo, and Tim Peng
Follow @whatsonweibo
Spotted a mistake or want to add something? Please let us know in comments below or email us.
If you enjoy What's on Weibo and support the way we report the latest trends in China, we would appreciate your donation. It does not need to be much; we can use every penny to help pay for the upkeep, maintenance, and betterment of this site. See this page for more information.
©2018 Whatsonweibo. All rights reserved. Do not reproduce our content without permission – you can contact us at info@whatsonweibo.com.