China's Belt and Road Propaganda Machine Running at Full Speed: An Overview
The Beijing 'One Belt, One Road' (OBOR) summit is about to take place, and the Belt and Road propaganda machine is running at full speed. Chinese state media spotlight children in promotional campaigns, and emphasize the idea of China as a harmonious global leader.
The Beijing 'One Belt, One Road' (OBOR) summit is about to take place, and the Belt and Road propaganda machine is running at full speed. Chinese state media spotlight children in promotional campaigns, and emphasize the idea of China as a harmonious global leader. Here is an overview of the various recent public promo videos backed by different state media outlets, including the latest one by People's Daily.
As the 'One Belt, One Road' (aka OBOR or Silk Road Economic Belt) summit takes place in Beijing on May 14-15, the promotion of this enormous development strategy is in full swing. Chinese state media outlets China Daily, CCTV, and People's Daily have all published their own OBOR promotion clips through Youku or Weibo.
All the latest promo clips on the Belt and Road strategy have clear characteristics in common. Besides that young people and children play a major role in them, they are all global focused; they use many languages and feature people of various backgrounds.

1. Communist Party: The Belt and Road is How

Over the past week, it was especially the Sesame Street-style video with children from various countries singing about the Belt and Road that made international headlines. It was the only promotion video that was posted on Chinese social media by a wide range of official media, including China Daily, People's Daily, PLA Daily, Communist Youth League, China National Radio, Xinhua, and CCTV.

The Belt and Road Song by Fuxing Road Studios posted by whatsonweibo
In the video, fifteen different children sing along in English to a catchy song with cartoon graphics. The political video was made by Fuxing Road Studios (复兴路工作室), a company that often produces English-language propaganda videos on China's policies.
China's English-language public communication videos are not necessarily only targeted at foreign audiences. The Belt and Road is How video was widely shared by official channels on Chinese social media, and was initially not even posted on YouTube. The use of an English song (providing Chinese subtitles) helps convey the idea of the Belt and Road as a very global initiative, both for Chinese and non-Chinese audiences.
Featuring a group of cute and diverse children in this clip also boosts the global image of the OBOR project, and stresses its unthreatening character. Although the Chinese government and state media have continuously represented the initiative as one of peaceful development that has no regional or military agenda, there are still international concerns over China's strategic goals. The choice for such a "Sesame Street-style" promo video, in that sense, is quite telling; the 'One Belt, One Road' initiative couldn't be represented in any cuter or more innocuous way.
Fuxing Road Studios has covered numerous major China-related events in the past, including state leaders' overseas visits. Using pop songs and modern graphics, their videos target the younger, social-media generations. Although the company is secretive about its affiliation, The Wall Street Journal reported in 2016 that the production house is part of the Chinese Communist Party's international department.

2. China Daily: Belt and Road Bedtime Stories

State newspaper China Daily recently launched its 'Bedtime Stories' campaign. It is a series of clips in which Erik Nilsson, assistant director at China Daily, tells his little daughter Lily stories about the 'One Belt, One Road' initiative before she goes to sleep.
These China Daily series are mainly aimed at English-speaking audiences; newspaper China Daily has pushed these videos through its official channel on YouTube, a platform that is inaccessible from mainland China. They were also posted on Weibo, but the videos made less of an impact on Chinese social media than they did on YouTube, where the last clip received over 63,000 views within 24 hours.
When China Daily introduced the first video of the bedtime series on its official Weibo account on May 9, it emphasized the video's sentence "It is China's idea. But it belongs to the world," as a key sentence from the campaign. This sentence is crucial in the promotion of the idea behind the Belt and Road initiative, that emphasizes China as the harmonious leader that helps the whole world become a more prosperous place.
The concept of 'bedtime stories' gives China Daily the freedom to tell the story of the Belt and Road initiative in a very clear way through a father explaining the strategy to his daughter. This makes it easy for all people to understand, also for those who are not familiar with OBOR.

3. CCTV: Prosperous Together

China's state broadcaster CCTV published its own promo video this week that shows, amongst others, children from around the world playing with miniature cars, boats, and trains that then turn into reality along the Silk Route belt (see video below). The video's main theme is how OBOR connects the people of the world.

CCTV One Belt One Road Promo Video by whatsonweibo
The clip, titled "Together Prosperous," ends with the slogan: "Discuss Together, Build Together, Enjoy Together" ("共商, 共建, 共享"). It very much highlights the international impact of the One Road One Belt initiative – something that is given more weight through the use of dramatic music.
As in the other clips, this public communication video also gives prominence to the role of children from different countries. The point is not that these videos are targeted at kids, but that they are the perfect propaganda messengers: they represent the new future of China and the world.

4. People's Daily: WE Make It Happen

On May 12, another video came out which shows students from eight different countries painting together and talking about their home and interests. They mostly speak in Mandarin Chinese, but some also speak in their native languages. The students come from Hungary, Kenya, Spain, Argentia, Russia, China, Kazakstan, and Thailand.

"WE Make It Happen" – One Belt, One Road Promo… by whatsonweibo
While the other students talk about soccer, food, and dance, the Russian and Chinese students bring out the video's main message.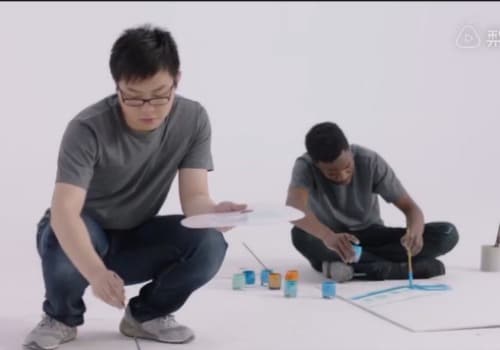 "Today, I drew a bridge," the Russian student named Mikhail says: "It connects Russia and China. Two different countries, two different nations. They can get to know each other. Every person or every nation can act as a bridge."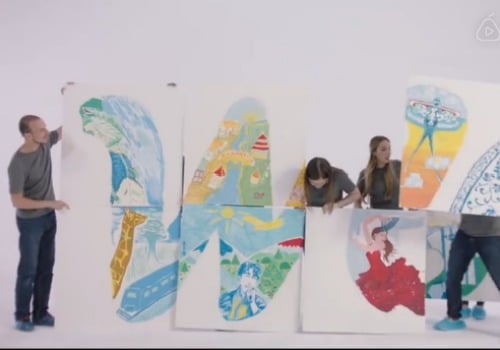 The Chinese student Yu then tells: "The kite was invented by ancient Chinese people. I think they had a dream. They wanted to know the outside world. A bigger world." The students then put their paintings together, forming the word "WE", followed by the message: "The Belt and Road – WE make it happen."
The video is an initiative by Communist Party newspaper People's Daily and was shared on Weibo by various media sources, including the Global Times.
Like the other videos, the focus is on how the Belt and Road strategy connects people of various nations. It is a new kind of public promo video, as Chinese public campaigns commonly always include references to the flag of China or other national symbols like the panda or the Forbidden City; something which does not comes up in this clip.
On China, netizens have responded in different ways to the various videos. Although many people said they think the Fuxing Road Studios clip is somewhat "awkward," the other campaigns are more popular.
Especially the "WE make it happen" campaign seems to be liked by many netizens. Many people comment on the video with: "We like WE!"
"This is a successful promo video," one person says: "It makes people feel proud."
The CCTV promo video also received praise on Sina Weibo. "It's very well done," many said.
"When I finished watching, I felt like this is the best Chinese promo video I've seen thus far," one Weibo user writes.
There are also those who wonder about the role of the USA, as America seems to play no role whatsoever in the various Belt and Road promo films. But there were also those who were not surprised about America's invisiblity in the videos: "This is the 'One Belt, One Road'," one person commented: "And it is China that is leading the way."
– By Manya Koetse
Follow @WhatsOnWeibo
©2017 Whatsonweibo. All rights reserved. Do not reproduce our content without permission – you can contact us at info@whatsonweibo.com.
Justice for Lamu: Death of Tibetan Vlogger Sparks Online Movement against Domestic Violence 
The story of a Tibetan woman burnt by her ex-husband has triggered outrage on Chinese social media.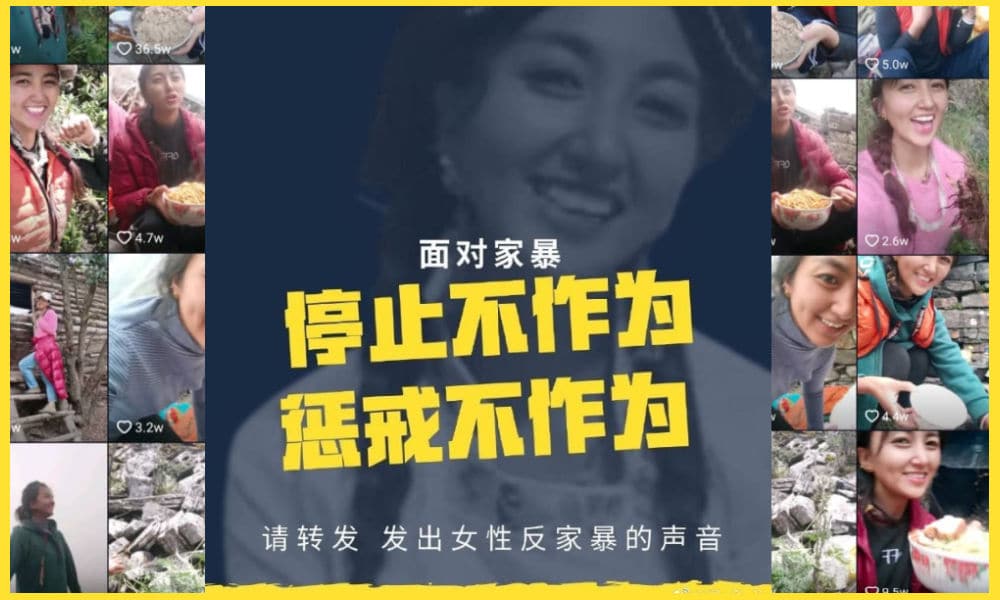 The popular Tibetan vlogger Lamu recently died after her husband attacked her and set her on fire inside her own home. Chinese netizens now raise their voices against domestic violence and call on authorities to do more to protect and legally empower victims of domestic abuse.

By Manya Koetse, with contributions from Miranda Barnes

The tragic story of a young Tibetan woman named Lamu (拉姆, Lhamo in Tibetan) is going insanely viral on Chinese social media these days, triggering massive outrage over the problem of domestic violence in China.
Update: also listen to our podcast on this story here
With over 700,000 followers on the Chinese video app Douyin, Lamu was popular for doing short videos about her life in the countryside since 2018. Singing, dancing, cooking, and showing fans the nature in her mountainous hometown, she was admired for her natural beauty and energetic attitude.
'Lamu' was popular on Douyin for singing, dancing, cooking, and showing fans the nature in her mountainous hometown. Fans praised her for showing the sunny side of her simple life. pic.twitter.com/YtlFHiGbsK

— Manya Koetse (@manyapan) October 7, 2020
The 30-year-old lived in the Guanyinqiao town of Jinchuan County, at the edge of the Qinghai-Tibet Plateau. Living in poverty, Lamu worked hard to make some money. Her videos showed the dirt on her clothes and her poor living conditions. Fans praised her for showing the sunny side of her simple life.
But Lamu's personal circumstances were nowhere near as sunny as they appeared in her videos. For years, the mother of two experienced severe domestic abuse by her husband, Tang X. (唐某).
Lamu divorced Tang, after which they both gained custody over one child. But the abuse continued as the ex-husband threatened to kill one child if Lamu would not get back together with him.
Several news sources describe how Lamu reported the abuse to the police multiple times, but that no action was taken – local officers deemed the case a 'family matter.'
Afraid for the safety of her child, Lamu was pressured into remarrying her ex-husband. But after recurring abuse and afraid for her own life, she again divorced him earlier this year. A local court ruled that Tang, who had more financial resources, would get custody over both children.
Things took a turn for the worse in September of this year, when Tang burst into Lamu's home. Lamu was stabbed, doused in gasoline, and set on fire by her ex-husband on the night of September 14, while she was trying to livestream from her home.
With 90% of her body damaged by flames, she was transported to Sichuan People's Hospital where she eventually succumbed to her injuries on September 30. Tang X. has since been detained while the case is under investigation.
The story gained widespread attention on social media platforms Douyin and Weibo, and soon went viral, although some hashtags and topics related to the news were censored later on.
One of the most-read in-depth online blogs about Lamu is that by 'Guyu' (谷雨) titled "Lamu, Burned by her Ex-Husband" ("被前夫烧毁的拉姆"). The article explains more about Lamu's low-income, low-education background, her struggles to take care of her sick father, and her hard work to generate money for her family.
Lamu's sister Zhuoma (卓玛, Dolma in Tibetan) posted a social media video on October 1st in which she tearfully shared the tragic news: "Yesterday, my younger sister has left us forever, (..), but she will always remain in our hearts."
Zhuoma also thanked social media users for their support. In an effort to help pay for Lamu's medical costs shortly after her hospitalization, fans set up an online crowdfunding campaign for her and were able to raise over 1 million yuan ($150,000) within a time frame of just seven hours.
Lamu's funeral was held at a local temple on October 5. The hashtag "Lamu is Cremated Today" (#拉姆今日火化#) received over 310 million views on Weibo.
"Domestic violence is not a family issue!"
In the wake of Lamu's death, and despite censorship, Chinese netizens started speaking out against domestic violence, advocating for better laws and support systems for domestic abuse victims in China.
An online poster that was shared online by hundreds of netizens says:
"Vlogger Lamu suffered domestic abuse for over ten years. She reached out for help many times to no avail. She was burnt by her ex-husband and died on September 30th. We can't let this kind of tragedy happen again! Let's confront a lack of action in the face of domestic violence, inaction should be punished. Please forward and make women's voices against domestic violence heard!"
Chinese actress Li Bingbing (李冰冰) also spoke out about the matter on Weibo, saying: "Don't be indifferent, don't stay silent, domestic violence is not a family matter, it is a crime!"
Many raising their voice against domestic violence mention how Lamu's case, unfortunately, is not unique. There have been similar cases before, and there are millions suffering behind closed doors. A 2016 survey by the All-China Women's Federation estimated that 30% of married Chinese women had experienced some form of domestic violence.
Domestic abuse was officially criminalized with China's first national law against domestic violence in 2016, but it is still a widespread problem, partly due to a general lack of public awareness of domestic abuse and police officers regarding it as a private family matter, downplaying its severity.
Another issue is how the legal repercussions for the perpetrators of domestic violence are often mild or even non-existent.
As noted by author Hao Yang in this article, the Chinese law's definition of domestic violence covers physical and psychological violence, yet does not explicitly include sexual violence such as marital rape. The law also does not include violence against former spouses or partners who do not live together.
There is also no clear national implementation guideline for China's Domestic Violence Law, and no standard procedure for protecting victims.
Lamu's death has stirred online discussions on the importance of addressing all of these aforementioned problems. These kinds of online discussions on domestic violence have risen before, but the voices have rarely been as loud as they are now.
"Domestic violence is the most frightening and harmful type of violence since it comes from within one's own family. If the police are useless, then how can women ever protect themselves?", one Weibo commenter writes, with another person responding: "Domestic violence is not a family issue! I hope the relevant authorities will start paying more attention to this!"
"We need a 'Lamu Bill'"
One popular Weibo user, a screenwriter from Beijing with approximately 240,000 followers, argues that the intervention of authorities in domestic abuse cases is sometimes literally a matter of life and death.
"Women who are victims of domestic violence should not have only two destinies,"  the blogger writes: "..either being beaten to death or struggling to kill."
This blogger, along with other social media users, also mentions other cases where the non-intervention of local authorities in domestic abuse cases led to a tragic ending.
Two of the cases often mentioned together with Lamu's case are that of Dong Shanshan (董珊珊), Li Yan (李彦), and Ms. Liu (刘女士).
Dong Shanshan was a 26-year-old woman from Beijing who suffered abuse from her husband shortly after getting married. Dong and her family reported the abuse to the police a total of 8 times, but the police allegedly were reluctant to intervene in something that was deemed a "family dispute." After another beating by her husband, Dong died of internal organ failure in 2009. Her husband was sentenced to six years in prison.
Li Yan suffered abuse by her husband Tan Yong ever since they got married in 2009. Although Li reported the abuse to the local justice department, police, and the All-China Women's Federation, local authorities did not intervene. When the abuse got worse – including Tan hitting Li's head against the wall, hacking off one of her fingers, and stubbing out cigarettes on her face and body, – Li (accidentally) killed her drunken husband with a gun barrel after he threatened to shoot her. Li was sentenced to death in 2011. The sentence was overturned in 2015 and commuted to life in prison.
Ms. Liu's case made headlines after the woman from Henan jumped from a second-story window to escape domestic violence. Footage of Liu landing on the street – a fall that left her temporarily paralyzed – went viral earlier this year when it became known that Liu had filed for divorce but this was denied by a local court. The court reportedly denied Liu's petition for divorce due to her husband's unwillingness to separate, and because her claims of domestic violence could not be verified without a criminal complaint. In the summer of 2020, Liu was finally granted a divorce.
A law that was released in 2020 introduced a mandatory "cooling off period" of thirty days after couples file for divorce. The law is allegedly intended to make people think twice before officially separating, but it also triggered public outrage for making victims of domestic violence even more vulnerable.
In light of Lamu's case, many people on Weibo and Douyin now support a so-called 'Lamu Bill' (拉姆法案), that should legally empower victims of domestic abuse, more so than the current law on domestic abuse does.
Netizens suggest it should include the automatic dissolution of a marriage once one side wants a divorce for one's own personal safety, and that it should criminalize marital rape.
"We need the 'Lamu Bill', we can't let these kinds of cases happen again," multiple commenters say, with others also writing "if you don't speak up, nothing will ever change." One post on the issue received over 630,000 likes.
On Weibo, the hashtag page for the topic has now been taken offline and many people note that the topic has been taken down from Weibo hot search lists.
At the time of writing, the hashtag "Stop Nonfeasance" (#停止不作为#), that is also used to call for change and better enforcement of China's domestic violence laws, is still open on Weibo and Douyin. On Douyin, many netizens speak out against domestic violence via video; on Weibo, they do so via posts and images.
Multiple images and videos show that the online movement against domestic violence also takes place offline, with people creating small memorials outside and leaving the "Stop Inaction" posters outside the Sichuan hospital.
Besides the censored hashtag and the "Stop Nonfeasance" hashtag, there are also other terms and hashtags used by Weibo and Douyin users to get their message across.
Lamu's story is passed on and has become much bigger than her tragic death alone. "I could be Lamu," some female commenters say.
"When people stay silent, women have no way to speak up," one person writes. And so, through online and offline memorials, posters, hashtags, and photos, the calls for action against domestic violence are everywhere. Even in the face of censorship, many social media users seem determined to make their voices heard.
By Manya Koetse , with contributions by Miranda Barnes
Follow @WhatsOnWeibo
Spotted a mistake or want to add something? Please let us know in comments below or email us. First-time commenters, please be patient – we will have to manually approve your comment before it appears.
©2020 Whatsonweibo. All rights reserved. Do not reproduce our content without permission – you can contact us at info@whatsonweibo.com.
Rotten Girls: China's Thriving Online Boys' Love Culture
It is an online subculture that has been around for more than a decade, and it is not likely to die out any time soon.
They are mocked, hated, and misunderstood, yet China's so-called 'Rotten Girls' are at the core of an online subculture that has been thriving for years.

This is the "WE…WEI…WHAT?" column by Manya Koetse, original publication in German by Goethe Institut China (forthcoming), see Goethe.de: WE…WEI…WHAT? Manya Koetse erklärt das chinesische Internet.

China's ever-buzzing social media sphere sees trends, topics, and movements pop up every single day and then fade away quickly when their novelty is gone. But there are some trends that turn into something bigger, bringing forth communities and online subcultures that keep on thriving for years, with the participants building their own spaces in the online environment.
One such space belongs to those who, with some self-mockery, define as "Rotten Girls" (fǔnǚ 腐女), derived from the Japanese fujoshi. In the Chinese context, 'Rotten Girls' are young women with a passion for fictional stories, drama series, and manga (comic books) featuring gay male erotica and romantic relationships called 'yaoi.'
'Rotten girls' do not just consume these stories, primarily written by and for women, they also create and share them with others to discuss.
In Chinese, the gay erotica known as yaoi is also called 'danmei' (耽美) or 'BL' (for 'Boys' Love') – all umbrella terms for contents of male-male homoerotic fiction. The genre plays a major role in various corners of the Chinese internet. It is an online subculture that has been around for more than a decade, and it is not likely to die out any time soon.
Media and technology both play a big part in the sharing of fǔnǚ fantasies. These fantasies can range from boys holding hands to more pornographic ones, but the main point of the imaginary is love and intimacy (Galbraith 2011, 213).
Always Another BL Trend
There is always something different trending in the world of Rotten Girls. This summer, for example, the release of the Japanese 18+ games 'Lkyt' by BL game brand Parade received a lot of attention. A previous game by Parade, 'Room No. 9,' is also still popular among BL fans in China. The game revolves around two young men, long-time friends, who get locked inside a room where they are subjected to a behavioral analysis experiment. The two have to make some taunting decisions, including possibly being forced into sexual activity with each other, in order to make it out alive.
Another major topic that went trending within the Rotten Girls community some years ago, even attracting the attention of western news media, was the British crime drama Sherlock. Many Chinese viewers in the BL scenes were convinced that detective Sherlock Holmes (played by Benedict Cumberbatch) and his sidekick Watson (Martin Freeman) were not just professional partners, but a romantic couple. This practice of imagining a relationship between two characters is also known as 'CP,' an abbreviation for "coupling" or "character pairing."
The ambiguous relationship between Holmes and Watson – and the very fact that they are not explicitly homosexual – suits the fantasies harbored by China's fǔnǚ. There are countless examples of how BL fans photoshopped Sherlock images into homoerotic scenes, making up their own stories and endlessly discussing the relationship between Holmes and Watson.
BL fans are active in various online spaces. There are Rotten Girls communities on Chinese literature websites, discussion boards, and on ACG-focused platforms such as Bilibili (ACG is a popular abbreviation of "Anime, Comic and Games"). Boys' Love is practically everywhere: short stories, web novels, manga, anime, games, and series are all actively created, consumed, and shared within the BL fandom.
The Chinese Jinjiang Literature City site (1998) is one of the earliest and most influential websites for the danmei genre, where some top channels receive millions of clicks. The Chinese web novel author 'Priest' is among one of the most successful authors (some translations in English can be found here).
But besides the special BL fiction forums, there are also many fǔnǚ accounts on the more mainstream social media platforms such as WeChat and Weibo. Under Weibo hashtags such as "Fǔnǚ Daily" (#腐女日常#), "BL Webtoons" (#bl条漫#), "BL Manga" (#bl漫画#), "Original Danmei" (#原创耽美#), and many more, Rotten Girls discuss their favorite danmei works and the latest news on a daily basis.
Although the Rotten Girls have been increasing their sphere of influence, it hasn't been without controversy. Not only are they often looked down upon for their love for male homoeroticism, some LGBT people also criticize them for silencing the voices of actual gay men or erasing real-life gay experiences.
From Japanese Toy Boys to Chinese Danmei
Where did this all begin? China's BL subculture finds it roots in Japan. The popularity of danmei came up with the growing influence of Japanese popular culture in China.
In the early 1990s, Japanese manga and anime titles started flooding the Chinese market, often as unauthorized (pirated) copies. With this wave of Japanese entertainment products hitting the Chinese market, there were also those belonging to the genre of BL.
In Japanese fiction and manga, the theme of male-male romance intended for a female audience emerged as early as the 1970s but did not really rise to popularity until the early 1990s, when Japanese mainstream media saw a 'gay boom' and representations of male homosexuality became in vogue.
The year 1993 truly was a 'gay year' in the Japanese media and entertainment industry. In "Producing Gayness" (1997), Sho Ogawa describes how one Japanese magazine even offered readers a "Gay Toybox": full color paper gay dolls to cut out, including matching clothes from jackets to sports uniforms and even leather bondage gear. Instructions that came with the paper dolls encouraged readers to play with them, "give them a lovely name" and "imagine a campus love affair" between them.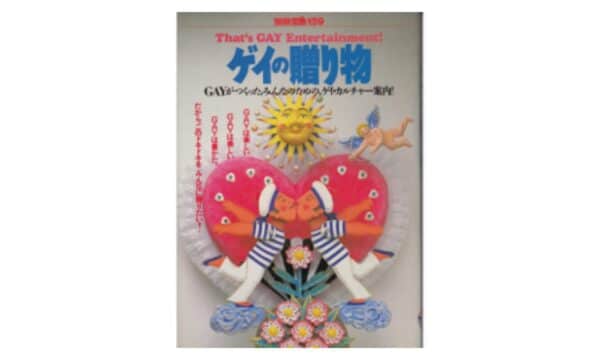 It was also in this same year of 1993 that many Chinese young women first discovered the genre of Japanese Boys' Love, mainly through the dissemination of pirate manga, novels, and magazines in Chinese bookstores.
Throughout the years, the Chinese genre of danmei has become much more than just an imported entertainment genre from Japan, and it is also somewhat different from the subgenre of 'slash fiction' in the West.
Danmei literally means "to indulge in beauty," and it has developed its own characteristics, taking a predominantly literary form while also strongly resonating with Japanese visual culture (Madill et al 2018, 5). Since the first Chinese BL-focused monthly magazine appeared in 1999, the genre has mixed with various local and other foreign media and celebrity cultures (e.g. that of South Korean and Thailand), and has become a truly Chinese fan culture phenomenon (Chen 2017, 7; Yang & Xu 2017, 3).
Safe, Subversive, and Pure Love
Those outside the danmei subculture often wonder what makes 'Boys' Love' so appealing to so many young women. There are various explanations and interpretations of why female fans enjoy writing and reading about male homoeroticism.
Chen Xin, who studied the topic of Boys' Love at the University of British Columbia, offers "safety" as one explanation for the popularity of danmei, as it gives its readers, mostly straight women, the freedom to fantasize in a way that is removed from their own romantic lives. This is also reiterated by other scholars, who argue that BL provides a safe fantasy where female fans can avoid the objectification of women while exploring the boundaries of their own sexuality.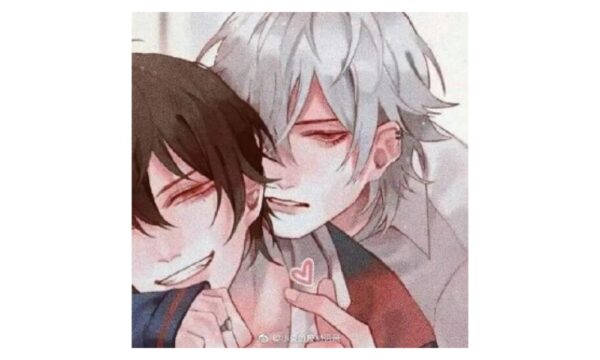 The concept of 'pure love' is one of the funü's greatest attraction to BL. According to them, it is the most romantic type of love because it transcends the boundaries of gender. The male protagonists in these stories do not identify as gay, but fall in love with other men nevertheless. "It doesn't matter if you are male or female, I just love you" and "It's not that I am gay, I just love a man" are classic sentences within Rotten Girls' fiction (Dai 2013, 34).
Zhang Chunyu (2016) also highlights the genre as an outlet for female writers and readers to explore sexuality and pleasure in a "subversive" way. Rotten girls position males as the objects of female desire, and in doing so, they challenge traditional gender stereotypes and appreciate gender fluidity.
China's Rotten Girls subculture is also 'subversive' in another way. Because of its focus on homosexuality and eroticism, danmei fandom is subject to online censorship. According to China's cyberspace regulations, online content should adhere to the "correct political direction" and "strive to disseminate contemporary Chinese values." Over the past few years, there have been various moments when displays of homosexuality were targeted by censors.
An anti-pornography campaign of 2014 resulted in the shutdown of hundreds of websites and social media accounts. Throughout the years, dozens of danmei authors have been arrested and many sites were closed or deleted for creating and distributing homoerotic content (Chen 2017, 9; Madill et al 2018, 6; Zhang 2016, 250).
Despite the strict internet control, fǔnǚ and BL content are still going strong. In order to circumvent censorship, the words and images used are often coded or nuanced enough not to get deleted – but BL fans will still understand and enjoy the subtext.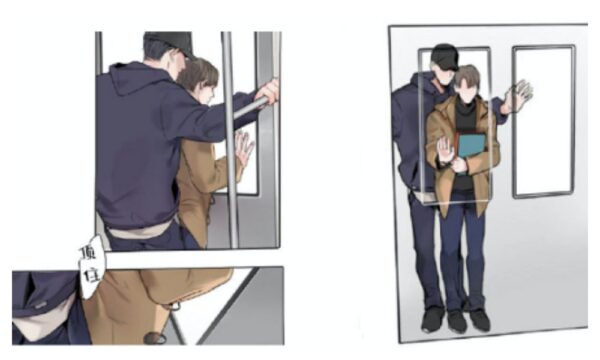 Over the past years, China's Rotten Girls have grown from a niche community to a force to reckon with on the Chinese internet. They have become a phenomenon that is often discussed in the media and is even researched by many academics.
"We've become professionals now," one 'Rotten Girl' joked on Weibo recently.
Another commenter replied that the rise and possible fall of the danmei community is, eventually, intrinsically linked to how much room is given by China's internet regulators. Although the past decade has demonstrated that Rotten Girls are not easily scared away by censorship and shutdowns, their future eventually does depend on the online accessibility to BL media and forums.
"If there is no relaxed online environment, it doesn't matter how professional we are," one commenter writes: "We might come to a standstill."
What the future will hold for China's Rotten Girls remains to be seen. Whether met with controversy or censorship, for now it seems impossible to put the Rotten Girls back into the closet they came from.
By Manya Koetse
Follow @whatsonweibo

This text was written for Goethe-Institut China under a CC-BY-NC-ND-4.0-DE license (Creative Commons) as part of a monthly column in collaboration with What's On Weibo.

References
Chen, Xin. 2017. "Boys' Love (Danmei) Fiction On The Chinese Internet: Wasabi Kun, The Bl Forum Young Nobleman Changpei, And The Development Of An Online Literary Phenomenon." MA Thesis, University of British Colombia https://www.semanticscholar.org/paper/Boys%27-Love-(Danmei)-fiction-on-the-Chinese-internet-Chen/63e7b494653bc1d849461b7a8f3d57aad05be452 [Aug 30, 2020].
Cohane (阿扣-绝赞爬墙中). 2020. "第二章 中国内地BL文化发展历史整理 [Part Two: A History of Development of Mainland China BL Culture Development]" (In Chinese). Weibo Article, Aug 8, https://weibo.com/ttarticle/p/show?id=2309404536531036799045 [Aug 26 2020].
Dai, Fei 戴非. 2013. "腐女心理 [Funu Psychology]" (In Chinese). 大众心里学 Popular Psychology (12): 34-35.
Galbraith, Patrick W. 2011. "Fujoshi: Fantasy Play and Transgressive Intimacy among "Rotten Girls" in Contemporary Japan." Signs 37 (1): 211-232.
Larigakis, Sophia. 2017. "Boys' Love: The Gay Erotica Taking China by Storm." Sophialarigakis.com, Nov 6 https://www.sophialarigakis.com/writing/boys-love-china [Aug 29, 2020].
Madill, A., Zhao, Y. and Fan, L. 2018. "Male-male marriage in Sinophone and Anglophone Harry Potter Danmei and Slash." Journal of Graphic Novels and Comics, 9 (5): 418-434.
Ogawa, Sho. 2017. "Producing Gayness: The 1990s "Gay Boom" in Japanese Media." PhD Dissertation, University of Kansas.
Yang, Ling and Yanrui Xi. 2016. "Danmei, Xianqing, and the making of a queer online public sphere in China." Communication and the Public 1 (2): 251-256.
Yang, Ling and Yanrui Xu. 2017. "Chinese Danmei Fandom and Cultural Globalization from Below." In: Lavin, Maud, Ling Yang, and Jing Jamie Zhao (eds). 2017. Boys' Love, Cosplay, and Androgynous Idols – Queer Fan Cultures in Mainland China, Hong Kong, and Taiwan. Hong Kong: Hong Kong University Press, page 3-20.
Zhang, Chunyu. 2016. "Loving Boys Twice as Much: Chinese Women's Paradoxical Fandom of "Boys' Love" Fiction." Women's Studies In Communication 39 (3): 249–267.
Spotted a mistake or want to add something? Please let us know in comments below or email us. First-time commenters, please be patient – we will have to manually approve your comment before it appears.