Gansu Female Student Commits Suicide after School Ignores Sexual Abuse Claims
Shockingly, some people applauded as the girl jumped to her death.
A tragic story about a 19-year-old girl whose abuse story was not believed by her school or local authorities is making its rounds on Chinese social media – together with a video that shows the girl's horrifying suicide. (Updated.)
The horrific suicide of a 19-year-old female student from Qingyang in Gansu province was live-streamed on Chinese social media on June 21st when she jumped from a high building in the prefecture-level city.
According to various Weibo sources and some media (e.g. EBC), the young woman named Li suffered from severe depression after her school and local authorities did not believe her when she reported that her high school teacher had sexually assaulted her.
According to Li's reports, which leaked online, the assault happened during school time in 2016 after a visit to the school nurse. Li, who had a stomach ache, was recovering in the school's resting area where a teacher named Wu Yonghou (吴永厚) was in charge.
When Wu sat by Li to check on her, he allegedly held her and kissed her on the mouth, face, and ears. He also attempted to take off her clothes, but when another teacher entered the area, the assault stopped.
China Times reports that the incident weighed very heavy on Li, who went to the school counsellor the following day. Against Li's will, however, they settled the case by making teacher Wu apologize to the girl. They summoned her to go back to class afterward – with Wu as her teacher.
The young student proceeded to report the case to local authorities. But since Wu claimed he had only touched Li as a way of 'physical examination' to 'check if she had a fever,' he was released without charge and continued to work at Li's school as her teacher. Li consequently gave up to undertake further legal steps against Wu.
Following this ordeal, Li allegedly suffered from depression, which led to her suicide on the 21st of this month.
According to one influential Weibo blogging media account (5.7 million followers), some hundred people had gathered at the building where Li was trying to jump, where they allegedly cheered, applauded, and screamed "jump already" (not confirmed in official media).
A shocking video (warning: death, viewer discretion advised) shows how the young woman is hanging from a window in a high building, with a rescue worker trying to pull her back inside.
When Li pulls herself away and falls down the high building, the rescue worker loudly cries out in agony and weeps while bystanders can be heard gasping, screaming, and some, shockingly, clapping. Li did not survive her fall.
"Girl, I hope you're off to a better world, where people are not so cold and detached."
By June 24, the post about Li's story and video showing her fall was shared on Weibo more than 30.000 times, with over 35.000 people leaving comments. The story also received much attention in hundreds of other posts across Weibo.
Many netizens show their sympathy for both the woman and the rescue worker: "A girl's despair, a rescue worker's despair – one because she doesn't want to continue living, the other because he wasn't able to rescue her in the final moments. I don't understand how bystanders can laugh."
"That sound of weeping hits me in the heart. It's not your fault, you did what you could to save her. Girl, I hope you're off to a better world, where people are not so cold and detached."
"It is the people who clapped who really made her kill herself. Even her last bit of spirit was crushed in those final moments," others say.
Rumors also make their rounds, such as that some individuals claim the rescue worker in question previously already saved the girl from a suicide attempt in 2017 and was familiar with her. These rumors remain unconfirmed.
There are also people in the comment section who allege there was a time period of four hours while rescue workers talked to the girl and tried to help her before that fatal jump. They ask: "Why didn't the authorities prepare for an air cushion on the ground?"
A lot of comments condemn the bystanders who were clapping at the time of Li's suicide. "They are animals," a typical comment said.
Many also condemn the teacher, asking: "How can people like this even become a teacher?"
Over the past few months, various stories about abusive teacher-student relations have become trending topics on Chinese social media.
The story of female student Gao Yan, who committed suicide in 1998 after suffering abuse by her professor, surfaced again in April of this year when an old classmate of Gao Yan came forward in the media. But there were also other stories of (male) students committing suicide due to the maltreatment they faced by their teachers.
"I hope this story becomes even bigger," one Weibo user writes: "I want everyone to see the injustice that is at the heart of this story."
Update June 25 (18:30 Beijing time): State media outlet Global Times reports that multiple onlookers who were "disrespectful to life" by cheering on Li's suicide have been taken into custody. Local authorities said investigations will continue.
If you or someone you know needs help, there are international suicide hotlines for you to contact. For China, see this information. The US national suicide hotline: 1-800-273-TALK, or please see this list of international helplines.
By Manya Koetse
Follow @whatsonweibo
Directly support Manya Koetse. By supporting this author you make future articles possible and help the maintenance and independence of this site. Donate directly through Paypal here. Also check out the What's on Weibo donations page for donations through creditcard & WeChat and for more information.
Spotted a mistake or want to add something? Please let us know in comments below or email us.
©2018 Whatsonweibo. All rights reserved. Do not reproduce our content without permission – you can contact us at info@whatsonweibo.com.
Chinese State Media Features German Twitterer "Defamed by Evil Western Forces"
European media call the 21-year-old Heyden a CCP propagandist, Chinese media call her a victim of the Western media agenda.
The German influencer Navina Heyden has been labeled "a propagandist for the Chinese government" by European media outlets. She is now featured by Global Times for preparing a lawsuit against German newspaper Die Welt for "defaming" her.
A 21-year-old woman from Germany has been attracting attention on Chinese social media this week after state media outlet Global Times published an article about her battle against "biased journalism" in Europe.
She is known by her Chinese name of Hǎiwénnà 海雯娜 on Weibo, but also by her German name, Navina Heyden. On Twitter (@NavinaHeyden) she has around 34K followers, on Weibo (@海雯娜NavinaHeyden) she has over 15800 fans.
According to the Global Times story, which is titled "21-year-old German Girl Debunking China's Defamation Is Tragically Strangled by Evil Western Forces" ["21岁德国女孩驳斥对中国抹黑,惨遭西方恶势力绞杀"], Heyden has been on a mission to "refute Western media's smear campaign against China" for the past year.
The same article was also published by other Chinese state media outlets this week, including Xinhua, Xinmin, and Beijing Times.
Recently, various European news outlets reporting about Heyden's online activities described her as a Twitter influencer acting as an advocate for "pro-CCP narratives."
It started with the German newspaper Welt am Sonntag publishing an article on June 15 of 2021 titled "China's Secret Propagandists" ["Chinas Heimliche Propagandisten"], in which Heyden was accused of being a propagandist. That same story was translated into French and published by Le Soir on June 23.
An article by London-based think tank ISD (Institute for Strategic Dialogue) dated June 10, titled "How a Pro-CCP Twitter Network is Boosting the Popularity of Western Influencers" (link), also featured Heyden and her alleged role in a coordinated Chinese online propaganda campaign.
The article focuses on Heyden's Twitter activity and her supposedly inorganic follower growth, using data research to support the claim that she is more than just a young woman siding with Chinese official views.
Heyden claims that she agreed to do the initial interview with Die Welt about her views on China and the online harassment she experienced by anti-China activists, but that the reporters eventually published something that was very different from the actual interview content, describing Heyden as a Chinese government propagandist and disclosing names and locations without her consent.
Heyden says she is now preparing a lawsuit against the newspaper and its three journalists for violating her rights. In order to do so, she started a crowdfunding campaign to help her fight media defamation. That 'Go Fund Me' campaign was also promoted on Weibo on July 5th, and she soon reached over 13,000 euros in donations.
The main take-away of the Global Times story is that Heyden is an active social media user who has bravely refuted Western bias on China and exposed the supposed media hysteria regarding the rise of China, and that she has been purposely targeted by European media outlets for doing so.
Heyden joined Twitter in March of 2020 with her bio describing her as a "German amateur manga drawer, studying business economy, grown up within Chinese community since age 15."
Since then, she has tweeted over 1000 times and has spoken out about many issues involving China, including the Covid-19 pandemic, the situation in Xinjiang, the national security law in Hong Kong, the India-China border conflict, and the status of Taiwan. She sometimes also tweets out more personal information, such as the time when she shared photos of herself and her Chinese partner.
Her very first tweet on the platform – one about China not falsifying Covid-19 numbers – was sent out on April 1st of 2020 and received 52 likes. Over the past year, her account has only gained more likes and followers.
A later tweet in which Heyden wrote "I can testify that Chinese Muslims are not persecuted like what western media claimed" (link) received over 870 likes.
In another tweet, Heyden wrote: "China is unfairly treated because she's always put in a trial without chances to defend. Her words must be propaganda, her people must be brainwashed. After confirmation with Chinese sources and my experiences, I'm enraged about how wrong our media is. This is harmful to us all." That tweet received over 1.4K likes.
Besides the fact that Heyden's tweets are often retweeted by the Twitter accounts of Chinese diplomats and other prominent Chinese channels – sometimes within just a few seconds of one another, – the aforementioned ISD article claims that Heyden's account has grown in a relatively short time due to sudden spikes in followership by accounts that were created in batches at specific times and in short sequence.
For a Twitter post of August 2020, Heyden recorded a video in which she explained why she wanted to open up her Twitter account in the first place and counter those accusing her of being a "CCP agent" or a "fake account". She said:
"I'm not getting paid by anyone so stop wasting your time on proving something which I am not. A lot of people may wonder why I say so many positive things about China in the first place. The reason is that when I was around 15 years old I was introduced into the Chinese community and I got to learn a lot of Chinese people, what they think about China, and also what they think about their government. And I found that the China I visited is so much different from the China that the media is describing. It's almost as if the media is describing a whole different country. Now, it wouldn't be so bad if only people would not buy those false narratives, and I'm having a problem with it, because a lot of my close friends and also my family are believing all those false narratives. And this is causing me to have some conflicts with them from time to time. So I've decided to open this Twitter account to debunk all those false narratives."
At this time, Heyden describes her own Twitter account as "one of the most influential ones to show people what real China is like."
The story about Heyden's online activities seems to suit some ongoing narratives in both European and Chinese newspapers. For the first, it upholds the idea of China secretly attempting to infiltrate and influence democratic societies in new ways; for the latter, it confirms the belief that biased Western media will do anything to defile China while serving the interests of their political parties.
Meanwhile, on Weibo, hundreds of netizens have praised Heyden for defending China and standing up against Western media.
"China has 1.4 billion people, Germany just has [tens] millions, of course, you're gonna get a lot of fans if you support China," one popular comment on Weibo said.
One influential Weibo blogger (@文创客) wrote about Heyden, calling her a victim of a "deranged" situation where Western media outlets have used her for their anti-China narratives.
"When will you come and live in China," some people on Weibo ask, with various other commenters saying: "Just come to China!"
Plans to move to China seem to be on the horizon for the German influencer. In an earlier tweet, she confirmed: "We are already on the path to live in China PERMANENTLY. Really feel much safer there."
Despite sharing her strong support for China on Twitter, the 21-year-old recently also expressed some frustrations with the Chinese social media climate when she encountered censorship on Sina Weibo and experienced some difficulties posting on Bilibili and Toutiao.
On Twitter, she wrote: "To CPC, you can't lock your citizens in an information greenhouse forever."

Sharing some of her frustrations regarding the Chinese social media sphere on Weibo, where she even admitted to missing Twitter, some Weibo users offered their support: "We're on your side."
By Manya Koetse (@manyapan)
With contributions by Miranda Barnes
Spotted a mistake or want to add something? Please let us know in comments below or email us. First-time commenters, please be patient – we will have to manually approve your comment before it appears.
©2021 Whatsonweibo. All rights reserved. Do not reproduce our content without permission – you can contact us at info@whatsonweibo.com.
100 Years Communist Party Celebrations: Xi's Speech on Weibo
The Party's centennial anniversary speech by Xi Jinping was one of the main topics propagated in the Chinese online media sphere.
This week marked the 100th anniversary of the Communist Party of China (CCP), an important moment for the Party to highlight its historic experiences and "glorious achievements" over the past century.
All over the country, the centennial celebrations have been in full swing. Light shows, exhibitions, ceremonies, and concerts were taking place from Beijing to Shanghai, from Harbin to Xi'an. Virtually every region, city, and village in the country was doing something to pay tribute to the Party. At the Gansu Dunhuang Solar Park, they even mobilized over 3700 solar panels to move simultaneously to wish the Communist Party a happy 100th (see tweet thread below).
Another viral #CPC100 spectacle – they decided to mobilize a sea of solar mirrors (over 3700) at the Gansu Dunhuang Solar Park to move simultaneously to wish the Communist Party a happy 100th. 😳 pic.twitter.com/bfGiMf6HYj

— Manya Koetse (@manyapan) July 1, 2021
Although the Communist Party's birthday is July 1st, the entire week leading up to this was filled with events and Party-related news. In Chinese media and on social media, the anniversary was a major topic, with state media and official accounts continuously publishing all kinds of content related to the Communist Party centenary celebrations.
Chinese social media platform Weibo was completely themed around the 100-year anniversary during the celebration week. A special '100 Year CPC' discovery button, specially dedicated labels for posts about the Party, and a Party-themed color palette for the platform – it was all there.
Hashtags such as "100 Years of CPC" (#中国共产党100周年#), "Tribute to the 100th Anniversary of the Founding of the Party" (#献礼建党一百周年#), "100 Years of Struggle" (#百年奋斗#), "Celebrating the 100th Party-Founding Anniversary" (#庆祝建党100周年#), "The Centenary of Party Founding" (#建党百年#), "Why They Founded the Party" (#他们为什么建党#), and "Which Scene of the Party's 100th-anniversary Celebration Impressed You the Most" (#建党100周年庆祝大会哪一幕令你印象深刻#) were all major topics.
On July 1st, the top six trending topics according to the site's hotlist were all Party-related.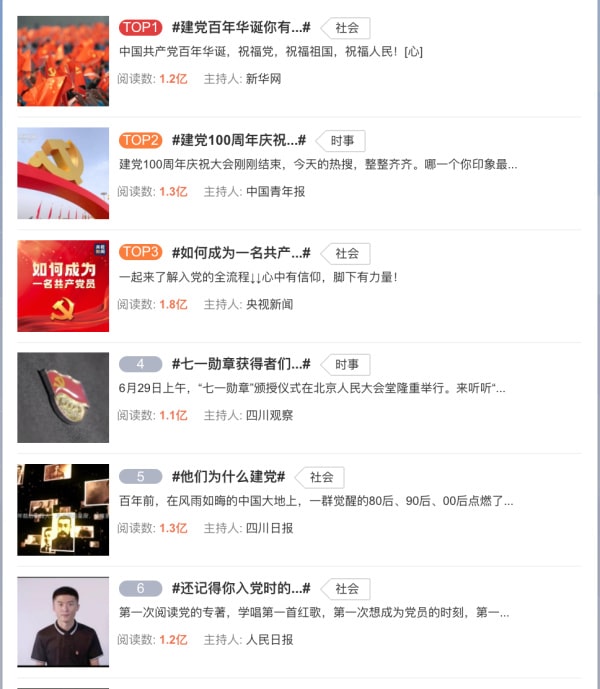 One of the highlights of the (online) celebrations was the July 1st hour-long speech from Tiananmen Square by President Xi Jinping, in which he spoke about the Party leadership, Chinese history, and the journey ahead.
One of the main themes that was highlighted throughout the celebrations, and also in Xi's speech, is the idea of the "glorious journey" or the "glorious history" (光辉历程) of the Communist Party of China over the past century.
The most-used words in this speech, in English translation, are the 'Party', the 'people,' and the 'Chinese nation.' These three terms are the overarching theme of the centennial celebrations, during which the Party, the Chinese people, and national identity are continuously tied together in one narrative.
China Youth Daily even dedicated a hashtag page to the fact that Xi mentioned 'the People' a total of 83 times (#习近平近万字讲话83次提到人民#). During one point in the speech, Xi said that "the people are the true heroes, for it is they who create history."
Various parts of the speech were turned into digital posters by state media outlets and shared all over social media.
One of the most noteworthy moments in Xi's speech was when he used strong language saying the Chinese will never allow foreign influences to bully or oppress them again.
Noteworthy Xi Jinping speech moment, strong language saying the Chinese will never allow foreign influences to bully or oppress them again. #CPC100

("中国人民也绝不允许任何外来势力欺负、 压迫、 奴役我们。谁妄想这样干,必将在1 4亿多中国人民用血肉筑成的钢铁长城面前碰得头破血流.") pic.twitter.com/6vT590Obzo

— Manya Koetse (@manyapan) July 1, 2021
Xinhua translated this part of the speech as:
"We Chinese are a people who uphold justice and are not intimidated by threats of force. As a nation, we have a strong sense of pride and confidence. We have never bullied, oppressed, or subjugated the people of any other country, and we never will. By the same token, we will never allow any foreign force to bully, oppress, or subjugate us. Anyone who would attempt to do so will find themselves on a collision course with a great wall of steel forged by over 1.4 billion Chinese people."
One of the idioms used by Xi Jinping was that of "tóupòxiěliú" ("头破血流"). Although the Xinhua translation uses the English "find themselves on a collision course," the Chinese wording is stronger than that and led to many discussions on Twitter on how the words were translated and misinterpreted in English. Its literal translation would be 'head broken and blood flowing,' but its actual meaning arguably is more like 'suffer a crushing.'
On Weibo, that segment of Xi's speech was highlighted by the social media account of People's Daily, receiving more than 700,000 likes, and by the CCTV Weibo account, where the video received over 2.2 million likes.
Some parts of that segment even became hashtags, namely "The Chinese People Will Never Allow Foreign Forces to Bully Them" and "Whoever Tries to Bully China Will be Crushed" (#中国人民绝不允许任何外来势力欺负# and #谁妄想欺负中国必将碰得头破血流#). Those hashtag pages received 290 million and 1.1 billion views, respectively.
As the online censorship apparatus was running at full speed this week, critical comments on the speech were hard to find, but there were thousands of Weibo users praising Xi's words.
"My eyes just teared up, my love for this country is so deep. I love you China!"
"When we heard the Chairman say this, our entire office just spontaneously stood up and clapped, I couldn't help but feel like crying!"
There were also those who applied the sentence "Whoever Tries to Bully China Will be Crushed" to real-life examples. Fashion brand H&M was mentioned for its boycott of Xinjiang cotton (read here), after which the company saw its sales in China slump.
Some called Xi's speech "a declaration of the people." The idea of a confident China that will not put up with foreign interference in its internal affairs was clearly visible on Chinese social media, reiterated by state media, during the 100-year Party celebrations, and in the months leading up to this event.
"As a Chinese person, [this speech] made me really proud and confident," one Weibo commenter wrote, with another person commenting: "I was applauding in my head the whole time."
In some Weibo threads, only a selected number of comments were available to read, while virtually all comments were censored on other posts. The online censorship showed how comments that, perhaps, were less positive about the speech, were not welcome for the celebrations of the Party anniversary.
The full text of Xi Jinping's July 1st speech is available via Xinhua here.
You might also be interested to read:
By Manya Koetse (@manyapan)
Follow @whatsonweibo
Spotted a mistake or want to add something? Please let us know in comments below or email us. First-time commenters, please be patient – we will have to manually approve your comment before it appears.
©2021 Whatsonweibo. All rights reserved. Do not reproduce our content without permission – you can contact us at info@whatsonweibo.com.