Online Anger over Inappropriate Toast by Dutch Watch Brand Executive at Chinese Dinner Party
This is how NOT to do a toast in Dutch!
Instead of teaching guests at a Chinese dinner party how to say "cheers" in Dutch, this viral video shows how the Chinese are told to join in saying "dikke lul," the Dutch expression for "big d*ck."
UPDATE: FYI – the videos relating to this incident have been taken offline after the publication of this article. There are no active video links in this article.
The Amsterdam-based watch & jewelry brand Rosefield has recently come under fire within the Chinese community in the Netherlands after a video went viral showing Rosefield's CEO and its Head of Sourcing proposing an unusual toast at a Chinese dinner party.
The video, that was viewed over 173,000 times on Dutch site Dumpert.nl, shows a woman in a white blouse bringing out a toast, saying:
"In Dutch, we say 'ganbei' or 'cheers' in this way, and it would be nice if you all can say the same, we say: 'dikke lul.'"
The people at the table then proceed to toast saying "Dikke lul" – which, in fact, is not the Dutch word for 'cheers' but for 'big dick,' something that the Chinese people at the table are seemingly not aware of.
On WeChat, Chinese-language newspaper Asian News (华侨新天地) reported about the video and identified the Dutch woman and man at the table as the CPO and CEO of Rosefield Watches, a fast-growing luxury brand that is active in various countries.
Asian News describes the incident as a way of "ridiculing Chinese friends," and writes it has triggered anger online.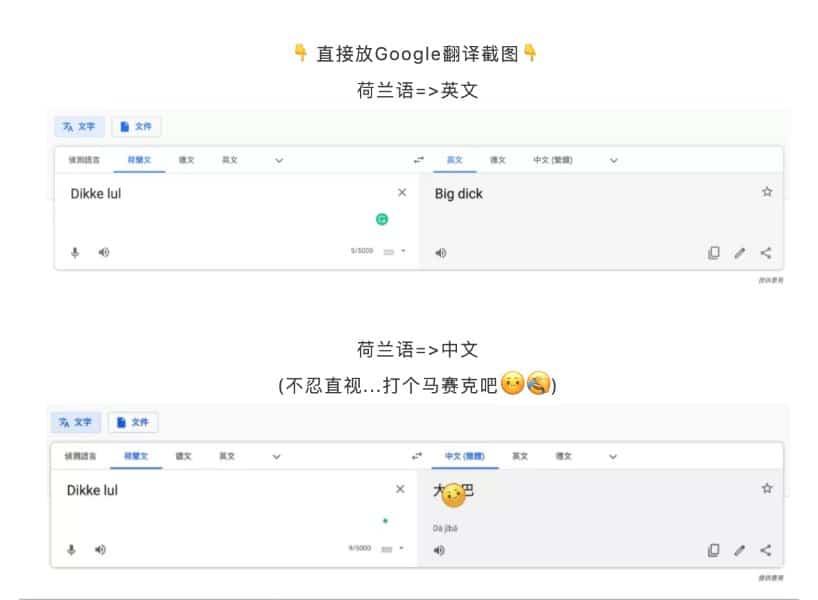 Asian News (华侨新天地) is a Chinese language newspaper founded in 1992. It is mainly distributed in the Netherlands, Belgium, and Germany. Its WeChat account has some 120,200 followers, and the post on the 'cheers' video was among its most-well read on WeChat this week.
The blog post noted that ever since the 'dikke lul' video has gone viral in the Netherlands, it has become one of the first results showing up when searching for the vulgar expression 'dikke lul' on Google.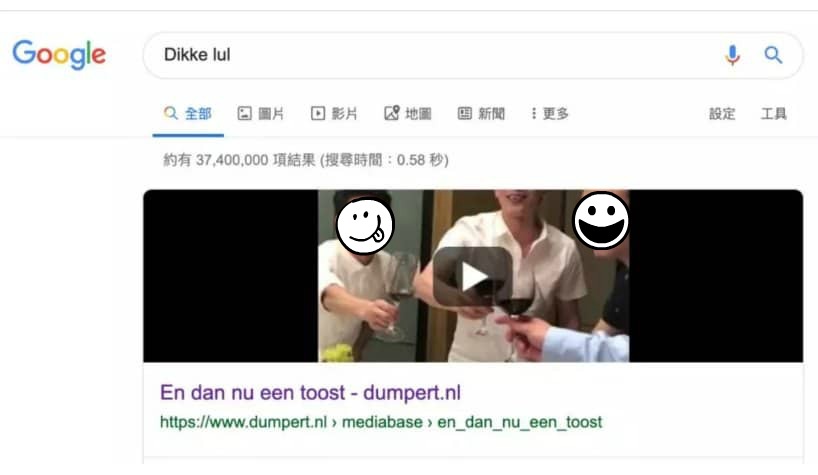 Although it is not clear where the video was filmed and how it ended up on short video site Dumpert, it is rumored in WeChat groups that it was recorded during the Hong Kong Watch and Clock Fair earlier this month, and that the Chinese guests are business relations of the Dutch brand (unconfirmed).
The comment section on the Dumpert site shows that although some Dutch commenters think the video is funny, there are many who find it "vulgar," "rude," and "distasteful."
Although many (overseas) Chinese expressed anger in various WeChat groups – some expressing regret over a Rosefield watch they recently purchased – the Asia News blog does remind readers that we do not know the context of the video, and whether or not there was a certain pretext or common understanding to the joke.
Nevertheless, the blog states, this kind of behavior is not professional and if a company such as Rosefield wants to earn money in China, "it should also respect Chinese culture and people."
Although there have been ample discussions about the controversial video on Wechat, there are no online discussions about this issue on Weibo at the time of writing.
Over the past year, many foreign brands became a focus for controversy in China.
In November of 2018, Italian fashion house D&G faced consumer outrage and backlash on Chinese social media for a video that was deemed 'racist' to China and for insulting remarks about Chinese people allegedly made by designer Stefano Gabbana.
Swiss investment bank UBS sparked controversy in June for a column which mentioned "Chinese pigs."
Over this summer, various foreign companies apologized to China for listing 'Hong Kong' as a separate country or region on its websites and/or t-shirts.
Still curious about how to actually say 'cheers' in Dutch? It's 'proost' and this is how you pronounce it correctly.
By Manya Koetse
Follow @whatsonweibo
Spotted a mistake or want to add something? Please let us know in comments below or email us. Please note that your comment below will need to be manually approved if you're a first-time poster here.
©2019 Whatsonweibo. All rights reserved. Do not reproduce our content without permission – you can contact us at info@whatsonweibo.com
Tianjin Students Find All Their Belongings Thrown Out After Dorm Turns Into Covid19 Quarantine Site
Tianjin students expressed anger and disbelief online after their school dormitories became local Covid19 quarantine sites and their belonging were tossed out.
Since earlier this month, Tianjin has been fighting a Covid outbreak. On January 9, the city of 14 million residents started citywide nucleic acid testing after twenty people tested positive for Covid19, including at least two Omicron infections. The city, facing the country's first Omicron outbreak, then entered a partial lockdown.
In the January 8-January 16 period, Tianjin registered a total of 294 new cases, with an additional 18 cases being reported on Monday.
One of the important measures in China's battle against Covid19 is the preventive quarantine in centralized locations of nearby or close contacts of Covid19 cases. In Tianjin, these 'close contacts' are mainly located in Jinnan district, where 94 percent of the city's reported cases were detected. The city has numerous quarantine locations scattered throughout the city.
Recently, students of various schools in Tianjin, including the Tianjin College of the University of Science & Technology Beijing (北京科技大学天津学院) and the Pearl River College at the Tianjin University of Finance and Economics (天津财经大学珠江学院), were notified that their dorm buildings would temporarily be used as local quarantine sites. The two schools are located very near to each other in Jingjin New Town, located in Baodi District, approximately 45 km from Tianjin.
Although many students said that they were fine with their dorms being used as quarantine sites while they were away – the winter school holiday ends on February 21st -, they were shocked and furious to discover their belongings were thrown out in trash bags.
Videos and photos of staff emptying out the dorm rooms and throwing personal belongings out of the windows triggered controversy on social media on January 18: "For what reason was our stuff dealt with this way? Is this what they meant when they promised us they would keep our belongings safe?"
"It's not unreasonable for the dorms to be used in this way in times of epidemic," one commenter wrote: "But at the very minimum there should be a basic understanding that students' personal belonging can't just be thrown away?!"
"What kind of university can't even keep its students' property safe?" others wondered, with one female student writing: "We support our dorms being used as quarantine locations, but why do you completely disregard our property, our personal rights, our right to know, etc.? If you had properly taken care of our belongings, we wouldn't even have said anything! We already lowered our bottom line! We've already made concessions from the moment you pried open our locks! Look at your staff, they're playing dumb. You haven't even given us a rational explanation."
Another angry student writes: "When people asked me where I studied, I already felt reluctant to say [Pearl River College at the Tianjin University of Finance and Economics], and I'd just tell them I study in Baodi District. Now I definitely don't want to tell people where I study anymore. Pearl River College, you are heartless!"
On Weibo, students complain that their clothes, shoes, makeup, computers, and other property have allegedly been taken away and thrown outside in bags by the people preparing the dorm location. At the time of writing, it is still unclear where the students' belongings currently are and whether or not the school will compensate those affected for the items that might be damaged or lost.
Many others on social media also sympathize with the students, saying the epidemic cannot be used as an excuse for staff to treat personal belongings in such a disrespectful way.
Students from 2 different colleges in Tianjin are furious about their stuff allegedly being thrown out after being notified that their dorm building will become a temporary covid19 isolation site while they're away – https://t.co/fHk0U7ATQW pic.twitter.com/KmpXxg9zYD

— Manya Koetse (@manyapan) January 18, 2022
Update January 19:
The Pearl River College has issued an apology to its students on January 19, suggesting that the process of emptying and cleaning the premises needed to be done in a hurry, leading to students' belongings not being handled as they should have been handled.
Many students expressed that they did not appreciate the apology: "What's the point of this apology? What about the things we spent our money on? You need to be realistic and give compensation."
Meanwhile, the Tianjin College of the University of Science & Technology still has not responded to the online commotion. Some students do not seem to care about an apology: "I just want to know where my things are."
By Manya Koetse
Spotted a mistake or want to add something? Please let us know in comments below or email us. First-time commenters, please be patient – we will have to manually approve your comment before it appears.
©2021 Whatsonweibo. All rights reserved. Do not reproduce our content without permission – you can contact us at info@whatsonweibo.com.
Disgruntled Woman Cuts Up 32 Wedding Dresses in Chongqing Bridal Salon
The woman ruined 32 wedding dresses – worth at least $11,000 – because she wanted her $550 deposit back.
On January 9, an argument between a female customer and a bridal store staff member escalated when the angry customer took out scissors and ruined more a total of 32 wedding dresses by cutting them up.
A video of the incident went viral on Chinese social media, showing the woman taking out wedding gown after wedding gown and cutting them with scissors. The person filming can be heard saying "Think clearly, these dresses cost thousands [yuan]," with the woman responding: "Thousands? Even it's ten-thousands, it doesn't matter."
This angry customer at a Chongqing bridal salon took out scissors and cut up wedding dress after wedding dress. The video has since gone viral on social media. pic.twitter.com/LSRXoI0OAa

— What's on Weibo (@WhatsOnWeibo) January 13, 2022
The incident happened in the city's Jiangjin District at a store that sells bridal gowns and also offers wedding services. According to Chinese media site Sohu.com, the wedding store manager told reporters that the woman named Jiang first made arrangements with the bridal salon in April 2021 for her October 5th wedding – she booked a wedding package for 8000 yuan ($1260).
Four months later, in August, the woman asked the bridal shop if her wedding arrangements could be postponed. When the woman came to the shop again in November, saying she wanted to cancel all arrangements and get her down payment of 3500 yuan ($550) back, the shop refused due to their policy of not refunding advanced payments. They did offer to instead provide some arrangements for a child's 100th-day celebration, as the woman was allegedly expecting a baby.
Although the woman initially agreed with this, she suddenly returned to the shop on January 9th and started acting out. In her anger, she proceeded to ruin 32 wedding dresses. The woman was taken away by the police after the shop assistant alerted them and was detained. She has since said she is sorry for her behavior.
According to the shop owner, the woman's husband offered to compensate the store for over 60,000 yuan ($9420), but he has not paid a penny yet. The woman allegedly ruined 32 dresses with a total worth of at least 70,000 yuan ($11,000).
On Weibo, thousands of commenters have responded to the incident.
"What on earth was she thinking?" some write, with others saying that the woman should be held criminally liable for her acts and deserves a prison sentence. Others argued that pregnancy hormones could be blamed for the woman's unreasonable behavior, and said the woman should no go to prison but stay home and rest instead. There was one thing virtually all commenters agreed on, which is that the shop should soon be fully compensated for all damages.
By Manya Koetse
Spotted a mistake or want to add something? Please let us know in comments below or email us. First-time commenters, please be patient – we will have to manually approve your comment before it appears.
©2021 Whatsonweibo. All rights reserved. Do not reproduce our content without permission – you can contact us at info@whatsonweibo.com.