Lost in Translation? UBS's "Chinese Pig" Comment Stirs Controversy
"Chinese pig" – much ado about nothing or an insulting remark?
A report by the UBS titled "Very Normal Inflation" caused controversy on Chinese social media on Thursday for containing the term "Chinese pig."
The UBS, a Swiss multinational investment bank, published the article on consumer price inflation on June 12. The author, economist Paul Donovan, wrote: "Chinese consumer prices rose. This was mainly due to sick pigs. Does it matter? It matters if you are a Chinese pig." The same text also appeared in a podcast on inflation in China.
Global Times (环球时报), a Chinese and English language media outlet under the People's Daily newspaper, lashed out against the USB for its "insulting" and "discrimatory" remarks.
Many netizens agreed with the Global Times, and see the "Chinese pig" remark as a joke with a double meaning, assuming that Donovan was both talking about pigs in China, as well as insulting Chinese people.
Some people suggest that if Donovan did not intend to make a pun, he could have written "it matters if it is a pig in China" instead. They argue that UBS and Donovan could have avoided using the term to begin with, and intentionally wrote it up like this to insult Chinese people.
There are also social media users who come to Donovan's defense. Author Deborah Chen (陈叠) writes on Weibo that she has known Paul for a long time and that she knows him as a straightforward and humorous commentator. "There is just one kind of translation for 'pigs of China' (中国的猪) and 'Chinese pigs' (中国猪) in English," she says: "If you look at the context, you'll see he's talking about farm animals, and is not humiliating the people of the nation."
On Weibo, multiple people called the reactions to the article "overly sensitive."
A commenter nicknamed "Taxpayer0211809" wrote: "The way I understood is just that China's consumer prices have inflated and that this is because of the swine fever. Is this thing important? It is important if you are a pig in China, or if you like eating pork, for the rest of the world there won't be a big influence."
Shortly after the controversy erupted, the UBS and Donovan sent their apologies, which were also published by Global Times: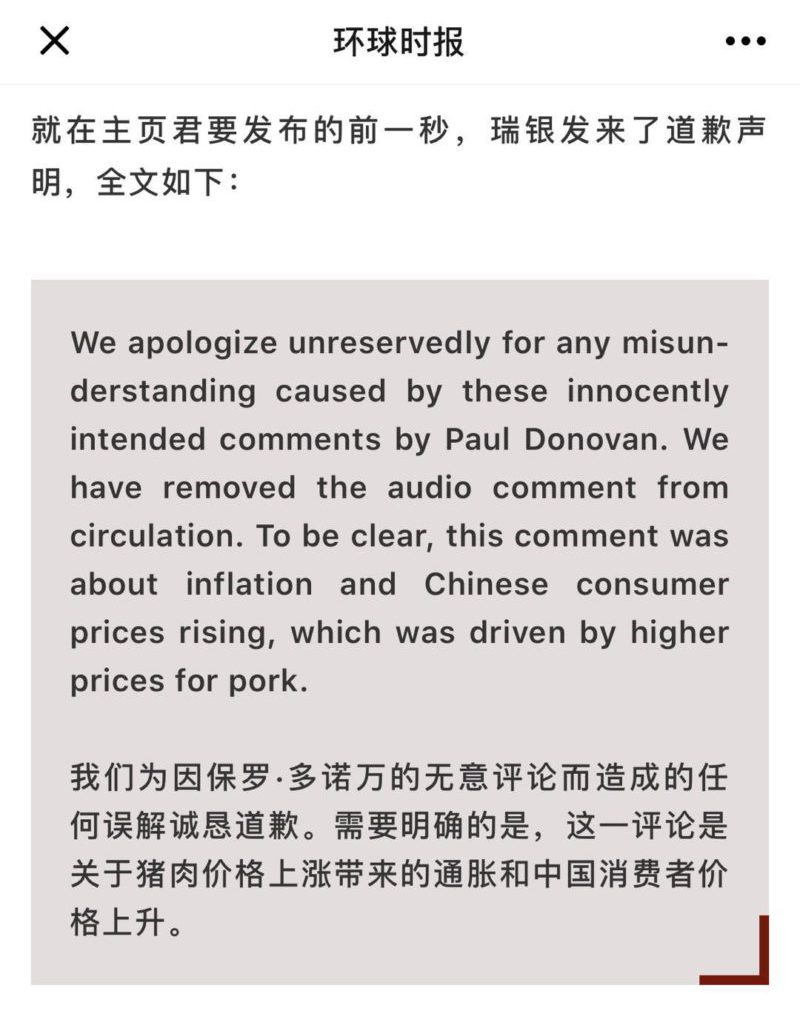 But some Chinese web users did not accept those apologies. One Chinese author wrote there was nothing "innocent" about the remarks made.
The article in question has since been removed from the USB website.

Also read: Bulgari's Noteworthy New China Marketing Campaign on a Happy 'Jew' Year of the Pig (Zhu)

By Manya Koetse and Miranda Barnes
Follow @whatsonweibo
Photo by Fabian Blank on Unsplash
Spotted a mistake or want to add something? Please let us know in comments below or email us. Please note that your comment below will need to be manually approved if you're a first-time poster here.
©2019 Whatsonweibo. All rights reserved. Do not reproduce our content without permission – you can contact us at info@whatsonweibo.com
Courage, Camaraderie, and Criticism: The 2022 Sichuan Earthquake on Chinese Social Media
Hashtags and online stories shared on Chinese social media in the aftermath of the devastating earthquake in China's Sichuan.
These are the hashtags and online stories that are shared on Chinese social media this week during the aftermath of the devastating earthquake in China's Sichuan.
On Monday September 5, at 12:52 local time, a strong earthquake struck southwestern China's Sichuan Province. The 6.8-magnitude earthquake jolted Luding County, Ganzi Tibetan Autonomous Prefecture, and killed at least 88 people.
The tremor could be felt miles away from the epicenter, including in the provincial capital Chengdu, which is about 220 kilometers from Luding. The earthquake injured more than 270 people, while 30 persons are still missing.
As many netizens shared videos of how they experienced the earthquake, dozens of hashtags went trending on Chinese social media relating to the earthquake and its aftermath, including the 2.9 magnitude aftershock Luding experienced on Wednesday.
There were many stories shared on Weibo relating to the extensive damage and devastation caused by the earthquake. But besides the solidarity statements expressed online, there was also criticism coming from netizens about local authorities prioritising the battle against Covid-19 at such a critical moment.

Sharing Stories of Compassion and Camaraderie after Earthquake

Bad times sometimes bring out the best in people, and this was shown in the many stories circulating online this week.
The 56-year-old Ms. Gao, who runs a local chicken noodle soup restaurant in the town of Moxi in Luding county, was not at her restaurant when the earthquake hit. But she soon rushed to the disaster area and used all she had left to provide free soup and noodles to local residents and rescue workers, even though Gao, who suffers from breast cancer, is struggling herself (#患癌女子用仅剩一罐气为震区居民做汤面#).
Another Luding country resident, a local farmer named Chen, reportedly spent 12,000 yuan ($1730) out of his own pocket to buy and butcher three giant pigs in order to provide the local residents and fire fighters with roast pork. Chen's brother additionally donated 1000 kilos of rice so that people in the disaster zone could have some warm meals (#四川兄弟给震区捐3头猪2000斤米#).
On September 9, one Chinese TV reporter who was working in the disaster zone rescued a young child who was separated from his parents during the chaos. Videos showed how the reporter, determined to find the child's parents, prioritized the child over his work. The little boy was eventually reunited with his mother, who had not slept for 48 hours (#记者受人之托紧抱孩子不撒手#).
These kind gestures and efforts were much needed for those dealing with grief and loss after the earthquake. One man in Luding smiled when a reporter approached him, but he broke down in tears the moment he started talking about losing his sister in the earthquake (#大哥微笑接受采访一开口泪崩了#).
Chinese media outlet Fengmian reported that the 26-year-old rescue worker Qin Xiaoqiang (秦晓强) worked around the clock to rescue and dig out three people who were trapped under the rubble. Afterward, he learned that his own father and sister were killed in the earthquake (#痛失家人特警说要让更多家庭团圆#).
Some families lost all they had in the earthquake. On Weibo, many people donated to various earthquake-related causes via the Weibo Public Good platform (微公益).
Besides the aid charities raising funds thanks to Weibo and Wechat users, there are also dozens of Chinese celebrities who stepped up and donated money to help rescue work in the region. Among them were Chinese actor Leo Wu (Wu Lei, 吴磊) and Chinese actress Rosy (Zhao Lusi, 赵露思) – both made headlines for their contributions to the rescue operation (#吴磊为四川震区捐赠物资#, #赵露思向四川泸定捐赠物资#).
There were also other celebrities, including names such as Zhang Tian'ai and Wang Yibo, who donated money to help fund five Sichuan rescue teams to go to the front lines and to transport basic necessities to Luding County and other affected regions (#王一博为四川震区捐赠物资#).

Official Media Accounts Highlight Compassionate & Courageous Rescue Efforts

Over the past week, Chinese official state media outlets such as People's Daily, Xinhua, and CCTV published countless posts on Weibo relating to the earthquake. In covering the earthquake on social media, Chinese state media have a clear human interest angle and make a strong appeal to emotion as many of these posts specifically focus on the rescue and relief efforts and the bravery, compassion, and humanity shown by Chinese rescue workers (#消防武警民兵公安奔赴震区救援#).
On September 8, People's Daily highlighted the moment an armed officer evacuated a baby from the disaster zone, the small child calmy drinking their milk while safely strapped on the soldier's back (#震区宝宝在武警背上乖乖喝奶#).
People's Daily also reported about several firefighters carrying an old lady and getting her out of the earthquake zone.
Global Times published a story and video about a firefighter whose feet were completely blistered and battered after working in the earthquake-hit zones (#震区消防员脚底被磨破#).
Official media published various propaganda posters showing emergency workers, including firefighters, paramedics, and police officers, during the rescue operations. One poster compared the ongoing relief efforts in Luding to those during the 2008 Great Sichuan earthquake or Wenchuan earthquake, during which a devastating 69,000 people lost their lives.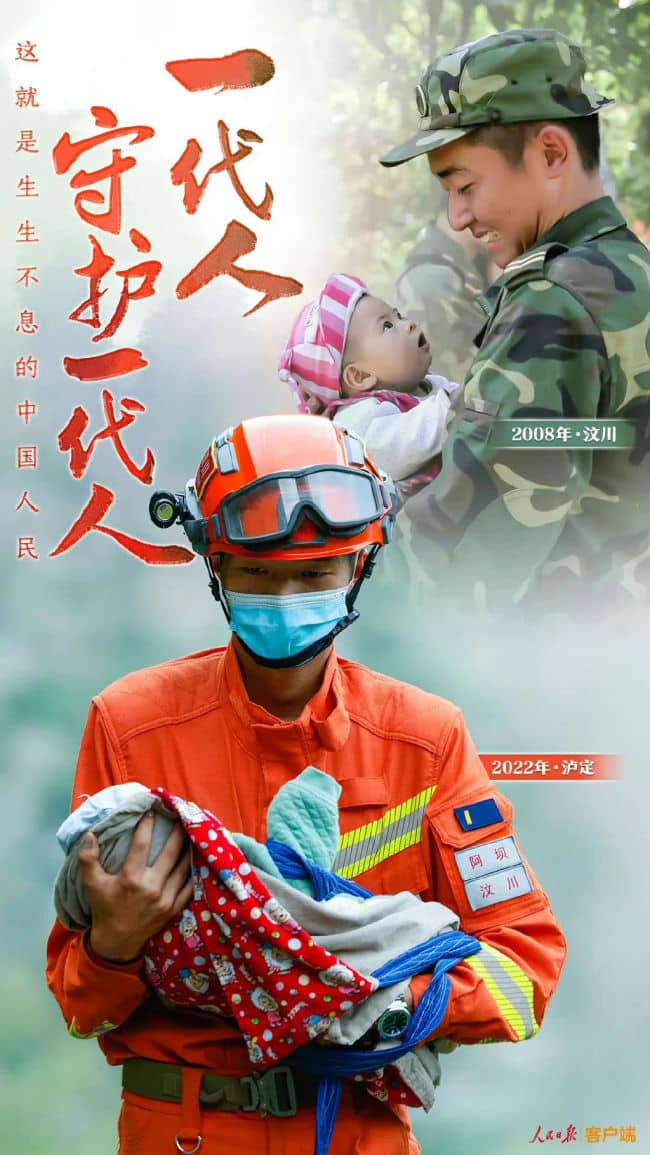 The China Fire and Rescue account shared a "Pray for Luding" poster on Weibo showing emergency workers carrying a special rescue stretcher with the help of volunteers. The hashtag "Pray for Luding" (#为泸定祈福#) received over 280 million clicks within four days time.
State media outlet Xinhua emphasized the bravery shown by young workers operating excavators on dangerously steep hills to clear roads of debris (#震区绝壁上的挖掘机手是90后# and #泸定地震中打通生命通道的孤勇者#).
The story of a team of 24 rescue workers who got stranded in the Hailuogou Scenic Area near Moxi Town also was covered a lot; the rescue workers were at the scene shortly after the earthquake hit but then were unable to get back to due to changing weather conditions. Their safe return was celebrated by various Chinese state media on September 10 (#24名滞留震区孤岛特警全部平安#).

Online Grassroots Criticism on Prioritizing Anti-Epidemic Efforts

But amid all the online stories and Chinese media narratives focusing on courage, compassion, and camaraderie, there was also criticism, as the strong earthquake put things into perspective regarding China's ongoing fight against COVID-19 and the zero-Covid policy.
After local health authorities in the disaster area announced a strengthening of epidemic prevention and control measures on September 7, including daily nucleic acid testing for rescue workers and a stop on volunteer rescue workers coming into the area, many people showed little understanding.
"The earthquake is not as important as epidemic prevention," some wrote.
"People's lives are at stake and we're still all about epidemic prevention. The earthquake [apparently] is not as powerful as the 'big flu' – it's really hopeless."
"Trivia. During the few years of epidemic in Sichuan, a total of three people died. During a few minutes of the earthquake, more than 70 died." "By now, the mortality rate of this virus is less than the flu," one person responded.
"The epidemic prevention comes first, people's lives come second," others wrote. "What happened to 'putting people and life first?'" some wondered, mentioning the famous quote by Xi Jinping.
One Weibo user posted a photo of a dog getting tested for Covid, writing: "[China's] major nucleic acid testing companies allegedly made $16 billion in the first half of this year, so it's certainly wouldn't be excessive if they donated some money to the earthquake area, right?"
By Manya Koetse 
Get the story behind the hashtag. Subscribe to What's on Weibo here to receive our weekly newsletter and get access to our latest articles:
Spotted a mistake or want to add something? Please let us know in comments below or email us. First-time commenters, please be patient – we will have to manually approve your comment before it appears.
©2022 Whatsonweibo. All rights reserved. Do not reproduce our content without permission – you can contact us at info@whatsonweibo.com.
Finally Some Answers? Follow-Up to the 6.10 Tangshan BBQ Restaurant Incident
The Tangshan incident sparked national outrage, and its aftermath lasted for weeks. Now, some unanswered questions are finally answered.
Over two months after a shockingly violent attack on female customers at a Tangshan restaurant dominated Chinese social media and raised concerns over violence against women and gang crimes, CCTV has published a final report about the incident. On Monday, 28 people have been prosecuted for their involvement in the incident.
Click here for an overview of our articles on the Tangshan restaurant incident.
In June of 2022, an outburst of violence against female customers at a restaurant in Tangshan sent shockwaves across Chinese social media. Surveillance videos from the restaurant showed how at least four women were brutally attacked by a group of men.
The incident, now known as the '6.10 Tangshan Beating Incident' (6·10唐山打人案件) sparked national outrage and its aftermath lasted for many weeks, with people demanding more answers on what exactly happened, how authorities dealt with it, and if the female victims were now safe.
Two months later, another shocking incident became a trending topic on Chinese social media: gruesome videos surfacing online showed how a Tangshan man driving a white SUV drove over a woman twice in a local parking lot. The female victim died after resuscitation efforts at a local hospital.
The incident brought back memories of the other Tangshan outburst of violence, and the online demand for lingering questions to be answered grew stronger again. At one point, one hashtag demanding a follow-up into the matter was (temporarily) taken offline, triggering more criticism on how the issue was handled and possibly silenced by authorities.
But on August 29, some lingering questions were finally answered when state broadcaster CCTV published a news report giving the "whole story" of what happened that night (hashtag #央视梳理唐山打人案始末#).

The 6.10 Tangshan BBQ Restaurant Incident

In the early morning of June 10th of 2022, just passed 2.30 am, the Laohancheng barbecue restaurant (老汉城烧烤店) in Tangshan's Lubei District had multiple tables occupied by late-night diners. At one of the corner tables, a group of three female customers were dining and chatting. A couple of men were standing at another table.
Security cameras inside the restaurant captured how at 2.40 am, the atmosphere changed when the three women were approached by a man in a green jacket, who then proceeded to touch the back of one of the women dressed in a white t-shirt.
When the woman pushed his arm away, the man tried to grab her, and she quickly slapped his hand. The scene then altercated within seconds. The man hit the woman in the face, after which one of her friends quickly tried to come to her rescue and hit the man with a beer bottle. Her friend was then attacked by at least three men, while the woman in white gets hit by the men in the green jacket.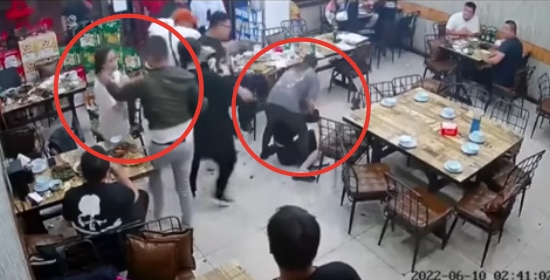 It just took seconds for the woman in white to be dragged out of the restaurant by her hair while some other diners, still seated at their table, watch the scene unfold.
Outside, security cameras captured how a group of men seated at an outdoor table joined the attack, kicking the woman while she was lying helplessly on the pavement, violently pushing away another woman who tried to stop them from doing so. A fourth woman also got slapped.
In the minutes that followed, security cameras captured how the scene got more chaotic, with at least five men standing around the woman in white kicking her and smashing a bottle on her head.
After the outburst of violence, the men seemingly fled the scene, leaving the injured woman lying on the street.
But security footage that was recorded from another angle, released days after the incident, shows that after the woman was left on the street, the incident continued. One of the women could be seen running into a back alley next to the restaurant, with others following. The woman in white also stood up from the ground and ran away in the same direction.
Until the CCTV report, it remained unclear what had happened as there apparently were no security cameras in the back alley.
All that was known according to previous official media reports, was that two female victims had been sent to the hospital for treatment and were in stable condition. Two other women reportedly suffered minor injuries and were not hospitalized.
After news was released that nine suspects involved in the beating had been arrested, no further statements nor updates were given.
The silence surrounding the female victims attracted a lot of attention on Chinese social media. Many Weibo users suggested that news about the victims was purposely withheld and that people were being silenced about how the women were actually doing.
The Tangshan incident also led to more online discussions about gang-related crimes. The fact that at least five of the suspects had criminal records was a cause of anger among those who felt that they should not have been allowed to be out and about at all and that they were covered by authorities.
One former victim of a man involved in the attack also spoke out. He said he recognized one of the main suspects, Chen Jizhi (陈继志), from the security footage, claiming he was locked inside the trunk of a car for ten hours by Chen a few years prior. A hashtag related to the story received over 300 million views on June 17th (#男子称曾被陈继志等殴打险被活埋#).

"The Whole Story" by CCTV

In its news report of August 29, state broadcaster CCTV reflects on what happened during that terrible night in June and for the very first time since the incident, one of the victims (the 'woman in white') speaks out, using the pseudonym of 'Wang X.'
Wang X. clarifies that the story indeed unfolded as security cameras captured it. She did not know the man who came up to their table, and when he touched her, she made clear she did not want him to, and then the attack began.
The report clarifies that after the violent beating that occurred in front of the restaurant, the attack further continued in the alley behind the restaurant for approximately 1,5 minutes.
Wang X. says that in the alley, she was beaten again by multiple men. Before the men ran away, they threatened to kill her if she would call the police. She then fled. Online rumors about the victims being sexually assaulted by the men were denied, along with other claims that they were run over by a car.
CCTV reports that an investigation by public security officers found that Chen Jizhi and seven others have been involved in gang-related crimes since at least 2012. For years, they were involved in gang fights, illegal gambling, extortion, robberies, assault, and other criminal activities.
In one incident that occurred in 2015, Chen was involved in a conflict about a car loan with an individual by the name of Shang. Chen sent some of his guys over to Shang's residence, where they used chain locks to beat him and later locked him inside the trunk of their car.
A total of 28 people, including Chen Jizhi, were prosecuted on Monday for their involvement in the Tangshan beating.
As Hebei authorities investigated the issue, they found that some local officers protected the gangs and basically allowed them to commit more crimes by not strictly enforcing laws. At least fifteen local officials have been investigated, and eight of them were taken into custody on suspicion of abusing power, taking bribes, and forming a 'shield' for gang-related violence.

Online Responses

On Chinese social media, there have been different responses to the latest outcomes of the Tangshan incident. On one side, there are those applauding authorities for investigating the case and dealing with it in the appropriate way.
"It's very good that this matter has finally come to a conclusion after two months," some commenters write, with others saying it is a good thing that justice was served – both for the gang members as well as the officials who covered for them (serving as 'protective umbrella' '保护伞'​).
On the other side, there are also people who still think there is more to the story and that the entire system is corrupt. Some people still argue that the back alley where the incident continued must have also had security cameras, but that the footage has been intentionally hidden.
One Shandong-based Weibo user wrote:
"When I see this kind of news I sometimes see in the comment sections that there are those comments saying 'the government is already rotten to the core' and then those who refute that, saying that it's 'just a few officials who have a problem.' First a few officials in Shanghai had a problem, then a few in Tangshan, now it's a few officials in Henan, tomorrow it'll be some local officials in Shanxi… I'm sorry, but the more 'individuals' are rotten, the more the entire organization is rotten."
"I'm looking forward to the trial," another Weibo user writes: "I hope they'll be punished severely."
As for the restaurant where it all happened: it is no longer there and has moved out since late June of this year during the aftermath of the incident.
Another commenter wrote: "I just hope the girls involved will make a full recovery, both physically as well as mentally." One other person agreed, writing: "We now got some answers, and I hope people can calm down. Most of all, I hope that the women will slowly but surely heal from this experience."
By Manya Koetse 
Get the story behind the hashtag. Subscribe to What's on Weibo here to receive our weekly newsletter and get access to our latest articles:
Spotted a mistake or want to add something? Please let us know in comments below or email us. First-time commenters, please be patient – we will have to manually approve your comment before it appears.
©2022 Whatsonweibo. All rights reserved. Do not reproduce our content without permission – you can contact us at info@whatsonweibo.com.