Online Outrage After University Professor Brutally Beats up Female Street Cleaner
A high education, but low morals – Chinese netizens are shocked by the violent beating of a female street cleaner.
A violent attack on a female sanitation worker has triggered public outrage in China, especially since one of the aggressors is a professor at the Shaanxi University of Science and Technology.
On October 4th, a netizen from Tianjin (@查派017) posted about a violent incident he witnessed that involved a female street cleaner and two persons, one being a professor from the Shaanxi University of Science and Technology. The two allegedly beat up a female sanitation worker for blocking their way on a road outside the university campus in Xi'an.
The person's Weibo post about the incident was shared over 93,000 times within 24 hours, attracting ten thousands of comments from angry netizens.
"How much money do I make and how much money do you make?"
This is a full translation of the post*, which was published on Sina Weibo along with several screenshots of a video of the incident.
"On October 4, 2017, around 2 in the afternoon, a male and female college staff member beat up a female sanitation worker. I want to expose these two pieces of scum."
"I was just resting indoors when I heard a loud weeping coming from outside the window. I initially thought that parents were teaching their child a lesson, but after a few minutes, the crying grew louder and it did not sound like a child. From the window I then saw a female sanitation worker slowly getting up from a pile of garbage, while a woman was pushing her, yelling: 'How much money do I make and how much money do you make? You're now keeping me from making money!'"
"At this time, a man came forward to beat the female cleaner, and I shouted from my window: 'You are bullying a sanitation worker, you are shameless!' At this point, they discovered that other people were watching them, and they stopped what they were doing. The man wanted to back up his car and get away, but he was already stopped by some of the neighbors around."
"As I rushed to the scene, the man shouted at me: 'She let me beat her herself!' The woman's attitude was still bad. Before reporting to the police, I shot a video and told them I would expose them. Again their attitude changed, and at this time there were more and more people who were criticizing them. An older man told me that the man had hit the sanitation worker and that he had kicked her several times."
"While filing a report at the police station, there was a man who said he was the man's assistant, and he explained to the police that the man originally came from the countryside but that he had lived in Japan and the US for some years before returning home and that he does not understand the situation here and that was why he beat someone."
"That infuriated me. As if he could just randomly beat up people in other countries? I also understood from his assistant that the man was a professor working for the Shaanxi University of Science and Technology, that he was a doctor who had just been given a 10 million yuan project, and that he hoped we would not expose him. I heard that the woman works at the human resource department of Shaanxi University. I am writing this after just coming back from the police station – I hope to let everyone know that these kinds of worthless people are not fit to be a teacher."
Of the thousands of people who commented on the post, the majority mainly criticizes the male professor involved in this incident and is enraged that someone with such a high social status would pick on someone so vulnerable.
"It is the Mid-Autumn Festival and you are having your vacation while this sanitation worker is at work. How can you be so low, you have no humanity in you. As a professor, you are unfit to teach!", one angry commenter wrote.
"It is clear that educational background and moral standing are not directly connected," another person said.
"Just suspended? Why not immediately fired?"
Shortly after published, the post triggered the so-called 'human flesh search engine' (人肉搜索), meaning that netizens worked together to identify and expose the persons involved in controversial incidents.
One commenter soon came up with personal details of the man involved, stating he was a 38-year-old Shaanxi resident by the name of Ge who was indeed working as a professor and had previously lived and studied abroad, being connected to both the Kyoto Institute of Technology and the University of Oklahoma.
On October 5, Chinese state media also reported the incident and confirmed it indeed involved a certain Dr. Ge who was a teacher at the Shaanxi University. They also wrote that the university has now suspended the man from his post and that local authorities are currently investigating the case.
"Just suspended? Why was he not immediately fired?", many commenters wondered.
Chinese media have not reported on the status of the woman involved in the violent beating, but Shaanxi University has stated that she does not work at their institution, but is a family member of Ge.
"These kinds of people do not belong in education."
Since the incident has attracted so much attention within just one day, the professor has apologized to the sanitation worker and her family through a letter.
The letter was posted on the official Weibo account of the Shaanxi University of Science and Technology, which wrote that "Mr. Ge has realized that his actions are terribly wrong, and is active in [arranging] medical treatment for the person involved."
The university also made a public statement that it strongly denounced Mr. Ge's actions and that they were taking the matter very seriously.
The apology-letter post also received over 25,000 comments within hours. Many people say they do not accept Mr. Ge's apology, and demand that he immediately gets fired, writing that "these kinds of people do not belong in education."
Sanitation workers or street cleaners do not have an easy life in China, and face many difficulties. Although they are nicknamed "angels of the road" (马路天使), their working circumstances are far from heaven.
Public cleaners in China generally work long hours and receive the national minimum pay. Normally there is no workstation for workers to take a break or recover from the extreme heat or cold. Working safety is also an important issue, as street cleaners are exposed to dangerous situations when cleaning roads with busy traffic. Street cleaners are often get injured or even die due to road accidents.
To increase public awareness and appreciation for the work of street cleaners, October 26 has turned into a special day in China to honor the country's street cleaners and sanitation workers.
By Manya Koetse
Follow @whatsonweibo
*Original post text:
"2017年10月4日,下午两点左右,一男一女两名大学老师殴打环卫女工。曝光这两个人渣。
我正在屋子准备休息,听见窗外有人大声哭泣,最开始以为是家长在教训小孩,过了几分钟哭声越来越大,而且仔细听不像是小孩。从窗户上看到,一名女环卫工从垃圾堆里慢慢爬起来,一名女的推搡这环卫工,并且叫嚣到:我挣多少钱,你挣多少钱,你挡着我挣钱。此时一男的欲上前殴打环卫女工,这是我从窗户里喊:你欺负环卫工,要不要脸。此时他们发现被别人看到,应该是回过神来了,男的欲倒车逃跑,已被小区里的几名住户制止。赶到现场,男的还和我叫嚣:是她自己让我打的。那女的态度依然恶劣。直到我报了警,并拍摄视频,说要曝光他们。态度才有所转变,此时群众越来越多,都指责他们。有位大爷和我说:男的把环卫工打到了,还上去踹了好几脚。
到了警局做笔录,有一个自称,是男的助手的人,向警察解释:他是农村出身,在美国和日本待了几年才回国,不了解国情才打人的。我真是气愤,原来他在国外是随便打人的?从他助手的话里了解到,那男的是陕西科技大学才聘请回来的教授,是个博士,刚给他投资了个1000万的项目,希望我们不要曝光他。那打人的女,听说是陕西科技大学人事处的。
打这段字刚从警察局昨晚笔录回来。求曝光,这种人渣不配当老师."
Spotted a mistake or want to add something? Please let us know in comments below or email us.
©2017 Whatsonweibo. All rights reserved. Do not reproduce our content without permission – you can contact us at info@whatsonweibo.com.
Online Anger over "Special Treatment" for Quarantined Foreigners in China
Are foreigners in quarantine being treated better than Chinese nationals? This Nanjing Daily article has triggered controversy.
On March 27, an article titled "For the Good Health of 684 Foreigners" ("为了684个"老外"的安康") sparked controversy online over the alleged special treatment of foreign nationals during their mandatory 14-day quarantine period.
According to the article published by Nanjing Daily, Nanjing's Xianlin Subdistrict set up a special WeChat group for foreign nationals and their families returning to the city after the Spring Festival holiday, which coincided with the outbreak of the new coronavirus.
In special WeChat groups, subdistrict officers, doctors, translators, and property managers provide assistance and daily services to these China-based foreigners. Examples of such "daily services" include delivering fresh bread or contacting pet boarding facilities.
"One young man loved online shopping on Taobao, and once we delivered twenty packages for him within one day," one member of the service group told Nanjing Daily.
Although foreign residents in China and foreigners with previously issued visas are currently no longer allowed to enter China, they needed to undergo a two-week quarantine period upon entry until the travel ban of a few days ago.
Jiangsu Province, of which Nanjing is the capital, tightened quarantine rules on March 23, making every traveler from abroad subject to a centralized quarantine (e.g. in a hotel) for fourteen days.
The special services for returning foreigners reported by Nanjing Daily triggered controversy on Chinese social media this week. Many netizens criticized it as a "supra-nationals treatment" (超国民待遇).
Under one Weibo post by media outlet The Cover (@封面新闻), which received over one million views, many people are criticizing local officers' favorable treatment of foreigners. One commenter writes: "Will they provide the same comprehensive services to their compatriots?"
Another person writes: "Why don't they also adhere to the slogan of 'Serve the People' (..) when dealing with Chinese citizens?"
In discussing the supposed inequality between the treatment of foreigners and Chinese nationals in quarantine, many netizens raise a recent example of a quarantined Chinese student who asked the civil police staff for mineral water. In a video that circulated online in mid-March, the girl quarrels with the police for not being offered mineral water. The student, demanding mineral water over the available boiled tap water, was ridiculed for suggesting that having mineral spring water is a "human right."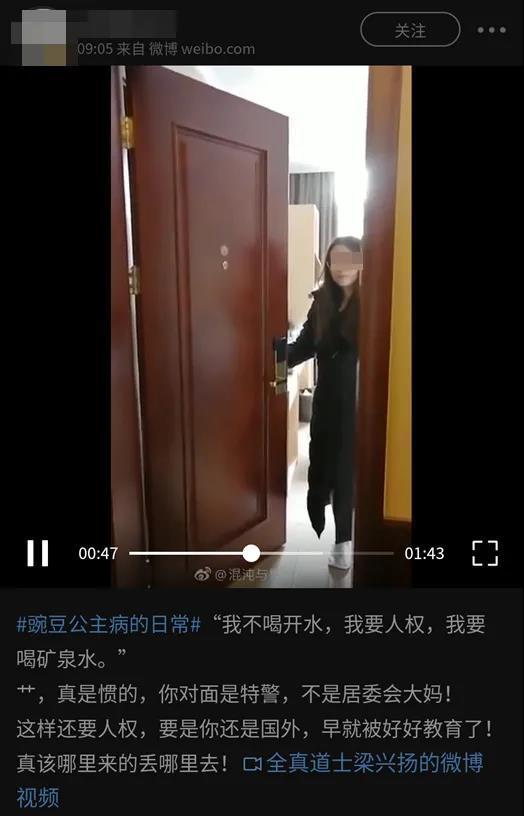 Ironically, the Nanjing Daily article explicitly mentions how the Xianlin Subdistrict deals with foreigners drinking purified water: "[This] Laowai [foreigner] wants to drink bottled purified water, [so] we bought four barrels for him (..) and carried them from the community gate to his apartment."
The contrast in treatment of quarantined foreigners versus Chinese nationals prompted some Weibo users to reflect on their previous remarks on the female student: "I apologize for previously mocking the Chinese student at the quarantine center in Pudong, Shanghai, for demanding to drink mineral water," one commenter writes.
In response to the online controversy, the office of the Xianlin Subdistrict clarified that Chinese nationals would receive "similar services" during their quarantine period. Some netizens question what these alleged "similar services" exactly entail.
In another media report, the official reply was that "the Subdistrict treats Chinese and foreign citizens the same."
Over recent years, there have been many online controversies on the issue of privilege in China. Earlier this year, there was public outrage over two women driving a Benz SUV into the Palace Museum, where cars are usually not allowed.
The issue of the perceived privileges of foreigners in China has particularly triggered anger among netizens. The "preferential treatment" of overseas students and the "dorm disparities" between Chinese and foreign students in China, for example, previously became major topics of online discussion.
A popular WeChat article that comments on the Nanjing controversy of this week also lists examples of special treatment for foreigners, including cases where foreigners were not fined when breaking rules in China or being "treated better" in other ways. By now, the article has received over 100,000 views.
For more COVID-19 related articles, please click here.
By Bobby Fung (@bobbyfungmr)
Spotted a mistake or want to add something? Please let us know in comments below or email us. First-time commenters, please be patient – we will have to manually approve your comment before it appears.
©2020 Whatsonweibo. All rights reserved. Do not reproduce our content without permission – you can contact us at info@whatsonweibo.com.
Children of Hubei Medical Workers to Receive 10 Extra Points on High School Enrolment Examination
Hubei officials announced a controversial measure to reward frontline medical workers.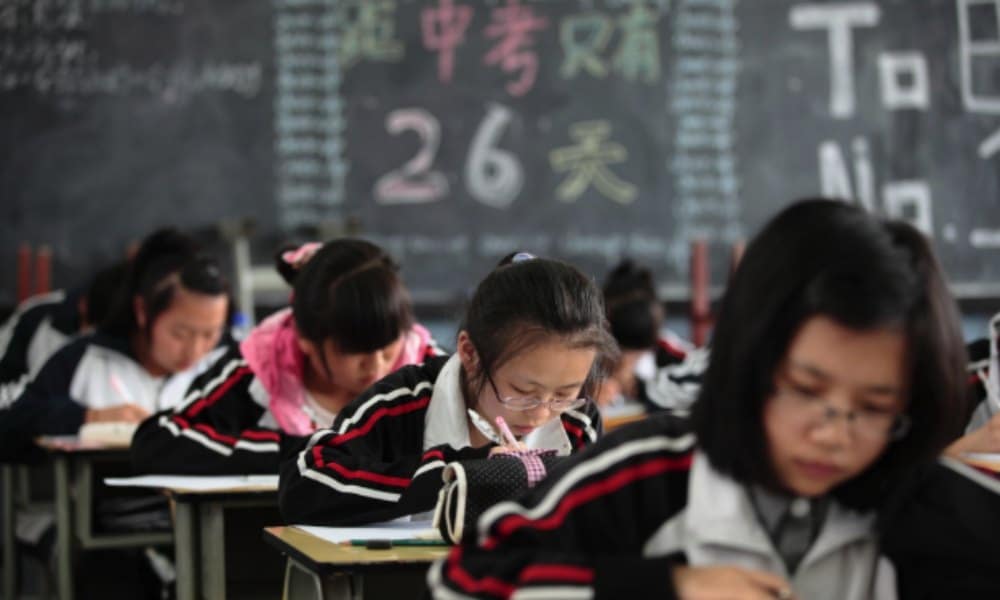 First published
Hubei authorities announced new measures on Tuesday to encourage and support the work of Hubei's front-line medical workers during the coronavirus crisis.
One of these measures, rewarding the children of medical staff an extra ten points in their zhongkao examination, became a somewhat controversial top trending topic on Chinese social media today.
The zhongkao is an important academic examination in China taken during the last year of junior high school, right before entering education institutions at the senior high school level. These enrollment examinations are held annually in June or July, depending on the region.
A good mark on the exam is of crucial importance for many students, as it will give them admission to their preferred senior high school, which then could have more profound effects on their education after high school and their further career.
According to the new policy, children of Hubei's medical workers would be rewarded with ten extra points on top of their overall score for the exams if they take it. Since the exams are highly competitive, every extra point could mean a world of difference since it will mean leaving hundreds of other students behind you.
On Weibo, one announcement of the new measure published by Chinese news source The Paper received over 938.000 likes and more than 11.000 comments. Many Weibo users do not agree with the policy.
"It should be the medical workers themselves who are rewarded through promotion or a salary increase," a top comment says: "It shouldn't be their children who are rewarded."
Although a majority of commenters say that medical workers should be given special rewards in these times of hardships, most also agree that rewarding their children in their exam results is not the way to go. "This only makes the exam system more unfair," a recurring comment says.
With 610 million views at the time of writing, the hashtag "The kids of Hubei frontline medical staff will get extra 10 points on zhongkao score" (#湖北一线医务人员子女中考加10分#) is one of the most-dicussed topics on Weibo of the day.
For more COVID-19 related articles, please click here.
By Manya Koetse (@manyapan)
Follow @whatsonweibo
Spotted a mistake or want to add something? Please let us know in comments below or email us. First-time commenters, please be patient – we will have to manually approve your comment before it appears.
©2020 Whatsonweibo. All rights reserved. Do not reproduce our content without permission – you can contact us at info@whatsonweibo.com.