Online Outrage After University Professor Brutally Beats up Female Street Cleaner
A high education, but low morals – Chinese netizens are shocked by the violent beating of a female street cleaner.
A violent attack on a female sanitation worker has triggered public outrage in China, especially since one of the aggressors is a professor at the Shaanxi University of Science and Technology.
On October 4th, a netizen from Tianjin (@查派017) posted about a violent incident he witnessed that involved a female street cleaner and two persons, one being a professor from the Shaanxi University of Science and Technology. The two allegedly beat up a female sanitation worker for blocking their way on a road outside the university campus in Xi'an.
The person's Weibo post about the incident was shared over 93,000 times within 24 hours, attracting ten thousands of comments from angry netizens.
"How much money do I make and how much money do you make?"
This is a full translation of the post*, which was published on Sina Weibo along with several screenshots of a video of the incident.
"On October 4, 2017, around 2 in the afternoon, a male and female college staff member beat up a female sanitation worker. I want to expose these two pieces of scum."
"I was just resting indoors when I heard a loud weeping coming from outside the window. I initially thought that parents were teaching their child a lesson, but after a few minutes, the crying grew louder and it did not sound like a child. From the window I then saw a female sanitation worker slowly getting up from a pile of garbage, while a woman was pushing her, yelling: 'How much money do I make and how much money do you make? You're now keeping me from making money!'"
"At this time, a man came forward to beat the female cleaner, and I shouted from my window: 'You are bullying a sanitation worker, you are shameless!' At this point, they discovered that other people were watching them, and they stopped what they were doing. The man wanted to back up his car and get away, but he was already stopped by some of the neighbors around."
"As I rushed to the scene, the man shouted at me: 'She let me beat her herself!' The woman's attitude was still bad. Before reporting to the police, I shot a video and told them I would expose them. Again their attitude changed, and at this time there were more and more people who were criticizing them. An older man told me that the man had hit the sanitation worker and that he had kicked her several times."
"While filing a report at the police station, there was a man who said he was the man's assistant, and he explained to the police that the man originally came from the countryside but that he had lived in Japan and the US for some years before returning home and that he does not understand the situation here and that was why he beat someone."
"That infuriated me. As if he could just randomly beat up people in other countries? I also understood from his assistant that the man was a professor working for the Shaanxi University of Science and Technology, that he was a doctor who had just been given a 10 million yuan project, and that he hoped we would not expose him. I heard that the woman works at the human resource department of Shaanxi University. I am writing this after just coming back from the police station – I hope to let everyone know that these kinds of worthless people are not fit to be a teacher."
Of the thousands of people who commented on the post, the majority mainly criticizes the male professor involved in this incident and is enraged that someone with such a high social status would pick on someone so vulnerable.
"It is the Mid-Autumn Festival and you are having your vacation while this sanitation worker is at work. How can you be so low, you have no humanity in you. As a professor, you are unfit to teach!", one angry commenter wrote.
"It is clear that educational background and moral standing are not directly connected," another person said.
"Just suspended? Why not immediately fired?"
Shortly after published, the post triggered the so-called 'human flesh search engine' (人肉搜索), meaning that netizens worked together to identify and expose the persons involved in controversial incidents.
One commenter soon came up with personal details of the man involved, stating he was a 38-year-old Shaanxi resident by the name of Ge who was indeed working as a professor and had previously lived and studied abroad, being connected to both the Kyoto Institute of Technology and the University of Oklahoma.
On October 5, Chinese state media also reported the incident and confirmed it indeed involved a certain Dr. Ge who was a teacher at the Shaanxi University. They also wrote that the university has now suspended the man from his post and that local authorities are currently investigating the case.
"Just suspended? Why was he not immediately fired?", many commenters wondered.
Chinese media have not reported on the status of the woman involved in the violent beating, but Shaanxi University has stated that she does not work at their institution, but is a family member of Ge.
"These kinds of people do not belong in education."
Since the incident has attracted so much attention within just one day, the professor has apologized to the sanitation worker and her family through a letter.
The letter was posted on the official Weibo account of the Shaanxi University of Science and Technology, which wrote that "Mr. Ge has realized that his actions are terribly wrong, and is active in [arranging] medical treatment for the person involved."
The university also made a public statement that it strongly denounced Mr. Ge's actions and that they were taking the matter very seriously.
The apology-letter post also received over 25,000 comments within hours. Many people say they do not accept Mr. Ge's apology, and demand that he immediately gets fired, writing that "these kinds of people do not belong in education."
Sanitation workers or street cleaners do not have an easy life in China, and face many difficulties. Although they are nicknamed "angels of the road" (马路天使), their working circumstances are far from heaven.
Public cleaners in China generally work long hours and receive the national minimum pay. Normally there is no workstation for workers to take a break or recover from the extreme heat or cold. Working safety is also an important issue, as street cleaners are exposed to dangerous situations when cleaning roads with busy traffic. Street cleaners are often get injured or even die due to road accidents.
To increase public awareness and appreciation for the work of street cleaners, October 26 has turned into a special day in China to honor the country's street cleaners and sanitation workers.
By Manya Koetse
Follow @whatsonweibo
*Original post text:
"2017年10月4日,下午两点左右,一男一女两名大学老师殴打环卫女工。曝光这两个人渣。
我正在屋子准备休息,听见窗外有人大声哭泣,最开始以为是家长在教训小孩,过了几分钟哭声越来越大,而且仔细听不像是小孩。从窗户上看到,一名女环卫工从垃圾堆里慢慢爬起来,一名女的推搡这环卫工,并且叫嚣到:我挣多少钱,你挣多少钱,你挡着我挣钱。此时一男的欲上前殴打环卫女工,这是我从窗户里喊:你欺负环卫工,要不要脸。此时他们发现被别人看到,应该是回过神来了,男的欲倒车逃跑,已被小区里的几名住户制止。赶到现场,男的还和我叫嚣:是她自己让我打的。那女的态度依然恶劣。直到我报了警,并拍摄视频,说要曝光他们。态度才有所转变,此时群众越来越多,都指责他们。有位大爷和我说:男的把环卫工打到了,还上去踹了好几脚。
到了警局做笔录,有一个自称,是男的助手的人,向警察解释:他是农村出身,在美国和日本待了几年才回国,不了解国情才打人的。我真是气愤,原来他在国外是随便打人的?从他助手的话里了解到,那男的是陕西科技大学才聘请回来的教授,是个博士,刚给他投资了个1000万的项目,希望我们不要曝光他。那打人的女,听说是陕西科技大学人事处的。
打这段字刚从警察局昨晚笔录回来。求曝光,这种人渣不配当老师."
Spotted a mistake or want to add something? Please let us know in comments below or email us.
©2017 Whatsonweibo. All rights reserved. Do not reproduce our content without permission – you can contact us at info@whatsonweibo.com.
Online Outrage after Pet Dog Gets Killed by Anti-Epidemic Workers in Shangrao
An official response to the Shangrao incident that called the killing of the dog "harmless disposal" only added fuel to the fire.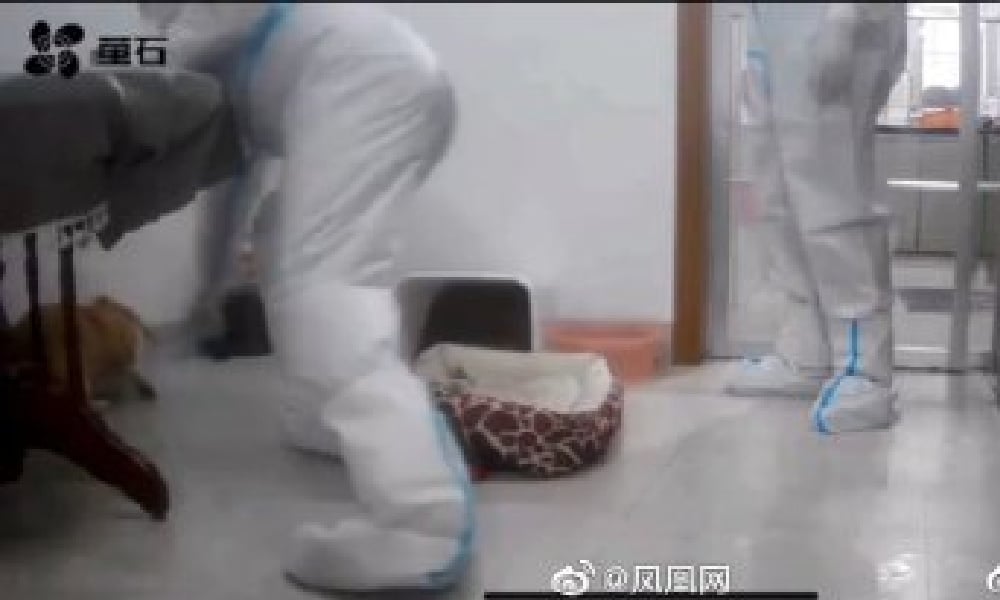 A pet dog was killed by anti-epidemic workers in Shangrao this week while its owner was undergoing quarantine at a nearby hotel. Chinese netizens are outraged, not only about the dog being killed during extreme efforts to contain Covid19, but also about the seemingly cold response of local authorities after it happened.
This weekend, a case in which a pet dog was killed by epidemic prevention workers in the city of Shangrao has sparked outrage on Chinese social media.
The incident occurred in the Golden Phoenix Garden community (金凤花园小区) in the Xinzhou district of Shangrao, a medium-sized prefecture-level city located in the northeast of Jiangxi province. Due to a new confirmed case of Covid19, the community is undergoing a lockdown and its residents are being quarantined while apartments are being disinfected.
On November 12, one of the community residents named Mrs. Fu (傅) shared on Weibo how her pet dog was presumably killed by anti-epidemic workers while she was undergoing quarantine at a local hotel that did not allow pets. She shared security footage recorded inside her residence from Friday around 16:45, showing how two epidemic workers enter her apartment and then begin to beat her pet dog on the head with iron bars.
The story and video sparked anger online, and the official response to the incident only added fuel to the fire.
On Saturday, November 13, Shangrao's Xinzou district released a statement via its official Weibo channel (@信州发布). The statement, posted as late as 23:37, explained that residents of the community were supposed to leave their doors open while being quarantined, but that the door of this particular resident was closed. Anti-epidemic staff then received police assistance in entering the house to disinfect it, which is when they discovered the dog was at the home. The notice writes that the workers then proceeded to deal with the dog through "harmless disposal" (the literal words "无害化处理" could also be translated as 'handling [something] to be made harmless').
The statement also says that the worker has since been removed from his post and has apologized.
Very similar wording can be found in an article addressing the controversy in the English-language version of Chinese state media outlet Global Times, where the incident is described as a staffer who "culled a pet dog during anti-epidemic mission," and that the staffer "gave harmless disposal on a pet dog without having fully communicated with the pet owner."
Other reports in Chinese media about the incidents received criticism from netizens for emphasizing anti-epidemic policies and the otherwise "humane" treatment of animals.
"Don't you think you're laughable? You have some nerve to report on this like this," one top comment said.
By now, the incident has attracted the attention of thousands of netizens using various hashtags, with one of them gaining over 170 million on views on Weibo, becoming one of the top trending topics on Sunday (#居民在外隔离期间家中小狗被扑杀#, #上饶正调查隔离人员宠物狗被扑杀#, #上饶回应隔离宠物狗疑似被扑杀#).

"The government of Shangrao leaves me speechless," one Weibo user (@爱吃火锅的邓邓) writes: "This dog was not even confirmed of having Covid19. Nevertheless, they just beat him to death. How can you be so cruel?!"
In September of this year, three pet cats that tested positive for Covid19 were put down in the Chinese city of Harbin. That incident also led to a social media backlash at what some viewed as overkill in local efforts to contain the virus. This case, however, is still different because the dog involved was allegedly killed before even getting tested for Covid19.
"You just 'dispose' of the dog and that's it? The dog's life is over! We don't even know how many dogs were killed like this," others responded.
"Prying open people's doors, killing people's pets, and then pressuring people to delete their posts on the matter, forcing them to settle (..), – Shangrao government is really putting itself on display here," one commenter said, referring to online rumors that Mrs. Fu was pressured by authorities into deleting her social media post – she posted about being threatened herself.
The dog owner also claims that at least one other cat and dog by residents living in the same community have also been "disposed of." At the time of writing, this claim has not been confirmed by official sources.
Meanwhile, a poster showing a cat saying "I can't transmit covid19, please don't abandon or hurt me" is circulating on social media. The Shanghai Center for Disease Prevention and Control reportedly stated it is unlikely for small pets to get Covid19, and that they therefore should not need to be screened.
The terms "harmless disposal" (无害化处置) and "culling" (扑杀) that have been used by some Chinese state media and local authorities in describing the Shangrao incident are also circulating online, with many people expressing disbelief in the seemingly cold and careless way in which the unnecessary killing of pets is being portrayed.
Global Times editor-in-chief Hu Xijin also posted about the issue, writing: "In my opinion, even from the perspective of crisis communication, this was certainly not a successful notice. It is not surprising to see it trigger controversies online."
At the same time, Hu also called on people not to condemn China's zero-covid19 approach over this controversy, writing: "We cannot deny the overall hard work of the grassroots pandemic prevention workers because of a specific case."
By Manya Koetse
Spotted a mistake or want to add something? Please let us know in comments below or email us. First-time commenters, please be patient – we will have to manually approve your comment before it appears.
©2021 Whatsonweibo. All rights reserved. Do not reproduce our content without permission – you can contact us at info@whatsonweibo.com.
Chinese Student Forced to Undergo "Fake Surgery" and Borrow Money While Lying on the Operating Table
The 17-year-old girl from Shaanxi underwent surgery for no reason at all, without her parents' consent.
The story of a 17-year-old girl who was forced to undergo a "fake surgery" at Shaanxi's Ankang Xing'an Hospital has gone viral on Chinese social media.
One of the netizens to break the story on social media is the Weibo user @QinguanSihai (@秦观四海, 90,000+ followers), who posted about the incident on October 6.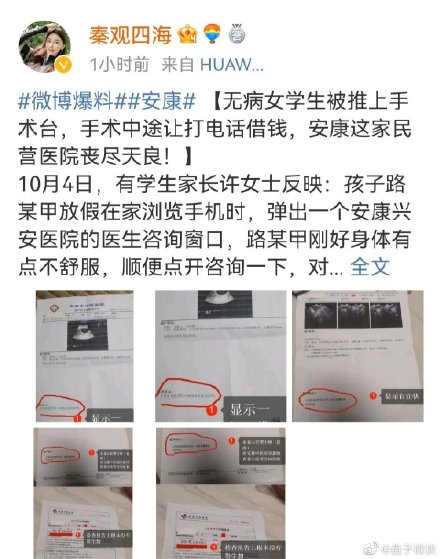 According to the post, the incident occurred on October 4 when a young woman named Lu went online to seek medical attention because she was not feeling well. Since there was an available spot for a medical consultation at the private Ankang Xing'an Hospital, Lu went to see a doctor there.
While she was at the hospital in the city of Ankang, the woman allegedly was directly taken to the operating room and placed on the operating table after a short consultation; not for a medical examination, but for surgery.
The girl initially thought she was undergoing a routine medical check. As the surgery was already underway, the doctor stopped to let Lu sign some papers and then asked her if she could gather the money to pay for her medical procedure. When Lu protested and demanded to get off the surgery table, the doctor warned her that she was losing blood and that interrupting the procedure would be life-threatening.
Lying on the operating table, Lu called some of her friends to gather the money, all the while being pressured by the doctor that the money she had (1200 yuan/$185) was not enough to cover for the costs of surgery – which was still ongoing. The doctor allegedly even told Lu to get more money via the Alipay 'Huabei' loaning app.
Lu's parents, who were contacted by concerned friends, soon showed up at the hospital as the doctor hastily ended the surgery. The parents, who were furious to discover their underage daughter had undergone a medical procedure without their consent, became even more upset when they later found out that Lu had undergone surgery to remove cervical polyps, while Lu's medical reports showed that she actually had no cervical polyps at all. No reason could be found for their healthy daughter to have been operated on her cervix.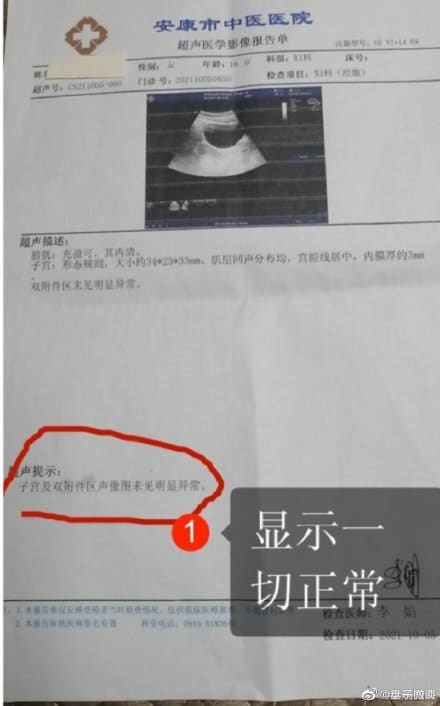 After Lu's story went viral on social media, local authorities quickly started an investigation into the matter and soon confirmed that the story was real. An initial statement said that Angkang Xing'an Hospital is at fault for performing surgery on a minor without the consent of a guardian or parent. It was also recognized that the hospital has committed serious ethical violations. The hospital, located on 78 Bashan Middle Road (巴山中路), is now temporarily closed, and the doctor in question has since been fired.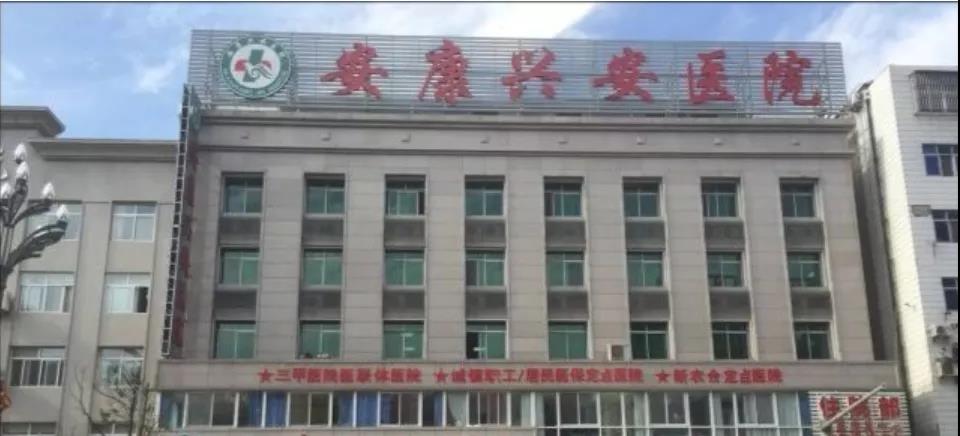 Many Chinese netizens are angered about the incident, calling private hospitals such as Ankang Xing'an a "disgrace" to China's healthcare industry.
This is by no means the first time that malpractices at Chinese local hospitals or clinics trigger online controversy. Various incidents that previously went viral show how some clinics put commercial interests above the health of their patients, and how some doctors think they can get away with abusing and scamming their patients.
In 2016, the death of the 21-year-old cancer patient Wei Zexi (魏则西) sparked online outrage. Wei Zexi, who shared his medical experiences on social media, spent 200,000 RMB to receive contested form of immunotherapy at the Beijing Armed Police Corps No. 2 Hospital (武警二院). The treatment, that was promoted on China's leading search engine Baidu, was actually completely ineffective and the advertising for it was false.
By now, one hashtag relating to the Ankang incident has received over 270 million views on Weibo (#官方通报无病女生被推上手术台#), with other relating hashtags also circulating on social media (#家属回应无病女学生被迫手术#, #无病女学生被推上手术台涉事医院停业整顿#).
"This can't be a real hospital, right?!" some worried netizens write, with others expressing the hopes that the medical institution will be severely punished for their wrongdoings.
By Manya Koetse
Spotted a mistake or want to add something? Please let us know in comments below or email us. First-time commenters, please be patient – we will have to manually approve your comment before it appears.
©2021 Whatsonweibo. All rights reserved. Do not reproduce our content without permission – you can contact us at info@whatsonweibo.com.