CCTV News Features Story About What's on Weibo
Since 2003, China Central Television (CCTV) has been broadcasting its weekly news show 'World Weekly' (世界周刊) on 22.15 every Sunday night. The programme is presented by journalist Shui Junyi (水均益).
On China's National Day, October 1st, the story of What's on Weibo and how it was founded was featured in a special about 'China and the World.'
See the segment here and turn subtitles on for English. For the entire show (no subtitles) see the CCTV broadcasting website.
For a behind-the-scenes peek of CCTV visiting the What's on Weibo headquarters in Amsterdam, check out the video below.
China Orders Closure of American Consulate in Chengdu, Weibo Responds: "Let's Turn It Into a Hotpot Restaurant"
If it were up to Weibo users, America's consulate in Chengdu, that's been ordered to close, will be the next hotpot joint in town.
First published
The US-ordered closure of the Chinese consulate in Houston was big news on Weibo yesterday.
Today, it is the China-ordered closure of the American consulate in Chengdu that has become the number one trending topic on the social media site. The topic page garnered over 870 million views on Weibo just after 5 pm Beijing time.
On July 24, China's Ministry of Foreign Affairs notified the United States Consulate that its permission to operate in Chengdu was revoked and that it needs to halt all operations.
PRC Foreign Ministry Spokesperson Hua Chunying (华春莹) tweeted on July 24 that the move is a "legitimate & necessary response to the unilateral provocative move by the US to demand the closure of China's Consulate General in Houston."
This is a legitimate & necessary response to the unilateral provocative move by the US to demand the closure of China's Consulate General in Houston.

— Hua Chunying 华春莹 (@SpokespersonCHN) July 24, 2020
China state media outlet CCTV posted a blue banner on social media with the characters "反制" on it, meaning "to hit back" (or: "retaliation").
According to the BBC, the American side has been given the time until Monday to close its Chengdu consulate. The United States Consulate at Chengdu opened in 1985.
Similarly, the Chinese consulate in Houston, the first Chinese consulate in the United States, was only given 72 hours to leave the compound, leading to the alleged burning of paper documents in the consulate courtyard.
On Weibo, over two million people 'liked' one of the news posts reporting on the closure of the consulate in Chengdu. The most popular comment of the comment thread, receiving over 231,000 'thumbs up' suggested to "directly turn [the consulate] into a hotpot restaurant."
Chengdu is one of China's authentic hotpot hot spots, and is famous for its Sichuan hotpot, with many hotpot restaurants scattered around the city.
"I've already got a hotpot restaurant name ready, when can we move in?", one commenter suggested, with others responding that the only suitable name for the imaginary hotpot place would be "Trump Hotpot."
A photoshopped design of the future hotpot place was shared on Weibo and Douyin.
Many commenters applauded China's response to American actions and support the ordered closure of the consulate and called it "delightful", "as long as they don't take our hotpot recipes with them."
Others also joke: "The Chengdu American consulate has been frantically stealing our secret hotpot recipes, they're a threat to our hotpot culture!"
According to reports on Weibo, people were hanging around the American consulate on Friday afternoon "in hopes of seeing some smoke," with many expecting there to be some document-burning.
From what I'm reading, people are hanging around the American embassy in Chengdu waiting for document-burning smoke to appear. pic.twitter.com/tyj1i9iGs6

— Manya Koetse (@manyapan) July 24, 2020
Might as well grab a snack while waiting for something to happen. pic.twitter.com/WYK86rZVO8

— Manya Koetse (@manyapan) July 24, 2020
Meanwhile, a live streaming channel of CCTV broadcasting scenes around the consulate received a staggering 34 million views on Friday evening, Beijing time. Some people commented that they wanted to see what was happening around the area to "witness history."
Weibo users shared videos of someone allegedly setting off firecrackers near the consulate on Friday evening.
Someone ignited firecrackers near the consulate?! pic.twitter.com/u08bVcUCiP

— Manya Koetse (@manyapan) July 24, 2020
This video, being shared on Weibo, gives a clearer view of the situation around the Chengdu US Consulate when firecrackers were set off just earlier tonight. pic.twitter.com/tIigqYeWXY

— Manya Koetse (@manyapan) July 24, 2020
One CGTN reporter who was reporting from the scene said that there was "no need to panic" because "local residents are having a wedding today" (see video embedded below). The reporter received some criticism from individual Weibo users who wrote it was not right for her to report something that was "not actually true."
"There is no need to panic, some local residents are having a wedding today." pic.twitter.com/CebdwzPDYK

— Manya Koetse (@manyapan) July 24, 2020
Photos of a man being taken away by the police in relation to the firecracker incident was individually reposted on Weibo many times, with netizens praising the "uncle" or "brother."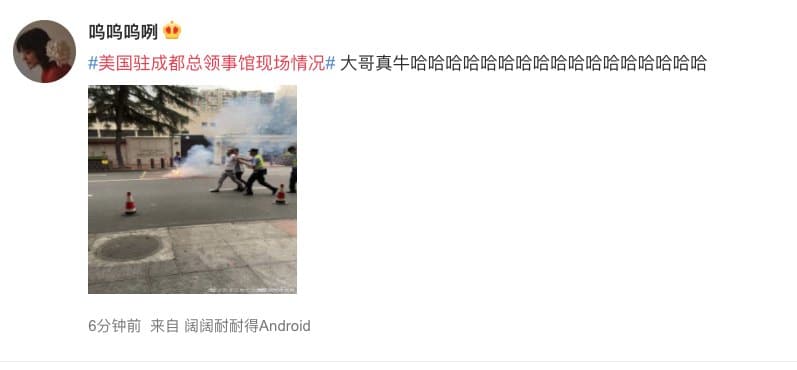 A milk tea and ice jelly shop near the consulate did good business on Friday night with so many people hanging around to see if something would happen. "They're the real winners of today," one Weibo user said.
By Manya Koetse
Follow @WhatsOnWeibo
Spotted a mistake or want to add something? Please let us know in comments below or email us. First-time commenters, please be patient – we will have to manually approve your comment before it appears.
©2020 Whatsonweibo. All rights reserved. Do not reproduce our content without permission – you can contact us at info@whatsonweibo.com.
"Our Cities Are Sick, But We Will Make Them Better" – Popular Online Video Promotes Chinese Unity in Times of COVID-19
Chinese state media are spreading more hopeful and positive online content in times of coronacrisis.
From Guangzhou to Shenzhen, from Wuhan to Chengdu, bustling streets and busy markets are left empty and quiet, as China is in the midst of dealing with the coronavirus (COVID-19) crisis.
"[People are] afraid, they are anxious, and the masks they wear widens the distance between them," a whispered female voiceover says in a new 3-minute 'documentary' video that has been propagated online by Chinese state media over the past week.
The short video shows scenes from cities all across China – a deserted train station in Wuhan, a person cycling on a quiet Beijing street, a nearly empty highway in Shenzhen – while a tracker in the corner shows the number of confirmed coronavirus diseases cases in that location.
While the first half of the online 'shortdoc' emphasizes how COVID-19 has affected every corner of the country in negative ways, making the past Chinese New Year the most depressing one in decades, the second half shifts to a message of hope and positivity.
Instead of highlighting the grey and empty streets across China, the video focuses on the energy and courage of the medical workers, policemen, and construction workers across the country doing what they can to fight the battle against the coronavirus.
"We are looking forward to the day we will take off our masks again, leave our homes, be with our loved ones, and enjoy that tasty bite of steaming hot buns."
The voiceover continues to say that "every city will wake up again" and that "the smiles will return to people's faces," concluding: "Because we are still together [in this], because we are Chinese."
The short video ends with the slogan "Our cities are sick, but we will cure them" ("我们的城市生病了,但是我们会治好它").
Originally posted by state-run media People's Daily on Weibo, the three-minute film attracted more than 80 million views within two days after it was posted. By now, the hashtag "3-minute Documentary Features Chinese Cities in Times of Epidemic" (#3分钟记录疫情下的中国城市#), also hosted by People's Daily, was viewed almost 90 million times.
The video was produced under the 'New Studio Media Group' (Xinpianchang / 新片场社区) with video contributions from 48 different content producers from all over the country. Xinpianchang is a Beijing-based online media group and video content platform founded in 2012.
Many online viewers express that they are touched and inspired by the short doc.
Recently, Chinese social media has seen more short videos depicting what life in times of coronacrisis is like for people living in different parts of China.
Chinese publication The Cover (封面新闻) recenty also posted a three-minute video of the scenes in Chengdu city, showing that its once bustling streets are now more like a ghost city.
Some Weibo netizens from Wuhan also post short videos of their city, repeating the slogan "Our city is sick, but we will cure it" and welcoming people to visit Wuhan once this epidemic is over.
Over the past weeks, Chinese state media have started to disseminate and propagate more hopeful online content, praising the work of those fighting COVID-19 and showing support to the people of Wuhan and emphasizing the unity of China in times of crisis.
For more about this and other COVID-19 related articles, please click here.
By Jialing Xie
This article has been edited for clarity.
Spotted a mistake or want to add something? Please let us know in comments below or email us. First time commenters, please be patient – we will have to manually approve your comment before it appears.
©2019 Whatsonweibo. All rights reserved. Do not reproduce our content without permission – you can contact us at info@whatsonweibo.com