Op-Ed ⎪ Cyber Bullying and Fake News: What You Should Know About the Zhang Zhehan Story
Opinion: Zhang Zhehan is still being punished every day for a crime he never committed.
Along with several other celebrities, Chinese actor Zhang Zhehan has been a hot topic in the media this year ever since photos of him taken at the controversial Yasukuni Shrine went viral online. Not only does Zhang not deserve his recent blacklisted status, Jessica J. argues in this op-ed contribution for What's on Weibo, he is also a victim of online fake news propagation and cyberbullying. 
Those following Chinese entertainment news may have read about the string of celebrity crackdowns and cancellations this year, including big names like pop star Kris Wu, actress Zheng Shuang, and actor Zhang Zhehan.
However, Zhang Zhehan's inclusion among Chinese 'blacklisted artists' is raising some eyebrows and has also drawn the attention of Li Xuezheng, the Vice Chairman of the China TV Artists Association and Director of the Golden Shield Television Center.
Among those 'canceled' artists, Kris Wu was arrested on suspicion of rape, Zheng Shuang was fined for tax evasion – but Zhang Zhehan did not violate any laws and, according to Li, "was not officially banned or deemed immoral by government bodies" (Drama Panda).
Instead, Zhang was swiftly canceled when old vacation photos of him near the Yasukuni Shrine surfaced in August 2021, despite apologizing quickly for not knowing the significance of the buildings in the area.
[For context, read: Chinese Actor Zhang Zhehan Under Fire for Yasukuni and Nogi Shrine Photos – Ed.]
After digging a little deeper, it becomes apparent that there is much more nuance to Zhang's incident than can be captured in a single sentence such as "Zhang visited the controversial Yasukuni Shrine" or "Zhang posed for photos at the Yasukuni Shrine."
Yasukuni Shrine is a Cherry Blossom Destination
The Yasukuni Shrine in Tokyo is notorious for enshrining "1,068 convicted war criminals, 14 of whom are A-Class (convicted of having been involved in the planning, preparation, initiation, or waging of the war)." The shrine is of great significance when it comes to Sino-Japanese history, as many of Japan's war dead enshrined at Yasukuni committed atrocities against the Chinese, including during the 'Nanjing Massacre' which started in December 1937 and came to be known as the most notorious Japanese atrocity of the Second Sino-Japanese War.
However, what many people think of as the Yasukuni Shrine only concerns the shrine's religious structures, including the prayer and worship halls. These are the places where Japanese prime ministers go to pay respects to this day, resulting in recurring controversies.
The Honden Main Shrine, where nearly 2,5 million Japanese war dead are enshrined as 'divinities,' is usually inaccessible to the general public. No photography is allowed at the courtyard of the Haiden Main Hall, which is where people pay their respects.
Outside of these structures, the Yasukuni Shrine grounds include an open park area famous for its cherry blossoms. In fact, it houses a "benchmark" cherry tree, which Japan's Meteorological Agency uses to officially announce the start of the cherry season (NBC News). It's important to note that Zhang's photos were taken in this prime cherry blossom viewing area, and not inside the shrine itself.
When searching for "Yasukuni Shrine Cherry Blossoms" on Google, one will find many travel guides and blogs showcasing the lively atmosphere and the sea of people that come to visit during the blossom season. As recently as March 2021 (Phoenix News), Chinese media have included the area around the Yasukuni Shrine as a popular cherry blossom viewing destination. See examples from China Daily, People's Daily, and China News. Chinese state broadcaster CCTV even covered the benchmark tree in March 2018, the same year that Zhang's photos were taken.
Many articles that came out around August this year claimed that Zhang "posed in front of the Yasukuni Shrine" (see examples from Radii, Business of Fashion). This is false because the building in Zhang's photo is actually labeled "斎馆" (Saikan) and is an administrative or office building on the park grounds.
The cherry blossoms are clearly the main focus in all of Zhang's photos. In 2018, there were over 31.19 million international tourists to Japan, including over 8 million Chinese visitors. Each year Japan attracts almost 3 million visitors during cherry blossom season alone.
Zhang was just one among thousands of Chinese tourists coming to view Japan's famous cherry blossoms. If this is considered an act that hurts national sentiments, then what about the millions of other Chinese citizens that came for the same reason, not to mention the Chinese media that recommended this place as a tourist destination?
Signs of Coordinated Smear Campaign
The three-year-old photos of Zhang surfaced on August 13, a sensitive date leading up to the August 15th Victory over Japan Day, the day on which Imperial Japan surrendered in World War II.* In addition to the timing, other accusations against Zhang, including those around a wedding he attended in Japan, rest on blatant misinformation and falsified Baidu entries. (*The Chinese Victory over Japan is commemorated on September 3rd when the signing of the surrender document occurred. )
To a lesser extent than the cherry blossom photos, Zhang was also condemned for attending a friend's wedding at the Nogi Shrine in 2019 and taking a photo with controversial figure Dewi Sukarno, one of the wives of the former Indonesian President Sukarno.
Netizens soon noticed that the Baidu entry for Nogi Shrine was created the night before on August 12. Similarly, Baidu entries for Mrs. Dewi and Nogi Maresuke, the general whom Nogi Shrine is named after, were both edited on early August 13.
Chinese state media outlet Global Times wrote that "there were also photos of Zhang attending a wedding ceremony at Nogi Shrine, another infamous shrine that honors imperial Japanese military officers who invaded China during World War II."
While it is true the Nogi Shrine honors Japanese general Nogi Maresuke, he died in 1912, well before the events of WWII. So where did this blatantly false information come from?
It is also worth noting that the popular Japanese idol group Nogizaka46, who held a coming-of-age ceremony at the Nogi Shrine, performed several concerts in China without issue.
Numerous other rumors, though not published by reputable media, circulated broadly on social media sites including international platforms such as Youtube and Twitter.
Almost all of them have been debunked as misinformation or complete fabrications. For example, Zhang starred in a short film titled Brother, where his character's mentally challenged older brother raises his hand when he gets a nosebleed. Zhang took a series of photos interacting with his co-star, but the photo of this gesture was taken out of context to accuse Zhang of making Nazi gestures.
Netizens have also noticed that over 800 marketing accounts posted at almost the same time asking for Zhang's works to be taken offline (Weibo search), and that so-called water armies (paid commenters) heavily manipulated the direction of social commentary and sentiments (a netizen's data analysis).
Based on all of this information, it can be reasonably concluded that Zhang was the target of a coordinated smear campaign.
Consequences of Misinformation and Cyber Violence
Within a time span of less than a week, Zhang lost all sponsorship deals and his career suffered a massive blow.
Shows featuring Zhang, including Word of Honor and Demon Girl, were taken offline from Chinese platforms Youku and Le.com. His scenes were erased from the critically acclaimed Nirvana in Fire. His songs "Gu Meng" and "Tian Ya Ke" from Word of Honor could no longer be streamed on various platforms and variety shows featuring him either removed the episodes including Zhang, or he was simply blurred out.
In addition, Zhang faced mass silencing, erasure, and defamation on all Chinese social media platforms:
Zhang's accounts on all social media platforms were closed.

His face still cannot be shown on Bilibili, Douban, and other platforms (videos featuring Zhang will be deleted).

All positive content on Zhang has been deleted or has been made unsearchable on video site Bilibili. Searching for Zhang's name on this platform will

only show videos condemning him

.

Many netizens still refer to Zhang as a "traitor" or a "spy."

Before Li Xuezheng spoke up for Zhang, anyone attempting to clarify Zhang's situation often found their posts deleted or their accounts closed.

Li

posted on December 5th

that Zhang doesn't even have the right to his own name: "There are only two people in the world who can't buy things on the internet. One is notorious fascist Hitler, the other is our Zhang Zhehan."
Since Zhang was included on the performers' blacklist issued by the Chinese Association of Performing Arts (CAPA), Li Xuezheng has been investigating potential corruption within the industry-led organization. In doing so, Li Xuezheng is also providing a platform for Zhang and his family to speak out for the first time since they've been silenced.
Li recently posted a letter from Zhang's mother, garnering over one million likes within a day. In the letter, Zhang's mother described the harrowing experience her son and her family have gone through over the past few months.
She wrote:
"Not only have the dreams and achievements he [Zhang] has worked for for more than ten years been crushed, but the entire internet is also filled with one-sided rumors and slander. His positive actions, his love for the Party and the country are erased, and his works have all been de-platformed. My son told me that he did not enter the Yasukuni Shrine, he did not visit it, let alone pay any respects. The information spread on the internet is false… We never got a chance to clarify. We feel completely powerless and hopeless."
This part, in particular, was difficult to read:
"The little nephew he loves is only four years old and dares not look at him, saying that his uncle is a bad person. When my son heard this, he went to his room and cried… He is really a strong person ordinarily, but at this moment he was broken."
Zhang Zhehan was canceled in August over misinformation that cannot stand up to scrutiny, yet numerous reputable media entities continue to spread misinformation without further investigation.
As a consequence, Zhang's works were de-platformed, his presence erased, his voice silenced, and even the right to use his own name is lost, all without any legal backing. In a country governed in accordance with law, a person should be considered innocent until proven guilty. But it's been over four months now, and despite having committed no crime at all, Zhang is still being punished every day without rescission.
By Jessica J.
Jessica J. (alias) is the initiator of the Teddyfoxfluff blog which collects and translates Weibo posts relating to the Zhang Zhehan controversy. To read more, visit her blog here.
For more about Zhang Zhehan on What's on Weibo, see our overview here. 
Spotted a mistake or want to add something? Please let us know in comments below or email us.
©2021 Whatsonweibo. All rights reserved. Do not reproduce our content without permission – you can contact us at info@whatsonweibo.com.
Viral Bilibili Video Featuring Rural Carpenter: Disabled & Determined 'Uncle' Becomes Chinese Internet Sensation
Yige Caixiang's touching portrait of his disabled Uncle shows that it's not about the cards you're dealt but about how you play them.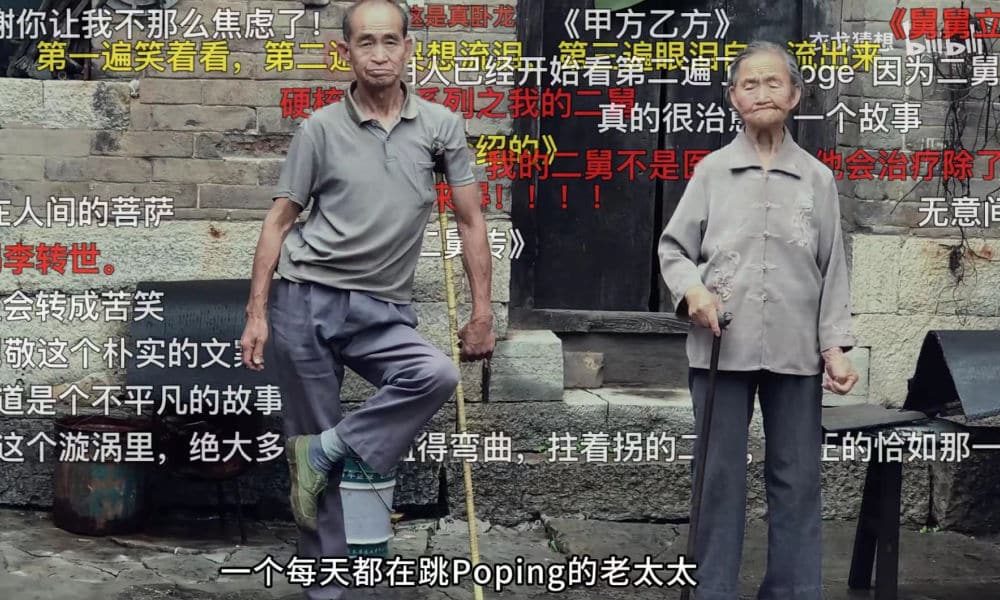 Chinese vlogger Yige Caixiang (衣戈猜想) posted a short film on Bilibili about his disabled uncle living in a poor rural area in China. This portrait of his resilient and resourceful 'Uncle' has touched the hearts of many netizens, and went viral overnight.
A video that was posted on the Chinese video platform Bilibili on Monday, July 25, has gone viral on social media for the inspiring story it tells about a resilient villager who became disabled as a teenager. The video was uploaded by vlogger 'Yige Caixiang' (@衣戈猜想) and received over ten million views in a day, becoming the number one video on the Bilibili platform.

"This is my uncle," the vlogger can be heard saying at the start of the 11:30-minute video, titled "How Uncle Cured My Mental Friction after Being Back in the Village for Three Days" (回村三天,二舅治好了我的精神内耗), introducing his old uncle and grandma standing in front of their home "built at a time when the U.S. didn't even exist yet."
While showing footage of family and village life, Yige Caixiang tells about his uncle through a voice-over, recording his own trip to his family's village by detailing the life of his mother's brother.
His uncle used to be the brightest kid in school, he tells, always getting top grades. One day, as a teenager, he got sick with a high fever. A doctor in a neighboring village 'treated' Uncle with various injections in his backside, after which Uncle could no longer use his leg and ended up being permanently disabled. Feeling depressed and hopeless, he did not return to school and spent weeks lying in bed. The village teachers were unable to convince him to come back to class.
After three years, Uncle stepped outside of the home courtyard for the first time with his crutches. He was inspired to become a carpenter after seeing one at work in the family courtyard, and so he also started doing the same work, and was able to make a living by going around and doing carpentry jobs for villagers. Never formally diagnosed, he was unable to get a disability certificate.
Wanting to visit Tiananmen Square's Mao memorial hall, Uncle traveled to Beijing one time and ended up staying with a cousin who worked in the military, doing carpentry work for the soldiers, with whom he soon became friends. A military chief even rubbed his back in the public bath house ("people in Beijing are good at rubbing backs," he'd later say).
But Uncle eventually returned to his village, and was able to attend his sisters' wedding send-offs and gave them complete furniture sets personally made by him – a rare possession to have for a young rural bride in the 1980s.
Besides taking care of his sisters, Uncle also took care of an abandoned village girl named Ning Ning, whom he adopted. By the time she got married, he was able to help the young couple with the down-payment for their new family home, for which he invested half of his life savings.

"It is only when they are near the end of their lives that people come to realize that the biggest regret in life is always regretting the past."

When Uncle was in his thirties, he became acquainted with a married lady from a nearby village. Although she had a husband and two daughters, she spent a lot of time with Uncle and even cooked and cleaned for him. Treating her as if she was his own wife, he handed over his weekly pay to her and was happy to have a bowl of rice and a warm house waiting for him after a hard day of work.
But as time went on, she never divorced her husband and other family members started seeing her as an intruder who was just out for his money to support her own family. The young Ning Ning even called her an "old fox."
The ending of this peculiar love story remains somewhat of a mystery up to this day, Yige Caixiang says. The woman and her husband passed away in a shed due to carbon monoxide poisoning. Uncle never spoke of it again and also never married another woman.
As the decades passed, Uncle took care of his aging mother while still doing carpentry work, often taking him with her around the area. Years before, he once encountered the doctor who tried to 'cure' him. If this had happened now, the doctor had said, I would've been sued and lost lots of money. But that never would have happened at that time, and it never happened later either.
Grandmother, at 88, is now struggling with her health and does not have the energy to go on living anymore. "In aging and sickness we find a necessary exercise between life and death," the vlogger reflects ("老病是生死之间的必要演习"), suggesting that the pain of growing old also makes it easier to be at peace when having to part with life.
By now, taking care of his old mother has become a full-time job for Uncle, who cooks for her and washes her face in the morning and bathes her feet at night. Besides that, he is also more than just a carpenter; he is the village handyman, repairing electronic devices, door locks, radios, stoves, and even fixing broken toys of the neighborhood children. When it is necessary, he can be an acupuncturist and a painter, too.
Whenever there is a problem, Uncle will find a way to solve it. There's just three things he can't repair, Yige Caixang says: smartphones, cars, and computers – because Uncle never owned any. Although the villagers sometimes jokingly call Uncle "crooked" because of his leg and crutches, they all know how much they care for him and how much the entire village depends on him.
In the final part of the 11-minute video, Yige Caixiang reflects on what life might have looked like for his Uncle if he had not received those injections in the 1970s. He probably would have taken the national exams, would have gone to study at university, and maybe would have become an engineer with a good income and secure financial future. But Uncle does not want to think like that. Refusing to look back, he is happy with his life in the village.
It is only when they are near the end of their lives that people come to realize that the biggest regret in life is always regretting the past, Yige Caixiang says. The main thing that matters in life is not the cards you were dealt, but how you play them. Uncle was dealt a bad card, but played it beautifully through his continuous self-improvement and perseverance.
In an old notebook underneath Uncle's bed, a line of text scribbled on the first page shows a Mao Zedong quote: "Be determined, fear no sacrifice, and surmount every difficulty to win victory" ("下定决心,不怕牺牲,排除万难,去争取胜利").

"Let Uncle quietly live together with grandma in the small mountain village – that is the most beautiful ending this story could have."

A day after it was posted, the resilient Uncle is a much-discussed topic on Chinese social media. The overall tone and setting of the video is so spirit-lifting and humbling, that it is not surprising for both netizens and state media outlets to jump on it, just as they did before with stories shared by Ding Zhen, Fan Yusu, or Zhong Jitao.
One hashtag for the short film – "How Uncle Cured My Mental Friction after Being Back in the Village for Three Days" #二舅治好了我的精神内耗# – received a staggering 630 million clicks by Tuesday. The hashtag "Why Did Uncle Blow Up Like That" (#二舅为什么突然火了#) received over 140 million views on Weibo.
The vlogger who made and posted the video is mostly known by his social media handle, Yige Caixiang (衣戈猜想). The maker himself did not release his own real name nor that of his Uncle. The vlogger apparently used to be an instructor, as multiple netizens claim that he was their previous history teacher.
Yige Caixiang is not a Bilibili newcomer. As a creator, he previously uploaded over thirty videos. They are mostly related to popular science and none of them have blown up like this one has.
After the video flooded the internet, Yige Caixiang responded to the hype on Tuesday and posted the following on Weibo:
"Hi Weibo friends, many of you messaged me after seeing Uncle's video, suggesting I'd let him go livestream on a big streaming site. Thanks to everyone for caring, but now that Uncle is getting some online attention, you want to persuade him to livestream to do what? Repeating his suffering like Xianglin's Wife (t/n: this is a reference to an old woman in one of Lu Xun's famous stories), then playing games with a bunch of people who don't know anything, kneeling and begging them for support, and then suddenly starting to talk them into buying tissue paper? Uncle seriously lived half of his life already, I shared his story now, you heard it and it touched you, this makes a beautiful little story, and it should have a beautiful ending. Didn't we see enough beautiful stories with a rotten ending over the past few years? Let Uncle quietly live together with grandma in the small mountain village – that is the most beautiful ending this story could have."
Addressing rumors that the video was not authentic, Yige Caixiang said about the video that "every single word is true" and that none of the details surrounding Uncle's life had been edited or altered in any way.
The video speaks to netizens for different reasons. Many are inspired due to the life lessons it contains regarding perseverance and not looking back on the things that might have been different. Others praise how Uncle was still able to save so much money for his daughter's down-payment on her new home despite struggling himself. Many just applaud Uncle's unparalleled strength despite their disability. Others appreciate the perspective the video gives on Chinese rural life.
There are also those who are concerned about enthusiastic netizens visiting Uncle in his sleepy hometown. Let's hope the creator's wish to let Uncle and his grandmother continue their quiet life together is the happy ending this viral story will get.
To view the video (no subtitles yet), state media outlet China Daily posted it to YouTube on Tuesday (embedded below):
By Manya Koetse
With contributions by Miranda Barnes
Get the story behind the hashtag. Subscribe to What's on Weibo here to receive our weekly newsletter and get access to our latest articles:
Spotted a mistake or want to add something? Please let us know in comments below or email us. First-time commenters, please be patient – we will have to manually approve your comment before it appears.
©2022 Whatsonweibo. All rights reserved. Do not reproduce our content without permission – you can contact us at info@whatsonweibo.com.
Hundred Flowers Awards 2022: Full List of Nominees and Must-Watch Chinese Movies (Updated)
The complete list of Hundred Flowers Award nominees for 2022.
Which Chinese movies released from February 2020 to February 2022 are nominated for this year's Hundred Flowers Awards? Who are the best directors and which actors could expect an award? Here's all you need to know about the upcoming Hundred Flowers Awards and the list of nominations.
Update July 31st: we've marked the winners in each list in this text. We've also embedded the author's Twitter thread on the Award ceremony below this article, which includes all winners. To go directly to the thread, click here.
This week, China's Hundred Flowers Film Festival and award ceremony will take place in Wuhan from July 28-30; the red carpet ceremony will take place July 30. Earlier this month, on July 20, nominees for the 36th edition of China's Hundred Flowers Awards were announced, with the list of nominees becoming a trending topic on Chinese social media.
Here is all you need to know about the Hundred Flowers Awards and the nominations.
ABOUT THE AWARDS
The Hundred Flowers Awards are one of China's most important government-approved film awards along with the Golden Rooster Awards and Huabiao Awards.
The Hundred Flowers Awards were first established in 1961 by the Association of Chinese film Artists in collaboration with Popular Cinema magazine (大众电影), based on readers' votes. The initial initiative was proposed by Premier Zhou Enlai at the time and approved by the Central Propaganda Department.
Known as the 'people's' awards, the Hundred Flowers' first edition was presented in May of 1962, when 117,000 people voted for the best films. Amid the turmoil and political mobilization of the Cultural Revolution, the awards were suspended from 1963-1979 but were reinstated in 1980. In that year, 700,000 people cast their votes (Wang 2014, p. 136; Nakajima 2019, p. 232).
Since 2004, the Hundred Flowers Award Ceremony is no longer an annual one but a bi-annual one, alternating with the Golden Rooster Awards. The two festivals also share one account (@金鸡百花电影节) on Chinese social media platform Weibo.
As explained by Nakajima (2019, p. 233), the initial selection for the films is made by a group of committee members under the organization of major film theatre managers belonging to the China Film Distribution Exhibition Association. After the approval of the Awards Organising Committee, the nominations are then sent to the China Literary and Art Federation, which decides on the ten final nominees and also selects the individual awards from these movies.
The round-up of the ten nominated films is then publicized and people's votes determine the final five candidates for each category. The final selection comes down to a pre-approved group of 101 audience juries, from students to military staff, to cast votes at the Awards Ceremony.
This year, the official social media account of the Hundred Flowers Awards also clarified that all of the selected movies have been viewed by more than one million people, and were released and screened in nationwide cinemas nationwide from February 1, 2020, to February 28, 2022. There were a total of 108 films meeting the eligibility criteria.
The Nominated Films:
in random order
#1 Battle at Changjin Lake (长津湖) (UPDATE: WINNER)
As one of China's biggest movies of the past few years, the war movie Battle at Lake Changjin became a social media sensation in the fall of 2021. The movie provides a Chinese perspective on the start of the Korean War and the lead-up and unfolding of the battle of Chosin Reservoir, a massive ground attack of the Chinese 9th Army Group against American forces, preventing them from driving Kim Il-Sung and his government out of North Korea. The film specifically follows the Wu brothers, company commander Wu Qianli (Wu Jing) and the young volunteer soldier Wu Wanli (Jackson Yee), and their fellow soldiers fighting side by side in extreme conditions. If you want to read more about this movie, we did a background article on it here. Watch the trailer here.
#2 Hi Mom (你好,李焕英)
Hi Mom was the box office favorite in China during the 2021 Spring Festival period. It tells the story of Jia Xiaoling (Jia Ling) who is devastated when her mother Li Huanying has a serious accident one day and passes away. Jia is especially grief-stricken because she feels she has not become the daughter she wanted to be for her mother. When she finds herself transported back in time to the year 1981, she meets her young mother before she was her mum, and becomes her friend in the hopes of making her happy and change her life for the better. For more about this movie, also check our article here. Watch the trailer here.
#3 Nice View (奇迹·笨小孩)
Released in February 2022, Nice View tells the story of the 20-year-old Jing Hao (Jackson Yee) who comes to live in Shenzhen to look after his little sister Tong Tong after the unexpected death of their mother. Desperate to pay for his little sister's much-needed heart surgery and hoping for a better future, Jing Hao does everything he can to provide an income and create a more stable life for him ad Tong Tong, but he faces many hurdles along the way (think Pursuit of Happyness). Watch the trailer here.
#4 A Little Red Flower (送你一朵小红花)
A Little Red Flower is a touching movie about family, romance, and two cancer patients. The cynical young Wei Yihang – who claims he can see the future – and the open-minded Ma Xiaoyuan meet each other during a particularly tough time in their lives when they are caught between their past and uncertain future. Anyone familiar with American hit film The Fault in Our Stars might feel there is a striking similarity between the two movies, something that has also been discussed in the media. Watch the trailer here.
#5 Chinese Doctors (中国医生)
Chinese Doctors is a medical drama that features the story of a group of doctors at a Wuhan hospital, being the first in the world to deal with the novel coronavirus. The movie, based on true events, shows the struggles of medical front-line workers facing a virus that would change the world as we know it. Watch the trailer here.
Nominated for Best Screenplay:
in random order
#1 Hi Mom (你好,李焕英)
Jia Ling (贾玲) and Sun Jibin (孙集斌) were nominated for the screenplay of Hi Mom. Besides being responsible for the screenplay, which was inspired by events in her own life, Jia Ling also directed the movie and plays the main protagonist. Sun Jibin also wrote the screenplay for the 2017 Trouble Makers.
#2 Battle at Lake Changjin (长津湖)
Lan Xiaolong (兰晓龙) and Huang Xin (黄欣) were nominated for the screenplay of Battle at Lake Changjin. Both screenwriters also did the screenplay for the sequel of this film, titled Water Gate Bridge (长津湖之水门桥).
#3 Be Somebody (扬名立万) (UPDATE: WINNER)
Libashen (里八神), Liu Xunzimo (刘循子墨, also the director), Zhang Benyu (张本煜), and Ke Da (柯达) were nominated for their writing team efforts on the Be Somebody screenplay, which they began writing in 2018 and finished in 2020 before filming began. The small budget film became an unexpected success after National Day in 2021. It is a mystery comedy set during the Republic of China (1912-1949) that follows the story of a group of frustrated filmmakers who gather to plan a new film about a notorious criminal case. Little do they know that the actual murderer is among them. Watch the trailer here (no English subtitles).
#4 Chinese Doctors (中国医生)
Yu Yonggan (于勇敢) was nominated for best screenplay for the movie Chinese Doctors. Yu is also known for his work for The Captain and The Bravest.
#5 Nice View (奇迹·笨小孩)
Zhou Chuchen (周楚岑), Xiu Mengdi (修梦迪), Wen Muye (文牧野), Han Xiaohan (韩晓邯), Zhong Wei (钟伟) were nominated for the screenplay of Nice View.
Nominees for Best Directing:
in random order
#1 Battle at Lake Changjin (长津湖)
The 'dream team' of Chen Kaige (陈凯歌), Tsui Hark (徐克), Dante Lam (林超贤) are nominated for directing The Battle at Changjin Lake.
#2 Hi Mom (你好,李焕英)
For director Jia Ling, this nomination as best director is especially noteworthy since Jia is mostly known as a comedian in China, often performing during the annual Spring Festival Gala. This movie is her directorial debut.
#3 Chinese Doctors (中国医生)
Andrew Lau, known in China as Liu Weiqiang (刘伟强), was nominated as best director for Chinese Doctors (中国医生). The prolific Hong Kong film director, producer, and cinematographer most most notable in the West for his action and crime films.
#4 Be Somebody (扬名立万)
Liu Xunzimo (刘循子墨) is both the director and co-writer for Be Somebody.
#5 Nice View (奇迹·笨小孩)
Director Wen Muye (文牧野) is nominated for Nice View, which is the second feature film by the director. The Chinese film Dying to Survive was the young director's debut in 2018, and it became an absolute box office sensation and one of China's highest-grossing films of all time. For Dying to Survive, Wen also worked together with producer Ning Hao and Jackson Yee, who also stars in Nice View.
Nominated for Best Actor:
in random order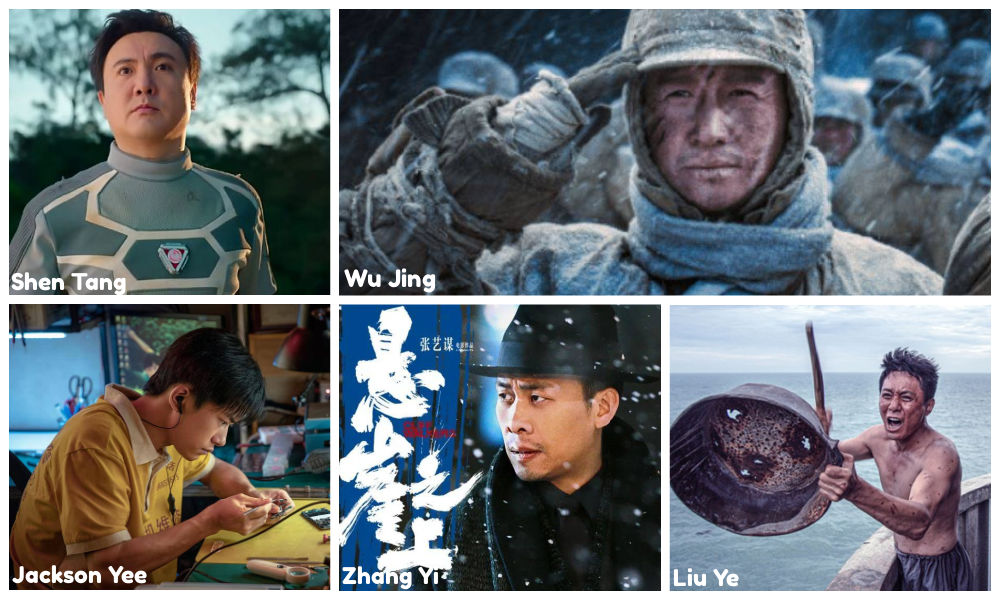 #1 Liu Ye (刘烨)
The renowned actor Liu Ye (1978) is nominated for his role as Wang Jicai (王继才) in Island Keeper (守岛人). Liu already won best actor for the same role during the Golden Deer Awards in December of 2021. Island Keeper is about the true story of Wang Jicai and his wife Wang Shihua who guarded a Chinese border island – Kaishan Island – for 32 years from 1986 to 2018.
#2 Shen Teng (沈腾)
Shen Teng (1979) was nominated for his role as bionic robot Xing Yihao (邢一浩) in My Country, My Parents (我和我的父辈), a four-part anthology drama film directed by four directors, who also each star in their own segment. Shen's segment is called Go Youth. Shen previously also starred in other successful movies, such as Goodbye Mr. Loser and Hello Mr. Billionaire.
#3 Wu Jing (吴京)
Wu Jing (1974) also known as Jacky Wu, is nominated for his role as commander Wu Qianli (伍千里) in Battle at Changjin Lake (长津湖). Wu is a renowned and award-winning actor who starred in some of the most famous Chinese films of the past decade, including The Wandering Earth and Wolf Warrior.
#4 Jackson Yee (易烊千玺)
Jackson Yee is definitely one of the most-discussed people for this award edition. As a singer, dancer, and youngest member of popular boy band TF Boys since 2013, Yee has a major fan base. Over the past years, he has become a notable actor and he starred in the nominated films A Little Red Flower, Nice View, and The Battle at Lake Changjin. This nomination is for his role as Jing Hao (景浩) in Nice View (奇迹·笨小孩). Yee previously also received critical acclaim for his role in Better Days (2019).
#5 Zhang Yi (张译) (UPDATE: WINNER)
Zhang Yi (1978) is nominated for his role as Zhang Xianzhen (张宪臣) in Cliff Walkers (悬崖之上), a film by Zhang Yimou about four Communist Party special agents who embark on a secret mission and find themselves surrounded by threats on all sides.
Nominated for Best Actress:
in random order
#1 Deng Jiajia (邓家佳)
Deng Jiajia (1983) was nominated for her role as Su Mengdie (苏梦蝶) in Be Somebody (扬名立万). Deng starred in various well-known movies and TV dramas, among them the romantic comedy television series iPartment (爱情公寓).
#2 Jia Ling (贾玲)
Besides Jackson Yee, Jia Ling is also one of the names that are nominated multiple times. Besides being nominated for directing and writing Hi Mom, she is also on the nomination list for best actress starring as Jia Xiaoling (贾晓玲).
#3 Yuan Quan (袁泉) (UPDATE: WINNER)
Yuan Quan (1977) was nominated for her role as Wen Ting (文婷) in Chinese Doctors, for which she worked again with director Andrew Lau and co-star Zhang Hanyu like she did for The Captain (2019).
#4 Zhang Xiaofei (张小斐)
Zhang Xiaofei (1936) is nominated for her role as Li Huanying in Hi Mom, which means she is a direct competitor of Jia Ling, who plays her daughter in the film.
#5 Zhang Zifeng (张子枫)
The young Zhang Zifeng (2001) is nominated for her role as An Ran (安然) in Sister (我的姐姐). The movie, directed by Yin Ruoxin (殷若昕), revolves around the story of An Ran, an 18-year-old daughter who is unexpectedly facing the major responsibility for her 6-year-old brother after the tragic loss of their parents. Read more about this film in this article about how the film stirred online discussions on traditional fanily values in 2021.
Best Supporting Actor Nominations:
in random order
#1 Hou Yong (侯勇) (UPDATE: WINNER)
Hou Yong (1967) was nomiated for his role as Wang Changjie (王长杰) in Island Keeper.
#2 Liu Haoran (刘昊然)
Noteworthy enough, this is the only category nomination for the movie 1921, which came out to commemorate the centennial year anniversary of the Chinese Communist Party and tells the story of the founding of the Chinese Communist Party. Liu Haoran (1997) was nominated for his role as Liu Renjing (刘仁静).
#3 Tian Yu (田雨)
Another nomination for Nice View is for Tian Yu (1975) for his role as Liang Yongcheng (梁永诚).
#4 Jackson Yee (易烊千玺)
Besides his other nomination for Best Actor (Nice View), Jackson Yee was also nominated for his role in Chinese Doctors as Yang Xiaoyang (杨小羊).
#5 Zhu Yawen (朱亚文)
Zhu Yawen (1984) was nominiated for his role as political instructor Mei Sheng (梅生) in Battle at Changjin Lake.
Nominations for Best Supporting Actress:
in random order
#1 Hai Qing (海清)
Hai Qing (1978) is nominated in this category for playing the eldest sister in My Country, My Parents.
#2 Liu Jia (刘佳)
Liu Jia (1960) was nominated for playing the middle-aged Li Huanying in Hi, Mom.
#3 Qi Xi (齐溪)
Qi Xi (1984) was nominated for her role as Wang Chunmei, the female worker who helps Jing Hao (Jackson Yee) reach his goals, in Nice View.
#4 Zhou Ye (周也)
Zhou Ye was nominated for starring in Chinese Doctors as Xiao Wen (小文).
#5 Zhu Yuanyuan (朱媛媛)(UPDATE: WINNER)
A second nomination for Sister is for Zhu Yuanyuan (1974) as Antie Rongrong.
Best Newcomer Nomination:
in random order
#1 Chen Halin (陈哈琳)(UPDATE: WINNER)
The little Chen Halin, just nine years old, is was nominated for her role as the little sister 'Tong Tong' in Nice View.
#2 Qin Xiaoshen (秦霄贤)
The Chinese comedian ad host Qin Xiaoshen (1997), also known as Victor Qin was nominated for playing Dahai (大海) in Be Somebody.
#3 Ren Sinuo (任思诺)
Ren is the youngest newcomer at the awards, she starred in My Country, My Parents and is just six years old.
#4 Xu Yu (徐砡)
Xu Yu (2011) is another child star who played Xiao Bao (小宝) in Island Keeper.
#5 Yuan Jinhui (袁近辉)
Yuan Jinhui (2011) was nominated for playing the little brother in My Country, My Parents.

Read more about Chinese cinema here.

Update on ceremony and winners in thread below:
Zhang Xiaofei looking beautiful at the Hundred Flowers Awards ceremony… pic.twitter.com/O0MG7hjxlM

— Manya Koetse (@manyapan) July 30, 2022
By Manya Koetse
Get the story behind the hashtag. Subscribe to What's on Weibo here to receive our weekly newsletter and get access to our latest articles:
References
Nakajima, Seio. 2019. "Official Chinese film awards and film festivals: History, configuration and transnational legitimation." Journal of Chinese Cinemas 13 (3): 228–243
Wang, Zhuoyi, 2014. Revolutionary Cycles in Chinese Cinema, 1951-1979. New York: Palgrave Macmillan.
Spotted a mistake or want to add something? Please let us know in comments below or email us. First-time commenters, please be patient – we will have to manually approve your comment before it appears.
©2022 Whatsonweibo. All rights reserved. Do not reproduce our content without permission – you can contact us at info@whatsonweibo.com.