(Op-Ed) The Forgotten Genres & Loss of "Intellectual Taste" in Chinese TV Drama
"We need to recall those TV dramas and genres that have vanished into oblivion," Zhao writes.
First published
When What's on Weibo published a list of classics of Chinese TV dramas, Beijing Film Academy graduate Zhao B. felt the list was missing relevant titles and genres. These are the top classic TV dramas that should be added to the list, according to an article sent in to What's on Weibo by Zhao.
The entertainment industry is a hot topic in present-day China, where online videos are being watched by millions of internet users every day. The way in which these videos are created, spread, and consumed, signals a new kind of emotional consumerism.
TV drama is still a benchmark of China's popular culture, but it is no longer the newest one – and might even have started to be somewhat worn out. It has gone into a phase of systematically deleting conflicting memories, in sync with the loud internet environment and the pop culture factory.
Not only has the length of TV drama episodes been shortened for today's 'online binging,' but streaming sites are also filled with certain algorithms and tracking codes that accelerate the obliteration of certain television dramas. The mass 'industrialization' of popular culture has shortened the lifespan of television dramas and its genres.
Which is why if a list such as the Top 30 Classic TV Dramas in China is based on rankings provided by social media sites or online video platforms such as Sougo or Douban, there are certain blind spots.
It is not out of mere nostalgia that we need to recall those TV dramas and genres that have vanished into oblivion. It gives us an overview of marginalized genres and taste, that are different from the current mainstream ones. They are the working memories for contemporary life.
Genres that have come up and have since been forgotten in the People's Republic of China from roughly 1978 to 2018, are:
-the "rural genre" (农村题材)
-the "youth genre" (青少年题材)
-the "army genre" (军旅题材), a sub-category of the military genre.
Theme Productions versus Genre
There is a socio-historical difference in Chinese and English popular culture industries in use of the term 'genre' that should be noted here. Chinese TV dramas are often categorized in 'topics' or 'themes' (tícái 题材) rather than in 'genres' (lèixíng 类型).
Thematic terms were used in planning and reviewing art productions (literature, film, TV drama) in PRC history, but this practice has been transforming over the past forty years. 
With the rise of the pop culture industry, the term 'genre' (类型) also became more popularized, with 'theme' and 'genre' now existing together.
Some productions have been recognized as either an old-fashioned 'theme' product, while also being categorized as a genre. For example, the TV drama Era of Peace (和平年代, 1996) marks the transition from the thematic categorization of 'Revolutionary History theme' (革命历史题材) to the categorization of 'Era genre' (年代戏). Later, the famous production The Year of Burning Passion (激情燃烧的岁月, 2001) was simply categorized as a typical 'Era Genre' rather than a theme production.
But there are also those thematic productions that did not have a 'genre offspring.' One of those is the established "intellectual theme" (知识分子题材) in Chinese literature, film, and TV drama, which is not reflected in today's TV drama industry. Although educated identity plays a key role in today's medical genre (医疗剧) – a subcategory of the 'professional genre' TV drama (职业剧) – the agenda and rhetoric are very different.
To avoid long discussions on the complex nature of theme versus genre productions and categories in Chinese TV dramas, the following overview mixes both thematic and genre TV dramas, using the terms interchangeably.
'Forgotten' TV Dramas
An overview of some series in supplement to the Top 30 Classic Chinese TV dramas article:
#1 'Trilogy of Women's Fate' (女人命运三部曲)
* 篱笆、女人和狗  'Fence, Woman and Dog'
Year: 1989
Episodes: 12
Genre: Rural/Family
Directed by 陈雨田 Chen Yutian
* 辘轳、女人和井 'Windlass, Woman and Well'
Year: 1991
Episodes: 12
Genre: Rural/Family
Directed by 陈雨田 Chen Yutian 可人 Ke Ren
* 古船、女人和网 Ancient Ship, Woman and Net
Year: 1993
Episodes: 14
Genre: Rural/Family
Directed by 吴珊 Wu Shan 张扬 Zhang Yang
In this 1990s 'Trilogies of Country Life' (农村三部曲), China's rural community is still presented as being in a stage of self-reflecting amidst a time of transformation. This portrayal of China's countryside stands in stark contrast to present-day productions that often represent the rural community as either 'to be developed' or to be laughed about, caught in a discourse of urban-rural binary opposition. These series are still available for viewing on sites such as QQ (no English subs).
#2. 'The Flowering Season of Being Sixteen' (十六岁的花季)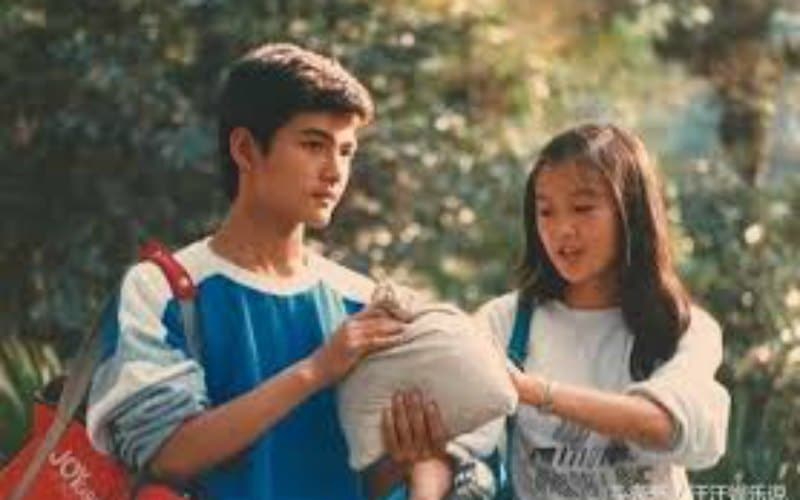 Year: 1990
Episodes: 12
Genre: Youth
Directed by Directed by 富敏 Fu Min 张弘 Zhang Hong
This TV drama, spoken in Shanghai accent, tells the coming-of-age story of a group of middle school students. It represents Chinese youth as being in the age of poetic self-reflection, rather than the 'young idol' genre that is ubiquitous today. The actors and narrator's voice directly reflect on society and question it. The episodes are available for viewing on Youtube here (no English subtitles).
#3. Young Special Force 少年特工
Year: 1992
Episodes: 16
Genre: Military
Directed by 郑方南 Zheng Fangnan
This TV drama, set in contemporary China, tells the story of the experiences of children during a military camp in Shandong, where these young scouts are thrown into a 'battle' between the 'Red Army' and the 'Blue Army.' The military setting and modern timeframe ironically reveal the hidden elite and historical subtext. Link to episodes on Youtube here.
#4. Era of Peace (和平年代)
Year: 1996
Episodes: 23
Genre: Army/History
Directed by 李舒 Li Shu 张前 Zhang Qian
This title represents the difference between the army sub-genre and military genre. It is a retrospective story that describes the transformation of China's armed troops from the Reform and Opening Up (改革开放) (1978-1996) period, going from war preparations to a period of peace.
Over the last two decades, the army sub-genre has gradually allowed new components into the military TV drama genre, which has also led to those narratives in the late 2010s that focus on overseas operations by elite soldiers.
#5. Fortress Besieged (围城)
Year: 1990
Episodes: 10
Genre: No (some will say Historical)
Directed by 黄蜀芹 Huang Shuqin
This drama, a classic adaptation of the same-titled 1947 novel by Qian Zhongshu, is set in the 1930s and portrays Chinese intellectuals, while focusing on the misadventures of Fang Hongjian, who returns to China after studying in Europe. The mild, cautious, ironic yet effortless taste from 1940 Shanghai and the figures of Republic of China's bourgeois intellectuals, showed itself for the very first time to PRC audiences in this classic.
Nobody would like to admit they forgot about this classic adaptation. Actually, people tend to forget it not because of itself, but for its isolation from any current trends. Intellectual taste and artistic pursuit are quite alien to China's current TV drama culture. Intellectual influence and TV as art was a cultural feature of the late socialist planned economy of the 20th century, when the Communist war against intellectuals had ended, and the capitalist front was yet to be developed.
Various episodes are available for viewing on Youtube.
#6. Sinful Debt (孽债)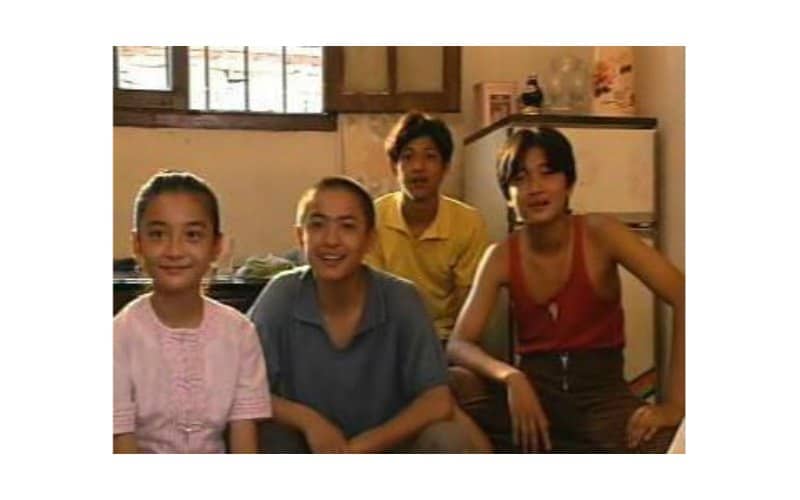 Year: 1995
Episodes: 20
Genre: Family
Directed by 黄蜀芹 Huang Shuqin
This drama, from the same female director Huang Shuqin (黄蜀芹) of Fortress Besieged, tells the story of five left-behind children in pursuit of their fathers – former sent-down "educated youths" as part of the Cultural Revolution crusade. It is a drama of middle-aged males, females and children, affected by historical, geographical, social and ethnic displacement. These series represent a delayed response to Scar Literature on TV.
The portrayal of Shanghai intellectuals in 1990s TV drama was very different from the 1980s intellectual idealism on TV, which then later transformed in the full-fledged populism in today's political discourse of pop culture. In policy and critiques after 1990s, the once legit intellectual theme (知识分子题材) was completely erased.
Episodes of Sinful Debt are available for viewing on Youtube here.
By Zhao B.
Edited for clarity by Manya Koetse
Spotted a mistake or want to add something? Please let us know in comments below or email us.
©2018 Whatsonweibo. All rights reserved. Do not reproduce our content without permission – you can contact us at info@whatsonweibo.com
"What Is Peppa?" – Viral Ad Campaign for 'Peppa Pig' Movie Makes the British Pig More Chinese Than Ever
It's the Chinese new year of Peppa Pig.
A new ad campaign for the upcoming Peppa Pig movie features a grandfather living in rural China who goes on a quest to find out what Peppa is. The commercial is a huge success on Chinese social media, and strikes a chord with netizens for touching upon various societal and cultural issues. Peppa is more Chinese than ever now.
"What is Peppa?" That is the question that is currently going viral on Chinese social media, with the hashtag #WhatisPeppa (#啥是佩奇#) receiving a staggering 400 million times on social media platform Weibo at time of writing.
The reason for the trend is an ad campaign, titled 'What's Peppa', promoting the Peppa Pig Celebrates Chinese New Year film, a production by Entertainment One and China's Alibaba Pictures.
The promotional video (5:39 length, watch featured video), that came out via various online channels on January 17, focuses on a grandfather living in a remote rural village who is anticipating the Spring Festival reunion with his son and his family, who now live in a big city.
The grandfather, named Yu Bao, wants to know what gift to get for his little grandson. When calling his family on a bad connection through his old 2G mobile phone, the word "Peppa" is all he gets from his little grandson before his phone breaks down. But what's Peppa?
Yu Bao then goes on a comical mission to find out what Peppa is: looking it up in the dictionary, asking his friends -who are just as oblivious as he is-, and asking the entire village.
At the local shop, it is suggested that 'Peppa' is some kind of shampoo.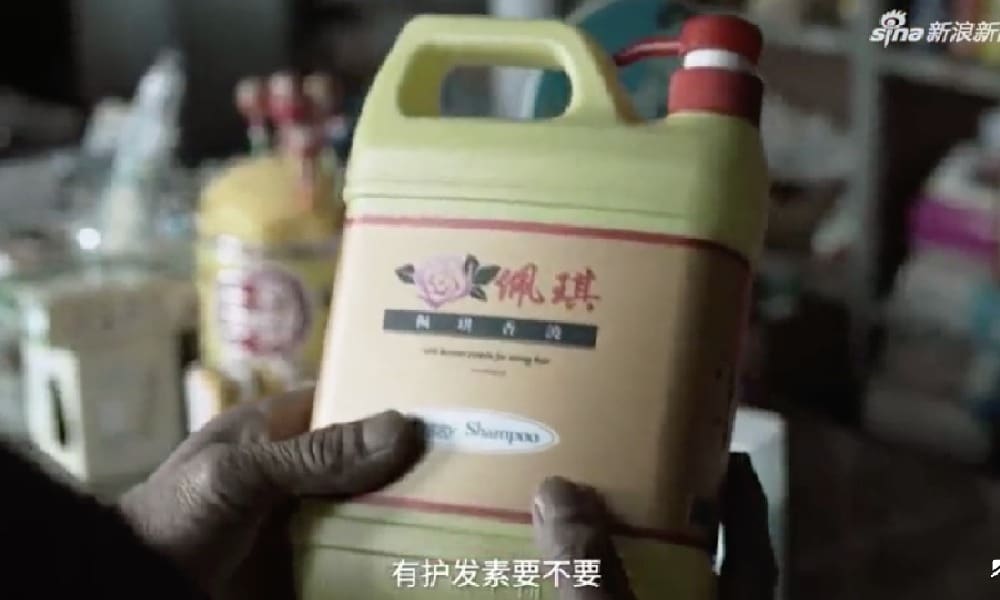 Eventually, one of the female villagers, who used to be a nanny, knows what Peppa is. She tries to explain it to Yu Bao, who now even seems willing to paint his own pig pink for his grandson. She explains that it is a pink cartoon pig whose face looks somewhat like a traditional fire blower.
With some guidance, the grandfather then goes to work and creates a unique 'Peppa Pig' gift from a metal air-blower to surprise his grandson during Chinese New Year.
But much to his disappointment, he then receives a phone call from his son, who tells him they are not coming home for Chinese New Year – before the connection drops again.
As grandpa, sad and lonely, is walking by the side of the road, his son suddenly appears in his car, telling him that the connection dropped too soon; he was not just telling him the family was not coming for Chinese New Year, he was trying to tell him that they invited him to come to their home instead.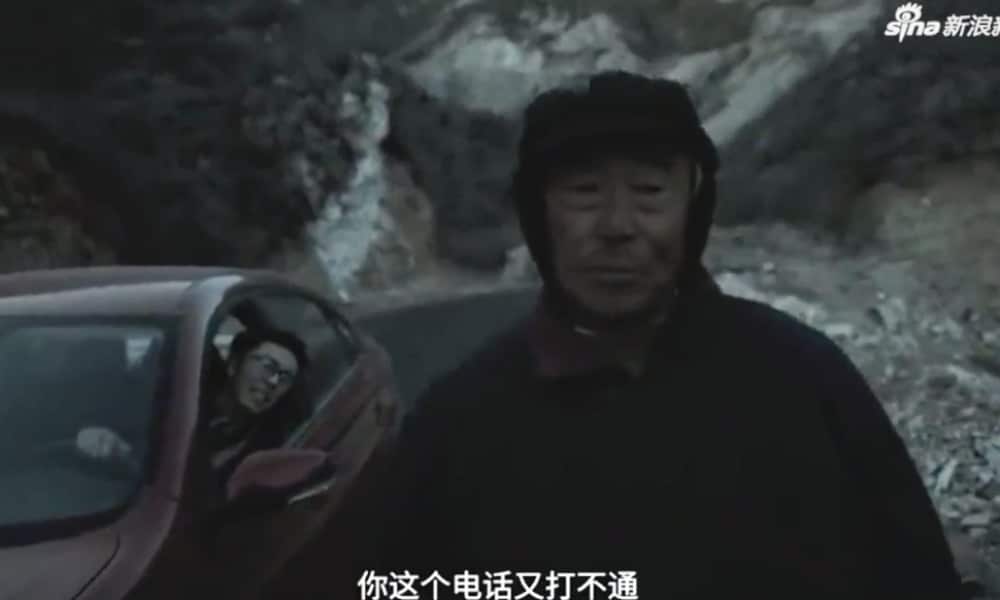 When the family is finally reunited, it is time for the proud grandfather to show the result of his difficult quest for Peppa to his grandson.
The grandpa's mission is complete: he gives his grandson a one-of-a-kind Peppa Pig.
The commercial ends with the entire family enjoying the upcoming Peppa film in the cinema together. When a friend from the village calls the grandfather to let him know he finally found Peppa thanks to his new smartphone, Yu Bao says: "It's okay, I found Peppa already!"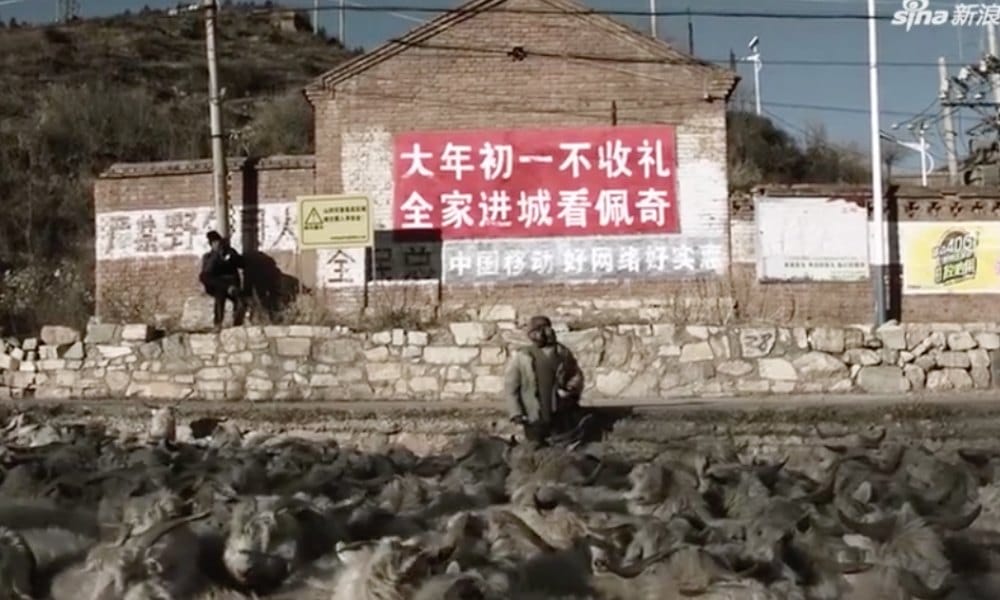 The last shot of the video shows Yu Bao's friend, a sheepherder, standing with his new phone, while someone in the back plays the tune of the Peppa cartoon. The big slogan on the wall is partly based on a popular catchphrase from another Chinese ad, and says: "At the start of the New Year, don't accept gifts; the whole family goes to the city to watch Peppa instead."
What's Peppa Pig?
Peppa Pig is a popular children's cartoon that first aired as a British animated television series (produced by Astley Baker Davies) in May of 2004. It took more than eleven years before the show was officially launched in the PRC (CCTV/June 2015).
Since then, Peppa Pig has become one of the most popular programs for preschoolers in China. But not just preschoolers love the pig; it has also become highly popular among young adults, who wear Peppa t-shirts, Peppa watches, and are major consumers of China's thriving Peppa industry.
In 2018, Chinese popular short video app Douyin (also known in English as Tik Tok) removed approximately 30,000 short videos relating to British cartoon Peppa Pig from its platform, as Peppa had turned into somewhat of a subversive symbol to a Chinese online youth subculture dubbed 'shehuiren' (社会人) (read more here).
This news item led to some confusion in Western media, where it was often suggested that Peppa was completely banned in China. She is, in fact, not banned; she is now more popular than ever.
Peppa the Movie
Amid the huge success of Peppa in China, it was announced in the summer of 2018 that Chinese tech giant Alibaba was working together with Entertainment One on the release of a Peppa Pig movie especially for the Chinese market, as this year's Chinese New Year is the start of the Year of the Pig.
The movie, titled 'Peppa Pig Celebrates New Year' (小猪佩奇过大年), is set for a nationwide release on February 5, the first day of the Chinese Lunar New Year. This is the most popular time for big blockbusters to come out, as many people are free during Chinese New Year and have the time to go out to the cinema together with their families.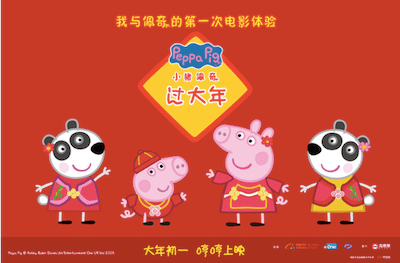 The movie itself revolves around Peppa and little brother George and their parents, who are having a reunion for the Spring Festival. It features various Chinese traditions, and of course, something unexpected will happen.
Why This Peppa Ad Campaign is So Brilliant 
The Peppa ad has really struck a chord on Chinese social media for various reasons. The video was directed by Beijing director Zhang Dapeng (张大鹏, 1984), who also directed the actual Peppa movie, and the campaign is also sponsored by China Mobile.
What this ad campaign does:
– It mixes the love for Peppa with the warm feeling of Chinese family reunions during Chinese New Year.
– It presents a nostalgic idea of the Chinese village community, where neighbors come together and look out for each other.
– It touches upon the issue of China's rapid urbanization, that has caused many villages to become deserted and isolated as younger generations have settled in the cities.
– It highlights how China's digitalization is leaving behind its elderly population (read more here).
– It shows the strong grandparent–grandchild relationship; usually, Chinese grandparents play an active role in raising grandchildren, something that has been changing due to younger generations moving to the city.
In other words; the advertisement completely draws the figure of Peppa Pig into a Chinese socio-cultural context, where it symbolizes the strong connection between Chinese families amid China's rapid urbanization and digitalization.
By now, the Peppa campaign is making its rounds from Weibo to WeChat and elsewhere on the Chinese internet, with some online sellers already offering a remake of the Peppa present for sale as a collector's item. Bloomberg reports that Chinese stocks connected to Peppa Pig have surged after the clip went viral yesterday and today.
"I give this video 100 points!" some commenters on social media write, with others saying it has made them tear up. "This already is the best ad campaign of the year."
Peppa was already a famous figure in China, but with this viral hit and the upcoming movie, the British pig really has become a part of China's popular culture and media environment: it's the Chinese new year of Peppa Pig.
By Manya Koetse and Miranda Barnes
Follow @whatsonweibo
Spotted a mistake or want to add something? Please let us know in comments below or email us.
©2019 Whatsonweibo. All rights reserved. Do not reproduce our content without permission – you can contact us at info@whatsonweibo.com
Living the Dream: Chinese Architect Designs Stunning Six-Story Communal Living Space
This architect from Guangzhou turned her dream of living together with friends in a creative workspace into reality. The building is a hit on Chinese social media.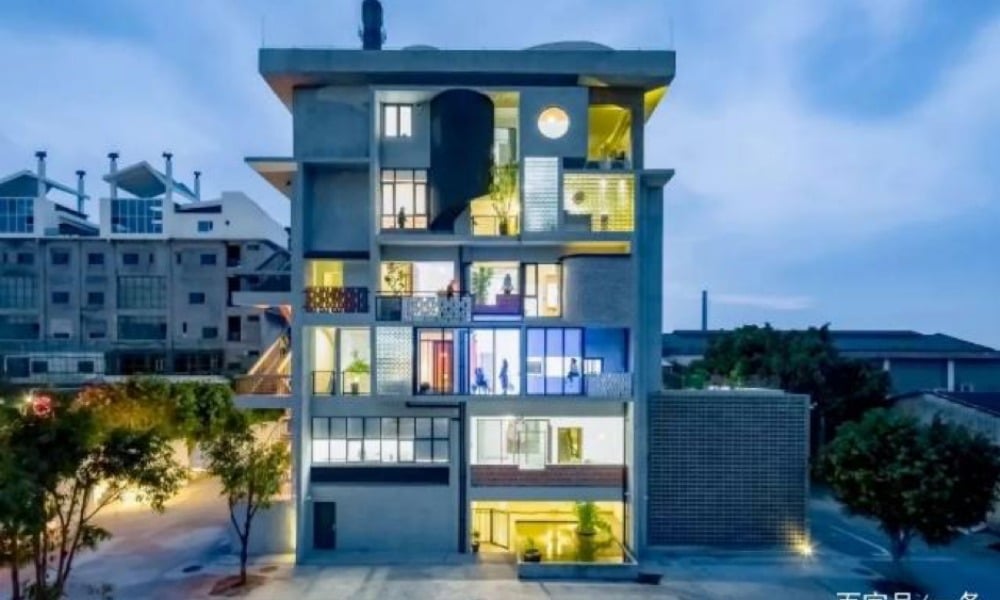 While living together with your best friends in one big house might be a dream of many people, this Chinese architect turned the idea into reality by transforming an old factory into a modern museum-like work- and living space. Through her work, the architect aims to change views on China's urban living spaces.
Guangzhou architect "Michelle" (米歇尔 or Mi Xiao 米笑) and most of her friends work in creative industries. A few years ago, they found that their work and lifestyle required a more flexible and multi-purpose living space; a place where they could live and work together as a small community while also showcasing what they do.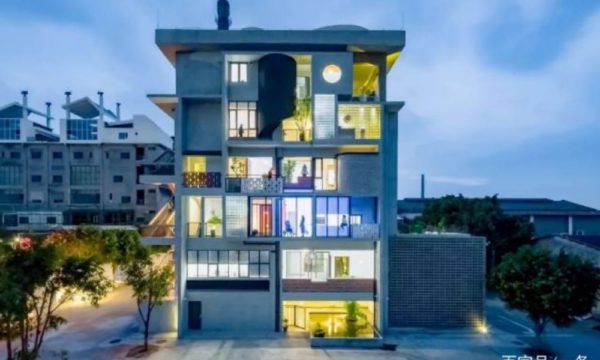 In 2012, the six friends found a workshop in an old abandoned sugar factory, built in the 1950s, located in Guangzhou's Panyu district. More than five years later, they had succeeded in transforming it into a modern six-story work- and living space.
A news story and a video of the building are now attracting major attention on Chinese social media. On Weibo, the hashtag "Six Friends Transform a Building" (#6个好友改造一栋楼#) has been viewed more than 250 million times.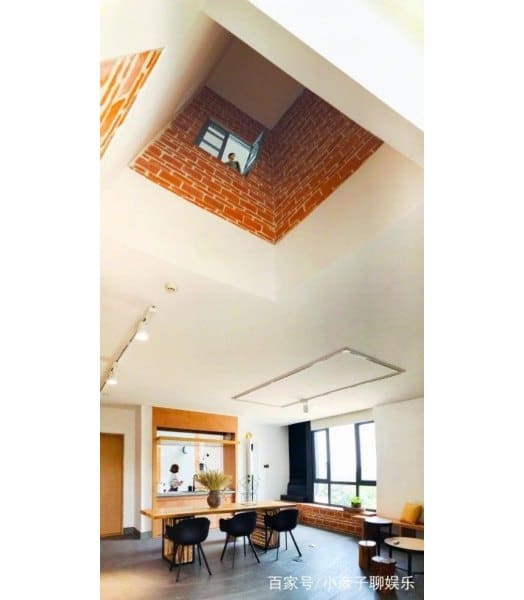 The communal living space, that has been named Boundless Community (无界社区), covers about 1500 square meter and has six completely separate rooms. Originally, the building was made up of only three stories, each with a ceiling height of six to nine meters high.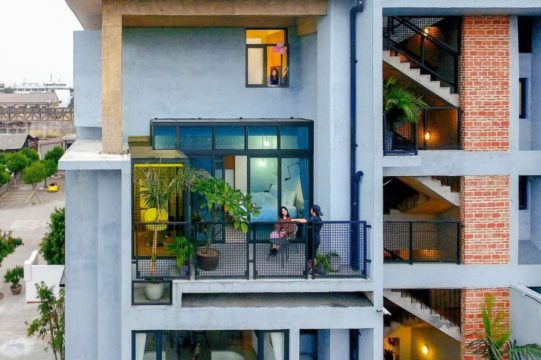 With the reconstruction of the building, the architect reportedly "wanted to break with the traditional urban types of dwellings," where many people live behind locked doors in small spaces. Michelle intended to design the space as a small "village," where people share their living space.
At the same time, the space also allows people to be creative and share their work with the outside world. All of these ideas resulted in a transparent "museum building."
The building itself is almost like a museum by allowing people from outside to look into the various studios.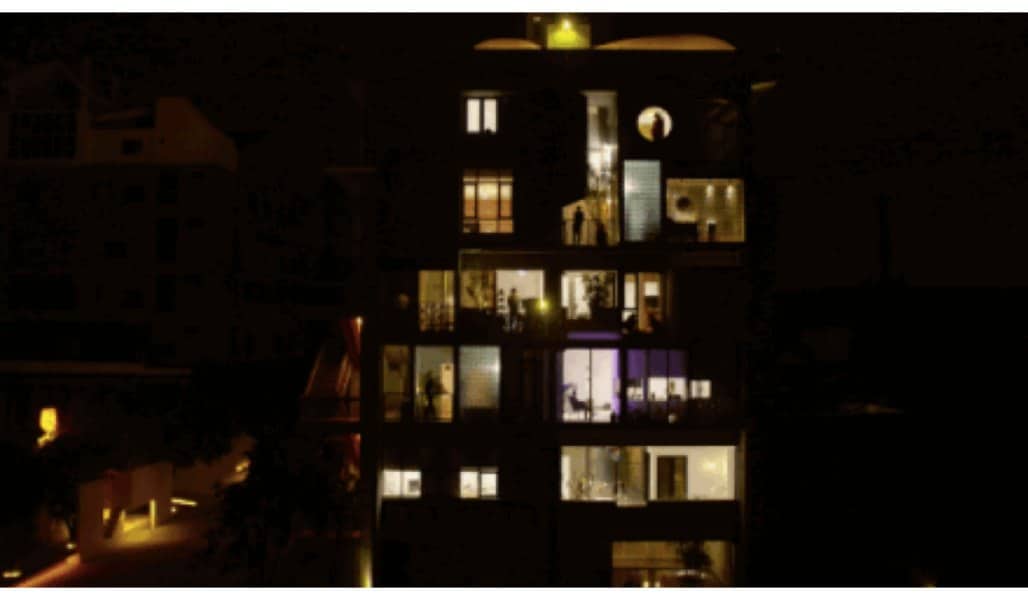 The popular architect is not the only one who is in favor of sharing a living space with her friends. A recent poll on Weibo shows that more than 90% of respondents would also like to live together with their friends; only 10% of the people prefer privacy over a communal living space with good friends.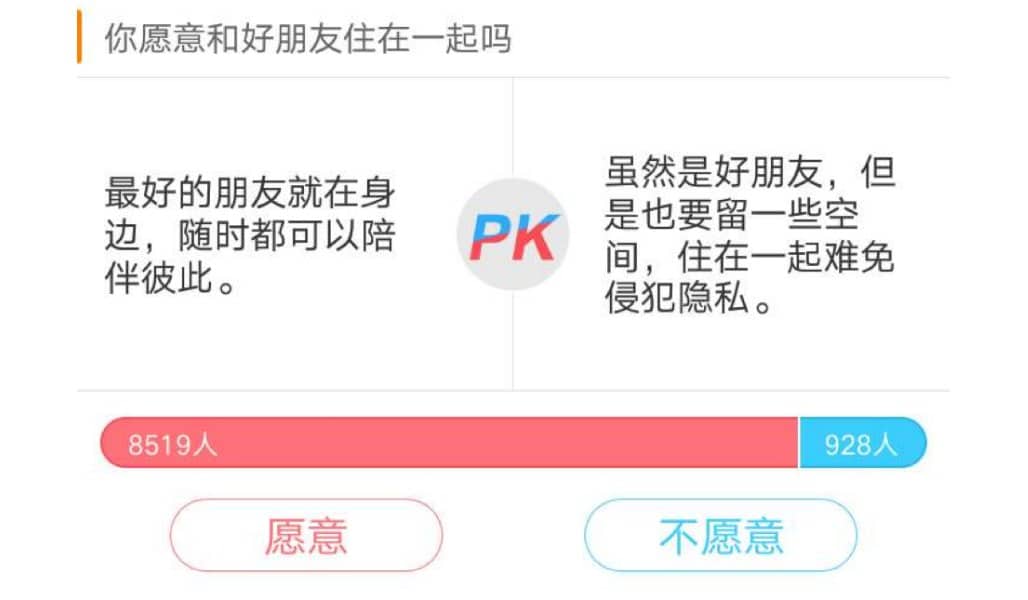 "This is my dream!", many commenters say, with others calling it "simply magical."
To read more about changing attitudes on home and living in China, also check out this article by What's on Weibo. 
By Gabi Verberg
Images via https://sjz.news.fang.com/open/31234746.html.
Spotted a mistake or want to add something? Please let us know in comments below or email us.
©2019 Whatsonweibo. All rights reserved. Do not reproduce our content without permission – you can contact us at info@whatsonweibo.com