Paws at the Palace Museum: Forbidden City Cat Baidian Gets Its Own Weibo Account
Palace cat Baidianer became an online hit after predicting World Cup winners.
Forbidden City stray cat Baidian has won the hearts of many Chinese netizens after becoming a somewhat unsuccessful betting expert for the World Cup games. Since the cat was suddenly hospitalized, Palace Museum staff have opened up a special Weibo account for their feline friend.
The Forbidden City, the massive palace complex in central Beijing, is not just home to the Palace Museum, but also houses dozens of stray cats.
One of these stray cats has recently become an online hit when the Beijing Palace Museum made him pick World Cup winners by choosing between two bowls of cat food.
Thousands of people on Chinese social media have since become online fans of the cat.
Baidian's Rise to Fame
The red-haired Forbidden City resident Baidian'er (白点儿 aka 'Whitespots') was picked by museum staff as their stray betting expert earlier this month.
Initially, however, Baidian did not do too well in his predictions; he picked Australia over France (France won with 2-1), and Germany over Mexico (0-1).
On the official Palace Museum Weibo account (@故宫博物院, 5.6 million fans), the Palace Museum wrote that Baidian was so ashamed of his failing predictions earlier this month, that he did not want people to see his little face.
But Baidian won credibility again when he correctly predicted the outcome of victorious Russia against Saudi Arabia, and Croatia winning from Argentia.
The Palace Museum published the results of its stray cat picking World Cup winners under the hashtag "Palace Cat Predict World Cup" (#宫猫竞猜世界杯#), and Baidian has become an online hit. At time of writing, the hashtag was viewed more than 150 million times.
"I am coming over to the Forbidden City to see you Baidian!", some commenters wrote.
From Palace to Hospital
On Wednesday, however, the Palace Museum reported on Weibo that their popular Palace cat was suddenly gravely ill and had been taken to the animal hospital.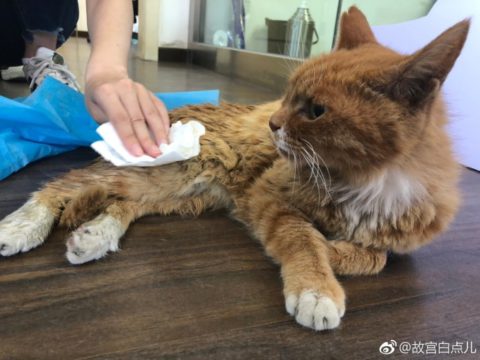 Baidian's hind legs seemed to be paralyzed and the cat was unable to move. Multiple veterinarians examined the cat and put it on an IV.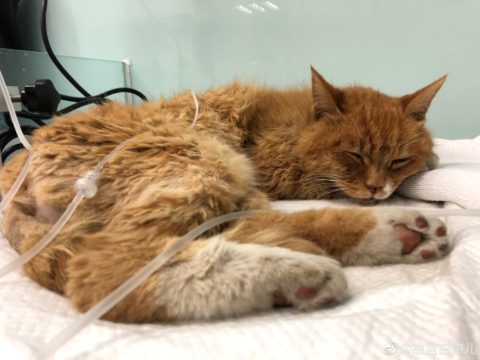 After receiving thousands of well wishes from online fans, the Palace Museum decided to open up a special Weibo account for the cat on Saturday. 'Palace Baidianer' (@故宫白点儿) already had over 5000 fans within hours.
Although Palace staff initially seemed doubtful over Baidian's recovery, they became more optimistic when Baidian suddenly lifted up its hind legs again to clean himself on Friday.
According to the latest Weibo reports, Baidian was in good spirits on Saturday, and is in a more stable condition. The vets at the local hospital have discovered that Baidian suffers from a heart condition, but are hopeful about his recovery. "We just hope he will be doing much better very soon," Palace staff wrote on Weibo.
The Forbidden City's Cats
Although there have always been many stray cats in the Forbidden City, they first received media attention in 2009, when their growing population was becoming a problem.
The Palace Museum, therefore, started a special program in that year to take care of the cats and to neuter them. According to China Daily, the Forbidden City's neutering programme is quite unique, as China does not have a tradition of neutering pets; owners generally think making the animals infertile will harm their health. But this has also led to rising numbers of stray animals across the country.
From 2009 to 2013, a total of 181 Forbidden City stray cats were sterilized and returned to the location where they were found. The programme proved effective, with the number of stray cats soon stabilizing.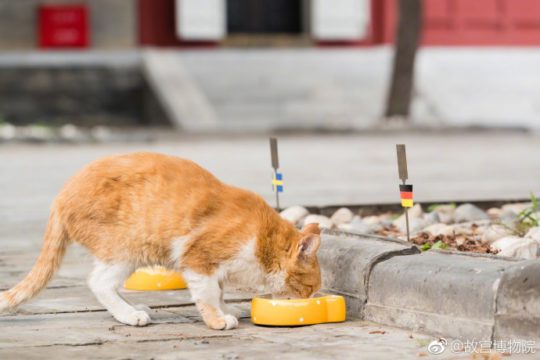 Apart from the fact that cats have a historical significance to the Forbidden City – cats have lived there ever since the complex was built in the 15th century – they also have a practical purpose: the cats have played an important role in protecting the museum's precious antiques and relics from damage done by rats and mice.
"They are a powerful deterrent against museum rats, and we have not had a single cultural relic damaged by cat claws," the museum's sanitation department director told China Daily in 2014.
Baidian's 'Sister'
While Baidian is still hospitalized, his 'sister' Long Leg (长腿儿) is currently taking over his duties in predicting World Cup winners.
As for today's matches: Long Leg has picked Uruguay as the winner against Portgual. The Argentina-France match might end with a draw, since she refused to pick either bowl for this game.
"She's so royal," some commenters wrote.
Others said: "I just hope that Baidian will get well very soon."
We will keep following Baidian's recovery and update!
UPDATE: Unfortunately, Baidian has passed away on July 2nd.
By Manya Koetse
Follow @whatsonweibo
Spotted a mistake or want to add something? Please let us know in comments below or email us.
Directly support Manya Koetse. By supporting this author you make future articles possible and help the maintenance and independence of this site. Donate directly through Paypal here. Also check out the What's on Weibo donations page for donations through creditcard & WeChat and for more information.
©2018 Whatsonweibo. All rights reserved. Do not reproduce our content without permission – you can contact us at info@whatsonweibo.com.
Fresh Off the Boat, Xiamen Fish Are Tested for Covid-19
Catch of the day! These fish in Xiamen can't escape their daily Covid test.
It does not matter if you're old or young, shrimp or fish – you can't escape China's zero-covid policy.
In the Jimei district of the coastal city of Xiamen, some fish and shrimp also had to do a nucleic acid test this week, leading to some banter on Chinese social media.
In the area, fishermen returning from a day of work have to undergo nucleic acid tests together with some of the fish that they caught during the day.
After the fishermen themselves have done the Covid test, they reportedly have to grab a few fresh fish from their catch of the day for the anti-epidemic workers to test. They open the mouth of the fish so that the fish can be tested with the cotton swab.
Chinese media outlet Sohu (搜狐新闻) posted a video about the issue on its Weibo account on August 17th, receiving over 90,000 likes and more than 8000 shares.
Catch of the day! It doesn't matter if you're young or old, fish or crab – can't escape China's zero-covid policy and the nucleic acid tests. pic.twitter.com/stoqsGyYf1

— Manya Koetse (@manyapan) August 17, 2022
"I thought fish didn't any lungs?" a popular comment said, with other commenters suggesting that this news made it clear that Covid "doesn't affect the lungs but the brain instead."
Another commenter suggested that if this matter concerned authorities, they should also start testing mosquitos.
Some also felt bad for the fish: "They still have to undergo this before getting killed."
"The fish should be grateful for receiving a Covid test for free," others wrote, while there were also people who wondered if parts of the sea would go into lockdown mode if some fish would test positive for Covid.
There were also critical commenters wondering about any scientific reasoning behind testing fish, asking who was getting paid to test them – suggesting commercial benefits outweigh scientific basis in this case.
"You can't get Covid if you don't have lungs, let alone if you live in the sea," one Weibo user wrote, another person asking: "Have we all gone mad?"
By Manya Koetse
With contributions by Miranda Barnes
Get the story behind the hashtag. Subscribe to What's on Weibo here to receive our weekly newsletter and get access to our latest articles:
Spotted a mistake or want to add something? Please let us know in comments below or email us. First-time commenters, please be patient – we will have to manually approve your comment before it appears.
©2022 Whatsonweibo. All rights reserved. Do not reproduce our content without permission – you can contact us at info@whatsonweibo.com.
'Welcome Home, Molly' – Chinese Zoo Elephant Returns to Kunming after Online Protest
One small step for animal protection in China, one giant leap for Molly the elephant.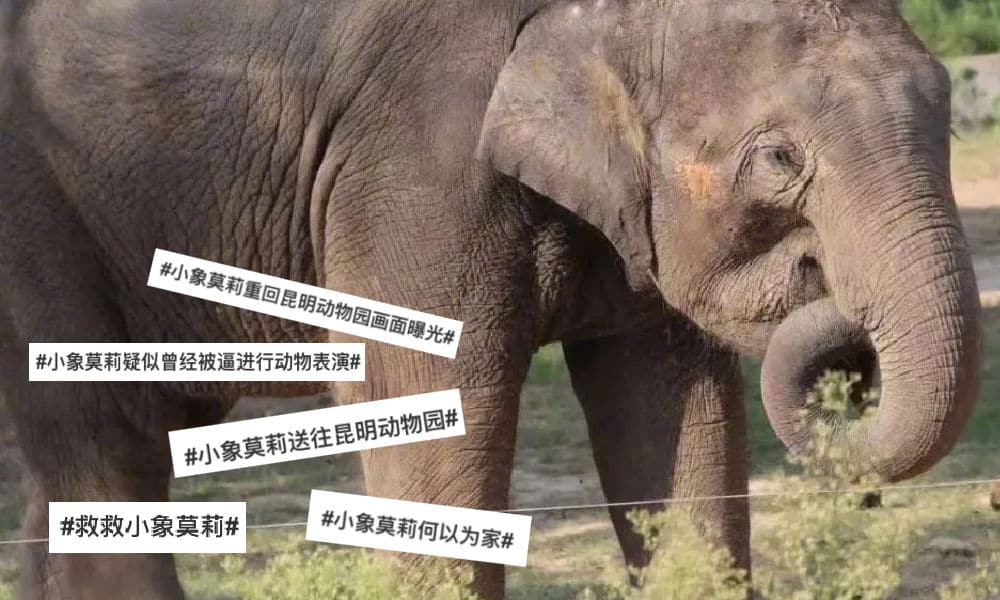 Following online protest and the efforts of animal activists, Molly has returned to the Kunming Zoo where she was born and where mother elephant Mopo is.
The little elephant named Molly is a big topic of discussion on Chinese social media recently.
The popular Asian elephant, born in the Kunming Zoo in 2016, was separated from her mother at the age of two in April of 2018. Molly was then transferred from Kunming Zoo to Qinyang, Jiaozuo (Henan), in exchange for another elephant. Over the past few years, fans of Molly started voicing their concerns online as the elephant was trained to do tricks and performances and to carry around tourists on her back at the Qinyang Swan Lake Ecological Garden (沁阳天鹅湖生态园), the Qinyang Hesheng Forest Zoo (沁阳和生森林动物园), the Jiaozuo Forestry Zoo (焦作森林动物园), and the Zhoukou Safari Park (周口野生动物世界).
Since the summer of 2021, more people started speaking out for Molly's welfare when they spotted the elephant chained up and seemingly unhappy, forced to do handstands or play harmonica, with Molly's handlers using iron hooks to coerce her into performing.
Earlier this month, Molly became a big topic on Chinese social media again due to various big accounts on Xiaohongshu and Weibo posting about the 'Save Molly' campaign and calling for an elephant performance ban in China (read more).
Due 2 pandemic prevention measures in China, Molly's zoo had been closed for long. It was just re-open & a Molly Group friend went to see her 2 days ago, shared a video and photos. The zoo was under much pressure from netizens, so no 🐘 shows, rides, at the moment. #FreeMolly pic.twitter.com/4BjoVk2DBC

— Diving paddler (@KU09814701) April 25, 2022
Although zookeepers denied any animal abuse and previously stated that the elephant is kept in good living conditions and that animal performances are no longer taking place, Molly's story saw an unexpected turn this week. Thanks to the efforts of online netizens, Molly fans, and animal welfare activists, Molly was removed from Qinyang.
On May 15, the Henan Forestry Bureau – which regulates the holding of all exotic species, including those in city zoos – announced that Molly would return to Kunming in order to provide "better living circumstances" for the elephant. A day later, on Monday, Molly left Qinyang and returned to the Kunming Zoo where she was born. In Kunming, Molly will first receive a thorough health check during the observation period.
Good news. After many people's working together for months, Molly's going back to Kunming Zoo to stay with her mom. Though Kunming Zoo has a very dark history, we will keep monitoring it to ensure Molly living in good condition. We will save other performing 🐘. #FreeMolly https://t.co/kC1uByyVpG pic.twitter.com/KhFlLpQgaa

— Diving paddler (@KU09814701) May 16, 2022
Many online commenters were happy to see Molly returning home. "Finally! This is great news," many wrote, with others saying: "Please be good to her" and "Finally, after four years of hardship, Molly will be reunited with her mother."
Besides regular Weibo accounts celebrating Molly's return to Kunming, various Chinese state media accounts and official accounts (e.g. the Liaocheng Communist Youth League) also posted about Molly's case and wished her a warm welcome and good wishes. One Weibo post on the matter by China News received over 76,000 likes on Monday.
Although many view the effective online 'Save Molly' campaign as an important milestone for animal welfare in China, some animal activists remind others that there are still other elephants in Chinese zoos who need help and better wildlife protection laws. Among them are the elephant Kamuli (卡目里) and two others who are still left in Qinyang.
For years, animal welfare activists in China and in other countries have been calling for Chinese animal protection laws. China does have wildlife protection laws, but they are often conflicting and do not apply to pets and there is no clear anti-animal abuse law.
"I'll continue to follow this. What are the next arrangements? What is the plan for Molly and the other elephants? How will you guarantee a safe and proper living environment?"
Another Weibo user writes: "This is just a first step, there is much more to be done."
To follow more updates regarding Molly, check out Twitter user 'Diving Paddler' here. We thank them for their contributions to this article.
To read more about zoos and wildlife parks causing online commotion in China, check our articles here.
By Manya Koetse
References (other sources linked to within text)
Arcus Foundation (Ed.). 2021. State of the Apes: Killing, Capture, Trade and Ape Conservation. Cambridge: Cambridge University Press.
China Daily. 2012. "Animal Rights Groups Seek Performance Ban." China Daily, April 16 http://www.china.org.cn/environment/2012-04/16/content_25152066.htm [Accessed May 1 2022].
Li, Peter J. 2021. Animal Welfare in China: Culture, Politics and Crisis. Sydney: Sydney University Press.
Get the story behind the hashtag. Subscribe to What's on Weibo here to receive our weekly newsletter and get access to our latest articles:
Spotted a mistake or want to add something? Please let us know in comments below or email us. First-time commenters, please be patient – we will have to manually approve your comment before it appears.
©2022 Whatsonweibo. All rights reserved. Do not reproduce our content without permission – you can contact us at info@whatsonweibo.com.