Paws at the Palace Museum: Forbidden City Cat Baidian Gets Its Own Weibo Account
Palace cat Baidianer became an online hit after predicting World Cup winners.
Forbidden City stray cat Baidian has won the hearts of many Chinese netizens after becoming a somewhat unsuccessful betting expert for the World Cup games. Since the cat was suddenly hospitalized, Palace Museum staff have opened up a special Weibo account for their feline friend.
The Forbidden City, the massive palace complex in central Beijing, is not just home to the Palace Museum, but also houses dozens of stray cats.
One of these stray cats has recently become an online hit when the Beijing Palace Museum made him pick World Cup winners by choosing between two bowls of cat food.
Thousands of people on Chinese social media have since become online fans of the cat.
Baidian's Rise to Fame
The red-haired Forbidden City resident Baidian'er (白点儿 aka 'Whitespots') was picked by museum staff as their stray betting expert earlier this month.
Initially, however, Baidian did not do too well in his predictions; he picked Australia over France (France won with 2-1), and Germany over Mexico (0-1).
On the official Palace Museum Weibo account (@故宫博物院, 5.6 million fans), the Palace Museum wrote that Baidian was so ashamed of his failing predictions earlier this month, that he did not want people to see his little face.
But Baidian won credibility again when he correctly predicted the outcome of victorious Russia against Saudi Arabia, and Croatia winning from Argentia.
The Palace Museum published the results of its stray cat picking World Cup winners under the hashtag "Palace Cat Predict World Cup" (#宫猫竞猜世界杯#), and Baidian has become an online hit. At time of writing, the hashtag was viewed more than 150 million times.
"I am coming over to the Forbidden City to see you Baidian!", some commenters wrote.
From Palace to Hospital
On Wednesday, however, the Palace Museum reported on Weibo that their popular Palace cat was suddenly gravely ill and had been taken to the animal hospital.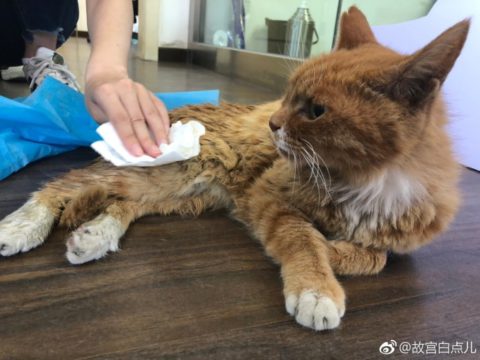 Baidian's hind legs seemed to be paralyzed and the cat was unable to move. Multiple veterinarians examined the cat and put it on an IV.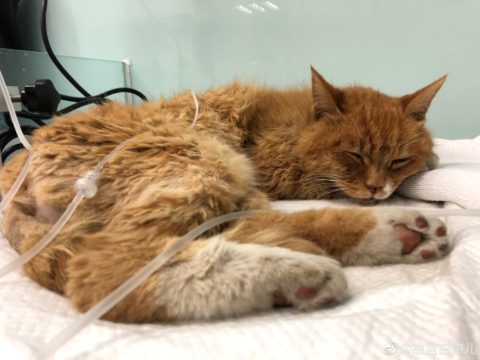 After receiving thousands of well wishes from online fans, the Palace Museum decided to open up a special Weibo account for the cat on Saturday. 'Palace Baidianer' (@故宫白点儿) already had over 5000 fans within hours.
Although Palace staff initially seemed doubtful over Baidian's recovery, they became more optimistic when Baidian suddenly lifted up its hind legs again to clean himself on Friday.
According to the latest Weibo reports, Baidian was in good spirits on Saturday, and is in a more stable condition. The vets at the local hospital have discovered that Baidian suffers from a heart condition, but are hopeful about his recovery. "We just hope he will be doing much better very soon," Palace staff wrote on Weibo.
The Forbidden City's Cats
Although there have always been many stray cats in the Forbidden City, they first received media attention in 2009, when their growing population was becoming a problem.
The Palace Museum, therefore, started a special program in that year to take care of the cats and to neuter them. According to China Daily, the Forbidden City's neutering programme is quite unique, as China does not have a tradition of neutering pets; owners generally think making the animals infertile will harm their health. But this has also led to rising numbers of stray animals across the country.
From 2009 to 2013, a total of 181 Forbidden City stray cats were sterilized and returned to the location where they were found. The programme proved effective, with the number of stray cats soon stabilizing.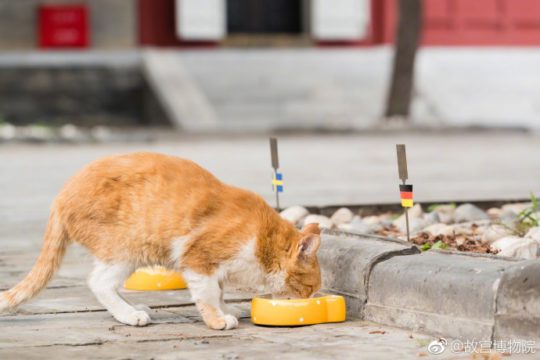 Apart from the fact that cats have a historical significance to the Forbidden City – cats have lived there ever since the complex was built in the 15th century – they also have a practical purpose: the cats have played an important role in protecting the museum's precious antiques and relics from damage done by rats and mice.
"They are a powerful deterrent against museum rats, and we have not had a single cultural relic damaged by cat claws," the museum's sanitation department director told China Daily in 2014.
Baidian's 'Sister'
While Baidian is still hospitalized, his 'sister' Long Leg (长腿儿) is currently taking over his duties in predicting World Cup winners.
As for today's matches: Long Leg has picked Uruguay as the winner against Portgual. The Argentina-France match might end with a draw, since she refused to pick either bowl for this game.
"She's so royal," some commenters wrote.
Others said: "I just hope that Baidian will get well very soon."
We will keep following Baidian's recovery and update!
UPDATE: Unfortunately, Baidian has passed away on July 2nd.
By Manya Koetse
Follow @whatsonweibo
Spotted a mistake or want to add something? Please let us know in comments below or email us.
Directly support Manya Koetse. By supporting this author you make future articles possible and help the maintenance and independence of this site. Donate directly through Paypal here. Also check out the What's on Weibo donations page for donations through creditcard & WeChat and for more information.
©2018 Whatsonweibo. All rights reserved. Do not reproduce our content without permission – you can contact us at info@whatsonweibo.com.
Shanghai Disney's Crystal Castle Sold for RMB 1.8 Million
Shanghai Disney's cherished object was sold off to the "dirty rich."
Who'd spend RMB 1.8 million on a small crystal Disney castle? For most Weibo commenters, it's just a castle in the air.
Almost three years after Shanghai Disney first opened its doors, its sparkling 'enchanted storybook' crystal castle has now been sold for RMB 1.8 million ($276.500).
The minitiature bling bling castle has been an eyecatcher and a much-photographed object at the Disney resort.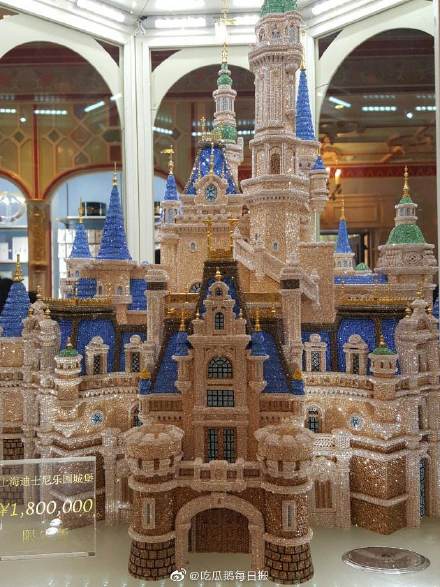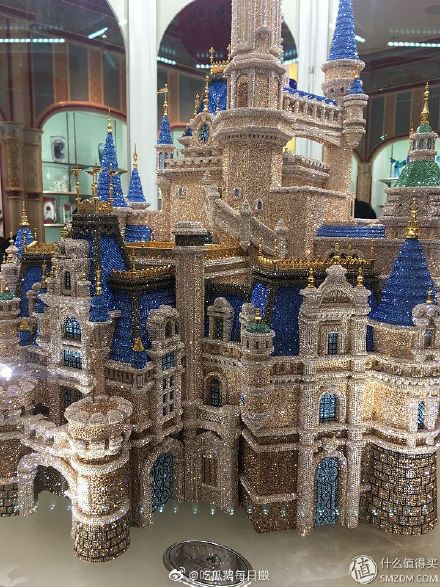 Today, the hashtag "1.8 Million Shanghai Disney Crystal Castle Sold" (#迪士尼180万水晶城堡被买走#) went trending on Sina Weibo with some 180 million views, with many people wondering what kind of person would spend so much money on a decorative crystal castle.
According to a Weibo user, the castle was bought by a "tuhao" (土豪), Chinese slang for a "dirty rich" or extravagantly wealthy person (more info).
"Even if was RMB 180 [$27], I still wouldn't be able to afford it," a popular comment said.
"I went there just some days ago and was joking about whether someone would actually ever buy it – now it's sold!"
"I'm happy I was still able to see it [before it was sold]," many commenters write, with hundreds of people sharing their own photos of the little castle. In 2017 alone, the park attracted 11 million visitors.
For the same price of the small crystal castle, the buyer could have visited the park 3706 times during high season (a peak season entrance ticket is priced at RMB 499/$75).
The display where the crystal palace was shined now shows a bronze statue of Frozen.
By Manya Koetse
Spotted a mistake or want to add something? Please let us know in comments below or email us.
©2019 Whatsonweibo. All rights reserved. Do not reproduce our content without permission – you can contact us at info@whatsonweibo.com
Meet China's Latest Internet Celebrity: The "Vagrant Shanghai Professor" (上海流浪大师)
He is the latest online sensation in China, but what is this hype really about?
Over the past month, the popular short-video app Douyin flooded with videos of the so-called "Vagrant Shanghai Professor" (上海流浪大师), who has conquered the hearts of millions of Chinese netizens. His fans are determined to make the Shanghai drifter more famous, regardless of his own wishes.
It has been nine years since "Brother Sharp" (犀利哥), a homeless man from Ningbo, became an online hit in China for his fashionable and handsome appearance. Now, another homeless man, this time from Shanghai, has become an internet sensation for his poise, wisdom, and modesty.
It all started about three weeks ago when an online video of a homeless man who eloquently discusses literature and philosophy went viral on Chinese social media, receiving millions of views within a time span of just three days. The man was nicknamed the "Vagrant Shanghai Professor" (上海流浪大师).
Soon, more information about the man's identity started making its rounds on the internet. The "Vagrant Professor" is named Shen Wei (沈巍), a 52-year-old who was born and raised in Shanghai. Shen reportedly once worked as a civil servant at the Shanghai's Xuhui District Audit Bureau, before he took sick leave and started roaming the streets anonymously for more than twenty years.
Persistent rumors started circulating the internet, suggesting that Shen once graduated from the prestigious Fudan University in Shanghai and that he became a vagrant after his wife and daughter had died in a car crash. Despite Shen himself repeatedly denying these claims, the rumors kept appearing in articles and on social media.
Whether he likes it or not, Shen's quiet days of reading books and collecting garbage are now seemingly over. Within a few days after the first video of Shen went viral, hundreds of people began searching for him near Shanghai's Gaoke West Road, the place where he usually stays, hoping to catch a glimpse of the 'Vagrant Professor' and take a selfie with him.
Hundreds of photos and videos of Chen started flooding the internet, all showing the same image: Shen surrounded by people, holding their phones in his face.
Shen became a true social media phenomenon, even receiving attention outside of China, with both BBC and Washington Post reporting about this man's sudden rise to fame.
For Shen, his online celebrity status has come at a price. When the crowds became too big, the Shanghai police had to intervene and escort him out of his shelter. While the police were trying to bring Shen to safety, people were still taking his picture and tried touching him. One woman even held up a cardboard sign saying: "Vagrant Professor, I want to marry you."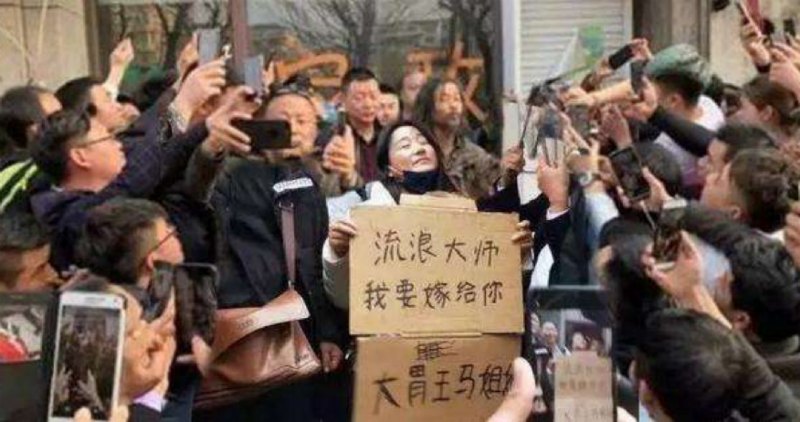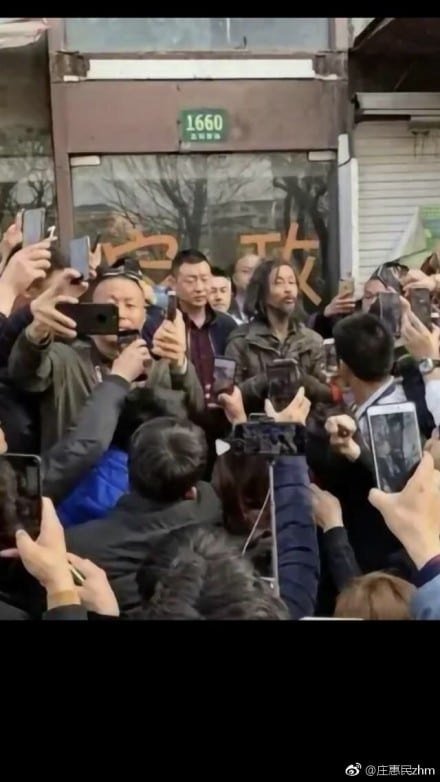 Over the past week, Shen hasn't been seen out in public. Some recent photos of Chen show that he had an apparent makeover when attending a class reunion that was specially organized for him by his former classmates.
As the hype around the 'Vagrant Professor' is slowly quieting down, more critical responses to Chen's sudden fame are surfacing on Chinese social media, asking who this hype really is about in the end.
Many netizens question the invasion of Chen's privacy, saying that this craze was not so much about Chen himself but more about people's needs for a dramatic and touching story, and social media users' greed for more clicks and likes for themselves through Chen. These so-called "like hunters" will try to get as many 'likes' as possible to make them feel good about themselves.
Commenters also point out that if it would have been about Chen himself, his 'fans' should have left him alone as he requested. Instead, they disrupted his life so drastically that he had to leave the streets he once called home.
On Weibo, one person wrote: "This is how I see it: all these people who took his photo are the real beggars, begging for likes."
Other people wrote: "Society has gone mad," and: "Even if you don't want to be famous, they will just make you famous."
The fashionable beggar 'Brother Sharp' who rose to fame in 2009 initially benefited from his overnight stardom. He received help from social workers, but once he looked like a 'regular person' again, people lost interest in him.
According to a recent media report, 'Brother Sharp' has, again, lost contact with his family and might be back on the street, anonymous this time. Perhaps the story of the 'Vagrant Professor' will see a similar ending once the hype has blown over.
By Gabi Verberg, edited by Manya Koetse
Spotted a mistake or want to add something? Please let us know in comments below or email us.
©2019 Whatsonweibo. All rights reserved. Do not reproduce our content without permission – you can contact us at info@whatsonweibo.com