Paws at the Palace Museum: Forbidden City Cat Baidian Gets Its Own Weibo Account
Palace cat Baidianer became an online hit after predicting World Cup winners.
Forbidden City stray cat Baidian has won the hearts of many Chinese netizens after becoming a somewhat unsuccessful betting expert for the World Cup games. Since the cat was suddenly hospitalized, Palace Museum staff have opened up a special Weibo account for their feline friend.
The Forbidden City, the massive palace complex in central Beijing, is not just home to the Palace Museum, but also houses dozens of stray cats.
One of these stray cats has recently become an online hit when the Beijing Palace Museum made him pick World Cup winners by choosing between two bowls of cat food.
Thousands of people on Chinese social media have since become online fans of the cat.
Baidian's Rise to Fame
The red-haired Forbidden City resident Baidian'er (白点儿 aka 'Whitespots') was picked by museum staff as their stray betting expert earlier this month.
Initially, however, Baidian did not do too well in his predictions; he picked Australia over France (France won with 2-1), and Germany over Mexico (0-1).
On the official Palace Museum Weibo account (@故宫博物院, 5.6 million fans), the Palace Museum wrote that Baidian was so ashamed of his failing predictions earlier this month, that he did not want people to see his little face.
But Baidian won credibility again when he correctly predicted the outcome of victorious Russia against Saudi Arabia, and Croatia winning from Argentia.
The Palace Museum published the results of its stray cat picking World Cup winners under the hashtag "Palace Cat Predict World Cup" (#宫猫竞猜世界杯#), and Baidian has become an online hit. At time of writing, the hashtag was viewed more than 150 million times.
"I am coming over to the Forbidden City to see you Baidian!", some commenters wrote.
From Palace to Hospital
On Wednesday, however, the Palace Museum reported on Weibo that their popular Palace cat was suddenly gravely ill and had been taken to the animal hospital.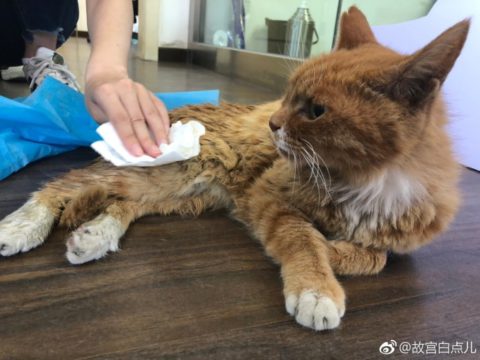 Baidian's hind legs seemed to be paralyzed and the cat was unable to move. Multiple veterinarians examined the cat and put it on an IV.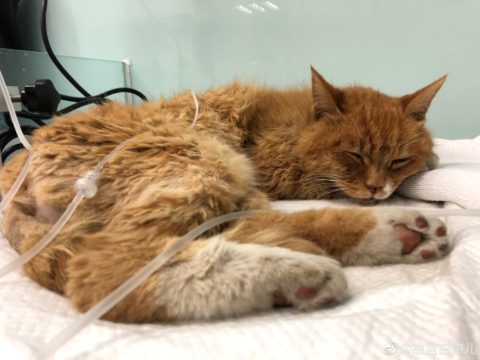 After receiving thousands of well wishes from online fans, the Palace Museum decided to open up a special Weibo account for the cat on Saturday. 'Palace Baidianer' (@故宫白点儿) already had over 5000 fans within hours.
Although Palace staff initially seemed doubtful over Baidian's recovery, they became more optimistic when Baidian suddenly lifted up its hind legs again to clean himself on Friday.
According to the latest Weibo reports, Baidian was in good spirits on Saturday, and is in a more stable condition. The vets at the local hospital have discovered that Baidian suffers from a heart condition, but are hopeful about his recovery. "We just hope he will be doing much better very soon," Palace staff wrote on Weibo.
The Forbidden City's Cats
Although there have always been many stray cats in the Forbidden City, they first received media attention in 2009, when their growing population was becoming a problem.
The Palace Museum, therefore, started a special program in that year to take care of the cats and to neuter them. According to China Daily, the Forbidden City's neutering programme is quite unique, as China does not have a tradition of neutering pets; owners generally think making the animals infertile will harm their health. But this has also led to rising numbers of stray animals across the country.
From 2009 to 2013, a total of 181 Forbidden City stray cats were sterilized and returned to the location where they were found. The programme proved effective, with the number of stray cats soon stabilizing.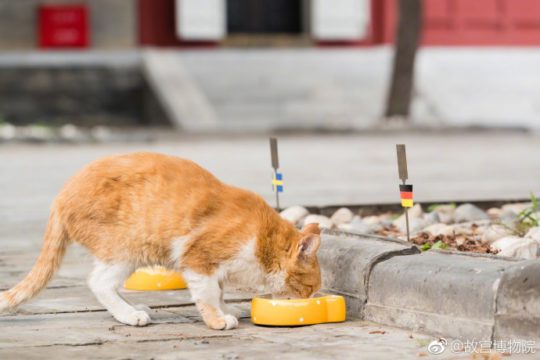 Apart from the fact that cats have a historical significance to the Forbidden City – cats have lived there ever since the complex was built in the 15th century – they also have a practical purpose: the cats have played an important role in protecting the museum's precious antiques and relics from damage done by rats and mice.
"They are a powerful deterrent against museum rats, and we have not had a single cultural relic damaged by cat claws," the museum's sanitation department director told China Daily in 2014.
Baidian's 'Sister'
While Baidian is still hospitalized, his 'sister' Long Leg (长腿儿) is currently taking over his duties in predicting World Cup winners.
As for today's matches: Long Leg has picked Uruguay as the winner against Portgual. The Argentina-France match might end with a draw, since she refused to pick either bowl for this game.
"She's so royal," some commenters wrote.
Others said: "I just hope that Baidian will get well very soon."
We will keep following Baidian's recovery and update!
UPDATE: Unfortunately, Baidian has passed away on July 2nd.
By Manya Koetse
Follow @whatsonweibo
Spotted a mistake or want to add something? Please let us know in comments below or email us.
Directly support Manya Koetse. By supporting this author you make future articles possible and help the maintenance and independence of this site. Donate directly through Paypal here. Also check out the What's on Weibo donations page for donations through creditcard & WeChat and for more information.
©2018 Whatsonweibo. All rights reserved. Do not reproduce our content without permission – you can contact us at info@whatsonweibo.com.
Dancing Schoolgirl from Xi'an Becomes Viral Hit
This 10-year-old girl from Xi'an is taking over the internet with her boyish looks, confidence, and cool moves.
A 10-year-old schoolgirl from Xi'an, Shaanxi Province, has become a viral hit on Chinese social media for her bold dance moves.
The girl, who is named Zhang Xinran (张忻然), became instantly famous this week when a video showing her dancing in the classroom on April 24 spread on social media. The girl's strong moves, short haircut, and confidence attracted the attention of netizens on Douyin and beyond.
This clip of a confident 10-year-old schoolgirl from Xi'an showing off her dance moves has gone viral overnight. pic.twitter.com/nmS2CkL29j

— What's on Weibo (@WhatsOnWeibo) April 26, 2021
On Weibo, one page dedicated to the topic received over 120 million views over the past few days.
According to Xinran's mother, the young girl has been confident ever since she was little. Xinran also models and previously walked the catwalk in children's fashion shows. Xinran is active on Douyin (TikTok), where she's had an account since 2017.
Although many people online are raving about the young girl's star quality, there are also those who worry that her sudden rise to online fame could do her more harm than good. Stories of children who went viral on social media do not always end well, as the recent example of the 'Little Jack Ma' shows. Some also think that Xiran's dance moves are "inappropriate."
Nevertheless, many people are hoping to see Xinran perform on stage. "She is so confident and natural," some say: "I would definitely buy a ticket to see her perform. "This girl is cool."
Other people comment on the fact that the girl has short hair. "I was ridiculed at school for having short hair," one female Weibo user writes: "It's good to see these esthetics are changing and are more diversified now."
In 2005, 'Supergirl' Li Yuchun was one of the first female pop stars in China to become famous for her boyish appearance, which was a major part of her success. Li was often called 'handsome' rather than 'pretty.'
Many people are now also calling the little Xiran a 'handsome girl.'
"With confidence, you have won even before you have started" – this girl definitely has it, and she's only 10. > https://t.co/72zgxDyCXV pic.twitter.com/lHkWmIQNZs

— Manya Koetse (@manyapan) April 26, 2021
By Manya Koetse
Spotted a mistake or want to add something? Please let us know in comments below or email us. First-time commenters, please be patient – we will have to manually approve your comment before it appears.
©2021 Whatsonweibo. All rights reserved. Do not reproduce our content without permission – you can contact us at info@whatsonweibo.com.
'Chinese Traditional Culture University' Turns Out to Be Fake
The 'Chinese Traditional Culture University' sounded so refined, but it turned out to be a sham.
A crackdown on an educational institute known as the "China Traditional Culture Institute University" ("中国国学院大学") has become a major news topic on Chinese social media this weekend. The institute was banned for being an "illegal social organization" ("非法社会组织") without any accreditation.
The 'China Traditional Culture University' was found to have forged official documents and registration certificates. Besides its main location in Beijing, the institute has 70 branches in various cities across China, including in Tianjin, Guangzhou, Guangdong, and Shenzhen.
These branches, including a "China National University of Chinese Medicine and Life Sciences" (中国国学院大学国医药生命科学院), an institute of "Mao Studies" (中国国学院大学毛学研究院), and a "Laozi Research Institute" (中国国学院大学老子研究院) have now also all been banned.
Beijing Youth Daily reports that the institute was not officially registered and forged official credentials. The organization collected money by holding various award and inauguration ceremonies and events across the country. They claimed to be an affiliate institution of the Ministry of Culture to train Chinese officials as well as international ambassadors and cultural workers.
Because of its name, its nationwide presence, and its alleged association with many high-reliability organizations, the fake university apparently fooled many into thinking it was a qualified and renowned educational institute.
According to its own former website, which has since been taken down, the institute was established in 2009 and taught courses in Chinese language and literature, Chinese Confucianism, Buddhism, Taoism, calligraphy and painting, martial arts, Chinese medicine, and more.
On Weibo, the hashtag page "China Traditional Culture University Taken Down" (#中国国学院大学被取缔#) received over 210 million views on Saturday. A video report showing authorities taking down the university's sign was widely shared.
Many people on social media express disbelief at how this university could go on for so many years, establishing 70 branches, without being caught. The institute's new branch openings or award ceremonies made it to local newspapers multiple times.
"Their name sounds so high-end, but they were passing off fish eyes for pearls," one Weibo commenter said. Other commenters also note how the fact that the institute's name contained "China" (中国) and "academy" (学院) and "university" (大学) made it sound trustworthy.
In 2019, a social media storm broke out when it turned out that students studying at the Nanjing Institute of Applied Technology (南京应用技术学校) had actually been studying for a 'fake Major' (假专业) since their study programmes were not even registered.
"How many fake schools are there out there?", some people wonder.
The "China Traditional Culture Institute University" that now turns out to be a complete sham had 70 branches across China with some catchy names, including an Institute of Quantum Medicine, Mao Studies, and Dragon Culture (https://t.co/Z5Y4hhGnYH). pic.twitter.com/T59A48X0N9

— Manya Koetse (@manyapan) April 24, 2021
By Manya Koetse
Spotted a mistake or want to add something? Please let us know in comments below or email us. First-time commenters, please be patient – we will have to manually approve your comment before it appears.
©2021 Whatsonweibo. All rights reserved. Do not reproduce our content without permission – you can contact us at info@whatsonweibo.com.