Paws at the Palace Museum: Forbidden City Cat Baidian Gets Its Own Weibo Account
Palace cat Baidianer became an online hit after predicting World Cup winners.
Forbidden City stray cat Baidian has won the hearts of many Chinese netizens after becoming a somewhat unsuccessful betting expert for the World Cup games. Since the cat was suddenly hospitalized, Palace Museum staff have opened up a special Weibo account for their feline friend.
The Forbidden City, the massive palace complex in central Beijing, is not just home to the Palace Museum, but also houses dozens of stray cats.
One of these stray cats has recently become an online hit when the Beijing Palace Museum made him pick World Cup winners by choosing between two bowls of cat food.
Thousands of people on Chinese social media have since become online fans of the cat.
Baidian's Rise to Fame
The red-haired Forbidden City resident Baidian'er (白点儿 aka 'Whitespots') was picked by museum staff as their stray betting expert earlier this month.
Initially, however, Baidian did not do too well in his predictions; he picked Australia over France (France won with 2-1), and Germany over Mexico (0-1).
On the official Palace Museum Weibo account (@故宫博物院, 5.6 million fans), the Palace Museum wrote that Baidian was so ashamed of his failing predictions earlier this month, that he did not want people to see his little face.
But Baidian won credibility again when he correctly predicted the outcome of victorious Russia against Saudi Arabia, and Croatia winning from Argentia.
The Palace Museum published the results of its stray cat picking World Cup winners under the hashtag "Palace Cat Predict World Cup" (#宫猫竞猜世界杯#), and Baidian has become an online hit. At time of writing, the hashtag was viewed more than 150 million times.
"I am coming over to the Forbidden City to see you Baidian!", some commenters wrote.
From Palace to Hospital
On Wednesday, however, the Palace Museum reported on Weibo that their popular Palace cat was suddenly gravely ill and had been taken to the animal hospital.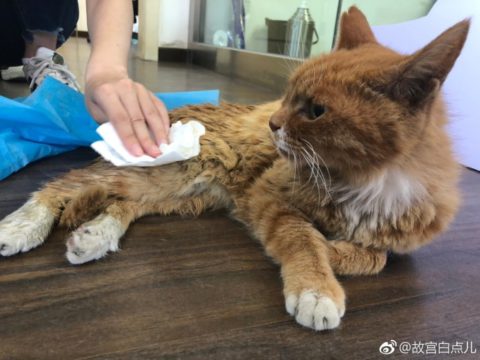 Baidian's hind legs seemed to be paralyzed and the cat was unable to move. Multiple veterinarians examined the cat and put it on an IV.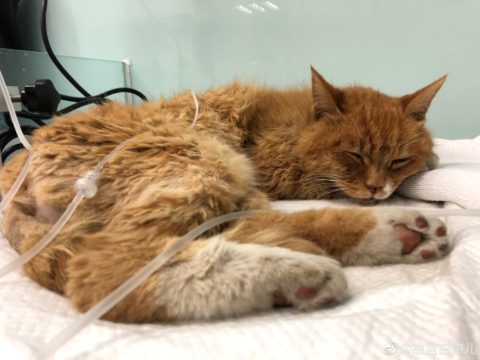 After receiving thousands of well wishes from online fans, the Palace Museum decided to open up a special Weibo account for the cat on Saturday. 'Palace Baidianer' (@故宫白点儿) already had over 5000 fans within hours.
Although Palace staff initially seemed doubtful over Baidian's recovery, they became more optimistic when Baidian suddenly lifted up its hind legs again to clean himself on Friday.
According to the latest Weibo reports, Baidian was in good spirits on Saturday, and is in a more stable condition. The vets at the local hospital have discovered that Baidian suffers from a heart condition, but are hopeful about his recovery. "We just hope he will be doing much better very soon," Palace staff wrote on Weibo.
The Forbidden City's Cats
Although there have always been many stray cats in the Forbidden City, they first received media attention in 2009, when their growing population was becoming a problem.
The Palace Museum, therefore, started a special program in that year to take care of the cats and to neuter them. According to China Daily, the Forbidden City's neutering programme is quite unique, as China does not have a tradition of neutering pets; owners generally think making the animals infertile will harm their health. But this has also led to rising numbers of stray animals across the country.
From 2009 to 2013, a total of 181 Forbidden City stray cats were sterilized and returned to the location where they were found. The programme proved effective, with the number of stray cats soon stabilizing.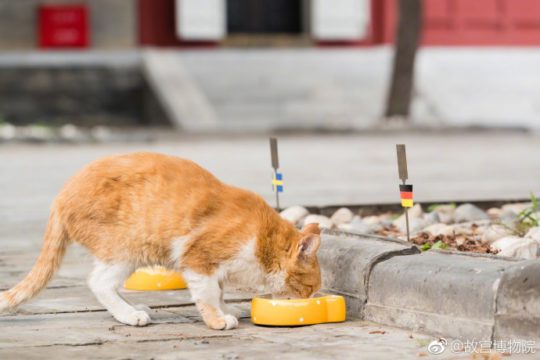 Apart from the fact that cats have a historical significance to the Forbidden City – cats have lived there ever since the complex was built in the 15th century – they also have a practical purpose: the cats have played an important role in protecting the museum's precious antiques and relics from damage done by rats and mice.
"They are a powerful deterrent against museum rats, and we have not had a single cultural relic damaged by cat claws," the museum's sanitation department director told China Daily in 2014.
Baidian's 'Sister'
While Baidian is still hospitalized, his 'sister' Long Leg (长腿儿) is currently taking over his duties in predicting World Cup winners.
As for today's matches: Long Leg has picked Uruguay as the winner against Portgual. The Argentina-France match might end with a draw, since she refused to pick either bowl for this game.
"She's so royal," some commenters wrote.
Others said: "I just hope that Baidian will get well very soon."
We will keep following Baidian's recovery and update!
UPDATE: Unfortunately, Baidian has passed away on July 2nd.
By Manya Koetse
Follow @whatsonweibo
Spotted a mistake or want to add something? Please let us know in comments below or email us.
Directly support Manya Koetse. By supporting this author you make future articles possible and help the maintenance and independence of this site. Donate directly through Paypal here. Also check out the What's on Weibo donations page for donations through creditcard & WeChat and for more information.
©2018 Whatsonweibo. All rights reserved. Do not reproduce our content without permission – you can contact us at info@whatsonweibo.com.
The Mulan Makeup Challenge: Traditional Chinese Makeup Goes Trending
Recreating the Mulan make-up look was the biggest beauty challenge on Chinese social media this July.
Will traditional Chinese make-up make a comeback because of Disney's Mulan?
Since Disney released the official trailer for its live-action Mulan movie earlier this month, Mulan is recurringly appearing in the top trending lists on Chinese social media.
Among all the different topics relating to the upcoming Mulan movie, the Mulan make-up challenge is one that jumps out this month.
The Disney live-action trailer showed a scene in which Mulan, played by Chinese American actress Crystal Liu Fei (刘亦菲), has a full face of betrothal makeup. The original animated Disney movie also features a full makeup Mulan.
Although there was also online criticism of the 'exaggerated' makeup, there are many people who appreciate Mulan's colorful makeup look.
On Weibo, many showed off their skills in copying Mulan's makeup look this month.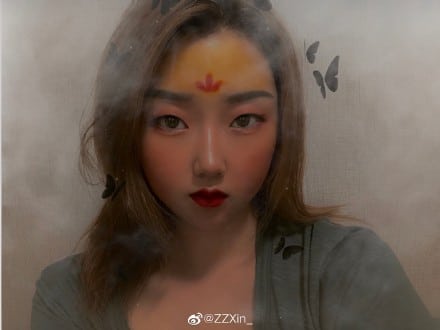 By now, the hashtags "Mulan Makeup Imitation" (#花木兰仿妆#) and "Mulan Makeup Imitation Contest" (#花木兰仿妆大赛#) have attracted over 300 million views.
Makeup such as lipstick has been used in China as far back as two or three thousand years ago.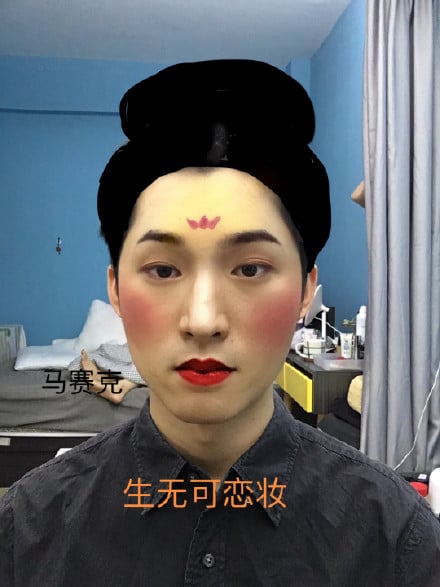 Makeup vlogger Emma Zhou explains more about Tang Dynasty (618-907) makeup customs here; the skin would be whitened with rice flower, followed by the application of 'blush' (pigment of strong-colored flowers) to the cheeks and eyes in a round shape, to emphasize the roundness of the face.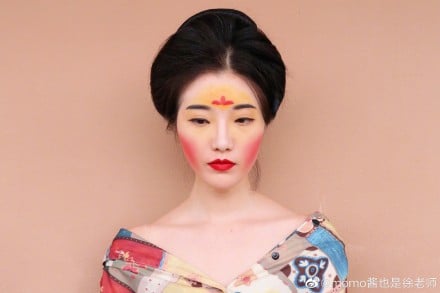 A floral-like decoration would be placed in between the eyebrows.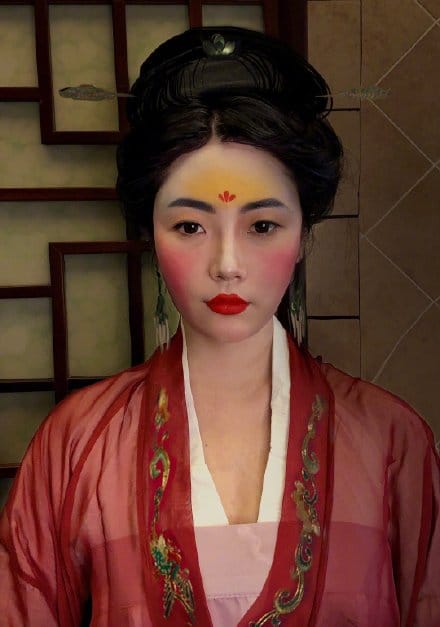 The yellow forehead, as can be seen in the live-action Mulan, is also known as "Buddha's makeup," and was especially popular among ladies during the Tang Dynasty. A yellow aura on the forehead was believed to be auspicious (Schafer 1956, 419).
Although contemporary Chinese makeup trends are much different than those depicted in Mulan, traditional makeup seems to make somewhat of a come-back because of the Disney movie, with hundreds of Chinese netizens imitating the look.
Beauty bloggers such as Nico (@黎千千Nico, image below) receive much praise from Weibo users for their makeup look. Nico wrote: "I even opened the door for the delivery guy this way!"
It is not just girls imitating the look; there are also some boys showing off their Mulan makeup.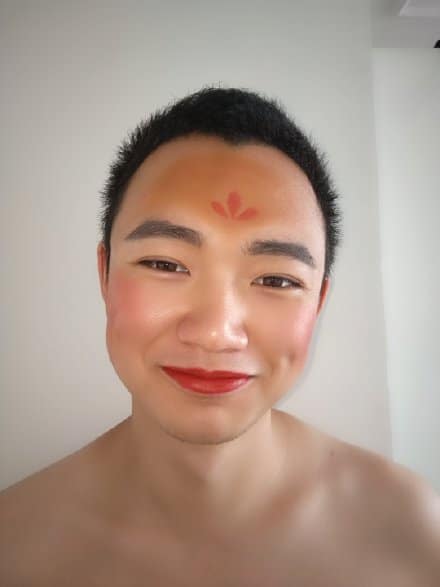 Although many still find the Mulan makeup look exaggerated and even "laughable," there are also those who think it looks really "cool" – of course, depending on whether or not the application is successful.
Want to try it out for yourself? There are various amateur tutorials available on Youtube (in Chinese), such as here, here, or here.
The Mulan make-up hype will probably continue in 2020; the Mulan movie will come out in late March.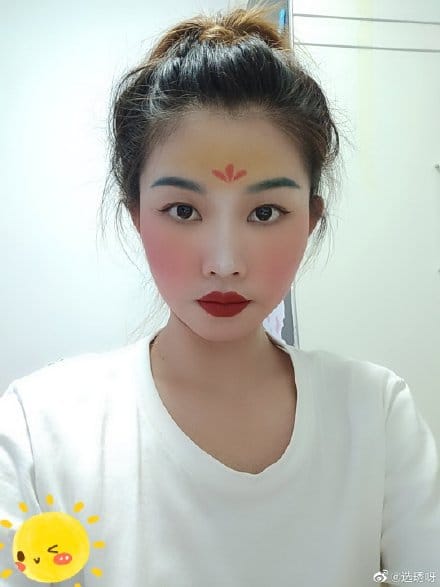 To read more about Mulan, please see our latest feature article on Mulan here.
By Manya Koetse
Follow @whatsonweibo
References
Schafer, Edward H. 1956. "The Early History of Lead Pigments and Cosmetics in China." T'oung Pao, Second Series, 44, no. 4/5: 413-38. http://www.jstor.org/stable/4527434.
Spotted a mistake or want to add something? Please let us know in comments below or email us. Please note that your comment below will need to be manually approved if you're a first-time poster here.
©2019 Whatsonweibo. All rights reserved. Do not reproduce our content without permission – you can contact us at info@whatsonweibo.com
Weibo Blows Up after Fan Bingbing Announces Breakup
It's been a tough year for Chinese celebrity Fan Bingbing.
First published
Two years after their engagement, Chinese actress Fan Bingbing and actor Chen Li have announced their breakup.
On the night of June 27 (China Standard Time), news came out that Chinese actress Fan Bing Bing is breaking up with her partner, Chinese actor Chen Li.
It was Fan herself who announced the separation through a post on social media, writing:
"We go through all kinds of farewells during our lifetime. The love and warmth we gain throughout our encounters become everlasting forces. I want to thank you for all the love and support you've given me. Thank you for your care and love in the future. We are no longer 'we', but we are still ourselves."
The post soon received over 180,000 comments and more than 650,000 likes.
Chen Li also posted a message on his Weibo account, saying:
"From friends to lovers, and now back to friends. Emotions can change, but the purest feeling between you and me will not change. The trust and support we have for each other will always be there. We are no longer 'we', but we are still ourselves."
This breakup comes after a difficult year in Fan's career. In summer of 2018, the 37-year-old actress was at the center of a social media storm due to a tax evasion scandal.
She disappeared from the public eye for months, and then returned with an emotional apology on Weibo.
The announcement of the split has triggered thousands of reactions on Weibo, where the hashtag "Fan Bingbing and Li Chen Split Up" (#范冰冰李晨分手#) had received 380 million views by Thursday night.
At time of writing, the breakup is dominating Weibo's top trending topics, with many netizens commenting that Weibo is 'exploding' and that Weibo servers must be overheating due to the celebrity news.
It is often celebrity news that causes Weibo to blow up. A recent incident of Chinese teen idol smoking inside a Beijing restaurant also triggered millions of views and comments.
When Chinese singer and actor Lu Han announced his relationship with actress Guan Xiaotong in 2017, it even led to a rare temporary breakdown of Weibo's servers.
By Manya Koetse
Spotted a mistake or want to add something? Please let us know in comments below or email us. Please note that your comment below will need to be manually approved if you're a first-time poster here.
©2019 Whatsonweibo. All rights reserved. Do not reproduce our content without permission – you can contact us at info@whatsonweibo.com