Paws at the Palace Museum: Forbidden City Cat Baidian Gets Its Own Weibo Account
Palace cat Baidianer became an online hit after predicting World Cup winners.
Forbidden City stray cat Baidian has won the hearts of many Chinese netizens after becoming a somewhat unsuccessful betting expert for the World Cup games. Since the cat was suddenly hospitalized, Palace Museum staff have opened up a special Weibo account for their feline friend.
The Forbidden City, the massive palace complex in central Beijing, is not just home to the Palace Museum, but also houses dozens of stray cats.
One of these stray cats has recently become an online hit when the Beijing Palace Museum made him pick World Cup winners by choosing between two bowls of cat food.
Thousands of people on Chinese social media have since become online fans of the cat.
Baidian's Rise to Fame
The red-haired Forbidden City resident Baidian'er (白点儿 aka 'Whitespots') was picked by museum staff as their stray betting expert earlier this month.
Initially, however, Baidian did not do too well in his predictions; he picked Australia over France (France won with 2-1), and Germany over Mexico (0-1).
On the official Palace Museum Weibo account (@故宫博物院, 5.6 million fans), the Palace Museum wrote that Baidian was so ashamed of his failing predictions earlier this month, that he did not want people to see his little face.
But Baidian won credibility again when he correctly predicted the outcome of victorious Russia against Saudi Arabia, and Croatia winning from Argentia.
The Palace Museum published the results of its stray cat picking World Cup winners under the hashtag "Palace Cat Predict World Cup" (#宫猫竞猜世界杯#), and Baidian has become an online hit. At time of writing, the hashtag was viewed more than 150 million times.
"I am coming over to the Forbidden City to see you Baidian!", some commenters wrote.
From Palace to Hospital
On Wednesday, however, the Palace Museum reported on Weibo that their popular Palace cat was suddenly gravely ill and had been taken to the animal hospital.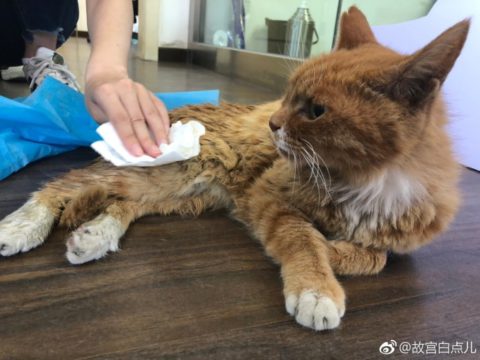 Baidian's hind legs seemed to be paralyzed and the cat was unable to move. Multiple veterinarians examined the cat and put it on an IV.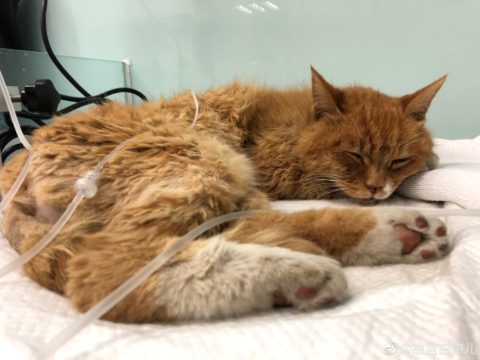 After receiving thousands of well wishes from online fans, the Palace Museum decided to open up a special Weibo account for the cat on Saturday. 'Palace Baidianer' (@故宫白点儿) already had over 5000 fans within hours.
Although Palace staff initially seemed doubtful over Baidian's recovery, they became more optimistic when Baidian suddenly lifted up its hind legs again to clean himself on Friday.
According to the latest Weibo reports, Baidian was in good spirits on Saturday, and is in a more stable condition. The vets at the local hospital have discovered that Baidian suffers from a heart condition, but are hopeful about his recovery. "We just hope he will be doing much better very soon," Palace staff wrote on Weibo.
The Forbidden City's Cats
Although there have always been many stray cats in the Forbidden City, they first received media attention in 2009, when their growing population was becoming a problem.
The Palace Museum, therefore, started a special program in that year to take care of the cats and to neuter them. According to China Daily, the Forbidden City's neutering programme is quite unique, as China does not have a tradition of neutering pets; owners generally think making the animals infertile will harm their health. But this has also led to rising numbers of stray animals across the country.
From 2009 to 2013, a total of 181 Forbidden City stray cats were sterilized and returned to the location where they were found. The programme proved effective, with the number of stray cats soon stabilizing.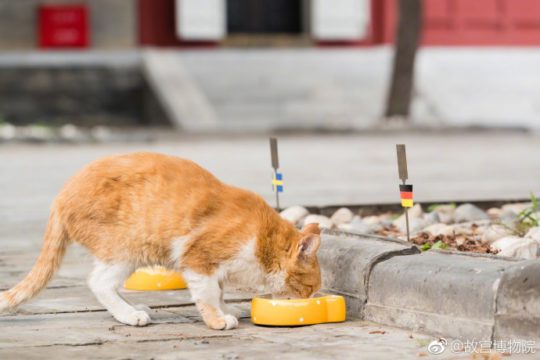 Apart from the fact that cats have a historical significance to the Forbidden City – cats have lived there ever since the complex was built in the 15th century – they also have a practical purpose: the cats have played an important role in protecting the museum's precious antiques and relics from damage done by rats and mice.
"They are a powerful deterrent against museum rats, and we have not had a single cultural relic damaged by cat claws," the museum's sanitation department director told China Daily in 2014.
Baidian's 'Sister'
While Baidian is still hospitalized, his 'sister' Long Leg (长腿儿) is currently taking over his duties in predicting World Cup winners.
As for today's matches: Long Leg has picked Uruguay as the winner against Portgual. The Argentina-France match might end with a draw, since she refused to pick either bowl for this game.
"She's so royal," some commenters wrote.
Others said: "I just hope that Baidian will get well very soon."
We will keep following Baidian's recovery and update!
UPDATE: Unfortunately, Baidian has passed away on July 2nd.
By Manya Koetse
Follow @whatsonweibo
Spotted a mistake or want to add something? Please let us know in comments below or email us.
Directly support Manya Koetse. By supporting this author you make future articles possible and help the maintenance and independence of this site. Donate directly through Paypal here. Also check out the What's on Weibo donations page for donations through creditcard & WeChat and for more information.
©2018 Whatsonweibo. All rights reserved. Do not reproduce our content without permission – you can contact us at info@whatsonweibo.com.
When Hotpot Gets Really Hot: Haidilao Customers Shocked by Steamy TV
Haidilao is taking its customer service to a whole new level.
First published .
Customers dining at a Haidilao hotpot restaurant in Wuhan on January 5th were shocked when the big television screen in the restaurant, usually used for showing Haidilao ads, suddenly showed an X-rated film.
Haidilao is China's most famous hotpot chain, and is usually known for its excellent service. On busy nights, people stand in line for hours at the Haidilao restaurants, that are always packed full of people enjoying the good food and outstanding hospitality.
The incident, that happened on Saturday afternoon at the restaurant's Great Ocean mall location, has now made its rounds on Chinese social media after one Haidilao customer shared photos of the embarrassing moment on Weibo. At time of writing, the hashtag "Haidilao TV shows vulgar scene" (#海底捞电视播不雅画面#) has received more than 240 million views.
Waiters at the restaurant were fast to turn off the television. According to some online reports, a reporter visited the restaurant a few hours after the incident happened, and confirmed the television was still turned off at night.
On Sunday, January 6, Haidilao issued a statement in which the restaurant apologized to the customers for the "vulgar content" that was displayed on the television, and that police are investigating the case. Online pornography is banned in China, and spreading X-rated films is illegal.
It is yet unsure how the film ended up on the restaurant's screen, and whether it was a Haidilao employee who was watching the video and then made a mistake, or that a customer was using IR or Bluetooth on their smartphone and (purposely) connected it to their screen.
The incident has provoked hilarity on social media, where some netizens suggest that the X-rated film perhaps was a "customer demand" and that "Haidilao's service is beyond expectations," or that people were "eating and getting hard."
The incident, as of now, does not seem to negatively affect people's love for the Haidilao brand. "Please don't close it down, I still want to eat hotpot," some netizens comment, while others simply state: "Haidilao, I'm coming!"
(PS Want to know more about steamy hotpots? Check out What's on Weibo's sister site Hotpot Ambassador!)
By Manya Koetse and Miranda Barnes
Spotted a mistake or want to add something? Please let us know in comments below or email us.
©2019 Whatsonweibo. All rights reserved. Do not reproduce our content without permission – you can contact us at info@whatsonweibo.com
This is "Chinese Santa": Weibo Launches Lei Bao 'Santa Claus' Emoticon for Christmas
The Chinese Santa emoticon is here!
On Christmas day, Sina Weibo released a new emoticon in the image of a character named Lei Bao (雷豹, literally 'thunder leopard') from the 1990s comedy movie Hail the Judge (九品芝麻官), for his costumes, beard, and impressive eyebrows, that bear some resemblance to Santa Claus.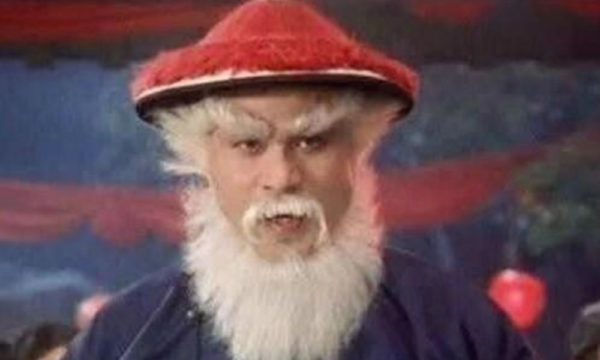 The emoticon was created by the cartoonist @大绵羊BOBO after social media users started using images of 'Lei Bao' to celebrate Christmas on Weibo and WeChat, writing: "It is said that Santa is a man with a white beard wearing a red hat."
The Chinese actor Xu Jinjiang (@徐锦江/Elvis Tsui), who played this entertaining character in the movie, posted a response on his Weibo saying: "Best wishes to you all from an old man with white beard and wearing on Christmas."
According to an online announcement issued on the official account of the Sina Weibo content center, the social media website first received permission from the emoticon's creator and from Xu Jinjiang to launch the image, and then posted a message to look for the copyright owner of the movie.
Later, Tiffany Chen (@向太Tiffany陳嵐), wife of Win's Entertainment founder Charles Heung Wah-Keung (向华强), the copyright holder of the movie, replied on Weibo and gave permission to launch the emoticon online.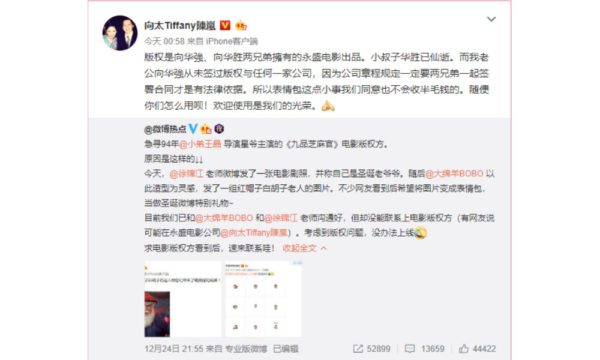 Within less than 24 hours, Weibo managed to solve the copyright issue and to release the emoticon online – just in time for Christmas.
In response to the 'Chinese Santa' emoticon, two hashtags became popular on Weibo: "Weibo Santa Claus Emoticon" (#微博圣诞老人表情#) and "Christmas Emoticon of Xu Jinjiang" (#圣诞徐锦江表情包#), attracting some 370 million views in total on Weibo at time of writing.
Thousands of netizens have started to use the new emoticon and joke around with it, with many expressing some Christmas joy over this new 'Chinese Santa,' that will undoubtedly make a comeback next year again.
By Wendy Huang
Follow @whatsonweibo
Spotted a mistake or want to add something? Please let us know in comments below or email us.
©2018 Whatsonweibo. All rights reserved. Do not reproduce our content without permission – you can contact us at info@whatsonweibo.com