Paws at the Palace Museum: Forbidden City Cat Baidian Gets Its Own Weibo Account
Palace cat Baidianer became an online hit after predicting World Cup winners.
Forbidden City stray cat Baidian has won the hearts of many Chinese netizens after becoming a somewhat unsuccessful betting expert for the World Cup games. Since the cat was suddenly hospitalized, Palace Museum staff have opened up a special Weibo account for their feline friend.
The Forbidden City, the massive palace complex in central Beijing, is not just home to the Palace Museum, but also houses dozens of stray cats.
One of these stray cats has recently become an online hit when the Beijing Palace Museum made him pick World Cup winners by choosing between two bowls of cat food.
Thousands of people on Chinese social media have since become online fans of the cat.
Baidian's Rise to Fame
The red-haired Forbidden City resident Baidian'er (白点儿 aka 'Whitespots') was picked by museum staff as their stray betting expert earlier this month.
Initially, however, Baidian did not do too well in his predictions; he picked Australia over France (France won with 2-1), and Germany over Mexico (0-1).
On the official Palace Museum Weibo account (@故宫博物院, 5.6 million fans), the Palace Museum wrote that Baidian was so ashamed of his failing predictions earlier this month, that he did not want people to see his little face.
But Baidian won credibility again when he correctly predicted the outcome of victorious Russia against Saudi Arabia, and Croatia winning from Argentia.
The Palace Museum published the results of its stray cat picking World Cup winners under the hashtag "Palace Cat Predict World Cup" (#宫猫竞猜世界杯#), and Baidian has become an online hit. At time of writing, the hashtag was viewed more than 150 million times.
"I am coming over to the Forbidden City to see you Baidian!", some commenters wrote.
From Palace to Hospital
On Wednesday, however, the Palace Museum reported on Weibo that their popular Palace cat was suddenly gravely ill and had been taken to the animal hospital.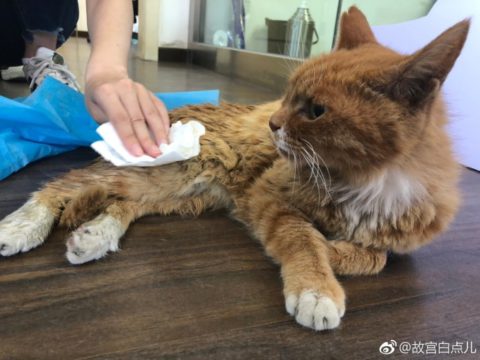 Baidian's hind legs seemed to be paralyzed and the cat was unable to move. Multiple veterinarians examined the cat and put it on an IV.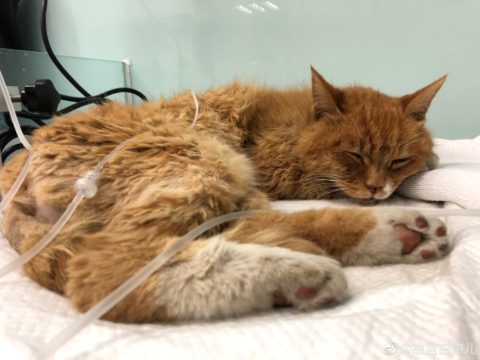 After receiving thousands of well wishes from online fans, the Palace Museum decided to open up a special Weibo account for the cat on Saturday. 'Palace Baidianer' (@故宫白点儿) already had over 5000 fans within hours.
Although Palace staff initially seemed doubtful over Baidian's recovery, they became more optimistic when Baidian suddenly lifted up its hind legs again to clean himself on Friday.
According to the latest Weibo reports, Baidian was in good spirits on Saturday, and is in a more stable condition. The vets at the local hospital have discovered that Baidian suffers from a heart condition, but are hopeful about his recovery. "We just hope he will be doing much better very soon," Palace staff wrote on Weibo.
The Forbidden City's Cats
Although there have always been many stray cats in the Forbidden City, they first received media attention in 2009, when their growing population was becoming a problem.
The Palace Museum, therefore, started a special program in that year to take care of the cats and to neuter them. According to China Daily, the Forbidden City's neutering programme is quite unique, as China does not have a tradition of neutering pets; owners generally think making the animals infertile will harm their health. But this has also led to rising numbers of stray animals across the country.
From 2009 to 2013, a total of 181 Forbidden City stray cats were sterilized and returned to the location where they were found. The programme proved effective, with the number of stray cats soon stabilizing.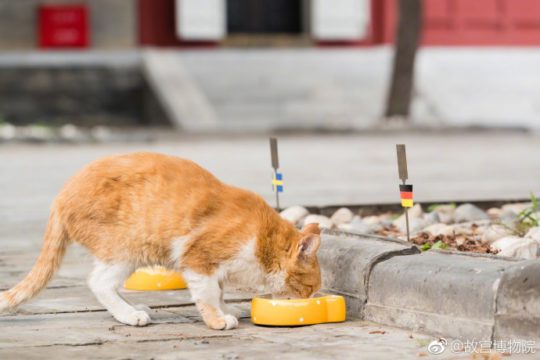 Apart from the fact that cats have a historical significance to the Forbidden City – cats have lived there ever since the complex was built in the 15th century – they also have a practical purpose: the cats have played an important role in protecting the museum's precious antiques and relics from damage done by rats and mice.
"They are a powerful deterrent against museum rats, and we have not had a single cultural relic damaged by cat claws," the museum's sanitation department director told China Daily in 2014.
Baidian's 'Sister'
While Baidian is still hospitalized, his 'sister' Long Leg (长腿儿) is currently taking over his duties in predicting World Cup winners.
As for today's matches: Long Leg has picked Uruguay as the winner against Portgual. The Argentina-France match might end with a draw, since she refused to pick either bowl for this game.
"She's so royal," some commenters wrote.
Others said: "I just hope that Baidian will get well very soon."
We will keep following Baidian's recovery and update!
UPDATE: Unfortunately, Baidian has passed away on July 2nd.
By Manya Koetse
Follow @whatsonweibo
Spotted a mistake or want to add something? Please let us know in comments below or email us.
Directly support Manya Koetse. By supporting this author you make future articles possible and help the maintenance and independence of this site. Donate directly through Paypal here. Also check out the What's on Weibo donations page for donations through creditcard & WeChat and for more information.
©2018 Whatsonweibo. All rights reserved. Do not reproduce our content without permission – you can contact us at info@whatsonweibo.com.
98-Year-Old Hotpot and Coca Cola Lover Becomes Online Hit
Are hotpot and cola the key to longevity?
This week, a 98-year-old Chengdu resident has become an online hit on Chinese social media, after videos of her and her granddaughter went viral. The popular grandmother loves to drink Coca Cola, eat hamburgers, and is crazy about hotpot – but only if it's really spicy.
The 98-year-old became an overnight hit because of the videos posted by granddaughter Cai on China's popular video app Douyin (TikTok), that show the grandmother's great appetite for spicy food, alcohol, and sweet sodas.
When the granddaughter tries to persuade her grandma to drink less alcohol ("You've already had five!") she'll pour herself another cup; while dozing off, she'll still talk about her favorite hotpot with beef tripe; when eating her hamburgers, she'll eat so fast that her dentures fall out – all moments that were caught on video by Cai.
The woman, who has been nicknamed "grandma foodie" (吃货奶奶), has been starring in her granddaughter's Douyin videos since August of last year. Since then, she has accumulated a social media following of some 410K fans and has now risen to nationwide fame, with dozens of Chinese news outlets writing about her. On March 4, she became the number one trending topic on Weibo.
On social media, most netizens praise the grandma for her positive attitude. "I hope I can do all the things I love, too, when I reach her age," some say: "Eat whatever you want, whenever you want, and drink whatever you like, whenever you like." "Eating good food is the key to happiness," others write.
Some also see a lucrative opportunity in the grandma's sudden rise to fame: "She should become a brand ambassador for Coca Cola."
Granddaughter Cai told Chinese reporters: "I think it's the contrast that makes her so popular. She drinks Coke, eats hamburgers, loves spicy food, and all that greasy food. She's leading the life of a young person, and it appears to be very unhealthy. But she still has longevity."
Because Cai's grandma does not know much about social media, Cai tried to explain to her that "many, many people" like her a lot. "Why on earth would they like me for?" she replied: "I'm old!"
Want to know more about hotpot, all the reasons to love it, and how to make it at home? Visit our sister site Hotpotambassador.com here.
By Manya Koetse
Spotted a mistake or want to add something? Please email us.
©2019 Whatsonweibo. All rights reserved. Do not reproduce our content without permission – you can contact us at info@whatsonweibo.com.
UPDATE: Taiwanese 'Devotion' Game Taken down in Mainland China amid Discussions over "Hidden Insults"
The super popular Devotion game is being blocked in the PRC after users discovered hidden messages insulting President Xi.
First published
Just within days after made-in-Taiwan horror game Devotion was released and became an online hit with Chinese players, the game has been blocked in mainland China amid discussions of the game containing secret insults towards Chinese President Xi Jinping.
Yesterday, we covered how Chinese gamers were going crazy over the first-person atmospheric horror game Devotion (还愿). The popular game took social media by storm this week, triggering discussions all over Weibo; the hashtag #Devotion (#还愿) received over 120 million views on Weibo within no time.
But today the game has been taken offline in mainland China, with discussions focusing on the game allegedly containing hidden insults directed at Chinese President Xi Jinping.
The Devotion game has certain so-called 'Easter Eggs' (小彩蛋) which are hidden jokes and secrets that are concealed throughout games that would only be noticeable to people searching for them or paying extreme attention to the details of the game.
Some of these 'Easter Eggs' in the Devotion game seem to be highly political. One obscure detail on an evil talisman in the game shows an indirect insult of Xi Jinping (featured image and see image below), with four characters on the side of the object (呢嘛叭淇) representing a curse in Hakka while the stamp in the middle of the image showing the characters for 'Winnie,' which refers to Winnie the Pooh – the Chinese President is often compared to the bear for various reasons. The 'curse' would then mean something along the lines of "Xi Winnie the Pooh Moron."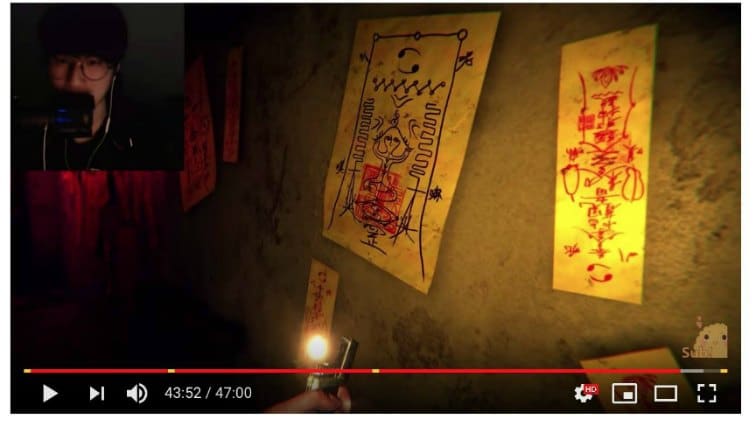 As explained by Spieltimes here, the seal in the middle of the talisman, which is considered evil in traditional Chinese culture, shows the name of the President next to the characters for Winnie.
One of the persons to expose the so-called "Easter Egg" is a well-known Weibo blogger from Shanxi, who is a secretary of the Daoist Society (@全真道士梁兴扬). He wrote that he had stopped playing the game after noticing the insults to the Chinese leader. His post has since been deleted.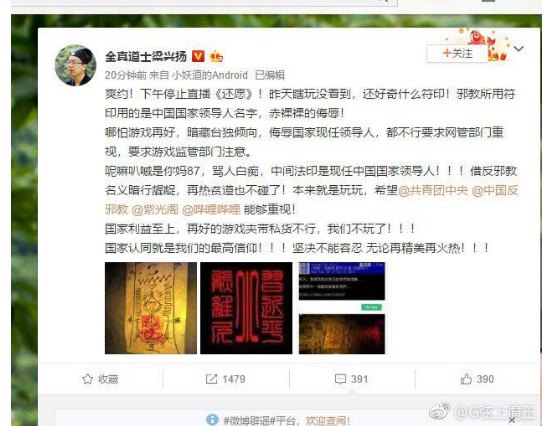 In another part of the game, there allegedly is a newspaper segment that is showing what is believed to be a blurred picture of a younger Xi, with the headline saying that 'Baozi' (also used as a nickname) has been sentenced to prison, even suggesting he has been given "capital punishment."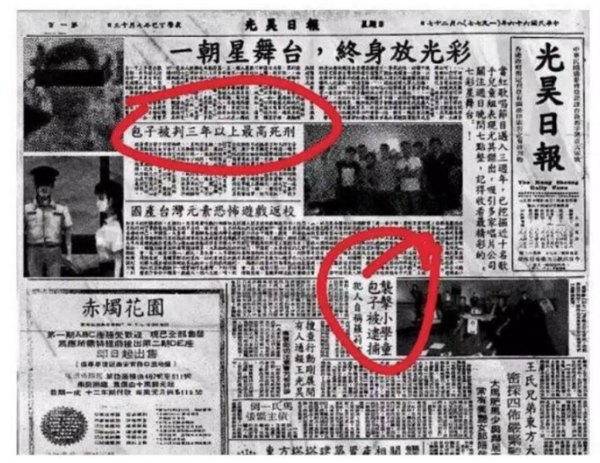 People believe that the blurred image is that of the President. Please keep in mind that this image is being spread online but we have not been able to verify yet if it actually comes up in the game, and consider the fact that it may have been photoshopped (we'll update if more facts surface). Updated later: although this was suggested, it turns out that this is not true.
At time of writing, the live-streaming videos of the game through the online platform Billibili seem to be taken down, or at least, a search for the game now comes up with zero results. When searching for the Chinese name of the game on the Chinese version of online platform Steam, we also found no results at time of writing. The game is still available for international users. For Chinese users, only the soundtrack of the game is available now.
Meanwhile, the Taiwanese developer of the game, Red Candle, has issued an apology through Facebook, stating that the "insults," that were allegedly referring to "internet sub cultures," were already removed from the version released on Thursday night.
The Chinese publisher of the game, Indevient, has also issued an apology and stated it would end its cooperation with the game.
Various discussions across several online platforms show that Chinese netizens are outraged. On Weibo, some commenters said that they felt they were being insulted while the developer was also taking their money. On Steam, Chinese commenters also said that the game was "sh*t" for using its platform as a "political tool."
Hashtags such as "Devotion Game Insults China" (#还愿游戏辱华#), "Reject/Boycott the Devotion Game" (#抵制游戏还愿#), and "Devotion Gate Brings Disaster to Steam" (#游戏《还愿》事件或殃及steam#), are quickly spreading on Weibo.
On the news site Spieltimes, which is focused on reporting on video games and more, the current Devotion scandal is being described as possibly "disastrous" and "a matter of utmost importance for Chinese players and the entire Chinese gaming community," suggesting that this matter might possibly lead to a Chinese ban on the Steam site, which is a leading multi-player platform and game distributor.
As the game is now no longer available in mainland China, some commenters on Weibo are asking for their money back, an issue that Red Candle has not responded to yet.
For more information on this case, also see the coverage on Spieltimes here and its extensive coverage on the issue here.
By Boyu Xiao and Manya Koetse
Spotted a mistake or want to add something? Please email us.
©2019 Whatsonweibo. All rights reserved. Do not reproduce our content without permission – you can contact us at info@whatsonweibo.com.