Chinese Experts Join Rescue Mission for Thai Soccer Team Trapped in Cave [UPDATED: FOUND SAFE!]
Rescue workers are still hopeful to find the Thai soccer team that has been missing for six days.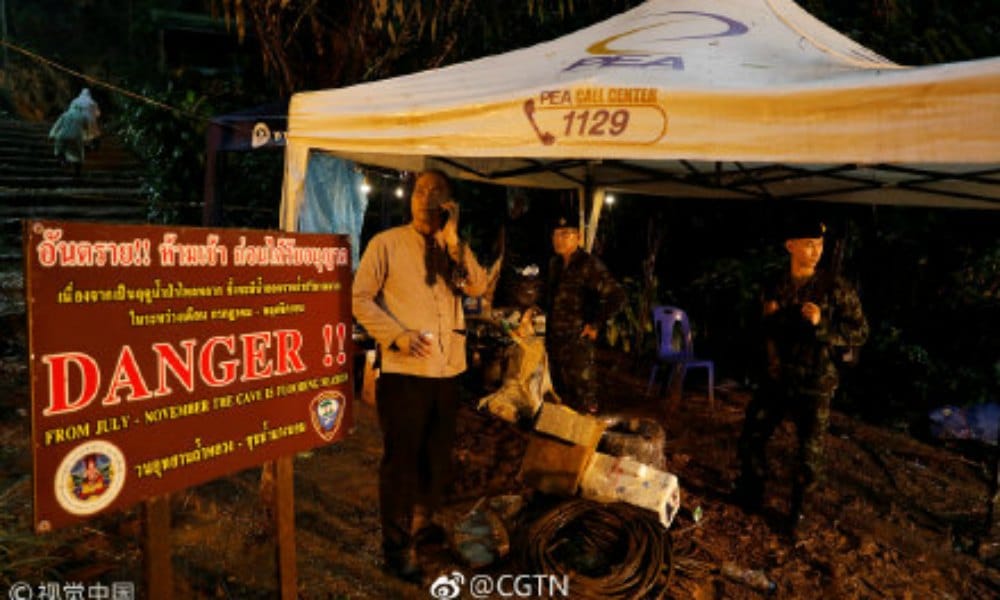 A team of Chinese cave experts have joined the search for a Thai soccer team and their coach, who have gone missing in Chiang Rai after entering a cave on June 23. Heavy rainfall is complicating ongoing rescue efforts.
The ongoing search for a soccer team and their coach trapped inside a cave in Thailand is receiving ample attention on Chinese social media.
On Saturday, June 23, twelve boys aged 11-16 and their 25-year-old soccer coach went missing after they had entered the Tham Luang Cave in Thailand's northern Chiang Rai province. They had finished their soccer practice earlier that day.
Apart from their 13 bicycles, soccer boots, and footprints near the cave's entrance, there has been no sign of the team since.
According to Reuters, the cave's network stretches 10 km (6 miles) into a mountainous and heavily forested area. Rescue workers believe floodwaters cut off the boys in a chamber.
Despite continuing heavy rain and floodwater hampering search efforts, the rescue mission has been going on around the clock. Over a thousand Thai soldiers and rescue workers are assisting in the search for the boys.
On Friday, rescuers were still hopeful that the young team and their coach could be brought out of the caves alive.
Beijing Peaceland Foundation Joins Rescue Operation
Besides specialist help from Japan, the UK and US, a team of Chinese cave rescue experts has now also joined the rescue operation in Chiang Mai. They arrived at the scene on Friday afternoon.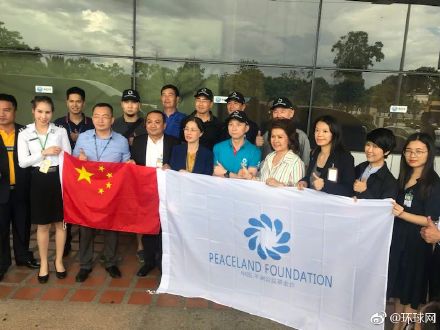 The team, consisting of six volunteers, are experts in cave rescue operations from the Beijing Peaceland Foundation (北京平澜公益基金会). They brought underwater drones, diving equipment, 3D imaging sensors, and other equipment to help the rescue operation.
The team has joined previous rescue operations in, among others, Nepal and Myanmar, according to Weibo news channel Thai Headlines (@泰国头条新闻).
The Peaceland Foundation (@平澜公益) wrote on Weibo: "We hope the boys come back soon, so they can play soccer again," adding: "We hope that together with the people of Thailand these boys will be brought to safety soon."
"Like a horror movie"
Rescue workers believe the boys might have crawled into the large series of caves through a narrow 15-meter tunnel. Due to the monsoon rain, that tunnel is now completely flooded.
While water is being pumped out of the caves, a possible new entry into the caves was discovered on Friday morning.
As news of the rescue operations has been making international headlines this week, many people on Weibo are also discussing it.
"I pray they are still alive," one commenter on Weibo wrote, with hundreds of others expressing the same hope.
Some netizens are more skeptical, writing: "How can we be so sure they really entered the cave?" or: "What if this was premeditated?"
Many netizens are worried, saying: "This news has really made me emotional since I saw it," and "This has made me so afraid for them."
"Come home boys, your mothers are waiting for you," others say.
"This is like a Thai horror movie," one person commented: "I hope it's just a bad dream, and that they're out there playing soccer somewhere."
UPDATE: MONDAY JULY 3 (evening, local time)
After a search of nine days, the soccer team and coach trapped in Chiang Rai cave have been found safe on Mondaynight local time, the Chiang Rai governor has stated. The boys are safe.
Also on Weibo, there are some very happy & relieved reactions. The boys were allegedly found 400 meters from a chamber called Pattaya Beach.
Will update when more news comes out.
By Manya Koetse
Follow @whatsonweibo
Spotted a mistake or want to add something? Please let us know in comments below or email us.
©2018 Whatsonweibo. All rights reserved. Do not reproduce our content without permission – you can contact us at info@whatsonweibo.com.
Waves of Support for Huawei on Chinese Social Media following US Blacklisting
"My next phone will definitely be a Huawei."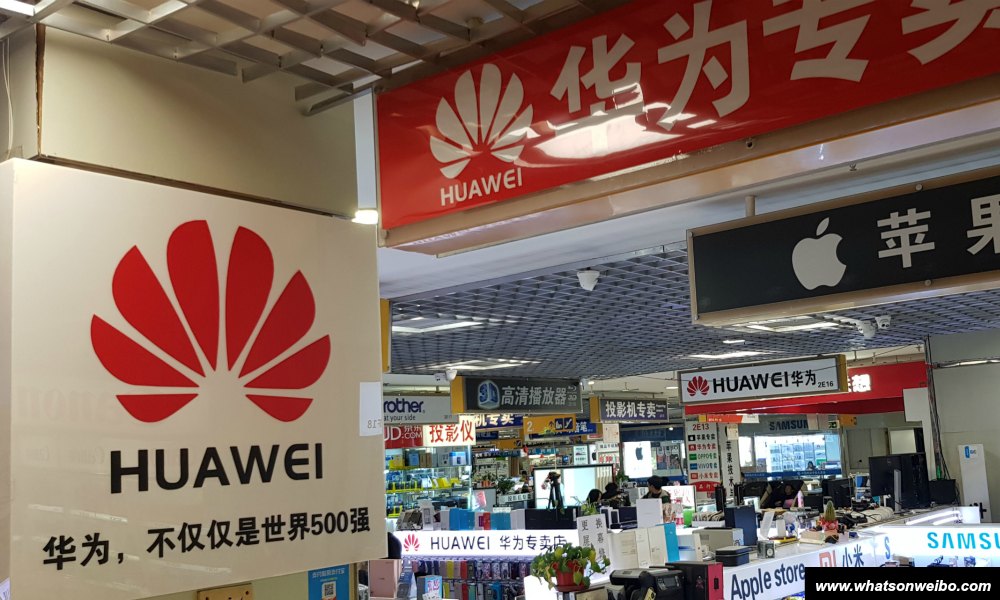 The US blacklisting of Huawei has left many Huawei owners across the world shocked and wondering if they will need to stop using their phone. In China, however, social media users are seemingly less worried, cheering on Huawei as China's 'national pride.'
Huawei smartphone users will allegedly receive no future updates from Android now that Google has suspended Huawei's access to its mobile Operating System, following orders issued by the US Trump administration, Reuters reported on Sunday.
The Chinese telecom giant was added to a trade blacklist earlier last week,as the China-US trade war reached another tipping point.
Huawei has been using Google's operating system for over a decade. Huawei debuted its first Android smartphone in February of 2009.
Besides being cut off from the world's best-selling operating system, some of the world's leading chip designers and suppliers are also ceasing their dealings with Huawei until further notice.
The news left many Huawei users outside of China worried and panicked. On Twitter, Huawei users have been asking what to do with their new Huawei device, with some saying they want to switch brands as soon as possible.
On Chinese social media, however, many people discussing this news are vowing not to abandon Huawei in light of the recent developments. "I've always used Huawei, and will never change," some said, with others even commenting: "I'm preparing to switch to a Huawei phone, I hope they can stand firm."
Huawei responded to the recent developments on May 20th, saying that Huawei does not need to depend on American suppliers for their chips, nor for their Operating System (OS). Huawei has reportedly been working on its in-house 'Hong Meng' OS since 2012.
They also promised to continue providing security updates and after-sale services for its smartphones and tablets, The Guardian reports.
Perhaps surprisingly, the majority of Chinese online responses to the issue are rather positive at the time of writing. The larger part of comments on Weibo are not necessarily anti-American, nor pessimistic about Huawei's future, but instead confident that Huawei will have no problems in overcoming the recent hurdles.
On Weibo, the hashtag "Huawei Doesn't Need to Rely on America for its Microchips" (#华为芯片可以不依赖美国供应链#) had over 19 million views by Monday night. The hashtag "Huawei's Self-Developed Operating System Hong Meng" (#华为自研操作系统鸿蒙#) also took off on Monday in response to the news that Huawei has been developing its own OS for years, in case it would no longer be able to depend on Google for the Android OS.
"What's been happening with Huawei recently teaches us an important lesson," one Weibo user (@叼着猫的小花鱼) wrote: "Sometimes, it's essential to have a plan B!" The Chinese idiom 'Jū ān sī wēi' (居安思危) is used by many, meaning "think of dangers in times of safety" or "be vigilant in peacetime." The second character of the idiom, ān 安, is also the first in the Chinese term for 'Android' (安卓).
Many netizens commented that they are looking forward to the Huawei OS, and predict that one potential consequence of the China-US trade war will be that all Chinese smartphones might eventually switch to a Chinese Operating System and use made-in-China chips and electronics.
On China's Douyin (Tiktok) platform, hundreds of people are sharing short videos of Huawei chief Ren Zhengfei (任正非) talking about Huawei as the world leader in 5G technology, with comment sections showing praise for the Huawei brand: "My next phone will definitely be a Huawei."
"We [Chinese] are becoming more and more confident," one of the 12,000+ comments on Douyin said.
Both on Weibo and Douyin, people express that Huawei is more than a brand to them, saying it is a "national pride." The slogan "Go China! Go Huawei!" ("加油中国 加油华为") is ubiquitous on social media.
"Some of my close friends are thinking of buying an iPhone, and I think it's shameful," one Douyin user wrote. "I will unconditionally support domestically produced products. Go Huawei!", others wrote on Weibo.
For now, Huawei users will still have access to the Android version on their existing devices and will still be able to download app updates provided by Google.
By Manya Koetse
Spotted a mistake or want to add something? Please let us know in comments below or email us.
©2019 Whatsonweibo. All rights reserved. Do not reproduce our content without permission – you can contact us at info@whatsonweibo.com
Surprise Attack: CCTV6 Unexpectedly Airs Anti-American Movies as China-US Trade War Intensifies
"They have no new anti-American films, so they're showing us the old ones instead."
First published
CCTV 6, the movie channel of China's main state television broadcaster, has gone trending on Chinese social media today for changing its schedule and playing three anti-American movies for three days in a row.
Some suggest the selection for the movies is no coincidence, and that it's sending out a clear anti-US message while the trade war is heating up.
The three movies are the Korean war movies Heroic Sons and Daughters (英雄儿女, 1964), Battle on Shangganling Mountain (上甘岭, 1954), and Surprise Attack (奇袭, 1960), airing from May 17-19 during prime time at 20:15.
Ongoing trade tensions between China and the United States heightened when Trump raised an existing 10 percent tax on many Chinese imports to 25 percent earlier this month. Chinese authorities responded by raising taxes on many American imports.
Over the past week, anti-American propaganda has intensified in Chinese state media, with the slogan "Wanna talk? Let's talk. Wanna fight? Let's do it. Wanna bully us? Dream on!"* ("谈,可以!打,奉陪!欺,妄想!") going viral on Chinese social media.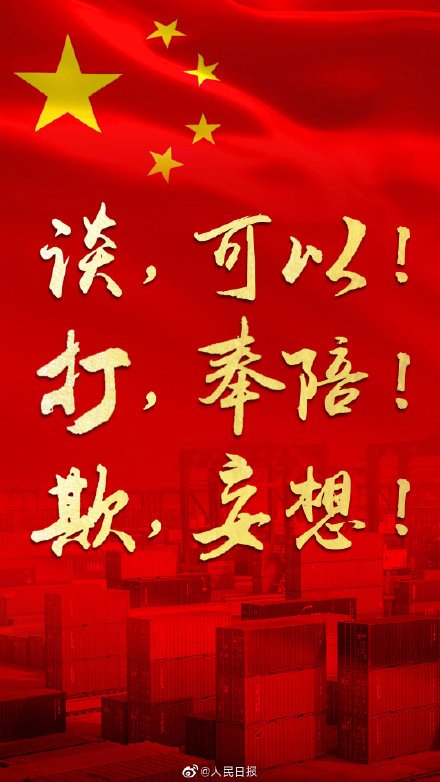 The movies broadcasted by CCTV these days are so-called "Resist America, Help North Korea" movies ("抗美援朝影片").
The 'Resist the USA, Help North Korea' (or: "Resist American Aggression and Aid North Korea") was a propaganda slogan launched in October 1950 during the Korean War (1950-1953). China came to the assistance of North Korea after the war with the South had broken out in June that year and the UN forces intervened in September.
The government, led by Mao Zedong, sent troops to fight in the war. Mao's own son, Mao Anying, was killed in action by an air strike a month after the start of this 3-year war against US aggression in support of North Korea. The war ended with the armistice of July 1953.
All three movies aired on CCTV6 are set during the "War to Resist US Aggression and Aid Korea."
Battle on Shangganling Mountain focuses on a group of Chinese People's Volunteer Army soldiers who are holding Triangle Hill for several days against US forces.
Heroic Sons and Daughters tells the story of a political commissar in China's volunteer army who finds his missing daughter on the Korean battlefield.
Surprise Attack revolves around the mission of the Chinese army to blow up the strategic Kangping Bridge, cutting off supplies to the American army and allowing the Chinese to engage in a full attack.
On Chinese social media, the unexpected decision of the CCTV to change its original schedule and to air the three historical films has become a much-discussed topic, with many people praising CCTV6 for showing these movies.
The issue was also widely reported on by Chinese media, from Sohu News to Global Times, which called the broadcast programming itself a "Surprise Attack."
Not all netizens praise the initiative, however, with some commenting: "It seems that there are no new anti-American TV series or movies now, so they've come up with these old films to brainwash us." Others said: "This kind of brainwashing is not useful."
Many Weibo users, however, just enjoy seeing classic movies, saying "They don't make movies like this anymore," and "It's good for the younger generation to also see these classics."
If you're reading this article on Saturday night China Central Time, you're still in time to watch the airing of Battle on Shangganling Mountain on CCTV6 here.
Update 18th May CST: It seems that a fourth movie has been added to the series now. This might just become the CCTV6 Anti-American movies month! We'll keep you updated.
By Manya Koetse and Miranda Barnes
*Translation suggested by @kaiserkuo.
Spotted a mistake or want to add something? Please let us know in comments below or email us.
©2019 Whatsonweibo. All rights reserved. Do not reproduce our content without permission – you can contact us at info@whatsonweibo.com