Chinese Experts Join Rescue Mission for Thai Soccer Team Trapped in Cave [UPDATED: FOUND SAFE!]
Rescue workers are still hopeful to find the Thai soccer team that has been missing for six days.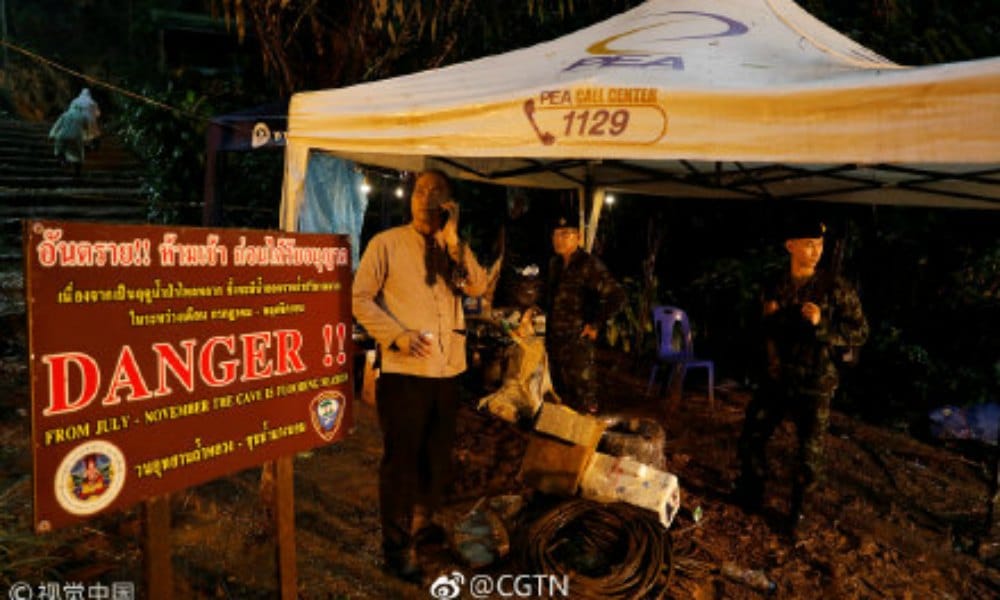 A team of Chinese cave experts have joined the search for a Thai soccer team and their coach, who have gone missing in Chiang Rai after entering a cave on June 23. Heavy rainfall is complicating ongoing rescue efforts.
The ongoing search for a soccer team and their coach trapped inside a cave in Thailand is receiving ample attention on Chinese social media.
On Saturday, June 23, twelve boys aged 11-16 and their 25-year-old soccer coach went missing after they had entered the Tham Luang Cave in Thailand's northern Chiang Rai province. They had finished their soccer practice earlier that day.
Apart from their 13 bicycles, soccer boots, and footprints near the cave's entrance, there has been no sign of the team since.
According to Reuters, the cave's network stretches 10 km (6 miles) into a mountainous and heavily forested area. Rescue workers believe floodwaters cut off the boys in a chamber.
Despite continuing heavy rain and floodwater hampering search efforts, the rescue mission has been going on around the clock. Over a thousand Thai soldiers and rescue workers are assisting in the search for the boys.
On Friday, rescuers were still hopeful that the young team and their coach could be brought out of the caves alive.
Beijing Peaceland Foundation Joins Rescue Operation
Besides specialist help from Japan, the UK and US, a team of Chinese cave rescue experts has now also joined the rescue operation in Chiang Mai. They arrived at the scene on Friday afternoon.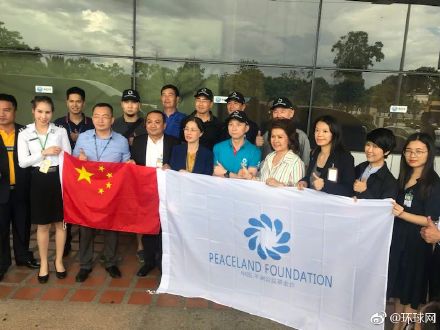 The team, consisting of six volunteers, are experts in cave rescue operations from the Beijing Peaceland Foundation (北京平澜公益基金会). They brought underwater drones, diving equipment, 3D imaging sensors, and other equipment to help the rescue operation.
The team has joined previous rescue operations in, among others, Nepal and Myanmar, according to Weibo news channel Thai Headlines (@泰国头条新闻).
The Peaceland Foundation (@平澜公益) wrote on Weibo: "We hope the boys come back soon, so they can play soccer again," adding: "We hope that together with the people of Thailand these boys will be brought to safety soon."
"Like a horror movie"
Rescue workers believe the boys might have crawled into the large series of caves through a narrow 15-meter tunnel. Due to the monsoon rain, that tunnel is now completely flooded.
While water is being pumped out of the caves, a possible new entry into the caves was discovered on Friday morning.
As news of the rescue operations has been making international headlines this week, many people on Weibo are also discussing it.
"I pray they are still alive," one commenter on Weibo wrote, with hundreds of others expressing the same hope.
Some netizens are more skeptical, writing: "How can we be so sure they really entered the cave?" or: "What if this was premeditated?"
Many netizens are worried, saying: "This news has really made me emotional since I saw it," and "This has made me so afraid for them."
"Come home boys, your mothers are waiting for you," others say.
"This is like a Thai horror movie," one person commented: "I hope it's just a bad dream, and that they're out there playing soccer somewhere."
UPDATE: MONDAY JULY 3 (evening, local time)
After a search of nine days, the soccer team and coach trapped in Chiang Rai cave have been found safe on Mondaynight local time, the Chiang Rai governor has stated. The boys are safe.
Also on Weibo, there are some very happy & relieved reactions. The boys were allegedly found 400 meters from a chamber called Pattaya Beach.
Will update when more news comes out.
By Manya Koetse
Follow @whatsonweibo
Spotted a mistake or want to add something? Please let us know in comments below or email us.
©2018 Whatsonweibo. All rights reserved. Do not reproduce our content without permission – you can contact us at info@whatsonweibo.com.
Summer Censorship: Weibo Launches "Project Sky Blue"
No hot summer on Weibo: the social media network announces extra censorship on 'vulgar content.'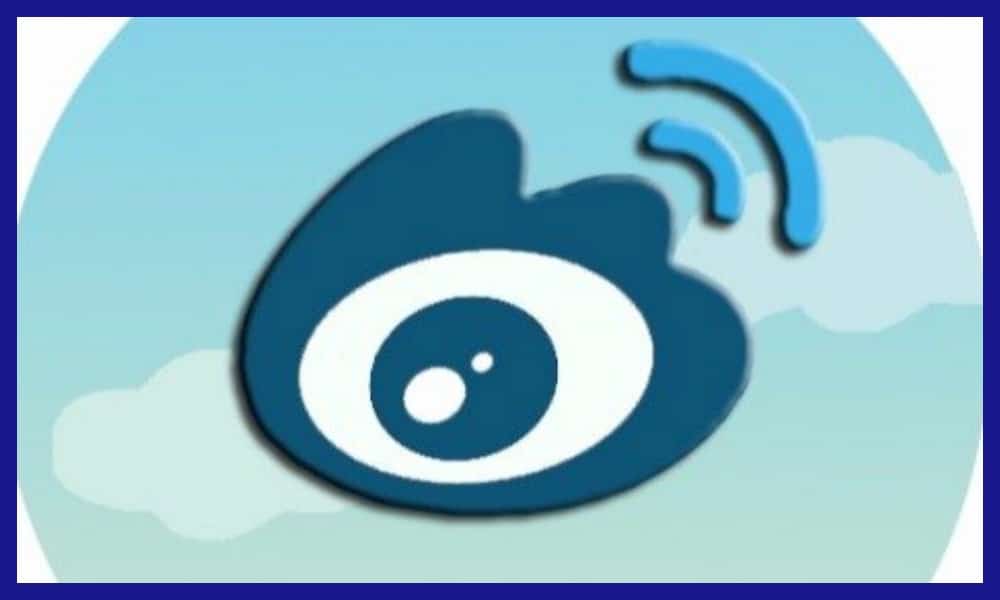 Earlier this week, the administration of Sina Weibo announced a special summer holiday crackdown on "vulgar content," including "pornographic novels, erotic anime, pictures or videos."
In a public announcement that was posted on July 4th, the Weibo administration writes that the primary goal of this campaign is to "create a healthier, more positive environment for underage users" during the summer break period.
The censorship plan is titled "Project Deep Blue" (or: "Project Sky Blue") (蔚蓝计划), and will use filter systems, human moderators and user reports to censor more content for the upcoming two months.
The project even has its own Weibo account now, where Weibo users can ask questions, report inappropriate content, and get more information on the campaign.
Weibo states it will further expand its team of online content supervisors, and also explicitly encourages netizens to flag 'inappropriate' content to make the online community 'more wholesome.'
The hashtag #ProjectDeepBlue (#蔚蓝计划#) topped the hot search lists on Weibo this week; not necessarily because of the topic's popularity, but because it was placed there by the social media site's administration. At time of writing, the hashtag page has attracted more than 180 million views.
Online responses to the summer censorship program are mixed: many commenters voice their support for the latest measure, while others express frustration.
One Weibo user from Hubei calls the latest measure "hypocritical," arguing that minors surf Weibo just as much during school time as during the summer holiday – suggesting that launching a special censorship program for the summer vacation does not make sense at all.
But many popular comments are in favor of the project, saying: "I support Project Deep Blue, the internet needs to be cleaned up," and: "China's young people need to be protected."
This is not the first time Weibo launches a special intensified censorship program. Throughout the years, it has repeatedly carried out 'anti-pornography' campaigns in cooperation with Chinese cyberspace authorities.
Often, the crusade against 'vulgar' content also ends up being used for the purpose of censoring political content rather than to actually eradicate 'obscenities' (read more).
By now, it seems that many Weibo users are quite actively using the Project Deep Blue tag to report on other users who are posting violent or vulgar content.
"If you're not careful, you're hit with vulgar and obscene content the moment you're on the internet," well-known mom blogger Humapanpan (@虎妈潘潘) writes: "Now that the summer holiday is coming, I hope we can join the Project Deep Blue, and clean up the internet environment.  Actively report obscene content the moment you see it – let's protect our future together."
By Skylar Xu & Manya Koetse
Spotted a mistake or want to add something? Please let us know in comments below or email us. Please note that your comment below will need to be manually approved if you're a first-time poster here.
©2019 Whatsonweibo. All rights reserved. Do not reproduce our content without permission – you can contact us at info@whatsonweibo.com
Coca Cola Chicken Wings Are Here! McDonald's China Introduces Cola Chicken on Its Menu
Add cola, add chicken, and it's a recipe for success.
Coca-Cola Chicken wings are so popular in China that McDonald's China, in collaboration with Coca Cola, has now added them to their menu.
It is one of those dishes everyone in China will know of, yet its origins are somewhat murky: Cola Chicken.
Cola Chicken (可乐鸡) is a sweet and sour cooking dish using cola, chicken, ginger, soy sauce, cooking wine, and Sichuan pepper as its main ingredients (the Chinese way).
Braised Coca-Cola Chicken wings are especially popular in China, combining Chinese style braising and Coca-Cola to create juicy and savory BBQ style wings (see recipe).
According to some, Cola Chicken comes from Jinan, Shandong, where a cook in a restaurant accidentally tipped over a can of Coca Cola into a chicken dish, after which he discovered the taste of the soda matched the simmering chicken.
Others allege two Chinese Coca Cola salespersons thought of the recipe first.
Another explanation states that 'Cola Chicken' was already made in Western countries, using tomato sauce as one of its main ingredients. The dish then became popular in Taiwan, where the tomato sauce was replaced by soy sauce.
Whatever its origins are: Cola Chicken is hugely popular in China. So popular, in fact, that McDonald's China announced on Weibo this week that it would add 'traditional cola chicken wings' to its menu.
The latest addition to the McDonald's China menu is a special collaboration between the Coca Cola brand and McDonald's.
"I love Mcdonald's, I love Coca Cola, I wanna try!",  commenters on Weibo say: "I absolutely love Cola Chicken wings."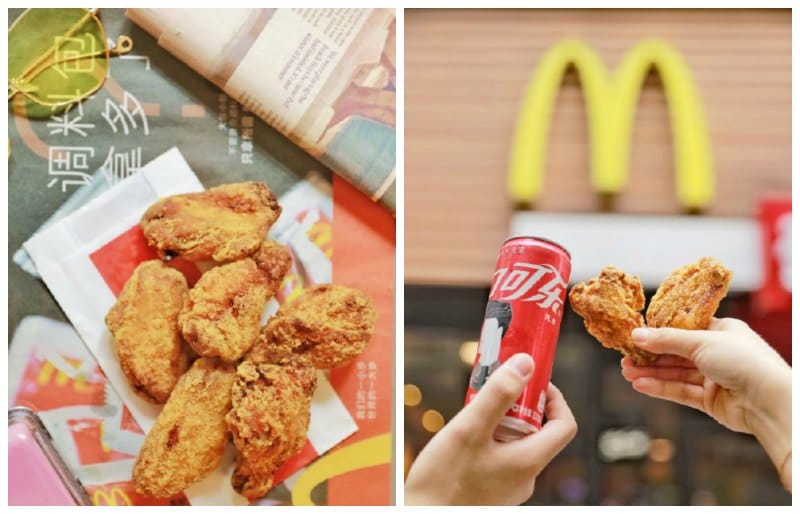 Although social media responses to McDonald's Cola Chicken have been very positive, some who have actually tried it out are less enthusiastic.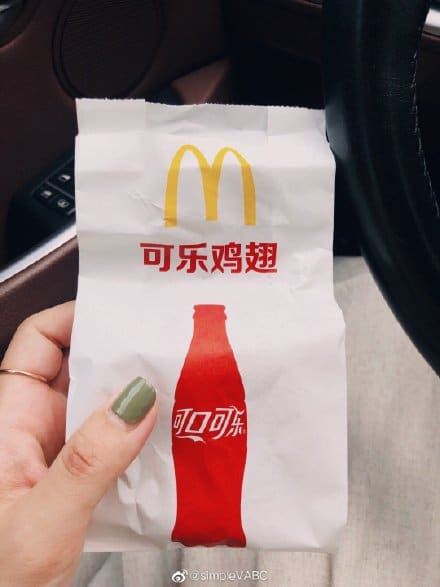 "I had them, but.. I actually didn't taste any cola flavor. Are we supposed to soak them in our coke first?" one disappointed netizen wonders.
Others also expressed similar sentiments, writing: "I am confused by how it tastes" and: "I think it tastes really weird, but I can taste the Cola in it!"
But others who tried it are very happy: "I loved them! While chewing, the skin of the chicken bursts open, giving you that feeling of a carbonated drink. And the chicken is slightly sour and sweet, with that hint of Coca Cola."
The Cola Chicken wings are not the only special additions to the McDonald's China menu, which also offers "Sichuan Spicy Double Chicken Burger," "Jumbo Milk Tea," "Taro Pie," and "Corn cups."
Earlier this year, Mcdonald's China also introduced a Japanese beef rice bowl to its main menu selections.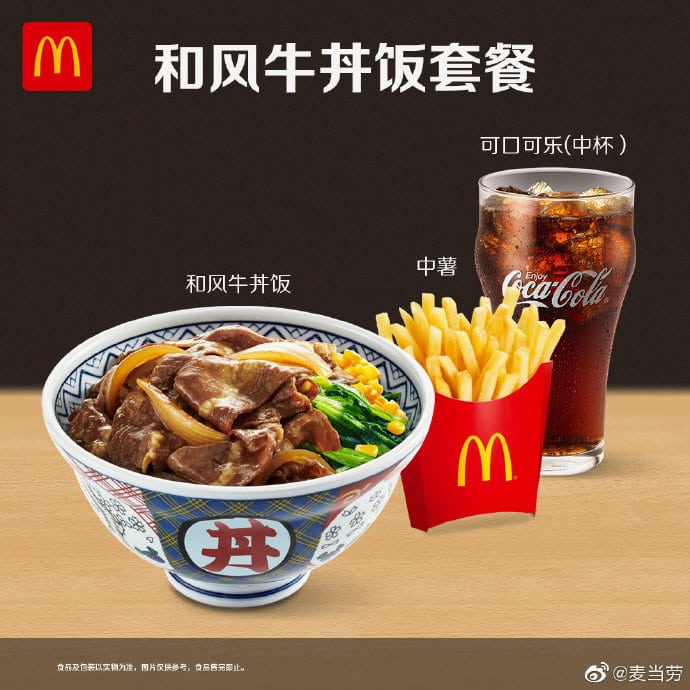 Many introductions to China's McDonald's menu have come and gone over the past few years. Whether Cola Chicken will be one of the items on the McDonald's menu that's here to stay is yet to be seen.
Also read: McDonald's Celebrates 26th Birthday in China
Also read: China's First Fast Food Restaurant
Also read: Coca Cola in China: "Not a Single Bottle of Coke Should Be Sold to Chinese"
Talking about Cola Chicken, a recommendation: the touching and funny short documentary (25 min) 'Cola Chicken' tells the story of the Chinese Chen Chen, who works as a tour guide in Spain, and dreams of opening up his own Cola Chicken restaurant one day:
By Manya Koetse
Spotted a mistake or want to add something? Please let us know in comments below or email us. Please note that your comment below will need to be manually approved if you're a first-time poster here.
©2019 Whatsonweibo. All rights reserved. Do not reproduce our content without permission – you can contact us at info@whatsonweibo.com