Chinese Experts Join Rescue Mission for Thai Soccer Team Trapped in Cave [UPDATED: FOUND SAFE!]
Rescue workers are still hopeful to find the Thai soccer team that has been missing for six days.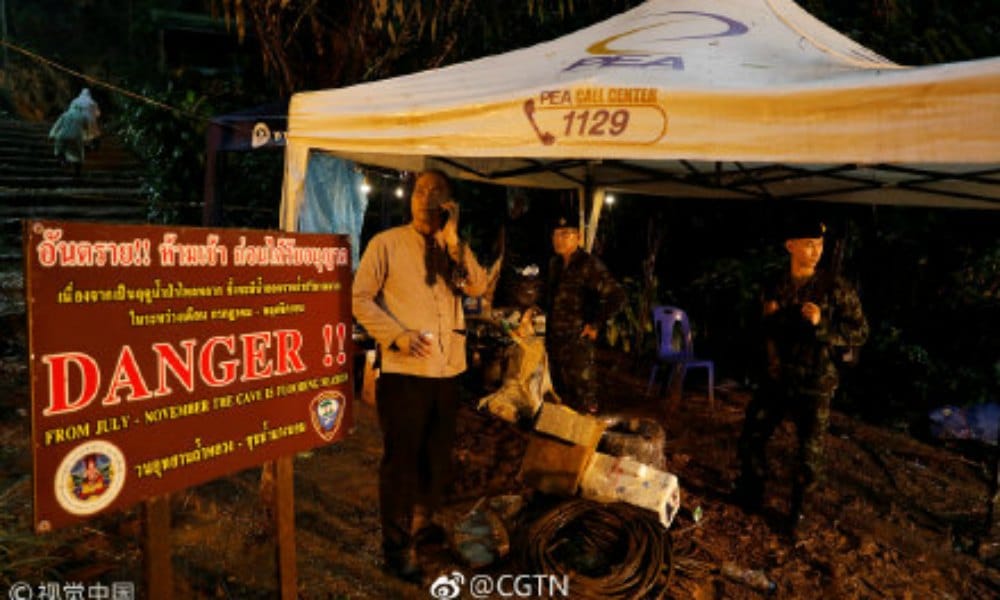 A team of Chinese cave experts have joined the search for a Thai soccer team and their coach, who have gone missing in Chiang Rai after entering a cave on June 23. Heavy rainfall is complicating ongoing rescue efforts.
The ongoing search for a soccer team and their coach trapped inside a cave in Thailand is receiving ample attention on Chinese social media.
On Saturday, June 23, twelve boys aged 11-16 and their 25-year-old soccer coach went missing after they had entered the Tham Luang Cave in Thailand's northern Chiang Rai province. They had finished their soccer practice earlier that day.
Apart from their 13 bicycles, soccer boots, and footprints near the cave's entrance, there has been no sign of the team since.
According to Reuters, the cave's network stretches 10 km (6 miles) into a mountainous and heavily forested area. Rescue workers believe floodwaters cut off the boys in a chamber.
Despite continuing heavy rain and floodwater hampering search efforts, the rescue mission has been going on around the clock. Over a thousand Thai soldiers and rescue workers are assisting in the search for the boys.
On Friday, rescuers were still hopeful that the young team and their coach could be brought out of the caves alive.
Beijing Peaceland Foundation Joins Rescue Operation
Besides specialist help from Japan, the UK and US, a team of Chinese cave rescue experts has now also joined the rescue operation in Chiang Mai. They arrived at the scene on Friday afternoon.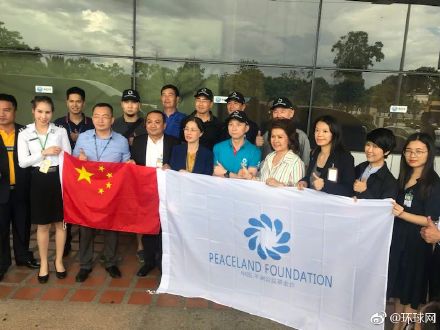 The team, consisting of six volunteers, are experts in cave rescue operations from the Beijing Peaceland Foundation (北京平澜公益基金会). They brought underwater drones, diving equipment, 3D imaging sensors, and other equipment to help the rescue operation.
The team has joined previous rescue operations in, among others, Nepal and Myanmar, according to Weibo news channel Thai Headlines (@泰国头条新闻).
The Peaceland Foundation (@平澜公益) wrote on Weibo: "We hope the boys come back soon, so they can play soccer again," adding: "We hope that together with the people of Thailand these boys will be brought to safety soon."
"Like a horror movie"
Rescue workers believe the boys might have crawled into the large series of caves through a narrow 15-meter tunnel. Due to the monsoon rain, that tunnel is now completely flooded.
While water is being pumped out of the caves, a possible new entry into the caves was discovered on Friday morning.
As news of the rescue operations has been making international headlines this week, many people on Weibo are also discussing it.
"I pray they are still alive," one commenter on Weibo wrote, with hundreds of others expressing the same hope.
Some netizens are more skeptical, writing: "How can we be so sure they really entered the cave?" or: "What if this was premeditated?"
Many netizens are worried, saying: "This news has really made me emotional since I saw it," and "This has made me so afraid for them."
"Come home boys, your mothers are waiting for you," others say.
"This is like a Thai horror movie," one person commented: "I hope it's just a bad dream, and that they're out there playing soccer somewhere."
UPDATE: MONDAY JULY 3 (evening, local time)
After a search of nine days, the soccer team and coach trapped in Chiang Rai cave have been found safe on Mondaynight local time, the Chiang Rai governor has stated. The boys are safe.
Also on Weibo, there are some very happy & relieved reactions. The boys were allegedly found 400 meters from a chamber called Pattaya Beach.
Will update when more news comes out.
By Manya Koetse
Follow @whatsonweibo
Spotted a mistake or want to add something? Please let us know in comments below or email us.
©2018 Whatsonweibo. All rights reserved. Do not reproduce our content without permission – you can contact us at info@whatsonweibo.com.
Weibo's Digital Graveyard: Remembering the Dead on Chinese Social Media
'The Dead' honors the deceased and tries to break existing taboos on death in China.
With China's rapid digitalization and flourishing online media environment, there's one crucial societal topic that, although taboo, also now finds its place on Chinese social media: this Weibo account collects the stories of the dead and writes their online eulogies. In doing so, they are trying to break longstanding taboos around death in China.
"My grandmother passed away due to illness in 2016. She was 78 years old. My grandmother was a kind soul. She married my grandfather after his divorce. They had never even seen each other before [her] mother and father prepared the marriage, and yet she lovingly cared for him her entire life." This eulogy was posted on Weibo on February 12th of this year.
Within hours after it was posted, over 100 people had replied with the most popular emoji for these type of posts: the candle.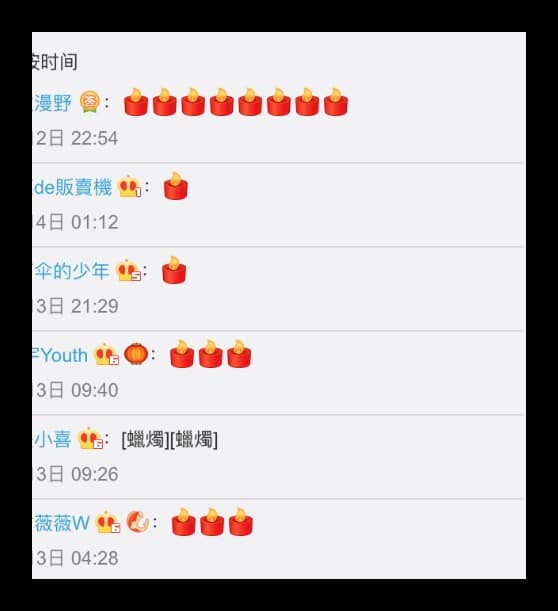 Since 2011, thousands of these kinds of posts have appeared on Weibo, one of China's biggest microblogs, thanks to "The Dead" (@逝者如斯夫dead), an account run by a small team dedicated to memorializing the deceased. Through their online memorials, they have encouraged conversation of a taboo topic.
HUNTING FOR THE DEAD ON WEIBO
"We wanted to provide a place for people to remember those who had passed away"
Starting small, 'The Dead,' which borrows its Chinese name from the Confucian phrase "All passes like a river" (逝者如斯夫 Shì zhě rú sī fū), has amassed over half a million followers. "We wanted to provide a place for people to remember those who had passed away," a team member recently explained to What's on Weibo.
Weibo users typically contact the account requesting eulogies about their deceased loved one, but such direct requests were rare just a few years ago. Instead, the account started by hunting for the dead among Weibo's pages. They searched for signs of a user's passing, like comments about mourning, and then monitoring the account for inactivity.
'The Dead' told What's on Weibo that "while at present most of our information comes from Weibo users," its team will still "go through the deceased's page…looking through comments in the discussion section and asking about the user's current condition" to confirm a death and glean facts for a memorial posting.
Few of its half a million followers personally know the people in the obituaries. But their reaction to its eulogies reveals a deep and often emotional connection to the topic of death.
"Every now and then I go to their page and scroll through the memorials," one follower writes: "Those people, who were so full of life, passed away just like that. It's so moving that sometimes I scroll until my eyes fill with tears."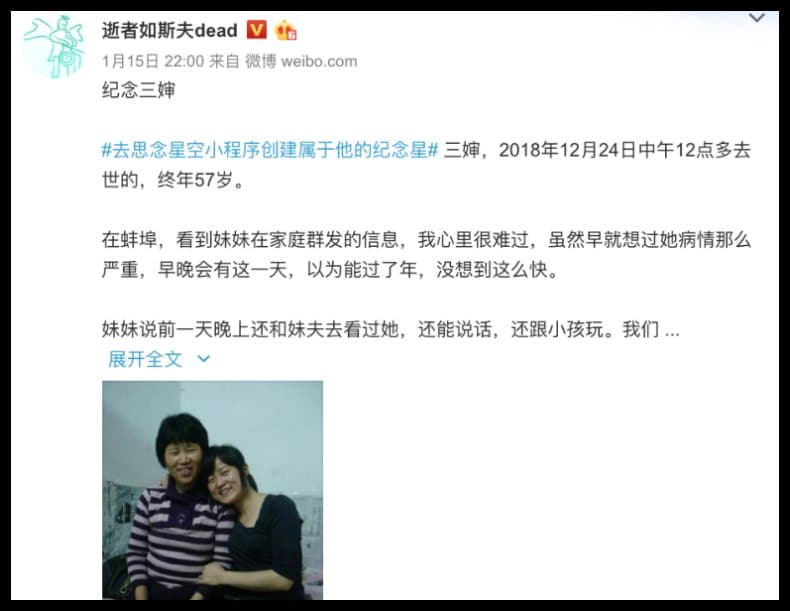 Another follower comments: "Whenever I'm feeling low I go and scroll through [the page], it always calms me down. I've been very inspired by it, thank you." For many Chinese, such an open discussion of death would have been unthinkable in the past.
DEATH AS TABOO
"This taboo has an independent power in shaping human action"
Every culture confronts death differently and few do it well. Traditional Chinese culture shunned discussions of death, notes Cheris Shun-Ching Chan, professor of sociology at Hong Kong University.
Chan believes that Confucian silence on questions of death and folk Buddhist references to "a dark world (yinjian) and a cruel hell (diyue)" account for the topic's avoidance. She also points to fears that a premature death could mark the end of one's lineage (Chan 2012,37).
Chan's survey research found that avoidance of any discussion about death was so widespread that it had become taboo. "The taboo manifests as an observable avoidance of the topic," Chan writes, "particularly unexpected, accidental, or premature death, among not only the elderly but also the generation in their late 20s and 30s" (Chan 2012,36).
While religious belief waned during the tumult of the 20th century, the taboo persisted. "Today, this taboo has an independent power in shaping human action," Chan argues: "In other words, one does not need to hold beliefs about hell, the dark world, ghosts, evils, and precipitating death in order to observe the taboo" (2012,38-40).
Stifling discussion about death has consequences, big and small. Individuals unwilling to acknowledge death are reluctant to write wills or register as organ donors. Respecting the death taboo, doctors avoid delivering a terminal diagnosis to patients, informing family members instead.
One news story from 1993 exemplifies this taboo on death; when residents near China's first hospice care center protested the presence of death in their neighborhood, matters turned violent. They started shattering the center's windows, driving doctors and their patients from the center in the middle of the night. As the health needs of China's population evolves with its economic growth, the death taboo threatens much more.
In a rapidly aging China, people live longer and deaths cost more than ever before. The World Health Organization reports that eight of the top ten causes of death in China are now due to non-communicable diseases.
As deaths caused by accidents and communicable diseases have dropped, death by stroke, heart disease, Alzheimer's, and cancer have jumped double digits and with that jump, a commensurate increase in the costly treatments of these diseases.
A 2013 study of the cost of non-communicable disease on the Chinese economy predicted that between 2012-2030, China will spend 27.6 trillion dollars remedying non-communicable disease. The death taboo threatens to leave China unprepared to care for a population living longer thanks to better medical care but dying at higher rates of chronic illness.
Health care in China is free, to a point. According to the Economist, China's national health-insurance system caps reimbursements for treatment of serious chronic illness like heart disease and end of life care. The death taboo poses a risk to families in a country where it is still considered unfilial by many to pursue a course of treatment other than one meant to cure the patient.
Hospice care, which should be cheaper, is rarely considered and seldom available. While hospice care is now part of the standard course of treatment for end of life care in EU and North America, the death taboo undermines demand for the service. This, in turn, removes pressure on medical insurers to provide hospice coverage. Insurance coverage for hospice care is so limited that families are forced to pay out of pocket for most hospice care.
ADDRESSING DEATH
"Everyone ought to admit death's existence and face up to its realities"
Addressing these challenges starts with acknowledging death as a part of life. "People have slowly become more willing to discuss death," the Weibo 'The Dead' team observes: "You can see this in Weibo users openly posting about the passing of loved ones."
Beyond Weibo, the account's rejection of the death taboo has also found powerful allies elsewhere. In Beijing, Chen Yi and Luo Ruiqing, children of prominent CCP members, launched the Beijing Living Will Promotion Association, advocating for individuals and families to openly discuss and plan for end of life care.
Yi and Ruiqing explain to Caixin that watching the slow and painful death of their parents with few options for palliative care moved them to take action.
Their website provides information to help individuals decide about the kind of end of life care they want and how to ensure their wishes are followed through the use of a living will, a standard feature of Western health care but new to China.
In Shanghai, Wang Ying, a psychologist who now specializes in end-of-life, is taking a different approach to addressing the same problem. Ying founded Hand in Hand, an organization that encourages individuals to openly discuss their deaths as a form of preparation.
Like Yi and Ruiqing, Ying's determination to challenge the death taboo stemmed from her conviction that repressing a discussion about end of life care and death causes his elder relatives needless suffering at the end of their lives.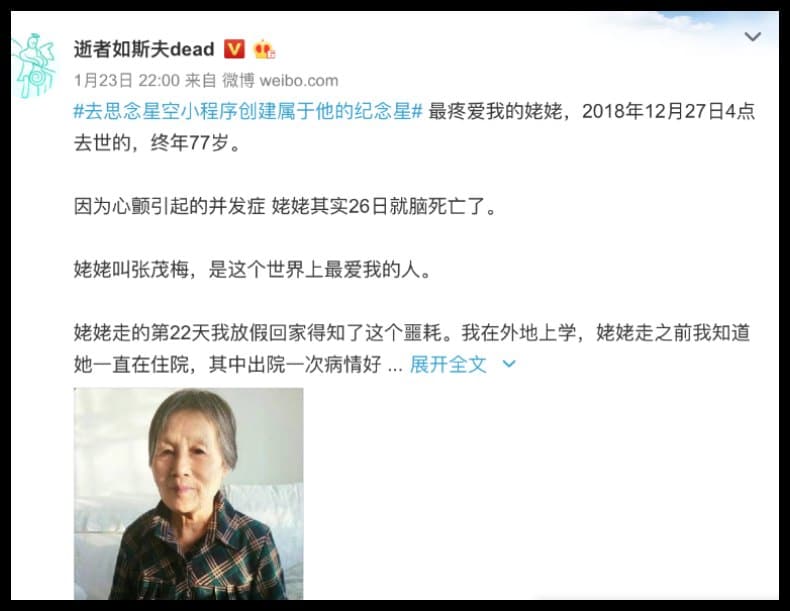 Noting the rising interest in their Weibo account, 'The Dead' has recently started a Wechat mini app where users can send manage their own memorials and share them with others. The team believes that Weibo and Wechat allow them to reach out to a large audience all over the country.
They admit, however, that problems of economic disparity have limited their reach, and guess that most of their subjects and contributors are urban dwellers. Still, they are hopeful that their work can help change many people's perspectives.
"Everyone ought to admit death's existence and face up to its realities," they say: "Working hard to live with an understanding of death is a lesson every Chinese person must learn."
By Brydon Brancart
Follow @whatsonweibo
References (other sources in-text through hyperlinks)
Chan, Cheris Shun-Ching. 2012. Marketing Death: Culture and the Making of a Life Insurance Market in China. Oxford: Oxford University Press.
Spotted a mistake or want to add something? Please let us know in comments below or email us.
©2019 Whatsonweibo. All rights reserved. Do not reproduce our content without permission – you can contact us at info@whatsonweibo.com.
Top 10 Overview of China's Most Popular TV Dramas February 2019
The top scoring TV dramas in China of this moment, winter 2018/2019.
First published
From beautiful costume series to suspenseful war-themed productions – these are the most popular TV dramas in China this season, an overview by What's on Weibo.
China has one of the most booming TV drama industries in the world, with dozens of new dramas being released every month, drawing in millions of viewers through the country's most popular online video streaming platforms.
We've compiled a top ten of the most popular Chinese TV dramas of this moment, based on the current popular charts of the leading websites in Chinese online video, including Tencent Video, iQiyi, Sohu, Youku, LeTV, 360kan, Sogou Video, along with Baidu's and Weibo's popular TV drama charts.
Please note that this list has been compiled by combining the top-ranking lists of this moment. And we have chosen to exclude popular drama series that already made it in our previous top-ten lists (here, here, here), despite their ongoing popularity.
Most of these series are available for viewing online, some also with English subtitles. If you need a VPN to circumvent any geo restrictions, we recommend either NordVPN or ExpressVPN to do so. Note: also see our Top 30 of all-time classic Chinese TV Dramas here!
Here we go:
#10 Mystery of Antiques 古董局中局
China Mainland
Chinese title: Gǔdǒng jú zhōng jú 古董局中局
Genre: Suspense, Mystery
Directed by: Wu Bai (五百) aka Guo Shubo (郭书博), Yu Qing (余庆)
Episodes: 36, December 2018, Tencent Video
Mystery of Antiques is an adaption of the like-named novel by award-winning novelist Ma Boyan (马伯庸). The main character in the drama series is played by Xia Yu (夏雨), who previously won awards for acting at various film festivals from Venice to Beijing, and from Taiwan to Singapore.
The series currently ranks fourth on Baidu's most popular drama list, and seventh on the 360kan most popular series rankings.
The drama tells the story of the ordinary small antique shop owner, Xu Yuan (Xia Yu), who comes from a family of antique traders. One day, a visitor coming to the shop brings Xu into a conspiracy that goes beyond his wildest dreams and links him to a legendary treasure. It is the start of a dangerous and tumultuous journey, in which Xu does all he can to clear his family's name and change his fate.
On Weibo, the official account of the series has over 20.000 followers.
The show, in Chinese, is available on QQ.
#9 Forty Years We Walked 我们的四十年
China Mainland
Chinese title: Wǒmen de sìshí nián 我们的西十年
Genre: Coming of age
Directed by: Wang Zi (王梓)
Episodes: 60, November 2018, Jiangsu TV, iQiyi, Tencent Video, Sogou Video, Mango TV, LeTV, Fun TV, PP TV, Youku
This coming of age story, featuring beautiful images of Beijing, is directed by Hunan-born filmmaker Wang Zi. Wang was born in 1986 and started his career as an actor in 2008. Some say that this series is very much based on Wang's own experiences in his journey to becoming a director.
The series is currently the second most popular series on Sogou Video.
Forty Years We Walked tells the life story of Feng Dou, who falls in love with television and film from the first time he ever sees a TV at his friend's house. In middle school, he becomes well-known together with his friend for collecting old tv-parts and building "new" televisions from them. Feng continues to pursue his passion for tv, setting up several businesses. However, as he Feng gets older, he starts to question his purpose in life until he realizes what it is he was always intended to do.
On Weibo, the official account of the series is currently nearing 20.000 followers.
The show is available on AsiaTVSub here or on Youtube here with Chinese subtitles.
#8 Well Intended Love 奈何BOSS要娶我
China Mainland
Chinese title: Nàihé BOSS yào qǔ wǒ (奈何BOSS要娶我)
Genre: Drama, Romance
Directed by: Wu Qiang (吴强)
Episodes: 20, January 2019, Sohu Video TV, Mango TV
Well Intended Love, that features the youngest cast within this overview, including Xu Kaiwei (徐开骋, 1990) and Simona Wang (王双, 1991), tells the love story between a wealthy man and mostly unknown young actress. The series is currently the most popular drama series on Sohu Video.
The series revolves around undiscovered actress Xia Lin who is suffering from leukemia. To afford a surgery that can save her life, she gets involved with the wealthy CEO Ling Yizhou. At the same time, Xia continues to pursue her career as an actress. Ling and Xia eventually get married and live a happy life together in secrecy until Ling finds out that Xia has a hidden agenda.
On Weibo, the official account of the series has over 190.000 followers.
See the complete series including English and Chinese subtitles on YouTube here.
#7 The Legend of Hao Lan 皓镧传
China Mainland
Chinese title: Hào lán chuán  皓镧传
Genre: Costume Drama, War, Romance, Historical Fiction
Directed by: Li Dachao (李达超)
Episodes: 62, January 2019, iQiyi
The historical drama The Legend of Hao Lan, starring Wu Jinyan (吴谨言), Mao Zijin (茅子俊), and Nie Yuan (聂远), chronicles the rise of Li Hao Lan to become the Empress Dowager of the Qin dynasty, after a long drawn battle between Zhao and Qin, towards the end of the Warring States period (475–221 BC).
The series is currently ranked third most popular series on 360kan and fourth most popular on iQiyi. Viewers of the latter evaluate the series with an average of 7.0.
Its popularity shows that historical drama is still very much booming in China's drama industry. Recently, state media critique on period costume dramas that focus on conflicts in the imperial court became a hot topic on Chinese social media. The criticism singled out Yanxi Palace in particular, a show that was then canceled on TV for its "negative impacts," signaling heightened censorship on Chinese costume dramas.
For now, however, The Legend of Hao Lan is going strong – and it stars the same main characters (Wu Jinyan and Nie Yuan). It depicts the story of the brave woman Li Hao Lan, daughter of Imperial censor Li He of Zhao state, who gets framed by her stepmother and is sold as a slave to Lu Buwei. Lu later presents her as a gift to Sun Yiren, a Qin royal that resides in Zhao as a hostage. As Li and Lu arrive in the royal Zhao palace, they unite and start their battle for power.
On Weibo, the official account of the series has over 40.000 followers.
See the complete series including Chinese subtitles here. Also available on Viki (incl. English subtitles).
#6 Candle in the Tomb: The Wrath of Time 鬼吹灯之怒晴湘西
China Mainland
Chinese title: Guǐ chuīdēng zhī nù qíng xiāngxī (鬼吹灯之怒晴湘西)
Genre: Adventure, Suspense
Directed by: Fei Zhengxiang (费振翔), supervised by Guan Hu (管虎)
Episodes: 21, January 2019, Tencent Video
The Wrath of Time is the third season in the fictional Candle in the Tomb series, an adaption from the novels by Zhang Muye. The series chronicles the adventures of a gang of tomb raiders as they excavate the truth behind a mysterious curse. Previous seasons were Candle in the Tomb: Mu Ye Gui Shi (鬼吹灯之牧野诡事) and Candle in the Tomb: The Weasel Grave (鬼吹灯之黄皮子坟). Despite this series being the third season, it's not really necessary to see the first series to understand the third season.
The series, starring Pan Yueming (潘粤明), Gao Weiguang (高伟光), and Xin Yulei, currently ranks third most popular drama series on Tencent Video scoring a 9.3, and fourth most popular serie on 360kan.
This third season of the Candle in the Tomb series is set in a time when the warlords are fighting for power and bring disaster upon the people. With the purpose of finding the ancient tombs from the Yuan dynasty, tomb raider Chen Yulou and warlord Luo Laowai embark on a journey to the Xiangxi Mountains. On their way, they meet Zhe Gushao, who is set on finding a pearl that will end the spell upon his clan. Despite the mutual suspicion of each other's motives, Chen and Zhe rely on each other to get to their destination.
The third season does not have an official account on Weibo, however that the series is quite popular can be seen from the hashtag "Candle in the Tomb: The Wrath of Time" (#鬼吹灯之怒晴湘西#) which already got over 690 million views, and received more than 2.3 million comments on Weibo.
See the complete series including English and Chinese subtitles here.
#5 Behind the Scenes 幕后之王
China Mainland
Chinese title: Mùhòu zhī wáng (Mùhòu zhī wáng)
Genre: Drama, Romance
Directed by: Li Jun (李骏)
Episodes: 42, January 2019, Youku TV, Dragon TV, Beijing TV
Behind the Scenes, starring Zhou Dongyu (周冬雨) and Luo Jin (罗晋), is currently ranking second place on Weibo's top ten most popular TV dramas, and third on Youku's top 10 TV drama series.
The series revolves around ambitious student Bu Xiaogu and the famous producer Chun Yuqiao. Bu is thrilled when she is given the opportunity to work with the man she greatly admires. But she quickly discovers that he is nothing like she imagined. With her hopes and dreams shattered, Bu gets involved in an accident. Chun unexpectedly takes on the sole responsibility for the accident, setting off a special relationship between the two.
On Weibo, the official account of the series has over 80.000 followers
See the complete series including Chinese subtitles here.
#4 Spy Hunter 天衣无缝

China Mainland
Chinese title: Tiānyīwúfèng (天衣无缝)
Genre: Action, Detective
Directed by: Li Lu (李路)
Episodes: 48, January 2019, Zhejiang TV, Jiangsu TV, Tencent Video, Youku, iQiyi, Mango TV
Spy Hunter, starring Lu Yi (陆毅) as one of the main characters, currently ranks second most popular drama series on both 360kan and iQiyi.
This fictional story takes place in the spring of 1931 when the Central Committee of the Communist Party of China is establishing logistic bases in several big cities. Two Special service teams try to establish a new secret underground route and depot. But one day, their secret base in Tianjin is exposed, and the life of agent Wan is sacrificed. In the name of justice, Wan's brother goes looking for the truth behind his brother's death.
On Weibo, the official account of the series has approximately 50.000 followers.
See the complete series including English and Chinese subtitles here.
#3 I Will Never Let You Go 小女花不弃
China Mainland
Chinese title: Xiǎonǚ huā bu qì (小女花不弃)
Genre: Costume Drama, Fantasy, Adventure
Directed by: Cha Chuanyi (查传谊)
Episodes: 51, January 2019, iQiyi, Tencent Video, Youku, PPTV
I'll Never Let You Go is an adaptation of the like-named novel by Zhuang Zhuang (桩桩). The series stars many famous actors including Ariel Lin (林依晨), Lin Bohong (林柏宏), and Zhang Binbin aka Vin (张彬彬).
On Tencent Video the series currently occupies second place in their most popular drama series hotlist, scoring an average of 8.2. And also on Weibo, Youku, and 360kan, the series holds a position in the top five.
I'll Never Let You Go is a coming-of-age story revolving around a young with a unique gift, who wanders the world alone after her entire family was killed to protect the girl's special gift. One day, the girl meets a courageous masked man who saves her life, after which they fall in love. But everything turned around when the girl discovers who the man she loves really is.
On Weibo, the verified Weibo page of the series has over 4.6 million followers, making it the most popular series on Weibo of this list.
See the complete series with Chinese subtitles here. Also available on Viki (including English subtitles).
#2 Anti-Japanese 荡寇

China Mainland
Chinese title: Dàng kòu 荡寇
Genre: Drama, War, History
Directed by: Jiao Xiaoyu (焦晓雨)
Episodes: 60, November 2016, Guizhou TV, iQiyi, Sohu TV, PP TV, Youku
This TV drama, that has the remarkable English title 'Anti-Japanese' (the original Chinese title roughly translates as 'sweeping away the enemy') was first aired by Hunan TV in November of 2016. Since then, it was broadcasted by at least eight different television stations and platforms.
The most recent rebroadcast started on January 19, 2019, and the numbers show that people still can't get enough of the drama. On iQiyi, the series currently ranks first place, and on Sohu and LeTV the series ranks second and fourth place respectively.
The TV drama is set at the start of the War of Resistance again Japan (1937-1945). When an intelligence team of the Communist Party finds out about a box with classified information regarding the development chemical and biological weapons that is sent out by the Japanese army, Yang Erhu is sent to stop their evil plans and to protect his country.
See the complete series including Chinese subtitles here.
#1 The Story Of Minglan 知否知否应是绿肥红瘦

China Mainland
Chinese title: Zhī fǒu zhī fǒu yīng shì lǜféi hóng shòu (知否知否应是绿肥红瘦)
Genre: Historical fiction, Family, Politics
Directed by: Zhang Kaizhou (张开宙)
Episodes: 73, December 2018, iQiyi, Tencent Video, Youku, Youtube, Hunan TV
The fictional Story of Minglan, starring Zhao Liying (赵丽颖) and William Feng (冯绍峰) as main characters, is an adapted screenplay a novel by Chinese author Zheng Yi (郑怡) aka Guanxin Zeluan (关心则乱).
The series currently dominates the drama top charts, occupying the first place on Tencent Video, Youku, Baidu, Weibo, Sogou Video and 360kan.
The story of Minglan tells the coming of age story of an intelligent concubine daughter that has to grow up dealing with her unkind stepmother, an indifferent father, and unreasonable sisters.
Minglan learns to hide her skills and true intentions in order to survive until she meets Gu Tingyu, and the two fall in love. After Gu becomes a powerful official, and the two get married, Minglan rises to prominence.
On Weibo, the official account of the series has nearly 1.7 million followers.
See the complete series including Engish and Chinese subtitles here.
By Gabi Verberg
Spotted a mistake or want to add something? Please let us know in comments below or email us.
©2019 Whatsonweibo. All rights reserved. Do not reproduce our content without permission – you can contact us at info@whatsonweibo.com