Chinese Experts Join Rescue Mission for Thai Soccer Team Trapped in Cave
Rescue workers are still hopeful to find the Thai soccer team that has been missing for six days.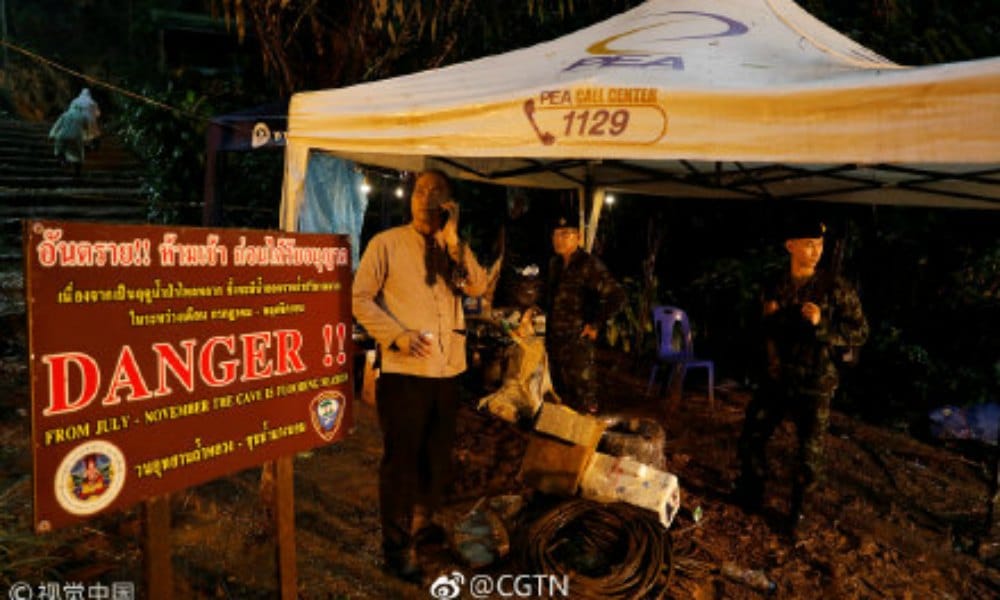 A team of Chinese cave experts has joined the search for a Thai soccer team and their coach, who went missing in Chiang Rai after entering a cave on June 23. Heavy rainfall is complicating ongoing rescue efforts. [UPDATED: FOUND SAFE!]
The ongoing search for a soccer team and their coach trapped inside a cave in Thailand is receiving ample attention on Chinese social media.
On Saturday, June 23, twelve boys aged 11-16 and their 25-year-old soccer coach went missing after they had entered the Tham Luang Cave in Thailand's northern Chiang Rai province. They had finished their soccer practice earlier that day.
Apart from their 13 bicycles, soccer boots, and footprints near the cave's entrance, there has been no sign of the team since.
According to Reuters, the cave's network stretches 10 km (6 miles) into a mountainous and heavily forested area. Rescue workers believe floodwaters cut off the boys in a chamber.
Despite continuing heavy rain and floodwater hampering search efforts, the rescue mission has been going on around the clock. Over a thousand Thai soldiers and rescue workers are assisting in the search for the boys.
On Friday, rescuers were still hopeful that the young team and their coach could be brought out of the caves alive.
Beijing Peaceland Foundation Joins Rescue Operation
Besides specialist help from Japan, the UK and US, a team of Chinese cave rescue experts has now also joined the rescue operation in Chiang Mai. They arrived at the scene on Friday afternoon.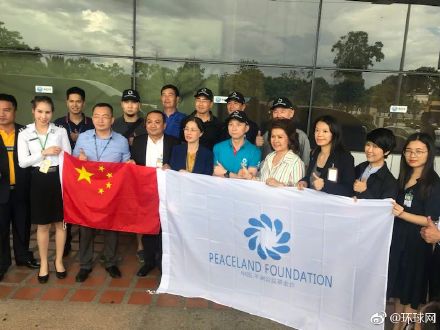 The team, consisting of six volunteers, are experts in cave rescue operations from the Beijing Peaceland Foundation (北京平澜公益基金会). They brought underwater drones, diving equipment, 3D imaging sensors, and other equipment to help the rescue operation.
The team has joined previous rescue operations in, among others, Nepal and Myanmar, according to Weibo news channel Thai Headlines (@泰国头条新闻).
The Peaceland Foundation (@平澜公益) wrote on Weibo: "We hope the boys come back soon, so they can play soccer again," adding: "We hope that together with the people of Thailand these boys will be brought to safety soon."
"Like a horror movie"
Rescue workers believe the boys might have crawled into the large series of caves through a narrow 15-meter tunnel. Due to the monsoon rain, that tunnel is now completely flooded.
While water is being pumped out of the caves, a possible new entry into the caves was discovered on Friday morning.
As news of the rescue operations has been making international headlines this week, many people on Weibo are also discussing it.
"I pray they are still alive," one commenter on Weibo wrote, with hundreds of others expressing the same hope.
Some netizens are more skeptical, writing: "How can we be so sure they really entered the cave?" or: "What if this was premeditated?"
Many netizens are worried, saying: "This news has really made me emotional since I saw it," and "This has made me so afraid for them."
"Come home boys, your mothers are waiting for you," others say.
"This is like a Thai horror movie," one person commented: "I hope it's just a bad dream, and that they're out there playing soccer somewhere."
UPDATE: MONDAY JULY 3 (evening, local time)
After a search of nine days, the soccer team and coach trapped in Chiang Rai cave have been found safe on Mondaynight local time, the Chiang Rai governor has stated. The boys are safe.
Also on Weibo, there are some very happy & relieved reactions. The boys were allegedly found 400 meters from a chamber called Pattaya Beach.
Will update when more news comes out.
By Manya Koetse
Follow @whatsonweibo
Spotted a mistake or want to add something? Please let us know in comments below or email us.
©2018 Whatsonweibo. All rights reserved. Do not reproduce our content without permission – you can contact us at info@whatsonweibo.com.
Too Sexy for Weibo? Online Discussions on the Concept of 'Cābiān'
Delving into the ongoing discussion on 'cābiān' and its influence on women's expression in China's digital realm.
Chinese social media is seeing more discussions recenty on the blurred boundaries of Cābiān. This seemingly never-ending discussion raises questions – not just about sexually suggestive content, but also about the evolving perceptions of women's bodies and freedom in the digital age.
In the fast-moving world of China's internet, a new term has emerged: Cābiān (擦边). Originally a sports term describing a ball grazing the edge of a table (擦边球), it now primarily refers to the delicate balance in content that may be seen as sexually suggestive, teetering on the line between 'sexy' and 'sexually explicit' in the context of China's internet culture.
The term mainly refers to women's behavior, style, language, and actions that are considered inappropriate or that are pushing the boundaries of acceptability. Cābiān can be understood as borderline sexual content that basically navigates the boundaries of platform rules without actually breaking them. Nevertheless, is generally seen as 'not in line' with what is expected of Chinese women in today's society.
This term has sparked controversy recently, prompting fervent debates surrounding its implications for women's self-expression.

Too Sexy for Weibo? Jingchuan Liyu's Divisive Pictures

Social media plays a central role in the "cābiān" debate. A recent example involves a Weibo post by Jingchuan Liyu (井川里予, @悲伤荷包蛋), a prominent Chinese influencer active on Weibo and Xiaohongshu.
Jingchuan Liyu is known for embodying both innocence and sensuality in her online persona. Mainly by male netizens, she has been labeled as a symbol of "chúnyù" (纯欲). This term signifies a blend of childlike innocence (纯洁, chúnjié) and allure (欲望, yùwàng).
Jingchuan Liyu became a focal point in the cābiān debate when she posted a series of photos during the summer of this year. While these photos didn't violate any official guidelines, they departed from her typical "innocent yet sexy" style. In these pictures, she was seen wearing thongs and other undergarments, which apparently made some social media users uneasy.
The controversy surrounding the photos intensified when Jingchuan Liyu responded to these criticisms on her Weibo page. While her supporters defended her freedom to dress as she pleases, others viewed her photos as being more about provocative sexual suggestion than about freedom of fashion.

Dog-Headed Lolita: Judged, Harassed, and Labeled Cābiān

Beyond online debates, the condemnation of "cābiān" is also having real-world consequences. One recent example is the case of the Chinese influencer known as Dog-Head Lolita (狗头萝莉 @我是狗头萝莉).
Despite having a problematic childhood, 'Dog-Head Lolita' managed to turn her life around and became a successful streamer. But her reputation suffered a severe blow when explicit videos of her, recorded by her ex-boyfriend, were made public.
This incident and its aftermath damaged her career and, partly due to getting cheated by her manager, was left with a staggering debt of 6 million RMB ($836K). Trying to start an alternative career, Dog-Head Lolita took up selling Chinese pancakes (jiānbǐng 煎饼) at a street stall as a means to make a living and work towards repaying her debts.
In addition to her physical labor, she also posted short videos of herself selling pancakes online and continued to livestream and engage with her followers to generate more income.
While her efforts garnered sympathy and admiration from some netizens, she also faced accusations of using her pancake-selling business as a form of cābiān.
Her choice of attire, which emphasized her figure, became a central topic of discussion. Some netizens raised questions about whether her videos, showcasing her interactions with fans while selling pancakes, carried a sexual undertone. Moreover, there were arguments suggesting that her true business wasn't selling pancakes but rather producing sexually suggestive content.
Some critics of Dog-Head Lolita went further and turned online criticism into harassment. Some filed reports regarding the hygiene conditions of her business, while others intentionally vandalized her pancake cart and left insulting messages on it.
Facing this harassment linked to accusations of being cābiān, Dog-Head Lolita voiced her frustration on her Weibo page.
She emphasized that her physique was something beyond her control and that selling pancakes shouldn't be judged in the same way as her previous online presence. She complained that her livelihood was being scrutinized, even in the most ordinary and innocuous settings.

Challenging the Concept of Cābiān

Defining the precise boundaries of what is and is not cābiān is not easy, as it has become a catch-all term for anything remotely sexually suggestive, erotic, or resembling "soft pornography."
While the distinction between suggestive and non-suggestive content remains hazy, new voices have emerged to challenge the very idea of "cābiān."
Some believe that cābiān is a societal construct imposed on women, rather than an intrinsic concept. They argue that before the term "cābiān" gained popularity, suggestive pelvic dances were widespread in China due to the prevalence of K-pop boy groups, and male celebrities could appear shirtless and flirtatious on TV without anyone accusing them of "cābiān."
But when it comes to women, the standards of cābiān can be unclear and are often unforgiving. This term is used not only to regulate their clothing choices but also their behavior or even facial expressions—essentially, anything a woman might do.
Once a female online influencer is seen as attractive and desireable, she seemingly becomes more prone to be labeled a "cābiān nǚ" (擦边女) – a woman who is seen as flaunting her sensuality within the context of social media and online platforms.
If this trend of labeling people as sexually suggestive continues, "cābiān" might turn into an unclear social rule, resulting in ongoing moral judgments of women, especially female online influencers.
On the other hand, some netizens see the increasing acceptance of women displaying their bodies in a sensual manner as a form of female empowerment.
One notable Weibo by 'Wang'ede' (@王饿德) post that gained a lot of attention suggested that there is a distinction between how others interpret women's bodies and how women themselves perceive it. The post asserts that revealing skin and wearing "sexy" clothing can be a proactive expression of women's own desires and confidence rather than solely meaning to please a male audience.
This active pursuit is seen as a form of 'decolonization' of the traditional patriarchal gaze— it's described as "a reevaluation of women's bodies by women themselves that allows us to reclaim ownership of our bodies," as stated by the author of the post.

Neverending Discussions

As the debates continue, Weibo users are noticing a deadlock in these online discussions. Conversations about the who, what, and why of cābiān are recurring and appear to be never-ending.
In 2019, a significant debate arose concerning the attire worn by actress Rayzha Alimjan. In 2022, controversies revolved around busty women. There was also a cyberbullying incident involving a mother who had recently lost her son in a car accident and faced criticism for wearing elegant clothing and makeup (read). Most recently, there has been a series of new discussions, ranging from criticizing the latest TV drama starring singer/actress Lai Meiyun and onwards.
Contemplating this phenomenon, some internet users are thinking about the evolution of Jingchuan Liyu's style. A decade or two ago, her aesthetic might have been categorized as 'emo,' 'alternative,' or just seen as a form of decadent beauty. However, nowadays, it is quickly subjected to examination to determine whether or not it falls into the category of cābiān.
In the eyes of many Chinese netizens, this trend is seen as a discouraging step backward. Influential bloggers repost their previous cābiān-related Weibo posts from years or even just months ago, highlighting the seemingly futile nature of these discussions.
Who will be the next woman to be branded as cābiān? Will she face online insults and offline harassment? On Weibo, some express their exhaustion at being stuck in this repetitive loop, engaging in similar debates time and time again.
Perhaps it is time to reevaluate the term "cābiān" and engage in more meaningful discussions about women's bodies and their freedom in China. As one netizen put it on Weibo: "Maybe we should redirect this energy toward discussions that genuinely promote progress instead of endlessly revisiting these cyclic debates."
By Ruixin Zhang
edited for clarity by Zilan Qian & Manya Koetse
Get the story behind the hashtag. Subscribe to What's on Weibo here to receive our newsletter and get access to our latest articles:
Spotted a mistake or want to add something? Please let us know in comments below or email us. First-time commenters, please be patient – we will have to manually approve your comment before it appears.
©2023 Whatsonweibo. All rights reserved. Do not reproduce our content without permission – you can contact us at info@whatsonweibo.com.
Chinese Female Homeowner Slapped in Altercation with Nanchang Office Worker
This viral video has exposed the violent actions of Yang, an office worker who initially provoked the anger of local residents and has now ignited fury on Chinese social media as well.
An incident that happened on September 27th in Jiangxi's Nanchang has become a major topic of discussion on Chinese social media over the past two days, and all revolves around a viral video that shows a man suddenly striking a Chinese female homeowner across the face.
The backstory of the video revolves around a dispute between the local homeowners and the man, who holds a higher position at the office building situated within the residential area's property.
Upon discovering that an iron fence, which separated the residential area from the office area, had been cut open without notifying the local homeowners, the woman entered the office building to seek an explanation for why the fence was damaged and breached without the consent of the residential area's residents. Apparently, employees at the company wanted to create a shortcut.
During the confrontation, the man told the woman: "If you want to talk, go to the community meeting room." Just as the woman asked him why the fence was cut open with a cutting machine, the man suddenly and forcefully slapped her in the face.
What was he thinking?! This 43-year-old office worker from Nanchang suddenly turned violent, striking a female resident across the face after being asked why they cut open an iron fence separating the office & residential area (probably as shortcut). The slap has now gone viral. pic.twitter.com/vDNDczgyYQ

— Manya Koetse (@manyapan) September 28, 2023
After the incident, the woman was taken to a local hospital for a medical examination, and the police initially intervened in the case as mediators. However, the latest updates on the case reveal that the man is now detained for ten days. Apart from slapping the female homeowner, a 32-year-old woman named Wang, the 43-year-old office worker Mr. Yang reportedly also struck another woman, a 37-year-old local named Cheng.
The video has captured the attention of netizens not just because of the man's actions towards a woman but also because it seemed to occur out of nowhere. One moment, the man was engaged in conversation with the woman, and the next moment, he suddenly slapped her across the face.
Recently, there have also been other 'slapping moments' that went viral on Chinese social media. Earlier this year, the "high-speed train slapping incident", involving two women arguing on a train and slapping each other in the face, garnering widespread attention (read here). Another recent incident involves the 'Subway Judge,' a young man who intervened in a subway argument and suddenly slapped an older man in the face (read here).
As is often the case, a short video may not capture the full context of a situation, and some Chinese netizens who claim to have more information about the incident suggest that multiple office workers were actually involved in the confrontation with the women.
Another video provides additional footage of the altercation, revealing that Yang threatened one of the women with a cutting machine. It also shows how he brought Ms. Wang to the ground after the initial slapping incident.
Local residents and Yang, who is believed to oversee the office department, have been in a longstanding conflict. According to a homeowner's post on Weibo, when the residents bought their apartments, they were not informed about the nearby office building. They only discovered it when they received their keys.
Initially, Evergrande, the property developer, had promised separate management for the residential and office areas, but due to apparent financial difficulties, this plan was never finalized. The homeowners therefore erected the iron fence to separate the residential and commercial areas, leading to continuous arguments and intimidation between the office workers and the residents.
Some Weibo commenters are suggesting that the man's behavior makes him seem more like a gang member than a typical office worker. In addition to the legal consequences that Yang is facing from local authorities, his reputation is undoubtedly taking a hit.
As of now, Chinese netizens have already exposed his identity, and the internet is never forgiving when it comes to these kinds of incidents, leaving a lasting mark on one's public image.
By Manya Koetse
Get the story behind the hashtag. Subscribe to What's on Weibo here to receive our newsletter and get access to our latest articles:
Spotted a mistake or want to add something? Please let us know in comments below or email us. First-time commenters, please be patient – we will have to manually approve your comment before it appears.
©2023 Whatsonweibo. All rights reserved. Do not reproduce our content without permission – you can contact us at info@whatsonweibo.com.
Subscribe to our newsletter
Stay updated on what's trending in China & get the story behind the hashtag
Sign up
here
to become a premium member of What's on Weibo today and gain access to all of our latest and premium content, as well as receive our exclusive Weibo Watch newsletter. If you prefer to only receive our free newsletter with an overview of the latest articles, you can
subscribe for free
here.
Would you like to become a contributor, or do you have any tips or suggestions for us? Get in touch with us here.