Chinese Experts Join Rescue Mission for Thai Soccer Team Trapped in Cave [UPDATED: FOUND SAFE!]
Rescue workers are still hopeful to find the Thai soccer team that has been missing for six days.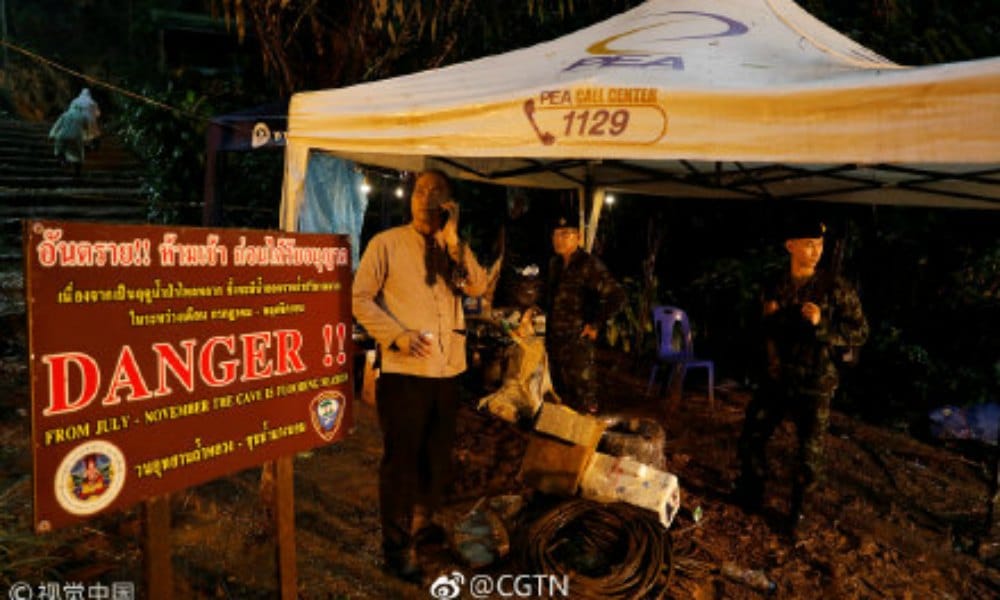 A team of Chinese cave experts have joined the search for a Thai soccer team and their coach, who have gone missing in Chiang Rai after entering a cave on June 23. Heavy rainfall is complicating ongoing rescue efforts.
The ongoing search for a soccer team and their coach trapped inside a cave in Thailand is receiving ample attention on Chinese social media.
On Saturday, June 23, twelve boys aged 11-16 and their 25-year-old soccer coach went missing after they had entered the Tham Luang Cave in Thailand's northern Chiang Rai province. They had finished their soccer practice earlier that day.
Apart from their 13 bicycles, soccer boots, and footprints near the cave's entrance, there has been no sign of the team since.
According to Reuters, the cave's network stretches 10 km (6 miles) into a mountainous and heavily forested area. Rescue workers believe floodwaters cut off the boys in a chamber.
Despite continuing heavy rain and floodwater hampering search efforts, the rescue mission has been going on around the clock. Over a thousand Thai soldiers and rescue workers are assisting in the search for the boys.
On Friday, rescuers were still hopeful that the young team and their coach could be brought out of the caves alive.
Beijing Peaceland Foundation Joins Rescue Operation
Besides specialist help from Japan, the UK and US, a team of Chinese cave rescue experts has now also joined the rescue operation in Chiang Mai. They arrived at the scene on Friday afternoon.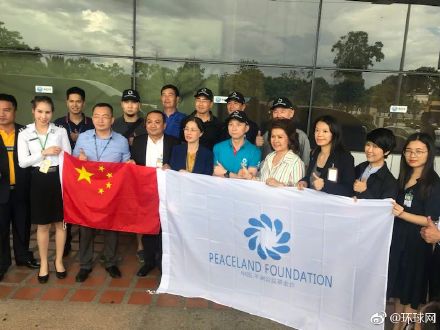 The team, consisting of six volunteers, are experts in cave rescue operations from the Beijing Peaceland Foundation (北京平澜公益基金会). They brought underwater drones, diving equipment, 3D imaging sensors, and other equipment to help the rescue operation.
The team has joined previous rescue operations in, among others, Nepal and Myanmar, according to Weibo news channel Thai Headlines (@泰国头条新闻).
The Peaceland Foundation (@平澜公益) wrote on Weibo: "We hope the boys come back soon, so they can play soccer again," adding: "We hope that together with the people of Thailand these boys will be brought to safety soon."
"Like a horror movie"
Rescue workers believe the boys might have crawled into the large series of caves through a narrow 15-meter tunnel. Due to the monsoon rain, that tunnel is now completely flooded.
While water is being pumped out of the caves, a possible new entry into the caves was discovered on Friday morning.
As news of the rescue operations has been making international headlines this week, many people on Weibo are also discussing it.
"I pray they are still alive," one commenter on Weibo wrote, with hundreds of others expressing the same hope.
Some netizens are more skeptical, writing: "How can we be so sure they really entered the cave?" or: "What if this was premeditated?"
Many netizens are worried, saying: "This news has really made me emotional since I saw it," and "This has made me so afraid for them."
"Come home boys, your mothers are waiting for you," others say.
"This is like a Thai horror movie," one person commented: "I hope it's just a bad dream, and that they're out there playing soccer somewhere."
UPDATE: MONDAY JULY 3 (evening, local time)
After a search of nine days, the soccer team and coach trapped in Chiang Rai cave have been found safe on Mondaynight local time, the Chiang Rai governor has stated. The boys are safe.
Also on Weibo, there are some very happy & relieved reactions. The boys were allegedly found 400 meters from a chamber called Pattaya Beach.
Will update when more news comes out.
By Manya Koetse
Follow @whatsonweibo
Spotted a mistake or want to add something? Please let us know in comments below or email us.
©2018 Whatsonweibo. All rights reserved. Do not reproduce our content without permission – you can contact us at info@whatsonweibo.com.
How The Golden Horse Awards Turned Dark after Taiwan Independence Speech
The annual Golden Horse Film Gala has been overshadowed by political controversy over Taiwan issue.
The festive atmosphere at the 55th edition of Taipei's Golden Horse Awards was overclouded by political remarks on stage about both an independent Taiwan and a unified Taiwan. The Film Festival's 'Taiwan independence' controversy has become the talk of the day on Chinese social media.
The annual Taipei Golden Horse Film Awards (台北金馬影展) have been shrouded in controversy since Taiwanese director Fu Yue (傅榆), who won an award for the best documentary, expressed her hopes for an "independent Taiwan" in her acceptance speech, followed by a remark by Chinese mainland actor Tu Men (涂们), who expressed his joy over coming to "China, Taiwan."
During the live-televised event, cameras often zoomed in on the audience. After the remarks by Fu Yue and Tu Men, the divide between Taiwanese and mainland guests became painfully clear from their mixed reactions – with people showing both support and disapproval.
Fu, whose documentary Our Youth in Taiwan focuses on the 2014 Sunflower Movement, was visibly emotional during her speech, which she concluded by saying that she hoped "the country can be regarded as truly independent entity one day" and that this was her "biggest hope as a Taiwanese."
Although her speech received some cheers and applause from the audience, some shots of the audience also showed people clearly disapproving by not clapping or smiling at all.
How The Golden Horse Awards turned dark after Taiwan Independence speech https://t.co/fUk8IfVJHv pic.twitter.com/2XpOK9GvVy

— What's on Weibo (@WhatsOnWeibo) November 19, 2018
Famous Taiwan director Ang Lee (李安), who chairs the Golden Horse committee, could be seen hesistantly smiling, frowning, and holding his hands together without clapping – an image that has since become a meme on Chinese social media.
Later on in the show, actor Tu Men from mainland China struck back at Fu Yue by saying he was honored to present an award in "China, Taiwan" ("很荣幸来到中国台湾") and that "both sides were one big family" ("我感到两岸一家亲").
That remark was followed by some audible gasps from the audience, with some people immediately showing their support by clapping and laughing, with others showing stern faces.
The live streaming of the awards received thousands of live comments on Youtube, with people saying things as: "We want our our Taiwan Island, give Taiwan back to us and give us independence" and "I'll never support Taiwan independence, Taiwan will always be a province of China."
But that was not all – the controversy further grew when leading Chinese actress Gong Li, chair of the jury , declined to stand on stage with Ang Lee at the end of the ceremony to present the award for Best Feature Film. According to the programme, the mainland actress was supposed to present the award together with Ang Lee, but when Li asked Gong to come up on stage with him, she did not respond.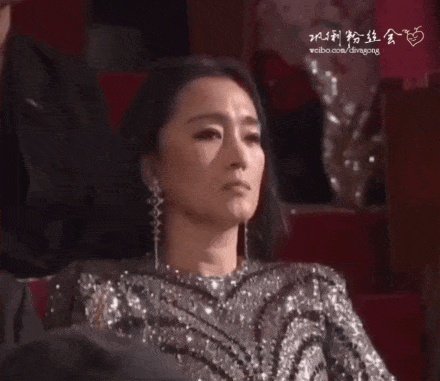 Although it is not entirely clear what the context of this incident is – Ang Lee later explained that it was because she wanted to sit together with the other jury members – most netizens assume Gong's move was a political one in response to the remarks on an independent Taiwan.
The hashtag "Gong Li Refuses to Confer Award" (#巩俐拒绝颁奖#) went trending on Chinese social media, receiving over 1,8 billion views on Weibo at time of writing. "Ang Lee responds to Gong Li Refusing to Confer Award" (#李安回应巩俐拒绝颁奖#) received 110 million views.
Reporter Simon Zhou posted a photo of the post-festival event on Weibo, showing empty chairs, saying that many mainland actors and actresses had refused to join the celebrations after the controversial event, even though Zhang Yimou, one of mainland China's most acclaimed directors, took home the most awards for his film Shadow.
Since the end of the 55th edition of the Golden Horse Festival, the night's events have been snowballing into a larger issue. According to the BBC, Taiwanese President Tsai Ing-wen spoke out after the festival, saying that Taiwan "never accepted the phrase 'China, Taiwan', and never would, because Taiwan is Taiwan".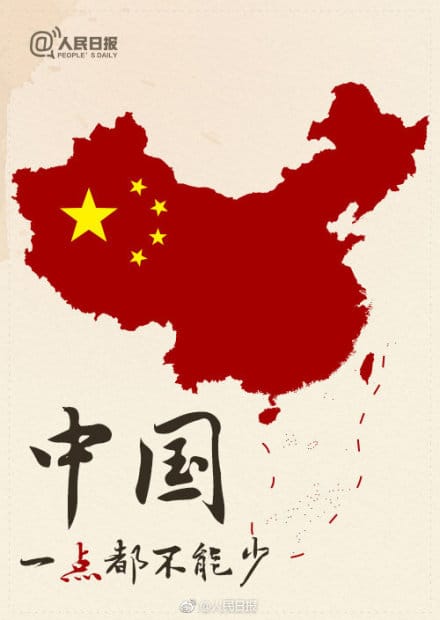 Meanwhile, Chinese state media (People's Daily, China Daily) have been promoting the hashtag "China Can't Become Smaller" or "Not Even a Bit Can Be Removed from China" (#中国一点都不能少#) on social media, which is a slogan that was first used during the South China Sea arbitration in 2016.
The past year, discussions on the ongoing Taiwan Strait Issue have flared up multiple times. In August, Taipei-born actress Vivian Sung (宋芸樺) attracted thousands of comments on Weibo for a comment she made about Taiwan being her "favorite country" in an older interview.
In the same month, Taiwan president Tsai Ing-wen paid a visit to a Los Angeles chain of Taiwanese 85°C Bakery Café (85度C) while on her United States trip. The occasion, captured on photos, triggered major controversy among mainland netizens, who tied the event to the 85°C Bakery supposedly supporting Taiwan independence.
This is the controversial moment at the #GoldenHorseAwards when Chinese director Fu Yue calls for an independent Taiwan. Check out the mixed reactions and the changing atmosphere. Read: https://t.co/m1hDt0VbbM pic.twitter.com/fkdCdJPeXK

— Manya Koetse (@manyapan) 19 november 2018
Oh, the #GoldenHorse 'political drama' just has so many sides to it. This is when mainland actor Tu Men strikes back, saying he's happy to present an award in "China, Taiwan" ("很荣幸来到中国台湾") saying it's "one big family" ("我感到两岸一家亲"): https://t.co/m1hDt0VbbM pic.twitter.com/5TAZk8SPqw

— Manya Koetse (@manyapan) 19 november 2018
By Manya Koetse, with contributions from Miranda Barnes
Follow @whatsonweibo
Spotted a mistake or want to add something? Please let us know in comments below or email us.
©2018 Whatsonweibo. All rights reserved. Do not reproduce our content without permission – you can contact us at info@whatsonweibo.com
Photo of Grey-Haired Post-80s Party Official Goes Viral on Weibo
It started as a joke, now the man is praised for his hard work.
A Party official from Chuxiong country, Yunnan, has become the talk of the day on Chinese social media, after his photo was posted online by the local organizational department on November 15. His photo and short biography were posted as part of an introduction of local officials and their responsibilities.
The photo of the man, a local Party committee secretary named Li Zhongkai (李忠凯), would normally have never been noteworthy. The fact that the information with it said that Li was born in August of 1980 is what caught the attention of netizens, with many people thinking the grey-haired man looks much older than 38, and some even doubting his age.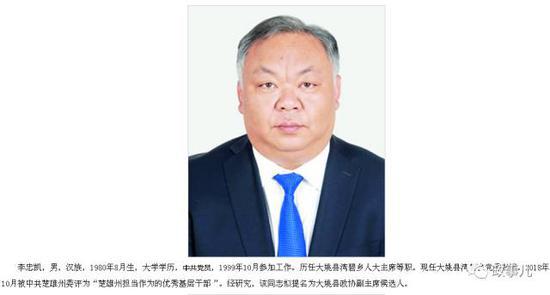 According to his bio description, Li is a Chinese Communist Party member who started working at the end of 1999. He is now a Party secretary in Chuxiong's Wanbi town, various Chinese media sources write, responsible for poverty alleviation, relocation of households, and fulfilling an important role at the time of the landslides in Yunnan. In 2018, he was praised for his service excellence by the local county.
Chinese media outlet The Paper writes that it has been verified that the photo is indeed the 38-year-old Li, and that a co-worker told media that Li's workload is heavy.
A WeChat video in which Li was interviewed earlier this year, in September, shows the man still had black hair at the time.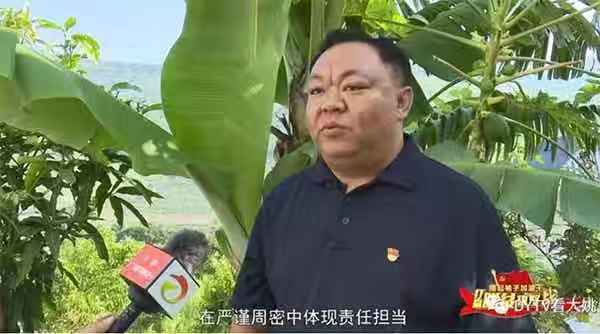 Although many joked about the man, there are now also more serious comments. "Working at the grassroots level is really tough," many commenters write. "If you'd tell me he was 60, I'd believe it."
There are also those giving the man some advice on his appearance: "Just lose some weight and exercise, that will make you look younger."
Li spoke to reporters, saying he was "surprised" about his photo going viral, and also explaining that his work was not easy, as many places in the county are remote and require him to travel long hours.
The Party official has now become popular on Weibo, where some encourage him to open a Weibo account to share more about the work he does in the county.
"Brother, please take care of yourself," some commenters say: "You look like you're over 50."
By Manya Koetse, with contributions from Miranda Barnes
Follow @whatsonweibo
Spotted a mistake or want to add something? Please let us know in comments below or email us.
©2018 Whatsonweibo. All rights reserved. Do not reproduce our content without permission – you can contact us at info@whatsonweibo.com