Pressured to get Married: For the Country and For Society
Every year, China's bachelors and bachelorettes are dreading the return to their hometowns, as parents and family members will inescapably ask them that one question: "Why are you not married yet?" This year, a group of Chinese young women protested in the streets of Shanghai against marriage pressure.
Chinese New Year and the pressure to get married: it has already become an 'old' topic. Every year, China's bachelors and bachelorettes are dreading the return to their hometowns, as parents and family members will inescapably ask them that one question: "Why are you not married yet?" This year, a group of Chinese young women protested in Shanghai against their parents pressuring them to marry, holding signs saying: "Mum, please do not force me to get married during New Year, I'm in charge of my own happiness." The women became a hot topic amongst netizens and authors, reigniting the online discussion about the status quo of China's unmarried adults. "Coming back to your hometown saying you don't want to be pressured into marriage is like going to the dog meat festival saying you don't want to eat dog," says writer Mao Li.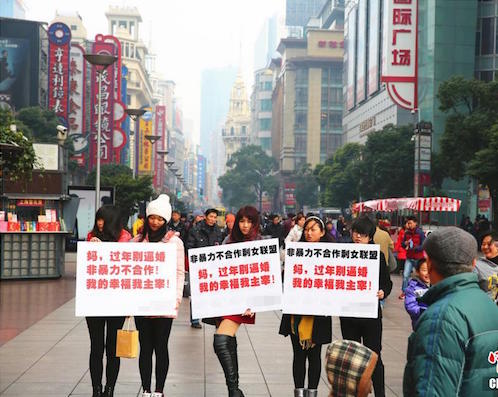 Protest in Shanghai against marriage pressure, February 4, 2015 (Qingdao News).
The Shengnü and Shengnan 'problem'
The term 'shengnü' (剩女 'leftover woman') has been a somewhat derogatory catch phrase in China's media for years. It refers to women who are still single at the age of 27 or above; usually well-educated ladies who have difficulties in finding a partner that can live up to their expectations. Their disadvantage in finding a partner relates to existing ideas in Chinese culture about the 'ideal' marriage age of women. A recent survey has pointed out that 50% of Chinese men already consider a women 'left over' when she is not married at the age of 25.
The male counterpart of the shengnü is the so-called 'shengnan' (剩男, 'leftover man'). Chinese men face great difficulties in finding a bride, as Mainland China has been faced with an unbalanced male-female ratio since the 1980s. At the peak of disparity in 2004, more than 121 boys were born for every 100 girls. One explanation for this imbalance is the traditional preference for boys and sex-selective abortions since the one-child policy was introduced in 1978. According to estimations, there currently are 20 million more men than women under the age of 30 (Luo & Sun 2014, 5; Chen 2011, 2).
The abundance of both single women and men in present-day China would suggest that there is hardly a problem: why don't they just get married? Problematically, the majority of China's unmarried women are twenty-somethings who live in urban areas and are at the 'high end' of the societal ladder (relatively high income and education), whereas the majority of the shengnan are based in rural areas and are at the 'lower end' (lower income/education). Since Chinese women traditionally prefer to 'marry up' in terms of age, income and education, and the men usually 'marry down', the men and women find themselves at the wrong ends of the ladder (Ding & Xu 2015, 114).
China needs a babyboom
"Get married soon and have lots of babies," says Huang Wenzheng, activist and one-child policy opponent (Qi 2014). China is currently facing a rapid decline in births. At the same time, the population is ageing. It is estimated that over 25% of Chinese people will be 65 years and older in 2050, leaving the burden of care to younger generations (BBC 2012). Getting Chinese bachelors and bachelorettes to marry and produce children has thus gone beyond the wish for a wedding banquet and cute grandchildren – it has become an important matter to society.
According to recent statistics, 80% of China's bachelors and bachelorettes over the age of 24 experience pressure by their families to get married when they go home for the holiday period. The festival is now even nicknamed the "marriage pressure holiday" (催婚假期). After Chinese New Year, there generally is a 40% increase in blind dates. These meetings are often arranged by the parents, who attend 'blind date events' for their single sons or daughters. Many parents gather in public parks over the weekend, carrying banners with the picture and details of their unmarried child in the hopes of finding a suitable marriage partner for them.
Parents looking for a suitable partner for their single sons and daughter (Xinhua). 
"Don't oppose to marriage pressure if you're a loser"
Well-known scholar Yang Zao (杨早) responds to this topic on Tencent's Dajia ('Everybody', a media platform for authors), with an essay titled "Pressured to Get Married: For the Country, For Society" (为了国家,为了社会,逼你结婚). Yang is the third author to discuss the New Year's marriage pressure and the Shanghai girls who want to take their love life into their own hands. The other two columns are by female writer Mao Li (毛利), who wrote an essay titled "Prove You're Not a Loser Before Opposing Marriage Pressure" (想反逼婚,先证明你不是废物), and columnist Zhang Shi (张石), whose piece is called "China's 'Pressured-Married' and Japan's 'Non-Married""(中国的"逼婚"和日本的"不婚"). Yang analyses the current debate on marriage, wondering if it is so controversial because society is pressuring it more or because unmarried adults are opposing it more.
Parents put more pressure on their children to get married, and children increasingly oppose to it, says Mao Li. According to her, both sides make sense, but it is the children who have to explain their point-of-view; why would their parents understand them? Those who were born in the 1980s and 1990s come from completely different times than their mothers and fathers, who suffered many hardships to get where they are today. Mao Li compares the way they raised their children to a farmer raising his crops: planting seeds, watering the fields and creating the right environment to grow. Now that the children are grown up and have left the family home, the logical step for them would be to get married – after all, their parents worked hard to build the right conditions for them to do so. They should not be surprised when their parents urge them to get settled. "Coming back to your hometown saying you oppose to marriage pressure is like coming to the dog meat festival saying you oppose to eating dog," Mao says: "You can't expect people to comprehend it." According to Mao, children can only oppose to marriage pressure when they are completely independent. They cannot oppose to marriage and still cling to their parents for financial support. "Prove you're not a loser before opposing to marriage pressure," she says.
Writer Zhang Shi approaches the issue from another perspective; that of society. In Japan, fertility rates have sharply decreased. While society is ageing, the lack of young workers causes economic problems. In order not to end up with the same problems as Japan, China has to get the marriages coming and birth rates going, argues Zhang. Parents who are forcing their children to get married are actually contributing to society, says Zhang: it is a 'warm advice', not a cold pressure. In an age of declining birthrates, urging people to have babies is a "social responsibility".
"For the country, for society, for parents, can't you let go a bit of 'personal happiness'?"
The pressure to get married is ingrained in social ideology and China's traditional family ethics, says Yang Zao. The problems that now emerge within society come from a clash between individualist and collectivist values. Chinese society cannot be a perfect mix of both individualism and collectivism, according to Yang: "It is either one, and both will have downsides." If China wants a liberal, individual-focused society, then its "evils" will have to be accepted too: some people will marry late, some will not marry at all, some will not have kids, others will go job-hopping, some people move from city to city and never settle down. Such a society will also generate low birth rates and an ageing society.
In a collective, family-focused society, the ageing crisis and declining birth rates could be halted. Parents would not have to go to public parks to search for suitable partners for their unmarried kids. "For the country, for society, for parents, can't you let go a bit of personal happiness'?", says Yang. After all, isn't marriage key to solving China's present-day problems?
Since 1950, marriage officially is a 'freedom of choice' in Mainland China. Nevertheless, marriage in China still seems to involve more than two people: it is a get-together of two families with societal backing. One Weibo user says: "The shengnü do not have an individual problem; they are a problem because society at large believes they have a problem – this is why it is a 'problem'."
No matter what the 'nation', 'society', or parents think, the protesting Shanghai girls are positive about their future: it is in their hands, and in their hands alone.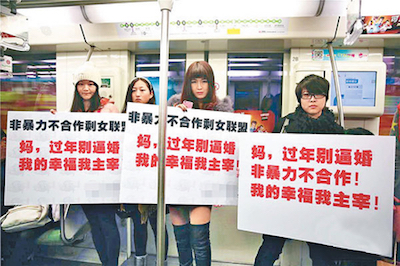 – by Manya Koetse
[button link="http://www.twitter.com/whatsonweibo" type="icon" icon="heart" newwindow="yes"] Follow us on Twitter[/button]
References
BBC. 2012. "Ageing China: Changes and Challenges." BBC News, 19 September http://www.bbc.com/news/world-asia-19630110 (16.10.12).
Chen, Zhou. 2011. "The Embodiment of Transforming Gender and Class: Shengnü and Their Media Representations in Contemporary China." Master's thesis, University of Kansas.
Ding, Min and Jie Xu. 2015. The Chinese Way. Routledge: New York.
Luo, Wei, and Zhen Sun. 2014. "Are You the One? China's TV Dating Shows and the Sheng Nü's Predicament." Feminist Media Studies, October: 1–18.
Mao Li 毛利. "想反逼婚,先证明你不是废物" [Prove You're Not a Loser Before Opposing Marriage Pressure]. Dajia, 11 February http://dajia.qq.com/blog/466362096792665 [24.2.15].
Qi, 2014. "Baby Boom or Economy Bust." The Wall Street Journal, 2 September http://blogs.wsj.com/chinarealtime/2014/09/02/baby-boom-or-economy-bust-stern-warnings-about-chinas-falling-fertility-rate/ [24.2.15].
Yang Zao 杨早. 2015. "为了国家,为了社会,逼你结婚"  [Pressured to Get Married: For the Country, For Society]. Dajia, 17 February http://dajia.qq.com/blog/431261063359665 [24.2.15].
Zhang Shi 张石. 2015. "中国的"逼婚"和日本的"不婚" [China's 'Pressured-Married' and Japan's 'Non-Married']. Dajia, 16 February http://dajia.qq.com/blog/462372023502987 [24.2.15].
Image by Tencent Dajia, 2015. 
– Appreciate this article and want to help us pay for the upkeep costs of What's on Weibo? You can do so here! Every penny helps.

©2014 Whatsonweibo. All rights reserved. Do not reproduce our content without permission – you can contact us at info@whatsonweibo.com.
Noteworthy Weibo Moment: Qingdao Government Account Shows Support for LGBT Community
"The best official account post I've ever seen on Weibo."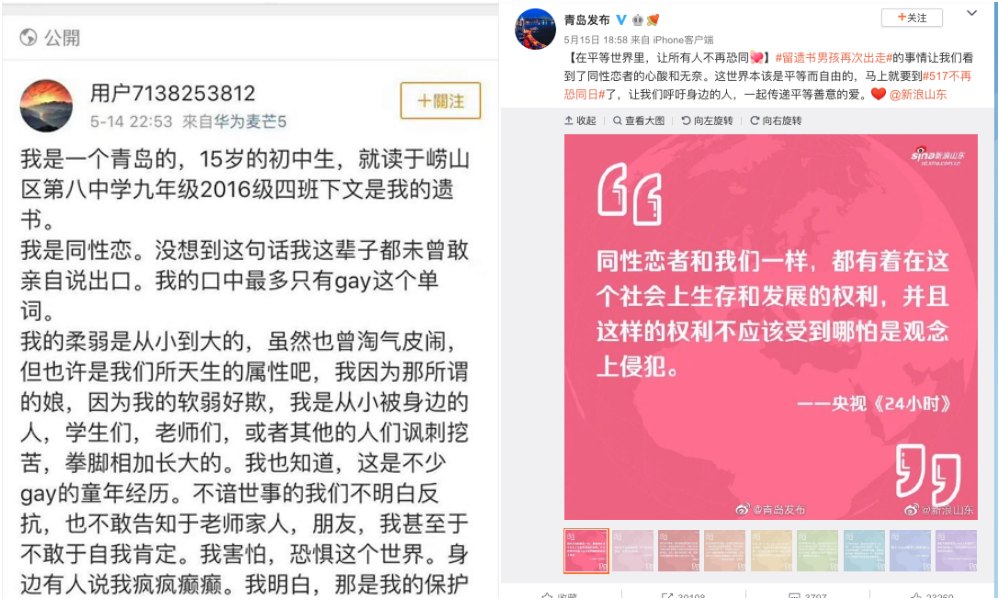 First published
Some netizens are moved to tears to see an official government account making a public statement in support of the gay community.
Just a day ahead of the 2019 International Day Against Homophobia, Transphobia, and Biphobia (May 17), a Qingdao government social media account has attracted the attention of Chinese netizens for showing support to the gay community.
On the night of May 15, the Information Office of Qingdao Municipal Government published the noteworthy post on its official Weibo account Qingdao Fabu (@青岛发布), which has over 3,8 million followers.
"In a world of equality, let all people turn away from homophobia" ("在平等世界里,让所有人不再恐同"), the post said, commenting on the recent trending news of a 15-year-old boy who came out as gay and posted a suicide note on his Weibo account.
"The incident shows us the difficulty and hopelessness homosexual people are suffering. The world should be equal and free, and as the International Day Against Homophobia (#517不再恐同日#) is nearing, let's call on the people around us to express our love of equality and kindness," the post said.
Within a day after it was published, the Qingdao Fabu post was shared over 30,000 times and received more than 23,000 likes.
A Weibo Suicide Note
The Weibo user referred to by the Qingdao local government account had posted a lengthy letter on the night of May 14. Using an anonymous Weibo account (@用户7138253812), the author, identifying himself as a 15-year-old boy from Qingdao, came out as gay and shared his pain and grievances over the pressure he faced.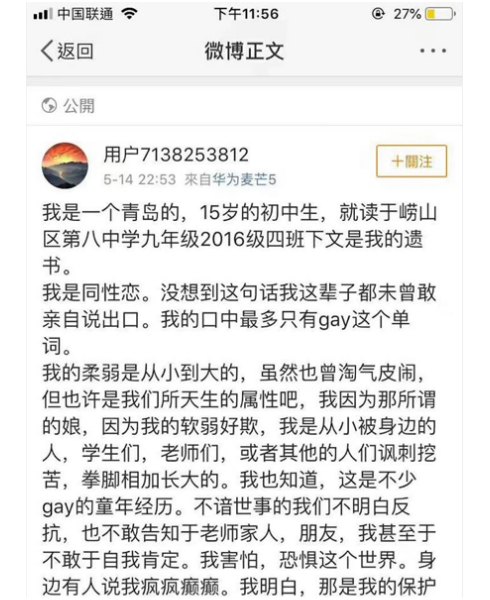 Because the boy wrote he wanted to "leave this world forever" and ended his post with a farewell, many people became worried about the boy's mental state and whereabouts.
In the early morning of May 15, the official Weibo account of Qingdao Police (@青岛公安) posted an update, stating that the boy was found safe after running away from home.
Later that day, another post was published on the same anonymous account saying: "Thank you everyone, everything is fine." The farewell note has since been deleted. See a full translation of the text below this article.
Qingdao Official Account Receives Praise
With its post supporting the young gay man and the LGBT community at large, the Qingdao Government official news account is receiving hundreds of comments praising them.
Besides their original post, the Qingdao government account also posted a total of nine different quotes relating to LGBT issues, including one from Taiwanese film director Ang Lee saying "There's a Brokeback Mountain in everyone's heart."
Another one stresses the fact that homosexuality is not a mental illness, with yet another quote mentioning that the Netherlands became the first country in 2001 to legalize same-sex marriage.
The reposted quotes were originally published on the Weibo account of Sina Shandong (@新浪山东), the official Weibo account of Sina's Shandong Province Branch.
As the Qingdao Weibo post is gaining more popularity on Weibo at time of writing, these are some of the popular comments below:
"This is so awesome for an Official Weibo account!"
"That an Official account would post this.. seeing this makes me tear up. I will always support equal rights."
 "I'm crying, this was really sent out by an Official account."
"This must be the best Official account post I've ever seen on Weibo."
"Let's give it up for Qingdao!"
"This means progress!"
"I'm not from Qingdao, but I will follow this account from now on. This [post] shows you have guts."
"I feel proud to be from Qingdao."
"I am so moved by your post. Thank you for your support. I hope your light will shine on all the people."
Over the past few years, Chinese social media have seen many times when gay content was censored.
One important moment occurred in 2017, when the China Netcasting Services Association (CNSA, 中国网络视听节目服务协会) issued new criteria to strengthen regulations over online audio-visual content on Chinese platforms. One of the new regulations regarded the removal of online content that "displays homosexuality" ("展示同性恋等内容"), grouping homosexuality together with incest and sexual perversity as "abnormal sexual behavior."
Although it is very noteworthy for an official government account to publish social media posts that strongly support the gay community, it is not the first time it has happened.
In July of 2017, the official account of the Communist Youth League of Fujian published a post that stated "Being gay is no disorder!" Many netizens at the time, like today, said the unexpected support moved them to tears.
Sometimes on Weibo, it's the little posts about big matters that seem to matter the most – especially when they come from a government-run source.
Full Translation of Suicide Note

The suicide note in question has been deleted from Weibo, but The Beijing LGBT Center translated the text and posted it on its Facebook page.
Please note that the following translation is not a What's on Weibo translation and that all credits for this translation go to the Beijing LGBT Center. Follow them on Facebook here:
"I am from Qingdao and am a 15-year-old student from Laoshan No.8 Secondary School.
I am a homosexual. I never expected I would be able to utter this word.
Growing up a frail and meek boy, I am that 'fem' everyone is referring to. An easy target, bullied, assaulted, teased, abused, and shunned by classmates and teachers alike. This is how I grew up, and so did many other gay children. Naive as I was, I did not fight back or told anyone about my feelings. I was afraid, and am still afraid of this world. I acted strangely and they called me lunatic, but I know that was my only way to protect myself. After I tried in vain to fit in, I chose to close myself from this world, and this is how I lived my childhood.
By sheer luck, I had a short childhood. I started to realize what's 'strange' with me in grade 5 or 6. I remember how I exulted when I first read about affirmative answers about gay on Zhihu (Chinese version of Quora). But I was soon overwhelmed by those derogatory, abusive, and hurtful answers. I cried the whole night and yet I put my mask back on the very next morning. What people saw as maturity in me was in fact avoidance and isolation.
Things got a little better in secondary school because I am a top student. There was less bullying but I reminded that fem guy teased and mocked at by everyone. Among the worst was my class teacher, Chen Feng. For two years he inflicted me with corporal punishments. Listening to him indoctrinating his banal views was pure suffering. I've got enough of his so-called masculinity values, his genders have their fixed roles, his homosexuals are modern perverts. Yet he is not alone among his peers and colleagues. I have had enough of my teachers' cursing, smearing, ridiculing, and insulting anything related to gays. All their rubbish made me sick and isolated.
Gradually I become irritable and violent. I came out to my mother rather abruptly. Though she seemed to have acquiesced it, I was giving in to the pressure and thinking about ending everything. I have no idea what happened to me and I know choosing death is not courageous, but rather an act of cowardice. I chose to avoid my family and I knew my indifference and avoidance hurt them, especially my mom, the one person who loves me the most.
My father is a weak and arrogant scum and inflicted my mother her whole life. He broke down my door when I was most vulnerable and isolated and banged my head on the wall. At that moment, I only wished he could kill me. But he was stopped by my sister.
Just now, my so-called "family" once again stormed my room and hurled their most insulting curses at me. I realized that my mom might be the only person who can accept me in this world. Or maybe she was just pretending too.
This is not the first time I've thought about dying to end it all. Just a few days ago, I scaled high trying to leave all these sufferings. When I called my mom to hear her voice one last time, I hesitated, climbed down and wandered for miles away from home.
Now I have once again escaped from home with that scum's phone in my hand. Yes, this account is my father's. I want to tell the world what I've always wanted to say and to do. And then leave this world forever.
I understand living on might be the better choice. I could have a bright future and watch this world getting more open and inclusive. But I have had enough. I am sorry to have vented everything on here, and I am sorry to be so weak my entire life. I wanted to do something for this world but in reality, I can do nothing. I know, China will not have its own Stonewall; its people can put up with anything. I am losing control of emotion…
I apologize for my cowardice. To be honest, I am not innocent. But even if I had the courage to change the world, a stab in the back could have easily killed me. I have chosen to solve the radical question with the radical way.
I love you all, the kind and beautiful people of conscience, I trust you to make the world better. If there were a heaven, I will send my blessings…I wish my story will be a faint voice to your fight."
Also read:
* Communist Youth League: "Being Gay is No Disorder!"
* Why the Gay Kisses in 'Bohemian Rhapsody' Won't Make It to Chinese Cinemas
* Weibo Administration: "We're No Longer Targeting Gay Content"
* China's Online Gay Revolution and Rainbow Warrior Geng Le
By Wendy Huang and Manya Koetse
Follow @whatsonweibo
Spotted a mistake or want to add something? Please let us know in comments below or email us. Please note that your comment below will need to be manually approved if you're a first-time poster here.
©2019 Whatsonweibo. All rights reserved. Do not reproduce our content without permission – you can contact us at info@whatsonweibo.com
Dressing up for Gender Equality: Taiwanese "Men's Skirt Week" Becomes a Viral Hit on Weibo
"Men's Skirt Week" was organized to stand up for gender equality and support freedom of dress.
A "Men's Skirt Week" initiative at various Taiwanese schools to raise awareness on gender discrimination has become a social media hit.
Male students from both the New Taipei Municipal Banqiao Senior High School (台湾新北市板桥中学) and the National Taiwan University (国立台湾大学) were spotted wearing skirts to class last week. Photos of their outfit soon made their rounds on social media.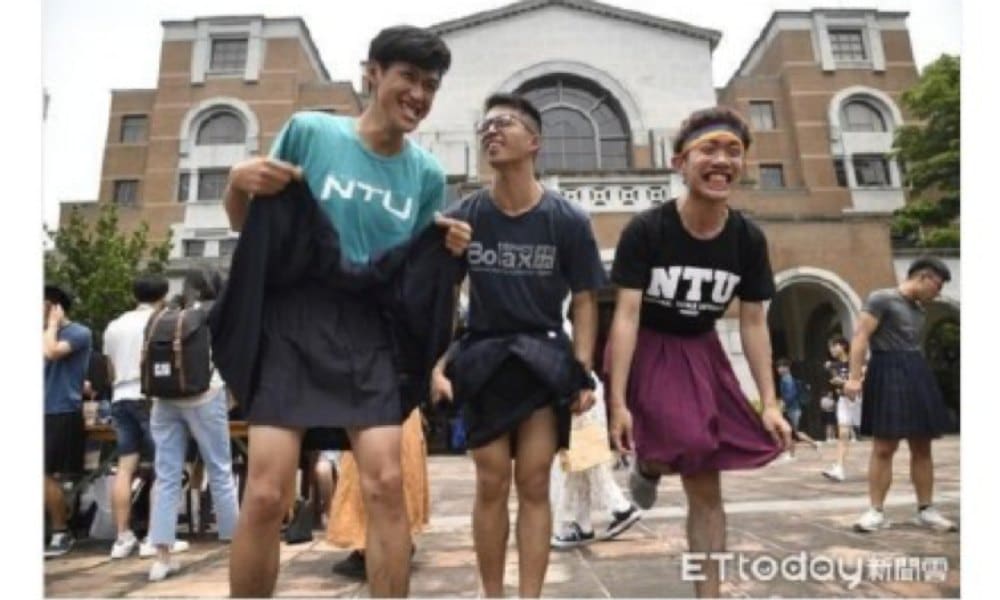 It was the student committee of the New Taipei Municipal Banqiao Senior High School that first came with the initiative of a "Men's Skirt Week" from May 6-12, in an effort to fight for gender equality, break down existing gender stereotypes, and support freedom of dress.
To give male students extra motivation to participate in the event, the student committee provided thirty skirts in different sizes for their male peers to wear.
The hashtags "Taiwanese High School Boys Collectively Wear Skirts to School" (#台湾高中男生集体穿裙上学#) and "Breaking Gender Stereotypes: Taiwan High School Boys Wearing Skirts to School" (#打破性别刻板:台湾高中男生集体穿裙上学#) were already viewed over 235 million times on Weibo by Wednesday morning.
According to the Weibo page of magazine Gay Voice (同志之声), the organizers of the 'Men Skirt Week' said:
"Having men wearing skirts is just a statement. Our aim is to bring about real change in society regarding gender issues. Through this activity, we want students to feel they can be whoever they like to be, and at the same time, create an opportunity for people to support them."
The organizers further stated that they did not want anyone to feel pressured to participate in the activities. They also asked people not to ridicule those taking part in the event, but to respect their freedom to wear what they want.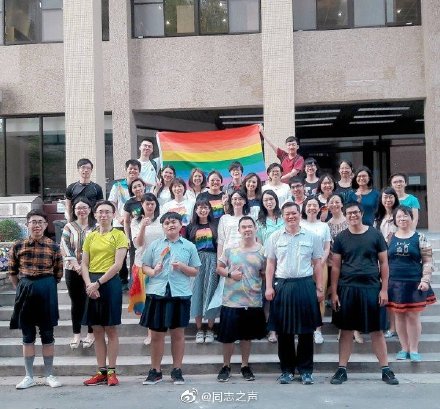 The initiative received much praise, not just on social media, but also from authorities. Gay Voice quoted the director of the New Taipei City Education Bureau, Zhang Mingwen (张明文), who stated: "This is a student-based activity promoting gender equality. Its intention is positive. The Education Bureau also feels this comes from a good place, and therefore we support [respect] it."
Following the success of the initial initiative, student members from the Political Department of the National Taiwan University also decided to organize a 'Men's Skirt Day' on May 13.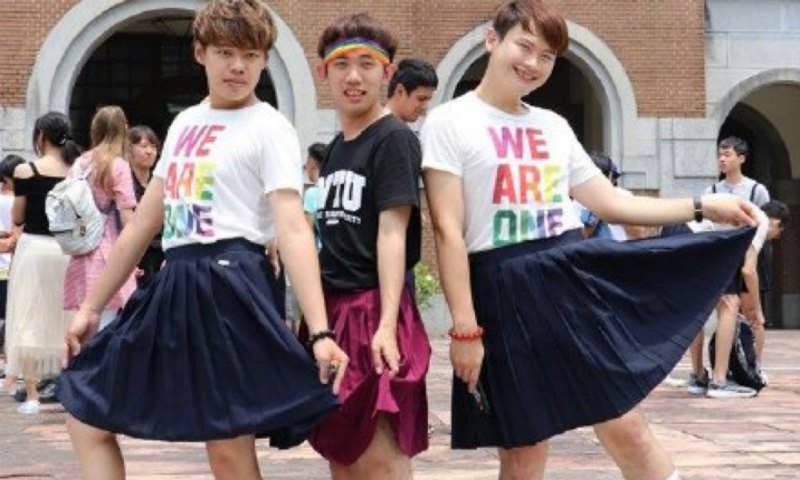 In a video produced by the Taiwanese news platform ETtoday, Ms. Lin (林), one of the organizers, explained that the event also supports those men who receive criticism for wearing 'feminine' clothes. Through events such as these, Lin says, they hope to convey the message that "not only girls can wear skirts," adding: "Men can also wear skirts if they want to, and moreover, they can look beautiful in doing so."
On Weibo, many who expressed their support for the activities wrote: "Every person should have the right to be whoever they want to be," with others writing simple statements such as: "I support this" or "I'm against gender discrimination."
While supporting the men's skirt initiative, some netizens also expressed their admiration for Taiwan. "Inclusiveness and diversity are important conditions for social and cultural prosperity. Taiwan is so cool," one Weibo user wrote. Another commenter wondered how long it would take before such an event would be acceptable in mainland China.
Despite the general praise for 'Men's Skirt Week,' there are also those who attach little importance to the initiative or who straight out reject the idea of men wearing skirts. Especially under the Weibo post by Sina Military (新浪军事) on this news, the majority of commenters denounce the activities. Reactions range from people saying they are against gender discrimination but also feel that "this kind of behavior should not be encouraged" to people even calling it "unhealthy" and "sick."
There are also plenty of people who just find the event funny or admire the beautiful long legs of the men wearing skirts. One netizen jokingly wrote: "I can't support this. The skirts look better on these boys than on me!" Another Weibo user wondered how it was even possible for the boys in the pictures to have skinnier legs than her.
Although news of the event has gone trending on Chinese social media, few PRC state media reported on the issue.
In May of 2018, an event in which people gave out rainbow buttons at Beijing's 798 park to celebrate International Day Against Homophobia (May 17/国际不再恐同日) was stopped by local guards who accused the organizers of holding an "illegal gathering."
By Gabi Verberg
Spotted a mistake or want to add something? Please let us know in comments below or email us. Please note that your comment below will need to be manually approved if you're a first-time poster here.
©2019 Whatsonweibo. All rights reserved. Do not reproduce our content without permission – you can contact us at info@whatsonweibo.com