Pressured to get Married: For the Country and For Society
Every year, China's bachelors and bachelorettes are dreading the return to their hometowns, as parents and family members will inescapably ask them that one question: "Why are you not married yet?" This year, a group of Chinese young women protested in the streets of Shanghai against marriage pressure.
Chinese New Year and the pressure to get married: it has already become an 'old' topic. Every year, China's bachelors and bachelorettes are dreading the return to their hometowns, as parents and family members will inescapably ask them that one question: "Why are you not married yet?" This year, a group of Chinese young women protested in Shanghai against their parents pressuring them to marry, holding signs saying: "Mum, please do not force me to get married during New Year, I'm in charge of my own happiness." The women became a hot topic amongst netizens and authors, reigniting the online discussion about the status quo of China's unmarried adults. "Coming back to your hometown saying you don't want to be pressured into marriage is like going to the dog meat festival saying you don't want to eat dog," says writer Mao Li.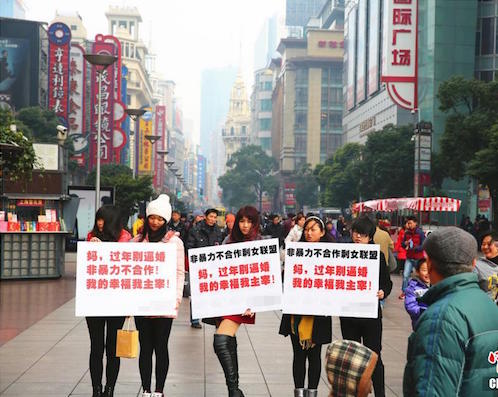 Protest in Shanghai against marriage pressure, February 4, 2015 (Qingdao News).
The Shengnü and Shengnan 'problem'
The term 'shengnü' (剩女 'leftover woman') has been a somewhat derogatory catch phrase in China's media for years. It refers to women who are still single at the age of 27 or above; usually well-educated ladies who have difficulties in finding a partner that can live up to their expectations. Their disadvantage in finding a partner relates to existing ideas in Chinese culture about the 'ideal' marriage age of women. A recent survey has pointed out that 50% of Chinese men already consider a women 'left over' when she is not married at the age of 25.
The male counterpart of the shengnü is the so-called 'shengnan' (剩男, 'leftover man'). Chinese men face great difficulties in finding a bride, as Mainland China has been faced with an unbalanced male-female ratio since the 1980s. At the peak of disparity in 2004, more than 121 boys were born for every 100 girls. One explanation for this imbalance is the traditional preference for boys and sex-selective abortions since the one-child policy was introduced in 1978. According to estimations, there currently are 20 million more men than women under the age of 30 (Luo & Sun 2014, 5; Chen 2011, 2).
The abundance of both single women and men in present-day China would suggest that there is hardly a problem: why don't they just get married? Problematically, the majority of China's unmarried women are twenty-somethings who live in urban areas and are at the 'high end' of the societal ladder (relatively high income and education), whereas the majority of the shengnan are based in rural areas and are at the 'lower end' (lower income/education). Since Chinese women traditionally prefer to 'marry up' in terms of age, income and education, and the men usually 'marry down', the men and women find themselves at the wrong ends of the ladder (Ding & Xu 2015, 114).
China needs a babyboom
"Get married soon and have lots of babies," says Huang Wenzheng, activist and one-child policy opponent (Qi 2014). China is currently facing a rapid decline in births. At the same time, the population is ageing. It is estimated that over 25% of Chinese people will be 65 years and older in 2050, leaving the burden of care to younger generations (BBC 2012). Getting Chinese bachelors and bachelorettes to marry and produce children has thus gone beyond the wish for a wedding banquet and cute grandchildren – it has become an important matter to society.
According to recent statistics, 80% of China's bachelors and bachelorettes over the age of 24 experience pressure by their families to get married when they go home for the holiday period. The festival is now even nicknamed the "marriage pressure holiday" (催婚假期). After Chinese New Year, there generally is a 40% increase in blind dates. These meetings are often arranged by the parents, who attend 'blind date events' for their single sons or daughters. Many parents gather in public parks over the weekend, carrying banners with the picture and details of their unmarried child in the hopes of finding a suitable marriage partner for them.
Parents looking for a suitable partner for their single sons and daughter (Xinhua). 
"Don't oppose to marriage pressure if you're a loser"
Well-known scholar Yang Zao (杨早) responds to this topic on Tencent's Dajia ('Everybody', a media platform for authors), with an essay titled "Pressured to Get Married: For the Country, For Society" (为了国家,为了社会,逼你结婚). Yang is the third author to discuss the New Year's marriage pressure and the Shanghai girls who want to take their love life into their own hands. The other two columns are by female writer Mao Li (毛利), who wrote an essay titled "Prove You're Not a Loser Before Opposing Marriage Pressure" (想反逼婚,先证明你不是废物), and columnist Zhang Shi (张石), whose piece is called "China's 'Pressured-Married' and Japan's 'Non-Married""(中国的"逼婚"和日本的"不婚"). Yang analyses the current debate on marriage, wondering if it is so controversial because society is pressuring it more or because unmarried adults are opposing it more.
Parents put more pressure on their children to get married, and children increasingly oppose to it, says Mao Li. According to her, both sides make sense, but it is the children who have to explain their point-of-view; why would their parents understand them? Those who were born in the 1980s and 1990s come from completely different times than their mothers and fathers, who suffered many hardships to get where they are today. Mao Li compares the way they raised their children to a farmer raising his crops: planting seeds, watering the fields and creating the right environment to grow. Now that the children are grown up and have left the family home, the logical step for them would be to get married – after all, their parents worked hard to build the right conditions for them to do so. They should not be surprised when their parents urge them to get settled. "Coming back to your hometown saying you oppose to marriage pressure is like coming to the dog meat festival saying you oppose to eating dog," Mao says: "You can't expect people to comprehend it." According to Mao, children can only oppose to marriage pressure when they are completely independent. They cannot oppose to marriage and still cling to their parents for financial support. "Prove you're not a loser before opposing to marriage pressure," she says.
Writer Zhang Shi approaches the issue from another perspective; that of society. In Japan, fertility rates have sharply decreased. While society is ageing, the lack of young workers causes economic problems. In order not to end up with the same problems as Japan, China has to get the marriages coming and birth rates going, argues Zhang. Parents who are forcing their children to get married are actually contributing to society, says Zhang: it is a 'warm advice', not a cold pressure. In an age of declining birthrates, urging people to have babies is a "social responsibility".
"For the country, for society, for parents, can't you let go a bit of 'personal happiness'?"
The pressure to get married is ingrained in social ideology and China's traditional family ethics, says Yang Zao. The problems that now emerge within society come from a clash between individualist and collectivist values. Chinese society cannot be a perfect mix of both individualism and collectivism, according to Yang: "It is either one, and both will have downsides." If China wants a liberal, individual-focused society, then its "evils" will have to be accepted too: some people will marry late, some will not marry at all, some will not have kids, others will go job-hopping, some people move from city to city and never settle down. Such a society will also generate low birth rates and an ageing society.
In a collective, family-focused society, the ageing crisis and declining birth rates could be halted. Parents would not have to go to public parks to search for suitable partners for their unmarried kids. "For the country, for society, for parents, can't you let go a bit of personal happiness'?", says Yang. After all, isn't marriage key to solving China's present-day problems?
Since 1950, marriage officially is a 'freedom of choice' in Mainland China. Nevertheless, marriage in China still seems to involve more than two people: it is a get-together of two families with societal backing. One Weibo user says: "The shengnü do not have an individual problem; they are a problem because society at large believes they have a problem – this is why it is a 'problem'."
No matter what the 'nation', 'society', or parents think, the protesting Shanghai girls are positive about their future: it is in their hands, and in their hands alone.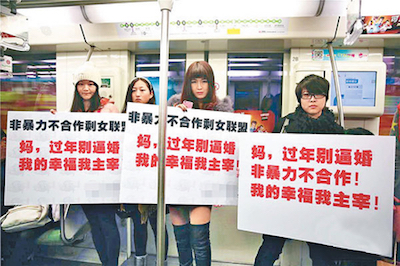 – by Manya Koetse
[button link="http://www.twitter.com/whatsonweibo" type="icon" icon="heart" newwindow="yes"] Follow us on Twitter[/button]
References
BBC. 2012. "Ageing China: Changes and Challenges." BBC News, 19 September http://www.bbc.com/news/world-asia-19630110 (16.10.12).
Chen, Zhou. 2011. "The Embodiment of Transforming Gender and Class: Shengnü and Their Media Representations in Contemporary China." Master's thesis, University of Kansas.
Ding, Min and Jie Xu. 2015. The Chinese Way. Routledge: New York.
Luo, Wei, and Zhen Sun. 2014. "Are You the One? China's TV Dating Shows and the Sheng Nü's Predicament." Feminist Media Studies, October: 1–18.
Mao Li 毛利. "想反逼婚,先证明你不是废物" [Prove You're Not a Loser Before Opposing Marriage Pressure]. Dajia, 11 February http://dajia.qq.com/blog/466362096792665 [24.2.15].
Qi, 2014. "Baby Boom or Economy Bust." The Wall Street Journal, 2 September http://blogs.wsj.com/chinarealtime/2014/09/02/baby-boom-or-economy-bust-stern-warnings-about-chinas-falling-fertility-rate/ [24.2.15].
Yang Zao 杨早. 2015. "为了国家,为了社会,逼你结婚"  [Pressured to Get Married: For the Country, For Society]. Dajia, 17 February http://dajia.qq.com/blog/431261063359665 [24.2.15].
Zhang Shi 张石. 2015. "中国的"逼婚"和日本的"不婚" [China's 'Pressured-Married' and Japan's 'Non-Married']. Dajia, 16 February http://dajia.qq.com/blog/462372023502987 [24.2.15].
Image by Tencent Dajia, 2015. 
– Appreciate this article and want to help us pay for the upkeep costs of What's on Weibo? You can do so here! Every penny helps.

©2014 Whatsonweibo. All rights reserved. Do not reproduce our content without permission – you can contact us at info@whatsonweibo.com.
'Call Me By Fire' All-Male Variety Show Becomes Social Media Hit
'Call Me By Fire' is the male version of 'Sister Who Make Waves' and it's an instant hit.
A Chinese reality show starring 33 male celebrities titled Call Me By Fire (披荆斩棘的哥哥) has become an instant hit after its premiere on Mango TV last week.
The show is considered the male version of the hit variety show Sisters Who Make Waves (乘风破浪的姐姐, read more here) but with different rules. The contestants, ranging from age 27 to 57, are all in the entertainment industry; the group includes pianists, singers, dancers, actors, hosts, and rappers.
They are required to perform individually and in a team for the first episode's performances. Chinese viewers were surprised to see some of the high-quality performances, which then went viral on social media.
Li Chengxuan (@李承铉 a.k.a. Nathan Lee), who was previously mostly known for being the husband of Chinese actress Qi Wei (戚薇), rapped in a low voice and wowed the audience. The hashtag about his first stage performance on the show garnered more than 120 million views ( #李承铉天上飞舞台#). A video of his performance can be found here.
Li is a former member of the South Korean boy band TAKE. In 2014, the Korean-American pop star married Qi, who later gave birth to their first daughter Lucky. When Qi went back to focusing on her career, Li decided to be a stay-at-home dad.
Just like some of the other show contestants, Li also appeared on the talk show Definition (定义), where he spoke to the female journalist Yi Lijing about his life as a full-time father. In that show, he expressed how he used to think being a full-time parent would be easy. "It takes a lot of time and energy to take care of the baby and the family, but as a result, it always looks like you haven't done anything all day."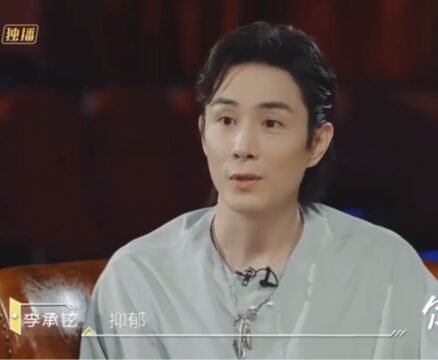 He describes how he experienced a time of depression during which he tried his best to be a good parent but sometimes just could not control his temper. Li explains how he would regret these moments of anger and then would cry at night when his daughter was asleep.  (Interview video here.)
Li's experiences as a full-time parent struck a chord among Chinese netizens, especially among stay-at-home moms. The hashtag "Li Chengxuan Was Depressed for Over a Year As a Full-Time Dad" (#李承铉当全职爸爸抑郁了一年多#) received more than 600 million views on Weibo. Under the hashtag, commenters shared their experiences and struggles in being full-time parents.
One netizen wrote: "This is so true. We do so much when taking care of our children, but other people often feel like it's nothing. When you lose your temper in front of the kid, you feel terrible inside and start to question yourself about why you failed to control yourself, and then you make another promise not to lose your temper anymore."

Another Weibo user wrote: "See, when a mom looking after her kids feels depressed, it is not because she is weak and sensitive! It is because the job itself will make any human being depressed."
Li later responded on his Weibo account, saying he just did his part as a parent, and this is what any new mom or new dad will face. That post also received thousands of comments and over 285,000 likes.
So far, the hashtag of the Call me By Fire TV show has received a staggering 4.4 billion views on Weibo (#披荆斩棘的哥哥#).
The show's performances and Li sharing his struggles as a stay-at-home dad are not the only reasons for the show's massive success on Chinese social media. Some other related issues also made the show gain more attention.
Even before Call Me By Fire aired, the show already made headlines when the 55-year-old Taiwanese singer Terry Lin Zhixuan (林志炫) reportedly fell off the stage while filming.
Later, one of the contestants left the show after some social media drama. Chinese singer Huo Zun (霍尊) announced his withdrawal from the show after his ex-girlfriend accused him of being a cheater and leaking some WeChat conversation screenshots to prove that he actually disliked the show.
The remaining 32 contestants will enter the real 'elimination stages' in the following episodes. The show and highlight clips can be viewed on the Mango TV official site here.
By Wendy Huang
Follow @whatsonweibo
Spotted a mistake or want to add something? Please let us know in comments below or email us. Please note that your comment below will need to be manually approved if you're a first-time poster here.
©2021 Whatsonweibo. All rights reserved. Do not reproduce our content without permission – you can contact us at info@whatsonweibo.com
Shouqi Ride-Hailing Incident: Hangzhou Female Passenger Jumps from Moving Car
'Delusional' or 'vigilant'? Weibo discussions over the woman who jumped from a moving vehicle when her Shouqi driver deviated from the route.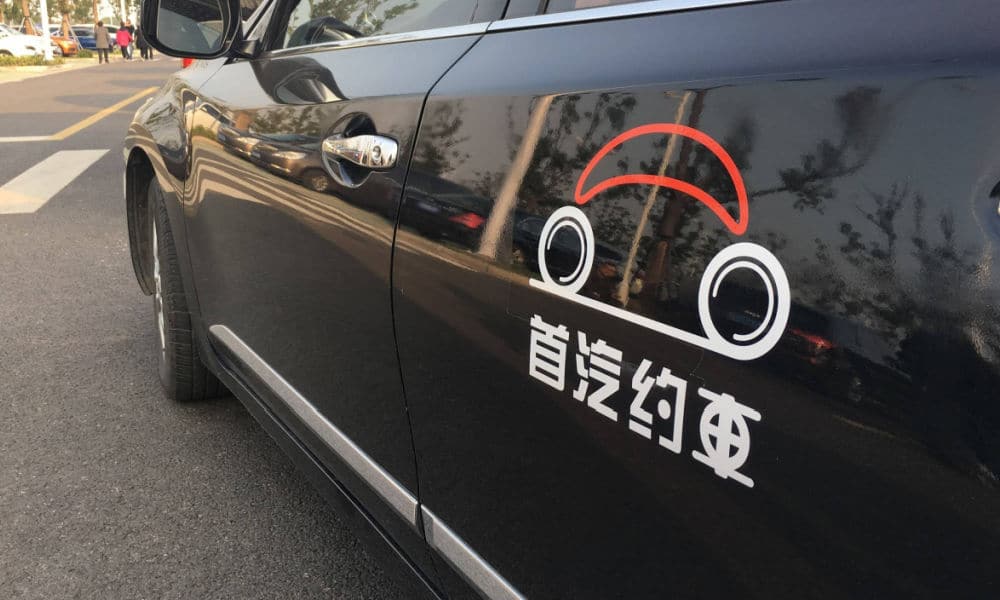 After the Didi murders and the Huolala case, the 'Shouqi incident' is now making headlines in China, showing that there is still a lot of distrust in car-hailing services among Chinese female passengers.
The story of a female passenger jumping from a moving taxi she had arranged via ride-hailing app Shouqi (首汽约车) has gone viral on Chinese social media.
The passenger, Ms. Gao, jumped from the moving vehicle in the late afternoon of June 12 because she feared for her personal safety after the driver had allegedly deviated from the intended route.
Ms. Gao was traveling from Hangzhou to Fuyang when the incident occurred. The woman states that once she got in the taxi, the driver attempted to make a pass at her and changed the route twice.
Gao eventually decided to jump from the moving car, resulting in a fractured left arm and extensive bruising.
Shouqi is a state-backed online ride-hailing platform founded in 2015 that focuses on luxury & high-quality services.
Shouqi Responds
On June 19, Shouqi officially responded to the matter after carrying out an investigation.
According to the Shouqi report, their driver, Zhang, deviated from the navigation route because he opted to take a faster road that had been newly opened and was not recognized by the navigation app yet. Since he had taken this alternative route, the voice navigation kept reminding him that he was taking the wrong route. The female passenger jumped out of the car shortly afterward.
Shouqi states that according to protocol, there is an audio recording of the journey. Although the recording did capture the voice navigation indicating the car was deviating from the original route, there was no sign of an altercation or discussion between the driver and the passenger before she jumped out. The company also said it would release the recording to the media if Ms. Gao would give them permission to do so.
After Gao had jumped from the vehicle, driver Zhang allegedly pulled over to check on her and immediately called the emergency number for medical help. Meanwhile, Gao tried to alert other cars that were passing by to get help. Afterward, Zhang drove to the local police station to cooperate with the investigation.
The company's statement further says that local authorities claim the incident was caused by a "misunderstanding" between the passenger and the driver.
In the statement, the car-hailing company does apologize for the incident. They also claim their driver has been reprimanded for not properly communicating with his passenger. Shouqi furthermore says they will cover the passenger's medical expenses.
"Fabricated Facts"
On June 20, Ms. Gao wrote up a response to Shouqi's statement, which she published on social media (@步步登高_乐). According to Gao, Shouqi's statement contains many falsehoods and "fabricated facts."
Gao says that the driver never told her anything about taking an alternative route. She also denies that Zhang called the emergency number after she had jumped out, and emphasizes that the local authorities have never issued any official statement nor made any conclusions about the matter. Shouqi has also never paid for her medical expenses, and have not released any recordings of the incident to Gao.
By Monday afternoon local time, Gao's response was shared on Weibo over 23,000 times, receiving over 32,000 comments. The topic also reached the top trending topics on the social media platform.
The safety of female passengers making use of online car-hailing apps is a recurring topic of discussion in China, where several incidents involving Uber-like services triggered outrage among web users over the past few years.
The biggest case was the murder of a Chinese stewardess by a driver of the Didi Chuxing car-hailing app in 2018, which became one of the most discussed topics of that year. Shortly before going missing, the 21-year-old woman from Zhengzhou had texted her friend that the driver of the ride she had arranged was "acting strange." Her body was found the next day. The driver's body was retrieved from a river nearby.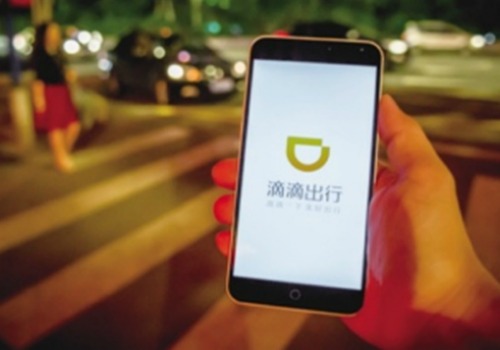 The horrific case was followed by a second Didi murder of a 20-year-old woman in Wenzhou. The victim was on her way to a birthday party when she contacted a friend via text asking for help. She was later found to have been raped and killed in a mountainous area nearby. The 27-year-old driver was arrested. These two cases, which also brought other cases to light in which female passengers were abused by their drivers, sparked major public concerns about the safety of these online platforms.
In February of 2021, the Huolala case also made headlines in China: a 23-year-old woman named Che Shasha jumped out of the window of a moving van she rented via the ride-hailing firm Huolala when the driver, a man by the name of Zhou, had deviated from the intended route. Che, who was uncomfortable and scared, asked Zhou about the different routes multiple times, but he remained silent. When Che exited the vehicle via the passenger window, the driver reportedly did not do anything to stop her. The young woman died four days after the incident due to severe brain injury due to her fall.
These previous cases have heightened public awareness on the safety of female passengers, but some commenters also think it might have led to women being too scared when using ride-hailing apps.
Although most commenters support Ms. Gao and say that Shouqi should release the recordings to make the truth come out, there are also web users who say Gao is "delusional" and that her fears were ungrounded.
"If she really would've been murdered, people would say she wasn't vigilant enough. Now, she was vigilant and people say she was being delusional. You just don't have the empathy to understand the fear of female passengers," one commenter writes.
Without any released recordings and no official police report, web users are still waiting for further developments in this case. If it would be up to Ms. Gao, it will soon be publicly revealed that she indeed was in danger. For now, she is seeking more media exposure so that "the bad guys will be punished for the injuries she suffered," she told Chinese media reporters from her hospital bed.
We will update this story once more information comes out.
By Manya Koetse (@manyapan)
Follow @whatsonweibo
Spotted a mistake or want to add something? Please let us know in comments below or email us. First-time commenters, please be patient – we will have to manually approve your comment before it appears.
©2021 Whatsonweibo. All rights reserved. Do not reproduce our content without permission – you can contact us at info@whatsonweibo.com.