Pressured to get Married: For the Country and For Society
Every year, China's bachelors and bachelorettes are dreading the return to their hometowns, as parents and family members will inescapably ask them that one question: "Why are you not married yet?" This year, a group of Chinese young women protested in the streets of Shanghai against marriage pressure.
Chinese New Year and the pressure to get married: it has already become an 'old' topic. Every year, China's bachelors and bachelorettes are dreading the return to their hometowns, as parents and family members will inescapably ask them that one question: "Why are you not married yet?" This year, a group of Chinese young women protested in Shanghai against their parents pressuring them to marry, holding signs saying: "Mum, please do not force me to get married during New Year, I'm in charge of my own happiness." The women became a hot topic amongst netizens and authors, reigniting the online discussion about the status quo of China's unmarried adults. "Coming back to your hometown saying you don't want to be pressured into marriage is like going to the dog meat festival saying you don't want to eat dog," says writer Mao Li.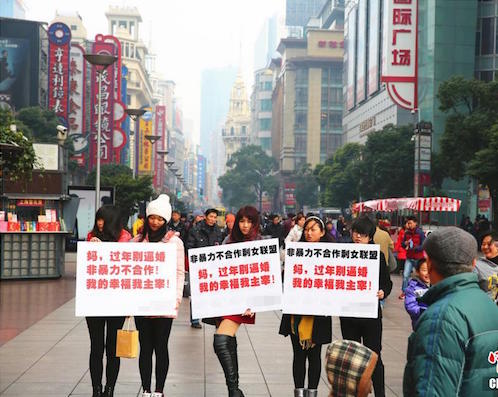 Protest in Shanghai against marriage pressure, February 4, 2015 (Qingdao News).
The Shengnü and Shengnan 'problem'
The term 'shengnü' (剩女 'leftover woman') has been a somewhat derogatory catch phrase in China's media for years. It refers to women who are still single at the age of 27 or above; usually well-educated ladies who have difficulties in finding a partner that can live up to their expectations. Their disadvantage in finding a partner relates to existing ideas in Chinese culture about the 'ideal' marriage age of women. A recent survey has pointed out that 50% of Chinese men already consider a women 'left over' when she is not married at the age of 25.
The male counterpart of the shengnü is the so-called 'shengnan' (剩男, 'leftover man'). Chinese men face great difficulties in finding a bride, as Mainland China has been faced with an unbalanced male-female ratio since the 1980s. At the peak of disparity in 2004, more than 121 boys were born for every 100 girls. One explanation for this imbalance is the traditional preference for boys and sex-selective abortions since the one-child policy was introduced in 1978. According to estimations, there currently are 20 million more men than women under the age of 30 (Luo & Sun 2014, 5; Chen 2011, 2).
The abundance of both single women and men in present-day China would suggest that there is hardly a problem: why don't they just get married? Problematically, the majority of China's unmarried women are twenty-somethings who live in urban areas and are at the 'high end' of the societal ladder (relatively high income and education), whereas the majority of the shengnan are based in rural areas and are at the 'lower end' (lower income/education). Since Chinese women traditionally prefer to 'marry up' in terms of age, income and education, and the men usually 'marry down', the men and women find themselves at the wrong ends of the ladder (Ding & Xu 2015, 114).
China needs a babyboom
"Get married soon and have lots of babies," says Huang Wenzheng, activist and one-child policy opponent (Qi 2014). China is currently facing a rapid decline in births. At the same time, the population is ageing. It is estimated that over 25% of Chinese people will be 65 years and older in 2050, leaving the burden of care to younger generations (BBC 2012). Getting Chinese bachelors and bachelorettes to marry and produce children has thus gone beyond the wish for a wedding banquet and cute grandchildren – it has become an important matter to society.
According to recent statistics, 80% of China's bachelors and bachelorettes over the age of 24 experience pressure by their families to get married when they go home for the holiday period. The festival is now even nicknamed the "marriage pressure holiday" (催婚假期). After Chinese New Year, there generally is a 40% increase in blind dates. These meetings are often arranged by the parents, who attend 'blind date events' for their single sons or daughters. Many parents gather in public parks over the weekend, carrying banners with the picture and details of their unmarried child in the hopes of finding a suitable marriage partner for them.
Parents looking for a suitable partner for their single sons and daughter (Xinhua). 
"Don't oppose to marriage pressure if you're a loser"
Well-known scholar Yang Zao (杨早) responds to this topic on Tencent's Dajia ('Everybody', a media platform for authors), with an essay titled "Pressured to Get Married: For the Country, For Society" (为了国家,为了社会,逼你结婚). Yang is the third author to discuss the New Year's marriage pressure and the Shanghai girls who want to take their love life into their own hands. The other two columns are by female writer Mao Li (毛利), who wrote an essay titled "Prove You're Not a Loser Before Opposing Marriage Pressure" (想反逼婚,先证明你不是废物), and columnist Zhang Shi (张石), whose piece is called "China's 'Pressured-Married' and Japan's 'Non-Married""(中国的"逼婚"和日本的"不婚"). Yang analyses the current debate on marriage, wondering if it is so controversial because society is pressuring it more or because unmarried adults are opposing it more.
Parents put more pressure on their children to get married, and children increasingly oppose to it, says Mao Li. According to her, both sides make sense, but it is the children who have to explain their point-of-view; why would their parents understand them? Those who were born in the 1980s and 1990s come from completely different times than their mothers and fathers, who suffered many hardships to get where they are today. Mao Li compares the way they raised their children to a farmer raising his crops: planting seeds, watering the fields and creating the right environment to grow. Now that the children are grown up and have left the family home, the logical step for them would be to get married – after all, their parents worked hard to build the right conditions for them to do so. They should not be surprised when their parents urge them to get settled. "Coming back to your hometown saying you oppose to marriage pressure is like coming to the dog meat festival saying you oppose to eating dog," Mao says: "You can't expect people to comprehend it." According to Mao, children can only oppose to marriage pressure when they are completely independent. They cannot oppose to marriage and still cling to their parents for financial support. "Prove you're not a loser before opposing to marriage pressure," she says.
Writer Zhang Shi approaches the issue from another perspective; that of society. In Japan, fertility rates have sharply decreased. While society is ageing, the lack of young workers causes economic problems. In order not to end up with the same problems as Japan, China has to get the marriages coming and birth rates going, argues Zhang. Parents who are forcing their children to get married are actually contributing to society, says Zhang: it is a 'warm advice', not a cold pressure. In an age of declining birthrates, urging people to have babies is a "social responsibility".
"For the country, for society, for parents, can't you let go a bit of 'personal happiness'?"
The pressure to get married is ingrained in social ideology and China's traditional family ethics, says Yang Zao. The problems that now emerge within society come from a clash between individualist and collectivist values. Chinese society cannot be a perfect mix of both individualism and collectivism, according to Yang: "It is either one, and both will have downsides." If China wants a liberal, individual-focused society, then its "evils" will have to be accepted too: some people will marry late, some will not marry at all, some will not have kids, others will go job-hopping, some people move from city to city and never settle down. Such a society will also generate low birth rates and an ageing society.
In a collective, family-focused society, the ageing crisis and declining birth rates could be halted. Parents would not have to go to public parks to search for suitable partners for their unmarried kids. "For the country, for society, for parents, can't you let go a bit of personal happiness'?", says Yang. After all, isn't marriage key to solving China's present-day problems?
Since 1950, marriage officially is a 'freedom of choice' in Mainland China. Nevertheless, marriage in China still seems to involve more than two people: it is a get-together of two families with societal backing. One Weibo user says: "The shengnü do not have an individual problem; they are a problem because society at large believes they have a problem – this is why it is a 'problem'."
No matter what the 'nation', 'society', or parents think, the protesting Shanghai girls are positive about their future: it is in their hands, and in their hands alone.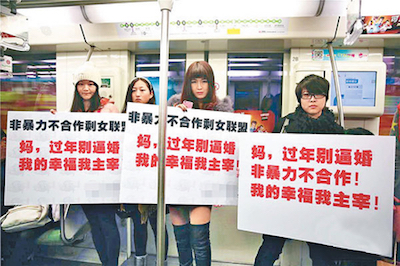 – by Manya Koetse
[button link="http://www.twitter.com/whatsonweibo" type="icon" icon="heart" newwindow="yes"] Follow us on Twitter[/button]
References
BBC. 2012. "Ageing China: Changes and Challenges." BBC News, 19 September http://www.bbc.com/news/world-asia-19630110 (16.10.12).
Chen, Zhou. 2011. "The Embodiment of Transforming Gender and Class: Shengnü and Their Media Representations in Contemporary China." Master's thesis, University of Kansas.
Ding, Min and Jie Xu. 2015. The Chinese Way. Routledge: New York.
Luo, Wei, and Zhen Sun. 2014. "Are You the One? China's TV Dating Shows and the Sheng Nü's Predicament." Feminist Media Studies, October: 1–18.
Mao Li 毛利. "想反逼婚,先证明你不是废物" [Prove You're Not a Loser Before Opposing Marriage Pressure]. Dajia, 11 February http://dajia.qq.com/blog/466362096792665 [24.2.15].
Qi, 2014. "Baby Boom or Economy Bust." The Wall Street Journal, 2 September http://blogs.wsj.com/chinarealtime/2014/09/02/baby-boom-or-economy-bust-stern-warnings-about-chinas-falling-fertility-rate/ [24.2.15].
Yang Zao 杨早. 2015. "为了国家,为了社会,逼你结婚"  [Pressured to Get Married: For the Country, For Society]. Dajia, 17 February http://dajia.qq.com/blog/431261063359665 [24.2.15].
Zhang Shi 张石. 2015. "中国的"逼婚"和日本的"不婚" [China's 'Pressured-Married' and Japan's 'Non-Married']. Dajia, 16 February http://dajia.qq.com/blog/462372023502987 [24.2.15].
Image by Tencent Dajia, 2015. 
– Appreciate this article and want to help us pay for the upkeep costs of What's on Weibo? You can do so here! Every penny helps.

©2014 Whatsonweibo. All rights reserved. Do not reproduce our content without permission – you can contact us at info@whatsonweibo.com.
Hard Measures for Durex in China after "Vulgar" Ads
One Durex sex toy ad gave off the wrong vibrations to Chinese regulators.
As if it wasn't already bad enough that fewer people are having sex during COVID19 lockdowns, leading to a decline in condom sales, condoms & sex toys brand Durex is now also (again) punished for the "vulgar" contents of its advertisements in China.
News of Durex facing penalties in China became top trending on Thursday, with one Weibo hashtag page about the matter receiving over 1,2 billion views.
Durex has over three million fans on its official Weibo account (@杜蕾斯官方微博), which is known for its creative and sometimes bold posts, including spicy word jokes. Durex opened its official Weibo account in 2010.
A post by Durex published on Wednesday about the release of Apple's super speedy new 5G iPhone, for example, just said: "5G is very fast, but you can take it slow," adding: "Some things just can't be quick." The post received over 900,000 likes.
Other ads have also received much praise from Chinese netizens. One ad's slogan just shows a condom package, saying "Becoming a father or [image of condom] – it's all a sign of taking responsibility."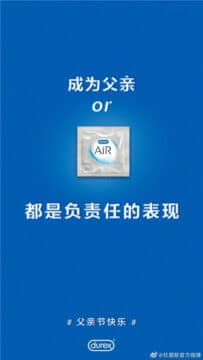 According to various Chinese news outlets, Durex has been penalized with a 810,000 yuan ($120,400) fine for failing to adhere to China's official advertisement guidelines, although it is not entirely clear to us at this point which fine was given for which advertisement, since the company received multiple fines for different ads over the past few years.
One fine was given to Durex Manufacturer RB & Manon Business (Shanghai) for content that was posted on e-commerce site Tmall, Global Times reports.
According to the state media outlet, "the ad used erotic words to describe in detail multiple ways to use a Durex vibrator." The fine was already given out in July of this year, but did not make headlines until now.
In another 2019 case, the condom brand did a joint social media campaign cooperation with Chinese milk tea brand HeyTea, using the tagline "Tonight, not a drop left," suggesting a connection between HeyTea's creamy topping and semen.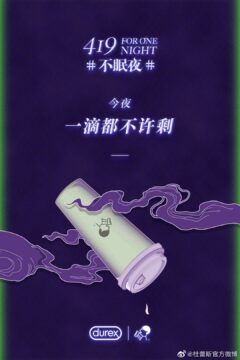 According to China's Advertisement Examination System (广告审查制度), there are quite some no-goes when it comes to advertising in China. Among many other things, ads are not allowed to be deceptive in any way, they cannot use superlatives, nor display any obscene, scary, violent or superstitious content.
Chinese regulators are serious about these rules. In 2015, P&G's Crest was fined $963,000 for "false advertising", at it promised that Crest would make your teeth whiter in "just one day."
However, advertisement censorship can be a grey area. Any ads that "disturb public order" or "violate good customs," for example, are also not allowed. For companies, it is not always clear when they are actually crossing a line.
On Weibo, there are also contrasting opinions on this matter. Many people, however, support Durex and enjoy their exciting ads and slogans. With the case dominating the top trending charts and discussions on social media the entire day, the latest penalty may very well be one of Durex's most successful marketing campaigns in China thus far.
By Manya Koetse
Follow @WhatsOnWeibo
Spotted a mistake or want to add something? Please let us know in comments below or email us. First-time commenters, please be patient – we will have to manually approve your comment before it appears.
©2020 Whatsonweibo. All rights reserved. Do not reproduce our content without permission – you can contact us at info@whatsonweibo.com.
Faking Social Media 2.0: The Business of Buying "High-End Moments" for WeChat
Some are so eager to look picture perfect on their social media feed, that they go to extremes to create a fake online life.
Your fake social life, delivered to your WeChat at 5 pm every day? Sounds very Nosedive, yet there are many who buy their social media contents in an attempt to appear cool, rich, and handsome.
This week, the story of a Wechat group for 'fake rich' women in Shanghai who pool together money to rent designer bags or share a two-person high tea at the Ritz with six people went super trending on Chinese social media.
While the 'group buying-style' WeChat lady socialite group is still trending on Weibo, more related stories are surfacing, with one story taking the idea of 'faking it' on social media to the next level. It even makes the Shanghai 'fake rich' girls seem authentic – at least these women actually went to the Ritz or Bylgari Hotel (although sharing the cost of one hotel room with 40 people).
On Tuesday, WeChat blog author Jiajiada (加加大) published a now-popular article about the phenomenon of "Buying WeChat Moments," which finds its origins in the circles of young men taking PUA training (PUA stands for Pickup Artists, teaching men how to seduce women).
WeChat Moments (朋友圈) is a social feature for WeChat that allows users to share updates, photos, articles, and videos with their contacts, comparable to the Facebook timeline or Instagram feed.
In their mission to turn themselves into Mr. Perfect (高富帅), there is an online trend where male WeChat users purchase premade 'high-end Moments' photos to post on their timeline.
Via services offered through Taobao, people can become a paying member of a WeChat group where they get daily new photos to show off their (fake) fun, fancy, and interesting lives on social media. New photos are delivered to them every day at 5 pm.
In one of these WeChat groups joined by the author, there were a total of 138 members, mostly men. Although some people joined the group to use the daily photos for marketing purposes, the majority were members using the photos in their feed to appear more glamorous on social media, Jiajiada writes.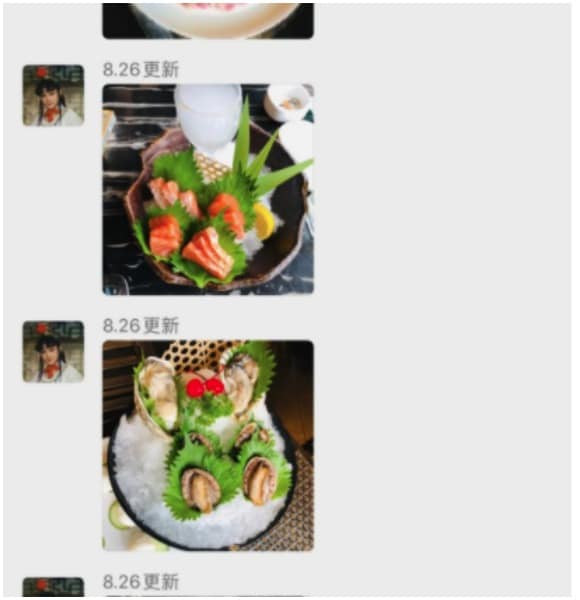 The daily photos provided to the members show the kind of life that would make anyone envious. Photos show a life that's all about expensive wines, watches, and food, having Chanel shopping sprees (including photos of receipt for extra authenticity), going out to fancy KTV bars, having weekend trips out in the beautiful nature, and then some cuddle sessions with a pretty cat.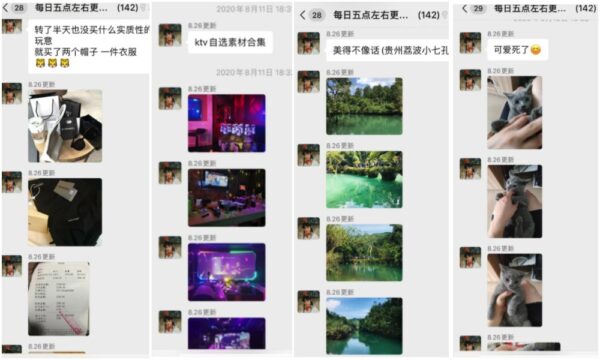 For example, one of the photos provided to members in the group joined by Jiajiada shows a setting where someone is having a cup of Phoenix Single Bush – one of the most complex and high-quality oolong teas. As verified by Jiajiada, that very same photo then indeed showed up in the several social media feeds of the group members, including the text.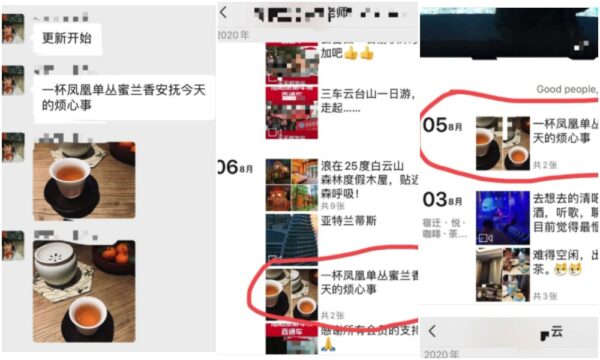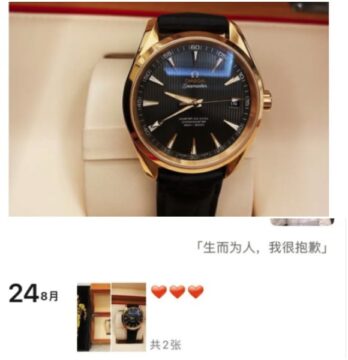 Of course, the photos that are carefully selected by the WeChat group owner never show a face. They might show the legs of someone lying by the pool, or the hands of someone sipping on a glass of wine, but the photos are general enough to be used by anyone – making their friends believe these are their own authentic experiences.
"Does your male friend use this gay app? He's not necessarily gay."
But where does the WeChat group owner actually get all their photos of these expensive shopping sprees and exclusive wine tastings? Researching its source, author Jiajiada found out that many of the pictures are actually taken from the app Blued.
Blued is China's most popular gay dating and lifestyle app. Since it was launched by Geng Le (see our article from 2015 about him here), it has grown into the biggest social platform for gays in China.
The app allows users to search for keywords, such as "luxury hotels" or "wine bar." There are super topics on the app, such as "The hotels most loved by gays," that show hundreds of photos posted by Blued users of fancy places and dinners.
Because the images posted on Blued do not have any watermarks, they are easy to steal and use for other purposes, including for people on WeChat to make money off.
"If your male friend has this guy app, he's not necessarily gay," Jiajiada writes, explaining that many straight men just steal content from gay guys to look better online.
Although the phenomenon of buying "high-end Moments" photos and copy-pasting them into your feed is one of the easiest and cheapest ways to appear richer and more interesting online, there are also other ways of buying "high-end Moments" on Chinese e-commerce site Taobao that require more effort.
There are agencies, for example, that offer set packages including photography, settings, and all props to make the 'Mr. Perfect' photos to fill up social media feeds – from posing in a race car, to pretending to lead a meeting, or reading the newspaper over breakfast in an expensive hotel room.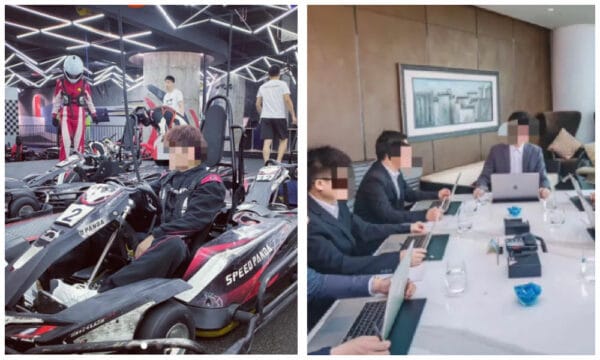 .
On Weibo, there are not many people who sympathize with the men buying their WeChat social media content online, nor with the women who might actually fall for them. Some call the men "boring," and the women who believe them "materialistic." Others just laugh at how fake they all are.
"I hope these [fake] girls and boys can all find each other, so they don't make other people unhappy," one person writes.
But there are also those who seem inspired, writing: "Oh man, I might need to start using this gay app from now on!"
By Manya Koetse
Follow @WhatsOnWeibo
Spotted a mistake or want to add something? Please let us know in comments below or email us. First-time commenters, please be patient – we will have to manually approve your comment before it appears.
©2020 Whatsonweibo. All rights reserved. Do not reproduce our content without permission – you can contact us at info@whatsonweibo.com.