Pressured to get Married: For the Country and For Society
Every year, China's bachelors and bachelorettes are dreading the return to their hometowns, as parents and family members will inescapably ask them that one question: "Why are you not married yet?"
WHAT'S ON WEIBO ARCHIVE | PREMIUM CONTENT ARTICLE

A creative protest against social marriage pressure has reignited online discussions about the status quo of China's unmarried adults. While some support the choice of Chinese younger adults to be in charge of their own happiness, others suggest they are too focused on personal fulfillment.
Chinese New Year and the pressure to get married: it has already become an 'old' topic. Every year, China's bachelors and bachelorettes are dreading the return to their hometowns, as parents and family members will inescapably ask them that one question: "Why are you not married yet?"
This year, a group of Chinese young women protested in Shanghai against their parents pressuring them to marry, holding signs saying: "Mum, please do not force me to get married during New Year, I'm in charge of my own happiness."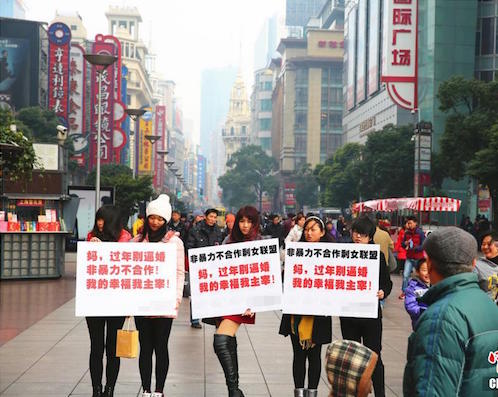 Protest in Shanghai against marriage pressure, February 4, 2015 (Qingdao News).
The women became a hot topic amongst netizens and authors, reigniting the online discussion about the status quo of China's unmarried adults. "Coming back to your hometown saying you don't want to be pressured into marriage is like going to the dog meat festival saying you don't want to eat dog," says writer Mao Li.
The Shengnü and Shengnan 'problem'
The term 'shengnü' (剩女 'leftover woman') has been a somewhat derogatory catch phrase in China's media for years. It refers to women who are still single at the age of 27 or above; usually well-educated ladies who have difficulties in finding a partner that can live up to their expectations.
Their disadvantage in finding a partner relates to existing ideas in Chinese culture about the 'ideal' marriage age of women. A recent survey has pointed out that 50% of Chinese men already consider a women 'left over' when she is not married at the age of 25.
The male counterpart of the shengnü is the so-called 'shengnan' (剩男, 'leftover man'). Chinese men face great difficulties in finding a bride, as Mainland China has been faced with an unbalanced male-female ratio since the 1980s. At the peak of disparity in 2004, more than 121 boys were born for every 100 girls. One explanation for this imbalance is the traditional preference for boys and sex-selective abortions since the one-child policy was introduced in 1978.
According to estimations, there currently are 20 million more men than women under the age of 30 (Luo & Sun 2014, 5; Chen 2011, 2).
The abundance of both single women and men in present-day China would suggest that there is hardly a problem: why don't they just get married? Problematically, the majority of China's unmarried women are twenty-somethings who live in urban areas and are at the 'high end' of the societal ladder (relatively high income and education), whereas the majority of the shengnan are based in rural areas and are at the 'lower end' (lower income/education).
Since Chinese women traditionally prefer to 'marry up' in terms of age, income and education, and the men usually 'marry down', the men and women find themselves at the wrong ends of the ladder (Ding & Xu 2015, 114).
China needs a babyboom
"Get married soon and have lots of babies," says Huang Wenzheng, activist and one-child policy opponent (Qi 2014). China is currently facing a rapid decline in births. At the same time, the population is aging.
It is estimated that over 25% of Chinese people will be 65 years and older in 2050, leaving the burden of care to younger generations (BBC 2012). Getting Chinese bachelors and bachelorettes to marry and produce children has thus gone beyond the wish for a wedding banquet and cute grandchildren – it has become an important matter to society.
According to recent statistics, 80% of China's bachelors and bachelorettes over the age of 24 experience pressure by their families to get married when they go home for the holiday period. The festival is now even nicknamed the "marriage pressure holiday" (催婚假期).
Parents looking for a suitable partner for their single sons and daughter (Xinhua). 
After Chinese New Year, there generally is a 40% increase in blind dates. These meetings are often arranged by the parents, who attend 'blind date events' for their single sons or daughters. Many parents gather in public parks over the weekend, carrying banners with the picture and details of their unmarried child in the hopes of finding a suitable marriage partner for them.
"Don't oppose to marriage pressure if you're a loser"
Well-known scholar Yang Zao (杨早) responds to this topic on Tencent's Dajia ('Everybody', a media platform for authors), with an essay titled "Pressured to Get Married: For the Country, For Society" (为了国家,为了社会,逼你结婚). Yang is the third author to discuss the New Year's marriage pressure and the Shanghai girls who want to take their love life into their own hands. The other two columns are by female writer Mao Li (毛利), who wrote an essay titled "Prove You're Not a Loser Before Opposing Marriage Pressure" (想反逼婚,先证明你不是废物), and columnist Zhang Shi (张石), whose piece is called "China's 'Pressured-Married' and Japan's 'Non-Married""(中国的"逼婚"和日本的"不婚"). Yang analyses the current debate on marriage, wondering if it is so controversial because society is pressuring it more or because unmarried adults are opposing it more.
Parents put more pressure on their children to get married, and children increasingly oppose it, says Mao Li. According to her, both sides make sense, but it is the children who have to explain their point-of-view; why would their parents understand them?
Those who were born in the 1980s and 1990s come from completely different times than their mothers and fathers, who suffered many hardships to get where they are today. Mao Li compares the way they raised their children to a farmer raising his crops: planting seeds, watering the fields and creating the right environment to grow. Now that the children are grown up and have left the family home, the logical step for them would be to get married – after all, their parents worked hard to build the right conditions for them to do so. They should not be surprised when their parents urge them to get settled. 
"Coming back to your hometown saying you oppose to marriage pressure is like coming to the dog meat festival saying you oppose to eating dog," Mao says: "You can't expect people to comprehend it." According to Mao, children can only oppose marriage pressure when they are completely independent. They cannot oppose marriage and still cling to their parents for financial support. "Prove you're not a loser before opposing marriage pressure," she says.
Writer Zhang Shi approaches the issue from another perspective; that of society. In Japan, fertility rates have sharply decreased. While society is ageing, the lack of young workers causes economic problems.
In order not to end up with the same problems as Japan, China has to get the marriages coming and birth rates going, argues Zhang. Parents who are forcing their children to get married are actually contributing to society, says Zhang: it is 'warm advice', not cold pressure. In an age of declining birthrates, urging people to have babies is a "social responsibility".
"For the country, for society, for parents, can't you let go a bit of 'personal happiness'?"
The pressure to get married is ingrained in social ideology and China's traditional family ethics, says Yang Zao. The problems that now emerge within society come from a clash between individualist and collectivist values.
Chinese society cannot be a perfect mix of both individualism and collectivism, according to Yang: "It is either one, and both will have downsides." If China wants a liberal, individual-focused society, then its "evils" will have to be accepted too: some people will marry late, some will not marry at all, some will not have kids, others will go job-hopping, some people move from city to city and never settle down. Such a society will also generate low birth rates and an ageing society.
In a collective, family-focused society, the aging crisis and declining birth rates could be halted. Parents would not have to go to public parks to search for suitable partners for their unmarried kids. "For the country, for society, for parents, can't you let go a bit of personal happiness'?", says Yang. After all, isn't marriage key to solving China's present-day problems?
Since 1950, marriage officially is a 'freedom of choice' in Mainland China. Nevertheless, marriage in China still seems to involve more than two people: it is a get-together of two families with societal backing.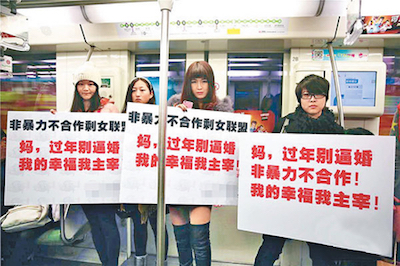 One Weibo user says: "The shengnü do not have an individual problem; they are a problem because society at large believes they have a problem – this is why it is a 'problem'."
No matter what the 'nation', 'society', or parents think, the protesting Shanghai girls are positive about their future: it is in their hands, and in their hands alone.
– by Manya Koetse
References
BBC. 2012. "Ageing China: Changes and Challenges." BBC News, 19 September http://www.bbc.com/news/world-asia-19630110 (16.10.12).
Chen, Zhou. 2011. "The Embodiment of Transforming Gender and Class: Shengnü and Their Media Representations in Contemporary China." Master's thesis, University of Kansas.
Ding, Min and Jie Xu. 2015. The Chinese Way. Routledge: New York.
Luo, Wei, and Zhen Sun. 2014. "Are You the One? China's TV Dating Shows and the Sheng Nü's Predicament." Feminist Media Studies, October: 1–18.
Mao Li 毛利. "想反逼婚,先证明你不是废物" [Prove You're Not a Loser Before Opposing Marriage Pressure]. Dajia, 11 February http://dajia.qq.com/blog/466362096792665 [24.2.15].
Qi, 2014. "Baby Boom or Economy Bust." The Wall Street Journal, 2 September http://blogs.wsj.com/chinarealtime/2014/09/02/baby-boom-or-economy-bust-stern-warnings-about-chinas-falling-fertility-rate/ [24.2.15].
Yang Zao 杨早. 2015. "为了国家,为了社会,逼你结婚"  [Pressured to Get Married: For the Country, For Society]. Dajia, 17 February http://dajia.qq.com/blog/431261063359665 [24.2.15].
Zhang Shi 张石. 2015. "中国的"逼婚"和日本的"不婚" [China's 'Pressured-Married' and Japan's 'Non-Married']. Dajia, 16 February http://dajia.qq.com/blog/462372023502987 [24.2.15].
Image by Tencent Dajia, 2015. 

©2014 Whatsonweibo. All rights reserved. Do not reproduce our content without permission – you can contact us at info@whatsonweibo.com.
Meanwhile in Panda News: After More Than Two Decades, Yaya Returns to Beijing
From Memphis to Shanghai to Beijing: every step in Yaya's journey is closely followed by China's panda fans.
Yaya, the panda, made her way back to Beijing after a residence of more than two decades at the Memphis Zoo and completing her quarantine period in Shanghai. Now, netizens are advocating for the return of three other pandas currently residing in the United States.
It is time for the third 'Meanwhile in Panda News' by What's on Weibo to keep you updated on the trending panda topics, from the cute to the controversial.
This time, it is all about Yaya (丫丫), the panda that is trending on Weibo in various hashtags these days:

Panda Yaya became one of the most discussed pandas of this year. This female panda resided in the Memphis Zoo in the United States for most of her life and attracted significant attention on Chinese social media platforms after netizens expressed concern about her seemingly thin and unhealthy appearance.
Even though the Memphis care team stated that Yaya's fur condition is related to her hormones and immune system, these online discussions further intensified in light of escalating tensions between the United States and China.
The concerns surrounding Yaya prompted an online campaign, with netizens advocating for Yaya's return to China. After residing at the Memphis Zoo in the United States for two decades as part of a conservation and research project, Yaya's second ten-year term had concluded, and the 23-year-old panda was set to return to Shanghai, China.
Yaya's return in late April became a true social media spectacle, fuelled by state media outlets that created special posters and videos welcoming Yaya home.
Panda propaganda is the best kind of propaganda 😅 Chinese state media are turning panda YY's return to China from Memphis Zoo into a big media show. Many fans have been anticipating her return for months already. pic.twitter.com/AAGJpgQi2y

— Manya Koetse (@manyapan) April 27, 2023
Now, a month later, Yaya is trending again. This time, it is her move from Shanghai to Beijing that is hitting the trending lists. After finishing her quarantaine, Yaya's new home will be in the Beijing Zoo. Yaya returned to China's capital, where she was born, by airplane on May 28.
While many people are cheering that Yaya has finally returned home, they are also sad that panda Lele is not with her. Lele (乐乐) was Yaya's male partner, and the two arrived in Memphis together. Unfortunately, Lele passed away earlier this year due to heart disease.
Around 4 am in the morning on May 29, the official Weibo account of the Beijing Zoo posted a statement about Yaya's return, confirming that the panda had arrived before 1 am on Monday morning.
Beijing Zoo further wrote that Yaya has her own dedicated enclosure and will need some time to adjust to her new environment and will not be shown to the public for now. They did post a photo and a video of Yaya's arrival, and promised to give more updates about Yaya via social media.
They also just posted this video 45 minutes ago, featuring Yaya's arrival. She's 23 and spent 20 years of her life in the US. Hope she'll soon get used to her new Beijing life.

PS in case you wondered, she was flying China Southern.🐼 pic.twitter.com/AAf5OVHQsF

— Manya Koetse (@manyapan) May 28, 2023
"Yaya has finally returned home," some commenters said, "I hope she will have a happy and healthy life there."
In the meantime, netizens have launched a new online campaign advocating for the repatriation of the pandas Xiao Qiji (小奇迹), Tiantian (添添), and Meixiang (美香), currently residing at the Washington National Zoo.
Those advocating for the return of the three pandas are also expressing concerns about their well-being and treatment at the Washington National Zoo. They worry that the pandas may not be receiving adequate food and are particularly concerned about Meixiang's health.
In 2020, it was reported that the panda couple Meixiang and her partner Tiantian would minimally stay in Washington until December of 2023.
Concerned that Meixiang might face a similar fate to Yaya's late partner Lele, panda enthusiasts on Weibo are urging for the prompt repatriation of the entire panda family. "I'm glad to hear good news about Yaya," expressed one Weibo user, "Now, I hope we can get good news about Meixiang too."
Read more panda news here.
By Manya Koetse 
Get the story behind the hashtag. Subscribe to What's on Weibo here to receive our newsletter and get access to our latest articles:
Spotted a mistake or want to add something? Please let us know in comments below or email us. First-time commenters, please be patient – we will have to manually approve your comment before it appears.
©2023 Whatsonweibo. All rights reserved. Do not reproduce our content without permission – you can contact us at info@whatsonweibo.com.
'Carpet Pacific': A Timeline of the Cathay Pacific Scandal Through Weibo Hashtags
Cathay Pacific flight attendants mocking non-English speaking passengers by saying, "If you can't say blanket, you can't have it," has sparked a major controversy and caused a marketing catastrophe.
Last week, Xiamen Airlines was the focus of attention on Chinese social media after one of their pilots was caught secretly filming a female staff members in the ladies room. This week, the focus has shifted to Cathay Pacific, as the Hong Kong-based airline faced accusations of discrimination against travelers from mainland China.
The incident gained significant attention on May 22 when a user of the Xiaohongshu (Little Red Book) app shared a public complaint about the Hong Kong airline. In the post, the author, who claimed to have resided in Hong Kong for eleven years, expressed their inability to remain silent after witnessing overt discrimination on a Cathay Pacific CX987 flight from Chengdu to Hong Kong.
The passenger said they were seated near the area where the flight attendants rest and prepare meals, and that they could hear the cabin crew making fun of passengers who could not speak English. Passengers who tried to ask them for help in English about filling out immigration cards allegedly also received impatient responses. The passenger recorded some of their conversation, and later posted the audio clip online.
In one clip, you can hear the staff laughing about a passenger who wanted a blanket but could not properly say it in English. "If you cannot say blanket, you cannot have it," they joked. Since some passengers allegedly had used the word 'carpet' instead of 'blanket', the cabin crew can be heard saying: "A carpet is on the floor."
The biggest China social story of the past few days started with one passenger exposing Cathay cabin crew mocking & discriminating against non-English speaking (Mainland) passengers. His complaint and this 30 second audio snippet led to them being fired, and a social media storm. pic.twitter.com/BDuabQcm0S

— Manya Koetse (@manyapan) May 27, 2023
Since the incident was first exposed on social media, it turned into a major controversy and a marketing crisis for the Cathay Pacific company. As Cathay was condemned by million of netizens, many also vowed to boycott the airline.
Cathay Pacific has been hit hard by the pandemic, and was seeing an increased demand for travel into the Chinese Mainland since quarantine-free travel between Hong Kong the Mainland was finally resumed on January 8 of this year. Cathay is heavily dependent on the Chinese market, and approximately 70% of its revue reportedly comes from China (#国泰航空近七成营收来自中国#).
The incident has ignited anger due to the discriminatory treatment of mainland customers by a Hong Kong company, leading to further discussions on anti-Chinese sentiments in Hong Kong and the role of language in fostering (or hindering) national unity between mainland China and Hong Kong.
This is a timeline of the incident through Weibo hashtags that have gone trending over the past few days.
▶︎ The Cathay Discrimination Audio Leaked Online #国泰空乘歧视乘客录音曝光# (260 million views)
After a netizen posted about supposed discrimination against non-English speaking passengers by cabin crew members on the Cathay Pacific CX987 flight, the incident soon garnered widespread attention on Chinese social media, especially when the 30-second audio was also shared online (hear the audio snippet here).
▶︎ Cathay Pacific Apologizes #国泰航空致歉# (210 million views)
On May 22, Cathay Pacific soon issued a response apologizing for the passenger's experience and promised a thorough investigation. However, their initial apology was considered inadequate by many netizens, and only sparked more debates about the discrimination against mainland Chinese passengers within Cathay's work environment.
On May 23, Cathay Pacific issued a second apology via social channels, mentioning that they had contacted the passenger and that they had suspended the flight attendants involved.
▶︎ Cathay Pacific Uses Standard Mandarin to Apologize #国泰航空行政总裁用普通话道歉# (10 million views)
During a media briefing in Guangzhou on May 24, Cathay Pacific CEO Lin Shaobo (林绍波) once again expressed his sincere apologies on behalf of Cathay for the incident. In doing so, he used Standard Mandarin, the national language of mainland China.
▶︎ Three Employers Fired for Discriminating Against Passengers #国泰航空3名歧视乘客空乘被解聘# (460 million views)
At this time, it was also announced that Cathay had completed their investigation into the matter and, in accordance with the company's regulations, had dismissed the three involved cabin crew members. Lin Shaobo clarified that the airline maintains a "zero tolerance" approach towards any employees who violate the company's rules and ethical standards.
▶︎ Cathay Pacific's Flight Attendant Union Regrets the Incident #国泰空乘工会对空姐被解聘感到遗憾# (180 million views)
On May 24, there was some online turmoil over a statement issued by Cathay Pacific's Flight Attendant Union (FAU). In the statement, the union expressed that Cathay is "facing a shortage of both manpower and resources, a significant increase in workload and low salaries." Because these problems are ignored, Cathay is seeing an "extremely low" morale among cabin crew and more complaints regarding cabin service. "Nothing comes from nothing," the statement said. The Union was criticized for "whitewashing" the cabin crew's discrimination against non-English-speakers.
▶︎ No Official Support for The Union #国泰航空称空中服务员工会不代表国泰# (130 million views)
On May 25, Cathay Pacific issued a statement in which they clarified that The Union is an independent labor union and does not represent the company. They also clarified that did not support the union's position nor agreed with it.
▶︎ Hu Xijin Recommends Mainland Passengers to Speak Mandarin #胡锡进建议乘国泰航空只讲普通话# (910,000 views)
Chinese political & social commentator Hu Xijin (@胡锡进) also responded to the Cathay incident in multiple posts. In one of them, he suggested that mainland passengers should primarily speak Mandarin when they fly Cathay in the future. Since so much of their customer base is from mainland, Cathay should have enough cabin crew speaking Mandarin, he argued. Hu also reflected on how Cathay also caused controversy in 2019, when it would not stop staff from joining the Kong Kong pro-democracy protests. According to Hu, the company should pay attention to "correcting the values" of their employees.
▶︎"Leaked" Internal Email Labeled as Fake News #国泰航空称网传英文内部信件为伪造# (77 million views)
In the meantime, some images circulated online that allegedly showed an internal Cathay Pacific memo by the company's HK Express CEO Mandy Ng in which a warning was issued to be "cautious when engaging with customers from China and be aware of their media culture." That memo was labeled as being false by Cathay Pacific.
▶︎ Hong Kong Perfomer Condemns Cathay for Incident #香港演员怒斥国泰空乘歧视乘客# (170 million views)
Hong Kong celebrity Maria Cordero, nicknamed 'Fat Mama' (肥妈) went trending on Weibo for condemning the Cathay Pacific crew members in a recent interview. "Is speaking English that important?" she wondered: "The whole world is learning Chinese!" She also expressed that the primary duty of flight attendants is to look after passengers and help solve their problems. If they are incapable of fulfilling their duty, they should be sacked.
▶︎ Blankets for Everyone #旅客称现在国泰的航班挨个发毛毯# (6.5 million views)
According to passengers flying Cathay after the 'blanket incident,' the cabin crew went around explicitly asking all passengers if they needed any blankets, making announcements in English, Mandarin, and Cantonese.
▶︎ Follow-up to the Incident #国泰航空空乘歧视乘客后续# (26 million views)
As the Cathay scandal keeps fermenting online, one commenter expressed a common viewpoint by stating: "If Cathay Pacific is so unwilling to serve Chinese people and they refuse to speak Mandarin, why don't they clearly state that they don't welcome Chinese passengers? They can't have it both ways by earning money from Chinese tickets without providing the same level of service."
Meanwhile, an online meme has gained popularity, depicting 'Cathay Pacific' as 'Carpet Pacific' in reference to the controversial comments made by the cabin crew.
Other memes include the quote: "If you cannot say blanket, you cannot have it," or include the phrase "no zuo no die" – a popular internet meme that basically means 'what goes around comes around.'
Those flying China Southern Airlines or Eastern Airlines are posting about their warm on-board blankets, joking: "I didn't even have to say 'blanket' and still got it!"
By Manya Koetse
Get the story behind the hashtag. Subscribe to What's on Weibo here to receive our newsletter and get access to our latest articles:
Spotted a mistake or want to add something? Please let us know in comments below or email us. First-time commenters, please be patient – we will have to manually approve your comment before it appears.
©2023 Whatsonweibo. All rights reserved. Do not reproduce our content without permission – you can contact us at info@whatsonweibo.com.
Subscribe to our newsletter
Stay updated on what's trending in China & get the story behind the hashtag
Sign up here to become a premium member of What's on Weibo today and gain access to all of our latest and premium content, as well as receive our exclusive newsletter. If you prefer to receive just our weekly newsletter with an overview of the latest, you can subscribe for free here.
Would you like to become a contributor, or do you have any tips or suggestions for us? Get in touch with us here.