Pressured to get Married: For the Country and For Society
Every year, China's bachelors and bachelorettes are dreading the return to their hometowns, as parents and family members will inescapably ask them that one question: "Why are you not married yet?" This year, a group of Chinese young women protested in the streets of Shanghai against marriage pressure.
Chinese New Year and the pressure to get married: it has already become an 'old' topic. Every year, China's bachelors and bachelorettes are dreading the return to their hometowns, as parents and family members will inescapably ask them that one question: "Why are you not married yet?" This year, a group of Chinese young women protested in Shanghai against their parents pressuring them to marry, holding signs saying: "Mum, please do not force me to get married during New Year, I'm in charge of my own happiness." The women became a hot topic amongst netizens and authors, reigniting the online discussion about the status quo of China's unmarried adults. "Coming back to your hometown saying you don't want to be pressured into marriage is like going to the dog meat festival saying you don't want to eat dog," says writer Mao Li.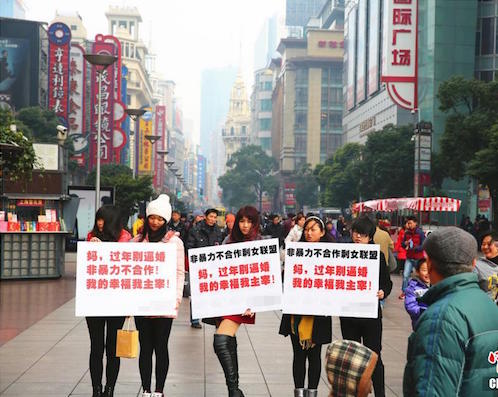 Protest in Shanghai against marriage pressure, February 4, 2015 (Qingdao News).
The Shengnü and Shengnan 'problem'
The term 'shengnü' (剩女 'leftover woman') has been a somewhat derogatory catch phrase in China's media for years. It refers to women who are still single at the age of 27 or above; usually well-educated ladies who have difficulties in finding a partner that can live up to their expectations. Their disadvantage in finding a partner relates to existing ideas in Chinese culture about the 'ideal' marriage age of women. A recent survey has pointed out that 50% of Chinese men already consider a women 'left over' when she is not married at the age of 25.
The male counterpart of the shengnü is the so-called 'shengnan' (剩男, 'leftover man'). Chinese men face great difficulties in finding a bride, as Mainland China has been faced with an unbalanced male-female ratio since the 1980s. At the peak of disparity in 2004, more than 121 boys were born for every 100 girls. One explanation for this imbalance is the traditional preference for boys and sex-selective abortions since the one-child policy was introduced in 1978. According to estimations, there currently are 20 million more men than women under the age of 30 (Luo & Sun 2014, 5; Chen 2011, 2).
The abundance of both single women and men in present-day China would suggest that there is hardly a problem: why don't they just get married? Problematically, the majority of China's unmarried women are twenty-somethings who live in urban areas and are at the 'high end' of the societal ladder (relatively high income and education), whereas the majority of the shengnan are based in rural areas and are at the 'lower end' (lower income/education). Since Chinese women traditionally prefer to 'marry up' in terms of age, income and education, and the men usually 'marry down', the men and women find themselves at the wrong ends of the ladder (Ding & Xu 2015, 114).
China needs a babyboom
"Get married soon and have lots of babies," says Huang Wenzheng, activist and one-child policy opponent (Qi 2014). China is currently facing a rapid decline in births. At the same time, the population is ageing. It is estimated that over 25% of Chinese people will be 65 years and older in 2050, leaving the burden of care to younger generations (BBC 2012). Getting Chinese bachelors and bachelorettes to marry and produce children has thus gone beyond the wish for a wedding banquet and cute grandchildren – it has become an important matter to society.
According to recent statistics, 80% of China's bachelors and bachelorettes over the age of 24 experience pressure by their families to get married when they go home for the holiday period. The festival is now even nicknamed the "marriage pressure holiday" (催婚假期). After Chinese New Year, there generally is a 40% increase in blind dates. These meetings are often arranged by the parents, who attend 'blind date events' for their single sons or daughters. Many parents gather in public parks over the weekend, carrying banners with the picture and details of their unmarried child in the hopes of finding a suitable marriage partner for them.
Parents looking for a suitable partner for their single sons and daughter (Xinhua). 
"Don't oppose to marriage pressure if you're a loser"
Well-known scholar Yang Zao (杨早) responds to this topic on Tencent's Dajia ('Everybody', a media platform for authors), with an essay titled "Pressured to Get Married: For the Country, For Society" (为了国家,为了社会,逼你结婚). Yang is the third author to discuss the New Year's marriage pressure and the Shanghai girls who want to take their love life into their own hands. The other two columns are by female writer Mao Li (毛利), who wrote an essay titled "Prove You're Not a Loser Before Opposing Marriage Pressure" (想反逼婚,先证明你不是废物), and columnist Zhang Shi (张石), whose piece is called "China's 'Pressured-Married' and Japan's 'Non-Married""(中国的"逼婚"和日本的"不婚"). Yang analyses the current debate on marriage, wondering if it is so controversial because society is pressuring it more or because unmarried adults are opposing it more.
Parents put more pressure on their children to get married, and children increasingly oppose to it, says Mao Li. According to her, both sides make sense, but it is the children who have to explain their point-of-view; why would their parents understand them? Those who were born in the 1980s and 1990s come from completely different times than their mothers and fathers, who suffered many hardships to get where they are today. Mao Li compares the way they raised their children to a farmer raising his crops: planting seeds, watering the fields and creating the right environment to grow. Now that the children are grown up and have left the family home, the logical step for them would be to get married – after all, their parents worked hard to build the right conditions for them to do so. They should not be surprised when their parents urge them to get settled. "Coming back to your hometown saying you oppose to marriage pressure is like coming to the dog meat festival saying you oppose to eating dog," Mao says: "You can't expect people to comprehend it." According to Mao, children can only oppose to marriage pressure when they are completely independent. They cannot oppose to marriage and still cling to their parents for financial support. "Prove you're not a loser before opposing to marriage pressure," she says.
Writer Zhang Shi approaches the issue from another perspective; that of society. In Japan, fertility rates have sharply decreased. While society is ageing, the lack of young workers causes economic problems. In order not to end up with the same problems as Japan, China has to get the marriages coming and birth rates going, argues Zhang. Parents who are forcing their children to get married are actually contributing to society, says Zhang: it is a 'warm advice', not a cold pressure. In an age of declining birthrates, urging people to have babies is a "social responsibility".
"For the country, for society, for parents, can't you let go a bit of 'personal happiness'?"
The pressure to get married is ingrained in social ideology and China's traditional family ethics, says Yang Zao. The problems that now emerge within society come from a clash between individualist and collectivist values. Chinese society cannot be a perfect mix of both individualism and collectivism, according to Yang: "It is either one, and both will have downsides." If China wants a liberal, individual-focused society, then its "evils" will have to be accepted too: some people will marry late, some will not marry at all, some will not have kids, others will go job-hopping, some people move from city to city and never settle down. Such a society will also generate low birth rates and an ageing society.
In a collective, family-focused society, the ageing crisis and declining birth rates could be halted. Parents would not have to go to public parks to search for suitable partners for their unmarried kids. "For the country, for society, for parents, can't you let go a bit of personal happiness'?", says Yang. After all, isn't marriage key to solving China's present-day problems?
Since 1950, marriage officially is a 'freedom of choice' in Mainland China. Nevertheless, marriage in China still seems to involve more than two people: it is a get-together of two families with societal backing. One Weibo user says: "The shengnü do not have an individual problem; they are a problem because society at large believes they have a problem – this is why it is a 'problem'."
No matter what the 'nation', 'society', or parents think, the protesting Shanghai girls are positive about their future: it is in their hands, and in their hands alone.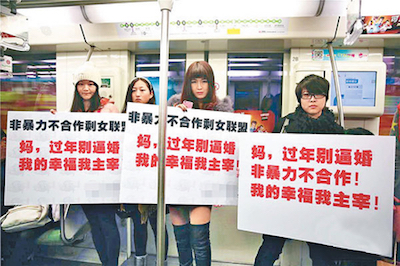 – by Manya Koetse
[button link="http://www.twitter.com/whatsonweibo" type="icon" icon="heart" newwindow="yes"] Follow us on Twitter[/button]
References
BBC. 2012. "Ageing China: Changes and Challenges." BBC News, 19 September http://www.bbc.com/news/world-asia-19630110 (16.10.12).
Chen, Zhou. 2011. "The Embodiment of Transforming Gender and Class: Shengnü and Their Media Representations in Contemporary China." Master's thesis, University of Kansas.
Ding, Min and Jie Xu. 2015. The Chinese Way. Routledge: New York.
Luo, Wei, and Zhen Sun. 2014. "Are You the One? China's TV Dating Shows and the Sheng Nü's Predicament." Feminist Media Studies, October: 1–18.
Mao Li 毛利. "想反逼婚,先证明你不是废物" [Prove You're Not a Loser Before Opposing Marriage Pressure]. Dajia, 11 February http://dajia.qq.com/blog/466362096792665 [24.2.15].
Qi, 2014. "Baby Boom or Economy Bust." The Wall Street Journal, 2 September http://blogs.wsj.com/chinarealtime/2014/09/02/baby-boom-or-economy-bust-stern-warnings-about-chinas-falling-fertility-rate/ [24.2.15].
Yang Zao 杨早. 2015. "为了国家,为了社会,逼你结婚"  [Pressured to Get Married: For the Country, For Society]. Dajia, 17 February http://dajia.qq.com/blog/431261063359665 [24.2.15].
Zhang Shi 张石. 2015. "中国的"逼婚"和日本的"不婚" [China's 'Pressured-Married' and Japan's 'Non-Married']. Dajia, 16 February http://dajia.qq.com/blog/462372023502987 [24.2.15].
Image by Tencent Dajia, 2015. 
– Appreciate this article and want to help us pay for the upkeep costs of What's on Weibo? You can do so here! Every penny helps.

©2014 Whatsonweibo. All rights reserved. Do not reproduce our content without permission – you can contact us at info@whatsonweibo.com.
"Living a Nightmare" – Chinese Beauty Guru Yuya Mika Shares Shocking Story of Domestic Abuse
Famous makeup artist Yuya Mika shared her story in a video that has since gone viral on Weibo.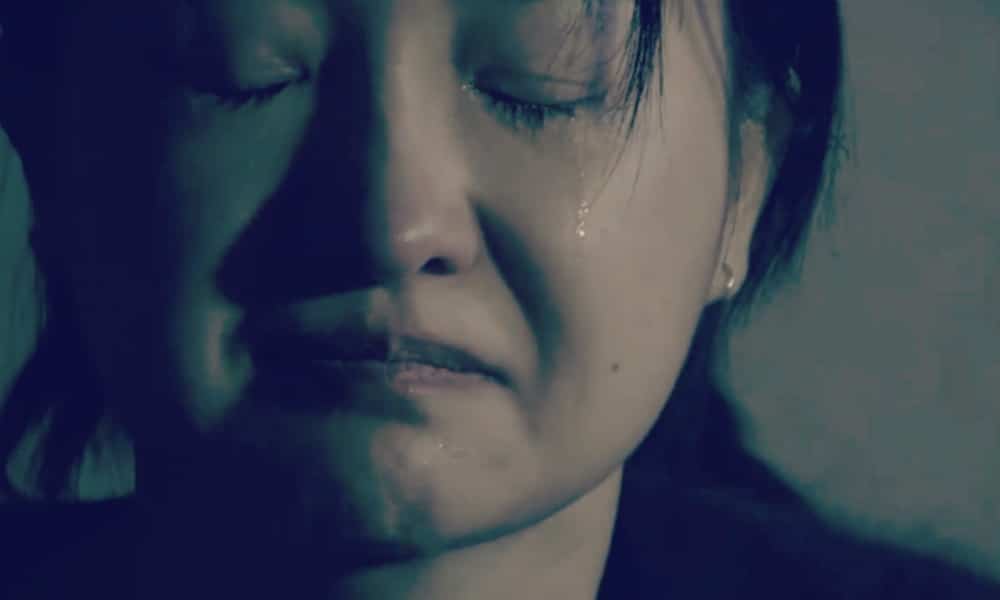 First published
Chinese famous makeup vlogger Yuya Mika has come out and shared her experience of being physically abused by her former boyfriend. Yuya's story – told in a documentary-style video that is now going viral – does not just raise online awareness about the problem of domestic violence, it also shows the raw realness behind the glamorous facade of China's KOLs' social media life.
Fashion and makeup blogger He Yuyong, better knowns as Yuya (宇芽) or Yuya Mika (@宇芽YUYAMIKA), has gone viral on China's social media platform Weibo for sharing her personal story of suffering domestic abuse at the hands of her ex-partner.
On Monday afternoon, November 25 – which is the International Day for the Elimination of Violence against Women – Yuya, a KOL (Key Opinion Leaders/online influencer) who has over 800,000 followers on her Weibo account, wrote: "I'm a victim of domestic violence. The past six months, I feel like I've been living a nightmare. I need to speak up about domestic violence here!"
With her post, Yuya shared a 12-minute documentary-style video in which she tells how she has been abused by her partner of one year, with whom she has now separated.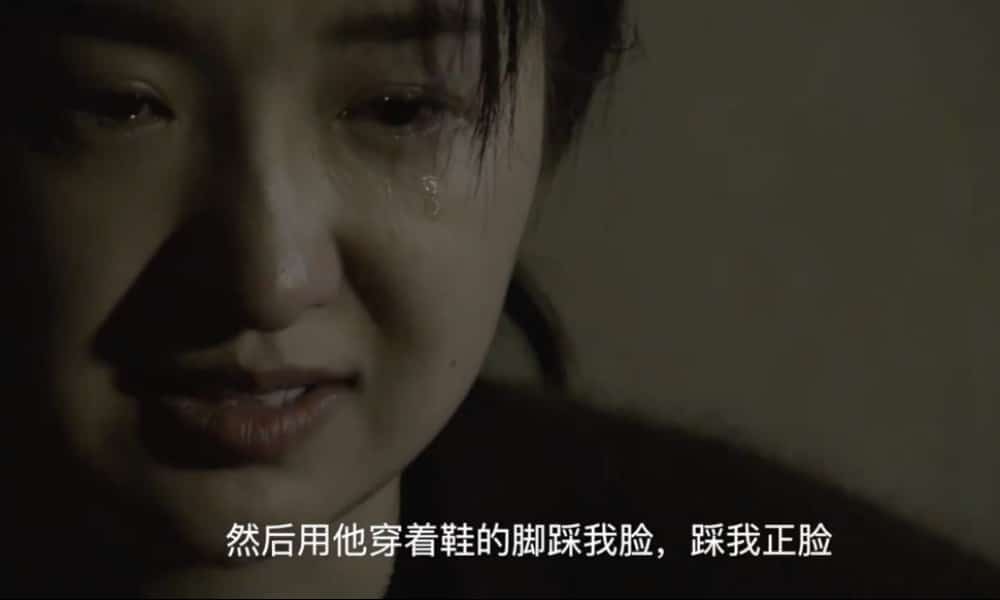 The short doc does not just tell Yuya's story, it also features the experiences of her former partner's ex-wives, who allegedly also suffered domestic violence at his hands.
Besides the shocking accounts of the women, the video contains also footage of Yuya's ex-boyfriend trying to violently drag her out of an elevator – a moment that was caught on security cameras in August of this year.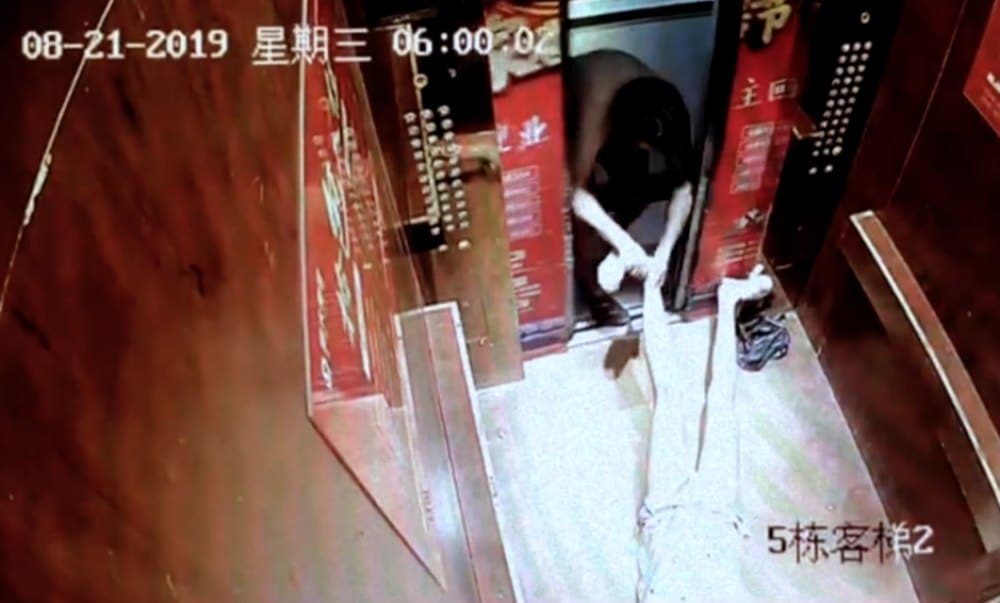 Yuya identifies her former boyfriend and abuser as the 44-year-old artist and Weibo blogger 'Toto River' (@沱沱的风魔教), who was married three times before starting a relationship with the famous beauty blogger.
The two met each other through social media, and Yuya initially fell for his talent and kindness. But, as she says, his perfect social media image soon turned out to be nothing but a fake facade, and the nightmare began.
The beauty blogger explains that the domestic violence went hand in hand with mental abuse, with Yuya being brainwashed into believing she was lucky to be with a man such as her boyfriend.
As the abuse became a regular occurrence, Yuya tearfully explains how she sometimes could not work for a week because her face was too bruised for shooting videos.
Yuya also writes on Weibo that she shares her story so that the experiences she and her ex-boyfriend's former wives suffered will not happen to other women, and to warn others from ending up in a similar situation.
Meanwhile, the Weibo account of Yuya's former boyfriend has been closed for comments.
Yuya Mika is not just popular on Weibo and video ap Tiktok. The beauty guru – famous for doing imitation makeup of celebrities and famous icons such as Mona Lisa – also has over 750k fans on her Instagram account and thousands of subscribers on her YouTube Channel, where she posts makeup tutorials.
Yuya is part of the company of Papi Jiang (aka Papi Chan), a Chinese vlogger and comedian who became an internet celebrity in 2016. On Tuesday, the Papi Jiang company also responded to Yuya's video, saying they fully support the makeup artist in coming forward with her story.
At time of writing, Yuya's story has been shared over 425,000 times, with a staggering thread of more than 280,000 comments on Weibo.
Many commenters respond in shock that the tearful woman in the video is actually Yuya, as the makeup artist is usually always smiling and shining in front of the camera. Other Weibo users express their hopes that Yuya's ex-boyfriend will be punished for what he did.
With over 160 million views, the hashtag "Yuya Suffers Domestic Abuse" (#宇芽被家暴#) is now in the top five of most-discussed topics on Weibo.
Over the past few years, the issue of domestic violence has received more attention on Chinese social media, especially since China's first national law against domestic violence came into effect on March 1, 2016. More women have come forward on Chinese social media to share their personal experiences with domestic abuse.
According to Chinese media reports of Tuesday afternoon, local authorities are currently investigating Yuya's story.
By Manya Koetse, with contributions from Miranda Barnes
Follow @whatsonweibo
It's almost Black Friday! We've already listed the best VPN deal for you here.
Spotted a mistake or want to add something? Please let us know in comments below or email us. First-time commenters, please be patient – we will have to manually approve your comment before it appears.
©2019 Whatsonweibo. All rights reserved. Do not reproduce our content without permission – you can contact us at info@whatsonweibo.com.
40-Year-Old Woman Completes Shanghai Marathon While 8 Months Pregnant
Pregnant marathon runner Lili clashes with Chinese traditional attitudes towards women who are expecting a baby.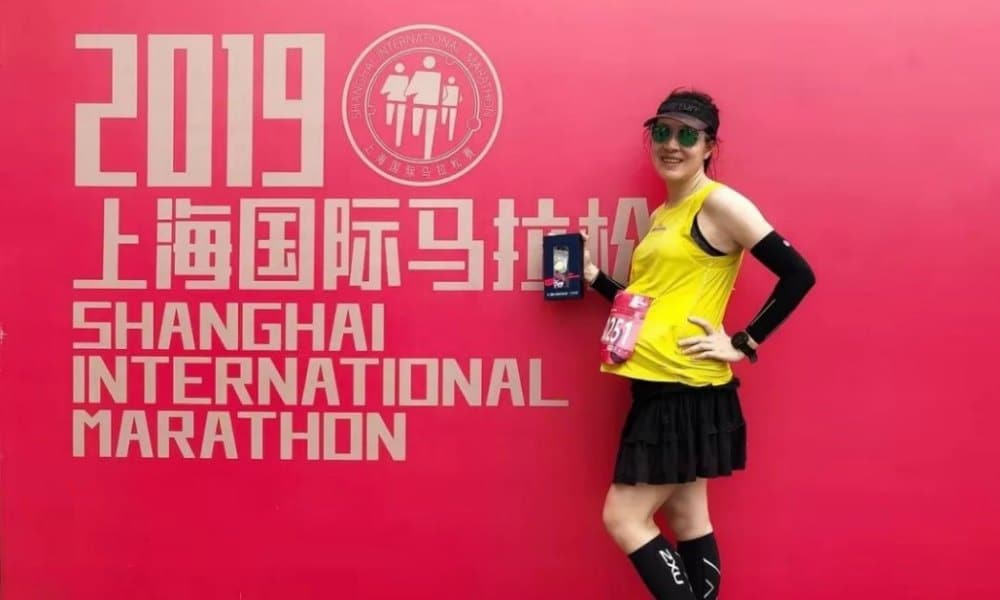 Published
A 40-year-old woman named Li Lili (黎莉莉) became news in China after she ran the Shanghai Marathon last Sunday while 32 weeks pregnant, completing the race in five hours and 17 minutes.
This was the third marathon Li has run during her pregnancy. She ran the first two during week eight (with a time of 3:54:43) and week 22 (with a time of 4:47:58) of her pregnancy.
Lily is an avid runner, having completed 62 marathons during her lifetime. Her story went viral on Weibo under the hashtag "8 Months Pregnant 40-Year-Old Woman Runs Marathon" (#40岁孕妇怀胎8月跑完全马#), which has received over 200 million reads at time of writing.
Her story has ignited debate across Weibo this week regarding the merits and dangers of vigorous exercise during pregnancy. In interviews with the press, however, Li remained defiant in the face of her critics.
"For many people, they are worried about this because they don't understand it," she told video news site Pear Video in an interview.
"Many people have told me it is dangerous. They criticize me, just like they criticized Chen Yihan," she says, referring to Taiwanese actress Ivy Chen (陈意涵) who faced fierce online criticism after posting pictures of herself running while five months pregnant in 2018.
"But most of these critics have never even been pregnant," Li continued: "The fact is, I did this because I have a very deep understanding of my own body. I've run over 60 marathons, I am an extremely good runner. I've run a marathon in 3:28, which is considered an excellent time even for talented athletes, even for men. I have my own training methods, I've been training for a very long time, and have carefully prepared for these marathons."
The reactions to Li's story online have ranged from enthusiastic praise to outright condemnation.
"Wow! I admire how strong she is! It is said that each person knows what is right for them in their own heart. It's none of your business what she does with this unborn hero!" gushes the most popular comment on Pear Video's Weibo post about the story.
But another popular comment argues that marathon running is actually inappropriate for Chinese women in general: "Foreigners running marathons is fine, but this is not for Chinese women. Pregnant Chinese women running marathons is equivalent to them not caring for their children."
The results from a poll put out by Chengdu Economic Daily so far show the majority of readers do not oppose Li's decision to run a marathon, with 54,000 choosing the option "One case cannot represent the whole, it will vary from individual to individual" and 38,000 choosing "Support, if the mother's body is strong enough." Only 17,000 chose the option "Oppose, pregnant women should not engage in vigorous exercise."
Some comments on the poll argued that Li was irresponsible to take part in a marathon, in case something did go wrong: "Problems come up when you least expect them. If it's just you running on your own, that's one thing. But this is a group race. I can't say if it's right or wrong, but it could bring a lot of trouble to other people."
But the majority of popular comments expressed outright support and admiration, or at the very least opposition to Li's critics, telling them to mind their own business.
The support for Li's decision appears to fly in the face of Chinese traditional attitudes towards pregnant women. The list of dos and don'ts for Chinese mothers-to-be is long and complex, ranging from the bizarre (no eating/drinking dark foods so as not to affect the baby's skin color) to the more common (avoiding shellfish).
The belief that pregnant mothers should avoid exertion is high on the list, extending even to the month after birth.
But despite these strong traditions, Li's strength and determination have clearly inspired new support for expectant mothers who wish to continue an active lifestyle while pregnant.
Also read: 'Sitting the Month' – a Gift or Torture?
Also read: Bad Mom To Be? Pregnant Woman Intentionally Trips 4-Year-Old Boy in Baoji
By Jessica Colwell
Follow @whatsonweibo
Spotted a mistake or want to add something? Please let us know in comments below or email us. First-time commenters, please be patient – we will have to manually approve your comment before it appears.
©2019 Whatsonweibo. All rights reserved. Do not reproduce our content without permission – you can contact us at info@whatsonweibo.com.