Pressured to get Married: For the Country and For Society
Every year, China's bachelors and bachelorettes are dreading the return to their hometowns, as parents and family members will inescapably ask them that one question: "Why are you not married yet?"
WHAT'S ON WEIBO ARCHIVE | PREMIUM CONTENT ARTICLE

A creative protest against social marriage pressure has reignited online discussions about the status quo of China's unmarried adults. While some support the choice of Chinese younger adults to be in charge of their own happiness, others suggest they are too focused on personal fulfillment.
Chinese New Year and the pressure to get married: it has already become an 'old' topic. Every year, China's bachelors and bachelorettes are dreading the return to their hometowns, as parents and family members will inescapably ask them that one question: "Why are you not married yet?"
This year, a group of Chinese young women protested in Shanghai against their parents pressuring them to marry, holding signs saying: "Mum, please do not force me to get married during New Year, I'm in charge of my own happiness."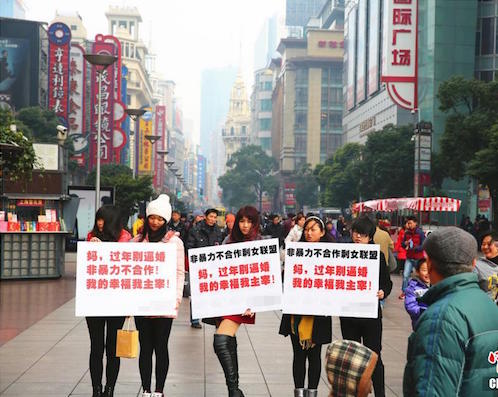 Protest in Shanghai against marriage pressure, February 4, 2015 (Qingdao News).
The women became a hot topic amongst netizens and authors, reigniting the online discussion about the status quo of China's unmarried adults. "Coming back to your hometown saying you don't want to be pressured into marriage is like going to the dog meat festival saying you don't want to eat dog," says writer Mao Li.
The Shengnü and Shengnan 'problem'
The term 'shengnü' (剩女 'leftover woman') has been a somewhat derogatory catch phrase in China's media for years. It refers to women who are still single at the age of 27 or above; usually well-educated ladies who have difficulties in finding a partner that can live up to their expectations.
Their disadvantage in finding a partner relates to existing ideas in Chinese culture about the 'ideal' marriage age of women. A recent survey has pointed out that 50% of Chinese men already consider a women 'left over' when she is not married at the age of 25.
The male counterpart of the shengnü is the so-called 'shengnan' (剩男, 'leftover man'). Chinese men face great difficulties in finding a bride, as Mainland China has been faced with an unbalanced male-female ratio since the 1980s. At the peak of disparity in 2004, more than 121 boys were born for every 100 girls. One explanation for this imbalance is the traditional preference for boys and sex-selective abortions since the one-child policy was introduced in 1978.
According to estimations, there currently are 20 million more men than women under the age of 30 (Luo & Sun 2014, 5; Chen 2011, 2).
The abundance of both single women and men in present-day China would suggest that there is hardly a problem: why don't they just get married? Problematically, the majority of China's unmarried women are twenty-somethings who live in urban areas and are at the 'high end' of the societal ladder (relatively high income and education), whereas the majority of the shengnan are based in rural areas and are at the 'lower end' (lower income/education).
Since Chinese women traditionally prefer to 'marry up' in terms of age, income and education, and the men usually 'marry down', the men and women find themselves at the wrong ends of the ladder (Ding & Xu 2015, 114).
China needs a babyboom
"Get married soon and have lots of babies," says Huang Wenzheng, activist and one-child policy opponent (Qi 2014). China is currently facing a rapid decline in births. At the same time, the population is aging.
It is estimated that over 25% of Chinese people will be 65 years and older in 2050, leaving the burden of care to younger generations (BBC 2012). Getting Chinese bachelors and bachelorettes to marry and produce children has thus gone beyond the wish for a wedding banquet and cute grandchildren – it has become an important matter to society.
According to recent statistics, 80% of China's bachelors and bachelorettes over the age of 24 experience pressure by their families to get married when they go home for the holiday period. The festival is now even nicknamed the "marriage pressure holiday" (催婚假期).
Parents looking for a suitable partner for their single sons and daughter (Xinhua). 
After Chinese New Year, there generally is a 40% increase in blind dates. These meetings are often arranged by the parents, who attend 'blind date events' for their single sons or daughters. Many parents gather in public parks over the weekend, carrying banners with the picture and details of their unmarried child in the hopes of finding a suitable marriage partner for them.
"Don't oppose to marriage pressure if you're a loser"
Well-known scholar Yang Zao (杨早) responds to this topic on Tencent's Dajia ('Everybody', a media platform for authors), with an essay titled "Pressured to Get Married: For the Country, For Society" (为了国家,为了社会,逼你结婚). Yang is the third author to discuss the New Year's marriage pressure and the Shanghai girls who want to take their love life into their own hands. The other two columns are by female writer Mao Li (毛利), who wrote an essay titled "Prove You're Not a Loser Before Opposing Marriage Pressure" (想反逼婚,先证明你不是废物), and columnist Zhang Shi (张石), whose piece is called "China's 'Pressured-Married' and Japan's 'Non-Married""(中国的"逼婚"和日本的"不婚"). Yang analyses the current debate on marriage, wondering if it is so controversial because society is pressuring it more or because unmarried adults are opposing it more.
Parents put more pressure on their children to get married, and children increasingly oppose it, says Mao Li. According to her, both sides make sense, but it is the children who have to explain their point-of-view; why would their parents understand them?
Those who were born in the 1980s and 1990s come from completely different times than their mothers and fathers, who suffered many hardships to get where they are today. Mao Li compares the way they raised their children to a farmer raising his crops: planting seeds, watering the fields and creating the right environment to grow. Now that the children are grown up and have left the family home, the logical step for them would be to get married – after all, their parents worked hard to build the right conditions for them to do so. They should not be surprised when their parents urge them to get settled. 
"Coming back to your hometown saying you oppose to marriage pressure is like coming to the dog meat festival saying you oppose to eating dog," Mao says: "You can't expect people to comprehend it." According to Mao, children can only oppose marriage pressure when they are completely independent. They cannot oppose marriage and still cling to their parents for financial support. "Prove you're not a loser before opposing marriage pressure," she says.
Writer Zhang Shi approaches the issue from another perspective; that of society. In Japan, fertility rates have sharply decreased. While society is ageing, the lack of young workers causes economic problems.
In order not to end up with the same problems as Japan, China has to get the marriages coming and birth rates going, argues Zhang. Parents who are forcing their children to get married are actually contributing to society, says Zhang: it is 'warm advice', not cold pressure. In an age of declining birthrates, urging people to have babies is a "social responsibility".
"For the country, for society, for parents, can't you let go a bit of 'personal happiness'?"
The pressure to get married is ingrained in social ideology and China's traditional family ethics, says Yang Zao. The problems that now emerge within society come from a clash between individualist and collectivist values.
Chinese society cannot be a perfect mix of both individualism and collectivism, according to Yang: "It is either one, and both will have downsides." If China wants a liberal, individual-focused society, then its "evils" will have to be accepted too: some people will marry late, some will not marry at all, some will not have kids, others will go job-hopping, some people move from city to city and never settle down. Such a society will also generate low birth rates and an ageing society.
In a collective, family-focused society, the aging crisis and declining birth rates could be halted. Parents would not have to go to public parks to search for suitable partners for their unmarried kids. "For the country, for society, for parents, can't you let go a bit of personal happiness'?", says Yang. After all, isn't marriage key to solving China's present-day problems?
Since 1950, marriage officially is a 'freedom of choice' in Mainland China. Nevertheless, marriage in China still seems to involve more than two people: it is a get-together of two families with societal backing.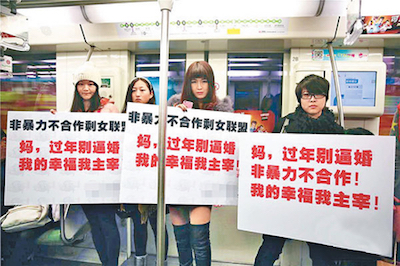 One Weibo user says: "The shengnü do not have an individual problem; they are a problem because society at large believes they have a problem – this is why it is a 'problem'."
No matter what the 'nation', 'society', or parents think, the protesting Shanghai girls are positive about their future: it is in their hands, and in their hands alone.
– by Manya Koetse
References
BBC. 2012. "Ageing China: Changes and Challenges." BBC News, 19 September http://www.bbc.com/news/world-asia-19630110 (16.10.12).
Chen, Zhou. 2011. "The Embodiment of Transforming Gender and Class: Shengnü and Their Media Representations in Contemporary China." Master's thesis, University of Kansas.
Ding, Min and Jie Xu. 2015. The Chinese Way. Routledge: New York.
Luo, Wei, and Zhen Sun. 2014. "Are You the One? China's TV Dating Shows and the Sheng Nü's Predicament." Feminist Media Studies, October: 1–18.
Mao Li 毛利. "想反逼婚,先证明你不是废物" [Prove You're Not a Loser Before Opposing Marriage Pressure]. Dajia, 11 February http://dajia.qq.com/blog/466362096792665 [24.2.15].
Qi, 2014. "Baby Boom or Economy Bust." The Wall Street Journal, 2 September http://blogs.wsj.com/chinarealtime/2014/09/02/baby-boom-or-economy-bust-stern-warnings-about-chinas-falling-fertility-rate/ [24.2.15].
Yang Zao 杨早. 2015. "为了国家,为了社会,逼你结婚"  [Pressured to Get Married: For the Country, For Society]. Dajia, 17 February http://dajia.qq.com/blog/431261063359665 [24.2.15].
Zhang Shi 张石. 2015. "中国的"逼婚"和日本的"不婚" [China's 'Pressured-Married' and Japan's 'Non-Married']. Dajia, 16 February http://dajia.qq.com/blog/462372023502987 [24.2.15].
Image by Tencent Dajia, 2015. 

©2014 Whatsonweibo. All rights reserved. Do not reproduce our content without permission – you can contact us at info@whatsonweibo.com.
'Sister Blood Points' Controversy: Shanghai Woman's Tibet Blood Donations Ignite Privilege Debate
Dozens of local public officials in Tibet donated blood to rescue a Shanghainese woman. Netizens believe it's a matter of privilege.
The medical rescue of a critically injured Shanghai woman in Tibet has recently triggered major controversy on Chinese social media after netizens suspected that the woman's treatment may have been facilitated through the abuse of power.
What was supposed to be a romantic honeymoon getaway turned into a nightmare for newlyweds Yu Yanyan (27, 余言言) and her husband Tao Li (29, 陶立).
On October 14, just two weeks after their wedding, the couple from Shanghai was driving on China's National Highway 219. Their destination was Ngari Prefecture in Tibet's far west, where the average elevation is 4500 meters.
As they drove by the famous mountain pass Jieshan Daban (界山達阪), situated at an altitude of 5347 meters, they suddenly realized that the altitude was affecting them. Soon, Tao Li, who was driving the car, lost consciousness and crashed the car. Yu Yanyan, on the passenger side, was badly injured in the crash.
What followed was a complicated, time-sensitive, and costly rescue operation. At the Ngari People's Hospital (阿里地区人民医院), Yu was diagnosed with a ruptured liver, abdominal bleeding, hemorrhagic shock, and thoracic trauma. She was losing a lot of blood in a short time and required surgery, but there was not enough blood available for a blood transfusion at the time in the sparsely populated region, as reported by Beijing News.

Tibetan Civil Servants to the Rescue

While the hospital made efforts to secure donations, specifically requiring an adequate supply of A+ type blood, Yu's husband was reportedly advised to reach out to the Shanghai Municipal Health Commission (上海卫健委) to inquire about potential assistance. One of his aunts, or his 'auntie', allegedly helped him to contact them.
These efforts appeared to be fruitful. Between October 16-17, just days following the crash, numerous members of the public and dozens of local civil servants in Tibet, including firefighters, policemen, and military personnel, stepped forward to donate blood, contributing to over 7000 mL of A-type Rh-positive blood that ultimately saved Yu's life.
Allegedly thanks to the Tibet office of the Shanghai Municipal People's Government, a medical specialist from Shanghai was even sent to assist in the medical treatment of Yu at the Ngari hospital.
As Yu later required more advanced medical care and surgeries, she was advised to go to a bigger hospital. She was then transferred via a specially arranged chartered plane. The total costs of this medical chartered plane flight from Ngari to Sichuan's Huaxi hospital (四川华西医院), arranged by Yu's father, allegedly cost 1,2 million yuan (US$169.230).
After receiving surgery at the Huaxi Hospital, Yu was in stable condition and was transferred to Shanghai.

An Abuse of Power?

Yu's story began drawing notice, eventually garnering nationwide media coverage, after Yu herself posted a video on her social media account (Douyin) in which she recounted her experiences. Yu, who only had a relatively small group of followers, told about her rescue operation and her recovery. But instead of garnering sympathy, it led to many questions from netizens and went viral. The video was later deleted.
Who was the 'auntie' who reached out to the Shanghai Municipal Health Commission? How were Tibet public officials made to donate blood for this Shanghai patient? What power dynamics were in play that facilitated the mobilization of people in this manner by the family?
People became upset, as they suspected Yu's life had only been saved because of an abuse of power, and that ordinary Chinese patients would never have never received a similar treatment.
They started referring to Yu as 'Sister Blood Points.' The Chinese term is xuè cáo jiě 血槽姐, with xuè cáo 血槽 (lit. blood groove) often being used in the world of gaming to refer to the health bar, an image in video games that shows the player how much energy or blood or strength they have left before it's game over.
There were also various digital (AI-generated) images showing Yu surrounded by bags of donated blood, portraying her as a privileged, blood-sucking Shanghai 'princess' in Tibet.
Following the online commotion, the Ngari Propaganda Department issued a statement on November 29 promising to look into the issue. Additionally, in the first week of December, various Chinese media outlets also started to investigate the case.

An Ordinary Patient in Extraordinary Circumstances

On December 6, online newspaper The Paper (澎湃新闻) published an article together with Shangguan News (上观新闻) which answered some of the most pressing questions surrounding the case.
The Paper reported that they found no officially organized mobilization of public officials or members of the public to donate blood. Instead, local workers and individuals donated blood after learning about the woman's situation through various channels, including from the hospital staff. Yu Yanyan's husband Tao called the successful blood donation campaign a result of "multi-party mobilization" ("这是我们多方动员的结果,确实不是有组织的。")
The Shanghai Municipal Health Commission also denied that they had contacted health authorities in Tibet to ask civil servants to donate blood. They claimed their members of staff did not personally know the patient nor any members of her or her husband's family.
Furthermore, the article says that the woman known as 'auntie' is a 60-year-old retired woman who previously worked at a crafts factory. Upon learning about Yu's predicament, she forwarded the information to her daughter-her-law, who works at a bank and also did all she could to spread the news and ask for help. This eventually led to the Tibet office of the Shanghai Municipal People's Government being updated on the situation.
The Tibet office has refuted any suggestion that personal relationships influenced the procedures that resulted in the dispatch of a Shanghai medical expert to assist at Ngari People's Hospital. A Shanghai medical team stationed in Tibet received a request for urgent support at the hospital and, following their ethical work guidelines, dispatched an expert to provide assistance.
The Paper further stated that nor Yu, nor her husband or their family were officials. In order to pay for the medical flight, Yu's parents used family savings and borrowed money from others.
All of the information that was coming out about the entire ordeal seemed to indicate that Yu was just an ordinary patient in extraordinary circumstances.

A Sign of Distrust

While certain commenters believe that the latest information has put an end to weeks of speculation, others continue to harbor suspicions that there might be more to the story – they are not satisfied with the answers provided on December 6.
As some netizens dug up screenshots of online calls for help from Tao, Yu's husband, some commenters responded: "This only makes it clearer that there's no special status (特殊身份) here. Real influential officials wouldn't go so low as to seek help online. A simple phone call would have quickly resolved their issue."
In the end, the entire ordeal, now labeled "The Civil Servant Blood Donation Incident" (公务员献血事件) on Chinese social media, reveals more about public distrust in the transparency of China's healthcare system than it does about Yu, her family, or the situation in Tibet.
While frustrations regarding privilege and power abuse within China's healthcare system have existed for years, this issue has gained significant public attention this year in light of the launch of a top-down anti-corruption campaign targeting the healthcare industry.
This issue is especially important due to China's longstanding struggle with public mistrust in the medical care sector. Some studies even suggest that China's healthcare system has suffered from a "trust crisis among the public" since the 1990s (Chen & Cheng 2022, 2).
Multiple factors contribute to the relatively low trust in the Chinese healthcare system, but access and costs both play major roles. The sentence "Getting medical attention is difficult, getting medical attention is expensive" (Kànbìng nán, kànbìng guì 看病难,看病贵) has become a well-known expression among Chinese patients dissatisfied with the challenges they encounter in both accessibility and affordability when seeking medical treatments.
Most medical providers in China have become increasingly commercialized and profit-driven since the 1980s, leading to problems with crime and corruption within the medical system as medical professionals are expected to balance both a focus on patient well-being and financial gain. With doctors contending with low pay and incentive-based labor, bribery has emerged as a well-known problem, often considered somewhat of an "open secret" (Fun & Yao 2017, 30-31).
The prevalence of such issues has fueled public frustration, making individual cases like Yu Yanyan's a source of intense controversy. In an environment where "getting medical attention is difficult, getting medical attention is expensive," and where corruption is a notorious problem, many people simply do not think it is possible for one young woman to receive so much medical assistance from doctors and civil servants without the involvement of connections, power abuse, and bribery in the process.
Now that more details about the 'blood point sister' story have come to light, most netizens have started to question the truth behind this story and realize that Yu might just be an ordinary citizen, while some bloggers are still demanding more answers. In the end, most agree that it is not really about Miss Yu at all, but about whether or not they could expect similar medical treatment if they would end up in such a terrible situation.
"Is there currently an emergency response system in place that allows ordinary people to seek help in equally urgent crises?" ("当前是否存在一个紧急响应机制,可以让普通人在遇到同样紧急的危机时,能寻求帮助?") one Sina blogger wonders.
"It is actually not important to know if they had special privileges or not," one Weibo commenter writes: "I just hope that if patients need donated blood in the future, they will get the same treatment."
By Manya Koetse, with contributions by Miranda Barnes
Get the story behind the hashtag. Subscribe to What's on Weibo here to receive our newsletter and get access to our latest articles:
References:
Chen, Lu, and Miaoting Cheng. 2022. "Exploring Chinese Elderly's Trust in the Healthcare System: Empirical Evidence from a Population-Based Survey in China." International Journal of Environmental Research and Public Health 19 (24): 16461-.
Fun, Yujing & Zelin Yao. 2017. "A State of Contradiction: Medical Corruption and Strain in Beijing Public Hospitals. In: Børge Bakken (Ed.), Crime and the Chinese Dream, Hong Kong University Press: 20–39.
Spotted a mistake or want to add something? Please let us know in comments below or email us. First-time commenters, please be patient – we will have to manually approve your comment before it appears.
©2023 Whatsonweibo. All rights reserved. Do not reproduce our content without permission – you can contact us at info@whatsonweibo.com.
'Auntie Goose Legs' Goes Viral after Becoming Sensation in Beijing's Student Scene
She has become all the rage in Beijing's student district, but Auntie Goose Legs just wants to run her roasted goose leg stall in peace.
A Beijing food vendor, affectionately known as 'Auntie Goose Legs,' has become a viral sensation after becoming super popular among the city's student community. However, this beloved 'auntie' has caused quite a commotion recently after relocating her stall, triggering debates among local students over which university she truly 'belongs' to.
This winter, students at Peking University, Tsinghua University, and Renmin University are all craving hot, roasted goose legs. This snack has gained quite the reputation in the Beijing's Haidian District, where 'Auntie Goose Legs' has been selling her food near the dorms and entrances of the various local universities.
The food vendor, who is known for wearing a pink helmet, initially sold her goose legs near the entrances of Peking University and Renmin University, not too far from Haidian South Street. All went well for years. She would let students know when she would be setting up her stall near what entrance, and the neighbourhood kids could come and enjoy her roasted goose legs.
Although her business was doing well, Auntie Goose Legs still found it necessary to remind students she was coming and promoted her goose legs through WeChat to ensure sufficient sales.
Then, one day, Auntie made a sudden decision to relocate further north, near the entrance of Tsinghua University. This move stirred conversations in many Beijing students' WeChat groups.
While the Peking University student community mourned the loss of convenient access to their beloved goose legs, the Tsinghua crowd welcomed Auntie with enthusiasm. Besides eagerly buying her goose legs, they went a step further by assisting her in professionalizing her business, setting up special Goose Legs WeChat groups, and implementing online queuing and payment systems.
As reported by WeChat account Meishaonv023 (美少女挖掘机), the students at Peking University pleaded for the return of their beloved Auntie. Meanwhile, concerns arose among Tsinghua students, as the Auntie's skyrocketing popularity made it increasingly challenging to secure their goose leg snacks. Perhaps their campaign to promote her business had become a little bit too successful?
According to Meishaonv023, Auntie Goose Legs has become so famous locally that among Beijing's university students and in Wudaokou circles (Wudaokou is the famous student hub in Beijing's Haidian), there are now only two groups: those who have tasted her goose legs and those who have not.
Roasted goose, with is deep flavor and golden skin, is a dish that is commonly enjoyed in various international cuisines, especially during winter seasons. According to some people who have tasted the Beijing food vendor's goose legs, they are the perfect mix of juicy and tender, sweet and spicy.
Amidst the hype surrounding the goose leg food stall, Auntie decided to raise her prices by 1 yuan, increasing from 15 yuan ($2.12) per goose leg to 16 yuan ($2.26). Unexpectedly, some people also decided to make some extra money by becoming 'Goose Leg scalpers' and adding another 2 yuan to the price of one goose leg when reselling it to other students.
And there were more developments in the Auntie Goose Legs saga. When she decided to announce that she would no longer set up her stall at Tsinghua on Sundays, the students argued that she then should not set up her stall anywhere else on that day, either. If they can't have goose legs on Sundays, then the Peking Uni students certainly shouldn't have goose legs on Sunday either?
Then, the canteen manager at Renmin University suddenly made a surprising move on November 27 and introduced roasted goose legs in the university's canteen, selling them for just 15 yuan. Some people, however, argued that they lacked the 'soul' of Auntie's food. Meanwhile, the people at the nearby Forestry University also showed their interest in joining the Goose Leg battlefield.
One of the reasons why this story has blown up on Chinese social media is because the universities involved are among the most prestigious of the entire country. It strikes people as amusing that instead of focusing on applied mathematical problems, these top academics are actually engaged in bickering over roasted goose legs.
A Covid test line? New bubble tea shop? No, these Beijing students are lining up for the roasted goose legs by 'Auntie Goose Legs.' The local food vendor has gone viral after becoming a sensation in Beijing's student scene, from Beida to Tsinghua 🍗 Read: https://t.co/fCPjFaiaqA pic.twitter.com/VeUVVhD0VP

— Manya Koetse (@manyapan) November 29, 2023
As the success of her business blew up, Auntie Goose Legs, seemingly overwhelmed, announced that she was going to take a short break from her food stall on November 28, writing: "It's all too messy now." One day later, she seemed emotional in a Douyin video, in which she said she felt too much pressure because of how the situation was unfolding, and that she just wanted to sell her goose legs in peace ("只想平平安安做烧烤").
Her story shares some resemblance to that of the duck head seller in Zibo (鸭头, duck head, is a Chinese snack). Earlier this year, when the Shandong town of Zibo became all the rage, a local duck head seller became an online sensation after a video showing how a female tourist touched his muscles went viral overnight. What do you do when you suddenly see 180,000 visitors a day passing by your small duck's head shop?
Although his hit status initially boosted sales, the crowds of people coming to his shop soon became so overwhelming that he could no longer run his business as usual. As some even started harassing and physically assaulting him, he could no longer do his work and had to temporarily close his shop. In a live stream, he tearfully talked about how his business, ironically, was facing difficulties due to his viral success.
"It's not always good to go viral like this," one Weibo commenter wrote about Auntie Goose Legs. "If she wants some peace, just let her." While many share the sentiment, suggesting that the food vendor deserves a break after becoming a local sensation, others just want to try out her food. One thing is certain; goose legs are the trending snack for this Beijing winter.
By Manya Koetse, with contributions by Miranda Barnes
Get the story behind the hashtag. Subscribe to What's on Weibo here to receive our newsletter and get access to our latest articles:
Spotted a mistake or want to add something? Please let us know in comments below or email us. First-time commenters, please be patient – we will have to manually approve your comment before it appears.
©2023 Whatsonweibo. All rights reserved. Do not reproduce our content without permission – you can contact us at info@whatsonweibo.com.
Subscribe to our newsletter
Stay updated on what's trending in China & get the story behind the hashtag
Sign up here to become a premium member of What's on Weibo today and gain access to all of our latest and premium content, as well as receive our exclusive Weibo Watch newsletter. If you prefer to only receive our free newsletter with an overview of the latest articles, you can subscribe for free here.
Would you like to become a contributor, or do you have any tips or suggestions for us? Get in touch with us here.