Race Against Time: Terminal Patient Stays Alive for Wife's Residence Permit
Trending on Sina Weibo today is the story of a 39-year-old terminal cancer patient in Shenzhen, who is struggling to stay alive long enough for his wife to obtain a permanent residence permit. Only when he continues to live another year, she can continue to live in Shenzhen together with their son.
READING TIME: 3 MINUTES, 4 SECONDS
Trending on Sina Weibo today is the story of a 39-year-old terminal cancer patient in Shenzhen, who is struggling to stay alive long enough for his wife to obtain a permanent residence permit. Only when he continues to live another year, she can continue to live in Shenzhen together with their son.
He has had 11 chemo treatments, has gone through radiotherapy 40 times, takes a high dosage of morphine, and suffers every day because of the side effects and the pain of cancer. Although he says that "dying would be a relief", Wu cannot give up yet; if he dies, his wife and son cannot continue to live in Shenzhen. Due to a change in the local residence policies of the city, it takes three years before Wu's wife Ding Weiqing can get a permanent residence permit. This means Wu will have to stay alive until June 2016.
Wu Shuliang became a local celebrity in Shenzhen after his little son wrote an essay in 2013 titled "My Dream". It said: "I would give anything in the world if my dad could live." The 39-year-old Wu Shuliang then gained over 10,000 followers on his Weibo account, where he shares his experiences as a patient in the late stages of lung cancer.
Born and raised in Henan, Wu came to live and work in the bustling city of Shenzhen in 2003. He became a security guard, and was able to apply for permanent residence when he got promoted at work in 2012. In June 2013, he received an official permit as a Shenzhen resident, together with his underage son Wu Tong – now eight years old. According to policy, his wife could then also apply for residence, but would have to wait two more years to obtain the permit. Later in 2013, Wu was diagnosed with lung cancer. While the cancer became terminal and Wu's health was rapidly declining, the local government of Shenzhen changed the policies for official residence registration – the process would now take three years instead of two. As a consequence, Wu, as the Shenzhen registered husband of Ding Weiqing, will have to stay alive until June 2016 in order for his wife to receive an official residence permit.
In China, a large-scale migration from the country's rural areas into its urban centers has been going on for years. China's so-called 'hukou system' ('hukou' meaning household registration) dates back to the 1950s. It is a registered permanent residence policy that prevents rural citizens from flooding the cities. The hukou system registers every household, and is tied to local health care, public education and welfare. Those without a household registration are known as China's "floating population". They are mostly rural-to-urban migrants who are illegals within their cities, and thus have no access to benefits or local privileges.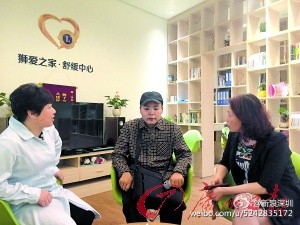 The cancer has caused his ribs to break, the treatments have cost him all his money, and he has lived ten times longer than his doctors originally predicted. "I don't even dare to dream of being cured," Wu tells reporters: "I only hope for a bit more time." Wu is working hard to stay alive: "If I die, what would my wife as an illegal alien do in Shenzhen, together with an 8-year-old kid? How could they survive?" In spite of his illness, he continues to work and make money. Although the local community has raised a lot of money to help pay for his treatments, Wu needs more to keep the household going. If he dies before June 2016, his hard work is "all in vain", he says. He can only hope that he has more time left on this earth: "I just hope to stay alive until next year June. When my wife is registered as a legal resident, I can die in peace."
– by Manya Koetse
[button link="http://www.twitter.com/whatsonweibo" type="icon" icon="heart" newwindow="yes"] Follow us on Twitter[/button]
[box] This is Weiblog: the What's on Weibo short-blog section. Brief daily updates on our blog and what is currently trending on China's biggest social medium, Sina Weibo.[/box]
©2014 Whatsonweibo. All rights reserved. Do not reproduce our content without permission – you can contact us at info@whatsonweibo.com.
Can't Enter Uni Because of Daddy's Bad Social Credit – The Blacklist Story That's Got Weibo Talking
When one bad social credit listing affects the entire family.
The story of a Chinese student who got admitted to a renowned university and was then denied access because of his father's bad social credit has got Chinese social media talking.
Getting access to a top university is not easy in China's fiercely competitive education environment. For one student from Wenzhou, Zhejiang province, the results of his gaokao (national university entrance exams) were so good that he received the happy news that he was accepted into one of these renowned universities in Beijing.
Unfortunately for him, that news was later followed up with an update that he could not be accepted due to his father's bad social credit standing.
The story, which was widely covered by Chinese state media (including the English-language CGTN), received much attention on Chinese social media this week.
The young man's father, named only as 'Mr. Rao' (饶先生), ended up with a bad credit standing after owing a debt of 200,000 RMB (±US$29,900) to a local bank for more than two years. Since Rao did not succeed in paying off his debt after warnings given, he was informed by a local court that he had ended up on a so-called "lose trust list" or "black list" (失信名单/失信黑名单).
Towards a More Credit-Based Society
In 2014, China's government first announced plans of its "Social Credit System" (社会信用体系) that focuses on accumulating and integrating information, and will create measures that encourage 'trustworthy behavior' and punishes those who are not 'trustworthy.'
The system is planned to go national by 2020, and is currently implemented in various regions across the country.
However, the public black list was introduced before this time, with Chinese courts in 2013 starting to publicly give out the names online of people who have not complied with court orders.
Additionally, In 2006, the People's Bank of China (PBOC) also already began operating its own independent Credit Reference Center tasked with managing a national commercial and consumer credit reporting system. With the recent launch of the so-called 'trust alliance' (信联), a new unified platform that has access to an enormous number of personal credit data, China's credit-based society has taken another leap – with state level and commercial organizations joining forces in further developing China's credit systems.
In recent (English-language) media reports, the lines are often blurred between the Social Credit system and a number of private programs, including the Sesame Credit program. These misunderstandings partly come from the fact that both the government's plans on introducing their 'Social Credit System' (社会信用体系) and the Central Bank's endeavors to build a stronger personal credit industry (个人征信行业) were major developments in the period from 2013-2015 up to the present. Together with the 2013 judicial online blacklist, these policies and programs all built on a stronger credit-based society that governs both economic and social areas.
The 'system' (there is not one system in place yet) works through rewards and punishment mechanisms. In the city of Zhuhai, for example, individuals or companies with good credit are put on a "red list" which potentially means they could be praised online (Zhuhai credit website) or given rewards, whereas those put on the "black list" (f.e. due to serious misbehavior or promise-breaching) will be subject to various restrictions (Zhang & Zhang 2016, 157).
Those restrictions could include a halt on loans or a national ban from traveling by air or train. Since private programs and institutions also have access to the public blacklists, one company or person's bad credit status can affect their status among various platforms and for various institutions – and thus, potentially, could also influence their children's access to schools and universities.
A Controversial Measure
The recent story of Rao's son paying the price for this father's bad credit listing has stirred controversy online over children being affected by their parents' bad credit listing.
One Weibo news thread on the issue received nearly 30,000 comments.
One of the most popular remarks on the story said: "If it is okay to treat those who are associated with an offender as guilty (连坐), then it's time to punish the sons and daughters of corrupt officials, too."
"A father's bad credit has nothing to do with the children!", another Weibo user said.
But another popular comment called the measure "effective," with others agreeing: "If he waited two years to pay off his debt, he was basically asking to be on the blacklist. That his bad credit influences his child's education is just to reap what one has sown."
Various Chinese media, including financial newspaper Caijing, report that the boy's father was previously warned by the local court that his bad credit standing could potentially have consequences for his children too, but that he still did not comply with court orders to pay back his loans.
Since Rao's son has been denied access to the university as long as his father has a bad credit standing, Rao has allegedly paid back the loan and has asked the local court to be removed from the blacklist.
There are also commenters on Weibo, such as @闪电McQueen, who say the university's actions are nothing newsworthy: "This is just the [political] examination of people's records, it's not specifically about the black list, it's common knowledge, let's not make it all about that black list."
This commenter's reaction reiterates the idea that the social credit system and black list system is actually not that new, as Rogier Creemers has previously described in Foreign Policy (2016): "The Chinese Communist Party government has always sought to keep tabs on its citizens, for instance through the "personal file" (dang'an) system of a few decades ago."
Another person on Weibo says: "The people who are saying the child is the victim here should also know that people who end up on the blacklist are generally not people without money, their kids have enough opportunities, it's just that if they owe money [to the bank], paying the tuition fee for their kids would become a problem."
As for Rao's son, whether or not he will be able to start at his new university in Beijing in the new semester, now that his dad has paid off debts, is yet unclear. Some commenters say it would be better if he didn't: "Who wants to go to a university who does this anyway?"
UPDATE (7.16.18): Jeremy Daum at the ever-insighful China Law Translate blog has further looked into this case and found that the institution in this article, which has not been named in Chinese media, is most probably a private academy. He was also able to verify that this concerns a real story with no fake names used – he was able track Rao down in the public blacklist.
UPDATE: A quick review of published enforcement actions in the relevant region by @yiqinfu was able to identify the case and verify entry onto the judgment defaulters list. This includes name and address etc, so I will not post it here, but can confirm there is a real case. https://t.co/yUw5DVAqgX

— China Law Translate (@ChinaLawTransl8) 16 juli 2018
By Manya Koetse, with contributions from Miranda Barnes
Follow @whatsonweibo
References
Creemers, Rogier; Peter Marris; Samantha Hoffman; Pamela Kyle Crossley. 2016. "What Could China's 'Social Credit System' Mean for its Citizens?" Foreign Policy, Aug 15
http://foreignpolicy.com/2016/08/15/what-could-chinas-social-credit-system-mean-for-its-citizens/ [15.7.18].
Zhang, Keting, and Fang Zhang. 201. "Report on the Construction of the Social Credit System in China's Special Economic Zones." In: Yitao Tao and Yiming Yuan (eds), Annual Report on the Development of China's Special Economic Zones (2016): Blue Book of China's Special Economic Zones, 153-171. Singapore: Social Science Academic Press.
Spotted a mistake or want to add something? Please let us know in comments below or email us.
©2018 Whatsonweibo. All rights reserved. Do not reproduce our content without permission – you can contact us at info@whatsonweibo.com.
Too Short to Become a Teacher: Chinese Woman Disqualified from Getting her Teaching Certificate Because of Her Height
A remarkable conundrum has got Chinese social media users talking. A woman who studied for four years to become a teacher was denied her certification – she allegedly is 10 centimeters "too short" to become a teacher, according to height requirements established by the Shaanxi Ministry of Education.
News of a Chinese university student being barred from receiving her teaching certificate because of her height has become a topic of discussion on Chinese social media.
A female student named Li was recently disqualified from receiving her teaching certificate after a medical examination measured her height as 140cm (4.6ft), 10cm shorter the height requirement of 150cm (4.9ft), Shaanxi media outlet CNWest (西部网) reports.
The student studies at Shaanxi Normal University. "Not getting a teaching certification would mean the end of my career," she told local reporters: "It would also go against the free education agreement I received when I entered the university."
Li is given exemption on her tuition fees under the so-called 'Future Teacher Scheme' by the Chinese Ministry of Education – a special programme designed to cover the tuition costs of selected university students who commit to teach at local schools upon graduation.
If Li fails to acquire her teaching certificate, however, it would kill her future job prospects. According to the 'Future Teacher Scheme' agreement, students are required to pay back the costs of their university education if they do not become a teacher.
"If there is such a [height] requirement, why would they have accepted me as a student in the first place? My four-year-long efforts now turn into nothing," Li said.
Since the issue made the news, Shaanxi Normal University responded to the issue, CNWest news reports. In a statement, the university said they were simply enforcing a 2009 provincial policy which stipulates that female applicants need to be taller than 150cm to qualify as a teacher.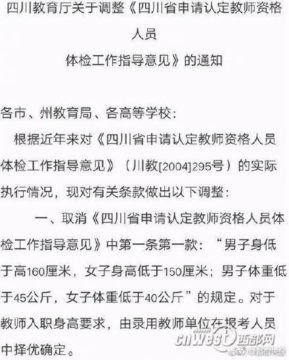 The national Chinese laws on teaching, however, do not set any height requirements for teachers.
"This is discrimination. If this happened in the United States, she could get 300 million US Dollars' worth of compensation," some commenters responded on Weibo.
"If Deng Xiaoping were alive, he would fire the entire Shaanxi Bureau of Education."
Local authorities told CNWest that exceptions on the height requirement policy are occasionally made; in 2012, for example, a student who did not meet the height requirement did obtain the teaching qualification.
Thanks to the heightened media attention on the issue, Shaanxi officials have since decided to make an exception for Li. They reportedly plan to remove the height restriction starting from next year.
The sudden change in policy, however, has not made commenters on social media less annoyed. "If Deng Xiaoping were alive, he would fire the entire Shaanxi Bureau of Education," one user said. (Former Chinese communist leader Deng Xiaoping's height is listed as 150cm/4.9ft).
There are many Weibo users who question the relation between a person's height and their job a teacher: "If she is short, she can wear high heels. Does height really matter to become a teacher?"
It is not the first time that height discrimination in China makes the news. A 2015 Foreign Affairs report suggests that, despite being discriminatory, many employers in China insist on setting height requirements as a condition to employment.
The majority of netizens sympathize with Li: "This is hurtful. It is not easy to be short, why would this society make it more difficult for her?"
Other people wonder why appearances would be more important than one's psyche: "They never have requirements when it comes to people's morals and their mental health. It is disgusting to have these requirements for a person's height."
By Chauncey Jung
Follow @whatsonweibo
Spotted a mistake or want to add something? Please let us know in comments below or email us.
©2018 Whatsonweibo. All rights reserved. Do not reproduce our content without permission – you can contact us at info@whatsonweibo.com.