"Race Against Time": Beijing's 40-Day 'Safety' Evacuation Campaign
In the aftermath of the big Daxing fire, Beijing's 40-day safety evacuation campaign has become the talk of the day on Chinese social media.
A week after a major fire killed 19 residents, people in Beijing's Daxing area are facing a large-scale evacuation campaign – which is also spreading to other parts of the city. The mass evacuations are the talk of the day on Weibo and in WeChat groups.
Within a few days time, the houses and workshops in Daxing's Xinjiancun (大兴的新建村), Beijing, have been cleared out. If it was not for the big fire that broke out there on November 18, killing 19 people and making headlines around the world, many would not have even known about this area in the southern outskirts of Beijing, just outside the 6th ring road.
In "The Non-Natives After the Fire: Where Do We Have to Go?" [大火之后的异乡人:我们该到哪里去?] journalist Wang Shan (王珊) at Sanlian Life Week, an influential Beijing-based weekly news magazine, reports on November 26 that the Daxing area is a place where thousands of migrant workers from all over China live together.
According to Sanlian Life Week's report, there were plans to vacate the area before, but the big Daxing fire accelerated the plans. Residents did not receive an official announcement about when the evacuation was taking place and in a "race against time" had to collect their belongings and leave their homes or workshops behind.
The large-scale evacuation campaign that was started in Daxing has now also been expanded to other areas of Beijing. Caixin News reports that the 40-day campaign by the municipal authorities is aimed at unlicensed developments to target "illegal structures" and "buildings with potential fire hazards," but many people on Weibo and WeChat suggest the campaign is actually about driving unregistered, "low-end workers" out of the city – something that has been strongly refuted by Global Times and other state media outlets.
#环球时报 Editorial:Eviction no hallmark of an open Beijinghttps://t.co/WxJeJklIcX pic.twitter.com/6pL1wD9EWC

— Global Times (@globaltimesnews) 24 november 2017
Beijing Daily reports that people evacuated out of one of the city's many underground living areas said that they already felt like they were living in a "volcanic crater," always worrying that this day would come.
On Chinese social media, the evictions have become a major topic of discussion. Photos of people leaving their homes are widely being shared on WeChat and Weibo, although many netizens complained that their posts on this subject were being "harmonized" (censored).
"It is good that housing security is taken into consideration," one netizen comments: "But why do people have to move out so hurriedly?"
After abandoning their homes, some people now seek temporary shelter in the city or other nearby places, and others are returning to their hometowns. According to ECNS, some individuals and organizations, including hostels, real-estate companies and restaurants, have reached to those who lost their homes and jobs by offering free accommodation, transportation or work opportunities. E-commerce giant JD.com is one of those companies. Many of the migrants and low-paid workers evicted from their homes were working as courier deliveries.
Although many people speak out against the evacuation campaign, there are also those who defend it: "A year ago people already knew the area had to be vacated, yet they did not move. They waited for people to die in a fire, and are now scolding authorities for having no humanity for clearing out the area."
Others also warn netizens not to spread fake news, as one after the other posted photos of people lying on the streets at night, suggesting they were evacuated migrant workers who were freezing in the cold night. The photo, however, is from the aftermath of the 2015 earthquake in Nepal. Many commenters condemned the spread of the photos: "It is really low to compare yourself to these refugees," some said.
Some netizens, unhappy with the campaign, shared a video of the 2008 Olympics song "Beijing Welcomes You." One video, posted on November 26, was shared over 2500 times in a day, receiving thousands of likes. "Beijing still welcomes you," some commented: "It just depends on where you come from."
By Manya Koetse
Follow @whatsonweibo
Miranda Barnes contributed to this story.
Spotted a mistake or want to add something? Please let us know in comments below or email us.
©2017 Whatsonweibo. All rights reserved. Do not reproduce our content without permission – you can contact us at info@whatsonweibo.com.
Chinese State Media Launch 'Hold Your Mother's Hand' Campaign with Xi Jinping at Forefront
"Go back home often and hold your mother's hand, as Xi Jinping does too."
With the online 'hold your mother's hand' campaign, various Chinese state media stress the idea of 'homecoming' and the importance of family ties. President Xi Jinping is represented as the perfect 'family man' leader.
During the Lunar New Year Holiday, the 'coming home' theme is always an important one on Chinese social media. For many people, the Spring Festival is the only time of the year to reunite with their families, something which is annually highlighted by media and social media users.
This year, however, it seems that Chinese state media outlets such as People's Daily, China Daily, and CCTV have a special focus on the 'homecoming' theme. Besides subjects such as 'China's new era', the Belt & Road Initiative, and the 40th anniversary of China's Reform and Opening-up policy, the idea of people 'coming home' and being home in China was an important subject woven throughout the 2018 CCTV New Year Gala last Thursday.
The New Year Gala, that is China's biggest live televised event, is produced by the CCTV and is an important opportunity for Chinese authorities to propagate political ideas and concepts.
This time, the show featured a comical sketch about a Taiwanese couple in the PRC, which was literally called 'homecoming' (回家). A special part of the show featured the 'homecoming' of a 'national treasure' painting to the Palace Museum. A public service ad broadcasted during the show also stressed the idea that there is 'no place like home.'
But the 'homecoming' idea is also propagated beyond the Gala, as various online campaigns are now themed around 'homecoming' and family ties. One of them, featuring an image of Xi Jinping and his mother, was published by various official state media Weibo accounts.
"How long has it been since you spoke to your mum?"
On February 19, People's Daily started its "Hold Mother's Hand" (#牵妈妈的手#) social media campaign by posting a video about urban white-collar workers who are "too busy" to visit their mother.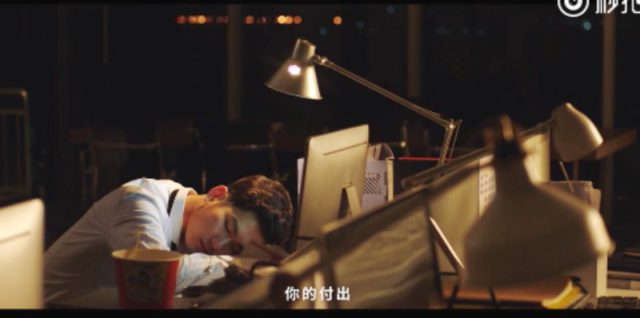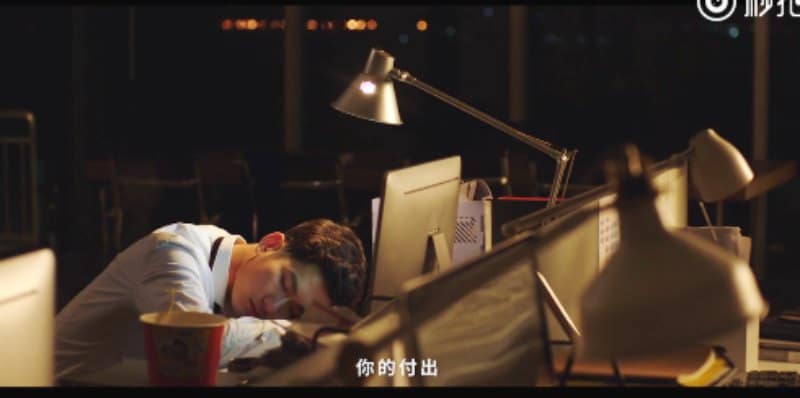 The video first shows images of people at working, going into meetings, and sleeping at their desk. The voiceover says: "You want a stable job. You want to succeed in life. Be acknowledged by others. You want to stay ahead of others, or at least, you don't wanna fall behind. You want a better future than the hard times in the present. You're busy, super busy. (..)"
The video then shifts to images of several older women, waiting by the phone, or sitting at the kitchen table. "How long has it been since you spoke to your mother about what's on your mind?" the voiceover asks: "How long has it been since you had a taste of your mother's cooking? Or since you went together on a walk? How long has it been since you held her hand?"
Then we see a woman at her desk, scrolling through her phone and looking at a picture of Xi Jinping walking hand in hand with his mother, with a Tang poem depicted beside it and read aloud by Xi ("慈母手中線,遊子身上衣"). The first part of the poem loosely translates as "The threads coming from a caring mother's hand, are in the clothes of a traveling son."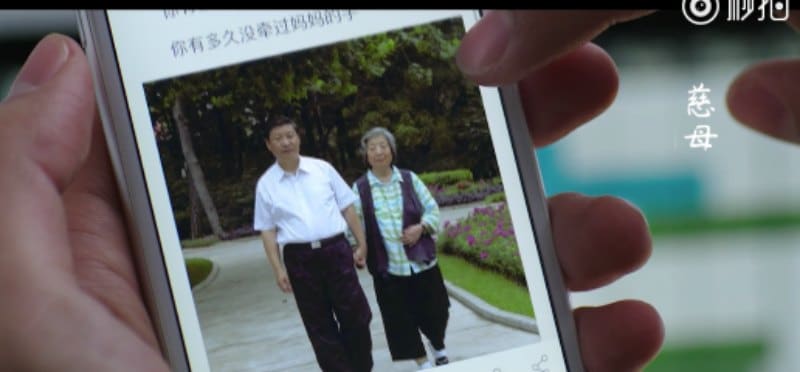 The smiles appear on people's faces when they pick up the phone to call their mother and then go to visit her. "Go home for Spring Festival. Give your mum a hug, give yourself some warmth," the final slogan says.
'Daddy Xi' as the "People's Leader"
The campaign video was promoted online through the "Hold Your Mum's Hand" hashtag #牵妈妈的手#, which had received 500 million views on Weibo by Monday night.
The photo of President Xi Jinping holding the hand of his mother, Qi Xin, was used in the campaign 'profile' photo. This image reiterates the idea of Xi as the 'People's Leader' ("人民领袖"), an idea that was recently also propagated through another video by People's Daily and CCTV, as described by Sinocism editor-in-chief Bill Bishop in "The People's "Leader" Xi Jinping Gets A New Propaganda Title."
New York Times reporter Chris Buckley (@ChuBailiang) noted that the new propaganda about Xi Jinping promotes the term "family-state realm" (家国天下), with Xi as the "father of the nation."
The new CCTV propaganda about Xi Jinping is interesting not only because it hints that he may come from another planet, but also because it promotes the term "family-state realm" (家国天下) with Xi as the father of the nation. https://t.co/fQR5UfdrSC pic.twitter.com/ie6Sqb4aFZ

— Chris Buckley 储百亮 (@ChuBailiang) 18 februari 2018
President Xi Jinping is also nicknamed "Xi Dada" or "Big Daddy Xi" because of his approachable and friendly image (although that moniker was banned from Chinese media in 2016).
Strong nation built on strong family ties
It is not the first time that 'homecoming' and taking care of one's parents is an important subject in state media propaganda; not just for the sake of promoting the image of China as a strong nation built on strong family ties, but also to actually encourage children to look after their parents.
China faces an aging population, and because of the One-Child Policy and the huge migration from rural to urban areas, there is a problem in providing sufficient care for China's senior citizens. It is one of the reasons why children are spurred to visit their parents often – it was even stipulated in a 2013 law.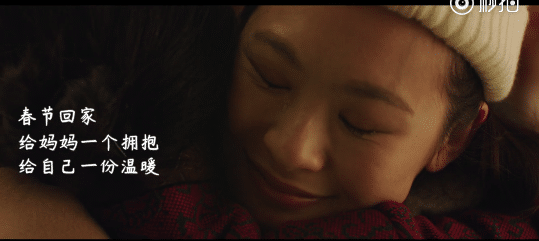 "Now People's Daily is also encouraging us to show filial piety," one commenter wrote.
But there are also people who were seemingly affected by the campaign: "My mum is the best mother in the world. She's invested so much in me. Now I feel so guilty," one netizen said.
"I'm happy I could go home and see my parent's this Chinese New Year," another person commented below the video: "Their hair has turned white, but we get along better now – our bond is stronger than before."
There are also commenters, however, who have different – more practical -concerns on the issue: "My mum doesn't like holding my hand. She thinks it's too mushy and says it feels like she's holding a rat."
By Manya Koetse
Follow @whatsonweibo
Spotted a mistake or want to add something? Please let us know in comments below or email us.
©2018 Whatsonweibo. All rights reserved. Do not reproduce our content without permission – you can contact us at info@whatsonweibo.com.
CCTV Spring Festival Gala 2018 (Live Blog)
It's time for the CCTV 2018 New Year's Gala – follow the highlights and the low points here.
It is time for the CCTV Spring Festival Gala, one of the most-watched, most-discussed, and most mocked lived television events in the world, taking place on the Lunar New Year's Eve. What's on Weibo discusses the ins & outs of the 2018 edition and the social media frenzy surrounding it in this live blog.
The biggest live televised event in the world, the CCTV New Year's Gala, also known as the Spring Festival Gala or Chunwan (春晚), is a true social media spectacle. On February 15th 2018, the 36th edition of the 4-hour-long live production is taking place.
The show, that is organized and produced by the state-run CCTV since 1983, is not just a way for millions of viewers to celebrate the Lunar New Year (除夕); it is also an important opportunity for the Communist Party to communicate official ideology to the people and to showcase the nation's top performers.
Watch the live stream here on What's on Weibo (if you have no access to YouTube, please check the CCTV live stream here).
What's on Weibo provides you with the ins & outs of the 2018 Gala and its social media frenzy, with updates before, during and after the show. Follow our liveblog below (we recommend you keep your browser open – you'll hear a 'beep' when updated). (Note: this live blog is now closed, thank you!).
By Manya Koetse, with contributions via WeChat from Boyu Xiao, Diandian Guo, and Tim Peng
Follow @whatsonweibo
Spotted a mistake or want to add something? Please let us know in comments below or email us.
If you enjoy What's on Weibo and support the way we report the latest trends in China, we would appreciate your donation. It does not need to be much; we can use every penny to help pay for the upkeep, maintenance, and betterment of this site. See this page for more information.
©2018 Whatsonweibo. All rights reserved. Do not reproduce our content without permission – you can contact us at info@whatsonweibo.com.