Real-Life Fairy Tale Landscape: Abandoned Fishing Village Houtouwan
What was once a thriving fishermen's village has now turned into an eerie and lush green abandoned area. The former fishing village of Houtouwan, south of Shanghai, is now becoming a popular place to visit for its unique scenery.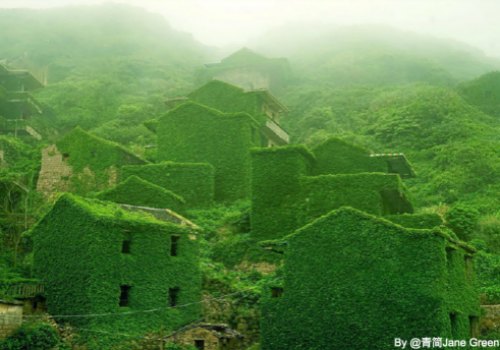 What was once a thriving fishermen's village has now turned into an eerie and lush green abandoned area. The former fishing village of Houtouwan, south of Shanghai, is becoming a popular place to visit for its unique scenery.
Photographs of the breathtaking scenery of an abandoned fishing village are making their rounds on Chinese social media.
The fairy tale like landscape is located in the village of Houtouwan (后头湾) in the Shengsi Islands (嵊泗列岛) of China, south of the mouth of the Yangtze (Zhoushan, Zhejiang).
Photos of the village earlier appeared in, among others, The Atlantic and The Guardian. They were then reposted by Chinese netizens.
According to Chinese National Geography, the village was built in the 1950s and once had around 3000 inhabitants. It was the most lively village on Shengshan Island (嵊山).
But when natural resources around the island had dried up, and people became bothered by its inconvenient location, the fishermen living on the island moved away. Since the 1990s, Houtouwan is known as an "abandoned village."
"This is a place for ghost stories," some netizens say.
Many of the pictures shared on Weibo were taken by photographer Jane Green (@青简Jane), but there are also many others who have taken their own pictures of the area.
The lush green and mysterious surroundings of Houtouwan are now attracting more tourists who want to see the eery scenery with their own eyes .
Hikers and adventurous tourists are traveling to the area, sharing their pictures on Weibo.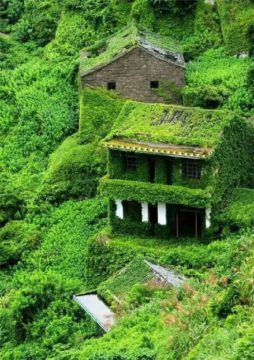 People who have visited the area say it is "magical," and really like "the scenery of a dreamland." "It captures the beauty of that which is no longer there," one netizen wrote.
By Manya Koetse
Follow @WhatsOnWeibo
[showad block=1]
©2017 Whatsonweibo. All rights reserved. Do not reproduce our content without permission – you can contact us at info@whatsonweibo.com.
Chinese Tourism Bureau Chiefs Go Viral for Trying Really, Really Hard to Attract More Post-Covid Domestic Tourists
It's a Culture & Tourism Bureau social media battle: China's local tourist offices are fighting to go viral to attract more visitors.
Hoping to attract more domestic tourists in the post-Covid-era, Chinese local government officials are trying really hard to promote their hometowns. Various tourism bureau chiefs from across China are going viral on Weibo, Douyin, and beyond for dressing up in traditional outfits and creating original videos with low to zero budget.
Another local Chinese tourism bureau chief went viral today – it's an entire trend by itself. Tourist department offices under several local governments in China are trying really hard to promote their hometowns these days in hopes of attracting more domestic tourists in China's post-Covid era.
Government officials are showing their best side – and their most creative one – on social media to convince tourists to visit their region. In doing so, these local bureau chiefs have been attracting online attention for appearing in promo videos in various creative ways (#为了让你去玩儿文旅局长们能有多拼#).
Since early 2020, China's tourism industry has been heavily impacted by the pandemic and China's strict Covid measures and lockdowns. At various moments during the pandemic, China's domestic tourism saw an increase in holiday bookings as tourists still wanted to travel but could not easily travel abroad.
Now that China has lifted blockades on foreign travel, the post-zero-Covid itch to travel is back in full swing. As travel to other countries is seeing a boom again (while tourist visas to mainland China are still halted), local tourist offices are doing all they can with a minimal budget to encourage domestic travel to their lovely hometowns.
The trend of China's tourist bureau chiefs finding innovative ways to promote their regions or towns via social media has been going on for some time already, but it wasn't until recently that they really gained nationwide attention for their efforts.
The recent viral trend is not only generating more attention for the specific towns and regions promoted in the videos, it is also bringing more recognition for the drive of China's Culture & Tourism Bureau chiefs – officials who usually rarely get the limelight. Many Chinese netizens agree that it must take a lot of talent and creativity to become a local tourism bureau chief nowadays.
1. TOURISM BUREAU DIRECTOR OF ZHAOSU COUNTY (XINJIANG)
Riding a horse through a windy snowy country, He Jiaolong (贺娇龙) was the first local official to feature in a social media video to promote the Yili region. The video of the vice-county head of Zhaosu, all dressed up, went viral in the winter of 2020.
Chief He later told reporters that she did not expect the video to go as viral as it did. According to Shine, He Jiaolong said: "I invited two horse lovers to help us promote local tourism on social media. We borrowed the costume from a local art troupe. They posted my horse-riding videos on Douyin and received enthusiastic responses."
A 'behind the scenes' video later published on Douyin showed He falling over and battling the cold during the filming, only making the local official more popular for her dedication.
2. TOURISM BUREAU DIRECTOR OF SUIZHOU (HUBEI)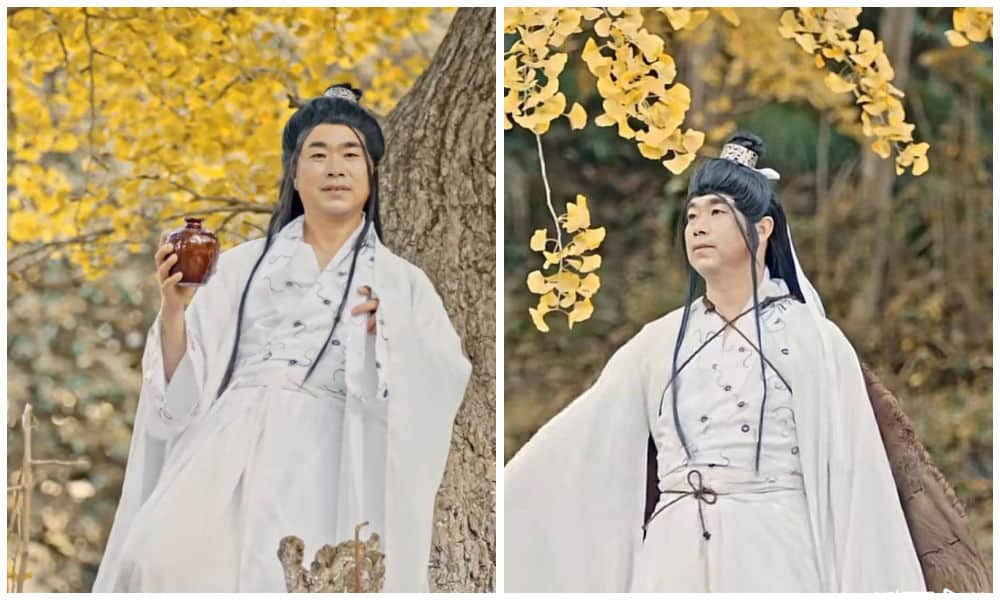 In October of 2022, Xie Wei (解伟), director of the Suizhou Municipal Bureau of Culture and Tourism in Hubei province, made headlines for his performance in videos produced and directed by himself.
As reported by South China Post, Xie made the videos himself because the local tourism bureau did not have the budget for a professional production. Although the videos made by Xie went viral, they also received some criticism because of how Xie was role-playing and dressing up as an ancient knight.
Nevertheless, Xie Wei did breathe new life into this creative approach to destination marketing, inspiring other Culture and Tourism Bureaus across China to take a similar social media strategy and join on the battleground to win over the hearts of domestic travelers.
3. TOURISM BUREAU DIRECTOR OF TIBETAN AUTONOMOUS PREFECTURE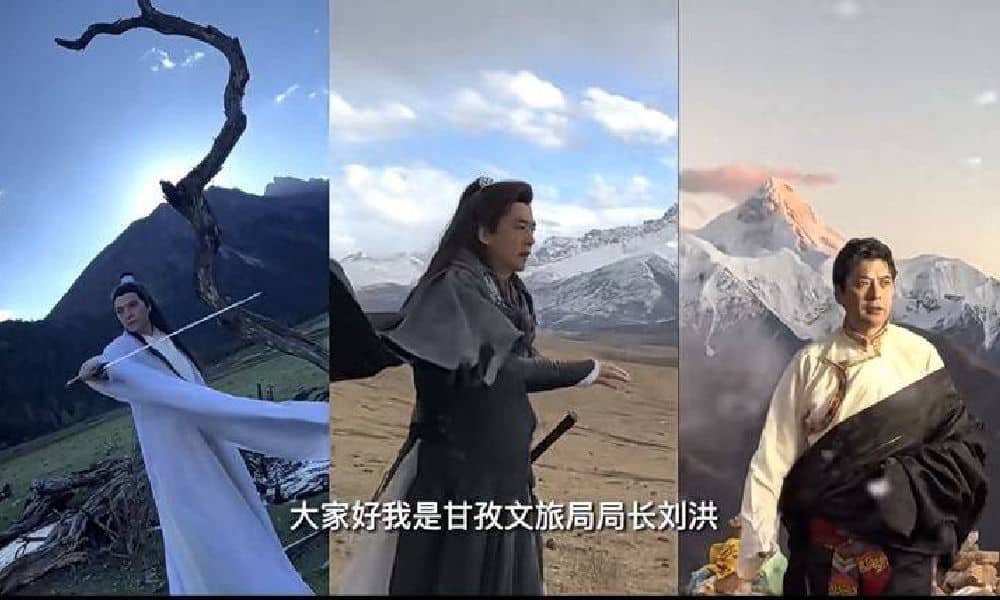 In February of 2023, it was the bureau chief of the Garzê Tibetan Autonomous Prefecture Tourism Office, Liu Hong (@甘孜刘洪), who went viral with various videos featuring him in traditional clothing, which earned him the nickname of "most handsome bureau chief" ("最帅局长").
It was not the first time for Liu to star in his own tourism promotion video, as there was another video in 2022 in which he also did some cosplay to promote the Garze region (Sichuan).
Liu Hong is now known as one of China's "celebrity tourism bureau chiefs" (网红文旅局长). The videos actually helped to promote the region but also turned Liu into a celebrity.
4. TOURISM BUREAU DIRECTOR OF DAWU COUNTY (SICHUAN)
On February 10 of 2023, it was the Cultural Tourism Bureau chief Jiangze Duoji (@降泽多吉) of Dawu County who professionalized the social media video trend and featured in a super slick 3-minute video with beautfiul shots and a creative idea.
In the intro of the video, Jiangze Duoji speaks English when he talks about his life question of "Who am I?" The video then shows the local official dancing in an astronaut's costume in Moshi Park, one of the area's most beautiful scenic spots that will make you feel like you're in outer space.
The local official is then dressed as a Tang emperor at the Daowu dwellings, moves on to be a an old painter in the Yuke grasslands and King Gasar while galloping over the Longdeng prairie.
The video did not just go viral, it was also promoted by several state media outlets, making it among the most famous videos in this list. It's also on Youtube here.
5. TOURISM BUREAU DIRECTOR OF TAHE COUNTY (HEILONGJIANG)
On February 27, the Heilongjiang Tahe Culture and Tourism Bureau (Daxing'anling prefecture) released a video in which a team of 34 people simulated a rocket launch in the snow.
Du Bo (都波), director of the Tahe County Bureau of Culture and Tourism, told reporters that the decision to shoot the video like this was made during lunch, with the position plan drawn out on a napkin.
With this original video, the local tourist office literally took the social media battle to another level (#塔河县文旅局长卷出新高度#). But Du Bo also stated that other tourist offices in China should not hold back and be scared to join the social media battle, saying they were all in this together to recover China's domestic tourism industry ("不要怕卷,这种卷是一件好事,大家凝聚在一起,共同期待文旅行业的复苏").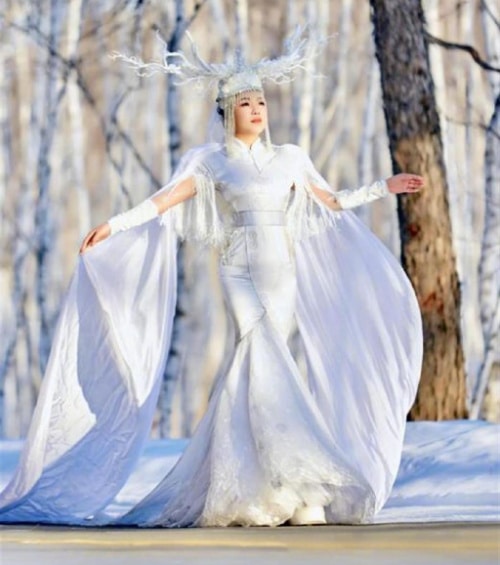 The tourist office also released a second video that gained popularity online, featuring a 'snow queen' in beautiful snowy landscape.
6. TOURISM BUREAU DIRECTOR OF MEISHAN (SICHUAN)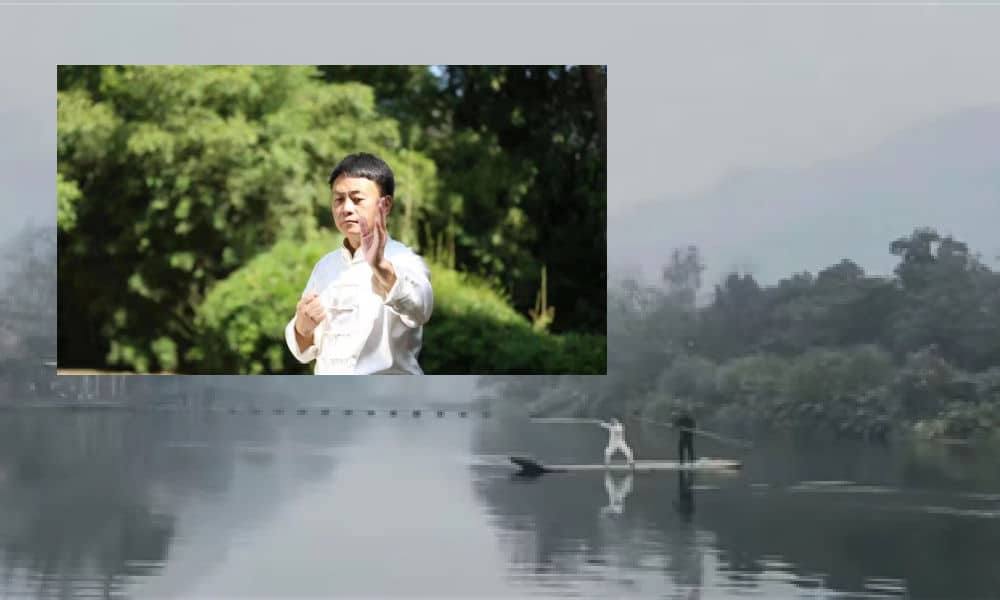 This video, which premiered late February of 2023, is also professionally made, with the Meishan Tourism Office taking the video trend very seriously.
The bureau chief demonstrates the beauty of kung fu in this short film, which also received many thumbs up on social media (#文旅局长用功夫带你游眉山#).
7. TOURISM BUREAU DIRECTOR OF GAOPING (SHANXI)
On March 7, a video from the tourist office in Gaoping, a county-level city in Shanxi's Jincheng, also went viral on Chinese social media as "yet another tourist office chief joining the war" (#又一文旅局长申请出战#).
The video shows the local tourist bureau chief "going to war" in traditional costume to promote Gaoping as the hometown of Emperor Yan (#文旅局长戏服代言炎帝故里#).
8: TOURISM BUREAU DIRECTOR OF HUANGGANG (HUBEI)
The video posted on social media 'on behalf of' the Tourism Bureau of Huanggang, Hubei, also attracted a lot of attention online since many people believed the cosplaying bureau chief had suddenly turned into a handsome young idol.
It later turned out that this video was actually not an official one and was posted on social media without the permission of the tourist office by enthusiastic locals.
9. TOURISM BUREAU DEPUTY DIRECTOR OF SUQIAN (JIANGSU)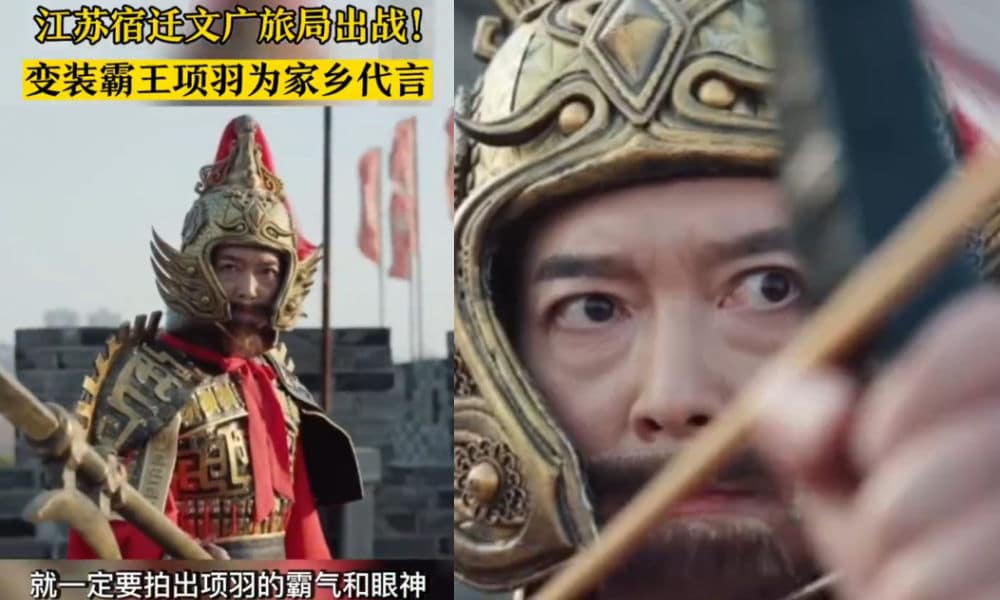 The hashtag is "Jiangsu's Culture and Tourist Office Bureau Chief Joins the Battle" (#江苏文旅局长卷起来了#). Liu Bing (刘冰), the deputy director of the Tourism and Culture Bureau in Suqian, Jiangsu, is another local official who is going viral these days for his appearance in a self-produced promo video on social media (#江苏一文旅局长变装项羽代言家乡#).
In the video, Liu Bing is dressed as Xiang Yu (项羽), Hegemon-King of Western Chu, to endorse Suqian tourism. Suqian is the hometown of Xiang Yu (232–202 BC), who is considered one of the greatest military leaders in ancient China.
Although Suqian is one of the later Tourism Bureau hypes to join the hype, the video – published on March 9 – is still welcomed by netizens and is actually putting some pressure on other Chinese cities and regions to come up with their own videos featuring their own historical local heroes.
10. TOURISM BUREAU STAFF OF FUJIAN
Fujian might be a bit late in "going to war" and joining the social media battle between the Chinese Tourism and Culture Bureau chiefs, its new video (March 9) obviously took a lot of effort, as it features different members of staff in various tourist spots in Fujian province.
The hashtag "Fujian Culture and Tourism Bureau Joins the Battle" (#福建的文旅局长卷起来了#) circulated on Thursday, attracting nearly five million views on Weibo in one day.

By Manya Koetse 
with contributions by Miranda Barnes
Get the story behind the hashtag. Subscribe to What's on Weibo here to receive our newsletter and get access to our latest articles:
Spotted a mistake or want to add something? Please let us know in comments below or email us. First-time commenters, please be patient – we will have to manually approve your comment before it appears.
©2023 Whatsonweibo. All rights reserved. Do not reproduce our content without permission – you can contact us at info@whatsonweibo.com.
Meanwhile in Panda News: Concerns over China's Giant Panda Yaya in Memphis, while Ruyi Is Rocking It in Russia
A lot has been going on when it comes to panda-related news in China, where pandas are all the talk, from Yaya in America to Ruyi in Russia.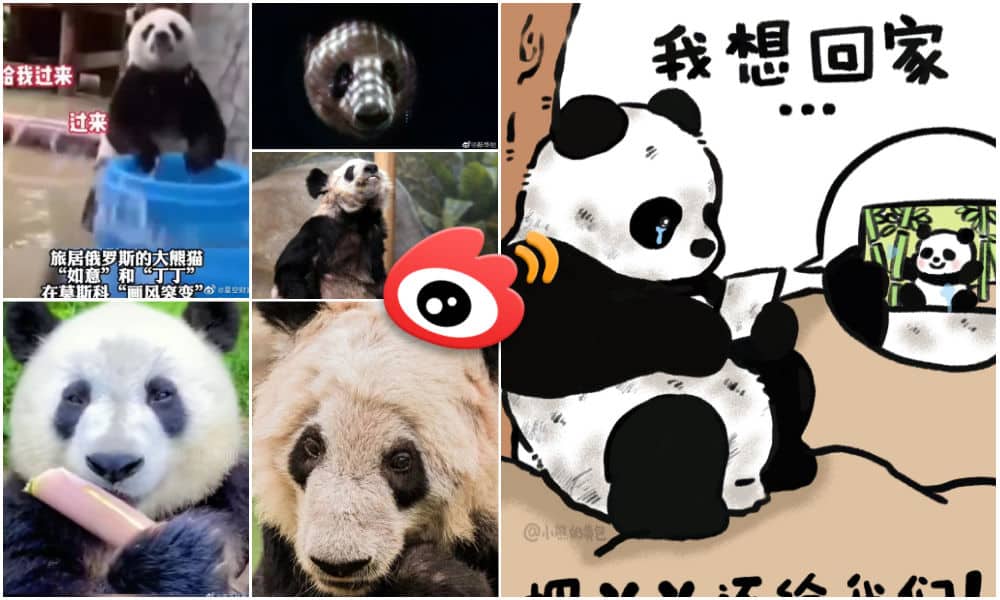 From Xiangxiang in Chengdu to Qiqi in Shanghai, and from Yaya in Memphis to Ruyi in Moscow: China's giant pandas have been all over Chinese social media recently.
Since there is a lot of trending panda news on Chinese social media recently, it is perhaps time to introduce a special Panda News category on What's on Weibo to give you more regular updates on all the trending panda topics, including the controversies and politics surrounding them.
What's been trending recently? There has been a lot of panda-related news. The following topics have been trending over the past week.
◼︎ XIANGXIANG IS BACK FROM JAPAN
Hashtags: #香香回国是为寻找合适伴侣#,#终于看到香香了#

Earlier last week, news of China's female giant panda Xiangxiang (香香) returning home to the mainland from Japan made headlines.
Xiangxiang was born in June 2017 at the Ueno Zoo in Tokyo. Because her parents Riri and Shinshin are both on loan, China maintains ownership of their cubs.
Xiangxiang is planned to be part of a breeding project in Chengdu. Female pandas are said to reach breeding age between 3,5 and 4,5 years, and Xiangxiang is back in time to meet her partner.
"Welcome home, Xiangxiang," was one of the most popular replies in the comment sections on the panda's return to China.
◼︎ PANDA QIQI IS UNDERGOING SURGERY
Hashtags: #七七确诊肠梗阻将进行手术#, #熊猫七七#

Panda Qiqi (七七), one of the famous pandas living in the Shanghai Wild Animal Park, has recently attracted attention on Chinese social media as many netizens are concerned about the panda's health.
The 4-year-old panda recently had a CT scan that showed there was an intestinal blockage, and the panda was rushed to hospital for surgery.
Born on 17 July of 2018, Qiqi is the 14th cub of mother panda Princess. Princess was born in 1998, and she was the first giant panda in the world that was brought up by people right after its birth.
Qiqi was admitted to Shanghai's Renji Hospital (仁济医院南院). When one of the medical staff members saw "Panda" coming up on the patient records, they initially thought it was just a funny name before discovering it was actually a real panda (#三甲医院有位患者叫熊猫是真熊猫#, #男子在医院遇到熊猫拍CT#).
"Qiqi, please get well soon!" a typical comment on social media said.
◼︎ WORRIES OVER SHANGHAI WILD ANIMAL PARK
Hashtags: #上海野生动物园多次抽查发现问题#, #上海野生动物园曾回应多只熊猫病死#

The online worries over panda Qiqi are connected to wider concerns over Shanghai Wild Animal Park (上海野生动物园), which has also become a trending news topic on Chinese social media.
The Shanghai Wild Animal Park, founded in 1995, was previously slapped on the wrist after inspections found the zoo did not comply with all regulations. They also received a 200,000 yuan ($29,100) fine in 2020 for their liability in the injuries and deaths of animals at the park.
A total of six pandas have reportedly died at the park since it opened. In 2016, mother panda Guoguo and her cub Peanut both fell ill and died in December of that year. Both pandas suffered from an acute inflammatory disease affecting the intestines.
Besides Guoguo and Peanut, the pandas Jiasi, Guoqing, Wuyang and Yunhui also died in the park in between 2007-2016. Jiasi was the only one who died due to old age.
Chinese netizens are also concerned over one particular zookeeper, named as Zhang Xin (张鑫), who previously could be seen bullying and hitting a panda cub nicknamed Huani (华妮, now known as Aibao 爱宝). Surveillance videos showing how he handled the little panda also circulated on social media. Zhang allegedly also took care of Guohuo and Peanut at the Shanghai Wild Animal Park.
Most of all, Weibo commenters,and also those on the Douyin and Xiaohongshu apps, just want answers on the Shanghai Wild Animal Park and want to make sure the pandas and other animals are well taken care of.
◼︎ PANDA YAYA NOT DOING WELL AT MEMPHIS ZOO?
Hashtags: #网友呼吁提前接旅美大熊猫丫丫回国#, #北京动物园已做足准备迎接丫丫#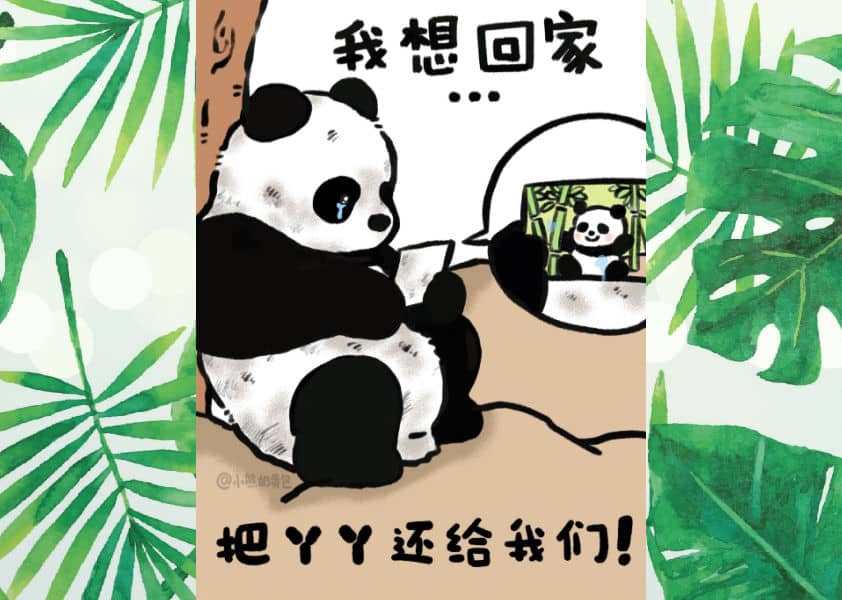 More panda news sparked concerns this week. At the Memphis Zoo in the state of Tennessee, the seemingly deteriorating condition of the giant panda Yaya (丫丫) also became a trending topic on social media this week. As reported by Global Times, Ya Ya arrived at the Memphis Zoo in 2003 as a part of a joint conservation and research project between the Chinese Association of Zoological Gardens and the U.S. with an agreement duration of 10 years, which was extended by 10 more years in 2013.
Yaya arrived in Memphis together with male partner Lele (乐乐), who suddenly died at the zoo earlier last month at the age of 25 due to heart disease. Pandas can reach an age of approximately 30 years; the oldest known panda reached the age of 35.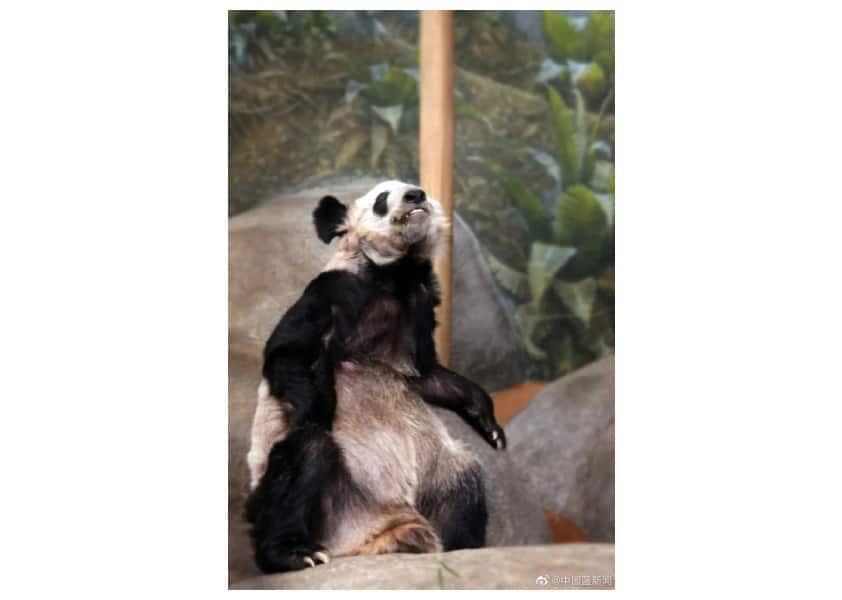 Yaya has apparently been suffering from hair loss and looked skinny; her condition has triggered online rumors that the Memphis Zoo was not properly taking care of her. Her return to China is scheduled to take place in early April of this year, but netizens have been calling for Yaya to come back to China at an earlier time. "Give her back to us!" some commenters wrote.
Meanwhile, some netizens have closely been following the live streams of Memphis Zoo showing Yaya's room and were happy to see she was back to eating bamboo and seemed to have a good appetite.
◼︎ PANDA POLITICS: CHINA'S PANDAS IN RUSSIA ARE "DOING GREAT"
Hashtags: #旅俄大熊猫画风突变体重狂飙40公斤#, #俄罗斯养的大熊猫相当炸裂#

In the context of the recent news of Yaya seemingly not doing all too great at the Memphis Zoo, there have also been several Chinese media reports on how well China's pandas are doing at the zoo in Moscow. Ruyi (如意) and Dingding (丁丁) are rolling, slinging, pulling, and moving around while gaining plenty of weight at the Russian zoo.
One post about the pandas thriving in Russia – compared to the less frivolous situation of China's panda in the U.S. – attracted over 342,000 likes and thousands of comments on Weibo, where some top commenters concluded that the panda treatment in Russia versus the U.S. was like a "kind stepmother" (Russia) versus a "ruthless stepmother" (U.S.).
"Look at the contrast with Yaya in Memphis," some Weibo users write, while others suggest that Russia has been putting in a lot of work for the pandas by building a special pavilion, setting up a special expert communication team with China, and flying in bamboo from the mainland.
Want to stay tuned for our next update on what's trending in panda news? Subscribe to What's on Weibo here.
By Manya Koetse 
with contributions by Miranda Barnes
Get the story behind the hashtag. Subscribe to What's on Weibo here to receive our newsletter and get access to our latest articles:
Spotted a mistake or want to add something? Please let us know in comments below or email us. First-time commenters, please be patient – we will have to manually approve your comment before it appears.
©2023 Whatsonweibo. All rights reserved. Do not reproduce our content without permission – you can contact us at info@whatsonweibo.com.