The Rise of China as Global Tech Superpower (Live @ RISE Hong Kong 2018)
RISE conference: Is China surpassing the US as the world's digital leader?
At RISE, Asia's biggest tech conference, the rise of China as tech leader is a major theme. What's on Weibo reports on the launch of the China Internet Report and other China-related talks at RISE today.
China is a major theme this week at RISE, the largest tech conference in Asia, taking place at the Hong Kong Convention and Exhibition Center from July 9-12.
Besides wide attention for Chinese latest startups and tech developments, a central question posed at this year's conference is if China is the current world leader in technology, and if it has thus surpassed Silicon Valley as the global tech powerhouse.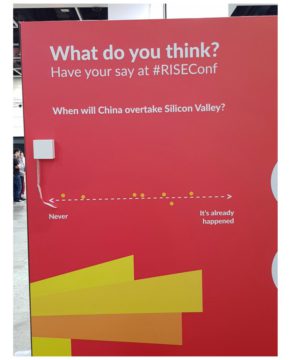 In the morning of July 12, Edith Yeung (500 Startups), Ravi Hiranand (Abacus), and Chua Kong Ho (South China Morning Post) reveal the hugely publicised China Internet Report, which brings a definitive outlook of the companies, industries and trends that are changing the technology space.
Also on Tuesday, another panel with various speakers from Bloomberg to Withinlink address the question of whether or not China is now the world leader in technology, and if its rise should be feared by the US.
What's on Weibo is here at RISE to live report for you – refresh page for updates (update: live blog now closed).
China Internet Report (10:30 HKT)
In their presentation of the latest findings when it comes to China and the internet, Edith Yeung, Ravi Hiranand, and Chua Kong Ho present four major themes that are crucial to digital China.
Firstly, as explained by Chua Kong Ho, "Chinese Internet giants are doing everything." The major players such as Baidu, Alibaba, and Tencent are not just involved in e-commerce or social media, but also, for example, in the e-sharing economy, gaming, education, media, or artificial intelligence – penetrating all markets that matter in China today.
"Chinese Internet giants are doing everything."
Second, Chinese internet empowers rural populations. E-commerce platforms such as Taobao, for instance, give ample new opportunities to people in the Chinese countryside to set up new businesses; a crucial theme in China's digital developments today, as it greatly impacts society.
Third, Chinese internet companies embrace 'social': social media plays a major role in China's digital market, arguably much more than it does in countries such as the US.
And last, Ko explains, the Chinese government is the visible hand – controlling all corners of the Chinese internet.
Biggest Tech Trends in China (10:40 HKT)
As Edith Yeung dives deeper in what matters in China today when it comes to digital developments, she focuses on the importance of AI and how tools such as facial recognition are playing an increasingly important role in Chinese society today; not just for practical matters such as train ticket collections, but also for governance, helping catching fugitives or jaywalkers. In terms of AI, China is investing the most in the world right now.
Robotics is also an area of major development in China, as intelligent service robots continue to upgrade across industries, including e-commerce and healthcare. As an example, Yeung mentions that in September 2017, the first robot dentist was introduced in the PRC.
"Chinese consumers are crazy about cryptocurrency," Yeung also emphasizes, and the cryptocurrency trading market is a huge and booming one – although "the government is not too friendly to the market."
But blockchain technology is applauded more from the authority side. Although still in its infancy, companies such as Alibaba are already working with the government in applying blockchain technology across various industries.
Launch: The full Chinese Internet Report 2018 can be found here.
Attitudes that matter (11:00 HKT)
For Edith Yeung, who was selected by Inc's Magazine as "one of the Silicon Valley investors you must know," the question of whether or not China is the global tech leader is not a difficult one.
"China is leading and people elsewhere in the world have no clue."
"I really think China is leading in so many areas, and people elsewhere in the world just have no clue," Yeung says during the Q&A following the presentation of the China Internet Report.
Yeung also links the growth of Chinese tech companies to the working attitude of the people that is related to China's history.
"My generation, let's say those thirty-plus generations, remembers what it means to be poor. And that you have to work hard to be successful. People work hard because they can remember those days, and that attitude is not likely to change over the coming decades. There's no nine to five attitude."
World Leader in Technology (11:55 HKT)
Silicon Valley has always been seen as the world leading technology hub. During another RISE panel, simply titled "Is China now the world leader in technology?", speakers Bessie Lee (Withinlink founder), Wayne Xu (Zhongan International president), Harry Hui (ClearVue Partners founding partner), Lei Chen (Xunlei CEO), and Tim Culpan (Bloomberg columnist) will address if the US should fear the rise of China as a tech superpower.
For moderator Tim Culpan, the answer is simple: "Obviously the answer is yes. We're done here."
But for the other speakers, the answer is not that straightforward. Bessie Lee sees two sides to China's rise: "Is China a world leader in tech? Yes and no," she says: "In mobile, e-commerce and mobile, China is definitely leading. But when it comes to privacy protection, for example, they are not leading in all aspects."
Lee stresses that in mainland China, the regulations always fall behind the technology development. "It's not there yet," she states.
"They run fast. Those who do not run fast will be left behind."
Other speakers agree with Lee. Wayne Xu sees China as a leader in financial and consumer-facing areas, whereas it is still lacking in others. "But as for AI, China is leading," – a statement all speakers today stress.
Harry Hui mentions that the boom of exciting innovation in China partly comes from the fierce competition between local players: "Because of this enormous competition, they need to depend on data and be very quick in how they innovate and keep launching new services to stay relevant. They run fast. Those who do not run fast will be left behind."
Chinese companies and the government have more focus on technological development today than the US has, Xunlei's Lei Chen states. But still, he says, China has a lot of catching up to do.
"Chinese are going to take on the US market, but the US are not going to take on the Chinese market."
Lei does not agree with Lee that regulation is most problematic – he says it is the participants in the market that are often lacking in quality and tech knowledge. Nevertheless, when it comes to AI and blockchain, Lei stresses, "China's overtake is around the corner."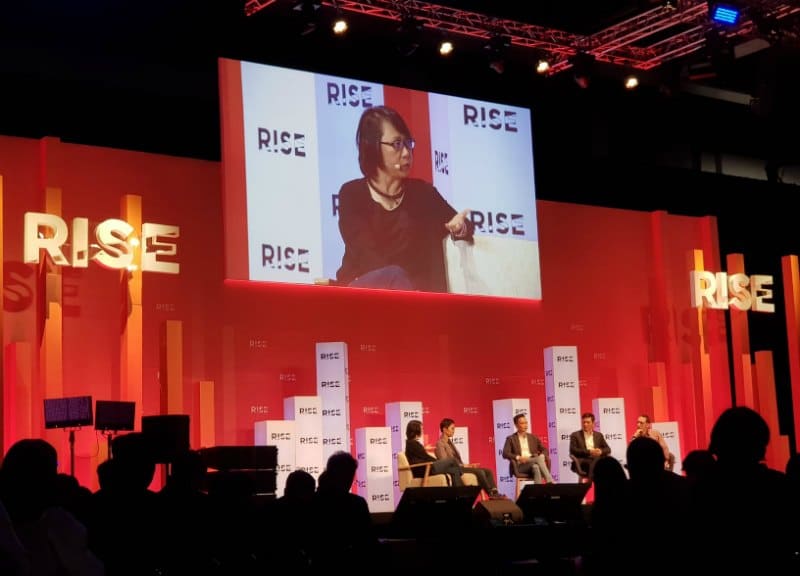 Both Harry Hui and Wayne Xu both say that China will follow its own path in its rise as tech leader; a unique road that is different from paths taken by other leaders such as the US.
According to Bessie Lee, one dimension of this road is that "Chinese are going to take on the US market, but the US are not going to take on the Chinese market" – a crucial dynamic that will eventually determine who the global tech leader will be.
As for today's speakers, they all seem to agree that if China is not already the leader in tech, it will be in the future.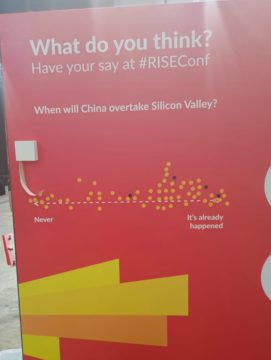 Hours after the kick-off of RISE, conference visitors also hold similar views (see image above); according to the majority of voters, "when China will overtake Silicon Valley" is not a question for the future – it is already happening.
Also read: The top ten things you need to know from the China Internet Report by Abacus.
This live blog is closed. Keep checking in on What's on Weibo in days to come for more updates on RISE and latest news on what's trending on Chinese social media.
By Manya Koetse
Follow @whatsonweibo
Spotted a mistake or want to add something? Please let us know in comments below or email us.
©2018 Whatsonweibo. All rights reserved. Do not reproduce our content without permission – you can contact us at info@whatsonweibo.com.
Despite China's 'Broadcast Ban' on eSports, Netizens Go Crazy for National Team's Asian Games Success
Clumsy display of nationalism during China's glorious esports win goes viral.
With 1.8 billion views (#电竞亚军会#) on Weibo, the 2018 Asian Games eSports Demonstration Event has been a big topic on Chinese social media. Despite a broadcast-ban, netizens went crazy for the Chinese team, that – somewhat clumsily – waved the Chinese flag in Jakarta.
The 18th edition of the Asian Games held in Jakarta, Indonesia, has come to an end. With 2,3 billion views on Weibo alone (#2018亚军会#), the Asian Games are a hit on Chinese social media.
The Asian Games marked the first time for esports (electronic sports) to be included in a major international comprehensive sports event.
On the 26th of August, the first day of the esports event, the Chinese team won their first gold medal after winning the game Arena of Valor aka AoV (王者荣耀). The second day, they won the silver medal with the game Clash Royale (皇室战争), ending just behind the Indonesian team.
But the most significant success was celebrated on the 29th of August. After a 3-day battle, the Chinese team won their second gold medal for their performance in the game League of Legends (英雄联盟). Their victory came as a surprise to many, since it was the South Korean team that had defeated China twice during the group phase. But this time it was the Chinese team that celebrated a three-to-one victory over the South Koreans.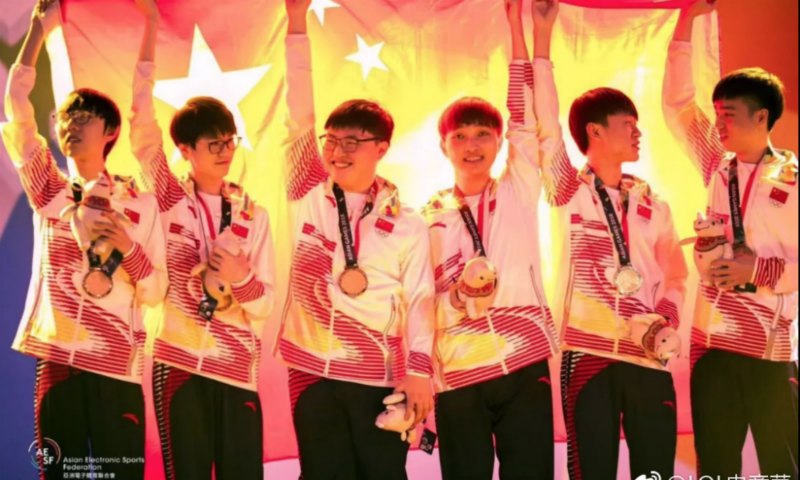 Despite the national teams' successes, TV-watching audiences on mainland China were not able to witness these important moments in sport; CCTV5, the state television's national sports channel, did not broadcast any of the esports events. Much to the annoyance of many netizens, CCTV5 also did not allow any other platform the right to broadcast any esports events.
The reason for CCTV not broadcasting online computer games is because it is banned. In the 'Notice on the prohibition of broadcasting online computer game programs' (关于禁止播出电脑网络游戏类节目的通知) issued by the National Radio and television Administration in 2004, it says that "radio and television broadcasting organizations at all levels shall not open to computer network games, and may not broadcast online computer game programs."
That same notice also states that "online computer games have adversely affected the healthy growth of minors."
On CCTV5's official Weibo account, many netizens called for the broadcasting of the esports games last week, and vented their dissatisfaction towards state media for banning the broadcast.
One Weibo user wrote: "CCTV spends state money to get a monopoly on the broadcasting rights, and then they choose not to broadcast. It is a waste of the state's money and disrespectful to the people who do want to see esports!" Some posts scolding the CCTV received thousands of likes.
Except for CCTV, Party newspaper People's Daily (人民日报), also received many negative social media comments after thy published an article on the victory of the national team. In the comment section, readers wrote comments such as: 'Now you want to congratulate? Weren't you the one that didn't want to broadcast live?' and 'I've been thinking, isn't it time that CCTV gets its own E-sports channel?'.
Clumsy Display of Nationalism: 'Handshake with the National Flag'
Despite China's 'ban' on esports, the country's esports athletes showed much patriotism during the Asian Games.
In an interview with Tencent Sports, one the players of the Chinese team, Jian Zihao (简自豪), who goes by the online-ID 'Uzi,' expressed his love and gratitude for China, saying: "It's the first time the national esports team officially represents the country. We wear the national [sports]uniform from head to toe, with the five-star red flag printed on the left side of our chest and 'CHINA' in capitals on our back. […] we live in the same village as the other athletes. I never thought that this would happen to me.'
The team also had a noteworthy patriotic moment during the so-called 'handshake with national flag incident'. After winning their second gold medal, the Chinese team gained much attention online when they somewhat clumsily kept on holding onto their national flag while shaking hands with the silver and bronze medal winners (video link).
After the award ceremony, the hashtag 'Handshake with the national Flag' (#举着国籍握手#) became a hot search on Weibo, with more than 27 million views.
The athletes later said that nobody dared to put the flag down, so they held it up while shaking hands. They reportedly said: 'The national flag is the most sacred thing, we didn't dare to make any mistakes.'
A Weibo post publishing about the moment titled the incident 'Sorry, It's the first time I won the  Asian Games Championship, [I have] no experience.' ('对不起,第一次拿亚运冠军,没经验.'); it was shared over 98 thousand times and liked more than 124 thousand times. Many netizens found it very amusing, calling the athletes 'clumsy,' 'cute' and 'adorable.'
Whether the positive image of the athletes will be enough to lift the ban on broadcasting online gaming is not clear. Neither the CCTV nor People's Daily have yet officially responded to the complaints. But as the next Asian Games are to be held in Hangzhou, China, in 2022, many are hopeful that the ban will be lifted by then. One thing is sure: their team is ready for it.
By Gabi Verberg
Follow @whatsonweibo
Spotted a mistake or want to add something? Please let us know in comments below or email us.
©2018 Whatsonweibo. All rights reserved. Do not reproduce our content without permission – you can contact us at info@whatsonweibo.com.
Richard Liu's Minnesota Mug Shots Go Viral on Weibo
The tech mogul's arrest is a major topic of discussion, many netizens side with Richard Liu.
The arrest of JD.com CEO Richard Liu, of China's most powerful tech moguls, has made international headlines and is dominating trending topics lists on Chinese social media.
With over 370 million reads, the hashtag 'Liu Qiandong Mugshot' (#刘强东被捕照片#) is a major hot topic on Weibo this week.
On Friday night, August 31, Richard Liu (刘强东), was arrested in Minneapolis for alleged sexual misconduct case involving a university student.
Liu is the founder, chairman, and executive of JD.com (京东). With more than 300 million active users, it is China's second-largest e-commerce firm after Alibaba.
According to Forbes, Liu has a net worth of approximately $7.9 billion, making him the 18th wealthiest person in China in 2017.
A day after his arrest, Liu was reportedly released without bail. John Elder, the spokesman for the Minneapolis Police Department, stated they are treating the case as an active investigation, but that no formal complaint was filed.
A statement released on JD.com's official Weibo account on September 2nd said:
"During the US business activities, Mr. Liu Qiangdong has been falsely accused. The local police investigation has found no substance to the claim and Liu will continue his business activities as originally planned."
As Liu's mugshot has gone viral around the world, he has become a number one topic of conversation. Despite the major international attention for the billionaire's arrest, many Chinese netizens do not believe Liu is guilty.
"I feel like brother Liu has been set up! I don't believe any of it!", one Weibo comment said, receiving nearly three million likes.
"I don't buy it! My first reaction is; somebody who can control such a big company surely can control his lower body. I think it is more likely that he has been set up," another typical comment read.
As online discussions run wild, there are strong online rumors on who the woman is who allegedly 'falsely' accused Liu for sexual misconduct, with netizens spreading photos of the supposed "instigator."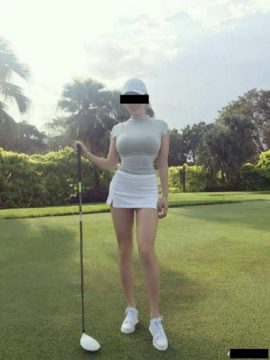 It is not the first time Liu's name comes up in an incident involving sexual misconduct. In 2015, the billionaire tried to distance himself from a sexual assault case that had taken place during a party in his penthouse in Australia.
The New York Times reports that a guest at his party, named Longwei Xu (徐龙威), was found guilty for having sex with a woman without her consent. Liu was not charged in the case, but the tech mogul still tried to have his name removed from the official documents regarding the matter.
By Gabi Verberg
Follow @whatsonweibo
Spotted a mistake or want to add something? Please let us know in comments below or email us.
©2018 Whatsonweibo. All rights reserved. Do not reproduce our content without permission – you can contact us at info@whatsonweibo.com.