The Rise of China as Global Tech Superpower (Live @ RISE Hong Kong 2018)
RISE conference: Is China surpassing the US as the world's digital leader?
At RISE, Asia's biggest tech conference, the rise of China as tech leader is a major theme. What's on Weibo reports on the launch of the China Internet Report and other China-related talks at RISE today.
China is a major theme this week at RISE, the largest tech conference in Asia, taking place at the Hong Kong Convention and Exhibition Center from July 9-12.
Besides wide attention for Chinese latest startups and tech developments, a central question posed at this year's conference is if China is the current world leader in technology, and if it has thus surpassed Silicon Valley as the global tech powerhouse.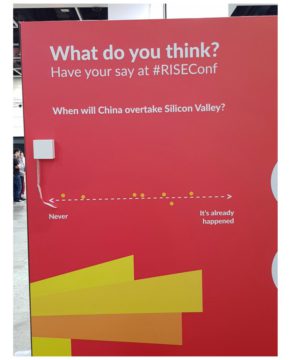 In the morning of July 12, Edith Yeung (500 Startups), Ravi Hiranand (Abacus), and Chua Kong Ho (South China Morning Post) reveal the hugely publicised China Internet Report, which brings a definitive outlook of the companies, industries and trends that are changing the technology space.
Also on Tuesday, another panel with various speakers from Bloomberg to Withinlink address the question of whether or not China is now the world leader in technology, and if its rise should be feared by the US.
What's on Weibo is here at RISE to live report for you – refresh page for updates (update: live blog now closed).
China Internet Report (10:30 HKT)
In their presentation of the latest findings when it comes to China and the internet, Edith Yeung, Ravi Hiranand, and Chua Kong Ho present four major themes that are crucial to digital China.
Firstly, as explained by Chua Kong Ho, "Chinese Internet giants are doing everything." The major players such as Baidu, Alibaba, and Tencent are not just involved in e-commerce or social media, but also, for example, in the e-sharing economy, gaming, education, media, or artificial intelligence – penetrating all markets that matter in China today.
"Chinese Internet giants are doing everything."
Second, Chinese internet empowers rural populations. E-commerce platforms such as Taobao, for instance, give ample new opportunities to people in the Chinese countryside to set up new businesses; a crucial theme in China's digital developments today, as it greatly impacts society.
Third, Chinese internet companies embrace 'social': social media plays a major role in China's digital market, arguably much more than it does in countries such as the US.
And last, Ko explains, the Chinese government is the visible hand – controlling all corners of the Chinese internet.
Biggest Tech Trends in China (10:40 HKT)
As Edith Yeung dives deeper in what matters in China today when it comes to digital developments, she focuses on the importance of AI and how tools such as facial recognition are playing an increasingly important role in Chinese society today; not just for practical matters such as train ticket collections, but also for governance, helping catching fugitives or jaywalkers. In terms of AI, China is investing the most in the world right now.
Robotics is also an area of major development in China, as intelligent service robots continue to upgrade across industries, including e-commerce and healthcare. As an example, Yeung mentions that in September 2017, the first robot dentist was introduced in the PRC.
"Chinese consumers are crazy about cryptocurrency," Yeung also emphasizes, and the cryptocurrency trading market is a huge and booming one – although "the government is not too friendly to the market."
But blockchain technology is applauded more from the authority side. Although still in its infancy, companies such as Alibaba are already working with the government in applying blockchain technology across various industries.
Launch: The full Chinese Internet Report 2018 can be found here.
Attitudes that matter (11:00 HKT)
For Edith Yeung, who was selected by Inc's Magazine as "one of the Silicon Valley investors you must know," the question of whether or not China is the global tech leader is not a difficult one.
"China is leading and people elsewhere in the world have no clue."
"I really think China is leading in so many areas, and people elsewhere in the world just have no clue," Yeung says during the Q&A following the presentation of the China Internet Report.
Yeung also links the growth of Chinese tech companies to the working attitude of the people that is related to China's history.
"My generation, let's say those thirty-plus generations, remembers what it means to be poor. And that you have to work hard to be successful. People work hard because they can remember those days, and that attitude is not likely to change over the coming decades. There's no nine to five attitude."
World Leader in Technology (11:55 HKT)
Silicon Valley has always been seen as the world leading technology hub. During another RISE panel, simply titled "Is China now the world leader in technology?", speakers Bessie Lee (Withinlink founder), Wayne Xu (Zhongan International president), Harry Hui (ClearVue Partners founding partner), Lei Chen (Xunlei CEO), and Tim Culpan (Bloomberg columnist) will address if the US should fear the rise of China as a tech superpower.
For moderator Tim Culpan, the answer is simple: "Obviously the answer is yes. We're done here."
But for the other speakers, the answer is not that straightforward. Bessie Lee sees two sides to China's rise: "Is China a world leader in tech? Yes and no," she says: "In mobile, e-commerce and mobile, China is definitely leading. But when it comes to privacy protection, for example, they are not leading in all aspects."
Lee stresses that in mainland China, the regulations always fall behind the technology development. "It's not there yet," she states.
"They run fast. Those who do not run fast will be left behind."
Other speakers agree with Lee. Wayne Xu sees China as a leader in financial and consumer-facing areas, whereas it is still lacking in others. "But as for AI, China is leading," – a statement all speakers today stress.
Harry Hui mentions that the boom of exciting innovation in China partly comes from the fierce competition between local players: "Because of this enormous competition, they need to depend on data and be very quick in how they innovate and keep launching new services to stay relevant. They run fast. Those who do not run fast will be left behind."
Chinese companies and the government have more focus on technological development today than the US has, Xunlei's Lei Chen states. But still, he says, China has a lot of catching up to do.
"Chinese are going to take on the US market, but the US are not going to take on the Chinese market."
Lei does not agree with Lee that regulation is most problematic – he says it is the participants in the market that are often lacking in quality and tech knowledge. Nevertheless, when it comes to AI and blockchain, Lei stresses, "China's overtake is around the corner."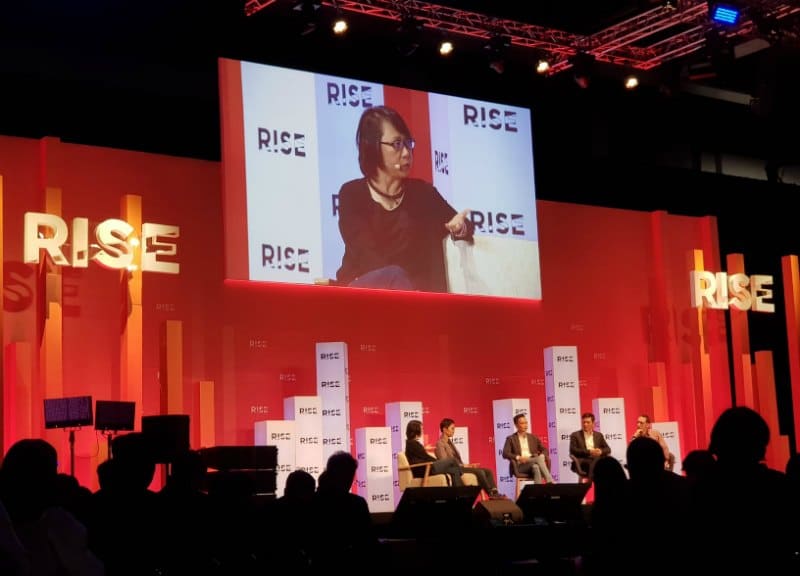 Both Harry Hui and Wayne Xu both say that China will follow its own path in its rise as tech leader; a unique road that is different from paths taken by other leaders such as the US.
According to Bessie Lee, one dimension of this road is that "Chinese are going to take on the US market, but the US are not going to take on the Chinese market" – a crucial dynamic that will eventually determine who the global tech leader will be.
As for today's speakers, they all seem to agree that if China is not already the leader in tech, it will be in the future.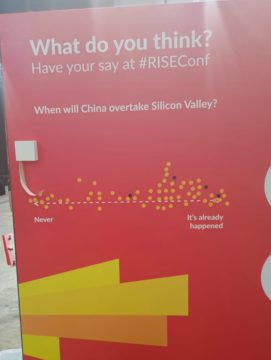 Hours after the kick-off of RISE, conference visitors also hold similar views (see image above); according to the majority of voters, "when China will overtake Silicon Valley" is not a question for the future – it is already happening.
Also read: The top ten things you need to know from the China Internet Report by Abacus.
This live blog is closed. Keep checking in on What's on Weibo in days to come for more updates on RISE and latest news on what's trending on Chinese social media.
By Manya Koetse
Follow @whatsonweibo
Spotted a mistake or want to add something? Please let us know in comments below or email us.
©2018 Whatsonweibo. All rights reserved. Do not reproduce our content without permission – you can contact us at info@whatsonweibo.com.
TikTok's In-Video Search Function (And How to Activate It)
TikTok shows a glimpse of what in-video search is going to look like in the future.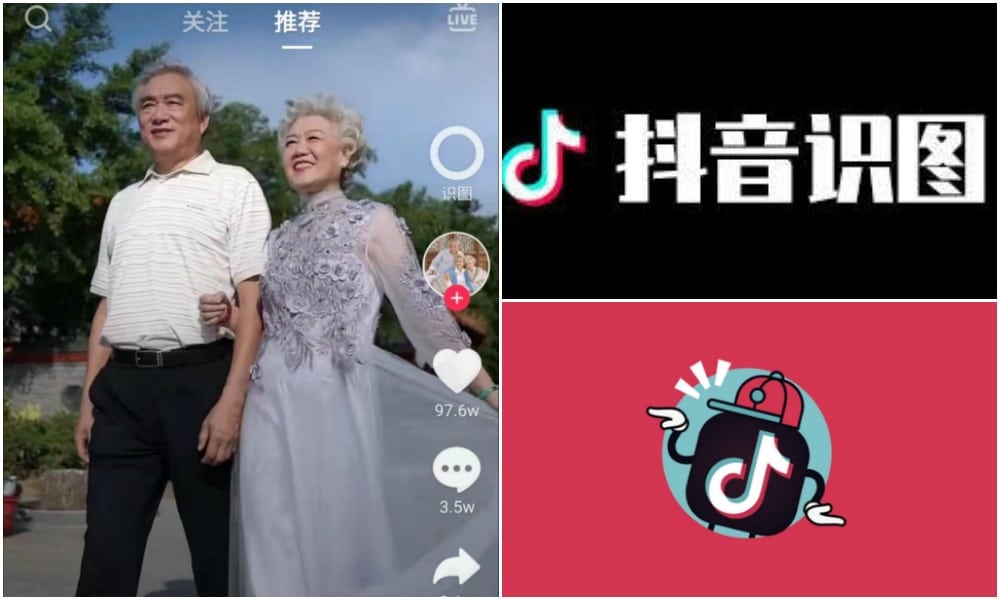 What is TikTok's new in-video search function and how to activate it?
Twitter's most awesome WeChat guru Matthew Brennan recently posted about an "in-video search function" launched in the Chinese social video app TikTok (抖音). (Click here to read about the difference between the Chinese and overseas version of TikTok).
As shown in a video posted by Brennan, the function allows TikTok users to select the face or clothes of a person appearing in a short video to search for other videos or images containing the same person or clothes.
Chinese TikTok now has in-video search. Search someone's face to find more videos of them. Search in-video products or clothes and buy directly #抖音 pic.twitter.com/RBcIqnOBgN

— Matthew Brennan (@mbrennanchina) September 23, 2019
The 'vision search' is a powerful new function within the super popular app.
The idea is that it becomes easier than ever for Tiktok users to find (and buy!) a piece of clothing, that perfect handbag, or even a snack featured in a video.
It also helps users to quickly find other videos in which an online celebrity appears. The function ultimately is an additional feature that keeps users scrolling and shopping within the app – increasing app traffic – as long as possible.
On September 16, Chinese media reported about the function as a "powerful" new tool that greatly strengthens the functionality of the popular short video app.
The function might not immediately seem completely new to Chinese app users; like Google Image Search, Baidu and Taobao also have similar functions (百度识图, 淘宝识图).
On e-commerce platform Taobao, for example, you can take a photo of an item you want (e.g. a certain snack as in example below) and Taobao will try to find the exact same product and list the online stores where you can buy it.
But TikTok's in-video search function is on a whole new level; it does not require users to scan or upload a photo at all. It gives an indication of what visual search will be like in the future.
Whatever video comes by in your TikTok stream, you only need to click the "search" function (识图), select the part of the video you want to search for (you can drag the square from area to area), and TikTok will find the product or face you're looking for – as long as there are comparable products/faces (it does so very fast).
Very much like Taobao, TikTok will recommend various (in-app) online stores where the product can be purchased.
Want to try out the function? For now, it only works in the Chinese version of the app and is still in the 'testing phase' and does not work with all videos.
Make sure you have an updated version of TikTok.
1. Go to "me" (我) page within TikTok
2. Tick the three lines in the top right corner
3. Go to the last option in the sidebar menu titled "lab" (实验室)
4. Activate the function (image below).
So now if you spot a dress you like and would like to buy, press the 'search' button on the right of a video, select the dress, and TikTok becomes like your personal shopping assistant looking for similar dresses for you.
This really makes online shopping more addictive than ever, and also makes it more difficult for people in online videos to hide where they bought their clothing, or what other videos they are in.
Read more about Tiktok here.
Read more about Chinese apps here.
By Manya Koetse
Spotted a mistake or want to add something? Please let us know in comments below or email us.
©2019 Whatsonweibo. All rights reserved. Do not reproduce our content without permission – you can contact us at info@whatsonweibo.com
Didi Riders Can Now Have "Verified Party Members" Drive Them Around
Party-building 3.0? Didi has got it covered.
First published
This is Party-building in the new era: Didi now allows users of its Premier Car Service to let a verified Party member drive them to their destination.
On September 20, as the People's Republic of China is nearing its 70th-anniversary celebrations, the country's most popular taxi-hailing app Didi published an article on Weibo and WeChat explaining its verified Party Member Driver Program.
Recently, riders in Beijing may have noticed something different at Didi's Premier Car service, which is called "Licheng" 礼橙专车 since June of last year.
Thanks to Didi's "Red Flag Steering Wheel" program, spotting a ride hailing CCP member has never been this easy. pic.twitter.com/DuHghtE8xu

— 王博源 Wang Boyuan (@thisboyuan) September 20, 2019
Some of Licheng's drivers now have a red background to their profile photos accompanied by a Communist Party emblem. Upon clicking the profile of these drivers, customers will see that this driver is a Party Member Driver ("党员司机") – meaning that the Didi driver's status as a Party member has been verified through Didi's "Red Flag Steering Wheel" program (红旗方向盘项目) that was set up in November 2018.
Didi writes that these drivers can also be identified as Party members through the red sticker on the dashboard at the passenger side, which literally says "Party member driver."
The article explains that the recent project is an effort to contribute to China's Party-building in the digital era, and that Didi aims to establish a Party member community within its company.
The company is apparently planning to make this community a lively one, as it promises to provide online and offline activities that will help these drivers stay up to date with the latest developments within the Party, and that will increase their "Party awareness."
Starting this month, Didi will reportedly also offer "patriotic classes" to all of its drivers via its online classroom program.
China has more than 88 million Party members. Party membership does not come overnight; those who want to become a Communist Party member need to attend Party courses, pass written tests, be recommended by other members, and pass a screening (read more here).
As for now, riders cannot manually pick to have a Party member as their driver; a nearby driver will be automatically selected when they order a car – if it is a Party member, they will know straight away from the driver's profile.
For now, Didi has set up "mobile Party branches" in Beijing, Shanghai, Shenzhen, and a number of other cities.
On Weibo, some see the initiative as a marketing move from Didi's side. "If you hear the driver is a Party member, you know it's reliable. It's a good thing."
The past year was a tough year for Didi, after the murders of two young women by their Didi driver made national headlines, causing outrage and concerns about customer's safety when hailing a car through the Didi company.
By Manya Koetse
Spotted a mistake or want to add something? Please let us know in comments below or email us.
©2019 Whatsonweibo. All rights reserved. Do not reproduce our content without permission – you can contact us at info@whatsonweibo.com