Rock Hotpot: Why Chinese Celebrities are Opening up Their Own Hot Pot Restaurants
It remains one of China's favorite dining styles: hot pot (火锅), also known as Chinese fondue – a dish that never seems to go out of fashion. Why are so many Chinese celebrities opening up their own hot pot restaurants?
It is one of China's favorite dining styles: hot pot (火锅), also known as Chinese fondue, an ancient dish that never seems to go out of fashion. In this special series, What's on Weibo explores the latest trends in the world of Chinese hot pot. In this first issue: our recent visit to Beijing's Rock Hotpot, owned by the popular Chinese rock band Second Hand Rose. Why is it a trend for Chinese celebrities to open up their own hot pot restaurant? (Check out our latest Weivlog here.)
It is a growing trend that started some years ago: Chinese celebrities are opening up their own hot pot restaurants across the country. Over the past few months, the celebrity hot pot boom has caught the attention of Chinese media sites and Weibo's netizens, making 'celebrity hotpot' (明星火锅店) a much talked-about topic.
Alternative Beijing rock band Second Hand Rose (二手玫瑰) recently opened up its very first private hot pot place in Songzhuang, while the established celebrity hot pot chain ReLaYiHao just keeps getting more popular.
But there are also scandals; Chinese actor Bao Bei'er (包贝尔) was called out by Chinese state media earlier this year for serving fake duck blood in his hot pot joint.
Chinese hot pot (huǒguō 火锅, literally: 'fire pot') has a history of over 1000 years. The tradition is thought to have derived from Mongol warriors who camped outside and had dinner together, circled around a pot on the fire.
The main idea is that while the hot pot brew is kept boiling, you place fresh ingredients into the pot and cook them at the table. Nowadays, hot pot tastes vary greatly across different regions in China, but what matters most is its enjoyment: sitting with friends and family around the boiling stew, sharing food, eating slowly, and talking.
Celebrity Hot Pots
Over the past five years, it has become a trend for Chinese stars to invest in hot pot chains or start their own restaurants. As early as 2009, Taiwanese singer and actor Nicky Wu (吴奇隆) was one of the early adopters when he started a Thai-style hot pot chain by the name of Lemon Leaf (柠檬叶子). He now has three restaurants in Taiwan, and one in Beijing.
Many other celebrities followed over the past three or four years. Since September 2016, Chinese actor Ren Quan (任泉) started the hotpot chain ReLaYiHao (热辣壹号) together with fellow celebrities Li Bingbing (李冰冰) and Huang Xiaoming (黄晓明). The chain now has branches from Beijing to Nanjing, and, according to the latest media reports, is fully packed every night.
Popular Chinese actress Deng Jiajia (邓家佳), born in Sichuan, also opened up her own 'HI hotpot' (HI辣火锅) in Beijing last year. Celebrities Eric Tsang (曾志伟), Chyi Chin (齐秦), Xu Zhiqian (薛之谦), and many others, have all opened up their own hot pot restaurants since 2013.
The reason China's celebrities love the concept of hot pot is simple. With a fanbase of millions, Chinese celebrities use their fame and influence to bring business to their restaurants. Chinese actor and entrepreneur Ren Quan, for example, has a staggering 11,5 million fans on his Weibo page – the perfect place to promote his latest hot pot branch.
The threshold for opening up a hot pot eatery is also low because it does not require as much professional knowledge as needed for other types of restaurants; for hot pot, a restaurant basically has to serve its customers a proper broth and the right ingredients. There is no need to hire high-end restaurant chefs. Hot pot restaurants are relatively easy to manage and need far fewer investment costs than many other types of restaurants.
Besides the fact that they are easy to set up and manage, there are other reasons why so many Chinese celebrities are choosing for this type of restaurant. It is a dining style that is suitable for all audiences, young and old, and is popular across China; no matter if you are in Beijing, Sichuan, or China's coastal areas, there is a strong demand for Chinese fondue and a great freedom in varying between broth flavors and ingredients.
Lastly, the concept of hot pot itself is ideal for duplicating. Since many Chinese celebrities are choosing to start hot pot chains with multiple branches, this genre makes it easy to start the same model in various places. What's not to love about it?
The Hot Pot Pitfall
As easy as it sounds, stepping into the hot pot business is not all roses for Chinese celebrities. In March of this year, Chinese actor Bao Bei'er (包贝尔) was caught in controversy when journalists exposed that the Harbin branch of his LaZhuang Huoguo (辣庄火锅) served its customers fake duck blood, a popular hot pot ingredient. The branch passed off cheap ox blood as duck blood, which is much more expensive.
Since Bao Bei'er is the face of the restaurant, it was him who became the target of netizens' anger. The hashtag 'Bao Bei'ers Restaurant Exposed' (#包贝尔火锅店被曝#) was viewed more than a million times on Weibo.
Bao Bei'er later publicly apologized to his fans and customers, saying he took full responsibility for mismanaging his restaurants. As easy as setting up a hot pot place might be, it is essential for celebrities to ensure its service and quality. In the end, it is not the restaurant staff but the celebrity name that will be dragged through the mud if anything goes wrong.
Second Hand Rose: Rock Hotpot
Recently, another famous name has been added to the list of celebrity hot pot restaurants. Beijing rock band Second Hand Rose (二手玫瑰) opened its private hot pot diner 'Rock Hotpot' (摇滚火锅) in the Songzhuang art district, the biggest artist community in Beijing.
Lead singer Liang Long (梁龙) is a lover of both rock music and hot pot and initially opened the diner as a trial. Making all broths and sauces from scratch, each member of the band has his own soup base that reflects their personality. Customers can book their private table (there is just one private table available every night), or purchase the ingredients for takeaway hot pot.
According to Liang Long, the hot pot restaurant only adds to the image of the band; both hot pot and rock music have the same powerful, quick-boiling "woosh" vibe to it.
For now, the opening of Rock Hotpot has brought Second Hand Rose nothing but good things, Liang Long told What's on Weibo. Not only does the band enjoy experimenting with different flavors and ingredients, the restaurant also brings them closer to their fans and friends who head out to Songzhuang for a night of hot pot together.
In the near future, Rock Hotpot hopes to open up a bigger restaurant to welcome more fans and food lover to their Rock Hotpot. They won't be the only Chinese celebrities to do so – having hot pot with your idol is the latest hype in the world of showbiz and Chinese fondue.
Check out our visit to Rock hotpot in this video.
Rock Hotpot Address:
Beijing, Tongzhou District, Songzhuang Town, Xiaoqiao West Street No. 34.
北京宋庄,通州区宋庄镇小堡西街34号.
Reservations / Mr Wang: 13946228228
– By Manya Koetse
Follow @WhatsOnWeibo
©2017 Whatsonweibo. All rights reserved. Do not reproduce our content without permission – you can contact us at info@whatsonweibo.com.
Bizarre Buildings & Ambitious Architecture of Rural China: Here's Chinese Vlogger 'Schlieffen'
Chinese vlogger Schlieffen explores a bizarre and amazing side of rural China many have never seen before.
"Making Hebei great again" is one of his slogans. Schlieffen is China's first self-proclaimed 'agritourism' vlogger, showing Chinese netizens the unexpected sides of Hebei, an "almost invisible" province in Northern China. Anna Wang explains.
It all started in May of 2018 when Schlieffen (@史里芬Shǐlǐfēn) launched his first video titled "World's Biggest Tortoise" ("世界上最大的王八"), introducing a 1680-square-meter turtle-shaped sports venue at Hebei's Lake Baiyangdian.
Ever since that time, Schlieffen has grown out to become a popular Chinese vlogger and blogger who is active on various social media platforms. Focusing on unexpected architecture in lesser-known parts of China, he has a fanbase of thousands of followers, from Weibo to Bilibili.
His fourth video, "A Trip to Hogwarts Hebei" ("霍格沃茨河北分校之旅") launched him to stardom in his channel's first month.
The video documents the bizarre architecture of the Hebei Academy of Fine Arts, which has been compared to the 'Hogwarts' School of Witchcraft and Wizardry from Harry Potter due to its bizarre castle campus.
Schlieffen's 4-minute video shows the vlogger's exploration of the 'Hogwarts'-like area. After a long drive down a country road, he arrives at the so-called 'Empire Square', which is surrounded by three magnificent rococo, Renaissance and Gothic-style buildings.
The center building, adorned with dramatic towers and turrets, is the school's administration building. Imagine grading student work in a medieval castle in the middle of a cornfield!
Guiding the viewer through the premises, Schlieffen shows the hotel and conference center on the left; the interior is crammed with densely arranged pillars and painted ceilings  – which might be a homage to the Sistine Chapel, without the high ceilings.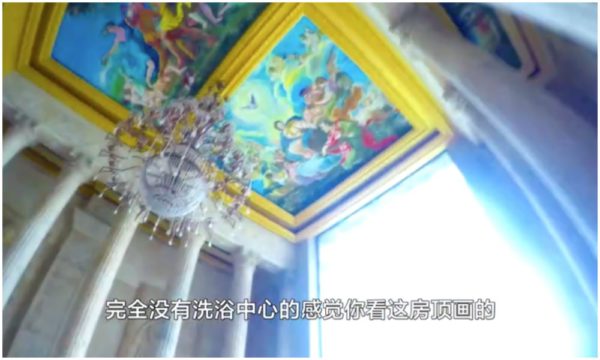 The pseudo-European buildings are somewhat laughable on their own, but there's a lot more. The campus is divided in two halves: one is European-themed, and the other one focuses on ancient China. The two are separated by a manmade "Mediterranean" lake complete with manmade islands covered in artificial palm trees.
Schlieffen's videos always follow a similar pattern. He often uses a wide-angle lens and speeds up the video to four or even eight times its normal speed, with quick edits – no shot lasts longer than 3 seconds. Each video begins with the vlogger getting off from a train or getting out of a car from where he starts his tour. "Please hold on and sit tight," is one of his signature phrases.
"They suddenly seemed to realize that there were parts of China they had no clue about."
"A Trip to Hogwarts Hebei" soon started making its rounds on Chinese social media, and was especially shared among well-educated netizens and white-collar workers, who suddenly seemed to realize that there were parts of China they had no clue about.
The Chinese term "shanzhai" (山寨) is a derogatory term for "knock-off goods," but it literally means "mountain village." The assumption is that people from rural mountain villages cannot afford real luxury goods, so they buy cheap counterfeits made in poorly run factories. The metropolitan middle class already knew about shanzhai Louis Vuitton bags, but they weren't aware that hillbillies were capable of building a 288-acre shanzhai Hogwarts.
Schlieffen's video on the noteworthy Hebei Academy of Fine Arts has currently been viewed over nine million times on Miaopai alone.
After the success of his initial videos, Schlieffen continued filming knock-off world wonders in Hebei. By now, he has made fifty vlogs, including those on wondrous places such as Hebei Jerusalem or Hebei Venice.
Through the course of his vlogging career, Schlieffen expanded his field of interest to include any attraction teetering on the thin line between ambitious and ridiculous.
Whether sharing images and videos on the world's largest cement elephant or the biggest turtle sculpture, Schlieffen's posts always attract hundreds of likes. One of his other popular videos explores the somewhat bizarre site of the Baoding Zoo.
"Hebei is an almost invisible province, as transparent as the air – I used that invisibility to make myself visible."
There are not many online influencers focusing on Hebei, a place that is not exactly known for its glamor and charm. At a December 2018 event hosted by Chinese tech news site Huxiu.com, Schlieffen said that "Hebei is an almost invisible province, as transparent as the air – I used that invisibility to make myself visible."
Hebei, a coastal province in Northern China, contains two municipalities under the direct control of the central government: Beijing and Tianjin. People often say that Beijing and Tianjin are the flavorful 'fillings of a dumpling' while Hebei is 'the plain wrapper.'
Under the current household registration system, being a resident of Beijing or Tianjin means better social welfare than the rest of Hebei. Thus, the 'brain drain' from Hebei to the cities has been ongoing for decades.
When people talk about Hebei, they usually describe it as an uneventful place, but Schlieffen's representation of Hebei completely changes their idea of the region, turning it into a place where people can be wildly ambitious.
Their ambitions can take on two forms: first, they are obsessed with huge, grand buildings. Second, they want to include every aesthetic they can think of, Chinese or European, ancient or contemporary. These ambitions come together in a brazenly unsophisticated form of architecture.
Schlieffen (1992) was born and raised in Hebei. After college, he went to England for graduate school until 2018.
While he was studying abroad, a new wave of Chinese vloggers launched their careers in mainland China. Many of them, such as the female vlogger Zhuzi (@你好_竹子), were studying abroad in Western countries. They shot and shared short videos of their daily lives, satisfying their audience's curiosity about life in a strange land.
Schlieffen began to seriously consider vlogging as a career after finishing his studies and returning to his hometown. He found that his prospective audience seemed to have grown tired of watching Chinese exchange students living happy, fashionable lives overseas. As a lover of traveling, he decided to start his own travel vlog.
In an interview with Li Dangxin for Huxiu.com, Schlieffen explains: "You have to ask yourself time and time again why the audience wants to watch your videos." Careful consideration led him to shoot the bizarre buildings in Hebei.
There are tens of thousands of Hebei natives working in big cities, Schlieffen thought; they care about what's going on in their hometowns, but they haven't necessarily seen these incredible buildings in person. They would be his first audience and if they shared his posts, his videos would surely go viral.
Things happened just as Schlieffen expected. Well-educated white-collar workers who had left their hometowns behind were stunned by Schlieffen's discoveries and collectively reposted his videos with their friends.
"Making Hebei great again."
Even after having produced dozens of vlogs and posts, Schlieffen is not worried about running out of stories. After his initial success, he also began covering stories in other provinces.
Schlieffen found that if a village's richest man happens to be the local party secretary and is also a Chinese People's Political Consultative Conference (CPPCC) member, you're sure to find ridiculous architecture in that village.
These locally powerful people often want to put up monuments and realize impressive structures to build on their legacy. Their power often goes largely unchecked in the various corners of Chinese -more rural- provinces, and their subordinates will not question them – those with the ability to challenge them aesthetically have probably already fled to bigger cities.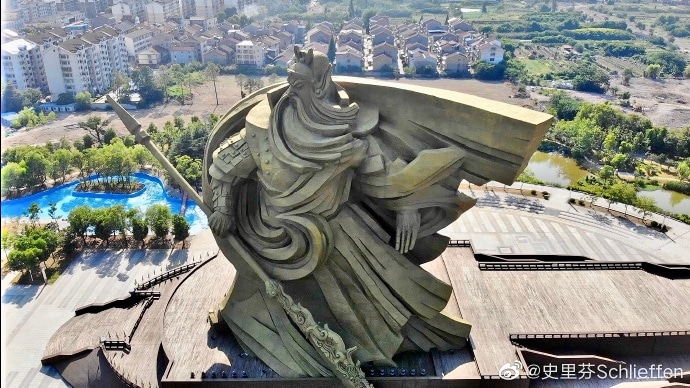 One example features in Schlieffen's video on the Long Wish Hotel International. Boasting an elevation of 328 meters, the hotel is ranked No. 8 in China and No. 15 worldwide in terms of height. It isn't in densely populated Beijing or Shanghai, but in Huaxi village in Jiangsu province. When asked why one would build such a gigantic hotel in a rural area, the village party secretary answered: "Because we can."
The hotel in Huaxi has nouveau riche written all over it. Every corner is decorated with glittering sculptures made with gold, silver or crystal. There are miniatures of Tiananmen, the White House and Arc De Triomphe in the village. On top of the White House stands a miniature Statue of Liberty.
In reporting on all these wondrous places and buildings, Schlieffen avoids making strong statements about them. Instead, he often makes playful or edgy comments. His slogan "Make Hebei great again" also means different things to different people. Some instantly understand his application of the phrase, while others simply take it literally.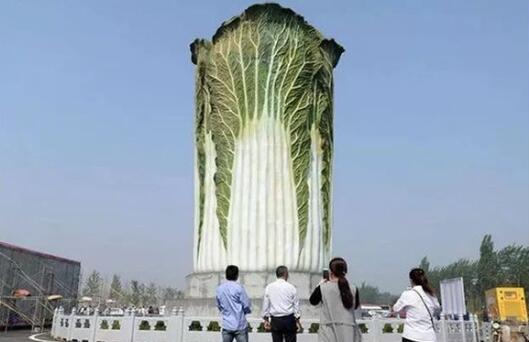 What is noteworthy is that Schlieffen rarely offends locals. He's welcomed wherever he visits. After he made a video about Wan Jia Li, a hotel/shopping mall in Hunan, the owner supposedly even invited Schlieffen to visit his home, saying: "My home is more fun than my business."
Being featured in one of Schlieffen's video can be lucrative for places in Hebei and elsewhere, as these places in rural areas will suddenly see a flux of visitors. Hebei Academy of Fine Arts has even become a popular destination for wedding photos.
Schlieffen is convinced he has found the right perspective from which to observe China's rapidly changing areas. Meanwhile, his next video is on its way. "Please hold on and sit tight," Schlieffen says again. Enjoy the ride. 
By Anna Wang
Follow @whatsonweibo
Spotted a mistake or want to add something? Please let us know in comments below or email us. Please note that your comment below will need to be manually approved if you're a first-time poster here.
©2019 Whatsonweibo. All rights reserved. Do not reproduce our content without permission – you can contact us at info@whatsonweibo.com
'First Lady of Hong Kong TV' Lily Leung Passes Away at Age 90
Chinese netizens pay their respects to veteran actress Lily Leung Shun-Yin (1929-2019), who passed away on August 13.
While the Hong Kong protests are dominating the headlines, the death of Hong Kong veteran actress Lily Leung Shun-Yin (梁舜燕) has become a top trending topic on social media site Sina Weibo under the hashtag "Hong Kong Actress Liang Shunyan Dies from Illness" (#香港演员梁舜燕病逝#).
The actress was born in Hong Kong in 1929. She starred in dozens of television series, including the first TV drama to be locally broadcasted. She became known as "the first lady of Hong Kong TV."
Leung acted for TVB and other broadcasters. Some of her more well-known roles were those in Kindred Spirit (真情) and Heart of Greed (溏心风暴).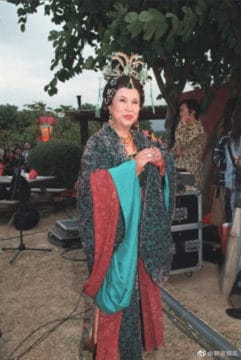 Leung, also nicknamed 'Sister Lily' (Lily姐), passed away on August 13. According to various Chinese media reports, the actress passed peacefully surrounded by family after enduring illness. She was 90 years old.
"I've seen so much of her work," many Weibo netizens say, sharing the favorite roles played by Leung. "I always watched her on TVB while growing up, and will cherish her memory," one commenter wrote.
Another well-known Hong Kong actress, Teresa Ha Ping (夏萍), also passed away this month. She was 81 years old when she died. Her passing away also attracted a lot of attention on Chinese social media (
#演员夏萍去世#).
Many people express their sadness over the fact that not one but two grand ladies from Hong Kong's 20th-century entertainment era have passed away this month.
"Those people from our memories pass away one by one, and it represents the passing of an era," one Weibo user wrote.
"Two familiar faces and old troupers of Hong Kong drama – I hope they rest in peace."
By Manya Koetse
Follow @whatsonweibo
Spotted a mistake or want to add something? Please let us know in comments below or email us. Please note that your comment below will need to be manually approved if you're a first-time poster here.
©2019 Whatsonweibo. All rights reserved. Do not reproduce our content without permission – you can contact us at info@whatsonweibo.com