Shanghai Plastic Surgery Nightmare: Doctor's Sexual Abuse Scandal Exposed on Chinese Social Media
The personal account of a young woman's horrific plastic surgery experience in Shanghai's Ninth People's Hospital has gone viral through Chinese social media. Other netizens have also come forward sharing their bad experiences with the hospital and its doctors.
The personal account of a young woman's horrific plastic surgery experience in Shanghai's Ninth People's Hospital has gone viral on Chinese social media. Since the post, many other netizens victimized by the hospital and Dr. Yu Dong have also come forward. The sexual abuse scandal is one of the most talked about topics of the day on Weibo.
The personal account of a 19-year-old woman describing how she was sexually molested and maltreated by her plastic surgeon in Shanghai's Ninth People's Hospital has caused a stir on Chinese social media. The girl, who calls herself "Unhappy Bunny 555" (@不开心的兔兔555) posted her story on Weibo on December 9.
Within 42 hours after posting, her post was viewed millions of times, receiving thousands of comments. Because her first post was allegedly removed by Sina Weibo, the young woman had to post it again. The second post was viewed nearly 11 million times by the time of writing.
The girl, nicknamed 'Tutu', has been posting about her experiences earlier this year. In her latest long blog post, which has been making its rounds on Chinese social media, she writes:
"I am a 19-year-old girl. In the winter of 2015, I went to Shanghai's Ninth People's Hospital's Dr. Yu Dong (余东) for surgery on my face. The story I am about to tell comes from my own personal experience, and if it contains any inaccuracies I am willing to face potential legal consequences."
"Because the shape of my face is somewhat sharp and not delicate, I started searching for plastic surgery on the internet. I come from a family that is not rich, and my parents are very conservative. I saved up my own Chinese New Year money and worked part-time jobs in my spare time, and after several years of saving, penny by penny, I planned to go to the big city to find a reliable doctor for the big surgery."
"I told Dr. Yu Dong I only wanted to fix my lower jaw, but he told me it would not be possible without also operating my chin. I trusted in his expertise and agreed."
"Like many other girls, I found Dr. Yu Dong through the internet. Looking at his work and writings on Weibo, I felt he was a very advanced, confident, and competent doctor. Considering he was a specialist at the Shanghai Ninth People's Hospital, I trusted there would not be any problems. Since I had to register at the hospital in order to get an appointment with him, I already spent a lot of money [arranging this] before I finally got my consultation. I told Dr. Yu Dong I only wanted to fix my lower jaw, but he told me it would not be possible without also operating my chin. I trusted in his expertise and agreed."
"I arrived on time on the day of my admittance to the hospital, paid the surgery fee, and waited in line with other girls to take pictures. I met a girl there who had come for a second facial surgery. She told me her first operation was on her cheekbones by Dr. Yu Dong, which did not come out right, and that she would now do a second operation. I immediately felt something was wrong (if the first time was not good, why would you come in a second time? Shouldn't it be right the first time around?), but this surgery had been my dream for such a long time and I had already paid for it, so I told myself it was okay."
"Until the day of the surgery, I did not see Dr. Yu Dong at all. Right before I would go on the operating table, I met Dr. Yu Dong in his office together with two other girls to briefly discuss our surgeries (he did not address the specifics of our surgeries, nor their medical implications). One of the girls named Hu then told the doctor that she had also had breast surgery. The doctor then suddenly reached out, put his hand inside her hospital gown (which we had to wear without any underwear for the operation) and touched [her breasts]. When I asked Dr. Yu Dong about my own surgery, he just quickly withdrew his hand from Hu's hospital gown and suddenly touched my breasts. He smiled and half-jokingly told me "they definitely are not fake." Because I'd never encountered such a thing, I was just dumbfounded and felt very uncomfortable, but since he is a doctor who has seen so many beautiful women, and since the other girls did not react at all, I thought I was just imagining it."
"I was all alone in that hospital, without my family or friends, and I would be the next one on the operation table."
The girl then goes on to tell that before the operation, Dr. Yu Dong also made pictures of her in a small separate room without windows, where he again touched her breasts while making small talk. "At this point," she writes: "He must have thought I was very naive and he said he wanted my WeChat and my number to contact me."
In a text message, the doctor then told Tutu to come to his office. "I thought it was to discuss my surgery," Tutu writes. She describes how, once in his office, the doctor held her in a strong embrace. Tutu writes:
"My mind was muddled, and before I could respond he had already locked the office, pinned me to the bed and had sex with me. It all happened within seconds and afterward Dr. Yu Dong quickly got up, pulled up his pants and told me he was being too crazy and begged me not to say, that he had never done this before and just really liked me. (..) He told me my surgery would be okay. To me, it was all a blur and happened so fast. I was all alone in that hospital, without my family or friends, and I would be the next one on the operation table. I was afraid to offend him out of fear it would affect my operation – I admit I was also at fault for attaching so much importance to my appearances – but I had saved up for so long and had already paid, this operation was something I'd dreamed about for so long. I did not think about how bad I actually felt and was afraid to tell anyone. In a complete daze, I got on the operation table."
Tutu goes on and describes the period after the operation:
"Within three days after the surgery, the hospital urged me to leave because of a shortage of beds. I had lost a lot of blood during my operation and my face was still very swollen and very painful. Unfortunately, I started getting a fever and after a week the swelling only got more serious. I did not want to face Dr. Yu Dong again and wanted to avoid his medical treatment. So I went to find the surgery assistant Dr. Xu Liang (徐梁), who gave me medication through IV but it didn't help. The doctor told me he had never seen anything like this, and that I should go and see the main doctor Yu Dong to have it checked out."
With Tutu's fever getting higher, and the pain getting worse, she went back to Dr. Yu Dong, who used a needle to puncture her cheek to let out the fluids. When the situation only got worse, he had her hospitalized to clean out her surgical wounds.
"This whole affair has brought tremendous injuries to my body and soul. The pain in my chin reminds me that there is no way to escape this nightmare."
In her blog post, Tutu described that during her second hospitalization she was crying with pain, had not eaten proper food for over two weeks, was weakened and dizzy. When she went for her appointment with Dr. Yu Dong, he had sex with her again:
"He suddenly locked the door, barbarously pushed my head against the office desk, tore my clothes and entered me. I was weak and light-headed, and could not even speak because of the tube in my mouth (…) After it had happened, he repeatedly warned me not to speak out about it and said that the expenses of my second hospitalization would not be charged. (..) I felt horrible, but I was in bad shape and had no money left. Being a girl from a simple background all alone in Shanghai, I was also afraid to offend a man with the position of associate professor of a top hospital, and thought nobody would probably believe me."
Tutu's account continues, as her wounds do not get better and she needs her stitches to be removed. When she returns to Dr. Yu Dong to be helped, she writes that he tells her he can only help her if she satisfies his needs and forces her to receive oral rape.
Six months after the operation, Tutu still suffers from intolerable pains and feels as if there are holes in her chin. Although Dr. Yu tells her there is no problem, a new facial scan points out her chin has broken bones and two big holes. Tutu also shared her CT scan on Weibo (see image).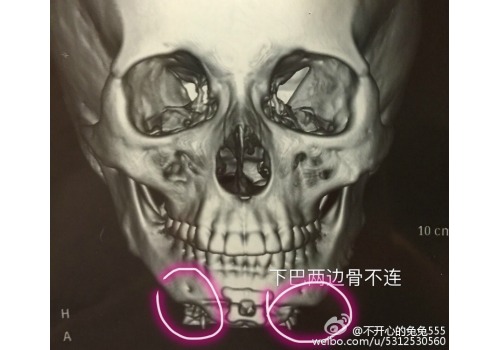 Tutu writes that it was not until the day of her CT scan that she discovered the doctor had actually performed a V-Line operation on her – a controversial surgery where the jaw is cut in a V-shape that is not even allowed to be performed in many hospitals.
With no relevant department to turn to within the hospital, and Dr. Yu having blocked her out as a patient, Tutu decided to share her story on social media:
"This whole affair has brought tremendous injuries to my body and soul. I cannot sleep and every time the pain in my chin reminds me that there is no way to escape this nightmare. I've thought about suicide countless times. I've sought medical help everywhere, but this cannot be fixed, it's irreversible damage. My pain goes with me everywhere, I can no longer go out with my friends, although I should just be able to live a happy life like other young girls. I don't want to be weak anymore, I want to get my story out there. I know I will receive a lot of backlash, but I have to share this to make sure other girls won't end up in the same nightmare."
"Dr. Yu Dong is evil and has no medical ethics."
The Weibo post includes screenshots of WeChat conversations between 'Tutu' and Dr. Yu, hospital bills, CT scans, and screenshots of social media posts by other women who say they have become a victim of Dr. Yu's malpractices.
Tutu's revelations have stirred up much controversy on Weibo and WeChat, with many netizens supporting her and expressing their anger. "How can such a bastard become a doctor anyway?", many people wonder.
Despite the support, there are also many people who doubt Tutu's story for lack of evidence of the sexual assaults. Although there are many other women claiming they also had sex with Dr. Yu, some people wonder if it could be considered rape. "He is a doctor who had sexual relations with his patients," one netizen responds: "Either way, his medical ethics are flawed."
Other people have also come forward on Chinese social media with stories about the Shanghai Ninth Hospital malpractices. "I don't know if this story is true or not, but I do know this hospital has many dirty practices," one netizen says, sharing her own bad experiences with the hospital staff. Another netizen says: "I had a nose job in this hospital in June, and it completely failed. My nose is crooked."
"I had my eyelids done by Dr. Yu Dong, and he was terribly impatient. It was the first time I had ever had a surgery and I was so scared, but he never consoled me and only ridiculed me. (..) Although I did not experience the same problems as the author after the operation, I do feel like Dr. Yu Dong is evil and has no medical ethics," netizen 'Daix' writes.
Tutu also shared that she has been receiving many private messages from young women who have been molested by Dr. Yu Dong since she has shared her story on Weibo.
The Shanghai's Ninth People's Hospital released a statement through its official Weibo page on Sunday. The hospital has set up a research team to investigate the case, the post says, and will take legal measures depending on the outcome of the investigative report.
"You knew about this long before," one netizen writes: "But you did not take any action until this case blew up. This is just no good."
In the meantime. Dr. Yu's wife has also come forward on Weibo. She has stated that her husband denies all allegations, and that she will stand by him.
– By Manya Koetse
Follow on Twitter or Like on Facebook
©2016 Whatsonweibo. All rights reserved. Do not reproduce our content without permission – you can contact us at info@whatsonweibo.com.
'Welcome Home, Molly' – Chinese Zoo Elephant Returns to Kunming after Online Protest
One small step for animal protection in China, one giant leap for Molly the elephant.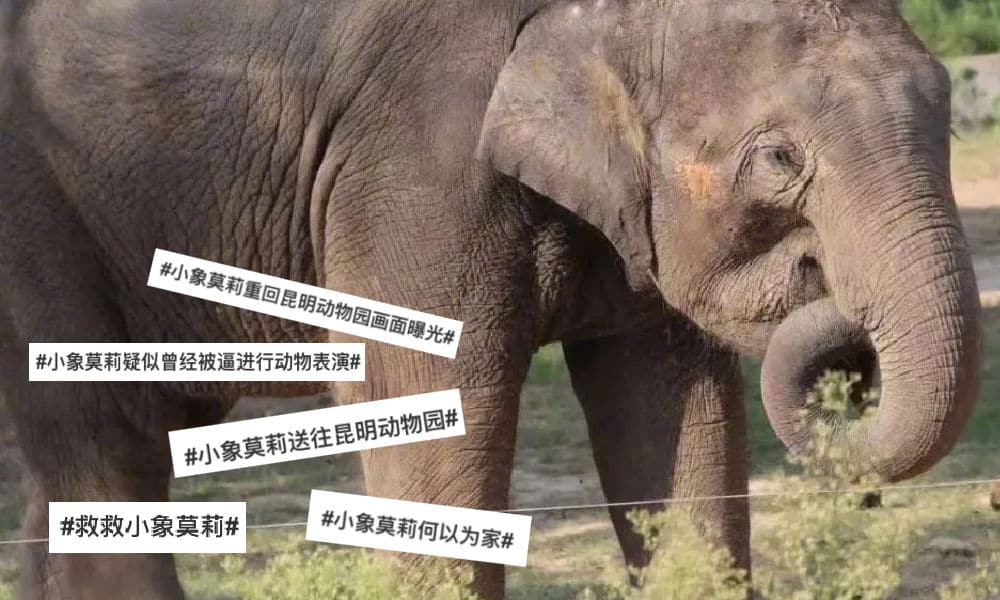 Following online protest and the efforts of animal activists, Molly has returned to the Kunming Zoo where she was born and where mother elephant Mopo is.
The little elephant named Molly is a big topic of discussion on Chinese social media recently.
The popular Asian elephant, born in the Kunming Zoo in 2016, was separated from her mother at the age of two in April of 2018. Molly was then transferred from Kunming Zoo to Qinyang, Jiaozuo (Henan), in exchange for another elephant. Over the past few years, fans of Molly started voicing their concerns online as the elephant was trained to do tricks and performances and to carry around tourists on her back at the Qinyang Swan Lake Ecological Garden (沁阳天鹅湖生态园), the Qinyang Hesheng Forest Zoo (沁阳和生森林动物园), the Jiaozuo Forestry Zoo (焦作森林动物园), and the Zhoukou Safari Park (周口野生动物世界).
Since the summer of 2021, more people started speaking out for Molly's welfare when they spotted the elephant chained up and seemingly unhappy, forced to do handstands or play harmonica, with Molly's handlers using iron hooks to coerce her into performing.
Earlier this month, Molly became a big topic on Chinese social media again due to various big accounts on Xiaohongshu and Weibo posting about the 'Save Molly' campaign and calling for an elephant performance ban in China (read more).
Due 2 pandemic prevention measures in China, Molly's zoo had been closed for long. It was just re-open & a Molly Group friend went to see her 2 days ago, shared a video and photos. The zoo was under much pressure from netizens, so no 🐘 shows, rides, at the moment. #FreeMolly pic.twitter.com/4BjoVk2DBC

— Diving paddler (@KU09814701) April 25, 2022
Although zookeepers denied any animal abuse and previously stated that the elephant is kept in good living conditions and that animal performances are no longer taking place, Molly's story saw an unexpected turn this week. Thanks to the efforts of online netizens, Molly fans, and animal welfare activists, Molly was removed from Qinyang.
On May 15, the Henan Forestry Bureau – which regulates the holding of all exotic species, including those in city zoos – announced that Molly would return to Kunming in order to provide "better living circumstances" for the elephant. A day later, on Monday, Molly left Qinyang and returned to the Kunming Zoo where she was born. In Kunming, Molly will first receive a thorough health check during the observation period.
Good news. After many people's working together for months, Molly's going back to Kunming Zoo to stay with her mom. Though Kunming Zoo has a very dark history, we will keep monitoring it to ensure Molly living in good condition. We will save other performing 🐘. #FreeMolly https://t.co/kC1uByyVpG pic.twitter.com/KhFlLpQgaa

— Diving paddler (@KU09814701) May 16, 2022
Many online commenters were happy to see Molly returning home. "Finally! This is great news," many wrote, with others saying: "Please be good to her" and "Finally, after four years of hardship, Molly will be reunited with her mother."
Besides regular Weibo accounts celebrating Molly's return to Kunming, various Chinese state media accounts and official accounts (e.g. the Liaocheng Communist Youth League) also posted about Molly's case and wished her a warm welcome and good wishes. One Weibo post on the matter by China News received over 76,000 likes on Monday.
Although many view the effective online 'Save Molly' campaign as an important milestone for animal welfare in China, some animal activists remind others that there are still other elephants in Chinese zoos who need help and better wildlife protection laws. Among them are the elephant Kamuli (卡目里) and two others who are still left in Qinyang.
For years, animal welfare activists in China and in other countries have been calling for Chinese animal protection laws. China does have wildlife protection laws, but they are often conflicting and do not apply to pets and there is no clear anti-animal abuse law.
"I'll continue to follow this. What are the next arrangements? What is the plan for Molly and the other elephants? How will you guarantee a safe and proper living environment?"
Another Weibo user writes: "This is just a first step, there is much more to be done."
To follow more updates regarding Molly, check out Twitter user 'Diving Paddler' here. We thank them for their contributions to this article.
To read more about zoos and wildlife parks causing online commotion in China, check our articles here.
By Manya Koetse
References (other sources linked to within text)
Arcus Foundation (Ed.). 2021. State of the Apes: Killing, Capture, Trade and Ape Conservation. Cambridge: Cambridge University Press.
China Daily. 2012. "Animal Rights Groups Seek Performance Ban." China Daily, April 16 http://www.china.org.cn/environment/2012-04/16/content_25152066.htm [Accessed May 1 2022].
Li, Peter J. 2021. Animal Welfare in China: Culture, Politics and Crisis. Sydney: Sydney University Press.
Get the story behind the hashtag. Subscribe to What's on Weibo here to receive our weekly newsletter and get access to our latest articles:
Spotted a mistake or want to add something? Please let us know in comments below or email us. First-time commenters, please be patient – we will have to manually approve your comment before it appears.
©2022 Whatsonweibo. All rights reserved. Do not reproduce our content without permission – you can contact us at info@whatsonweibo.com.
Huizhou Pet Dog Beaten to Death by Health Workers while Owners Are in Quarantine
First in Shangrao, now in Huizhou.
Last November, Chinese social media users were outraged after anti-epidemic workers in Shangrao killed a pet dog while its owner was undergoing quarantine at a nearby hotel. This week, a similar incident has again sparked outrage on Weibo.
On March 2nd, a Samoyed dog was beaten to death by anti-epidemic workers in Huizhou, Guangdong Province. Home security footage of the incident was shared by the dog's owner (有只雪球), who wrote about it on Weibo on March 4th. Her post was shared over 100,000 times on Saturday afternoon.
The 3-year-old dog named Snowball was left at home while its owners were quarantined elsewhere in Huizhou. The female owner's boyfriend was confirmed to have Covid-19 and was sent to a designated hospital on March 2nd, while the woman also needed to quarantine due to being a close contact.
That very same day, two epidemic prevention staff members entered the house to disinfect it. The dog owner shared screenshots of a WeChat conversation with the health workers, in which she told them in which room the dog was staying and also told them he was harmless and did not bite. The conversation suggests that the owner was under the assumption that the dog would just be tested for Covid19.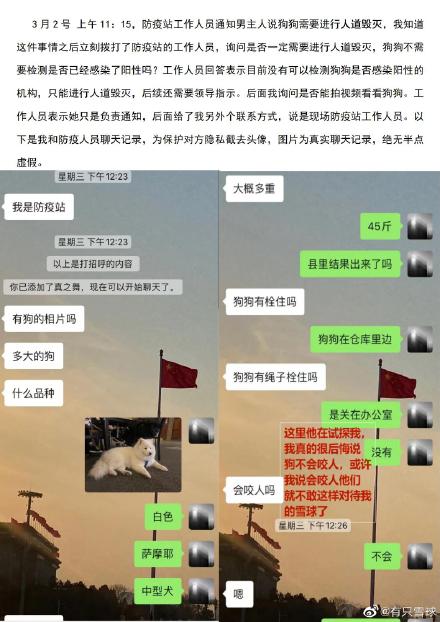 But much to the horror of the owners, their home security camera system allowed them to see how workers used a long stick to hit the dog, and how they continued to beat the dog to death. A video of the incident was also posted on Twitter by @realsexycyborg (warning, viewer discretion is advised, distressing footage and sound).
On March 5th, the official Weibo account of the Huizhou Propaganda Department released a statement on the incident, confirming that the incident had indeed occurred and apologizing for it.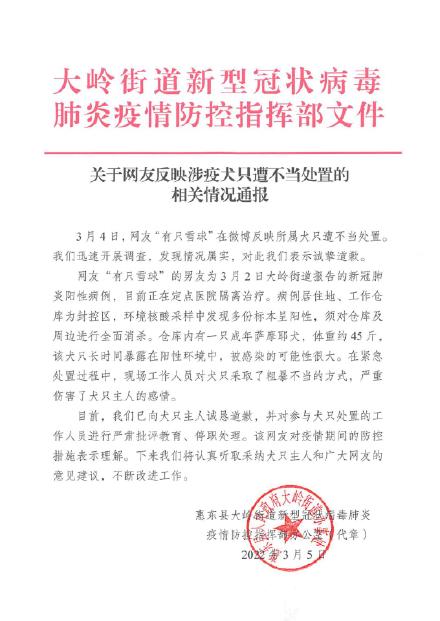 Although the statement said the anti-epidemic workers used a "cruel manner" to kill the dog, it also said that this large dog had been exposed to Covid19 for a prolonged period through its owner and that there allegedly was a high chance that the dog also had caught the Covid19 virus.
The statement further said that the health workers in question have been suspended from their duties and that authorities have contacted the dog's owners and apologized to them.
Many people on Weibo expressed anger and disbelief that such an incident had occurred again: "This epidemic has been going on for several years, why does this keep happening? First Shangrao, now Huizuo. It's heartbreaking."
"Snowball was so scared. I couldn't breathe when clicking on the video, and Paipai [pet dog] immediately scurried to me with his tail down when he heard the video, dogs can empathize with other dogs, Paipai could hear that Snowball was in danger."
Other commenters also claimed that more dogs were recently killed by health workers. Guangdong province recently saw a spike in Covid-19 cases, with virtually all cases originating from neighboring Hong Kong.
Some Weibo users pleaded for Chinese laws to prohibit the mistreatment of animals. For many years, animal welfare activists have been calling for better legal protection of animals in China. China currently has no laws preventing animal abuse but over the past few years, the voices calling for the legal protection of animals in China have become louder – in 2020, state media outlet CCTV also called for animal protection laws.
Online anger was further fuelled when hashtag pages relating to this incident were taken offline on Weibo, with the topic being left out of the top trending topics and hot search lists. The Huizhou authorities closed the comment sections underneath their statement.
"What? You're clamping down on this topic now? Do you think we're idiots?", one Weibo user wrote. Another person said "It's fine if this gets deleted. For communism, your dog is my dog, you beat my death to death, just apologize and it's ok."
Another person wrote: "As a Huizhou resident and a pet lover, I really feel horrible about this. Epidemic prevention is important, but it should protect life, not harm life. The loss of moral preventive measures and the indifferent attitude in which this incident was handled afterward is really a disgrace to Huizhou!"
This is ALL over Weibo-

Any Pro-China influencers avoiding it?
They're getting paid.

Any obfuscating, whatabouting or defending it?
They're getting paid.

You want to know who's getting fat envelopes of cash from🇨🇳? Ask them about this and you'll see.

JUSTICE FOR SNOWBALL! https://t.co/a5FIrcN6sC pic.twitter.com/UZu23pDlWh

— Naomi Wu 机械妖姬 (@RealSexyCyborg) March 5, 2022
By Manya Koetse
Spotted a mistake or want to add something? Please let us know in comments below or email us. First-time commenters, please be patient – we will have to manually approve your comment before it appears.
©2022 Whatsonweibo. All rights reserved. Do not reproduce our content without permission – you can contact us at info@whatsonweibo.com.