"Mommy's Washcloth" – Shanghai School Uses Dirty Sex Joke to Teach Kids English
This Shanghai school gave its pupils some noteworthy homework.
This Shanghai school has provided its students with a sexual joke as a "light and funny" text to study English. Chinese netizens are now making a joke of the school and the book it uses.
A private international school in Shanghai has given its 8th-grade students some remarkable homework to study English this winter holiday. Spoiler: it's about pubic hair and extramarital sex.
The English text in the book, that has now gone viral on Chinese social media, is called "Mommy's Washcloth" (妈妈的抹布). It is listed in the category "light and funny" and goes as follows:
Mommy's Washcloth
There was a little boy whose mother was about to have a baby. One day the little boy walked in and saw his mother naked, he asked his mother what was the hair in between her legs? She responded, "It's my washcloth." Weeks later after the mother had the baby, the young boy walked in on his mother again, but while she was in the hospital the doctor shaved her pubic hair, and the boy asked his mother: "What happened to your washcloth?" The mother responded, "I lost it."
The little boy, trying to be helpful, set out to find his mother's washcloth. A few days later the little boy went running to his mother yelling and screaming, "I found your washcloth!" The mother thinking that the child was just playing went along with the boy and asked, "Where did you find it?" The boy answered, "The maid has it and she's washing daddy's face with it."
The homework assignment was for children to write down their thoughts on the story.
The joke itself is not new; a quick online search shows that it has since long been featured on various websites listing 'dirty jokes.'
The remarkable text started attracting the attention of netizens when parents complained about it in various WeChat groups. It was then picked up by Chinese news outlet Caixin on January 23rd.
The joke is reportedly featured in the 2018 version of a homework textbook that was originally published in 2009 by Beijing Atomic Energy Press, and has been distributed nationwide. The book is focused on stimulating pupils to learn English in a "light," "creative," and "active" way.
The school that gave its pupils this homework is the SMIC Private School (中芯学校), which, somewhat ironically, says in its mission statement that: "It is our belief that students should be instilled with proper values, and schools share in this responsibility."
Although the Shanghai school was not available for comments, Sina News reports, the Beijing publishing house did give a statement today, saying they were aware of the issue and were in the process of recalling the textbook.
On Weibo, however, many people seem to appreciate the "creative" English texts and find it funny.
Others just complain about the language difficulty level of the joke: "As a university student, I must admit, I still can't understand this," one person wrote, with others adding: "Surely the pupils won't be able to understand it anyway!"
This is not the first time a Chinese textbook causes controversy online for its content. In 2017, a sexual education textbook caused a stir in China for being "too explicit."
By Manya Koetse and Miranda Barnes
Spotted a mistake or want to add something? Please let us know in comments below or email us.
©2019 Whatsonweibo. All rights reserved. Do not reproduce our content without permission – you can contact us at info@whatsonweibo.com
Death of Pinduoduo Employee Sparks Discussions on Overtime Work
Pinduoduo's '996' culture is the talk of the day after the sudden death of a 22-year-old female employee.
The death of a 22-year-old woman working at Chinese e-commerce company Pinduoduo is dominating discussions on Weibo today.
The female employee named Zhang died in the early morning of December 29. Zhang collapsed while she was on her way home from work with some colleagues at 1:30. She was soon taken to a local Urumqi hospital, where she passed away six hours later. Zhang was cremated on January 3rd.
Zhang started working at Pinduoduo in July 2019. She worked for the community group buying unit Duoduo Maicai (多多买菜) in Xinjiang.
On social media, her sudden death is linked to working overtime hours. Unverified screenshots reveal statements from acquaintances of Zhang and other people allegedly working for Pinduoduo, claiming the company's overwork culture is putting an enormous strain on its employees.
Controversial Post on Zhihu
One of the reasons why the news of Zhang's death has become so big on Chinese social media is a post published on Q&A social platform Zhihu.com on the morning of January 4th.
After news of Zhang's death made its rounds on social media since January 3rd, one Zhihu user asked netizens about the case and whether or not the Pinduoduo company should be held responsible. The official Pinduoduo account on Zhihu then responded to the original poster:
"Look at the people at the bottom [of society]. Who's not exchanging their life for money? I never thought of it as a problem of capitalism but as a social problem. This is the era of hard work. You can choose to spend your days easy and comfortably. But you have to accept the consequences of ease and comfort. People can control their own efforts – we all can. "
The comment triggered anger among social media users for being insensitive and suggesting that working around the clock, and the consequences that come with it, is also someone's own choice. Many people argue that working overtime has become the norm in an employment market where leaving one's job or turning down long hours is simply not an option for many.
Although the comment was deleted within minutes after it was posted, and Pinduoduo allegedly denied posting such a comment, Zhihu later confirmed that the account writing this comment was a verified account belonging to Pinduoduo.
Pinduoduo then apologized for the post, stating it was posted by a person who had worked for Pinduoduo's marketing department during New Year's Eve, after which they had not logged out from the official channel on their private smartphone.
The person had replied to the thread on Zhang's death with their own personal point of view, and had deleted their comment the moment they realized it was sent from the official Pinduoduo account instead of their personal Zhihu account.
Young Professionals Working Themselves to Death
Despite Pinduoduo's apologies, discussions about Zhang's death have not cooled down. In many posts, China's '996' working culture – a common work schedule where employees work from 9:00 am-9:00 pm, 6 days per week – is blamed for harming the health of young workers.
China's post-90s, younger (urban and well-educated) workers are at the heart of this discussion since they face stress and pressure when entering the highly competitive employment market to find the top job so many graduates are aiming for.
When they do land that in-demand job, they are often also stressed and pressured to keep it. These jobs might come with relatively high salaries and future possibilities to higher positions, but often also require working long hours and doing unpaid overwork.
Although (illegal) overtime may endanger workers' health due to the excessive long working hours, it is still commonplace. Over recent years, some stories of young professionals literally working themselves to death – also known by the Japanese term 'karoshi' – have made headlines.
In 2011, the story of the 25-year-old PwC auditor Pan Jie went viral on Sina Weibo when doctors concluded that her overwork at the company might have played a crucial role in her death. Likewise, the behind-the-desk death of a 24-year-old Ogilvy employee in Beijing and the 2016 death of Jin Bo, deputy editor-in-chief of one of China's leading online forums, all prompted calls for increased public awareness on the risks of overwork – especially among young professionals.
In 2019, Alibaba's Jack Ma came under fire for praising the 996 work practice as a "blessing" ("福报").
As 996 work schedules have become a big topic on Weibo again today, some are calling it a "tumor" of China's work culture.
Zhang's case is currently being investigated by the Shanghai Labor Supervision Department.
We will update on this story if more news comes out, please follow us on Twitter for the latest news.
By Manya Koetse, with contributions from Miranda Barnes
Follow @WhatsOnWeibo
Featured image: photo by 偉宗 勞
Spotted a mistake or want to add something? Please let us know in comments below or email us. First-time commenters, please be patient – we will have to manually approve your comment before it appears.
©2021 Whatsonweibo. All rights reserved. Do not reproduce our content without permission – you can contact us at info@whatsonweibo.com.
Viral Video Exposes Wuhan Canteen Kitchen Food Malpractices
Boots in the food bowl, meat from the floor: this Wuhan college canteen is making a food safety mess.
A video that exposes the poor food hygiene inside the kitchen of a Wuhan college canteen has been making its rounds on Chinese social media these days.
The video shows how a kitchen staff member picks up meat from the floor to put back in the tray, and how another kitchen worker uses rain boots to 'wash' vegetables in a big bowl on the ground, while another person is smoking.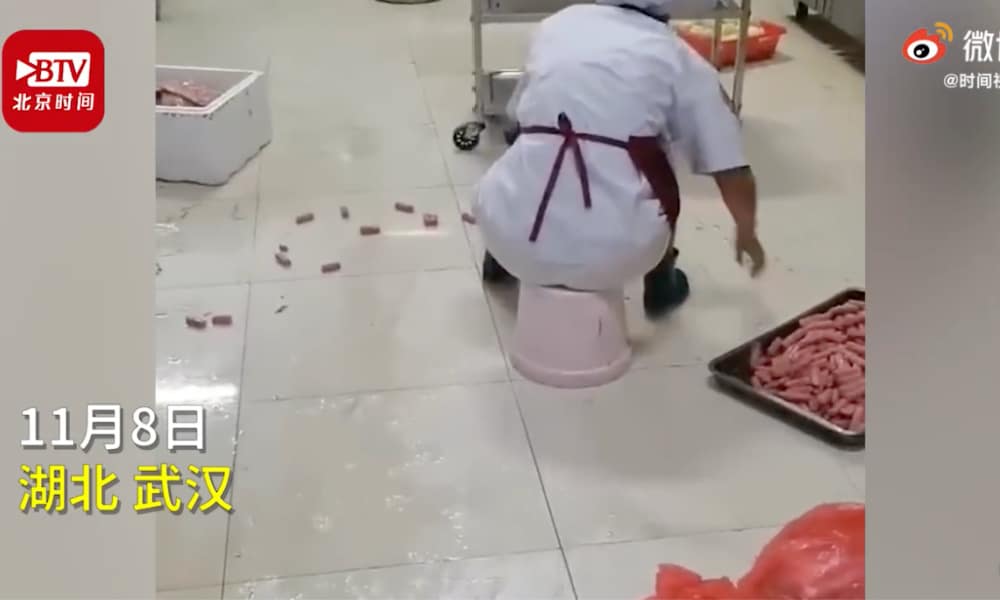 The video was reportedly shot by someone visiting the canteen of the Wuhan Donghu University (武汉东湖学院) and was posted on social media on November 7.
According to various news sources, including Toutiao News, the school has confirmed that the video was filmed in their canteen, stating that those responsible for the improper food handling practices have now been fired.
Can imagine the students at Wuhan Donghu University were not happy to see this behind the scenes footage from their canteen – kitchen staff smoking, picking up food from the floor and putting it back in the tray, and using their boots to mix vegetables in the bowl 😵 pic.twitter.com/vV9NnsQX6v

— Manya Koetse (@manyapan) November 8, 2020
The Wuhan Donghu University also posted a statement on their Weibo account on November 8, saying it will strengthen the supervision of its canteen food handling practices.
"The students at this school will probably vomit once they see this footage," some commenters on Weibo wrote.
Wuhan Donghu University is an undergraduate private higher education institution established in 2000. The school has approximately 16,000 full-time undergraduate students.
"I'm afraid that this is just the tip of the iceberg," one popular comment said, receiving over 25,000 likes.
Students from other universities also expressed concerns over the food handling practices in their own canteens, while some said they felt nauseous for having had lunch at the Wuhan canteen in question.
By Manya Koetse
Follow @WhatsOnWeibo
Spotted a mistake or want to add something? Please let us know in comments below or email us. First-time commenters, please be patient – we will have to manually approve your comment before it appears.
©2020 Whatsonweibo. All rights reserved. Do not reproduce our content without permission – you can contact us at info@whatsonweibo.com.