"Mommy's Washcloth" – Shanghai School Uses Dirty Sex Joke to Teach Kids English
This Shanghai school gave its pupils some noteworthy homework.
This Shanghai school has provided its students with a sexual joke as a "light and funny" text to study English. Chinese netizens are now making a joke of the school and the book it uses.
A private international school in Shanghai has given its 8th-grade students some remarkable homework to study English this winter holiday. Spoiler: it's about pubic hair and extramarital sex.
The English text in the book, that has now gone viral on Chinese social media, is called "Mommy's Washcloth" (妈妈的抹布). It is listed in the category "light and funny" and goes as follows:
Mommy's Washcloth
There was a little boy whose mother was about to have a baby. One day the little boy walked in and saw his mother naked, he asked his mother what was the hair in between her legs? She responded, "It's my washcloth." Weeks later after the mother had the baby, the young boy walked in on his mother again, but while she was in the hospital the doctor shaved her pubic hair, and the boy asked his mother: "What happened to your washcloth?" The mother responded, "I lost it."
The little boy, trying to be helpful, set out to find his mother's washcloth. A few days later the little boy went running to his mother yelling and screaming, "I found your washcloth!" The mother thinking that the child was just playing went along with the boy and asked, "Where did you find it?" The boy answered, "The maid has it and she's washing daddy's face with it."
The homework assignment was for children to write down their thoughts on the story.
The joke itself is not new; a quick online search shows that it has since long been featured on various websites listing 'dirty jokes.'
The remarkable text started attracting the attention of netizens when parents complained about it in various WeChat groups. It was then picked up by Chinese news outlet Caixin on January 23rd.
The joke is reportedly featured in the 2018 version of a homework textbook that was originally published in 2009 by Beijing Atomic Energy Press, and has been distributed nationwide. The book is focused on stimulating pupils to learn English in a "light," "creative," and "active" way.
The school that gave its pupils this homework is the SMIC Private School (中芯学校), which, somewhat ironically, says in its mission statement that: "It is our belief that students should be instilled with proper values, and schools share in this responsibility."
Although the Shanghai school was not available for comments, Sina News reports, the Beijing publishing house did give a statement today, saying they were aware of the issue and were in the process of recalling the textbook.
On Weibo, however, many people seem to appreciate the "creative" English texts and find it funny.
Others just complain about the language difficulty level of the joke: "As a university student, I must admit, I still can't understand this," one person wrote, with others adding: "Surely the pupils won't be able to understand it anyway!"
This is not the first time a Chinese textbook causes controversy online for its content. In 2017, a sexual education textbook caused a stir in China for being "too explicit."
By Manya Koetse and Miranda Barnes
Spotted a mistake or want to add something? Please let us know in comments below or email us.
©2019 Whatsonweibo. All rights reserved. Do not reproduce our content without permission – you can contact us at info@whatsonweibo.com
Zhai Tianlin's Alleged Plagiarism Triggers Discussions on Academic Cheating in Chinese Universities
"Colleges and Universities face great corruption problems, that is what you should be looking into."
Earlier this month, Chinese actor Zhai Tianlin (翟天临) drew the public's attention for his appearance at the CCTV Spring Festival Gala, where he starred as a police officer preventing his parents from being scammed. Now, Zhai, again, is at the center of attention: not for his acting skills, but for allegedly committing academic fraud.
The famous actor is a Beijing Film Academy Ph.D. graduate and postdoctoral candidate at Peking University, one of China's most renowned universities.
His alleged academic misconduct has been a topic of discussion for some days now. During a live broadcast with fans, Zhai apparently said he did not know what CNKI (知网) is, an academic database that all scholars in China will be familiar with.
It led to suspicions on Zhai's academic standing, and people on the Quora-like Q&A platform Zhihu accused Zhai of not publishing any academic papers in recognized scholarly journals – something that is mandatory for Ph.D. students in China in order to fulfill their graduation requirements.
Zhai's academic records increasingly became the focus of attention on February 9th, when one Weibo user (PITD亚洲虐待博士组织), a graduate student from Beijing, posted the results of a plagiarism detection test that was run on one of Zhai's papers.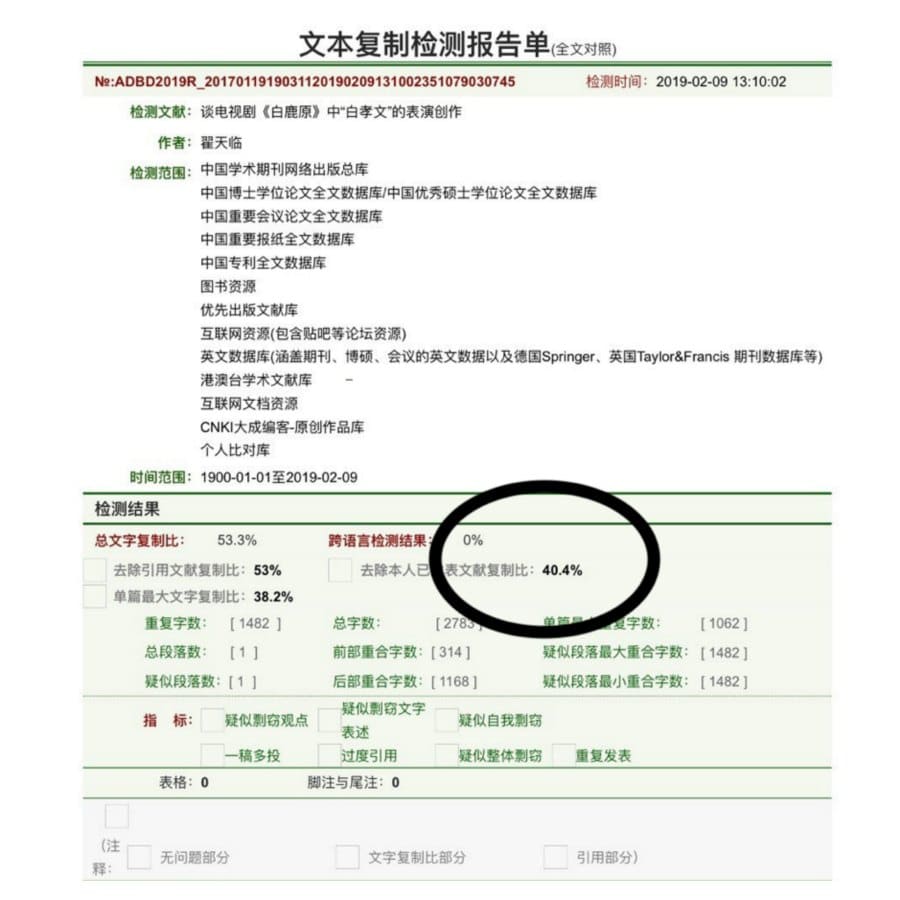 The test result revealed that of the 2783 words used in the paper, that was published last year, 1482 words were copied from other texts, indicating a 40.4% similarity score.
After the Beijing Film Academy released a statement that they would be investigating Zhai Tianlin, state media outlet China Daily posted a message on their Weibo account, stating that "academic standards must be the same for everyone" and that "postdoctoral researchers are a university's greatest honor, " and that "who wants to carry the crown should also carry the weight."
On that same day, Peking University also published a statement saying that they are investigating the incident.
Zhai Tianlin (1987), who is also known as Ronald Zhai, is most known for starring in various popular Chinese TV shows and dramas, such as White Deer Plain and The Advisors Alliance.
The plagiarism allegation case has become a major topic of discussion on Chinese social media this week. The hashtag "Peking University Responds to Zhai Tianlin Case"  (#北大回应翟天临事件#) has been viewed a staggering 650 million times on Weibo at time of writing, while the hashtag "Beijing Film Academy Sets Up Zhai Tianlin Investigation Team" (#北电成立翟天临事件调查组#) received more than 490 million views.
The storm is not likely to blow over soon, as new reports now also allege that Zhai's MA-thesis relies heavily on the scholarly work of Chen Kun, a famous Chinese actor who also attended the Beijing Film Academy.
Although the scandal has triggered countless reactions condemning Zhai, there are also many people on social media who are directing their anger towards the universities and state media, with one typical comment saying: "By solely focusing on Zhai, you are avoiding the real problem. Colleges and universities face great corruption problems, that is what you should be looking into."
Another person wrote: "I feel like the public opinion is focused too much on this case of 'academic misconduct.' What the media should be investigating is: why was the paper not checked for plagiarism before its publication? What the Beijing Film Academy should be looking into is how somebody can graduate with a paper that is not up to standard? And how someone who clearly doesn't hold the appropriate academic abilities has access to its programme."
"Peking University and Beijing Film Academy are both responsible for this fraud. How could they ever enroll such a fraudulent person?!" others wrote. 
Some commenters seem to have no trust in China's academic standard, saying: "Are you telling me you [the universities] didn't know about this when you admitted him? Now you are setting up investigation teams, but it is all just for show."
Academic corruption in the Chinese educational context has been a well-known problem for years. As early as 2002, the Ministry of Education implemented various policies to combat academic misconduct, defining it as an act of academic dishonesty that is punishable, but the problem is still widespread (Kai 2012).
Some studies suggest that one of the factors that play a role in plagiarism in China relate to the fact that 'plagiarism' is something that is often defined in very general terms, with university handbooks nor policies clearly codifying instances of "appropriate and inappropriate source use" (Hu & Lei 2015, 236).
There are also many other factors at play, however, such as the pressure for doctorate students to publish their papers, and the phenomenon of  "publishing cash incentives," which would allegedly trigger more academic fraud.
On Chinese social media, many people express that they hope that the institutions involved will "set an example" for other universities and "be transparent" in the way they'll handle Zhai in case he is found guilty of plagiarism.
Many also pointed out the irony in the fact that it was Zhai who played the police officer that prevented his parents from being scammed during the CCTV New Years' Eve Gala.
"This is just all so embarrassing," some write: "Now it looks like not just Zhai's PhD status should be taken from him, but also his MA title."
Others suggest that this whole scandal would make an excellent topic for another TV drama, starring Zhai Tianlin, doing what he does best: acting. Some voices suggest that people should wait for the investigations into Zhai's work to be completed before condemning him. With the massive online attention for this case, it might not take too long for more facts to surface on the case. We'll keep you updated.
By Gabi Verberg and Manya Koetse
References
Hu, Guangwei and Jun Lei. 2015. "Chinese University Students' Perceptions of Plagiarism." ETHICS & BEHAVIOR 25(3): 233–255.
Kai, Ren. 2012. "Fighting against Academic Corruption: A Critique of Recent Policy Developments in China." Higher Education Policy (25): 19–38.
Spotted a mistake or want to add something? Please let us know in comments below or email us.
©2019 Whatsonweibo. All rights reserved. Do not reproduce our content without permission – you can contact us at info@whatsonweibo.com
These Chinese School Are Awarding Excellent Students with Pork Meat Gifts
Awarding excellent students with raw meat or even fresh fish seems to be a new trend in Chinese schools.
First published
A number of schools in China have recently introduced a new gift for outstanding students at the end of term ceremony: no books, no pens, but a chunk of meat that can be shared with the entire family.
A remarkable award ceremony at a middle school in Fuyang, Anhui province, has attracted the attention of Chinese netizens this week for the meat gifts the school offered to its outstanding students.
The award ceremony was held on January 26 at the Anhui Fuyang No. 1 Middle School. The five best students of every class were each rewarded with 2,5 kilogram (5.5 pounds) of pork meat.
At the end of the ceremony, a total of 600 students took home a staggering 1500 kilogram (3306 pounds) of pork meat in total.
Chinese media outlets Pear Video and We Video posted video reports of the noteworthy event on their channels (link and link) on January 28.
Although the initiative of this particular school came as a surprise to many netizens, more schools across China are introducing these kinds of food gifts to their students lately.
"Nowadays, every household has enough stationery. So we came up with the idea to award our students with pork meat instead."
The director of the Anhui school, Mister Sun (孙), told reporters: "In the past, the school always awarded its best students with pencils and notebooks. But nowadays, every household has enough stationery. So we came up with the idea to award our students with pork meat instead."
The pork meat, gifted in a bag with a pig on it, was given just in time for the upcoming Chinese Spring Festival, which celebrates the start of the Year of the Pig this year.
Sun further added: "The students' hard work is rewarded with something they can take home and share with their family members and other people they love. In this way, they can also experience the gratefulness of others."
The Fuyang middle school is not the first school that awards its students by offering them fresh meat products. Recently, several stories of Chinese schools awarding their students with meat gifts made their rounds on Chinese social media.
A primary school in Liuzhou, in a mountainous and impoverished area of Guangxi province, received the praise of many netizens when they awarded their 71 most outstanding students with 1,5 kilogram of unwrapped pork meat on a string. It is the second year in a row that the school chose to present its students with a meat gift.
At another school in Dongguan, Guangdong province, the 90 most outstanding students were each rewarded with a fresh fish earlier this month. The fish were caught from the Humen Wharton School's own pond, The Paper reports.
In a recent interview, director Wu (吴) of the Dongguan Humen Wharton School told The Paper that the fish are usually fed with the leftovers from the school canteen. By rewarding the students with these fish, Wu said, the school not only hopes to make the pupils happy, but also hopes to increase their awareness on the ecological environment.
"This is the reality. When you work hard, you'll have meat to eat."
Last year, a school in Fujian's Nan'an awarded 30 of its highest-scoring students with a pork leg, something that also attracted the attention online at the time. More schools, including one in Shanwei, then followed their example.
On Weibo, various hashtags relating to the new 'trend' are making their rounds. "Middle School Awards Its Students with 1500 Kilogram of Pork Meat" (#中学用3000斤猪肉表彰学生#) received over 5.5 million views this week. "School in Mountainous Area Awards Students with Pork at the End of the Year" (#山区小学期末发猪肉奖状#) had over 3 million views on Weibo.
Chinese netizens applaud the schools for giving these food products to reward students, mainly seeing it as a way to boost the children's confidence.
"This is great!" one commenter wrote: "The students can really experience how it feels to earn something and what it feels like to contribute. And at the same time, they can share and enjoy their achievements with their family."
"What a great award," others say: "They'll feel so proud to bring this back home."
"This is the reality. When you work hard, you'll have meat to eat. Why weren't there such good schools around when I was a kid?", a Weibo user says.
It is a tradition in China to hold an award ceremony at the end of the semester. During the ceremony, that is attended by the school's students, teachers, and sometimes (grand)parents, the best students are praised for their accomplishments. The purpose of the award ceremony and the public praise is to let the excellent students set an example for their fellow classmates, and to motivate the students.
But not everyone is equally positive about the initiative. "The intention is good, but how attractive is it for a child to receive a pork leg nowadays?" one man from Guangdong wonders: "Isn't it more and more uncommon for people to perceive meat as something that's rare to eat?"
"It's not about the meat itself," others argue: "It's about bringing home something and making them feel accomplished."
Among the few voices criticizing the idea, there are also those who advocate vegetarianism and think it would be more valuable to teach children the value of living creatures rather than to give them pork.
Others argue that the pork meat gift is not 'halal.'
But the vast majority of commenters still praise the initiative, saying it is honest, nutritious, and lets the whole family benefit from their child's accomplishments. For some, the idea is simple and straightforward: "Those who study hard get to eat meat."
By Gabi Verberg and Manya Koetse
Spotted a mistake or want to add something? Please let us know in comments below or email us.
©2019 Whatsonweibo. All rights reserved. Do not reproduce our content without permission – you can contact us at info@whatsonweibo.com