"Mommy's Washcloth" – Shanghai School Uses Dirty Sex Joke to Teach Kids English
This Shanghai school gave its pupils some noteworthy homework.
This Shanghai school has provided its students with a sexual joke as a "light and funny" text to study English. Chinese netizens are now making a joke of the school and the book it uses.
A private international school in Shanghai has given its 8th-grade students some remarkable homework to study English this winter holiday. Spoiler: it's about pubic hair and extramarital sex.
The English text in the book, that has now gone viral on Chinese social media, is called "Mommy's Washcloth" (妈妈的抹布). It is listed in the category "light and funny" and goes as follows:
Mommy's Washcloth
There was a little boy whose mother was about to have a baby. One day the little boy walked in and saw his mother naked, he asked his mother what was the hair in between her legs? She responded, "It's my washcloth." Weeks later after the mother had the baby, the young boy walked in on his mother again, but while she was in the hospital the doctor shaved her pubic hair, and the boy asked his mother: "What happened to your washcloth?" The mother responded, "I lost it."
The little boy, trying to be helpful, set out to find his mother's washcloth. A few days later the little boy went running to his mother yelling and screaming, "I found your washcloth!" The mother thinking that the child was just playing went along with the boy and asked, "Where did you find it?" The boy answered, "The maid has it and she's washing daddy's face with it."
The homework assignment was for children to write down their thoughts on the story.
The joke itself is not new; a quick online search shows that it has since long been featured on various websites listing 'dirty jokes.'
The remarkable text started attracting the attention of netizens when parents complained about it in various WeChat groups. It was then picked up by Chinese news outlet Caixin on January 23rd.
The joke is reportedly featured in the 2018 version of a homework textbook that was originally published in 2009 by Beijing Atomic Energy Press, and has been distributed nationwide. The book is focused on stimulating pupils to learn English in a "light," "creative," and "active" way.
The school that gave its pupils this homework is the SMIC Private School (中芯学校), which, somewhat ironically, says in its mission statement that: "It is our belief that students should be instilled with proper values, and schools share in this responsibility."
Although the Shanghai school was not available for comments, Sina News reports, the Beijing publishing house did give a statement today, saying they were aware of the issue and were in the process of recalling the textbook.
On Weibo, however, many people seem to appreciate the "creative" English texts and find it funny.
Others just complain about the language difficulty level of the joke: "As a university student, I must admit, I still can't understand this," one person wrote, with others adding: "Surely the pupils won't be able to understand it anyway!"
This is not the first time a Chinese textbook causes controversy online for its content. In 2017, a sexual education textbook caused a stir in China for being "too explicit."
By Manya Koetse and Miranda Barnes
Spotted a mistake or want to add something? Please let us know in comments below or email us.
©2019 Whatsonweibo. All rights reserved. Do not reproduce our content without permission – you can contact us at info@whatsonweibo.com
Viral Video Exposes Wuhan Canteen Kitchen Food Malpractices
Boots in the food bowl, meat from the floor: this Wuhan college canteen is making a food safety mess.
A video that exposes the poor food hygiene inside the kitchen of a Wuhan college canteen has been making its rounds on Chinese social media these days.
The video shows how a kitchen staff member picks up meat from the floor to put back in the tray, and how another kitchen worker uses rain boots to 'wash' vegetables in a big bowl on the ground, while another person is smoking.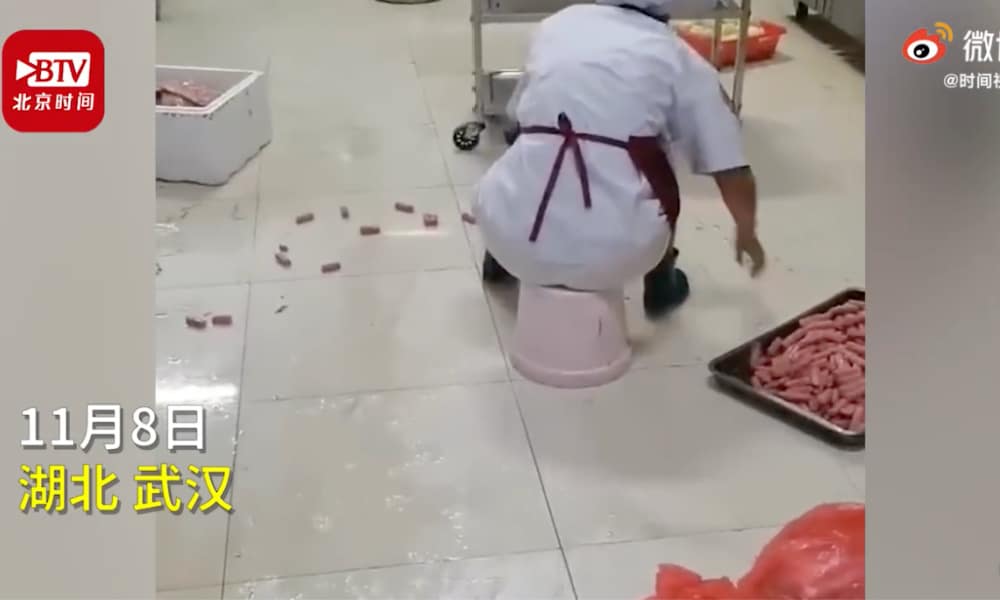 The video was reportedly shot by someone visiting the canteen of the Wuhan Donghu University (武汉东湖学院) and was posted on social media on November 7.
According to various news sources, including Toutiao News, the school has confirmed that the video was filmed in their canteen, stating that those responsible for the improper food handling practices have now been fired.
Can imagine the students at Wuhan Donghu University were not happy to see this behind the scenes footage from their canteen – kitchen staff smoking, picking up food from the floor and putting it back in the tray, and using their boots to mix vegetables in the bowl 😵 pic.twitter.com/vV9NnsQX6v

— Manya Koetse (@manyapan) November 8, 2020
The Wuhan Donghu University also posted a statement on their Weibo account on November 8, saying it will strengthen the supervision of its canteen food handling practices.
"The students at this school will probably vomit once they see this footage," some commenters on Weibo wrote.
Wuhan Donghu University is an undergraduate private higher education institution established in 2000. The school has approximately 16,000 full-time undergraduate students.
"I'm afraid that this is just the tip of the iceberg," one popular comment said, receiving over 25,000 likes.
Students from other universities also expressed concerns over the food handling practices in their own canteens, while some said they felt nauseous for having had lunch at the Wuhan canteen in question.
By Manya Koetse
Follow @WhatsOnWeibo
Spotted a mistake or want to add something? Please let us know in comments below or email us. First-time commenters, please be patient – we will have to manually approve your comment before it appears.
©2020 Whatsonweibo. All rights reserved. Do not reproduce our content without permission – you can contact us at info@whatsonweibo.com.
Rejected for Being Blind: Shaanxi Normal University Denies Female Student Braille Entrance Exam
No exam, no entrance – this student ran into a brick wall at the famous Chinese university.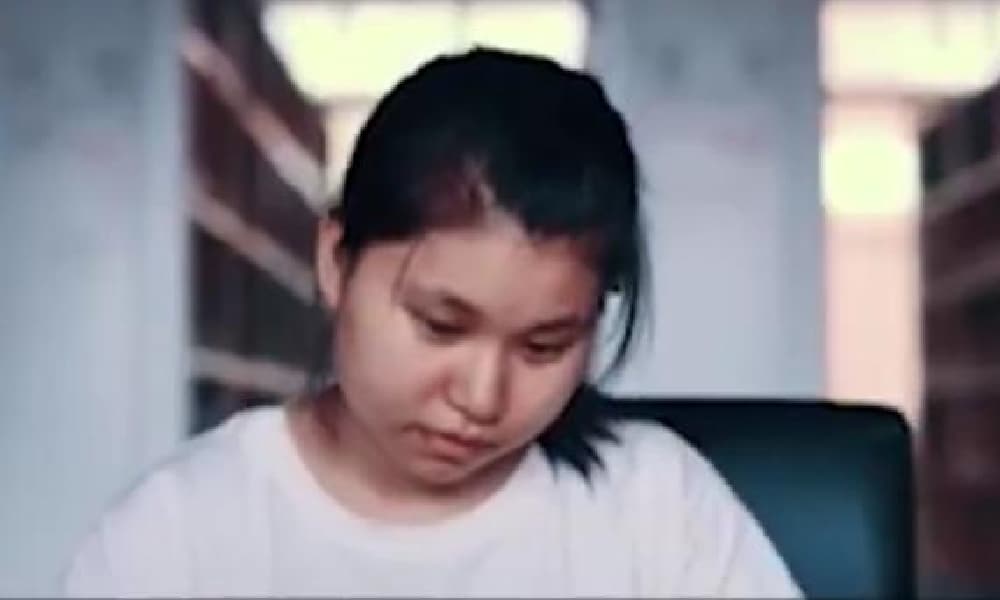 The story of a young blind woman whose application for a Chinese university's entrance exams was rejected due to her visual disability has sparked discussion across Chinese social media.
Last week, Shaanxi Normal University made headlines in China for rejecting a blind student from their psychology Masters program.
Debates arose online about how universities should accommodate disabled students. The related hashtag (#盲人女孩报考陕西师大研究生遭拒#) received 41 million clicks and about 2,600 related posts on social media platform Weibo.
According to Chinese news site The Paper, the female student named Wu Xiao (吴潇) was turned down after she tried to apply for Shaanxi Normal University's postgraduate entrance exam. The university reportedly claimed they were not equipped to teach students with visual impairments.
In an interview, the 24-year-old Wu Xiao said that, despite encountering obstacles, she had managed to study with non-blind students for the past four years already. As a fourth-year student of applied psychology at the Nanjing Normal University of Special Education, all she needed was a chance to take the entrance exam, but this request was denied. The university allegedly stated they could not provide a Braille version of the exam.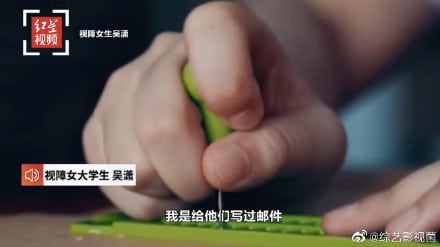 Wu Xiao said she was perplexed about the rejection, especially since Shaanxi Normal University previously organized a college tour for students with physical disabilities.
Shaanxi Normal University, located in Xi'an, is a well-known university under the direct administration of the Ministry of Education of China.
In the news report shared by Lifeweek, a staff member at Shaanxi Normal University explained the situation, saying that psychologists need to be able to see their patients in order to treat them. Students with vision loss should therefore aim for another career, the man said.
The university cited guidelines from 2003 issued by the Ministry of Education and the China Disabled Persons' Federation. These guidelines allow for a physical examination to affect the chances of studying a certain subject.
According to article 3.6 of the guidelines, students with visual impairments are "unsuitable" to study psychology. Among other things, the guidelines also state that universities can reject students from studying journalism if they have a stammer or hunchback.
On Weibo, one of the main issues discussed was whether or not Wu Xiao was right in speaking out against the university.
Some Weibo users defended the university's decision, arguing that nonverbal, visual communication plays a vital role in the field of psychology. There were also those saying that Wu could not demand the school to adapt to her needs.
But there are also many social media users advocating equal opportunities and equal access for persons with disabilities. "A lot of people are acting as if she's asking for special treatment…but she hasn't even been able to get equal access to education," one person commented, "It's not her fault she can't go to this school – it is the fault of backward universities and society."
Over the past few years, stories of Chinese blind people encountering ignorance and accessibility issues have been receiving more attention on social media.
Earlier this year, a video showing the failed design of a tactile-paved path in Inner Mongolia caught the attention of web users. The tactile paving steered blind and visually impaired pedestrians straight into trees on the sidewalk. Local authorities later fixed the paths.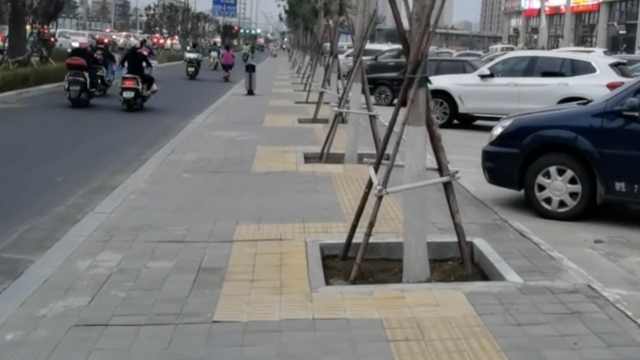 Another video posted on Douyin (the Chinese version of Tiktok) in August of this year also attracted a lot of attention, receiving over 150,000 likes. The video, posted by a visually impaired blogger (@盲探-小龙蛋), showed the difficulties encountered by Chinese people with blindness or low vision when using public transportation. In Shenzhen, where the blogger lives, most buses do not have speakers announcing their direction, making it impossible for him to know which bus to take. Shenzhen has to do better if it wants to call itself a "city without hindrances" ("无障碍城市"), he argued.
Over recent years, the Chinese government has done more to strengthen the protection of rights and interests of persons with disabilities in the country. Although there is a focus on the prevention of birth defects and disability – even launching a "National Disability Prevention Day" – there seems to be a lesser focus on transforming China's social organizations to actually help those with disabilities.
Children with visual impairments often attend specialized schools isolated from the rest of society. Only since 2015 have blind students been able to take the university entrance exam (gaokao) in Braille. According to Toutiao News, Wu Xiao was the only student in Shaanxi to take the Braille version of the gaokao.
To promote more inclusivity for disabled citizens in the workforce, China has an employment quota system in which companies must reserve at least 1.5 percent of their positions for disabled persons, yet many companies do not meet the quota.
On Weibo, some commenters argue that people such as Wu Xiao will continue to face discrimination in society unless something changes in the education system.  "We can only build a fair society if our education is fair," one person writes: "Caring for the disadvantaged and giving them equal opportunities is a measure of a civilized society. We have to care for them and help them fulfill their dreams."
By Saga Ringmar ( follow on Twitter) 
Follow @WhatsOnWeibo
Spotted a mistake or want to add something? Please let us know in comments below or email us. First-time commenters, please be patient – we will have to manually approve your comment before it appears.
©2020 Whatsonweibo. All rights reserved. Do not reproduce our content without permission – you can contact us at info@whatsonweibo.com.