"Mommy's Washcloth" – Shanghai School Uses Dirty Sex Joke to Teach Kids English
This Shanghai school gave its pupils some noteworthy homework.
This Shanghai school has provided its students with a sexual joke as a "light and funny" text to study English. Chinese netizens are now making a joke of the school and the book it uses.
A private international school in Shanghai has given its 8th-grade students some remarkable homework to study English this winter holiday. Spoiler: it's about pubic hair and extramarital sex.
The English text in the book, that has now gone viral on Chinese social media, is called "Mommy's Washcloth" (妈妈的抹布). It is listed in the category "light and funny" and goes as follows:
Mommy's Washcloth
There was a little boy whose mother was about to have a baby. One day the little boy walked in and saw his mother naked, he asked his mother what was the hair in between her legs? She responded, "It's my washcloth." Weeks later after the mother had the baby, the young boy walked in on his mother again, but while she was in the hospital the doctor shaved her pubic hair, and the boy asked his mother: "What happened to your washcloth?" The mother responded, "I lost it."
The little boy, trying to be helpful, set out to find his mother's washcloth. A few days later the little boy went running to his mother yelling and screaming, "I found your washcloth!" The mother thinking that the child was just playing went along with the boy and asked, "Where did you find it?" The boy answered, "The maid has it and she's washing daddy's face with it."
The homework assignment was for children to write down their thoughts on the story.
The joke itself is not new; a quick online search shows that it has since long been featured on various websites listing 'dirty jokes.'
The remarkable text started attracting the attention of netizens when parents complained about it in various WeChat groups. It was then picked up by Chinese news outlet Caixin on January 23rd.
The joke is reportedly featured in the 2018 version of a homework textbook that was originally published in 2009 by Beijing Atomic Energy Press, and has been distributed nationwide. The book is focused on stimulating pupils to learn English in a "light," "creative," and "active" way.
The school that gave its pupils this homework is the SMIC Private School (中芯学校), which, somewhat ironically, says in its mission statement that: "It is our belief that students should be instilled with proper values, and schools share in this responsibility."
Although the Shanghai school was not available for comments, Sina News reports, the Beijing publishing house did give a statement today, saying they were aware of the issue and were in the process of recalling the textbook.
On Weibo, however, many people seem to appreciate the "creative" English texts and find it funny.
Others just complain about the language difficulty level of the joke: "As a university student, I must admit, I still can't understand this," one person wrote, with others adding: "Surely the pupils won't be able to understand it anyway!"
This is not the first time a Chinese textbook causes controversy online for its content. In 2017, a sexual education textbook caused a stir in China for being "too explicit."
By Manya Koetse and Miranda Barnes
Spotted a mistake or want to add something? Please let us know in comments below or email us.
©2019 Whatsonweibo. All rights reserved. Do not reproduce our content without permission – you can contact us at info@whatsonweibo.com
Follow-Up to China's Ugly Math Textbook Controversy: 27 People Punished
No ugly illustration goes unpunished. Research results are in after the "tragically ugly" schoolbook gate sparked an official investigation.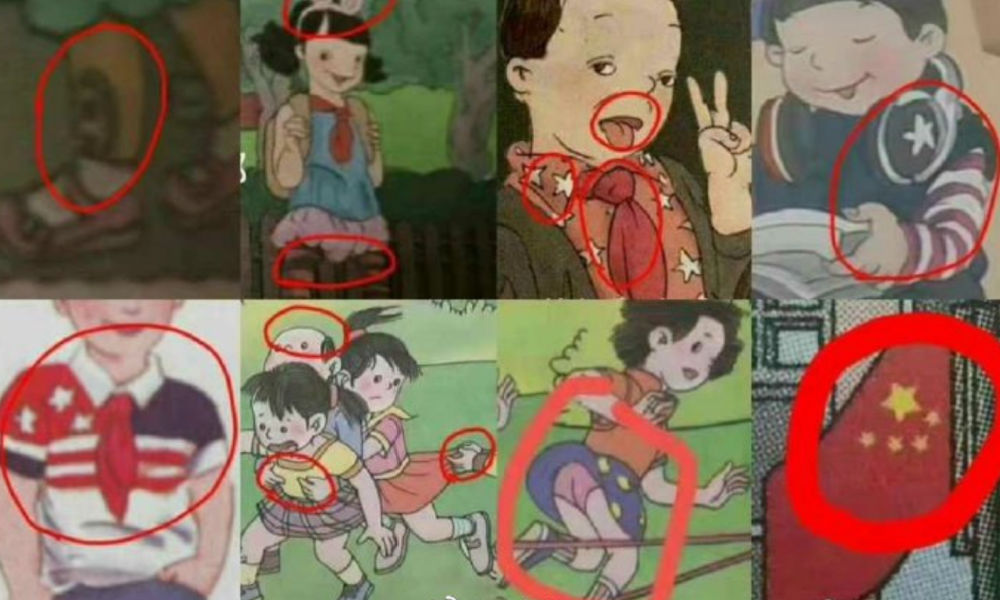 China's Ministry of Education has wrapped up a 3-month long investigation into the textbook illustration controversy that dominated Chinese social media in May of this year. One of their conclusions? The illustrations are ugly. There are serious consequences for those responsible.
The ugly illustrations in a children's math textbook were among the biggest topics on Chinese social media earlier this year.
Although the elementary math schoolbooks were published nearly a decade ago, the schoolbook series (covering grade 1-6) went trending after some parents complained about the illustrations on social media. People mainly took issue with the teaching material because they thought the illustrations were ugly, unrefined, and overall weird (read our previous article here).
Besides the quality of the design, many people also found that some illustrations were inappropriate. There was a girl sticking out her tongue; recurring depictions of the American flag colors; an incorrect depiction of the Chinese flag; a bulge showing in the pants of the depicted boys; a girl in a bunny outfit, a child with something that appeared to be a tattoo, and more.
Now, three months later, China's Ministry of Education has wrapped up its investigation into the matter and published its final findings. According to the Ministry's research team, the textbook illustrations are found to be problematic for the following three reasons.
First, they're ugly. They do not exactly match the aesthetic taste of the general public and do not represent the positive image that is appropriate for China's youth.
Second, they're not right. Some of the illustrations contain errors and are just not up to standard.
Third, they're ambiguous. Because the illustrations were not meticulously done and some poor choices were made, some elements of the illustrations are easy to misinterpret.
The math textbook series was approved in 2012 and published in 2013 by the renowned People's Education Press (PEP) and designed by Beijing Wu Yong Design Studio. Designer Wu Yong (吴勇) allegedly graduated from the prestigious Academy of Arts of Tsinghua University and he also came under fire on social media earlier this year.
According to the Ministry's research, it was found that the PEP failed to thoroughly understand, implement, deploy and review textbook standards set by the central government. They also did not timely rectify the existing problems nor paid enough attention to readers' opinions. The Teaching Material Bureau under the Ministry of Education also was found to have provided "insufficient guidance and supervision."
In accordance with regulations, the relevant units and 27 members of staff were held accountable for their poor performance. Among them were the Party Committee Secretary of the PEP, President Huang Qiang (黄强), who received a "serious warning" from within the Party. The Chief Editor Guo Ge (郭戈) was removed from office, along with some others, including the person in charge of the editorial office for elementary school mathematics textbooks.
Illustrator Wu Yong, along with two others designers, will also need to find another job as they will never be allowed to work on national school textbooks or other related projects again.
A hashtag about the research's findings went trending on Weibo on Monday (#教育部通报教材插图问题调查结果#) and received over 280 million clicks. A hashtag about Wu Yong no longer being employed by the PEP (#不再聘请吴勇从事教材设计工作#) more than 350 million views.
Although many people are glad to read a follow-up to this story, there is also some criticism. Some people mention how the investigation is basically a departmental self-investigation since the People's Education Press (PEP) is a publishing house under the direct leadership of the Ministry of Education. They say that some of the punishments are too light because people are just being disciplined through departmental guidelines and regulations.
Along with the conclusion of the investigation into ugly schoolbooks gate, the new schoolbook illustrations were also published on Monday.
Although most social media users said the new drawing were "much better," there were still some complaints. "They're basic, but at least they're normal," some commenters wrote.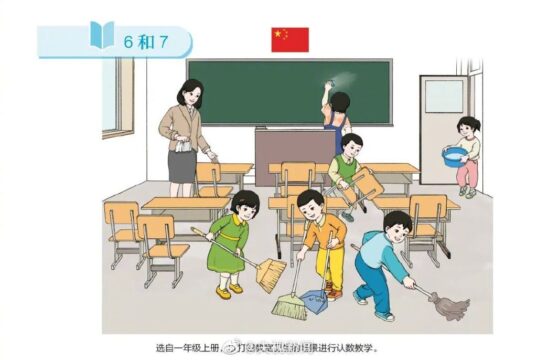 "They changed it, and it's good enough," some Weibo users wrote: "At least these illustrations don't make me uncomfortable."
By Manya Koetse
Get the story behind the hashtag. Subscribe to What's on Weibo here to receive our weekly newsletter and get access to our latest articles:
Spotted a mistake or want to add something? Please let us know in comments below or email us. First-time commenters, please be patient – we will have to manually approve your comment before it appears.
©2022 Whatsonweibo. All rights reserved. Do not reproduce our content without permission – you can contact us at info@whatsonweibo.com.
Prohibited to Promote Top Students, Chinese Schools Are Praising their Excellent 'Fruit' Instead
Who knew Chinese schools were so good at harvesting fruit?
It is that time of the year again: China's gaokao results are in. Chinese schools that are proud of their top-scoring students would like to scream it from the rooftops, but they are banned from doing so. So they are now posting about their very successful fruit production instead.
This week, the scores came out for China's gaokao (高考), the National Higher Education Entrance Examinations that took place earlier this months.
The exams are a prerequisite for entering China's higher education institutions and are taken by students in their last year of senior high school. Scoring high grades for this exam can give high school students access to a better college, which enlarges their chances of obtaining a good job after graduation.
Those who succeed in becoming top scorers in their field and area are known as the gāokǎo zhuàngyuán (高考状元, 'gaokao champions'). Gaokao champions are usually widely praised, not just by families and friends, but also by their hometowns and schools for which the top-scoring students are their pride and unique selling point.
But since 2018, as explained in this article, it is prohibited for Chinese media and schools to give publicity to gaokao top scorers. The Chinese Ministry of Education banned the promotion of top achievers in line with Xi Jinping Thought, emphasizing the value of equality and sociability instead.
This year, local authorities again reiterated the message that in order to set the right example and "establish the correct orientation of education," the hyping up of school exam results and publishing top score rankings are strictly prohibited.
Because of the Ministry of Education guidelines, schools can not openly flaunt the successes of their top scorers, but some have found creative ways to do so anyway.
"Of a batch of 1320 ripe mango's, there are over hundred weighing more than 600 grams," one school in Guangxi's Nanning wrote. The 'weight' refers to the score, with 600 being a very high score (the maximum score is usually 750, depending on the field and area). ""[We] picked a mango weighing as much as 696 grams, the king of Qinzhou fruit. Two fruit dealers in the capital have already heard of it and are eager to take it."
Besides mango's, there were also other schools mentioning their successful production of 'plums or peaches.'
One blog by Jiangchacha (姜茶茶) listed various examples of schools boasting about their 'fruit harvest' in social media posts.
The blog explained that some schools in Guangxi used the mango metaphor because Guangxi has some of the country's largest mango-producing regions. Meanwhile, the word for 'peaches and plums' in Chinese (桃李) also refers to one's pupils or disciples.
Another school's post said: "It is harvest season (..), and the campus is fragrant with peaches and plums, and fruitful results!", adding that "a total of 2400 high quality peaches and plums have been harvested, and over 93% are of high quality!"
There was also one school that mentioned other schools were below them in scores, writing that its "excellence rate" was "clearly ahead of the three other big gardens on the east coast."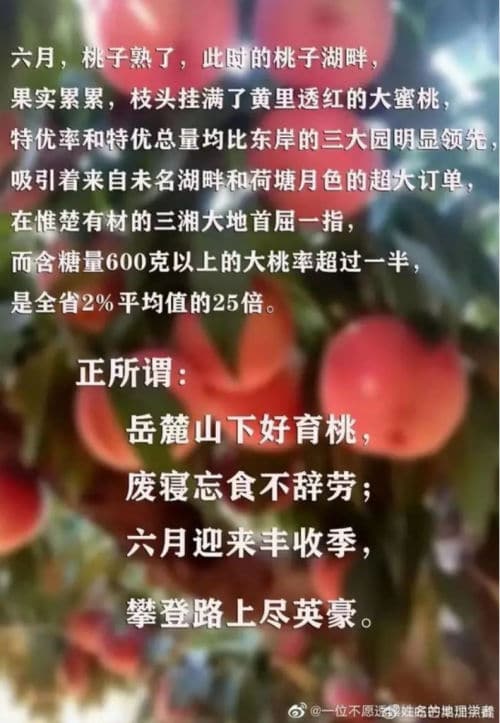 "Our king peach weighs no less than 689 grams," another school announced. There were also schools that did not discuss fruit but were making references to fish, trees, and high-speed trains instead.
The issue of schools reporting their 'harvest' became a trending topic on Weibo, where some found it very funny. But others also voiced criticism that schools cannot publish about some of their students being gāokǎo zhuàngyuán, top scorers.
"There is nothing to hide, the exam scores are the result of hard work by both the teachers and students," one popular comment said, with others replying: "Why wouldn't you announce the scores? It might inspire other students!"
"This entire guideline is just nonsense," another typical comment said.
Meanwhile, some netizens suggested that Sichuan schools could use pandas as a metaphor for their top scorers, while Chongqing could use chili peppers next year, with others suggesting other types of fruit that could be used in these 'covered-up' gaokao score publications. It's bound to be another fruitful year in 2023.
Want to read more about gaokao? Check out more related articles here.
By Manya Koetse
With contributions by Miranda Barnes
Get the story behind the hashtag. Subscribe to What's on Weibo here to receive our weekly newsletter and get access to our latest articles:
Photo by Bangyu Wang on Unsplash
Spotted a mistake or want to add something? Please let us know in comments below or email us. First-time commenters, please be patient – we will have to manually approve your comment before it appears.
©2022 Whatsonweibo. All rights reserved. Do not reproduce our content without permission – you can contact us at info@whatsonweibo.com.