Single Female Blogger Dreads Parental Pressure, Collects Stories to Highlight Dangers of Rushing into Marriage
A recent initiative by a Weibo blogger aims to prove that nothing good comes from marriage pressure.
First published
Rushed marriages may not end well, so do not pressure your child to get married – this is the message one so-called "leftover woman" wants to get out there, as she has been collecting the stories of women who rushed into marriage as a result of family pressure. 
It is a recurring topic every year when Chinese New Year is about to start: the pressure China's bachelors and bachelorettes face when they return home to spend time with their families, who will inevitably ask them when they will settle down and get married.
This pressure is especially real for China's unmarried daughters; those who are single in their late twenties and early thirties are soon labeled as 'leftover women' (剩女 shèngnǚ), which became a catchphrase ever since the Chinese Ministry of Education listed it as one of the newest additions to the Chinese vocabulary in 2007.
The shengnü label is mainly applied to unmarried (urban) women in their late twenties or early thirties who are generally well-educated and goal-oriented, but who came to be associated with 'leftover food' because of their single status and long-standing prevailing beliefs about the right age to marry.
One 2015 survey by Chinese dating site 'Zhenai' showed that 50% of Chinese men think that women who are still single at the age of 25 are 'leftovers,' and many Chinese parents urge their daughters to get married before that happens.
"She returned home to visit her parents, and then committed suicide there by jumping off a building."
This year, some single ladies, while planning their upcoming trip to their hometowns to celebrate the Spring Festival, are already mentally preparing for the nagging questions they will be confronted with once they come home.
One of them is the Chinese blogger nicknamed 'Little Deer-Loving Forest' (@爱麋鹿的小森林), who recently asked her followers for help in convincing her relatives that nothing good comes from rushing into marriage; she asked them to share the (news) stories of women who were pushed to get married, and then experienced hardships and suffering because of it.
By mid-January, within three days after she first posted her request, Weibo users had already shared dozens of news links and stories detailing the horrific accounts of women who had married to escape the pressure put on them by their families. By now, the blogger's post itself has been reposted nearly 70,000 times.
One of the many stories was that of a young woman in Linquan county in Fuyuan, who attempted to commit suicide in the summer of 2018 after being pressured into marriage. The woman was so burdened by the pressure she faced, that she had jumped into a river. A bystander was able to alert the authorities, who were able to rescue her.
Some also share stories from their own social circles, with one commenter from Guangdong writing that a friend of her friend was also pushed to get married: "He had money, a house, and a car, but he was working night shifts in a convenience store. Turned out he was actually gay and that she ended up in a 'fake marriage.'"
"A girl in my hometown was in her thirties and single. Her parents insisted she had to marry a man who had been married before [it was his second marriage]. I'm not sure if it was three weeks or three months after the wedding, but she returned home to visit her parents, and then committed suicide there by jumping off a building. Don't blindly get married."
"You are all my comrades in this campaign!"
'Little Deer' shared her plans on keeping a collection of these stories to post on her 'WeChat Moments' page every day during the Chinese New Year, to show her family what could potentially happen when women are rushed into marriage.
Many commenters praised the blogger's initiative, writing: "I need to save this post!! It'll be very useful during Chinese New Year!" "Exactly what I needed, thank you, everyone! You are all my comrades in this campaign, I feel very supported with all of you out there. Let's go square dancing together when we are old!"
Others, however, were less enthusiastic and pointed out that they had tried this method before, but that their parents weren't buying it, saying that these type of "irrelevant stories" had "nothing to do with them."
Single men also joined the debate with many requesting the original poster to gather news stories detailing the negative outcomes for men who had been pressured to get married.
One of these stories is that of a 26-year-old man from Wuhan, who was diagnosed with severe depression after his mother had continuously urged him to marry.
By now, Little Deer's post has also inspired people to discuss other subjects involving family pressure, asking: "Are there any stories about being pushed to have kids?" This request led to some expressing concerns about the post itself being censored: "Will this be deleted by Sina, as it's against our current national policy of encouraging people to get married and have kids?"
"Why are you sending me these useless things?"
In early 2019, China launched a new 'Individual Income' tax deduction method, which, among other things, allows children's education expenses to be deducted before tax. Because those who are unmarried and without children will pay relatively more taxes, these parts of the personal income tax have been nicknamed 'single's tax' (单身税) and 'no children's tax' (不孕不育税) on social media.
These measures, along with other examples (such as the cancellation of the 'late marriage leave'), show the government's efforts to combat China's dropping birthrates, indirectly encouraging people to get married and have children.
According to a report released by the Ministry of Civil Affairs in 2018, marriage registration numbers have been dropping in China, showing that more people are putting off marriage or are getting married at a later age – something that is especially visible in the 30-34 age group.
Some analysts believe that a higher level of education and the rising cost of living have contributed to the tendency to marry and have children at a later age.
For now, it is not clear if the blogger's initiative is actually effective for those dreading going home for Chinese New Year. Dozens of commenters are posting their parents' reaction upon sending them the links to the unfortunate stories of those who were rushed into marriage. "Why are you sending me these useless things," some parents said, with another chat screenshot showing a parent writing: "Send me something positive!"
By Miranda Barnes and Manya Koetse
Spotted a mistake or want to add something? Please let us know through email.
©2019 Whatsonweibo. All rights reserved. Do not reproduce our content without permission – you can contact us at info@whatsonweibo.com
Wu Xiubo Scandal Blows up on Chinese Social Media
One of the biggest celebrity scandals in years, involving Chinese actor Wu Xiubo, has become all the talk on Weibo this week.
An enormous celebrity scandal is taking over Chinese social media this week, as famous actor Wu Xiubo has accused a former mistress of blackmailing him. The woman, a Chinese actress named Chen Yulin, could potentially face up to ten years in prison.
"Are there any good guys left in the Chinese entertainment industry?" This is a question that is currently trending on Chinese social media (#娱乐圈好男人#). By Sunday night, the hashtag had already received over 350 million views and thousands of comments on Weibo, within a time frame of just one day.
Other hashtags that are flooding Weibo are "Female in Wu Xiubo Love Affair Gate is Detained" (#吴秀波出轨门女主被拘捕#), which has already gathered some 850 million views (!) on Weibo at time of writing. "Chen Yulin's Parents Send an Open Letter" (#陈昱霖父母发公开信#) received over 410 million clicks.
The current trend is all about the scandal involving Beijing-born actor and musician Wu Xiubo (吴秀波, 1968), who recently had his former mistress Chen Yulin arrested for blackmailing him. She could potentially face up to ten years in prison. Wu is famous for, among others, his performance in the popular TV series Angel Heart (心术, 2012) and his role in the hit movie Finding Mr. Right (北京遇上西雅图, 2013).
The Background Story
To understand the story, and why it is blowing up, we need to go back to September of 2018, when Wu Xiubo (吴秀波), who has been married since 2002 and is the father of two children, was rumored to have been involved in a total of five different extra-marital affairs.
Although there were earlier rumors circulating online about Wu allegedly being involved in extra-marital sex with young women, the story triggered mass attention when an anonymous poster, who was later identified as Chinese actress and singer Chen Yulin, wrote down the history of her alleged love affair with Wu Xiubo in her WeChat Moments.
Chinese actress and singer Chen Yulin (陈昱霖), also known as Ruby Chen, entered the entertainment business in 2006, after participating in the CCTV programme Avenue of Stars (星光大道). Ever since, she has been making a career as a singer and an actress, but her real fame only started after exposing her affair with Wu Xiubo.
In her lengthy Wechat posts, Chen claimed to have been involved with the Chinese actor for approximately seven years. She described the relationship as being one where Wu exercised control over her by forbidding her from accepting certain jobs and persuading her to be a good house-wife. She also accused Wu of "brainwashing" her into practicing Buddhism, and to have behaved violently with her at certain occasions.
Her later posts alleged that in 2013 and 2017, she received messages from other women who were supposedly also sexually involved with Wu, one of them being the actress Zhang Zhixi (张芷溪) who co-starred with the actor during the production of the 2016 Chinese TV series The Advisors Alliance (军师联盟). She claimed the entire ordeal was to blame for her depression.
Wu, nor his management, responded to the allegations at the time, although his career and reputation as one of China's best "middle-aged actors" (演技派大叔) were severely affected by the scandal.
The Scandal Blows Up
Although Chen Yulin never officially responded to the issue, a social media post by Chen's parents of January 18 this year triggered discussions all over Weibo.
The post was published on Chen's official Weibo account "on behalf of Chen's mother and father." In this statement, not only do Chen's parents confirm that their daughter was the one who posted on WeChat in 2018, they also claim that Wu and his legal team had requested Chen to deny the allegations she had made against Wu, and had promised her to financially compensate her for doing so.
After the arrangement was agreed upon, the post writes, Chen decided to stay abroad for a while to stay out of the limelight. In November of 2018, Wu then called Chen to ask her to return to mainland China to settle their agreement.
The moment Chen landed at Beijing airport on November 5th of 2018, however, she was arrested by local Beijing police. Wu had reported her to the police for "blackmailing" and a "violation of privacy." If Chen is found guilty, she could face up to ten years in jail.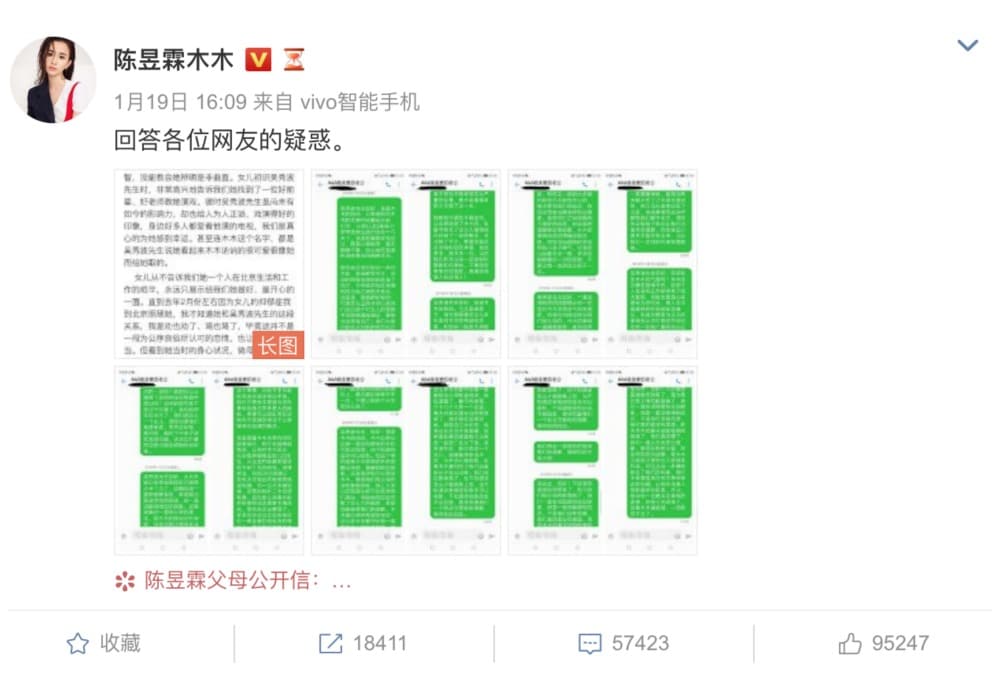 Later, Chen's parents also posted screenshots on Weibo to verify the authenticity of the love affair. The screenshots show messages between Wu and Chen, where Wu's nickname is "AAA my dear husband" (AAA 我亲爱的老公).
Chen's parents claim they have pleaded Wu multiple times to drop the charges, but never received a response.
An Online Storm
As the scandal is taking on biblical proportions, Wu's wife, He Zhenya (何震亚), also came forward with a statement on January 19 through Wu Xiubo's Weibo account (演员吴秀波工作室). The statement claims that Wu's family has faced threats and blackmailing for the past year and a half, during which the demanded sum of money went from millions to billions of yuan.
Wu Xiubo's management also posted a signed statement from Wu's lawyer to Weibo, declaring that Chen did, in fact, blackmail the actor, and that her allegations are false.
Meanwhile, the scandal has flooded Weibo with comments from every corner, with public opinion about the case growing stronger and stronger. Businessman Wang Sicong, the son of one of the richest men in China, posted several times on his account, calling Wu Xiubo out for being "evil" and "trash."
Although many people side with Chen in this case, claiming that she is the most vulnerable in this affair, there are also those who side with Wu and think that Chen is a gold digger who took advantage of the actor.
Digging up online evidence that supposedly shows that Chen has been leading a life of luxury of the past years, many netizens conclude that the actress has since long been profiting from Wu's money. Chen's mother denied these claims.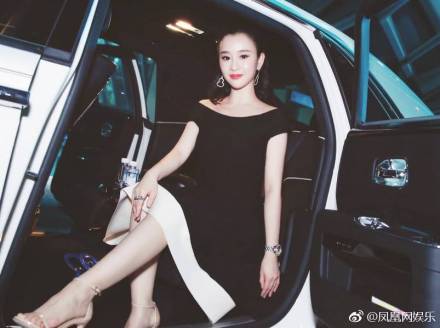 But there are also many who are simply disappointed with the fact that Wu allegedly had (multiple) relationships outside of his marriage. "Are there still any good guys left in the entertainment industry?" is a question that is recurringly popping up in light of a string of celebrity scandals that have hit China's entertainment scene over previous years.
Wu Xiubo memes are also trending on Chinese social media, with one of the most popular ones saying: "Want a love affair? You may end up in jail (谈恋爱吗 要坐牢那种)".
For now, Chen is still being detained and awaiting her trial. Her parents express their hopes for a "fair" trial that will bring "justice" for their daughter.
By Boyu Xiao, with contributions by Manya Koetse
Spotted a mistake or want to add something? Please email us.
©2019 Whatsonweibo. All rights reserved. Do not reproduce our content without permission – you can contact us at info@whatsonweibo.com.
When Hotpot Gets Really Hot: Haidilao Customers Shocked by Steamy TV
Haidilao is taking its customer service to a whole new level.
First published .
Customers dining at a Haidilao hotpot restaurant in Wuhan on January 5th were shocked when the big television screen in the restaurant, usually used for showing Haidilao ads, suddenly showed an X-rated film.
Haidilao is China's most famous hotpot chain, and is usually known for its excellent service. On busy nights, people stand in line for hours at the Haidilao restaurants, that are always packed full of people enjoying the good food and outstanding hospitality.
The incident, that happened on Saturday afternoon at the restaurant's Great Ocean mall location, has now made its rounds on Chinese social media after one Haidilao customer shared photos of the embarrassing moment on Weibo. At time of writing, the hashtag "Haidilao TV shows vulgar scene" (#海底捞电视播不雅画面#) has received more than 240 million views.
Waiters at the restaurant were fast to turn off the television. According to some online reports, a reporter visited the restaurant a few hours after the incident happened, and confirmed the television was still turned off at night.
On Sunday, January 6, Haidilao issued a statement in which the restaurant apologized to the customers for the "vulgar content" that was displayed on the television, and that police are investigating the case. Online pornography is banned in China, and spreading X-rated films is illegal.
It is yet unsure how the film ended up on the restaurant's screen, and whether it was a Haidilao employee who was watching the video and then made a mistake, or that a customer was using IR or Bluetooth on their smartphone and (purposely) connected it to their screen.
The incident has provoked hilarity on social media, where some netizens suggest that the X-rated film perhaps was a "customer demand" and that "Haidilao's service is beyond expectations," or that people were "eating and getting hard."
The incident, as of now, does not seem to negatively affect people's love for the Haidilao brand. "Please don't close it down, I still want to eat hotpot," some netizens comment, while others simply state: "Haidilao, I'm coming!"
(PS Want to know more about steamy hotpots? Check out What's on Weibo's sister site Hotpot Ambassador!)
By Manya Koetse and Miranda Barnes
Spotted a mistake or want to add something? Please let us know in comments below or email us.
©2019 Whatsonweibo. All rights reserved. Do not reproduce our content without permission – you can contact us at info@whatsonweibo.com