Social Media in Times of China's Flood Disaster: Participation, Profits, and Propaganda
The social media trends during China's heavy rainfall and floods in July of 2021 show the multidimensionality of online communication in times of disaster. Facing the devastating downpours, Weibo became a site for participation, propaganda, and some controversial profiting.

This is the "WE…WEI…WHAT?" column by Manya Koetse, original publication in German by Goethe Institut China, visit Yi Magazin: WE…WEI…WHAT? Manya Koetse erklärt das chinesische Internet. Read this article in German here.

Starting on July 17, 2021, China's Henan Province experienced extreme rain that led to record-breaking flooding and soon forced thousands of people to leave their homes, completely disrupting normal life.
Several places in the region saw unprecedented rainfall. From 8pm on July 19 to 8pm on July 20, the provincial capital Zhengzhou experienced 552.2 mm of rainfall, which is 3.5 times more rain than Germany saw during its heaviest rainfall in 75 years on July 14-15 of this year.
The death toll from the torrential rainfall has risen to at least 302 people, with many remaining missing.
As emergency situations occurred across the region, social media came to play an important role in the response to the natural disaster. Weibo, one of China's biggest social media sites, was utilized as a communication tool during the floods by regular netizens, official channels, and companies.
While the extreme weather continued, the Henan flood disaster played out on social media in various ways. There were those helping, those profiting, and then there were those profiting from helping. We will highlight some of these dimensions within the social media responses to Henan's catastrophic floods here.
People Helping People
There is one hashtag on Weibo that was breaking records in July: 'Help Each Other During Henan Rainstorm' (#河南暴雨互助#) received a staggering 16.9 billion clicks just a week after it was first launched.
By creating an online 'Henan Help' community, Weibo facilitated active public participation in providing immediate assistance to those affected by the extreme weather and flooding.
As described by Wendy Huang for What's on Weibo (link), an enormous volume of messages starting pouring in on Chinese social media since the start of the heavy rainfall from people disseminating relevant information on available resources and from those seeking and providing assistance.
Rather than being a messy collection of individual posts, netizens collectively participated in verifying, summarizing, highlighting, and spreading the online help requests posted by people from different locations. In doing so, they helped in speeding up the rescue work.
This is not the first time for Weibo to play an important role during a crisis or emergency. When Sichuan Province was hit by a deadly earthquake in 2013, social media enabled a fast and free grass-roots response to the disaster. The Sina Weibo platform allowed for efficient, immediate crisis communication, leading to teams of volunteers – organized via Weibo – heading out to the disaster zone to deliver donated tents, blankets, water, etc. and provide other forms of assistance (Levin 2013).
During the early stages of the Wuhan COVID19 outbreak, social media platforms such as Weibo and WeChat were also used as practical communication tools for organizations and individuals to spread information or to ask for help. One example is how Weibo helped local volunteers organize teams to assist in taking care of people's left-behind pets when they were unable to return to their homes due to quarantine or hospitalization.
As soon as the scale of the floods in Henan province became clear, social media users started donating money for flood relief efforts. By July 21st, while the videos of the devastating impact of the heavy rainfalls went viral, Weibo users had already contributed 20 million yuan ($3 million). That number soon rose significantly as more netizens, social influencers, and celebrities also started to donate and promote charity foundations.
Simply posting, replying, forwarding, and making comments itself was also a way of public participation during the Henan floods. While many news reports and social media posts were focused on what was going on in the provincial capital of Zhengzhou, the people in the more rural areas such as Weihui in Xinxiang started sounding the alarm by July 21st, pleading for netizens to pay more attention to their situation so that it would also enter the top trending lists. Sharing these posts to draw more attention to them also became a way of providing assistance.
By July 21st, half of Weibo's top trending topics were related to the Henan floods.
Showing Support and Showing Off
Chinese netizens made a huge impact on how the Henan flood disaster was handled in the early stages, but companies in China also contributed to flooding relief efforts in many ways, while their actions simultaneously served PR goals.
On July 21st, one major company after the other announced its donation via social media. Tech giants Pinduoduo, Tencent, Meituan, Didi, and Bytedance all donated 100 million yuan ($15.4 million) each to help the rescue operations in Henan. Alibaba topped the list with a 150 million ($23 million) donation.
Besides donating 30 million yuan ($4.6 million), Chinese tech giant Huawei also sent a team of 187 engineers to provide assistance on the front line and 68 of their R&D experts worked on helping local operators in their network repair and maintenance work to ensure a smooth communication network in the disaster area.
The Henan floods also provided an opportunity for Western brands in China to win back public favor. Many Western companies triggered outrage in China earlier this year over their ban on cotton from Xinjiang (link). In light of the Henan catastrophe, Nike and Adidas each contributed 20 million yuan ($3 million), Uniqlo 10 million ($1.5 million), PUMA 5 million ($773,000), Burberry 1.5 million yuan ($230,000), and Zara and H&M each donated 1 million ($155,000).
Their contributions, however, did not seem to do much for their public image. The donations barely received media coverage, and some social media users who did know about them complained that Zara and H&M did not give enough money. There were also many netizens who praised Chinese sportswear brands for donating money and condemned Nike for giving "zero yuan," even though the company had already announced donating 20 million yuan.
The company that really managed to win the public's favor through their Henan donation is Erke (鸿星尔克 ), a relatively small and low-key Chinese sportswear company that seemingly was not doing too well over the past year facing great domestic competition.
When Erke donated 50 million yuan ($7.7 million) to the Henan flood relief efforts, it attracted major attention on Chinese social media. The sportswear brand donated an amount that was ten times higher than, for example, the donation made by major coffee company Starbucks.
After people found out that the Erke brand donated such a high amount of money to help the people in Henan despite its own losses, its sales went through the roof – everyone wanted to support this generous 'patriotic brand.' While netizens rushed to the online shops selling Erke, the brand's physical shops also ran out of products with so many people coming to buy their sportswear. Some sales assistants were moved to tears when the store suddenly filled up with customers.
The Erke hype even went so far that Chinese livestream sellers of Nike and Adidas notified their viewers that they actually supported the domestic Erke brand.
Erke profited from helping Henan, but there were also those companies that wanted to profit from the Henan floods without actually helping.
One ad by the local real estate company Kangqiao Real Estate promoting its 'high lands' properties led to online controversy. The Kangqiao Group poster highlighted the height advantage to its real estate locations, using the slogan: "Highland – live in the highland and only let the wind and rain be your scenery."
The company apologized for its insensitive marketing campaign on July 21st, the hashtag (#康桥地产致歉#) received over 130 million views, but the damage to its reputation had already been done. In a similar fashion, two other companies also promoted their "safe" real estate and parking lots during the Henan floodings, with one company using a photo of a flooded car in Henan to suggest what could happen when not using their services. It led to online outrage that these companies would use such a disastrous time for their own marketing purposes.
Other examples of people using the floods for their own publicity also went trending on social media, such as a group of Chinese online influencers who came to affected areas to record themselves, making a show out of the floods (photos below).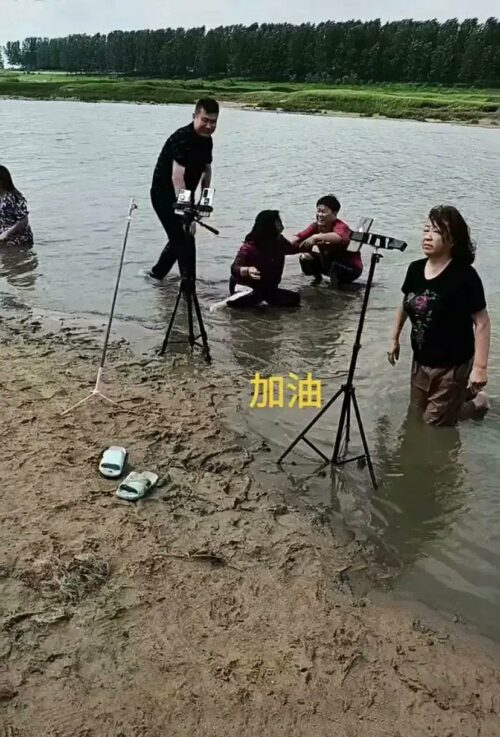 On July 27, some online influencers even went one step further to promote their channels and boost viewership. They traveled to Weihui, one of the province's worst affected areas, and shamelessly stole a rescue boat, and headed into the waters without actually helping anyone. The incident prevented actual aid workers from doing their job and delayed the rescue work by four hours. It caused controversy on Weibo (#网红为拍视频偷救生艇谎称去救人#), with many wondering why these people would want to profit from a situation that was still so critical.
There were also online discussions on situations in which it was less clear to what extent people were in it for 'the show.' Chinese celebrities Han Hong (韩红) and Wang Yibo (王一博) both traveled to the affected areas for their charity work, but they were then accused of using the disaster for their own PR benefits. Many did not agree, saying they were "moved by their patriotism."
Official Media Promoting National Solidarity
Most hashtags, videos, and trending topics on Weibo from the early moments of the rainfall and floods were initiated by regular netizens. Many people in the affected regions posted photos and videos of the local scenes themselves.
When the cars of the Zhengzhou subway line 5 were submerged in water due to flash floods on July 20, over 500 passengers were trapped. Footage of people in the carriages standing in chest-deep water that was still rising circulated on social media as rescue efforts were underway. Some hours later, rescuers managed to get people out safely, but 14 people did not make it out alive.
These kinds of unfolding events and tragedies were posted and reported on social media in real time by bloggers. Although official media channels and government accounts were also active in reporting incidents and releasing timely information, they soon focused on sending out a message of national unity and emphasized successful rescue operations and the competency of China's relief efforts.
A similar approach to crisis communication on social media was seen during the outbreak of COVID19 and in other emergency situations – it is a route that has been taken for many years in the Party's partnership with the media. In Media Politics in China (2017), author Maria Repnikova writes about the response to the Wenchuan earthquake (2008) when she points out how most official coverage concerning crisis management positively portrays the state's rescue efforts and utilizes emotional projection of national unity and resilience, conveying an overall positive and people-centered narrative (118-121).
This patriotic discourse was also adopted in the social media coverage of the Henan floods by official channels. State media outlets were in unison in promoting hashtags such as "Stand Strong, Henan, We're Coming" (#河南挺住我们来了#), "Zhengzhou, Hold On!" (#郑州挺住#), or "Shouldering Together with Henan" (#和河南一起扛#).
In their news reporting, official media channels especially spotlighted people-centered stories. Some examples include the story of a 17-year-old boy who cried as he hugged the firefighter who rescued him, the news item on a 3-month old baby who was pulled from the ruins of a collapsed house in Xingyang, or the account of a Zhengzhou policeman who was so dedicated to his work that he hadn't returned home in over 30 hours.
By July 21st, official Party newspaper People's Daily had launched a hashtag titled "Touching Scenes of People Helping Each Other" (#河南暴雨中的感人互助画面#), which showed photos and videos of citizens working together in rescuing people from the water.
Another Weibo hashtag was titled "The Power of China during the Henan Rainstorms" (#河南暴雨中的中国力量#), which focused on the solidarity and compassion of the thousands of volunteers and rescue workers, stressing the idea that the people of China are able to get through difficulties together.
The main message that is propagated by Chinese official media and government on social media is one that resonates with the general Weibo audience. Standing together with Henan and uniting in times of disaster is a sentiment that is strongly supported, not just by official channels, but by netizens, celebrities, and companies alike.
As the floods and relief efforts are still continuing in various parts of Henan Province, the messages of support and online assistance are ongoing. "Come on, Henan!" is the slogan that is sent out everywhere on Weibo, with people staying positive: "We can do this together. Everything is going to be alright."
By Manya Koetse
Follow @whatsonweibo
References:
Levin, Dan. 2013. "Social Media in China Fuel Citizen Response to Quake." New York Times, May 11 https://www.nytimes.com/2013/05/12/world/asia/quake-response.html [7.30.21].
Repnikova, Maria. 2017. Media Politics in China: Improvising Power under Authoritarianism. Cambridge: Cambridge University Press.
This text was written for Goethe-Institut China under a CC-BY-NC-ND-4.0-DE license (Creative Commons) as part of a monthly column in collaboration with What's On Weibo.
Spotted a mistake or want to add something? Please let us know in comments below or email us. First-time commenters, please be patient – we will have to manually approve your comment before it appears.
Li Xuezheng Defies Online Celebrity 'Blacklist,' Says He'll Help Zhang Zhehan File Lawsuit
China's Association of Performing Arts has issued a blacklist, but Li Xuezheng questions their legal authority to do so.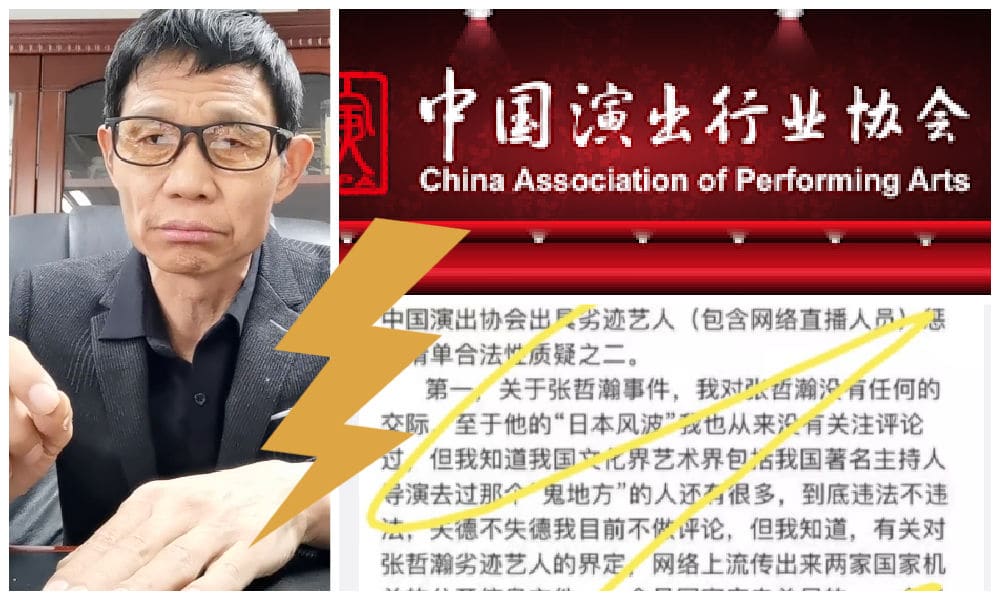 As an important voice within the industry, Li Xuezheng has spoken out against the recent blacklist of Chinese (online) performers issued by the China Association of Performing Arts. Li is willing to help one of the prominent names on the list, Chinese actor Zhang Zhehan, to file a lawsuit against the Association.
Li Xuezheng (李学政), Vice Chairman of the China TV Artists Association and Director of the Golden Shield Television Center, has published a video that has caught the attention of many on Weibo. In his video, Li questions the authority of China's Association of Performing Arts (CAPA/中国演出行业协会), which released a black list of online celebrities earlier this week.
The list went trending on Weibo and contains 88 names of internet personalities who have been reported and registered for their supposedly bad behavior. The people on the list have either violated the law or their actions have allegedly negatively impacted society and public order (more about the list here).
The consequences for the people included in the list are potentially huge, since it not only bans livestreamers from continuing their work but also prohibits performers who were previously 'canceled' from entering China's livestreaming industry to generate an income there. Through the list, CAPA gives an overview of people that should be boycotted and disciplined in the industry.
One of the people on the list is Zhang Zhehan, an actor who got caught up in a Chinese social media storm in August of 2021 over attending a wedding at a controversial Japanese shrine and taking pictures at Yasukuni, a shrine that is seen as representing Japanese militarism and aggression.
Although Zhang apologized, Zhang's account and an affiliated work account were suspended by Weibo and the brand partnerships he was involved in were canceled.
Chinese celebrities who have fallen out of favor with authorities or audiences will sometimes turn to livestreaming. Singer Li Daimo (李代沫), for example, became a livestreamer after his successful singing career ended due to a drugs scandal. But now, even such an alternative career would no longer be possible for someone like Zhang, although he was never legally convicted for anything.
News of CAPA's blacklist was widely published, also by People's Daily, and the measures were presented as a way to tidy up the chaotic online entertainment industry and to create a "healthy and positive" internet environment.
In his video and other recent posts, Li Xuezheng wonders how the so-called 'warning list' was compiled, according to which criteria, by whom it was created, and whether or not the CAPA actually has the legal power to shut people out of China's live streaming industry.
He also raises the issue that CAPA's live streaming branch, that issued the blacklist, is actually a business entity; so how does it have the legal disciplinary powers to impose sanctions against Chinese online influencers and performers?
Li's video, posted on his Weibo account on November 24, has received over 90,000 likes and was shared over 8500 times at the time of writing.
"What I don't understand," one popular comment says: "- are these online influencers [on the list] all members of the Association? Can the Association also punish non-members? Does the authority of the Association cover all media? On what legal basis is their regulatory conduct based?"
The China Association of Performing Arts, founded in 1988, is a national-level organization that falls under the supervision of the Ministry of Culture and Tourism of China. It is a non-profit organization formed by performance operators and performers, according to its official website, which also states that members of the association include performance groups, performance venues and companies, ticketing companies, and more.
Since Li's video was posted on November 24th, he received a lot of support from Chinese netizens but also faced some online censorship. Li himself posted screenshots showing that not all of his posts could be published.
It is noteworthy for someone like Li to speak out against CAPA's blacklist. Li Xuezheng is a familiar face within the industry. Born in Shandong Province in 1965, Li has worked in China's film and TV industry for a long time and has since built an impressive resume as a producer, supervisor, actor, and distributor. He has over a million followers on his Weibo account (@李学政).
On November 25th, Li added another post to his series of posts on the CAPA issue, saying that although his initial goal was just to make sure that CAPA sticks to the rules, he is now also prepared to help Zhang Zhehan in filing a lawsuit against the Association, since Zhang did not violate any laws in order for him to be 'canceled' like this. "I believe in the justice of the law," Li writes.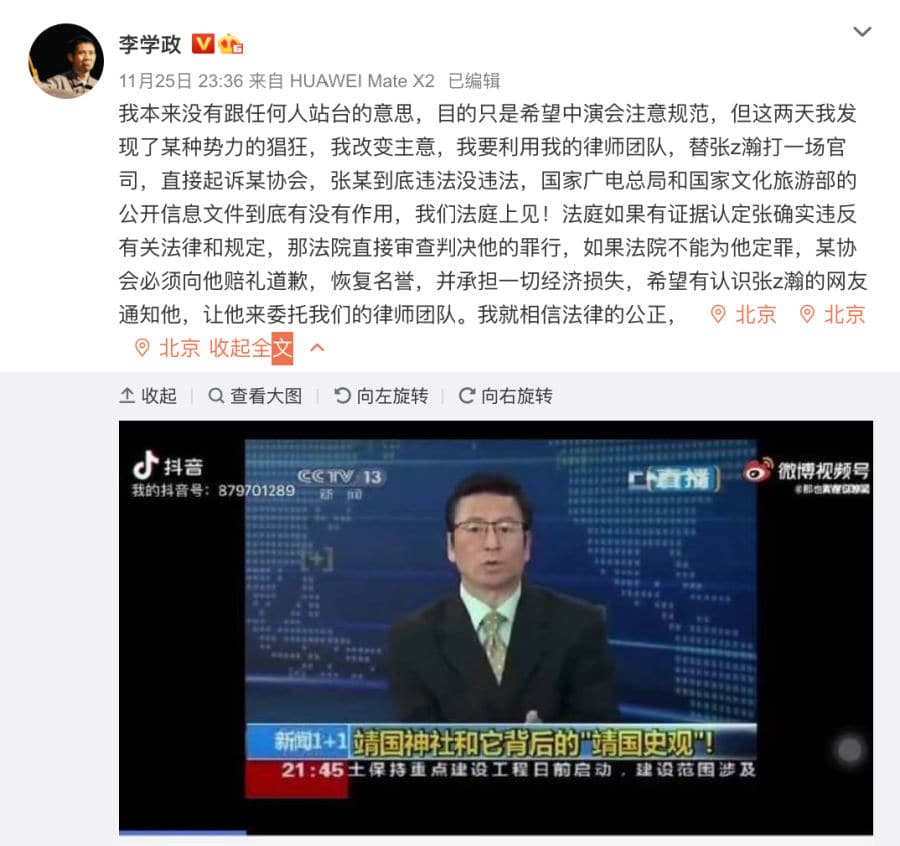 Although Li received a lot of support on social media, there are also those who worry about Li himself: "You first take care of yourself," some say, with others warning him: "Teacher Li, if you go on like this, you will lose your [Weibo] account tomorrow."
Others are moved by Li's courage: "I almost feel like crying reading your words."
"It's been a long time since I've seen someone with this kind of overwhelming righteousness."
For now, Li seems to be unstoppable in his goal to get to the bottom of this case; he seems to be determined to raise awareness within the industry on who is legally allowed to set the rules and who is not.
One popular comment says: "Looking at Teacher Li, I see he is fighting corruption and advocating honesty. Besides listening to the public's opinion, I just hope law-based society will rule according to law."
By Manya Koetse
Spotted a mistake or want to add something? Please let us know in comments below or email us. First-time commenters, please be patient – we will have to manually approve your comment before it appears.
©2021 Whatsonweibo. All rights reserved. Do not reproduce our content without permission – you can contact us at info@whatsonweibo.com.
Weibo Discusses: How Has the Covid Epidemic Changed Your Life?
China's zero-covid approach does not come at zero cost.
It has been nearly two years since China was hit with the outbreak of the novel coronavirus. Like most countries in the world, the epidemic has also had a profound impact on people's lives in China.
Life in China was already 'normalized' in numerous ways in April of 2020, which is when Wuhan allowed people to leave the city again for the first time since the lockdown began on January 23 of that year. Most schools reopened, theatres started to open their doors again, temporary emergency hospitals closed their doors, and a big light show was organized in Wuhan to celebrate the end of the lockdown, which was yet to begin for many Western countries.
In comparison to other countries, China has seen very few Covid deaths – the official number is below 5000, while the US number of Covid19 deaths is now over 750,000. China's low Covid19 death toll can be ascribed to the country's commitment to a 'Covid Zero' strategy.
But this zero-tolerance covid approach does not come at zero cost; China's fight against Covid19 is still ongoing and requires constant vigilance, lengthy local lockdowns, mass testing, strong contact tracing, strict quarantine measures, and an everyday public life that includes face masks, temperature checks, and QR health codes.
The impact of this strategy and the epidemic at large was the topic of one trending topic this week titled "How Big is the Difference in Your Life Before and After the Epidemic?" (#疫情前后的生活差别有多大#), a hashtag that drew in over 320 million views on social media platform Weibo.
The topic triggered thousands of comments from people sharing their thoughts and experiences, but the post that started the discussion (@人间投影仪) simply said:
"I'd like to go back to a world where we don't need to wear masks."
The post came with various images comparing life before and after the Covid19 outbreak.
Another commenter (@电联吗) replied to the Weibo post:
"Looking at countries such as Thailand or South Korea, they've already re-opened, and I can't help but feel a bit jealous. After all, it's been over two years since Covid19, and there's no trend of it weakening – it only seems to get stronger instead. I've become numb to the daily controls and prevention of this virus. I'm getting the feeling it'll never go away. Will there ever come a day when other countries besides our own will lift all restrictions? To fully open? To just co-exist with the virus? And then, should we just continue to go on this way? Although our country is so safe now and our epidemic control is very timely, it still feels like people are living in fear. The slightest thing can cause a panic about the virus spreading. It can totally disrupt your plans. All activities can be delayed or canceled. All youthfulness, enthusiasm, perseverance, and dreams, can be stuck. But life is also very important. This perhaps is what is such a contradiction."
While many netizens agreed with the previous commenter, saying they are also struggling with anxiety and pressure that comes from the current Covid19 situation, there are also commenters who do not agree:
"The freedom you see [in other countries] is not real. The opening up in many countries is simply because their economy otherwise can't carry the weight, it's not because they want to live with the virus. You think the epidemic is affecting your youth and passion, but I'd say youth and passion don't only exist at a certain time, and it won't be affected by an epidemic – otherwise, there wouldn't be an awakening era. In times of an epidemic, people just do all they can to keep on living."
Another Weibo user from Ganzhou writes:
"During the epidemic, it seems that when I don't go out, there's so much to do, yet when I go out, there doesn't seem anything to do. At the time of the epidemic I wanted to go out so bad, I almost felt like exploding, and then when [measures] relaxed, I didn't really feel like going out anymore. Before the epidemic, I liked to go out to eat a lot and whatever I wanted to eat I could have without doing anything. During the epidemic, I discovered I could fry chicken, make my own nuggets, and discovered skills I didn't even know I had. Before, I wanted a two-month winter holiday, and then I got 4-6 month holiday I never could've imagined. I used to feel like not working, and then I felt so panicked without work and really wanted to work. Before, I never thought I could study at home and then discovered I could study till night. In the end, I still want to return to a world where we don't need to wear masks."
Other commenters also look back on the pre-Covid19 with nostalgia:
"I once thought 2019 was the most difficult year. But it was actually the happiest one of the last three years. Because there was no epidemic and we were free to go out as we pleased. We didn't have to rigidly stick to our face masks, and there were no complicated processes to request a leave of absence."
Then there are those who are longing for simple pleasures of the pre-covid era, such as this Weibo user (@柴柴鱼与柴):
"I want to travel out of Shanghai and to other countries without any fear, I want to take off my mask in the theaters so that the performers can see when I am crying or laughing, or when I'm admiring them and cheering for them. I want to shout out during live performances and music festivals, I want  concerts to be able to be organized without issues, and I don't want my twenty-something years to slip away in an era of masks and epidemic."
Some also comment on how differently they experience the passing of time during the pandemic, like the original poster of the hashtag (@人间投影仪):
"I have the feeling that since the outbreak of the novel coronavirus, these past two years just went by in a flash. I don't really have any memories that stick. But then when I look at photos from before covid19, it feels like a different life."
But then there are also those who defend China's zero-covid approach, saying (@风的节奏吹):
"Everyone wants more freedom. If the world would've copied China's homework, the epidemic would have ended long ago."
And (@种花家的兔子要嚣张):
"Seeing so many people talking about (..) how others are opening up, are their countries populated as densely as our country is? With [us being] one-fifth of the world population, are you kidding me? If we'd open up, and you get sick and need to pay for your treatment, would you want that? Only if your country's social benefits are so good, you're able to be unreasonable on social media. Already now, there's too much pressure on people at the basic level, do you even realize? If you say you feel envious, just move to another country and experience it for yourself, just don't come back here spreading the virus!"
One of the most popular comments in the top threads on this comment currently says:
"If other countries had started to control it [the virus] like our country, we might not have to wear a mask now."
Meanwhile, the hashtag "An Illustrated Handbook of the Maskless Era" is also getting many views on social media (#无口罩时代图鉴#), with people sharing photos and videos of the pre-covid19 times. Even ordinary everyday scenes from the subway in the pre-covid19 era are making people feel nostalgic: "I'm just cherishing the memory of those days."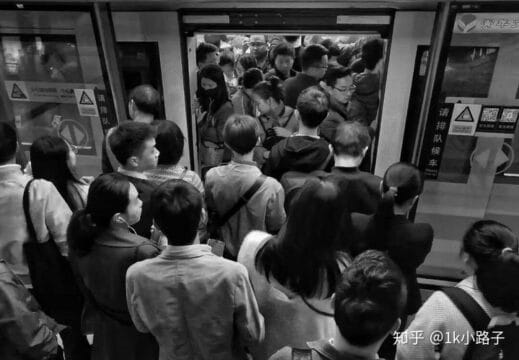 Read more about social trends relating to Covid19 in China here.
By Manya Koetse
Spotted a mistake or want to add something? Please let us know in comments below or email us. First-time commenters, please be patient – we will have to manually approve your comment before it appears.
©2021 Whatsonweibo. All rights reserved. Do not reproduce our content without permission – you can contact us at info@whatsonweibo.com.