Suspect in Chinese Stewardess Didi Chuxing Murder Case "Jumped into River"
The murder on the 21-year-old flight attendant has raised concerns among netizens on the safety of car-hailing app Didi.
The number one trending topic on Chinese social media on Thursday night (Beijing time) is the murder of a Chinese stewardess by a driver of the Didi Chuxing car-hailing app. The hashtag "Stewardess Didi Murder" (#空姐滴滴打车遇害#) received 110 million views at time of writing.
The 21-year-old Lucky Air flight attendant Li Mingzhu (李明珠) was killed in the early morning of May 6th after she had arranged a ride through Didi, China's popular Uber-like car-hailing app, and was on her way home from Zhengzhou Airport in Henan province.
Unable to contact their daughter, Li's family reported her missing on the afternoon of May 7. Her body was discovered by local police the following day.
According to Global Times (report since removed), police confirmed that the woman was killed by the driver with a weapon, but was still at large. Didi Chuxing issued an apology for Li's death, and said they had "incumbent responsibility."
Chinese news site Sixth Tone reports that a friend of Li had received messages from her while she was on her way home, saying that her driver was "acting strange" and was telling her that he was "tempted to kiss her."
The car-hailing company also offered a reward of up to 1 million yuan [US$160,000] for people providing tips on the suspect's whereabouts. The company issued a photo of the suspect, a 27-year-old male named Liu Zhenhua, on social media platform Weibo.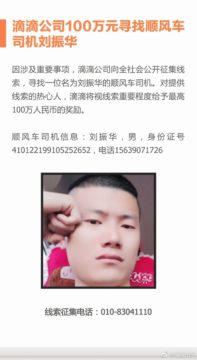 In a Beijing News interview with the victim's father on May 10, it was disclosed that Li's body was found half naked, with over 20 stab wounds.
According to new reports on Thursday night, research teams have found that Didi driver Liu abandoned his car shortly after the murder and then jumped into a nearby river. Police is now searching the area.
For many people in China, the Didi car-hailing app is part of their everyday travel life. In 2017, the company completed 7.43 billion rides for approximately 450 million users in more than 400 cities.
Li Mingzhu's death has raised public concerns over the safety of the company. Although drivers need to have real-name registration, they can also register an account with another person's car, as long as the car owner agrees.
"Didi, you need to increase the security level over your drivers!", some commenters say on Weibo, while others say they are now "afraid to hail a Didi car."
"I hope that tomorrow's news will tell me the driver has drowned," one netizen wrote.
Update: Netease reports on May 11 that a body has been recovered from the water. Further investigation will have to confirm if it is indeed the suspect.
By Manya Koetse, with contributions from Chauncey Jung
Follow @whatsonweibo
Spotted a mistake or want to add something? Please let us know in comments below or email us.
Directly support Manya Koetse. By supporting this author you make future articles possible and help the maintenance and independence of this site. Donate directly through Paypal here. Also check out the What's on Weibo donations page for donations through creditcard & WeChat and for more information.
©2018 Whatsonweibo. All rights reserved. Do not reproduce our content without permission – you can contact us at info@whatsonweibo.com.
Chinese Twin Sisters Switched Identities to Illegally Travel Abroad over 30 Times
The lookalike sisters thought it was "convenient" to use each other's passport to travel to Japan, Russia, Thailand and other countries.
Weibo Shorts are concise articles on topics that are currently trending. This article was first published
On June 27, a local public security bureau in the city of Harbin, Heilongjiang Province, released a press statement regarding the peculiar case of twin sisters who used each other's identity to travel abroad over thirty times.
The two Zhou sisters, *Hong and *Wei (pseudonyms), started switching identities when Hong's husband, a Japanese national, returned to Japan. Hong wanted to join her husband in Japan, but her visa application was repeatedly denied due to not meeting the requirements.
Hong then decided to use her sister's travel documents to travel to Japan to see her husband various times. She reportedly also used her sister's passport to travel to Russia. She ended up traveling between China, Russia, and Japan at least thirty times.
Wei, who reportedly thought this way of switching identities was "convenient", also used her sister's passport to travel to Thailand and some other countries on four different occasions.
After authorities found out what the sisters had been up to earlier in 2022, they were advised in May to return back to China. While the case is still under investigation, the sisters are now being held for the criminal offense of border management obstruction.
The case went trending in the hot-search topic list on Weibo, where many people are wondering how this could have happened so many times. "If you exit and enter the country, aren't fingerprints collected?", some wondered, with others saying the border technological systems were apparently not good enough to detect such identity fraud.
There were also those who thought the story was quite "amazing" and sounded "like the plot of a television series."
By Manya Koetse
Get the story behind the hashtag. Subscribe to What's on Weibo here to receive our weekly newsletter and get access to our latest articles:
Spotted a mistake or want to add something? Please let us know in comments below or email us. First-time commenters, please be patient – we will have to manually approve your comment before it appears.
©2022 Whatsonweibo. All rights reserved. Do not reproduce our content without permission – you can contact us at info@whatsonweibo.com.
What Happened in Tangshan? The Violent Restaurant Incident Everyone Is Talking About
This outburst of violence against female customers at a restaurant in Tangshan has sent shockwaves across Chinese social media.
Over the past two days, everybody on Chinese social media is talking about an incident that happened at a BBQ restaurant in Tangshan, a prefecture-level city in the northeast of Hebei province.
A surveillance video from the BBQ restaurant captured the incident that happened at 2:40 on June 10th. Security footage from inside the restaurant shows how three female customers are dining when a male customer walks by and touches the back of one of the women (dressed in white).
The woman pushes his arm away and raises her voice at him. When he tries to grab her again, she slaps away his hand, after which the man hits the woman in the face.
Within a matter of seconds, the incident leads to an outburst of violence. When the woman stands up to fight back against the man, her friend (dressed in black) stands up and smashes a beer bottle on the man's head. She is immediately pulled away by the man, who is now joined by two other male customers.
While the girl dressed in black is beaten, her friend (dressed in gray) is coming to help her. One of the men violently throws a chair towards them and she is also being kicked. Meanwhile, the woman in white gets beaten again by the man who first touched her.
Another man also joins in the violent attack and drags the woman out of the restaurant by her hair. A man dressed in red comes up and suddenly smashes a beer bottle on the woman's head.
The rest of the security footage was captured outside the Tangshan restaurant, where the brutal attack on the woman continued. The man in the green jacket violently kicks her in the head and others join in.
When another woman dining at the restaurant tries to pull the men away from her, she is also beaten to the ground and hits her head on the steps. The girl in gray comes to help and is also beaten while doing so.
For just a brief moment, the situation seems to calm down as two of the women are lying on the ground after the violent attack, the men standing around.
Unfortunately, the scene continues to escalate within seconds as the women are trying to get back up. When the man in the green jacket grabs a bottle to hit the woman he initially assaulted, a man (red hat) intervenes. But the assault continues.
The woman is kicked in the head, beaten, and repeatedly dragged by her hair. She is attacked by at least three of the men. When a third woman tries to stop one of the men, she is beaten in the head by a man who seems to be her own partner (he stops and hugs her immediately after).
Everyone is talking about an outburst of violence against female customers at a Tangshan BBQ restaurant that happened on Friday morning. This moment shows how one of the guys involved smashes this woman, only realizing moments later it is his own partner. pic.twitter.com/RC8C76Oin5

— Manya Koetse (@manyapan) June 11, 2022
The scene is incredibly messy, with some five men standing around the woman and violently attacking her. The same man who just seemed to protect her (red hat) now also joins in and another beer bottle is smashed on her body or head. The other women helplessly stand around.
While the attack continues, one of the men convinces the others to leave ("Let's go, let's go!"). The men then leave the woman on the street and take off.
Later, photos showing the main victim of the brutal attack in a hospital bed soon surfaced on social media.
The outrageous level of violence displayed in the attack sent shockwaves across social media on Friday and Saturday. On Weibo, several hashtags on the Tangshan incident went trending, some hashtags attracting over a billion views.
The incident is triggering different discussions. Some relate to the apparent slow police response to the altercation and the time it took for the men to be arrested. Netizens commented that China's surveillance system is seemingly faster to detect one case of Covid and track down a patient's last whereabouts than it is to track down nine men involved in such a crime.
Other discussions relate to violence against women and how the media responds to it, as some Chinese media sources described how the first woman "rejecting" the man set off the altercation. Many people also felt the media reports were downplaying the incident.
On Weibo, the Communist Youth League used a smiling emoji when posting about the incident, also sparking outrage online. Although the emoticon was later edited out and comments were censored, netizens reposted the emoji and wondered why the Communist Youth League wanted to be sarcastic or funny about such a display of violence.
There are then also discussions zooming in on bystander responses to the attack, and about whether or not others should have stepped in.
These are similar discussions to when an assault on a woman happened in Beijing in 2016, without anyone stepping in (read here).
By Saturday afternoon (local time), all of the nine men involved in the incident were arrested. Some of them had already fled to Jiangsu province.
In response to photos of the arrest of one of the men, a meme came up on social media warning people to stay away from men dressed like him.
Meanwhile, the case is still trending on Chinese social media. Gender, misogyny, bystander effect, morality, gang violence, rule of law, public security, and media bias are all themes that come up in online discussions. There are also those who are happy about the fact that the entire incident was captured by surveillance cameras, because otherwise the severity of the incident might have never come out.
On Saturday, Global Times reported that two female victims had been sent to the hospital for treatment and are now in stable condition. Two other women suffered minor injuries and were not hospitalized.
There's an update to this story HERE. Also see some of our other stories related to women and gender issues in China here.
By Manya Koetse and Miranda Barnes
Get the story behind the hashtag. Subscribe to What's on Weibo here to receive our weekly newsletter and get access to our latest articles:
Spotted a mistake or want to add something? Please let us know in comments below or email us. First-time commenters, please be patient – we will have to manually approve your comment before it appears.
©2022 Whatsonweibo. All rights reserved. Do not reproduce our content without permission – you can contact us at info@whatsonweibo.com.