Suspect in Chinese Stewardess Didi Chuxing Murder Case "Jumped into River"
The murder on the 21-year-old flight attendant has raised concerns among netizens on the safety of car-hailing app Didi.
The number one trending topic on Chinese social media on Thursday night (Beijing time) is the murder of a Chinese stewardess by a driver of the Didi Chuxing car-hailing app. The hashtag "Stewardess Didi Murder" (#空姐滴滴打车遇害#) received 110 million views at time of writing.
The 21-year-old Lucky Air flight attendant Li Mingzhu (李明珠) was killed in the early morning of May 6th after she had arranged a ride through Didi, China's popular Uber-like car-hailing app, and was on her way home from Zhengzhou Airport in Henan province.
Unable to contact their daughter, Li's family reported her missing on the afternoon of May 7. Her body was discovered by local police the following day.
According to Global Times (report since removed), police confirmed that the woman was killed by the driver with a weapon, but was still at large. Didi Chuxing issued an apology for Li's death, and said they had "incumbent responsibility."
Chinese news site Sixth Tone reports that a friend of Li had received messages from her while she was on her way home, saying that her driver was "acting strange" and was telling her that he was "tempted to kiss her."
The car-hailing company also offered a reward of up to 1 million yuan [US$160,000] for people providing tips on the suspect's whereabouts. The company issued a photo of the suspect, a 27-year-old male named Liu Zhenhua, on social media platform Weibo.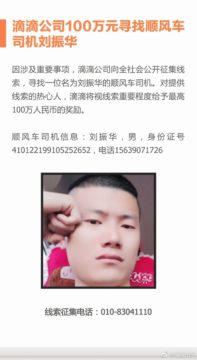 In a Beijing News interview with the victim's father on May 10, it was disclosed that Li's body was found half naked, with over 20 stab wounds.
According to new reports on Thursday night, research teams have found that Didi driver Liu abandoned his car shortly after the murder and then jumped into a nearby river. Police is now searching the area.
For many people in China, the Didi car-hailing app is part of their everyday travel life. In 2017, the company completed 7.43 billion rides for approximately 450 million users in more than 400 cities.
Li Mingzhu's death has raised public concerns over the safety of the company. Although drivers need to have real-name registration, they can also register an account with another person's car, as long as the car owner agrees.
"Didi, you need to increase the security level over your drivers!", some commenters say on Weibo, while others say they are now "afraid to hail a Didi car."
"I hope that tomorrow's news will tell me the driver has drowned," one netizen wrote.
Update: Netease reports on May 11 that a body has been recovered from the water. Further investigation will have to confirm if it is indeed the suspect.
By Manya Koetse, with contributions from Chauncey Jung
Follow @whatsonweibo
Spotted a mistake or want to add something? Please let us know in comments below or email us.
Directly support Manya Koetse. By supporting this author you make future articles possible and help the maintenance and independence of this site. Donate directly through Paypal here. Also check out the What's on Weibo donations page for donations through creditcard & WeChat and for more information.
©2018 Whatsonweibo. All rights reserved. Do not reproduce our content without permission – you can contact us at info@whatsonweibo.com.
These Chinese School Are Awarding Excellent Students with Pork Meat Gifts
Awarding excellent students with raw meat or even fresh fish seems to be a new trend in Chinese schools.
First published
A number of schools in China have recently introduced a new gift for outstanding students at the end of term ceremony: no books, no pens, but a chunk of meat that can be shared with the entire family.
A remarkable award ceremony at a middle school in Fuyang, Anhui province, has attracted the attention of Chinese netizens this week for the meat gifts the school offered to its outstanding students.
The award ceremony was held on January 26 at the Anhui Fuyang No. 1 Middle School. The five best students of every class were each rewarded with 2,5 kilogram (5.5 pounds) of pork meat.
At the end of the ceremony, a total of 600 students took home a staggering 1500 kilogram (3306 pounds) of pork meat in total.
Chinese media outlets Pear Video and We Video posted video reports of the noteworthy event on their channels (link and link) on January 28.
Although the initiative of this particular school came as a surprise to many netizens, more schools across China are introducing these kinds of food gifts to their students lately.
"Nowadays, every household has enough stationery. So we came up with the idea to award our students with pork meat instead."
The director of the Anhui school, Mister Sun (孙), told reporters: "In the past, the school always awarded its best students with pencils and notebooks. But nowadays, every household has enough stationery. So we came up with the idea to award our students with pork meat instead."
The pork meat, gifted in a bag with a pig on it, was given just in time for the upcoming Chinese Spring Festival, which celebrates the start of the Year of the Pig this year.
Sun further added: "The students' hard work is rewarded with something they can take home and share with their family members and other people they love. In this way, they can also experience the gratefulness of others."
The Fuyang middle school is not the first school that awards its students by offering them fresh meat products. Recently, several stories of Chinese schools awarding their students with meat gifts made their rounds on Chinese social media.
A primary school in Liuzhou, in a mountainous and impoverished area of Guangxi province, received the praise of many netizens when they awarded their 71 most outstanding students with 1,5 kilogram of unwrapped pork meat on a string. It is the second year in a row that the school chose to present its students with a meat gift.
At another school in Dongguan, Guangdong province, the 90 most outstanding students were each rewarded with a fresh fish earlier this month. The fish were caught from the Humen Wharton School's own pond, The Paper reports.
In a recent interview, director Wu (吴) of the Dongguan Humen Wharton School told The Paper that the fish are usually fed with the leftovers from the school canteen. By rewarding the students with these fish, Wu said, the school not only hopes to make the pupils happy, but also hopes to increase their awareness on the ecological environment.
"This is the reality. When you work hard, you'll have meat to eat."
Last year, a school in Fujian's Nan'an awarded 30 of its highest-scoring students with a pork leg, something that also attracted the attention online at the time. More schools, including one in Shanwei, then followed their example.
On Weibo, various hashtags relating to the new 'trend' are making their rounds. "Middle School Awards Its Students with 1500 Kilogram of Pork Meat" (#中学用3000斤猪肉表彰学生#) received over 5.5 million views this week. "School in Mountainous Area Awards Students with Pork at the End of the Year" (#山区小学期末发猪肉奖状#) had over 3 million views on Weibo.
Chinese netizens applaud the schools for giving these food products to reward students, mainly seeing it as a way to boost the children's confidence.
"This is great!" one commenter wrote: "The students can really experience how it feels to earn something and what it feels like to contribute. And at the same time, they can share and enjoy their achievements with their family."
"What a great award," others say: "They'll feel so proud to bring this back home."
"This is the reality. When you work hard, you'll have meat to eat. Why weren't there such good schools around when I was a kid?", a Weibo user says.
It is a tradition in China to hold an award ceremony at the end of the semester. During the ceremony, that is attended by the school's students, teachers, and sometimes (grand)parents, the best students are praised for their accomplishments. The purpose of the award ceremony and the public praise is to let the excellent students set an example for their fellow classmates, and to motivate the students.
But not everyone is equally positive about the initiative. "The intention is good, but how attractive is it for a child to receive a pork leg nowadays?" one man from Guangdong wonders: "Isn't it more and more uncommon for people to perceive meat as something that's rare to eat?"
"It's not about the meat itself," others argue: "It's about bringing home something and making them feel accomplished."
Among the few voices criticizing the idea, there are also those who advocate vegetarianism and think it would be more valuable to teach children the value of living creatures rather than to give them pork.
Others argue that the pork meat gift is not 'halal.'
But the vast majority of commenters still praise the initiative, saying it is honest, nutritious, and lets the whole family benefit from their child's accomplishments. For some, the idea is simple and straightforward: "Those who study hard get to eat meat."
By Gabi Verberg and Manya Koetse
Spotted a mistake or want to add something? Please let us know in comments below or email us.
©2019 Whatsonweibo. All rights reserved. Do not reproduce our content without permission – you can contact us at info@whatsonweibo.com
Brutal Beating and Violation of an 8-Year-Old Gansu Girl by Classmates Stirs Discussions on Criminal Responsibility of Minors
Two minors and a teacher were involved in a violent incident, injuring an 8-year-old girl, yet nobody is punished.
A shocking case in which a 6- and 7-year-old boy attacked and sexually abused a fellow classmate has attracted much attention on Chinese social media. The fact that the boys, nor their teacher, will be punished for the incident is a cause of concern for many Chinese netizens.
The violent attack and sexual assault by two young boys on a female classmate has attracted wide attention on Chinese social media this week – especially because those involved are only eight years old and younger.
On January 13, the Ning County Public Security Bureau in Gansu Province came out with a statement about the incident, that occurred in the afternoon of December 14th. Two boys, 7- and 6-year-old respectively, beat up their 8-year-old classmate, pulled down her pants, and violated her with a broomstick.
According to the statement, the brutal assault followed after the girl had taken the eraser of one boy, and had not given back the one yuan ($0,15) she had borrowed from the other. The director and the vice-director of the school have since been suspended from their position.
The incident came to light after the girl had arrived home from school the day it had occurred. When the girl's grandmother noticed something was wrong with her, she contacted the school and brought the young girl to the emergency room. She was later transferred to Xi'an Children's hospital for further examination, where it was found that her genitals were seriously injured. She was released five days later to recover at home.
In a video published by Toutiao News, the grandmother of the little girl claims that, according to the girl, the teacher stood by as her classmates attacked her. That same teacher had accused the girl of stealing her lipstick earlier that day, but later on found the item in the teacher's desk drawer.
The (former) director of the school has denied any involvement of the teacher in the incident. The Public Security Bureau has neither confirmed nor denied if there is any truth to the girl's allegations.
On Chinese social media platform Weibo, many netizens question the teacher's involvement in the matter. Soon after the official statement, the hashtag "Did You Take My Lipstick?" (#你拿我口红了吗#) reached over 50,000 views on Weibo. Meanwhile, the hashtag "Principal Dismissed after Gansu Girl Sustains Injuries" (#甘肃女孩受伤事件校长免职#) received over 260 million views.
In the comment sections, people asked questions about the possible relation between the 'lipstick incident' and the young boys attacking the girl in such a violent way.
One Weibo user wrote: "Where do such young children get the idea to get a broomstick and violate a girl? I have many children around me of that age, they do get into fights with each another, but I have never seen that kind of behavior before." Another user pointed out: "How can it remain unnoticed if two boys pull down a girl's pants and violate her with a broomstick? And how can it be that no teacher saw the girl using a big pile of tissues cleaning up her own blood!?"
Another aspect of this story that is at the center of online discussions is the fact that the two minors legally cannot be held responsible for their deeds. According to article 8 and 12 of China's Public Security Administration laws, minors can only bear criminal responsibility from the age of 14 years.
According to Chinese media outlet The Observer, the Public Security Bureau did order the guardians of both boys to strictly discipline their children. According to law, the parents are liable for their children's misconduct.
However, for many netizens, this doesn't provide justice for the girl's suffering. On Weibo, many people express their dissatisfaction with the legislation on minors, and criticize the law for not doing enough in protecting minor victims. In the eyes of many, the two boys should be punished severely.
On Weibo, one user wrote: "I can't believe it, this law is implemented to protect minors, but who is protecting this minor victim!!?"
Some netizens take it a step further and wish the girl could take justice in her own hands. "I hope the little girl gets to take revenge on the boys, after all, they are all minors, and she can't be punished according to the law," a typical comment on Weibo said.
At time of writing, there has been no official statement yet about the girl's wellbeing at this moment and whether or not she gets to be transferred to a different school.
By Gabi Verberg
Spotted a mistake or want to add something? Please let us know in comments below or email us.
©2019 Whatsonweibo. All rights reserved. Do not reproduce our content without permission – you can contact us at info@whatsonweibo.com