Altercation between LGBT Supporters and Guards at Beijing's 798 Art District
A ten-second video is causing commotion on Weibo and WeChat.
Local guards turned violent on Sunday when people wearing and giving out rainbow badges at Beijing's trendy 798 art district were reported as holding an "illegal gathering." The badges were meant to raise awareness for the International Day Against Homophobia.
This article was updated on Monday, May 14, 17:30 (Beijing time).
On Sunday, May 13, an altercation between people wearing rainbow badges and local guards at the Beijing 798 art district caused much commotion on Chinese social media after footage leaked online, showing at least one female being knocked to the ground.
According to sources on Weibo, there were people giving out rainbow buttons for free to celebrate International Day Against Homophobia (May 17/国际不再恐同日) before the altercation occurred, but there are no official media sources reporting on the incident at time of writing. (Update 05/14: Global Times has now reported that "security staff at Beijing's 798 Art Zone who roughed up two women for wearing rainbow badges on their clothing have been harshly criticized by LGBT groups and other netizens on Chinese social media on Sunday.")
WeChat lifestyle blogger Zakki (@zakki吉吉), however, did report on the issue, saying that Weibo netizen Piao Quan Jun (@票圈君) was one of the initiators behind the idea to give out badges in support of May 17 at the 798 art park.
Other people on Weibo also posted photos of the event, which showed that besides giving out badges, Piao Quan Jun also gave out free hugs to people.
On Sunday late afternoon, police cars allegedly came to monitor the area where the people were giving out the badges, and the activity was marked as an "illegal gathering." Local guards started to surveil the area and denied entrance to the park to those wearing rainbow badges.
The 798 art zone is a relatively large area that used to be an old factory complex, and has now turned into an artistic community area full of exposition spaces, restaurants, and shops. It previously was the main venue for the annual Beijing Queer Film Festival.
According to Zakki, things turned violent when two females and guards clashed over the rainbow badges, which is the moment of the video that is going viral.
Although the topic was discussed by many on Weibo and WeChat, articles and videos of the incident were soon taken offline.
"Today we won't be silent," one Weibo user wrote: "We will raise our voice for love. Although it scares us what happened today at 798, we cannot give up our right to love and be loved."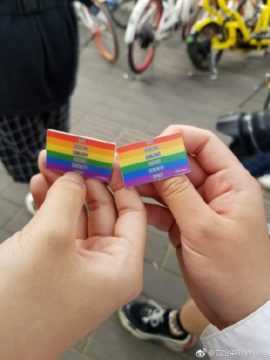 今天下午北京798艺术中心发放LGBT的彩虹勋章。保安抢夺胸针并且殴打女生#LGBT ?️‍? #Beijing798 pic.twitter.com/J1ZLw36QKq

— Lusters ?️‍? (@lusters_) 13 mei 2018
By Sunday late night (Beijing time) the hashtag "798 Beating" (#798打人#) received more than 250,000 views. Hours later, the page and hashtag were taken offline.
"Are public security guards allowed to beat people?" a typical comment read.
Today, China's LGBT team is holding a rainbow pin in the Beijing 798 art district. During the event,Chinese secret service members are against LGBT activities beat up a lesbian. This is the status quo of Chinese women's survival and the status quo of Chinese homosexuals. How sad! pic.twitter.com/000L66mefl

— Carol (@De_profundis0) 13 mei 2018
"Today, for now, I won't discuss homosexuality or LGBT, I just want to discuss why you beat someone at all. What gives you the right?", one commenter said.
有网友去798参加免费派发彩虹勋章的活动,结果遭遇保安围堵殴打,被要求禁止佩戴彩虹徽章,且被禁止进入园区,还有人被搜身。就是一个免费发放小礼物的活动,居然也被如此提防,到底是有多怕聚集?? #LGBT #?️‍? 群体的生存纪实。 pic.twitter.com/4KO03jGxrT

— ? (@Uromayutori) 13 mei 2018
Censorship on gay-related issues and content in China has recently gained more attention on social media sites such as Weibo. Last month, Weibo administration issued a notice saying it would no longer allow "gay content" on the site, which was reversed within days after an online uproar against the ban.
北京798,保安在殴打发放彩虹徽章的LGBT平权团体…无耻已经不足以来形容这些人了… pic.twitter.com/XlEWJqYmNV

— Craner (@rchengphy) 14 mei 2018
This week, China broadcast of the Eurovision Contest was revoked after Chinese broadcaster Mango TV edited out rainbow flags and other gay-related footage of the semi-final on its channel.
"I have difficulties understanding why our country would prohibit homosexuality," one Weibo user writes: "Isn't it a normal thing? Is it because it is not in line with your family planning program?"
By Chauncey Jung and Manya Koetse
Follow @whatsonweibo
Spotted a mistake or want to add something? Please let us know in comments below or email us.
©2018 Whatsonweibo. All rights reserved. Do not reproduce our content without permission – you can contact us at info@whatsonweibo.com.
When Hotpot Gets Really Hot: Haidilao Customers Shocked by Steamy TV
Haidilao is taking its customer service to a whole new level.
First published .
Customers dining at a Haidilao hotpot restaurant in Wuhan on January 5th were shocked when the big television screen in the restaurant, usually used for showing Haidilao ads, suddenly showed an X-rated film.
Haidilao is China's most famous hotpot chain, and is usually known for its excellent service. On busy nights, people stand in line for hours at the Haidilao restaurants, that are always packed full of people enjoying the good food and outstanding hospitality.
The incident, that happened on Saturday afternoon at the restaurant's Great Ocean mall location, has now made its rounds on Chinese social media after one Haidilao customer shared photos of the embarrassing moment on Weibo. At time of writing, the hashtag "Haidilao TV shows vulgar scene" (#海底捞电视播不雅画面#) has received more than 240 million views.
Waiters at the restaurant were fast to turn off the television. According to some online reports, a reporter visited the restaurant a few hours after the incident happened, and confirmed the television was still turned off at night.
On Sunday, January 6, Haidilao issued a statement in which the restaurant apologized to the customers for the "vulgar content" that was displayed on the television, and that police are investigating the case. Online pornography is banned in China, and spreading X-rated films is illegal.
It is yet unsure how the film ended up on the restaurant's screen, and whether it was a Haidilao employee who was watching the video and then made a mistake, or that a customer was using IR or Bluetooth on their smartphone and (purposely) connected it to their screen.
The incident has provoked hilarity on social media, where some netizens suggest that the X-rated film perhaps was a "customer demand" and that "Haidilao's service is beyond expectations," or that people were "eating and getting hard."
The incident, as of now, does not seem to negatively affect people's love for the Haidilao brand. "Please don't close it down, I still want to eat hotpot," some netizens comment, while others simply state: "Haidilao, I'm coming!"
(PS Want to know more about steamy hotpots? Check out What's on Weibo's sister site Hotpot Ambassador!)
By Manya Koetse and Miranda Barnes
Spotted a mistake or want to add something? Please let us know in comments below or email us.
©2019 Whatsonweibo. All rights reserved. Do not reproduce our content without permission – you can contact us at info@whatsonweibo.com
Footage from Inside the "Virtue Class for Women" Stirs Controversy on Weibo
"Obedience is the core value for women," is a message that is being propagated in "female virtue classes."
In 2017, news of a "female virtue class" (女德班) taking place in Fushun, Liaoning province, triggered controversy in China when it was exposed that young women were taught to conform to sexist stereotypes. That "female virtue class" was ordered to shut down after it made headlines.
But now, the same class taking place in Wenzhou has become the talk of the day on Chinese social media, as footage from inside the class made its way around Weibo and Wechat. Chinese media outlet Pear Video reported the news.
The class, with 56 students from 5 up to 18 years old (44 female), reportedly took place in August of this year during a Summer Camp on "traditional culture."
This is the video with footage from an insider attending the 'Summer Camp', by Pear Video (no subtitles):
Just as in Fushun, girls in Wenzhou were also taught that men are superior to women, that married women should obey their husbands and not talk or hit back, and that wearing revealing clothing will lead to rape.
The video also shows that 'obedience' was presented as being a core value for women, along with filial piety.
These views often pop up on social media. Also in 2017, a university lecture by Ding Xuan, an alleged expert on China's women's issues, stirred controversy on Weibo after her statements on female chastity went viral. According to Ding Xuan, "being a virgin is the best gift for a husband."
Classes such as these are often presented as being "traditional culture" training.
On Weibo, the hashtag "Female virtue class for minors" (#未成年人女德班#) has received over 110 million views at time of writing, with thousands of netizens condemning the message that these students are being taught. "It's 2018 now, how can you still have these kinds of fools?!", a popular Weibo comment said.
"It's scary that parents would let their children participate in these classes," others wrote. "The worst part is that people actually believe this." "What era are we living in?!", many commented.
As this topic is currently going trending, it is yet unclear if these classes are still being taught to students, or if they, again, have been ordered to shut down.
By Manya Koetse
Follow @whatsonweibo
Spotted a mistake or want to add something? Please let us know in comments below or email us.
©2018 Whatsonweibo. All rights reserved. Do not reproduce our content without permission – you can contact us at info@whatsonweibo.com