Altercation between LGBT Supporters and Guards at Beijing's 798 Art District
A ten-second video is causing commotion on Weibo and WeChat.
Local guards turned violent on Sunday when people wearing and giving out rainbow badges at Beijing's trendy 798 art district were reported as holding an "illegal gathering." The badges were meant to raise awareness for the International Day Against Homophobia.
This article was updated on Monday, May 14, 17:30 (Beijing time).
On Sunday, May 13, an altercation between people wearing rainbow badges and local guards at the Beijing 798 art district caused much commotion on Chinese social media after footage leaked online, showing at least one female being knocked to the ground.
According to sources on Weibo, there were people giving out rainbow buttons for free to celebrate International Day Against Homophobia (May 17/国际不再恐同日) before the altercation occurred, but there are no official media sources reporting on the incident at time of writing. (Update 05/14: Global Times has now reported that "security staff at Beijing's 798 Art Zone who roughed up two women for wearing rainbow badges on their clothing have been harshly criticized by LGBT groups and other netizens on Chinese social media on Sunday.")
WeChat lifestyle blogger Zakki (@zakki吉吉), however, did report on the issue, saying that Weibo netizen Piao Quan Jun (@票圈君) was one of the initiators behind the idea to give out badges in support of May 17 at the 798 art park.
Other people on Weibo also posted photos of the event, which showed that besides giving out badges, Piao Quan Jun also gave out free hugs to people.
On Sunday late afternoon, police cars allegedly came to monitor the area where the people were giving out the badges, and the activity was marked as an "illegal gathering." Local guards started to surveil the area and denied entrance to the park to those wearing rainbow badges.
The 798 art zone is a relatively large area that used to be an old factory complex, and has now turned into an artistic community area full of exposition spaces, restaurants, and shops. It previously was the main venue for the annual Beijing Queer Film Festival.
According to Zakki, things turned violent when two females and guards clashed over the rainbow badges, which is the moment of the video that is going viral.
Although the topic was discussed by many on Weibo and WeChat, articles and videos of the incident were soon taken offline.
"Today we won't be silent," one Weibo user wrote: "We will raise our voice for love. Although it scares us what happened today at 798, we cannot give up our right to love and be loved."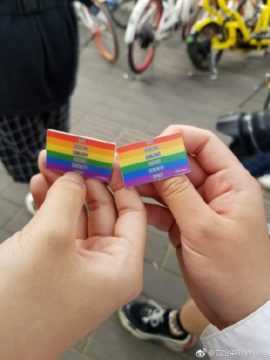 今天下午北京798艺术中心发放LGBT的彩虹勋章。保安抢夺胸针并且殴打女生#LGBT ?️‍? #Beijing798 pic.twitter.com/J1ZLw36QKq

— Lusters ?️‍? (@lusters_) 13 mei 2018
By Sunday late night (Beijing time) the hashtag "798 Beating" (#798打人#) received more than 250,000 views. Hours later, the page and hashtag were taken offline.
"Are public security guards allowed to beat people?" a typical comment read.
Today, China's LGBT team is holding a rainbow pin in the Beijing 798 art district. During the event,Chinese secret service members are against LGBT activities beat up a lesbian. This is the status quo of Chinese women's survival and the status quo of Chinese homosexuals. How sad! pic.twitter.com/000L66mefl

— Carol (@De_profundis0) 13 mei 2018
"Today, for now, I won't discuss homosexuality or LGBT, I just want to discuss why you beat someone at all. What gives you the right?", one commenter said.
有网友去798参加免费派发彩虹勋章的活动,结果遭遇保安围堵殴打,被要求禁止佩戴彩虹徽章,且被禁止进入园区,还有人被搜身。就是一个免费发放小礼物的活动,居然也被如此提防,到底是有多怕聚集?? #LGBT #?️‍? 群体的生存纪实。 pic.twitter.com/4KO03jGxrT

— ? (@Uromayutori) 13 mei 2018
Censorship on gay-related issues and content in China has recently gained more attention on social media sites such as Weibo. Last month, Weibo administration issued a notice saying it would no longer allow "gay content" on the site, which was reversed within days after an online uproar against the ban.
北京798,保安在殴打发放彩虹徽章的LGBT平权团体…无耻已经不足以来形容这些人了… pic.twitter.com/XlEWJqYmNV

— Craner (@rchengphy) 14 mei 2018
This week, China broadcast of the Eurovision Contest was revoked after Chinese broadcaster Mango TV edited out rainbow flags and other gay-related footage of the semi-final on its channel.
"I have difficulties understanding why our country would prohibit homosexuality," one Weibo user writes: "Isn't it a normal thing? Is it because it is not in line with your family planning program?"
By Chauncey Jung and Manya Koetse
Follow @whatsonweibo
Spotted a mistake or want to add something? Please let us know in comments below or email us.
©2018 Whatsonweibo. All rights reserved. Do not reproduce our content without permission – you can contact us at info@whatsonweibo.com.
Censorship of Chinese 6B4T & Feminist Groups Prompts Wave of Support for "Douban Sisters"
Even those who don't agree with '6b4t' views condemn Douban's recent crackdown on 6b4t and feminist groups.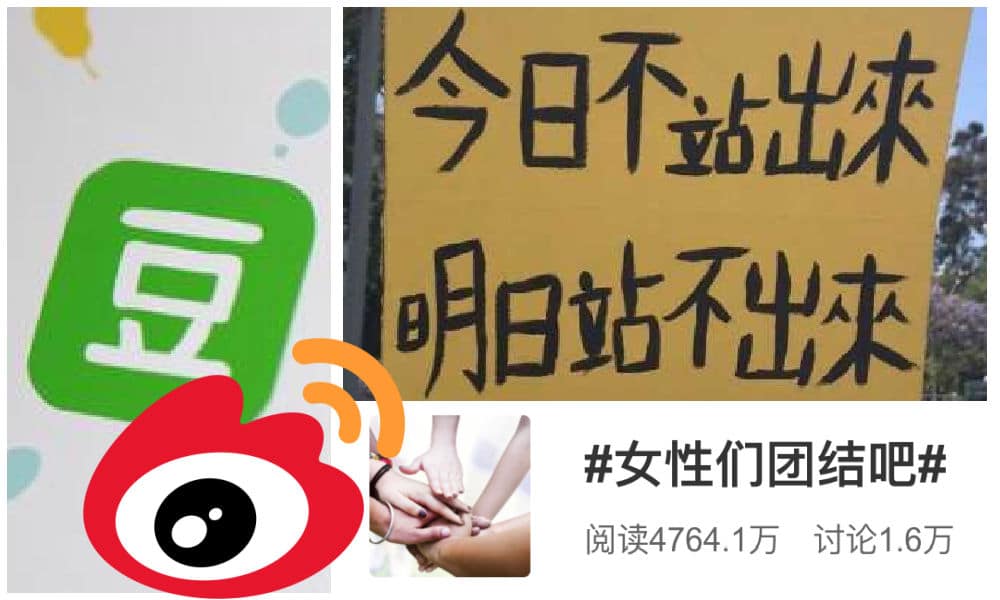 What is 6b4t? That is the question popping up in several places on Chinese social media this week after the popular networking platform Douban closed down several feminist groups and targeted the keyword '6B4T.'
Douban (豆瓣) is an influential Chinese social media platform that allows users to discuss and review books, music, films, and other topics. The platform has a 'group' (小组) function, with groups being like online forums revolving around a particular topic where Douban users can subscribe, post, and interact.
On the night of April 12, Douban closed down more than ten Douban feminist groups, of which some were linked to '6b4t' views.
6b4t is an online movement that originated in South Korea and is about female empowerment and independence that shifts away from patriarchal society and male-dominated fields in popular culture and beyond.
The '6B' stands for no husband, no children, no boyfriend, no male sex partner, not buying any products/brands that are unfriendly to women, and offering support to single women. The movement received some media attention earlier in 2019, when it was still about '4B' or the '4 no's' (no marriage, no kids, no boyfriend, no sex; the 'single women support' and 'refusal of buying misogynistic products' were added later). The '4T' stands for the rejection of shapewear (corsets), religion, otaku culture, and idols.
"A devastating blow for Chinese radical feminists"
The censorship of 6b4t-related groups on Douban sparked sharp criticism and anger online. On Twitter, 'HAL 10000' (@dualvectorfoil) called the crackdown "a devastating blow" for Chinese radical feminists.
Chinese radical feminists just suffered a devastating blow. On April 12, the Chinese government disbanded all radical feminist groups on Douban, a popular social networking website. Those are the only discussion forums that Chinese feminists could find.

— HAL 10000 (@dualvectorfoil) April 13, 2021
The Twitter account FreeChineseFeminists (@FeministChina) posted a screenshot of Douban's notification that the '6B4T' group had been removed, with the platform calling it an "extreme" and "radical" "ideology."
Douban, a social media site used by Chinese urban youth, closed more than 10 feminist groups and banned the keyword 6B4T, a feminist view from South Korea that advocates women not getting married and having no children. Douban calls 6B4T an "extreme" and "radical" "ideology." pic.twitter.com/o9QxhIZoqj

— FreeChineseFeminists (@FeministChina) April 13, 2021
On Weibo, many commenters also spoke out against the removal of the feminist Douban groups.
"I am 6b4t and although it might seem extreme in the eyes of some, I am not harming anyone at all," one person wrote, with another commenter adding: "This is completely limited to myself, I do not influence others."
"I've been 6b4t for years without even realizing," one Weibo user jokingly wrote: "I've been single forever!"
Another person admitted: "I don't really look at Douban, and I don't really understand 6b4t, but blowing up those groups like this goes too far."
"We have to firmly support our Douban sisters"
The account of Xianzi, the woman who became famous for the Xianzi versus Zhu Jun court case, also commented on the Douban censorship on April 13:
"I am not a follower of 6b4t at all, but I firmly support my Douban sisters and oppose how the feminist Douban groups have been shut out. First, 6B4T clearly is an important branch of contemporary online feminism – shutting these groups out is shutting out discussions on female topics. Seconds, the viewpoint of 6B4T is not radical at all, it just asserts that women do not need to enter heterosexual relationships and can break away from masculine control. This is completely up to women themselves and has nothing to do with anyone else. When even such a viewpoint is banned, and women insisting on being single are still seen as rebellious — this is the fundamental reason why we have to firmly support our Douban sisters."
Many people support Xianzi's statement, and meanwhile, the hashtag "Women Let's Unite" (#女性们团结吧#) also took off on Weibo, with many commenters calling on women to let their voices be heard.
"If someone is covering your mouth to try and silence you – scream louder," one person wrote.
The hashtag was also used to address issues of domestic abuse, a topic that has received a lot of attention on Chinese social media over the past year. In October of 2020, the death of the female vlogger Lamu, who was burnt by her ex-husband, also sparked an online movement that called on authorities to do more to protect and legally empower female victims of domestic abuse.
The 'Women Unite' hashtag page had received over 47 million views by late Tuesday night. Another relating hashtag, 'Douban Feminism' (#豆瓣女权#) was viewed over 40,000 times.
"You can disagree, but you can't silence them"
While the search for '6b4t' gave few new results on the Douban site at the time of writing, there were still some older posts on the topic.
One noteworthy one is that by user *Blossom*, who took the time earlier this year to explain what 6b4t means to her, saying "6b4t is an act of struggle, it is not a discipline."
In the post of February 2nd of this year, 'Blossom' explains that 6b4t is a way of resistance where the keyword is "sovereignty," namely the female sovereignty over her own body. 6b4t is a way to fight for radical feminism, Blossom claims:
"In the context of patriarchal society, women are sexually objectified while male sexuality equals power. Under this premise, marriage, childbearing, romantic love, and sexual activity are all about reinforcing the power of men and benefiting them. So we advocate 4b, which essentially is a non-violent and non-cooperative struggle mode, with the same characteristics as workers' and slaves' strikes."
Although there are also people expressing disagreement with the 6b4t movement, many defend their right to have online discussion groups about their ideas.
"You can disagree, you can call them into question, but you can't cover their mouths to silence them," one Weibo user wrote.
"We can have groups advocating marriage and childbirth, why can't we have groups advocating being single and childfree?", another person asked, with one commenter stating: "I do not advocate 6B4T, but I will defend to the death the right of these women to advocate 6B4T."
Throughout the years, feminist movements have often become a target of censorship on Chinese social media. Douban previously also censored content relating to the Zhu Jun sexual harassment case, and in the case of demanding justice for Lamu, some hasthag pages were also removed from Weibo. The renowned feminist Weibo account 'Feminist Voices' (@女权之声) was permanently banned in 2018, along with other feminist accounts.
"A new era of witch-hunting has started," one top comment in a thread of 2200 comments said: "Get ready to fight, let your voice be heard!"
A somewhat ironic consequence of Douban's latest censorship is that many people who had never heard about this 'radical feminism' now know what 6b4t is because it became a 'banned term.' "I've learnt a new word today," some commenters say, with others vowing to support their silenced 'Douban sisters.'
By Manya Koetse
Spotted a mistake or want to add something? Please let us know in comments below or email us. First-time commenters, please be patient – we will have to manually approve your comment before it appears.
©2021 Whatsonweibo. All rights reserved. Do not reproduce our content without permission – you can contact us at info@whatsonweibo.com.
Video Showing Suihua Female Worker Hitting Deputy Director with a Mop Goes Viral on Weibo
The Suihua deputy director was attacked with a mop after female workers accused him of harassing them.
A video showing a woman beating the director of her work department with a mop has gone viral on Chinese social media. The woman who posted the video accuses the office leader of harassing his female subordinates.
The incident took place on April 11th in the city of Suihua, Heilongjiang province. The man who was beaten in the video is Mr. Wang, the deputy director of the poverty alleviation department of the Beilin district of Suihua.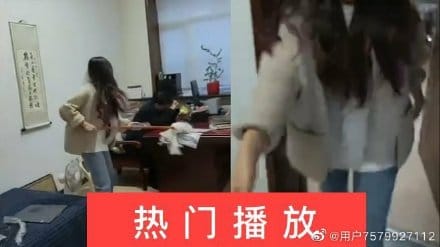 The 14-minute video shows a woman storming into Wang's office while another woman is behind her, filming. The first woman initially goes to Wang's desk and throws some stuff on the ground, before she asks the other woman to give her the mop. She then proceeds to hit Wang in the face and head with the mop multiple times. The other woman yells at Wang that she cannot put up with his harassing texts anymore.
At one point in the video, Wang claims he was "just joking," but the woman claims he is guilty of harassing multiple women in the department. Local authorities investigated the case after the video went viral.
According to Chinese news reports, Mr. Wang has now been removed from his office and Party position for "lifestyle violations of discipline" (for more information on this, China Law Translate has translated the Chapter XI of the Chinese Communist Party Disciplinary Regulations here.)
The woman hitting Wang with the mop reportedly has not been punished for her actions due to "mental illness."
On Weibo, many people praise the women for stepping up and rebelling against the deputy director, and fighting to protect themselves. Some people call it "courageous" and a "brave revenge."
"Harassers deserve to be hit," one commenter writes, with another person adding: "It is good that young people nowadays come forward against older and more powerful leaders."
There are also people on Weibo who question the reported "mental illness" condition of the woman who hit Wang, with some suggesting she could have not been a state office worker if she suffered from serious mental issues. Others also denounce the fact that the woman was labeled this way, while allegedly having been harassed and finding no help after reporting it to the police. At the same time, a majority of commenters express relief that the woman will not face punishment for hitting Wang with the mop.
Since the outcome of the investigations has not been made public, some netizens demand to see the investigation's conclusions to know if the official was indeed guilty of sexual harassment and why nothing was done about the female worker's alleged reports to police about his behaviour.
Over the past year, the problem of sexual harassment in the workplace has been receiving more attention on Chinese social media. In March of this year, a Shanghai court awarded approximately $15,000 to a plaintiff in a sexual harassment suit against a colleague who had sent disturbing text messages to her over a period of six months (link). In December of 2020, a landmark court case of the female scriptwriter Zhou Xiaoxuan versus Chinese famous TV host Zhu Jun attracted major attention on social media.
By Manya Koetse, with contributions by Miranda Barnes
Spotted a mistake or want to add something? Please let us know in comments below or email us. First-time commenters, please be patient – we will have to manually approve your comment before it appears.
©2021 Whatsonweibo. All rights reserved. Do not reproduce our content without permission – you can contact us at info@whatsonweibo.com.