Tears, Outrage, Protest, and Censorship over 'Fake Major' at Nanjing School
No diploma, no credentials: they were supposed to graduate, but are now left empty-handed as it turns out their Nanjing college was never qualified to teach them.
Updated
Students who studied Nursing at the "Nanjing Institute of Applied Technology" for the past three years are unable to get a certificate or degree, as it now turns out they have actually been doing a fake Major. The news has led to outrage and despair among students, parents, and netizens. Local police cracked down on student protests at the campus this weekend.
Over the past few days, the Nanjing Institute of Applied Technology (南京应用技术学校) has been at the center of a major controversy that has been dominating discussions on Chinese media and on social media.
Students who registered for the school's Nursing Program, and who were about to graduate after three years of studying, were shocked to discover that their school was not qualified to offer their program and that there were issues with their registration. Chinese media describe the school's program as a 'fake Major' (假专业).
Although the students completed required Nursing courses, including internal medicine, pediatrics, surgery, obstetrics and gynecology, they are now unable to get the proper credentials to do an internship or to be employed in the medical field, since they are not officially qualified.
News of the scandal first came out through students who said their teachers informed them on April 22nd that they would need to transfer to another vocational school in order to receive proper credentials.
According to Chinese news outlet The Observer, the situation applies to all students of the school who started their studies there in 2016 and after.
The Nanjing school was reportedly established in 2003 and received approval of the relevant departments to operate as a full-time vocational school. The school is privately-run but supervised by the Nanjing Municipal Human Resources and Social Security Bureau. There are currently over 6000 students enrolled in the school, according to its official website.
Students enrolled in the 'fake' Nursing program paid an annual tuition fee of 16000 yuan ($2377).
Over the past weekend, conflicts erupted at the school campus. Footage and photos flooding WeChat and Weibo show dozens of students clashing with security staff, and police cracking down on protests. At least one female student was allegedly beaten by a security guard.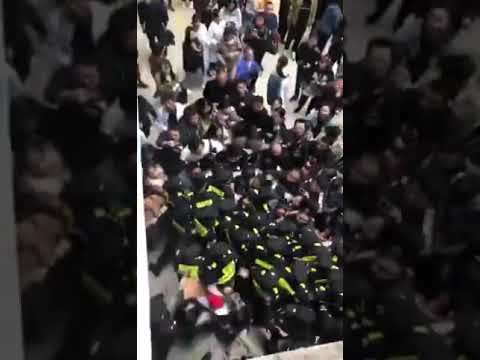 Official media reported that some people who had previously been expelled from the school had used the situation at hand to return to the school to 'stir up trouble.'
Multiple hashtag pages, posts, and videos relating to the incident were removed from social media site Weibo.
The Nanjing Municipal Human Resources and Social Security Bureau responded to the issue of the 'fake school' on Monday, April 29, stating that besides the Nanjing Institute of Applied Technology, there are two other schools involved in this matter: the Nanjing Oriental Arts & Science College (南京东方文理专修学院) and the Yingtian Vocational and Technical College (应天职业技术学院), which are both private colleges that have also been approved by the Jiangsu Provincial Department of Education.
In an online statement, the Bureau explains that the Nanjing Institute of Applied Technology started working together with the Nanjing Oriental Arts & Science College (南京东方文理专修学院) in 2015 in running a school without reporting it to the relevant departments for approval.
The Bureau further states that it is "actively searching for a solution" in this matter, and that "maintaining order" at the school is one of its priorities.
"This school is such sh*t, I really feel so grieved for these students," one among thousands of comments on Weibo said.
Although many threads focused on this issue are currently being censored on Chinese social media, Phoenix News is one of the media outlets that is still reporting on the issue, receiving much support from online commenters.
For now, the students and their parents are still left empty-handed.
"You damaged people's rights and broke the rules," angry commenters write on Weibo. "We can't let students be harmed this way. Now it's them, next time it's your own kid. We cannot remain silent."
By Manya Koetse
Spotted a mistake or want to add something? Please let us know in comments below or email us.
©2019 Whatsonweibo. All rights reserved. Do not reproduce our content without permission – you can contact us at info@whatsonweibo.com
"Oh, How Free America Is" – George Floyd Case Goes Trending on Chinese Social Media
"Are these the 'human rights' that you are advocating?"
First published
The George Floyd case and protests are trending on Weibo. In a time of China-US escalating tensions, many Chinese web users are using these developments in global news media to point out American hypocrisy regarding freedom and human rights.
The entire world is talking about the events surrounding the George Floyd case after the shocking bystander video of a white police officer using his knee to pin down an African-American man during an attempted arrest – leading to his death – has been making international headlines.
The case of George Floyd (transcribed as 乔治•弗洛伊德 Qiáozhì Fúluòyīdé in Chinese) and its aftermath have also become a big news topic on Chinese social media this week and is still top trending on Weibo today.
George Floyd Incident
As now widely known, the George Floyd incident took place in Minneapolis, Minnesota, on May 25, when police responded to a shopkeeper's call about someone potentially using a counterfeit bill. Floyd was sitting in his car when officers arrived at the scene and was asked to step out of his vehicle.
Even though Floyd was compliant and unarmed, the bystander video shows how he was held face-down on the ground, the officer pressing his knee into the side of his neck, while Floyd was begging for air, literally stating: "I can't breathe."
While the officer knelt on Floyd's neck for over seven minutes, the 46-year-old could be seen losing consciousness and going limp.
The video of the fatal arrest went viral on social media overnight, leading to people protesting in Minneapolis and elsewhere across the US, demanding justice over the fatal arrest.
The four officers involved in George Floyd's death have since been fired from the Minneapolis Police Department.
Tensions in Minnesota have now reached a boiling point and protests have escalated to riots and lootings, leading to the governor Tim Walz of Minnesota ordering the deployment of the National Guard to restore order in the city. Minneapolis Mayor Jacob Frey declared a state of emergency.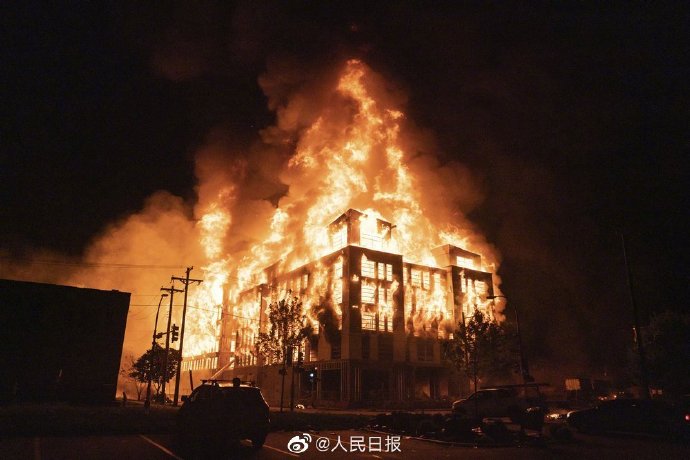 On Friday morning local time, CNN correspondent Omar Jimenez – a reporter of color – was arrested and handcuffed on live television together with his cameraman and producer while reporting on the situation in Minneapolis. Although the CNN crew was released shortly after, this incident also further intensified the debate on discrimination and racism in America.
Weibo Discussions
On Weibo, news of the George Floyd incident and the Minneapolis protests is trending with various related hashtags.
One of the top hashtags at the time of writing regarding the protests is "CNN Crew Arrested by Police" (#CNN报道团队被警方逮捕#) -50 million views-, "Minneapolis Enters State of Emergency" (#美国明尼阿波利斯市进入紧急状态#) with 150 million views and "U.S. Riots" (#美国暴乱#) with 240 million views.
Other related hashtags are:
#美国多地抗议警察跪压黑人致死# "American Protests over Cop Pushing Down and Killing Black Man" (3+ million views)
#美警察压颈致黑人死亡引发抗议# "Protests Erupt over Case of Black Man Dying after American Police Applies Pressure on Neck" (6+ million views)
#明尼苏达骚乱成聚众哄抢# "Minnesota Riots Turn to Looting" (266,000+ views)
#美国示威者暴力冲击3家警局# "American Protesters Violently Attack Three Police Stations" (120 million views)
#美国明尼苏达州骚乱# "U.S. Minnesota Riots" (29+ million views)
The news regarding Floyd and the American protests and riots are attracting thousands of reactions on Chinese social media today. Some threads, such as those regarding the arrest of the CNN reporter, are also being heavily censored.
Many of the Weibo responses to the news of George Floyd and its aftermath are incorporating these developments into a bigger framework of strained US-China relations, pointing out the supposed American hypocrisy for criticizing China regarding freedom and human rights, especially in light of the COVID19-crisis and Hong Kong protests.
"Oh how free America is," one popular comment on Weibo said ("多么自由的米国"), with others saying things such as: "Are these the human rights you are advocating?"
News of CNN reporter Jimenez being arrested by the American state patrol was also shared on Weibo by the Communist Youth League, leading to many reactions criticizing America's "freedom of press."
"So this is so-called equality? Freedom? Democracy?"
Another user writes: "So this is the freedom I'm yearning for? Is this called freedom?"
Some Weibo users are sharing compilations showing American officers using excessive force and violence while beating and shooting down people and animals during their work.
Although criticism of the US is dominating Chinese online discussions of the latest developments in America, social media users also show their support for the protesters.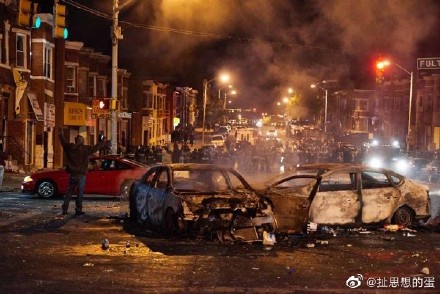 "I fully support the movement of Black Americans fighting for the rule of law, equality, and freedom," one popular comment- receiving over 14,000 likes – said (@平衡的小窝).
Many commenters are writing to express their disgust at the death of George Floyd, calling the police officers "ruthless" and "sadistic."
There are also some commenters with a different stance on the matter. One blogger with over 123,000 followers writes:
"The riots erupting in the US will surely have a negative impact on society. But looking at it from another perspective, it still makes me envious because they have the guts to speak up, the courage to resist. If such a thing would happen in China, would you stand up?"
By Manya Koetse
Follow @WhatsOnWeibo
Spotted a mistake or want to add something? Please let us know in comments below or email us. First-time commenters, please be patient – we will have to manually approve your comment before it appears.
©2020 Whatsonweibo. All rights reserved. Do not reproduce our content without permission – you can contact us at info@whatsonweibo.com.
From "Voice of the People" to "Traitor of China": The Rise and Fall of Fang Fang's Wuhan Diary
How a Weibo journal got caught up in pandemic politics: the Wuhan Diary controversy explained.
Fang Fang's critical online account of the COVID-19 outbreak in Wuhan was widely celebrated before it was strongly condemned. This is a look into one of the biggest controversies in China's online media spheres this spring, and a breakdown of how this acclaimed Chinese novelist went from an ally in times of lockdown, to a traitor during pandemic politics.

This is the "WE…WEI…WHAT?" column by Manya Koetse, original publication in German by Goethe Institut China (forthcoming), see Goethe.de: WE…WEI…WHAT? Manya Koetse erklärt das chinesische Internet.

As China is gradually getting back to business after the COVID-19 crisis, the coronavirus crisis is still dominating social media discussions. But the way the virus comes up in online debates has changed over the past few weeks, as the global health crisis has become increasingly politicized. Rather than a show of global solidarity, the pandemic has spawned a lot of finger-pointing in online media and on social networking sites across the world.
Who is to blame for the spread of the virus? Who is doing more, which leader is doing better, where is the crisis mismanaged? What is fake news, what is truth? Who writes or says what for which reason?
Somewhere within these corona media wars and political games, there's the controversy regarding Wuhan Diary, which recently became a heated topic of debate on Weibo and beyond. 
FANG FANG AND WUHAN DIARY
"Fang was saying the things so many people wanted to say, and was asking the questions so many wanted answers to"
Wuhan Diary (武汉日记[1]) is written by the 65-year-old acclaimed Chinese author Wang Fang, better known as Fang Fang (方方).[2] It is an online account of the 2020 Hubei lockdown, originally published on WeChat and Weibo.
Throughout the lockdown period in January, February, and March, Fang Fang wrote about life in quarantine in province capital Wuhan, the heart of the epicenter, documenting everything from the weather to the latest news and the personal stories and tragedies behind the emerging crisis.
Fang's 60-post diary was published on her Weibo account (@方方), which had some 3,8 million followers at the time, from late January shortly after the lockdown began, until late March when the end of the lockdown was announced.
Shortly after starting her online account, Fang's daily journal gained wide traction. Amid the panic and uncertainty of the early days of the lockdown, social media flooded with rumors, fake news, and misinformation. Chinese web users were looking for alternative reliable sources to find out what was really happening in Wuhan.
Fang's online journal provided people with information regarding the new coronavirus, but it also captured the emotions and struggles of the people in Wuhan. She soon became a go-to first-hand account of what was going on in the city; she was the voice of a quarantined city in distress. At a time when people were craving unfiltered information and distrusting official media, her words became an anchor for many in a sea of confusing news flows.
The fact that Fang is a respected author contributed to the popularity of her online writings. With her compassionate representations of everyday life in Wuhan, she has since long been an important author for the regional literature. Her writings have drawn attention ever since the 1980s, when she won an award for the best National Novella (Landscape 风景, 1987). She has remained a relevant author throughout the years, even receiving the prestigious Lu Xun Literary Prize in 2010.
In documenting life in Wuhan during the ongoing COVID-19 outbreak, Fang touched upon many sensitive issues. Besides writing about problems such as overcrowded hospitals and mask shortages, she also directly questioned how authorities were handling the crisis and warned other writers for propaganda manipulation.
With the death of 'whistleblower' doctor Li Wenliang on the night of February 6, Chinese social media saw an outpouring of anger at Chinese authorities and state media. The public's anger showed itself at other moments too, both online and offline.
While many of Fang's publications on social media were censored and her Weibo account was temporarily blocked, the online Wuhan Diary only gained more attention, with the daily entries (or screenshots) spreading across WeChat like wildfire. "Dear internet censors, you should let Wuhan people speak,"[3] Fang wrote in February.
By demanding more transparency and accountability from Chinese (local) leadership, Fang was saying the things so many people wanted to say and was asking the questions so many wanted answers to.
CHANGING US-VERSUS-THEM DYNAMICS
"Whose side is she on, anyway?"
It did not take long for Fang's online journal to gain international attention. In mid-February, news articles covering the 'forbidden diary' from Wuhan also appeared in foreign media.
Although Fang's online writings received some backlash before – her critics mainly disliked how much of her diary entries were not fact-based but "merely hearsay" -, it wasn't until April when public opinion really shifted against Wuhan Diary after it became known that an international edition of her diary was on presale through Amazon.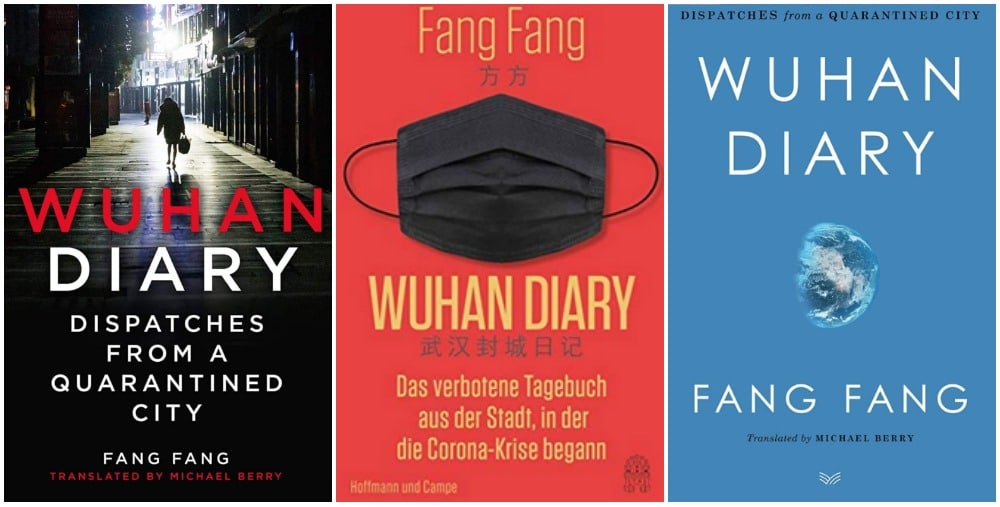 First, there was the announcement of the English version with the title "Wuhan Diary: Dispatches from the Original Epicenter" (later changed to "Wuhan Diary: Dispatches from a Quarantined City", translation by Michael Berry) published by Harper Collins; then, a German edition translated by Michael Kahn-Ackermann and issued by Hoffman Camp Press.
The criticism that Fang Fang has since been facing on Chinese social media is unprecedented. Rather than a Wuhan ally, many of her online readers now think of her as a "traitor" to China[4], saying she is airing China's dirty laundry to make a profit, and that she only writes about negativity and darkness to play to the tune of those countries slamming China. The author has seen an online stream of death threats and violent comments.
Fang Fang arguably would not have received as much backlash if China had not come to face such international scrutiny in light of the global spread of COVID-19. At the time of the early coronavirus outbreak and Fang's first diary entry, the corona crisis was still a national one, and to some extent even a regional one. Many saw Fang, a Wuhan native and acclaimed author, as a spokesperson for the people in times of fear, uncertainty, and collective suffering.
But as China increasingly came under international pressure over how it handled the epidemic in its early phases, anti-foreign and nationalistic sentiments grew by the day. With China being blamed for causing the pandemic – American President Trump even suggesting it did so deliberately – waves of angry nationalism flooded Chinese social media, and Wuhan Diary was caught in the changing us-versus-them dynamics of China's COVID-19 crisis.
In the eyes of many Chinese web users, a translated version of Fang's critical account of the Wuhan outbreak would only provide opponents of China with more ammunition. The upcoming translation's description on Amazon by itself was a source of outrage for many, allegedly putting too much emphasis on China's mishandling of the early outbreak. The fact that the original title of the book emphasized that COVID-19 started in Wuhan[5] was also something many netizens found offensive.  'Whose side is she on anyway?', they wondered.
"Western countries are attacking the motherland, and Fang Fang is knowingly giving them the bullets in advance," one Weibo commenter from Beijing wrote.
AN ONGOING ISSUE
"Your Wuhan Diary will only worsen Western misconceptions about China!"
The Wuhan Diary controversy seems to be an ongoing one. By early May, it was reported that at least two Chinese academics were reprimanded for speaking out in support of Fang Fang. Online discussions continue. By now, the Weibo hashtag "Fang Fang Diary" (#方方日记#) has received over 670 million views, with other scattered hashtags also drawing in thousands of responses.
On Fang Fang's Weibo page, now followed by more than 4,6 million web users, the author has responded to the recent controversy and allegations in multiple lengthy posts, claiming that most of her attackers, who blame her for only writing negative things, did not even read her diary. She argues that her written account is one of a trapped Wuhan resident in the middle of a catastrophe and that it should not be taken out of its this context.
Fang Fang is not the first Chinese writer to face online backlash for how 'China' is represented to the outside world. Besides the fact that Chinese literature is virtually inseparable from politics, there is an enormous number of Chinese web users ready to be outraged about China being misconstrued, ridiculed, humiliated, or otherwise suffering foreign insult.
This kind of angry nationalism often surfaces on the Chinese internet, and it has done so since the early days of social media in China. According to Ying Jiang, the author of Cyber-Nationalism in China, the roots of this "angry nationalism" expressed by today's Chinese netizens can be traced back to China's modern history, and more specifically to the "Century of Humiliation" (mid-1800s until after WWII) during which China faced many hardships brought about by foreign powers.
This history has been an important component of Chinese education campaigns for decades, and along with the economic prospering of China, the country has seen the rise of a more patriotic populace that is nationalistic in a way that is also increasingly anti-foreign.
Especially during noteworthy times such as the coronavirus outbreak – an opportunity for China to establish more international leadership -, negative media representations of the country, its government, and how it handled the COVID-19 crisis are sensitive and prone to controversy. A telling example is that three journalists of The Wall Street Journal were expelled from China in February over the paper's refusal to apologize for a published opinion article titled "China Is the Real Sick Man of Asia."
The online anger over Fang's translated work will not die out any time soon. On Weibo, discussions continue. "Fang Fang, your Wuhan Diary, that's merely hearsay and overly subjective, will only worsen Western misconceptions about China, and will only make more Western people discriminate against Chinese! You'll go down in history as a disgrace!", one Weibo user writes in early May.
Although many will not agree on how Wuhan Diary will be remembered, all the commotion and criticism has only increased the public's awareness about the book's existence; it will surely go down in the history of the COVID-19 impact in China, and the online media wars that came with it.
The English translation of Wuhan Diary is expected to be released via Amazon on May 19 (link), the English audiobook on May 28 (link) the German translation is expected June 9. On the China Digital Times website, Josh Rudolph has also translated parts of Fang's work.
By Manya Koetse
Follow @whatsonweibo
For more COVID-19 related articles, please click here.
[1] Also known in Chinese as: 武汉封城日记.
[2] Fang Fang is the pen name of Wang Fang.
[3] Zhao, Kiki. 2020. "Opinion: The Coronavirus Story is Too Big for China to Spin." The New York Times, Feb 14 https://www.nytimes.com/2020/02/14/opinion/china-coronavirus-social-media.html [5.2.2020].
[4] Mainly using Chinese terms汉奸 and 卖国贼, both meaning "traitor" or more specifically "traitor to China."
[5] Also see the original German title of the translation: "Wuhan Diary – Das Verbotenen Tagebuch aus der Stadt, in der die Corona-Krise began" [The Forbidden Diary from the City where the Coronacrisis Began].
Sources and further reading
Adlakha, Hemant. 2020."Fang Fang: The 'Conscience of Wuhan' Amid Coronavirus Quarantine." The Diplomat , March 23 https://thediplomat.com/2020/03/fang-fang-the-conscience-of-wuhan-amid-coronavirus-quarantine/[5.3.2010].
Fumian, Marco. 2020. "To Serve the People or the Party: Fang Fang's Wuhan Diary and Chinese Writers at the Time of Coronavirus." MCLC Resource Center Publication (April 2020) https://u.osu.edu/mclc/online-series/marco-fumian/?fbclid=IwAR32HvM6WO0JHIhFFIY85bd-qyOzGEfXrZpp6S0SxbiTQrGCjwe_n-jL63Y [5.1.2020].
Leung, Laifong. 2016. Contemporary Chinese Fiction Writers: Biography, Bibliography, and Critical Assessment. New York & London: Routledge.
Rudolph, Jodh. 2020. "Translation: Backlash To Wuhan Diary "Reveals A Serious Problem Society Must Correct." China Digital Times, April 21 https://chinadigitaltimes.net/2020/04/translation-backlash-to-wuhan-diary-reveals-a-serious-problem-society-must-correct/ [5.2.2020].
Wu, Yuwen. 2020. "Chinese propagandists don't want you to read this diary on the coronavirus lockdown in Wuhan." The Independent, March 2 https://www.independent.co.uk/voices/coronavirus-wuhan-lockdown-fangfang-diary-china-dr-li-a9368961.html [3.2.2020].
Ying Jiang. 2012. Cyber-Nationalism in China: Challenging Western Media Portrayals of Internet Censorship in China. Adelaide: University of Adelaide Press.
Zhao, Kiki. 2020. "Opinion: The Coronavirus Story is Too Big for China to Spin." The New York Times, Feb 14 https://www.nytimes.com/2020/02/14/opinion/china-coronavirus-social-media.html [5.2.2020].
Spotted a mistake or want to add something? Please let us know in comments below or email us. First-time commenters, please be patient – we will have to manually approve your comment before it appears.
This text was written for Goethe-Institut China under a CC-BY-NC-ND-4.0-DE license (Creative Commons) as part of a monthly column in collaboration with What's On Weibo.