The Curious Case of the Henan Bank Depositors and the Changing Health QR Codes
"It must be American hackers who did this, right?", some Weibo commenters wrote in light of the miraculously changing Health Codes.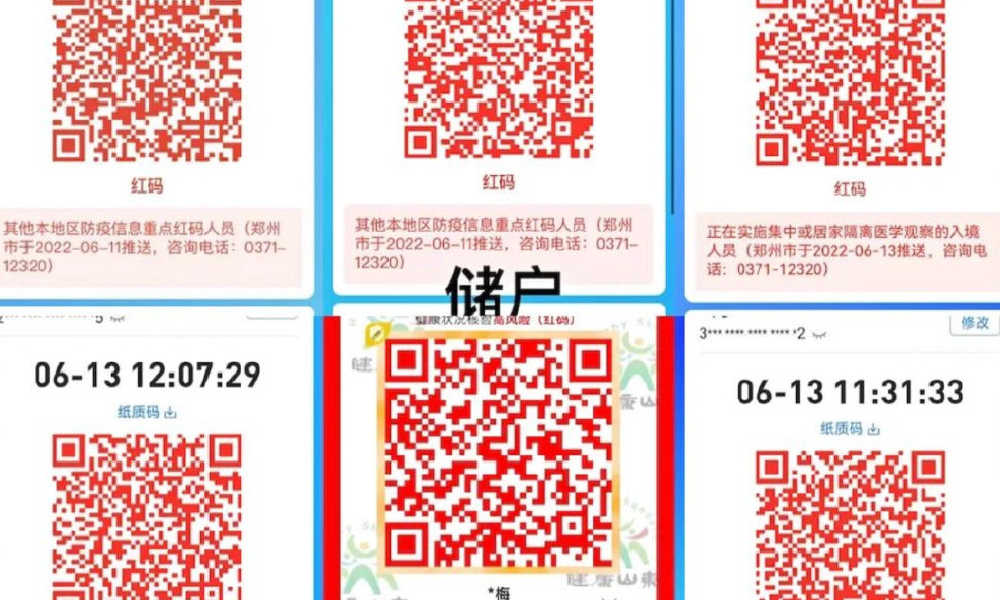 Where can people turn to once their money seems to have gone up in flames? How could Health Codes randomly turn from green to red? And who will stand up for justice? These are the questions asked by Chinese netizens in the Henan bank depositors case that is making headlines this week.
This week, the story of a Henan banking scandal and depositors' Health Codes suddenly turning red triggered online discussions in China and even made international headlines.
In between online deposit products, financial platforms, regional banks, and Health Code systems, the story is a bit messy. Here, we'll explain the story and its latest developments.
DUPED DEPOSITORS
The story starts in April of this year when people discovered that they were unable to withdraw money they had invested in online deposit products offered by various smaller regional banks.
Some people had deposited money via the Baidu money app (Du Xiaoman Financial 度小满), others had used another third-party platform, intermediaries, or one of the mini-programs run by the banks themselves.
By early May, it had become clear that dozens of depositors who once thought they had invested their money wisely had actually been duped. Four of the banks involved are located in Henan province, namely: the Yuzhou Xinminsheng Village Bank (禹州新民生村镇银行), Shangcai Huimin County Bank (上蔡惠民村镇银行), Zhecheng Huanghuai Community Bank (柘城黄淮村镇银行), and the Kaifeng New Oriental Country Bank (开封新东方村镇银行).
But there are also other smaller banks involved, including Guzhen Xinhuaihe Rural Bank (固镇新淮河村镇银行) and Yixian Xinhuaihe Rural Bank (黟县新淮河村镇银行) in Anhui.
As reported by South China Morning Post by late May, multiple customers had confirmed that they had not been able to withdraw funds either online or in person.
The sudden apparent closure of their withdrawal channels set off a wave of panic among depositors, who then protested in the provincial capital of Zhengzhou on May 23rd, demanding the return of their money.
Yang Huajun (杨华军), deputy director of the Henan branch of China's Banking and Insurance Regulatory Commission (CBIRC), arrived at the scene of the protests and – speaking through a megaphone – promised the demonstrators that as long as their funds were "legally" deposited, they would be protected by law.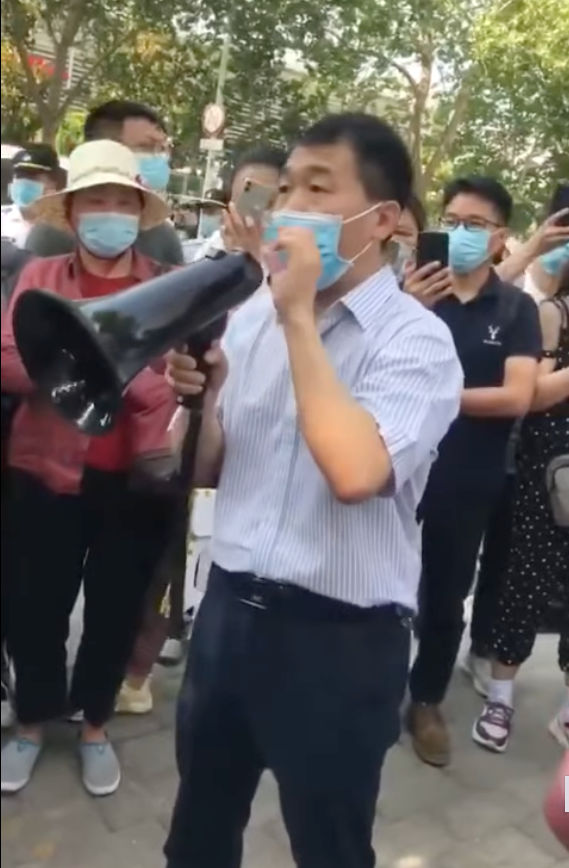 Many depositers, however, were unsure of whether or not their deposits were actually made in a "legal" way and what the definition of "legal" entailed in this case.
Over the past years, Chinese smaller rural banks have partnered with online platforms, often offering relatively high returns, in order to boost their deposit-reliant funding base.
In December of 2020, platforms Alipay, Du Xiaoman Financial, JD.com and Tencent Wealth Management all suspended the sale of online deposit products via their financial apps in light of heightened scrutiny from regulators concerning funds raised by unstable smaller lenders.
The smaller banks that are now at the center of the recent financial scandal then (illegally) reached out to their existing customers directly after December 2020 and convinced them to download the banks' apps in order to deposit even more money.
One of the persons duped is Mr. Sun from Shenzhen. As reported by Sina Finance, it was in 2020 when Sun came across a seemingly attractive online saving product via the Du Xiaoman Financial app. Although Sun was not familiar with the banks in question, namely the Yuzhou Xinminsheng Village Bank and Shangcai Huimin County Bank, he could not resist the deposit interest rate of 4.6%, which was much better than what the big banks were offering at the time.
In early 2021, Mr. Sun received a text message from Yuzhou Xinminsheng Village Bank saying that although the financial products had been taken offline, users would still be able to deposit through the bank's own online application. Mr. Sun ended up depositing his entire savings into the Henan-based rural bank, thousands of miles away from his own home.
And then, earlier this year, Sun came across the news that Henan New Wealth Group, the primary shareholder of all banks involved, was under investigation for fraudulous practices. When he opened up his online financial application, there was nothing to see but a notice that the system was under maintenance. Sun could no longer access his funds. Hundreds of other customers were seeing the same empty screens.
According to media reports, the current suspected scam case affects some 400,000 customers of seven local banks and involves a money sum of 40 billion yuan ($5,6 billion).
IN THE RED
As thousands of depositors have been fighting to recover their savings over the past two months, they were duped a second time earlier this week. Dozens of affected depositors claimed they had seen their Health Codes turn red without any logical reason on June 13 or June 14 – the day of a planned protest.
In China's Covid era, the Health Code system has become a pivotal tool in the country's battle to contain the spread of the virus. The Health Code system is embedded in various apps, most importantly in Wechat and Alipay, and uses various data to assess an individual's exposure risk. There is not one unified national Health Code application; they are developed by different actors and their management is different across Chinese provinces and cities.
If there is no detected risk, an individual is assigned a Green QR Code and is allowed access into any venue or location where a QR code scan is mandatory. With a Yellow Code, you should stay home for a week, and Red Code means you are high risk and need to quarantine for 14 days – this severely limits your freedom to move around and travel.
On June 13th, many affected investors saw their Health Code turn red when arriving in Zhengzhou, where they were allegedly coming to retrieve their savings and protest the injustice they suffered. The QR code color change was unexpected and strange, considering that there were no new reported Covid cases in their vicinity and also considering the fact that accompanying family members who made the exact same journey did not see their Health Codes change.
This raised suspicions that the duped depositors were specifically targeted, and that their Health Codes were being manipulated by authorities.
CNN reported that many distributors who had come to Zhengzhou were taken to a guarded quarantine hotel before being sent back to their hometowns via train the next day. According to a Chinese media report by Nanfang Daily, the depositors were not even asked to do nucleic acid testing and were told by local staff that they would get their Green Code back as soon as they left Henan.
Various media report that minimally 200 depositors saw their Health Code change from Green to Red earlier this week.
"OPERATION CODE RED"
The curious case of the Henan depositors scandal and the changing Health Code colors has become a trending topic on Chinese social media this week.
The topic of the duped depositors was also discussed online before this week, and it brought back memories of earlier financial scandals, such as the P2P chaos that occurred back in 2018.
But the topic of depositors' Health Codes changing to Red is something that attracted much wider discussions on the apparent abuse of a system that has now become a part of everyday life for people in China's Covid era.
The main proof for people that the Henan depositors were targeted in this apparent "Operation Code Red" is that, as mentioned before, the family members that were traveling together with the duped depositors never saw a change in their Health Code: those people who were listed on the affected regional banks' depositors list were seemingly singled out and purposely targeted.
"Who is in charge of changing the Health Code colors?" became a much-asked question on Weibo, with many blaming local Henan authorities for abusing their powers to try and stop protesters from raising their voices in Zhengzhou. One Weibo post on this issue received over 1,6 million views. Meanwhile, Henan authorities still said they did "not understand" what had happened.
"It must be American hackers who did this, right?", some Weibo commenters wrote, putting in a sarcastically smiling emoji, with others adding: "No, the aliens did this – it must have been the aliens!"
Others wrote that the situation at hand should be simple to figure out: "There is no way that this is an oversight or a data error. If you want to know who did this, look at who or which department has the authority to manage both epidemic prevention measures as well as finance affairs."
Many comments also showed a sense of disillusionment with how China's Covid management affects the people: "After seeing the chaos during the Shanghai lockdown, this does not even surprise me anymore," one person wrote on Weibo: "All we can do is pray that it won't happen to us."
"Why is Henan's "messy Red Code" incident so extremely vile and scary? Because once a person or institution holding public power looks at you in a bad light, they can give you a Red Code and take you away, in the name of legality. This is the evil that comes from unmonitored power," one blogger from Anhui wrote.
Other people also worried about foreign media reporting on this issue, saying this incident is being used to cast China in a bad light while local authorities are to blame: "We should unify the Health Code system into a national system in order to avoid this from happening again."
According to Chinese state media reports, the case has now been forwarded to the Health Commission of Henan Province for further investigation.
We will keep tracking upcoming developments. Meanwhile, check out our other reports on trending topics relating to China's banking and finance here. For more about Covid-related trending topics, check here.
By Manya Koetse
With contributions by Miranda Barnes
Get the story behind the hashtag. Subscribe to What's on Weibo here to receive our weekly newsletter and get access to our latest articles:
References (all other sources included in hyperlinks)
Lee, Amanda. 2022. "Rural Banks Freeze Customers' Accounts." South China Morning Post, May 31.
Spotted a mistake or want to add something? Please let us know in comments below or email us. First-time commenters, please be patient – we will have to manually approve your comment before it appears.
©2022 Whatsonweibo. All rights reserved. Do not reproduce our content without permission – you can contact us at info@whatsonweibo.com.
Residents in Locked Down Lhasa Say Local Epidemic Situation is a "Giant Mess"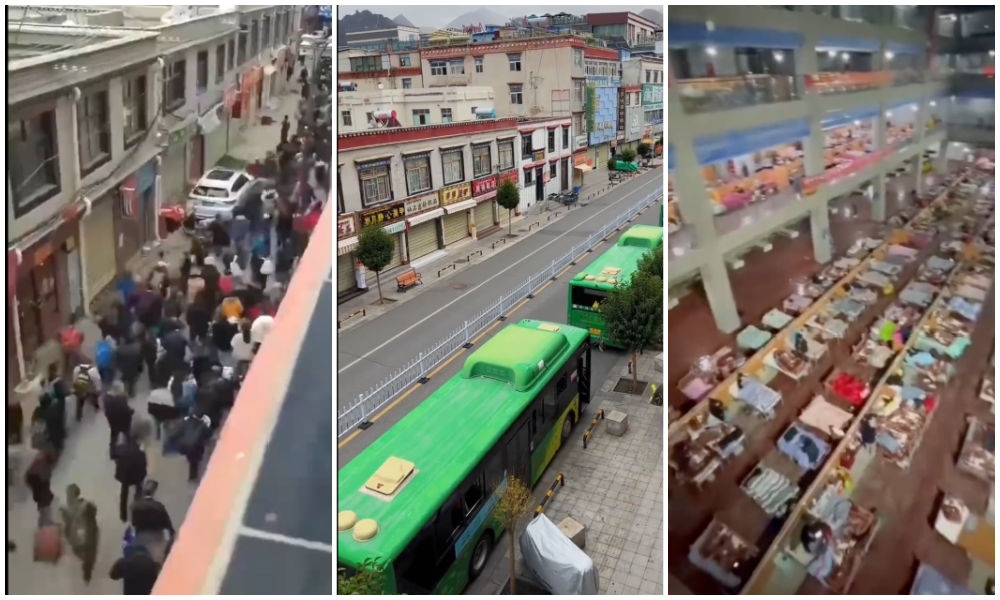 They've been in lockdown for 42 days already, but according to some Lhasa-based bloggers, there have been no improvements in the local epidemic situation. They say there is a stark difference between what officials are reporting and the daily reality they are dealing with in Tibet.
"The epidemic situation is bad in Lhasa, please pay attention," one netizen wrote on Weibo on September 15, pointing to many new posts surfacing on Chinese social media about the difficulties people are facing in Lhasa city in Tibet.
Over the past week, many Tibet-based bloggers have posted on social media about the local circumstances, and hundreds of Chinese social media posts talk about similar problems in the region. Despite the ongoing lockdown, they say, there are still a growing number of positive cases within Lhasa communities; buses are allegedly going back and forth to bring people to quarantine sites where those testing positive and negative are mixed; they claim that there is an absolute lack of management and control; and many locals suggest that the official reports do not reflect the actual number of Covid cases at all.
According to the official numbers, Tibet saw its peak in Covid cases on August 17 and has since reported fewer new cases, reporting a total of 118 new cases on Thursday.
"I am a bit shocked!" one local social media user wrote: "What I saw was a total of 28 buses lined up outside Lhasa Nagqu No. 2 Senior High School, and then still more [buses] were coming. One bus can fit around 50 people, so there must have been around 1400 positive cases. There was a blind man, there were elderly people in wheelchairs, there were swaddled-up babies, from getting on the bus at 9.30 pm up to now, we've been waiting for 5 hours and we're still waiting now. It's just pure chaos at the school entrance, there is no order. I won't sleep tonight."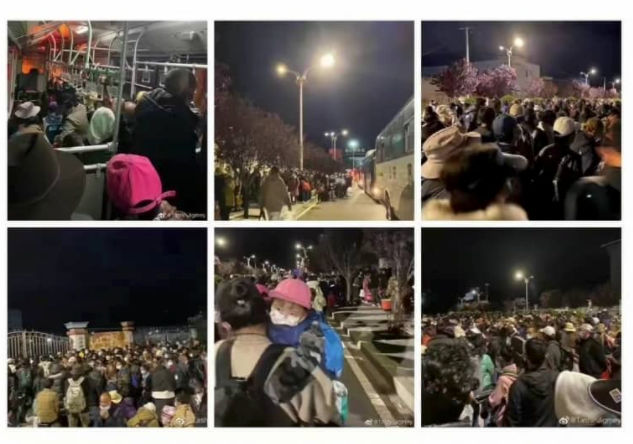 On the 14th of September, another netizen wrote:
"In order to welcome central government leaders to Lhasa and to demonstrate the "excellent" epidemic prevention capabilities of the local government & the "outstanding" results of the fight against the epidemic to them, they moved citizens to the rural areas and let them all stay crowded together in unfinished concrete buildings, with all kinds of viruses having free reign."
On a Lhasa community message board, one Weibo user wrote: "Lhasa has already been in lockdown for over a month, yet our little community has so many infected people that I'm wondering how effective a lockdown actually is? Has Tibet been forgotten? When other places in China have a few positive cases it becomes a hot topic. But what about Tibet? And what about Lhasa?"
Another anonymous poster writes: "Regarding the Lhasa epidemic situation, the numbers were already a bit fake before, but I can understand it was also to take the public sentiment into consideration. I personally don't care how you report the data, as long as the epidemic prevention and control work is properly managed, then the lockdown can be lifted soon and nobody will say anything about it. But a month has passed already, and in a town with some hundred thousands of people, the epidemic work is increasingly getting worse. Many people around me have never even left the house and inexplicably turned out to test positive. Meanwhile those who tested positive are quarantined together with people who still tested negative, it's a giant mess."
"Lhasa hasn't had a Covid outbreak for the past three years, the city doesn't have enough experience in controlling the epidemic."
"It's the 42nd day of lockdown," another person wrote on Friday: "People are lining up to go to centralized isolation, Lhasa has been in lockdown longer than Chengdu, but it doesn't make it to the hot topic lists. People who tested negative again and again suddenly turn out to be positive. Lhasa hasn't had a Covid outbreak for the past three years, the city doesn't have enough experience in controlling the epidemic. It's going to be hard to restore tourism here before the end of the year. Before, big crowds would come to visit.
Over the past few days, following a heightened focus on the situation in Xinjiang, there has also been more attention for the epidemic situation in Tibet.
"Please pay more attention to the topic of the Lhasa epidemic," one person wrote, repeating a similar message sent out by many others: "Lhasa doesn't need your prayers, we need exposure."
On Friday, one popular gamer with more than a million followers wrote on Weibo:
"Many have been reaching out to me via private messages, saying that the epidemic situation in Tibet's Lhasa is very serious. If it's really like this, I hope matters can be settled as soon as possible. I don't know if this post can stay up or not, but I want to try my best to speak up and generate more attention to this epidemic trend. I experienced two months of lockdown in Shanghai myself and understand what it feels like. I have faith in our nation, and I believe the country will definitely take action. Everyone in Tibet, jiayou [come on]."
Many of the comments and posts coming from Lhasa are similar to those we saw last week, coming from Yining in Xinjiang. Social media users based in these places complain that many of their posts have been deleted and that it is very difficult for local residents to make their voices heard.
This is different from the previous lockdown situations in, for example, Xi'an, Shanghai, or Chengdu, where people posted videos, photos, and shared their lockdown experiences, either from home, from the Covid testing lines, or from the makeshift hospitals.
A Weibo hashtag on Tibet's covid outbreak (#西藏疫情防控#) has repeatedly surged up Weibo's trending searches only to be batted down again. It purports to show now-familiar but still grim scenes: haphazardly arranged quarantine centers, barely edible food, no potable water

— Alexander Boyd (@alexludoboyd) September 15, 2022
On the one hand, the reason why people in places such as Lhasa or Yining have more difficulties in making their stories heard in China's hectic social media environment relates to the fact that these places have a relatively small population size – while Yining and Lhasa have approximately 542,00 and 465,000 inhabitants respectively, there are 21 million people in Chengdu and some 26 million in Shanghai.
But a bigger barrier to posting about their circumstances is formed by the social media censorship that is extra strict when it comes to Xinjiang and Tibet as these places are considered sensitive political subjects, which is why topics related to these regions see far more aggressive online censorship – even for seemingly innocuous posts.
One Weibo user with over 600,000 followers wrote: "In such a sensitive place as Tibet, I really needn't worry about whether they're gonna see my post or not. I posted to vent my anger and scolded the leadership for a bit and within 24 hours the police came to my hotel and asked me to delete my posts. Now that everyone is asking for help like this, they will definitely see it, but they are determined to do this and do so on purpose, it's clear they don't care about people's lives."
Meanwhile, Chinese official media reporting on the epidemic situation in Tibet stress the collective effort to fight the virus in Lhasa. On September 15, People's Daily reported how 18 sister provinces and cities across China sent their best teams to Tibet to help with local anti-epidemic work and to bring supplies.
The Tibet-based military blogger ZhufengZhengrong (@珠峰峥嵘) writes: "It's been over a month and my comrade-in-arms are still fighting on the front line (..). I just hope the epidemic will end soon, and that I will be able to meet my family and hold my children and weep."
By Manya Koetse 
Get the story behind the hashtag. Subscribe to What's on Weibo here to receive our weekly newsletter and get access to our latest articles:
Spotted a mistake or want to add something? Please let us know in comments below or email us. First-time commenters, please be patient – we will have to manually approve your comment before it appears.
©2022 Whatsonweibo. All rights reserved. Do not reproduce our content without permission – you can contact us at info@whatsonweibo.com.
Happiest Lockdown in China: Guests Undergo Mandatory Quarantine at Shanghai Disneyland Hotel
"I wish I could be quarantined at Disney too!" The Shanghai Disney hotel apparently is the happiest place to get locked in.
While many cities across China are experiencing new (partial) lockdowns and millions of people are confined to their homes, there was also a group of people that had to undergo mandatory quarantine at a very special place: the Shanghai Disneyland Hotel.
On September 7, social media posts started surfacing online from people who said they were required to quarantine while they were at the Shanghai Disneyland hotel. Disneyland reportedly had received a notification from the local health authorities that a visitor who previously stayed at the Disneyland hotel was found to be a close contact of a newly confirmed Covid case.
In line with the Center for Disease Control requirements, Disney created a 'closed loop system' by locking in all hotel residents and staff members and doing daily Covid tests. While the Disneyland theme park was open as usual, the hotel became a temporary isolation site where people's health would be monitored for the next few days while all staff members would also be screened.
During their mandatory quarantine, guests stayed at the hotel for free and did not need to pay for their rooms. Room prices at the Shanghai Disneyland hotel start at around 3000 yuan/night ($433).
Some guests shared photos of their Disneyland quarantine stay on social media, showing how Disney staff provided them with free breakfast, lunch, a surprise afternoon tea, delicious dinner, fun snacks, and Disney toys and stickers.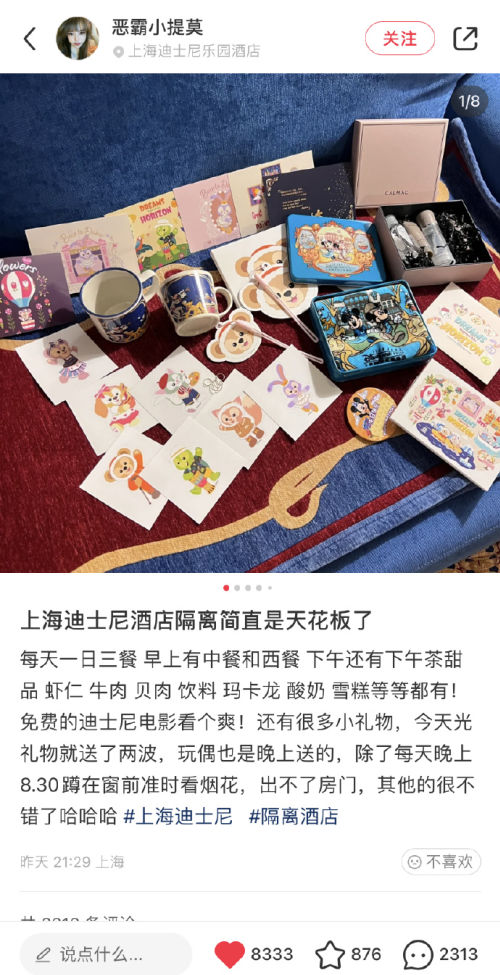 On the Little Red Book (Xiaohongshu) app, one Shanghai Disney visitor (nickname @恶霸小提莫) wrote: "We have three meals a day, there is both Chinese and Western-style breakfast, we also get afternoon tea and desserts, they have shrimp, beef, scallops, drinks, French macarons, yogurt, ice cream, and much more. We watched so many Disney movies for free. We are given so many little gifts, they brought us gifts twice today as they also brought us toy figures at night. We watch the fireworks from our windows every night at 8.30 pm. Although we weren't allowed to go out, we really had a pleasant stay."
Another Disney guest named Zoea (Xiaohongshu ID: yiya0313) also shared many photos of the mandatory quarantine and wrote: "When the staff knocked on the door to tell me they were bringing dinner, I even wondered how it was possible that they brought food again. Afternoon tea during quarantine, can you believe it? And fruit before dinner? And midnight snacks brought to us after dinner? And it was so nice to watch all the Disney movies on tv. Disney really is the most magical place."
"I'm just so happy," another locked-in Disney guest posted on social media, sharing pictures of Mickey Mouse cakes.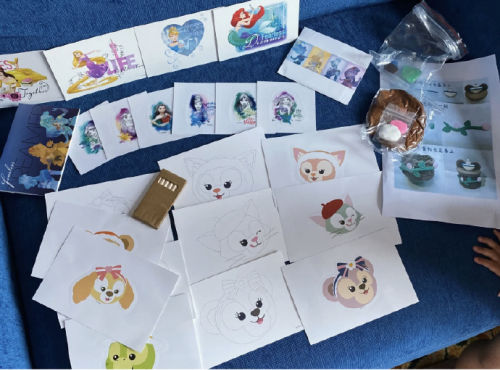 Other guests also posted about their experiences on social media. "They probably feared we would get bored so they brought us glue, stickers, and painting brushes, the kids loved it and so did we!"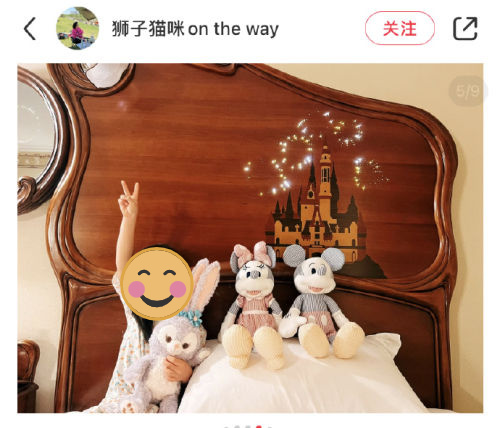 Reading about the happy quarantine at Disney, many Weibo users responded that they envied the guests, writing: "I wish I could be quarantined at Disney too."
"I need to find a way to get in, too," others wrote.
Earlier this year, one Chinese woman shared her story of being quarantined inside a hotpot restaurant for three days. Although many people also envied the woman, who could eat all she wanted during her stay, she later said she felt like she had enough hotpot for the rest of her life.
By Manya Koetse 
Get the story behind the hashtag. Subscribe to What's on Weibo here to receive our weekly newsletter and get access to our latest articles:
Spotted a mistake or want to add something? Please let us know in comments below or email us. First-time commenters, please be patient – we will have to manually approve your comment before it appears.
©2022 Whatsonweibo. All rights reserved. Do not reproduce our content without permission – you can contact us at info@whatsonweibo.com.