The Lawyers Are Here: Chinese State Media Popularize 'Rule of Law'
The Chinese TV show 'The Lawyers are Here' is "helping the people through the rule of law."
First published
The Lawyers are Here (律师来了) is a weekly television program by state broadcaster CCTV that focuses on the legal struggles of ordinary Chinese citizens. The program educates through entertainment, and in doing so, propagates core socialist values such as equality, justice, and rule of law.
You just bought a new house when you discover its locks have been changed and you're denied access. Together with five colleagues, you've been working in a factory when your boss suddenly lays you off without explanation. You won a lawsuit but still have not received the settled compensation. What to do? What kind of rights do you have as a Chinese citizen?
These kinds of legal cases are at the center of a weekly Chinese TV show called The Lawyers Are Here (律师来了), which was first aired on CCTV's Legal Channel in 2017 as a follow-up to the 2016 I am a Barrister (我是大律师).
The Lawyers Are Here introduces a different legal issue every week. The problems range from the aforementioned examples to people wanting custody over their child or a former patient fighting a negligent hospital for financial compensation.
Besides the TV host (Cao Xuanyi 曹煊一) and the people involved in the case, every 45-minute episode features various topic experts and four lawyers who offer their views and advice on the matter.
Each show begins with a short video explaining the story behind the case, after which the participants analyze the different legal aspects. One person provides further clarification at certain moments throughout the show by reading from Chinese legal texts.
Once everybody has a clear picture of the current situation, the show enters its most thrilling stage. Background music heightens the tension as the lawyers have to answer the most crucial question of the night: are they willing to take this case? It is then up to the party involved in the case to choose the lawyer they trust the most to win their case.
The Lawyers Are Here describes itself as "China's first legal media public service platform." It does not only offer help to the common people on the show who are caught up in legal issues, but it also informs viewers on how to handle certain problems, and educates people on China's legal system.
One 2018 episode featured a female nurse from Beijing who was seeking help in getting divorced from her abusive husband. The woman only wanted a divorce if she could get full custody over her 15-month-old son. The lawyers on the show explained that if the woman could prove she suffered from abuse at the hands of her husband, she had a stronger case in getting full custody.
The woman, visibly upset, tells that she has never reported the abuse to the police, but that she did go to the hospital and took photos of her injuries. Although the lawyers on the show predicted that the pictures and hospital records would be sufficient evidence for the court, they also strongly advised all viewers to always report these incidents to the police.
Legal advice on the show goes beyond family-related issues. In another episode, a victim of a fraudulent car dealer was reprimanded by the lawyers for signing a contract before thoroughly reading it. "Never sign a contract before reading it completely", the show warned, also telling viewers never to be pressured into signing a contract.
The Lawyers Are Here also often shows how the people featured on the show receive help from their lawyer after filming, and how a dispute is finally settled in court.
Popularizing Rule of Law
Every episode of The Lawyers Are Here starts with the slogan "The law is the rule, help is the intention" or "Helping the people through the rule of law" ("法为绳墨, 助为初心").
By clearly reinforcing the message of 'live by the law and justice will prevail,' The Lawyers Are Here serves as a media tool to propagate the idea of 'Governing China with Rule of Law,' which is emphasized by the Party leadership.
"Rule of law" is one of the 14 principles of 'Xi Jinping Thought' and one of the 12 Core Socialist Values. This idea is clearly promoted throughout the show, along with other socialist values such as equality, justice, and integrity.
An important aspect of promoting the idea of a nation that is ruled by law is educating people on Chinese law, and, perhaps more importantly, creating more trust in legal institutions among the people.
Besides news media and other forms of propaganda, TV shows such as The Lawyers Are Here are effective tools for doing so. Not only does it present legal cases in a popular and modern way, even adding a game factor to it, it also personalizes it by letting the people tell their emotional stories – sometimes even moving the TV host to tears – and showing that the law can resolve complex family or business problems in an efficient matter.
On social media, people compliment the CCTV show for "bringing justice to ordinary people" and "standing up for the weak."
"I hope we can have more programs such as these," one Weibo commenter writes.
The Lawyers are Here is broadcasted every Saturday on 18:00 at CCTV12.
Spotted a mistake or want to add something? Please let us know in comments below or email us.
©2019 Whatsonweibo. All rights reserved. Do not reproduce our content without permission – you can contact us at info@whatsonweibo.com
Weibo Shuts Down Rumors of Tong Liya's Alleged Marriage to CMG President Shen Haixiong
The censorship surrounding the Tong Liya story almost drew more attention than the actual rumors themselves.
The famous actress and dancer Tong Liya (佟丽娅, 1983) has had an eventful year. After hosting the CCTV Spring Festival Gala in 2020, she performed at the CCTV Spring Festival Gala in February of 2021 and in May she announced that after seven years of marriage, she finalized her divorce with actor and director Chen Sicheng (陈思诚).
Tong Liya is of Xibe ethnicity and was born in Xinjiang. The former beauty pageant and award-winning actress is known for her roles in many films and TV series, such as those in The Queens and Beijing Love Story. She also starred in the 2021 Chinese historical film 1921, which focuses on the founding of the Communist Party of China.
This month, online rumors about Tong flooded the internet, alleging that she was recently remarried to Shen Haixiong (慎海雄, 1967), the deputy minister of the Party's Central Propaganda Department and the President of the CMG (China Media Group), which includes CCTV, China National Radio, and China Radio International.
Some of the rumors included those claiming the actress was previously Shen's mistress, or netizens connecting Tong Liya's relations with such an influential and powerful person to her role at the previous CCTV Spring Gala Festival.
But these rumors did not stay online for long, and the quick censorship itself became somewhat of a spectacle. As reported by China Digital Times, the topic 'Tong Liya's Remarriage' ('佟丽娅再婚') was completely taken offline.
Following the rumors and censorship, it first was announced that Tong reported the online rumors about her to the police, with the hashtag "Tong Liya Reports the Case to Authorities" (#佟丽娅报案#) receiving over 310 million clicks. On December 23rd, the hashtag "Beijing Police is Handling Tong Liya's Report" (#北京警方受理佟丽娅报案#) went viral online, attracting over 1.7 billion (!) views on Weibo within three days.
The Beijing Haidian police statement on Weibo is as follows:
"In response to the recent rumors on the Internet, the public security authorities have accepted Tong Liya's report, and the case is now under investigation. The internet is not a place beyond the law, and illegal acts such as starting rumors and provoking trouble will be investigated and punished according to the law."

The statement led to some confused responses among netizens who wanted to know more about what was actually reported and what it is the police are exactly 'investigating.'
On Twitter, Vice reporter Viola Zhou wrote that the censorship "angered many young people," some of whom lost their social media accounts for discussing Tong Liya's second marriage: "It's now prompting a mass pushback against the potential abuse of censorship power."
So Beijing police said the rumor was false, but the full censorship used to stop it has angered many young people, some of whom lost their WeChat/Weibo accounts for talking about it. It's now prompting a mass pushback against the potential abuse of censorship power. pic.twitter.com/EfGnVrRItt

— Viola Zhou (@violazhouyi) December 22, 2021
In an attempt to circumvent censorship, and perhaps also ridicule it, some netizens even resorted to morse code to write about Tong Liya.
One Weibo post about the issue by Legal Daily received over 3000 comments, yet none were displayed at the time of writing.
The case is allegedly still being investigated by Beijing authorities.
By Manya Koetse
With contributions by Miranda Barnes.
Spotted a mistake or want to add something? Please let us know in comments below or email us. First-time commenters, please be patient – we will have to manually approve your comment before it appears.
©2021 Whatsonweibo. All rights reserved. Do not reproduce our content without permission – you can contact us at info@whatsonweibo.com.
China's Livestreaming Queen Viya Goes Viral for Fraud and Fines, Ordered to Pay $210 Million
Viya, the Queen of Taobao, is under fire for tax evasion.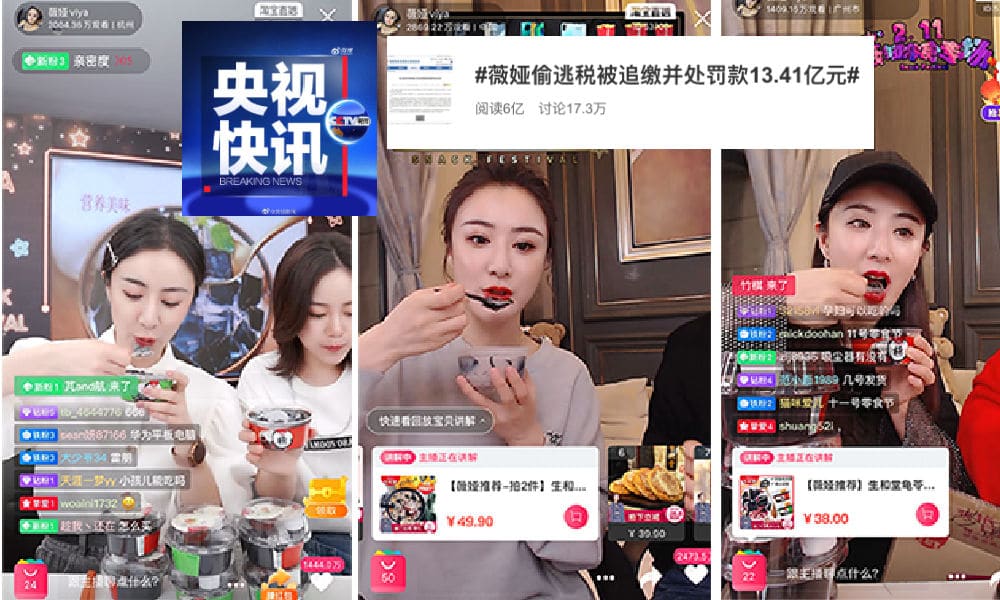 Viya, one of China's most well-known and successful live streamers, is trending today for allegedly committing tax fraud by deliberately providing false information and concealing personal income.
The 'Taobao queen' Viya (薇娅, real name Huang Wei 黄薇) reportedly committed tax fraud from 2019 to 2020, during which she evaded some 643 million yuan ($100 million) in taxes and also failed to pay an additional 60 million yuan ($9.4 million) in taxes.
The Hangzhou Tax Administration Office reportedly ordered Viya to pay an amount of over 1.3 billion yuan ($210 million) in taxes, late payment fees, and other fines. On Monday, a hashtag related to the issue had garnered over 600 million views on Weibo (#薇娅偷逃税被追缴并处罚款13.41亿元#).
Viya made headlines in English-language media earlier this year when she participated in a promotional event for Single's Day on October 20th and managed to sell 20 billion yuan ($3.1 billion) in merchandise in just one live streaming session together with e-commerce superstar Lipstick King.
China has a booming livestreaming e-commerce market, and Viya is one of the top influencers to have joined the thriving online sales industry years ago. When the e-commerce platform Taobao started their Taobao Live initiative (mixing online sales with livestreams), Viya became one of their top sellers as millions of viewers starting joining her channel every single day (she livestreams daily at 7.30 pm).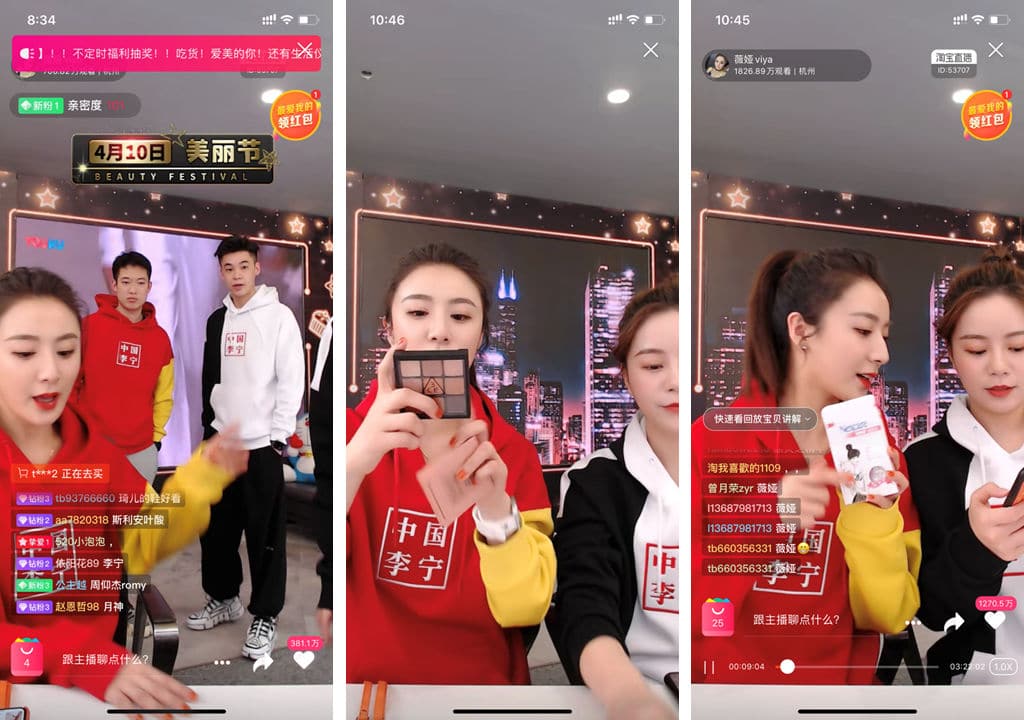 With news about Viya's tax fraud practices and enormous fines going viral on Chinese social media, many are attacking the top influencer, as her tax fraud case seems to be even bigger than that of Chinese actress Fan Bingbing (范冰冰).
Chinese actress Fan Bingbing went "missing" for months back in 2018 when she was at the center of a tax evasion scandal. The actress was ordered to pay taxes and fines worth hundreds of millions of yuan over tax evasion. The famous actress eventually paid approximately $128,5 million in taxes and fines, less than Viya was ordered to pay this month.
Like Fan Bingbing, Viya will also not be held criminally liable if the total amount is paid in time. This was the first time for the e-commerce star to be "administratively punished" for tax evasion.
Around 5pm on Monday, Viya posted a public apology on her Weibo account, saying she takes on full responsibility for the errors she made: "I was wrong, and I will bear all the consequences for my mistakes. I'm so sorry!"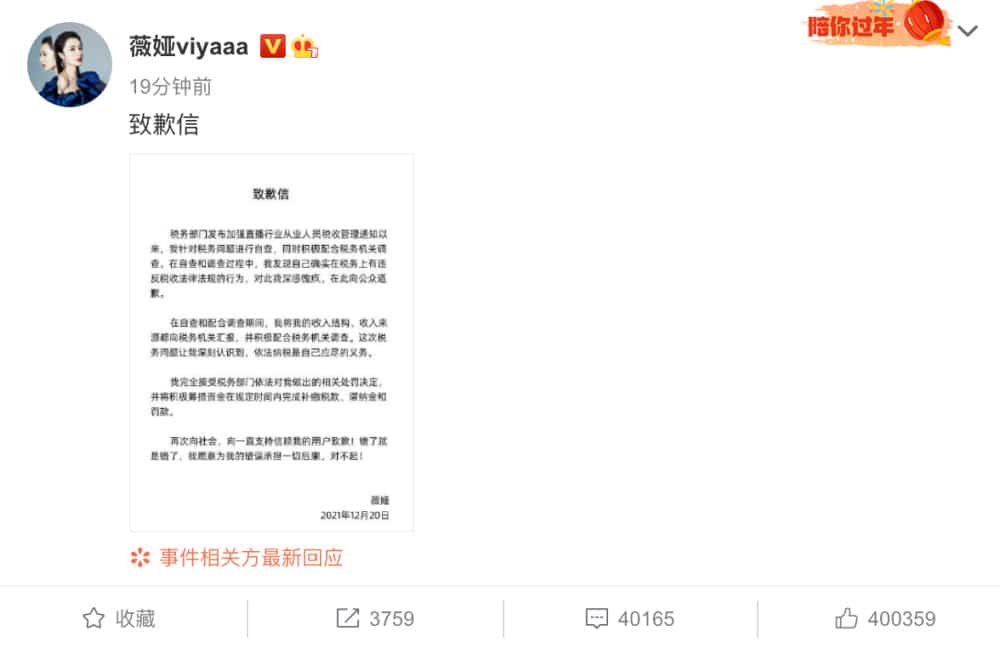 It is not clear if she will still do her daily live stream later today and how this news will impact Viya's future career.
Update: Vaya's live stream was canceled.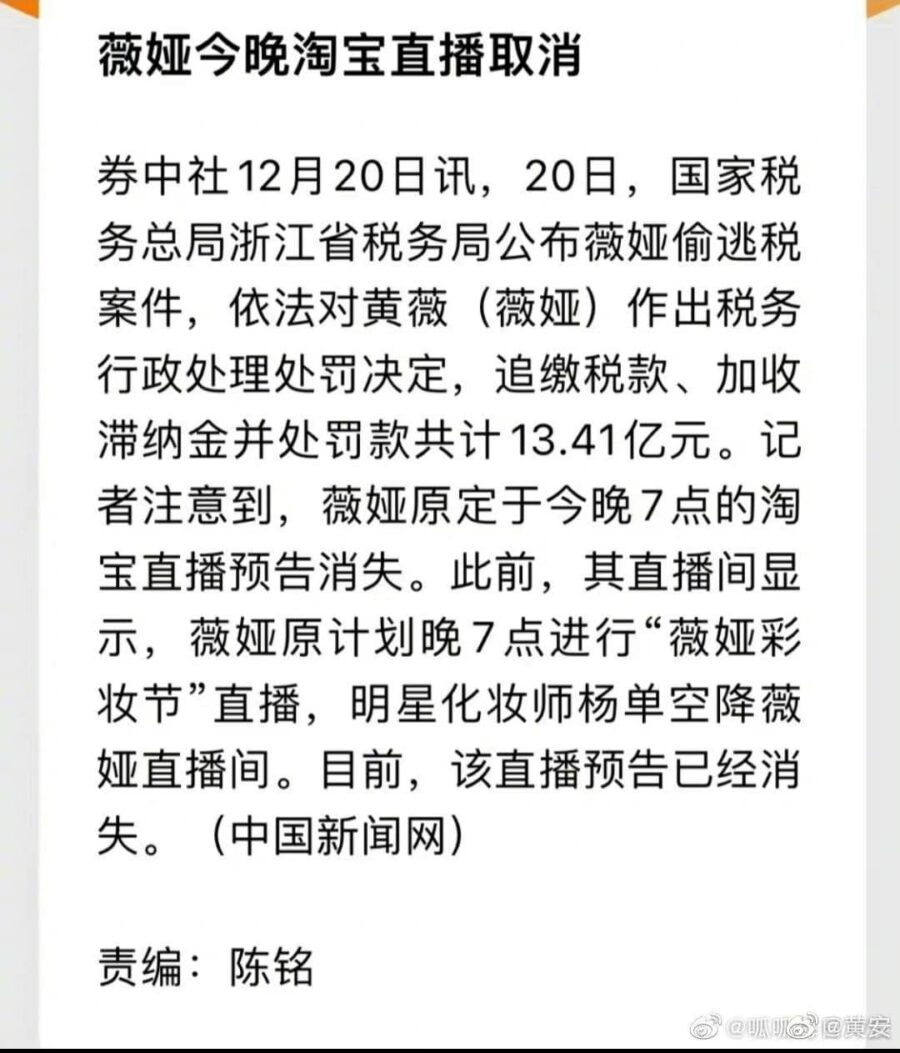 Update 2: Vaya's husband also issued an apology on Weibo.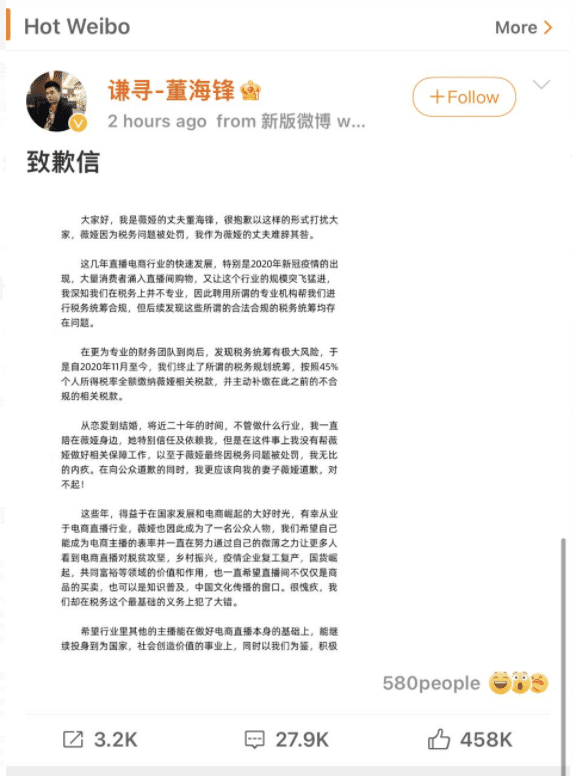 Update 3: Taobao has suspended or 'frozen' ("冻结") Vaya's livestreaming channel. Her Taobao store is still online.
By Manya Koetse
With contributions by Miranda Barnes.
Spotted a mistake or want to add something? Please let us know in comments below or email us. First-time commenters, please be patient – we will have to manually approve your comment before it appears.
©2021 Whatsonweibo. All rights reserved. Do not reproduce our content without permission – you can contact us at info@whatsonweibo.com.