Dressing up for Gender Equality: Taiwanese "Men's Skirt Week" Becomes a Viral Hit on Weibo
"Men's Skirt Week" was organized to stand up for gender equality and support freedom of dress.
A "Men's Skirt Week" initiative at various Taiwanese schools to raise awareness on gender discrimination has become a social media hit.
Male students from both the New Taipei Municipal Banqiao Senior High School (台湾新北市板桥中学) and the National Taiwan University (国立台湾大学) were spotted wearing skirts to class last week. Photos of their outfit soon made their rounds on social media.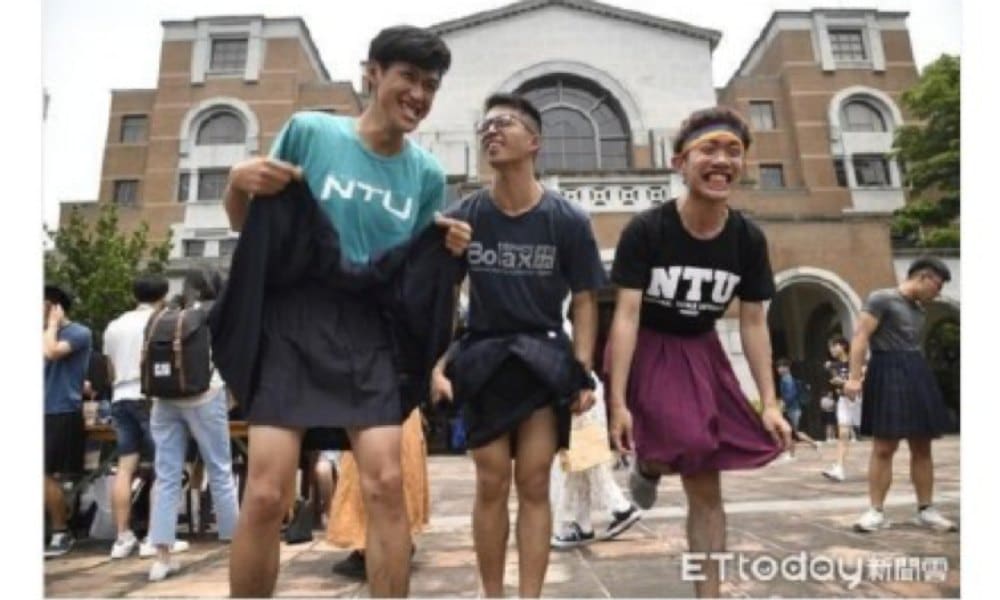 It was the student committee of the New Taipei Municipal Banqiao Senior High School that first came with the initiative of a "Men's Skirt Week" from May 6-12, in an effort to fight for gender equality, break down existing gender stereotypes, and support freedom of dress.
To give male students extra motivation to participate in the event, the student committee provided thirty skirts in different sizes for their male peers to wear.
The hashtags "Taiwanese High School Boys Collectively Wear Skirts to School" (#台湾高中男生集体穿裙上学#) and "Breaking Gender Stereotypes: Taiwan High School Boys Wearing Skirts to School" (#打破性别刻板:台湾高中男生集体穿裙上学#) were already viewed over 235 million times on Weibo by Wednesday morning.
According to the Weibo page of magazine Gay Voice (同志之声), the organizers of the 'Men Skirt Week' said:
"Having men wearing skirts is just a statement. Our aim is to bring about real change in society regarding gender issues. Through this activity, we want students to feel they can be whoever they like to be, and at the same time, create an opportunity for people to support them."
The organizers further stated that they did not want anyone to feel pressured to participate in the activities. They also asked people not to ridicule those taking part in the event, but to respect their freedom to wear what they want.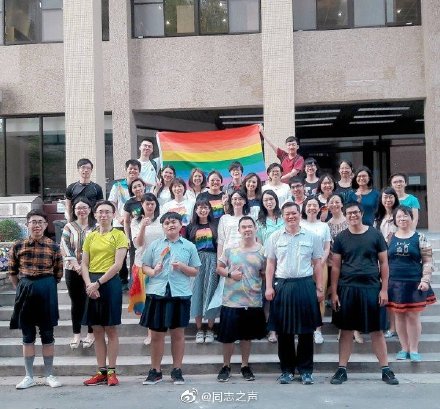 The initiative received much praise, not just on social media, but also from authorities. Gay Voice quoted the director of the New Taipei City Education Bureau, Zhang Mingwen (张明文), who stated: "This is a student-based activity promoting gender equality. Its intention is positive. The Education Bureau also feels this comes from a good place, and therefore we support [respect] it."
Following the success of the initial initiative, student members from the Political Department of the National Taiwan University also decided to organize a 'Men's Skirt Day' on May 13.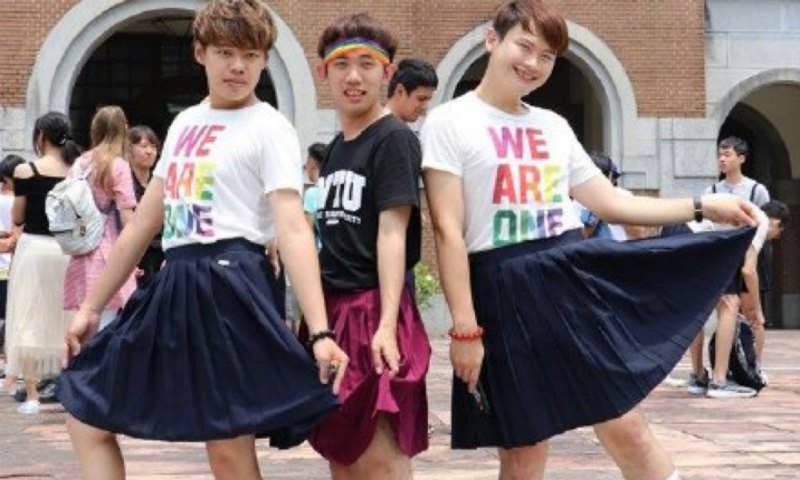 In a video produced by the Taiwanese news platform ETtoday, Ms. Lin (林), one of the organizers, explained that the event also supports those men who receive criticism for wearing 'feminine' clothes. Through events such as these, Lin says, they hope to convey the message that "not only girls can wear skirts," adding: "Men can also wear skirts if they want to, and moreover, they can look beautiful in doing so."
On Weibo, many who expressed their support for the activities wrote: "Every person should have the right to be whoever they want to be," with others writing simple statements such as: "I support this" or "I'm against gender discrimination."
While supporting the men's skirt initiative, some netizens also expressed their admiration for Taiwan. "Inclusiveness and diversity are important conditions for social and cultural prosperity. Taiwan is so cool," one Weibo user wrote. Another commenter wondered how long it would take before such an event would be acceptable in mainland China.
Despite the general praise for 'Men's Skirt Week,' there are also those who attach little importance to the initiative or who straight out reject the idea of men wearing skirts. Especially under the Weibo post by Sina Military (新浪军事) on this news, the majority of commenters denounce the activities. Reactions range from people saying they are against gender discrimination but also feel that "this kind of behavior should not be encouraged" to people even calling it "unhealthy" and "sick."
There are also plenty of people who just find the event funny or admire the beautiful long legs of the men wearing skirts. One netizen jokingly wrote: "I can't support this. The skirts look better on these boys than on me!" Another Weibo user wondered how it was even possible for the boys in the pictures to have skinnier legs than her.
Although news of the event has gone trending on Chinese social media, few PRC state media reported on the issue.
In May of 2018, an event in which people gave out rainbow buttons at Beijing's 798 park to celebrate International Day Against Homophobia (May 17/国际不再恐同日) was stopped by local guards who accused the organizers of holding an "illegal gathering."
By Gabi Verberg
Spotted a mistake or want to add something? Please let us know in comments below or email us. Please note that your comment below will need to be manually approved if you're a first-time poster here.
©2019 Whatsonweibo. All rights reserved. Do not reproduce our content without permission – you can contact us at info@whatsonweibo.com
Girls' Charity Project Funds Boys Instead: Online Anger over 'Spring Buds Program'
The 'Spring Buds' charity supposedly only focused on helping girls, but it turns out this is not the case.
First published
A charity fund that was supposedly dedicated to girls' education in rural China has been found to fund the education of boys, triggering anger online.
The Chinese charity "Spring Buds Program" (春蕾计划), a project meant to advance girls' education launched by the CCTF (China Children and Teenagers' Fund 中国儿童少年基金) has come under fire for providing financial aid to schoolboys in China.
The "Spring Buds" project, which falls under the All-China Women's Federation, has received the China Charity Award in the past for its efforts to promote girls' education. The program was launched in 1989 to help girls in China's impoverished rural areas to go to school, improve literacy rates among China's young girls and women, and empower girls to strengthen their influence in their local communities.
This week, the charity's focus has come under scrutiny after it became known that of the 1267 students receiving financial aid as part of one of 'Spring Buds' scholarship programs, there were 453 male students.
The topic triggered wider online discussions on Chinese social media on gender inequality in China.
Some commenters argued that boys, even in impoverished areas, are generally still better off than girls due to a persisting gender preference for boy children.
Weibo users also pointed out how there are multiple non-gender specific charity programs in China, and that 'Spring Buds' is one of the few focused on girls only – arguing that it should thus also really be assisting solely girls.
As the news about 'Spring Buds' coincided with this week's launch of the Global Gender Gap Index report, some Weibo users also wondered why Chinese official media would quote this report and mention Japan's worsening gender equality, while not mentioning anything about the status quo of gender equality in China.
The CCTF responded to the controversy via their official Weibo account on December 17th, stating that although its program was initially focused solely on girls, this year's project funding was also allocated to impoverished male students who needed "urgent help."
The organization further noted that they will be more transparent to charity donors in the future about how their funds are allocated.
Although the hashtag "Anger over Spring Bud Project Subsidizing School Boys" (#春蕾计划资助男生引质疑#) was used on social media by several Chinese media outlets to report the issue, the hashtag page is no longer accessible on Weibo at time of writing.
By Manya Koetse and Miranda Barnes
Follow @whatsonweibo
Featured image photo by Ray Chan.
Spotted a mistake or want to add something? Please let us know in comments below or email us. First-time commenters, please be patient – we will have to manually approve your comment before it appears.
©2019 Whatsonweibo. All rights reserved. Do not reproduce our content without permission – you can contact us at info@whatsonweibo.com.
"Living a Nightmare" – Chinese Beauty Guru Yuya Mika Shares Shocking Story of Domestic Abuse
Famous makeup artist Yuya Mika shared her story in a video that has since gone viral on Weibo.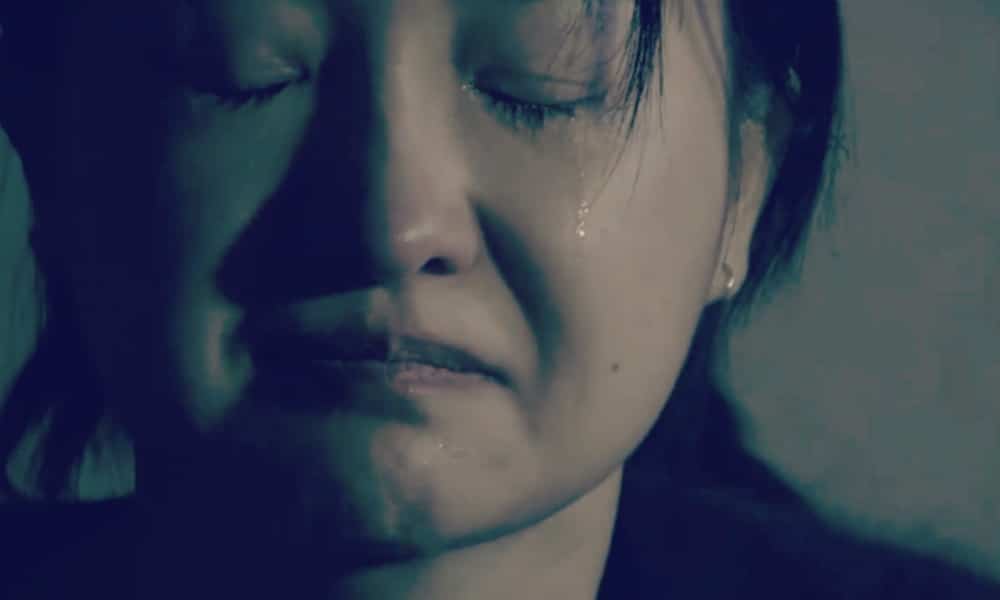 First published
Chinese famous makeup vlogger Yuya Mika has come out and shared her experience of being physically abused by her former boyfriend. Yuya's story – told in a documentary-style video that is now going viral – does not just raise online awareness about the problem of domestic violence, it also shows the raw realness behind the glamorous facade of China's KOLs' social media life.
Fashion and makeup blogger He Yuyong, better knowns as Yuya (宇芽) or Yuya Mika (@宇芽YUYAMIKA), has gone viral on China's social media platform Weibo for sharing her personal story of suffering domestic abuse at the hands of her ex-partner.
On Monday afternoon, November 25 – which is the International Day for the Elimination of Violence against Women – Yuya, a KOL (Key Opinion Leaders/online influencer) who has over 800,000 followers on her Weibo account, wrote: "I'm a victim of domestic violence. The past six months, I feel like I've been living a nightmare. I need to speak up about domestic violence here!"
With her post, Yuya shared a 12-minute documentary-style video in which she tells how she has been abused by her partner of one year, with whom she has now separated.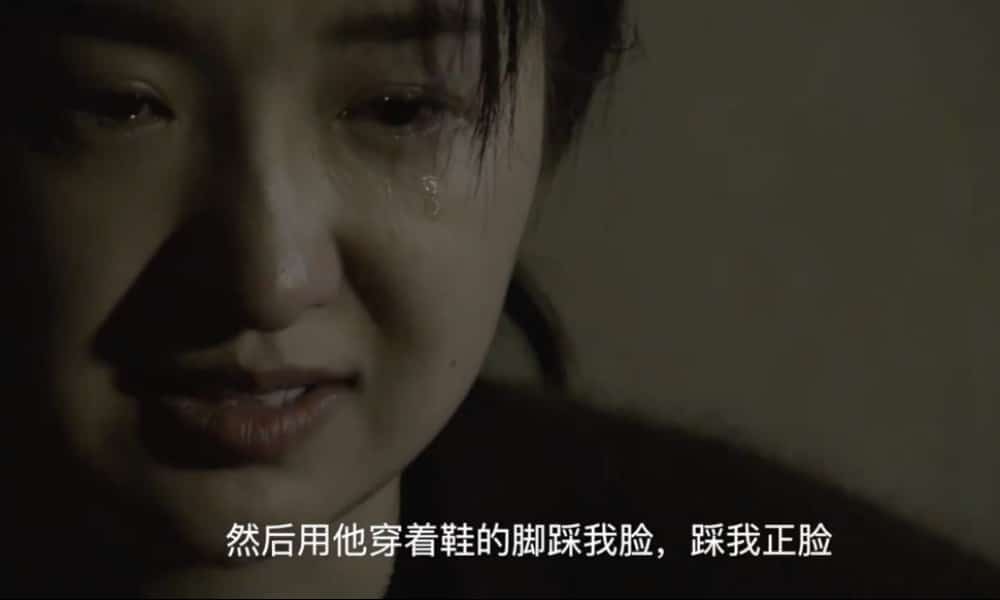 The short doc does not just tell Yuya's story, it also features the experiences of her former partner's ex-wives, who allegedly also suffered domestic violence at his hands.
Besides the shocking accounts of the women, the video contains also footage of Yuya's ex-boyfriend trying to violently drag her out of an elevator – a moment that was caught on security cameras in August of this year.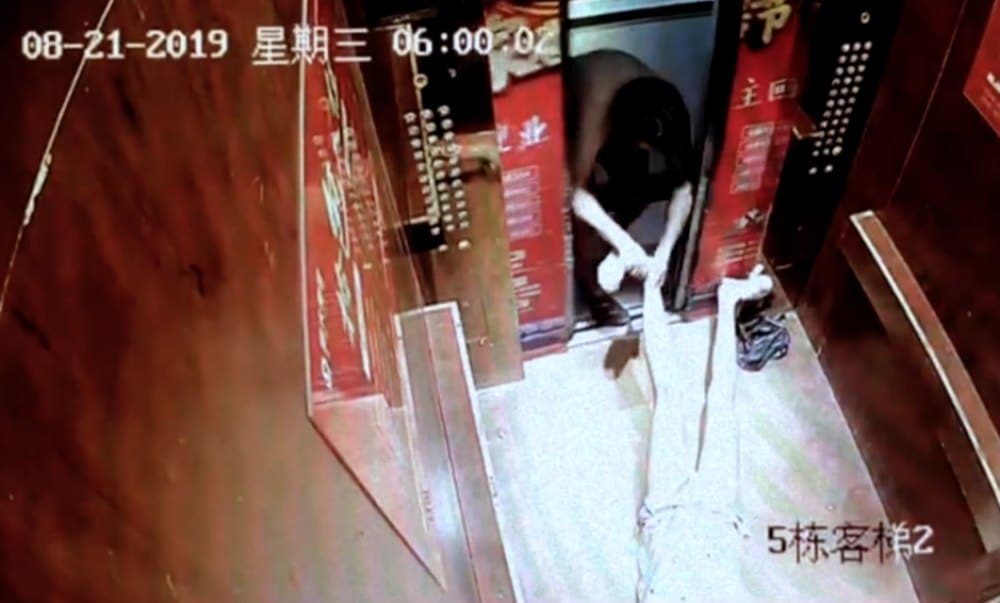 Yuya identifies her former boyfriend and abuser as the 44-year-old artist and Weibo blogger 'Toto River' (@沱沱的风魔教), who was married three times before starting a relationship with the famous beauty blogger.
The two met each other through social media, and Yuya initially fell for his talent and kindness. But, as she says, his perfect social media image soon turned out to be nothing but a fake facade, and the nightmare began.
The beauty blogger explains that the domestic violence went hand in hand with mental abuse, with Yuya being brainwashed into believing she was lucky to be with a man such as her boyfriend.
As the abuse became a regular occurrence, Yuya tearfully explains how she sometimes could not work for a week because her face was too bruised for shooting videos.
Yuya also writes on Weibo that she shares her story so that the experiences she and her ex-boyfriend's former wives suffered will not happen to other women, and to warn others from ending up in a similar situation.
Meanwhile, the Weibo account of Yuya's former boyfriend has been closed for comments.
Yuya Mika is not just popular on Weibo and video ap Tiktok. The beauty guru – famous for doing imitation makeup of celebrities and famous icons such as Mona Lisa – also has over 750k fans on her Instagram account and thousands of subscribers on her YouTube Channel, where she posts makeup tutorials.
Yuya is part of the company of Papi Jiang (aka Papi Chan), a Chinese vlogger and comedian who became an internet celebrity in 2016. On Tuesday, the Papi Jiang company also responded to Yuya's video, saying they fully support the makeup artist in coming forward with her story.
At time of writing, Yuya's story has been shared over 425,000 times, with a staggering thread of more than 280,000 comments on Weibo.
Many commenters respond in shock that the tearful woman in the video is actually Yuya, as the makeup artist is usually always smiling and shining in front of the camera. Other Weibo users express their hopes that Yuya's ex-boyfriend will be punished for what he did.
With over 160 million views, the hashtag "Yuya Suffers Domestic Abuse" (#宇芽被家暴#) is now in the top five of most-discussed topics on Weibo.
Over the past few years, the issue of domestic violence has received more attention on Chinese social media, especially since China's first national law against domestic violence came into effect on March 1, 2016. More women have come forward on Chinese social media to share their personal experiences with domestic abuse.
According to Chinese media reports of Tuesday afternoon, local authorities are currently investigating Yuya's story.
By Manya Koetse, with contributions from Miranda Barnes
Follow @whatsonweibo
It's almost Black Friday! We've already listed the best VPN deal for you here.
Spotted a mistake or want to add something? Please let us know in comments below or email us. First-time commenters, please be patient – we will have to manually approve your comment before it appears.
©2019 Whatsonweibo. All rights reserved. Do not reproduce our content without permission – you can contact us at info@whatsonweibo.com.