Dressing up for Gender Equality: Taiwanese "Men's Skirt Week" Becomes a Viral Hit on Weibo
"Men's Skirt Week" was organized to stand up for gender equality and support freedom of dress.
A "Men's Skirt Week" initiative at various Taiwanese schools to raise awareness on gender discrimination has become a social media hit.
Male students from both the New Taipei Municipal Banqiao Senior High School (台湾新北市板桥中学) and the National Taiwan University (国立台湾大学) were spotted wearing skirts to class last week. Photos of their outfit soon made their rounds on social media.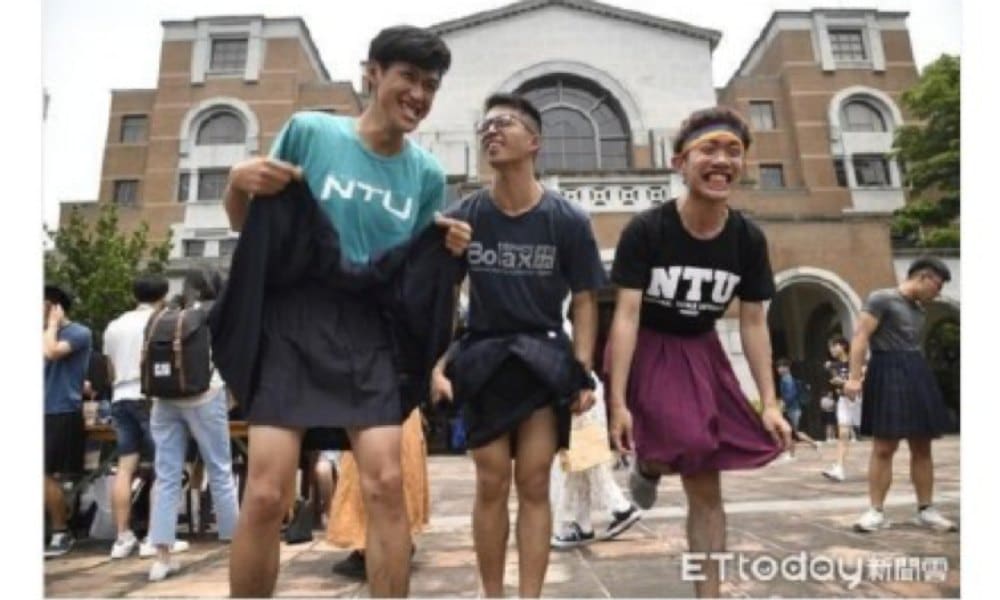 It was the student committee of the New Taipei Municipal Banqiao Senior High School that first came with the initiative of a "Men's Skirt Week" from May 6-12, in an effort to fight for gender equality, break down existing gender stereotypes, and support freedom of dress.
To give male students extra motivation to participate in the event, the student committee provided thirty skirts in different sizes for their male peers to wear.
The hashtags "Taiwanese High School Boys Collectively Wear Skirts to School" (#台湾高中男生集体穿裙上学#) and "Breaking Gender Stereotypes: Taiwan High School Boys Wearing Skirts to School" (#打破性别刻板:台湾高中男生集体穿裙上学#) were already viewed over 235 million times on Weibo by Wednesday morning.
According to the Weibo page of magazine Gay Voice (同志之声), the organizers of the 'Men Skirt Week' said:
"Having men wearing skirts is just a statement. Our aim is to bring about real change in society regarding gender issues. Through this activity, we want students to feel they can be whoever they like to be, and at the same time, create an opportunity for people to support them."
The organizers further stated that they did not want anyone to feel pressured to participate in the activities. They also asked people not to ridicule those taking part in the event, but to respect their freedom to wear what they want.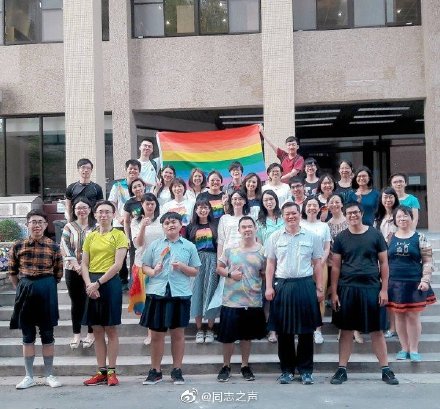 The initiative received much praise, not just on social media, but also from authorities. Gay Voice quoted the director of the New Taipei City Education Bureau, Zhang Mingwen (张明文), who stated: "This is a student-based activity promoting gender equality. Its intention is positive. The Education Bureau also feels this comes from a good place, and therefore we support [respect] it."
Following the success of the initial initiative, student members from the Political Department of the National Taiwan University also decided to organize a 'Men's Skirt Day' on May 13.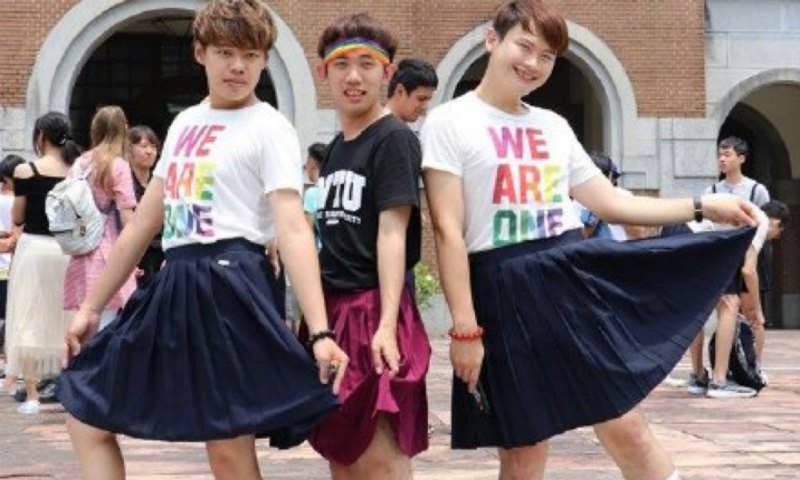 In a video produced by the Taiwanese news platform ETtoday, Ms. Lin (林), one of the organizers, explained that the event also supports those men who receive criticism for wearing 'feminine' clothes. Through events such as these, Lin says, they hope to convey the message that "not only girls can wear skirts," adding: "Men can also wear skirts if they want to, and moreover, they can look beautiful in doing so."
On Weibo, many who expressed their support for the activities wrote: "Every person should have the right to be whoever they want to be," with others writing simple statements such as: "I support this" or "I'm against gender discrimination."
While supporting the men's skirt initiative, some netizens also expressed their admiration for Taiwan. "Inclusiveness and diversity are important conditions for social and cultural prosperity. Taiwan is so cool," one Weibo user wrote. Another commenter wondered how long it would take before such an event would be acceptable in mainland China.
Despite the general praise for 'Men's Skirt Week,' there are also those who attach little importance to the initiative or who straight out reject the idea of men wearing skirts. Especially under the Weibo post by Sina Military (新浪军事) on this news, the majority of commenters denounce the activities. Reactions range from people saying they are against gender discrimination but also feel that "this kind of behavior should not be encouraged" to people even calling it "unhealthy" and "sick."
There are also plenty of people who just find the event funny or admire the beautiful long legs of the men wearing skirts. One netizen jokingly wrote: "I can't support this. The skirts look better on these boys than on me!" Another Weibo user wondered how it was even possible for the boys in the pictures to have skinnier legs than her.
Although news of the event has gone trending on Chinese social media, few PRC state media reported on the issue.
In May of 2018, an event in which people gave out rainbow buttons at Beijing's 798 park to celebrate International Day Against Homophobia (May 17/国际不再恐同日) was stopped by local guards who accused the organizers of holding an "illegal gathering."
By Gabi Verberg
Spotted a mistake or want to add something? Please let us know in comments below or email us. Please note that your comment below will need to be manually approved if you're a first-time poster here.
©2019 Whatsonweibo. All rights reserved. Do not reproduce our content without permission – you can contact us at info@whatsonweibo.com
Shandong Woman Dies after Suffering Abuse by In-Laws over Infertility
Anger over Shandong abuse case: "Is this how the law protects women?!"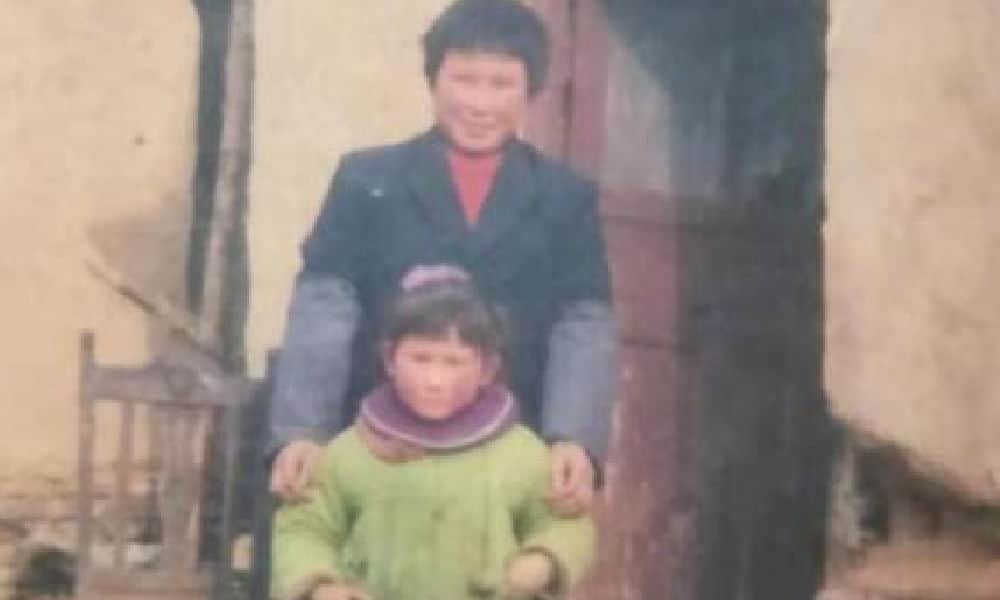 Just a month after the tragic story of a Chinese vlogger being killed by her husband triggered outrage on social media, another extreme domestic abuse case has gone trending on Weibo.
This time, it concerns the story of the 22-year-old woman named Fang Yangyang (方洋洋) who lived in Fangzhuang village in Dezhou, Shandong Province. The woman passed away in 2019 after suffering prolonged abuse by her husband and in-laws. Chinese media report that the abuse was related to Fang's infertility issues.
Fang married her husband Zhang Bing (张丙) in November of 2016. It was an arranged marriage, with Zhang's parents paying a bride price of 130,000 yuan (almost $20,000).
When Fang did not get pregnant after marrying her husband, she started suffering severe emotional and physical abuse at the hands of her husband and in-laws, beginning in July of 2018. Zhang and his parents reportedly beat Fang with wooden rods, refused to let her eat, locked her up, and let her freeze outside in the cold.
Fang, who weighed 180 pounds (80 kilograms) when she got married, only weighed 60 pounds (30 kilograms) in early 2019. Beijing News reports that Fang, malnourished and weak, died on January 31st 2019 after suffering another beating by her in-laws.
The case received more attention on social media this week as the local Yucheng People's Court (山东禹城法院) reviewed the case after an earlier verdict in January. The retrial is set to take place on November 27.
In January 2020, the court sentenced Fang's husband and his parents for the crime of abuse. The victim's father-in-law, Zhang Jilin (张吉林), received three years in prison, her mother-in-law, Liu Lanying (刘兰英), got 26 months in prison, and her husband's sentence was suspended with a three-year probation time, as reported by Sixth Tone and China Daily.
The relatively light punishments triggered anger on Weibo, where the hashtag "Woman Suffers Abuse by In-Laws for Being Infertile and Dies" (#山东一女子因不孕遭婆家虐待致死#) has been trending for days, along with other similar hashtags (#女子因不孕被夫家虐待致死案重审#, #山东女子因不孕被虐待致死#).
A statement issued by Yucheng People's Court said the court gave the defendants lighter punishment because they were truthful about their crimes and, in advance, paid a voluntary compensation of 50,000 yuan ($7630). The verdict will now be withdrawn.
In an interview with Southcn.com, Fang's cousin stated the family had contacted police before when Fang's in-laws would not allow the family to see her. The second time they contacted the police was after Fang had died.
Sources close to the family state that Fang's mother had been diagnosed with a mental condition, with Fang allegedly also showing signs of mental disability, although this has not been verified by official sources. There are also sources claiming that the father-in-law, Zhang Jilin, was a heavy drinker who would get aggressive when drunk.
On social media, many people are outraged. "I just don't understand it!", one person writes: "It's just because of societal pressure that this case is now going on retrial. But this is not justice!"
Public anger about the case grew louder due to another case trending at the same time, in which a Shenzhen mother who beat her 12-year-old daughter to death received a ten-year prison sentence (#母亲失手打死12岁女儿获刑十年#).
"This is unimaginable," one Weibo user wrote: "Isn't the idea of sentencing someone to actually punish them?!"
"This pains me so much, is this the actual society we're living in?"
Besides the anger over China's criminal justice system when it comes to domestic violence, there are also those who express disgust over the fact that the Zhang family apparently arranged a marriage for the sole purpose of producing offspring. "Are we still living in the Qing Dynasty?"
Many of the comments online are similar to those that flooded social media after the death of Lamu: "Is this how the law protects women?!"
We will report more on this story after November 27.
By Manya Koetse
Follow @WhatsOnWeibo
Spotted a mistake or want to add something? Please let us know in comments below or email us. First-time commenters, please be patient – we will have to manually approve your comment before it appears.
©2020 Whatsonweibo. All rights reserved. Do not reproduce our content without permission – you can contact us at info@whatsonweibo.com.
Hard Measures for Durex in China after "Vulgar" Ads
One Durex sex toy ad gave off the wrong vibrations to Chinese regulators.
As if it wasn't already bad enough that fewer people are having sex during COVID19 lockdowns, leading to a decline in condom sales, condoms & sex toys brand Durex is now also (again) punished for the "vulgar" contents of its advertisements in China.
News of Durex facing penalties in China became top trending on Thursday, with one Weibo hashtag page about the matter receiving over 1,2 billion views.
Durex has over three million fans on its official Weibo account (@杜蕾斯官方微博), which is known for its creative and sometimes bold posts, including spicy word jokes. Durex opened its official Weibo account in 2010.
A post by Durex published on Wednesday about the release of Apple's super speedy new 5G iPhone, for example, just said: "5G is very fast, but you can take it slow," adding: "Some things just can't be quick." The post received over 900,000 likes.
Other ads have also received much praise from Chinese netizens. One ad's slogan just shows a condom package, saying "Becoming a father or [image of condom] – it's all a sign of taking responsibility."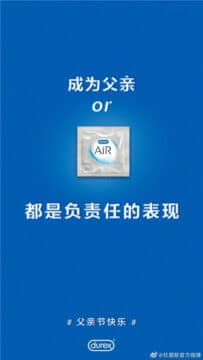 According to various Chinese news outlets, Durex has been penalized with a 810,000 yuan ($120,400) fine for failing to adhere to China's official advertisement guidelines, although it is not entirely clear to us at this point which fine was given for which advertisement, since the company received multiple fines for different ads over the past few years.
One fine was given to Durex Manufacturer RB & Manon Business (Shanghai) for content that was posted on e-commerce site Tmall, Global Times reports.
According to the state media outlet, "the ad used erotic words to describe in detail multiple ways to use a Durex vibrator." The fine was already given out in July of this year, but did not make headlines until now.
In another 2019 case, the condom brand did a joint social media campaign cooperation with Chinese milk tea brand HeyTea, using the tagline "Tonight, not a drop left," suggesting a connection between HeyTea's creamy topping and semen.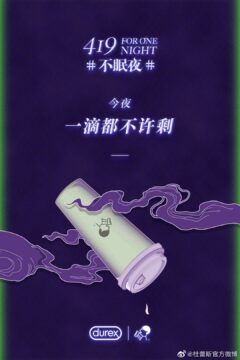 According to China's Advertisement Examination System (广告审查制度), there are quite some no-goes when it comes to advertising in China. Among many other things, ads are not allowed to be deceptive in any way, they cannot use superlatives, nor display any obscene, scary, violent or superstitious content.
Chinese regulators are serious about these rules. In 2015, P&G's Crest was fined $963,000 for "false advertising", at it promised that Crest would make your teeth whiter in "just one day."
However, advertisement censorship can be a grey area. Any ads that "disturb public order" or "violate good customs," for example, are also not allowed. For companies, it is not always clear when they are actually crossing a line.
On Weibo, there are also contrasting opinions on this matter. Many people, however, support Durex and enjoy their exciting ads and slogans. With the case dominating the top trending charts and discussions on social media the entire day, the latest penalty may very well be one of Durex's most successful marketing campaigns in China thus far.
By Manya Koetse
Follow @WhatsOnWeibo
Spotted a mistake or want to add something? Please let us know in comments below or email us. First-time commenters, please be patient – we will have to manually approve your comment before it appears.
©2020 Whatsonweibo. All rights reserved. Do not reproduce our content without permission – you can contact us at info@whatsonweibo.com.