The Sanlitun Stabbing & Uniqlo's Marketing Nightmare
It is turning out to be a tough year for the marketing department of Uniqlo, the large Japanese retail store for casual wear. After the infamous Uniqlo sex tape and slumping sales, a woman was stabbed in front of the Beijing flagship store today, once again tying the name of 'Uniqlo' to news events it does not want to be associated with.
The violent stabbing of a woman outside the Uniqlo flagship store in Beijing's Sanlitun quickly became trending news today on China's social media (on Weixin more so than on Weibo, where some news concerning this incident was censored).
A Chinese man, who is said to be a 25 year-old from Jilin province, was seen walking around with a sword, stabbing the woman right before the entrance of Uniqlo. Bystander pictures show a foreign man kneeling by the woman to help her until the ambulance arrives. Both the man and the woman were injured. As confirmed by The Beijinger, the man is a French national, and the woman is his wife. They were taken to the hospital shortly after the incident, where the female died of her injuries. The attacker has been arrested and the case is now under investigation.
A bystander shot a video shortly after the stabbing (warning: extremely disturbing content), which shows the stabbed woman lying on the streets, while the attacker is still pacing in front of Uniqlo with his sword.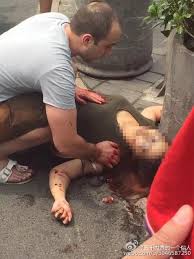 The horrific event is linked to the name of Uniqlo (优衣库) on social media, as it is the scene of the incident. Uniqlo Beijing is located at Sanlitun The Village, a well-known shopping area near the embassy district, where thousands of people pass by every day.
'Uniqlo' also became a hashtag and buzzword on Weibo in July of this year, when a video went viral of a man and woman having sex in one of the fitting rooms of the Sanlitun Uniqlo store (read more). Although it was initially suggested that Uniqlo had something to do with the sex tape, the brand strongly denied having any links to it.
The Japanese clothing retailer surely is an unlikely place to record such a video, as it is a very casual brand, also known as somewhat 'boring'. It is a store known for its folding umbrellas, Mickey Mouse t-shirts and white socks. It is where Japanese schoolkids go to buy the right blue sweater to match their uniforms; a reliable and low-priced store with clothes that can be worn by all, with a Rainbow Care Bears top to match those basic jeans.
Tadashi Yanai, founder of Uniqlo, said he was "disgusted" by the video of the couple having sex in Uniqlo.
Uniqlo has been around for quite some time. In 1994, the chain already had 100 stores in Japan. It has now expanded to 840 stores in Japan and 1170 outside of Japan, with Uniqlo being a visible brand in the main shopping areas from Tokyo to Beijing to New York.
Although the sex video might have given Uniqlo a lot of media attention, it is likely to affect its reputable brand name in the long run.
After the incident, many people came to Sanlitun Uniqlo to take a picture of themselves in front of the store. Uniqlo now no longer allows people to take selfies in front of the store, as was reported by Sina News.
In terms of sales, Uniqlo has also not been doing too well this summer, as sales within Japan have gone down for the second straight month.
The tragic stabbing on August 13 has added to Uniqlo's bad summer of 2015.
Searching for the name 'Uniqlo' on Weibo, Baidu, Twitter or Google now results in news about the fatal stabbing, dropping sales, the illegal sex video and its aftermath. A marketing nightmare for Uniqlo, because shocking images of a crime scene or porn shoot do not exactly match up with a place where one would go to buy that Rainbow Care Bears tank top.
– By Manya Koetse
Follow @WhatsOnWeibo
[box] This is Weiblog: the What's on Weibo short-blog section. Brief daily updates on our blog and what is currently trending on China's biggest social media.[/box]
©2015 Whatsonweibo. All rights reserved. Do not reproduce our content without permission – you can contact us at info@whatsonweibo.com.
"Taobao Life": This Feature Shows How Much Money You've Spent on Taobao
Some users just found out they could've bought a house with the money they've spent on Taobao.
Over the past few days, a new Taobao feature that allows users to see how much money they have spent on the online shopping platform is flooding Chinese social media.
Taobao Marketplace is China's biggest online shopping platform. Owned by tech giant Alibaba, Taobao was launched in 2003 to facilitate consumer-to-consumer retail.
For many people, Taobao shopping has become part of their everyday life. Whether it is clothes, pet food, accessories, electronics, furniture – you name it, Taobao has it.
Because buying on Taobao is so easy, fast, and convenient, many online consumers lose track of how much they actually spent on the platform – especially if they have been using it for years already.
Thanks to "Taobao Life," users can now see the total amount of money spent on their account.
How to do it? First: go to Taobao settings and click the profile account as indicated below.
Then click the top icon that says "Achievement" (成就).
And here you find what you have spent in this account in total. On the left: the money spent, on the right: the amount of purchases.
Since I've used started using this Taobao account for the occasional clothes shopping since 2016, I've made 122 purchases, spending 7849 yuan ($1140) – a very reasonable amount compared to some other Taobao users, who are now finding out they could have practically bought an apartment with the money they have spent on Taobao.
This user, for example, found out they spent over half a million yuan on Taobao ($75,500).
This user below has spent over 1,1 million yuan on Taobao ($170,000).
Some people discuss all the things they could have bought with the money they have spent on Taobao over the years: "As soon as I saw the number, I wanted to cry," one Weibo user writes: "What have I done?!"
Another person, finding out they have spent 230,000 yuan on Taobao ($33,400), writes: "This can't be true! Surely this must be a mistake!?"
"If I wouldn't have spent all this money on Taobao, I would've been rich," others say.
The topic of Taobao's total spending amount has become so popular on Chinese social media this week, causing so much consternation, that Taobao posted a message on its Weibo account on July 27, writing: "We heard you guys couldn't sleep last night.."
Although many people are shocked to find out the money they've spent on Taobao, others console themselves with the thought that adding up everything they have spent on Taobao, they were actually 'rich' at some point in their lives.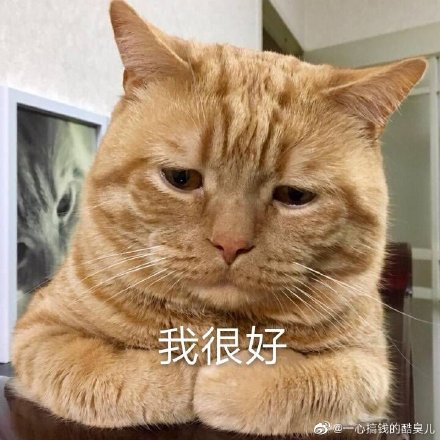 By Manya Koetse , with contributions from Miranda Barnes
Follow @whatsonweibo
Spotted a mistake or want to add something? Please let us know in comments below or email us. Please note that your comment below will need to be manually approved if you're a first-time poster here.
©2019 Whatsonweibo. All rights reserved. Do not reproduce our content without permission – you can contact us at info@whatsonweibo.com
Summer Censorship: Weibo Launches "Project Sky Blue"
No hot summer on Weibo: the social media network announces extra censorship on 'vulgar content.'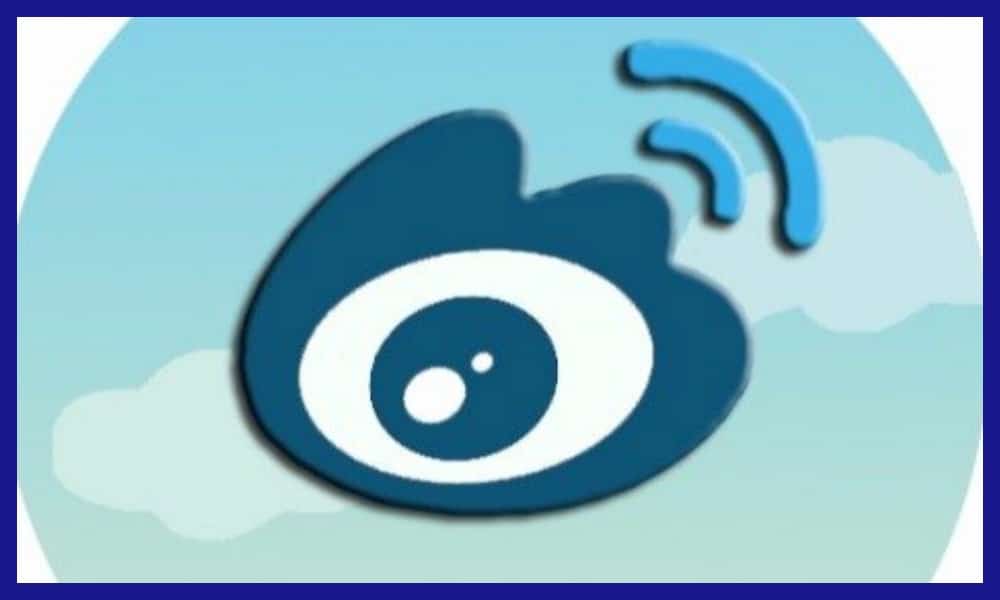 Earlier this week, the administration of Sina Weibo announced a special summer holiday crackdown on "vulgar content," including "pornographic novels, erotic anime, pictures or videos."
In a public announcement that was posted on July 4th, the Weibo administration writes that the primary goal of this campaign is to "create a healthier, more positive environment for underage users" during the summer break period.
The censorship plan is titled "Project Deep Blue" (or: "Project Sky Blue") (蔚蓝计划), and will use filter systems, human moderators and user reports to censor more content for the upcoming two months.
The project even has its own Weibo account now, where Weibo users can ask questions, report inappropriate content, and get more information on the campaign.
Weibo states it will further expand its team of online content supervisors, and also explicitly encourages netizens to flag 'inappropriate' content to make the online community 'more wholesome.'
The hashtag #ProjectDeepBlue (#蔚蓝计划#) topped the hot search lists on Weibo this week; not necessarily because of the topic's popularity, but because it was placed there by the social media site's administration. At time of writing, the hashtag page has attracted more than 180 million views.
Online responses to the summer censorship program are mixed: many commenters voice their support for the latest measure, while others express frustration.
One Weibo user from Hubei calls the latest measure "hypocritical," arguing that minors surf Weibo just as much during school time as during the summer holiday – suggesting that launching a special censorship program for the summer vacation does not make sense at all.
But many popular comments are in favor of the project, saying: "I support Project Deep Blue, the internet needs to be cleaned up," and: "China's young people need to be protected."
This is not the first time Weibo launches a special intensified censorship program. Throughout the years, it has repeatedly carried out 'anti-pornography' campaigns in cooperation with Chinese cyberspace authorities.
Often, the crusade against 'vulgar' content also ends up being used for the purpose of censoring political content rather than to actually eradicate 'obscenities' (read more).
By now, it seems that many Weibo users are quite actively using the Project Deep Blue tag to report on other users who are posting violent or vulgar content.
"If you're not careful, you're hit with vulgar and obscene content the moment you're on the internet," well-known mom blogger Humapanpan (@虎妈潘潘) writes: "Now that the summer holiday is coming, I hope we can join the Project Deep Blue, and clean up the internet environment.  Actively report obscene content the moment you see it – let's protect our future together."
By Skylar Xu & Manya Koetse
Spotted a mistake or want to add something? Please let us know in comments below or email us. Please note that your comment below will need to be manually approved if you're a first-time poster here.
©2019 Whatsonweibo. All rights reserved. Do not reproduce our content without permission – you can contact us at info@whatsonweibo.com