These Chinese School Are Awarding Excellent Students with Pork Meat Gifts
Awarding excellent students with raw meat or even fresh fish seems to be a new trend in Chinese schools.
First published
A number of schools in China have recently introduced a new gift for outstanding students at the end of term ceremony: no books, no pens, but a chunk of meat that can be shared with the entire family.
A remarkable award ceremony at a middle school in Fuyang, Anhui province, has attracted the attention of Chinese netizens this week for the meat gifts the school offered to its outstanding students.
The award ceremony was held on January 26 at the Anhui Fuyang No. 1 Middle School. The five best students of every class were each rewarded with 2,5 kilogram (5.5 pounds) of pork meat.
At the end of the ceremony, a total of 600 students took home a staggering 1500 kilogram (3306 pounds) of pork meat in total.
Chinese media outlets Pear Video and We Video posted video reports of the noteworthy event on their channels (link and link) on January 28.
Although the initiative of this particular school came as a surprise to many netizens, more schools across China are introducing these kinds of food gifts to their students lately.
"Nowadays, every household has enough stationery. So we came up with the idea to award our students with pork meat instead."
The director of the Anhui school, Mister Sun (孙), told reporters: "In the past, the school always awarded its best students with pencils and notebooks. But nowadays, every household has enough stationery. So we came up with the idea to award our students with pork meat instead."
The pork meat, gifted in a bag with a pig on it, was given just in time for the upcoming Chinese Spring Festival, which celebrates the start of the Year of the Pig this year.
Sun further added: "The students' hard work is rewarded with something they can take home and share with their family members and other people they love. In this way, they can also experience the gratefulness of others."
The Fuyang middle school is not the first school that awards its students by offering them fresh meat products. Recently, several stories of Chinese schools awarding their students with meat gifts made their rounds on Chinese social media.
A primary school in Liuzhou, in a mountainous and impoverished area of Guangxi province, received the praise of many netizens when they awarded their 71 most outstanding students with 1,5 kilogram of unwrapped pork meat on a string. It is the second year in a row that the school chose to present its students with a meat gift.
At another school in Dongguan, Guangdong province, the 90 most outstanding students were each rewarded with a fresh fish earlier this month. The fish were caught from the Humen Wharton School's own pond, The Paper reports.
In a recent interview, director Wu (吴) of the Dongguan Humen Wharton School told The Paper that the fish are usually fed with the leftovers from the school canteen. By rewarding the students with these fish, Wu said, the school not only hopes to make the pupils happy, but also hopes to increase their awareness on the ecological environment.
"This is the reality. When you work hard, you'll have meat to eat."
Last year, a school in Fujian's Nan'an awarded 30 of its highest-scoring students with a pork leg, something that also attracted the attention online at the time. More schools, including one in Shanwei, then followed their example.
On Weibo, various hashtags relating to the new 'trend' are making their rounds. "Middle School Awards Its Students with 1500 Kilogram of Pork Meat" (#中学用3000斤猪肉表彰学生#) received over 5.5 million views this week. "School in Mountainous Area Awards Students with Pork at the End of the Year" (#山区小学期末发猪肉奖状#) had over 3 million views on Weibo.
Chinese netizens applaud the schools for giving these food products to reward students, mainly seeing it as a way to boost the children's confidence.
"This is great!" one commenter wrote: "The students can really experience how it feels to earn something and what it feels like to contribute. And at the same time, they can share and enjoy their achievements with their family."
"What a great award," others say: "They'll feel so proud to bring this back home."
"This is the reality. When you work hard, you'll have meat to eat. Why weren't there such good schools around when I was a kid?", a Weibo user says.
It is a tradition in China to hold an award ceremony at the end of the semester. During the ceremony, that is attended by the school's students, teachers, and sometimes (grand)parents, the best students are praised for their accomplishments. The purpose of the award ceremony and the public praise is to let the excellent students set an example for their fellow classmates, and to motivate the students.
But not everyone is equally positive about the initiative. "The intention is good, but how attractive is it for a child to receive a pork leg nowadays?" one man from Guangdong wonders: "Isn't it more and more uncommon for people to perceive meat as something that's rare to eat?"
"It's not about the meat itself," others argue: "It's about bringing home something and making them feel accomplished."
Among the few voices criticizing the idea, there are also those who advocate vegetarianism and think it would be more valuable to teach children the value of living creatures rather than to give them pork.
Others argue that the pork meat gift is not 'halal.'
But the vast majority of commenters still praise the initiative, saying it is honest, nutritious, and lets the whole family benefit from their child's accomplishments. For some, the idea is simple and straightforward: "Those who study hard get to eat meat."
By Gabi Verberg and Manya Koetse
Spotted a mistake or want to add something? Please let us know in comments below or email us.
©2019 Whatsonweibo. All rights reserved. Do not reproduce our content without permission – you can contact us at info@whatsonweibo.com
Coca Cola Introduces "Ocean Plastic Bottles" to Combat Marine Waste Problem
Coca Cola's innovative ocean plastic bottles have become top trending on Weibo.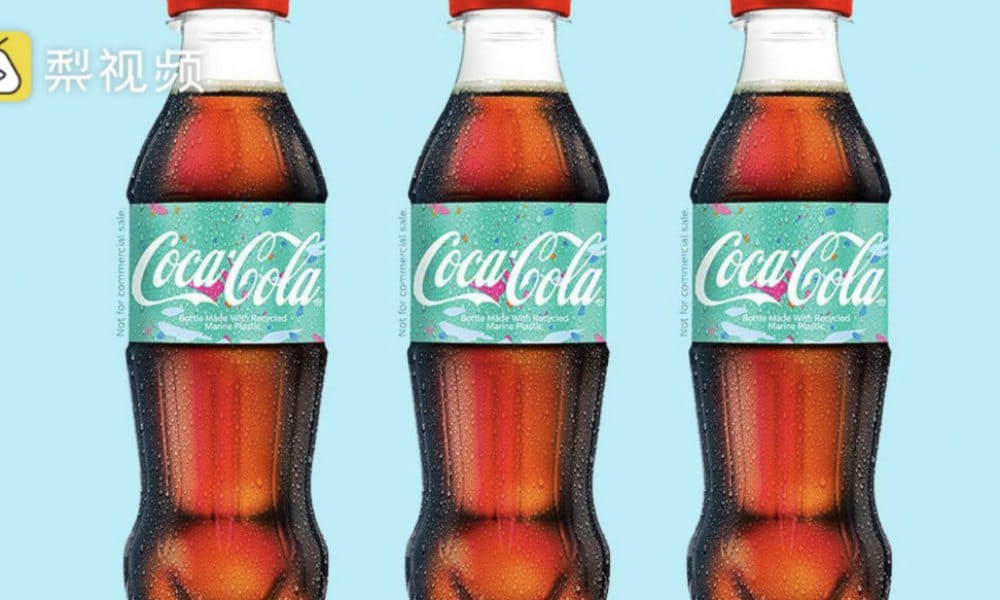 As Coca Cola introduced the world's first bottles made from recycled ocean plastic waste this week, the topic has risen to the top trending on China's Sina Weibo.
As reported by Business Insider, Coca Cola has released 300 sample bottles showing the potential of its new technology that is able to transform lower-grade recycables into high-quality food packages.
The Coca Cola bottles were produced using 25% recycled marine waste, collected by volunteers and fishermen during 84 beach cleanups in Spain and Portugal, the report says, with the company's long-term goal being to have all its plastic bottles be made from 50% recycled plastics by 2030.
Coca Cola will start to use more recycled plastic for its bottles from 2020 on.
With the topic now having reached 140 million views on Weibo, many people are discussing the issue. The majority of commenters applaud the environment-friendly initiative, but there are also some who say they fear the bottles would somehow contain "more pollutants" or start to "taste like the ocean."
Others write they do not necessarily want to drink Coca Cola, but would like to obtain one of their 'ocean plastic' bottles as a collector's item.
The Chinese news reports about the new Coca Cola initiative raise awareness on the problems of how plastic waste in oceans jeopardizes marine life.
"Environmental problems require immediate action," one Weibo users writes: "A good company will take on the responsibility to do something."
Some 200 billion plastic bottles are sold in China every year – many of them are already being recycled. Coca Cola, however, will reportedly be the world's first company to use ocean plastic waste for its bottles.
Coca Cola is an important player in the Chinese beverage market; the company has introduced more than 60 products under 20 brands within mainland China.
Also read:
McDonald's China Introduces Cola Chicken on Its Menu
Coca Cola in China: "Not a Single Bottle of Coke Should Be Sold to Chinese"
Ginger Coca-Cola Comes to China with Some Smart Yin Yang Marketing
By Manya Koetse
Spotted a mistake or want to add something? Please let us know in comments below or email us. First time commenters, please be patient – we will have to manually approve your comment before it appears.
©2019 Whatsonweibo. All rights reserved. Do not reproduce our content without permission – you can contact us at info@whatsonweibo.com
This Is the BBQ Restaurant Jack Ma Visited in Zhengzhou
Jack Ma's late-night snack means overnight success for this Zhengzhou skewer place.
Whatever Jack Ma does or says makes headlines in China. The superstar Alibaba founder has especially been a topic of discussion over the past week since his meeting with Tesla's Elon Musk at the World AI Conference in Shanghai, where the two billionaires had a discussion about the risks and rewards of AI development.
But on social media platform Weibo, Chinese netizens have not just been discussing what Jack Ma has been saying over the past few days – what he has been eating has also become a topic that has attracted thousands of views and comments this week.
A BBQ skewer restaurant in Zhengzhou, Henan Province, gained overnight fame after a visit from the business magnate and his group. The Alibaba delegation visited Zhengzhou for a meeting concerning a strategic partnership between Alibaba and the local government.
Jack Ma visited the barbecue skewer restaurant around one o'clock in the morning, and was photographed and filmed by many people standing around.
Ma visited Dehua Pedestrian Street and Zhengdong New Area before arriving at the Zheng Xiwang restaurant. Ma was with a small group of people and spent a total of 700 yuan (around 100 US dollars).
Grilled skewers are popular all across China, but especially in the Zhengzhou region, which is also nicknamed the "holy land of skewers."
The Zheng Xiwang restaurant visited by Ma was founded in 1991 – although it was just a street stall at the time – and has been thriving ever since.
Besides skewers, Jack Ma allegedly ordered stir-fried Hunan prawns and spicy clams.
As Ma's visit to Zhengzhou and the restaurant has gone viral, some social media users write that they have also visited the restaurant immediately after, sharing photos and their receipts as proof.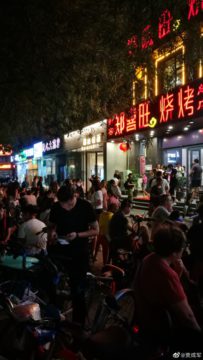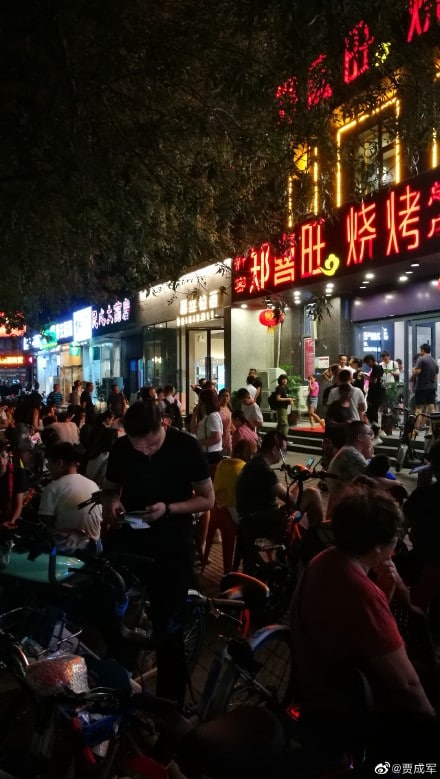 Weibo user Jia Chengjun (@贾成军) from Henan shared photos of people lining up to get a table at the popular restaurant.
According to various reports on Weibo, the restaurant's owner initially offered Jack Ma the dinner for free, but the billionaire refused and paid anyway. His payment method will not come as a surprise; he paid with Alibaba's online payment platform Alipay.
"Why would you offer him a free meal anyway?" some netizens wondered: "He surely has more money than you!"
Curious to try the same food as Ma? Zheng Xi Wang is located at the intersection of Fuyuan Street and Yingxie Street in Zhengzhou (福元路与英协路交叉口向西160米路北(银基王朝南门)).
By Manya Koetse
Follow @whatsonweibo
Spotted a mistake or want to add something? Please let us know in comments below or email us. Please note that your comment below will need to be manually approved if you're a first-time poster here.
©2019 Whatsonweibo. All rights reserved. Do not reproduce our content without permission – you can contact us at info@whatsonweibo.com