The Huawei Case Sparks Anti-American, "Support Huawei" Sentiments on Weibo
"Ever since all the news came out on Meng Wanzhou's arrest I feel like this is Cold War 2.0," some commenters say.
First published
The latest developments in the Huawei case are a major topic of discussion on Chinese social media, sparking anti-American sentiments, along with hundreds of netizens calling for the support of Huawei.
The case involving Huawei and Meng Wanzhou is making international headlines today, now that the US Justice Department has officially filed charges against Chinese smartphone maker Huawei for allegedly stealing trade secrets from T-Mobile.
Among many other things, US prosecutors allege that Huawei launched a formal policy in which bonuses were offered to employees who succeeded in stealing confidential information from competitors (full papers here, page 19).
The Department also filed criminal charges against Meng Wanzhou (孟晚舟), who is the chief financial officer of Huawei and the daughter of the company's founder Ren Zhengfei (任正非). The US is seeking the extradition of Meng Wanzhou from Canada.
Meng was detained in Canada on December 1st of 2018 during transit at the Vancouver airport at the request of United States officials. She was released on bail on December 11. Meng's next court date is set for February 6, 2019, in Vancouver.
"To the Chinese who proclaim that the American lawsuit against Huawei makes sense, where's your conscience?"
Huawei responded to the accusations in state media on Tuesday, saying they were "very disappointed" about the charges, and denying that Huawei, nor its affiliates, had committed violations of US law.
China's Ministry of Foreign Affairs urged the US to revoke its charges against Meng and to "stop the unreasonable suppression of Chinese companies, including Huawei, and to treat Chinese enterprises objectively and fairly."
Meanwhile, on Chinese social media platform Weibo, the hashtag "Huawei responds to US accusations" (#华为回应美国指控#) received some 1,5 million views on Tuesday.
Among hundreds of comments, many netizens express their apparent belief that the United States is using the judicial system in a battle that is actually politically motivated, and that China's rise as a competing technological power plays a major role in this issue.
"America has no confidence in its own technological power anymore, and has come to a point of such weakness that China's technological strength is frightening to them," one commenter named 'Battle Wolf Wang Jie' (@战狼-王杰) said.
"The goal of the US clearly is to suppress Huawei and its 5G technology, it is a fight over leadership," one commenter wrote.
One popular Weibo tech blogging account (@科技阿宽) described the US as "a cornered dog jumping over a wall" ("狗急跳墙"), a Chinese idiom for describing desperate people resorting to desperate measures. This idiom was also used by other Weibo users commenting on the Huawei issue.
"Ever since all the news came out on the Meng Wanzhou arrest I feel like this is Cold War 2.0," a Weibo user named Wei Zhong (@卫中) wrote about the issue: "This arms race in the field of technology can't be avoided, and it will spread to other fields, posing a challenge to America's leading position."
But there are also commenters who want to know more about whether there are reasonable grounds to believe Huawei and Meng actually committed a crime: "So did they, or didn't they?"
"Huawei needs to operate in accordance with international laws, otherwise there will be no end to the trouble," some said, with others adding: "If they did nothing wrong, they shouldn't be afraid to face the Americans."
The editor-in-chief of the Chinese and English Global Times, Hu Xijin (胡锡进), called out those who suggested that the US might have sound legal grounds for the charges, writing on Weibo: "To the Chinese who proclaim today that the American lawsuit against Huawei makes sense, where's your conscience? Have your brains been eaten by the dogs?"
"Was the Canadian Ambassador sacked for speaking the truth?"
The Huawei case news story has been developing and has been a topic of discussion ever since Meng's arrest in December. A social media post issued by Meng shortly after her arrest became one of the biggest trending topics on Weibo of 2018.
The news that former Canadian diplomat Michael Kovrig was detained in Beijing on December 10th of 2018 also generated online discussions on the Huawei issue, with many linking his arrest to Meng's case.
Earlier this week, the dismissal of the Canadian ambassador to China, John McCallum, also became big news.
McCallum's exit was preceded by his different interview comments on the Meng Wanzhou case. He told Chinese-language journalists that Meng had "strong arguments that she can make before a judge," and reportedly told The Star's Joanna Chiu that it would be "great" if the US could drop the request for Meng's extradition.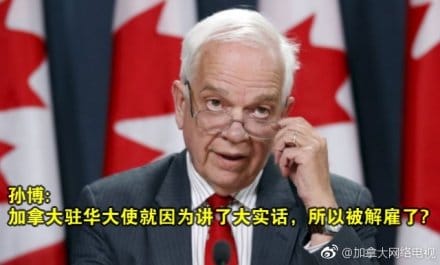 On social media, news of McCallum's dismissal was shared hundreds of times this week. In response to the case, Chinese columnist Sun Bo published an article titled "Was the Canadian Ambassador sacked for Speaking the Truth?" in The Observer (观察者). On Weibo, similar attitudes are expressed, with many arguing that McCallum was punished for simply "expressing his thoughts."
Some netizens argued that McCallum had been "set up" by the interviewer and that he had said nothing wrong. One Weibo user simply argued: "If America would no longer request Meng's extradition, then Canada would not need to detain Meng and would not need to become hostile with China, which would also be better for Canada."
A recurring sentiment expressed by netizens on the issue was that McCallum's dismissal clashed with Canada's "so-called freedom of speech," although there are also other voices stating: "When an ambassador for the government publicly issues their own personal views as they like, they do need to step down."
"He talked about how we should support Huawei, but sent it from his iPhone."
Amid all discussions on Weibo (where some comment threads jumped from having some hundreds comments to "no comments" and then reopened with some hundred comments again), the support for Huawei is one sentiment that stands out.
"I will stand by Huawei," many commenters write across various threads.
"I support Huawei! America and Canada need to set Meng free!"
Others call for a boycott on Apple and American products, urging Chinese netizens to purchase Huawei instead.
There are also some, however, who point out there is some hypocrisy behind some of these statements: "I just saw a 'Huawei defender,'", popular tech blogger 'Keji Xinyi' (@科技新一) writes: "He was talking about how we should support the made-in-China Huawei brand, and that Huawei is China's pride, that Huawei will astonish the world. Then I saw his Weibo post was sent from an iPhone."
Others joke around: "I support Huawei! I use the Honor 7 [device] by Huawei. I absolutely will not buy an iPhone. It's too expensive and I can't afford it."
Jokes aside, the Huawei case is certainly one that will continue to be discussed in many corners of Chinese social media, with many expressing concern on how this case will develop in the future – as it is not likely to blow over any time soon.
"The law will rule based on evidence," some commenters write: "So let's just wait and see."
By Manya Koetse
Spotted a mistake or want to add something? Please let us know through email.
©2019 Whatsonweibo. All rights reserved. Do not reproduce our content without permission – you can contact us at info@whatsonweibo.com
Chinese Construction Worker Left Jobless after Exposing the Dangers of Flimsy Safety Helmets
No one seems willing to hire the day laborer after he exposed the substandard quality of workers' helmets.
First published
A video of a Chinese construction worker showing the shocking difference in quality between the safety helmets of laborers versus those of their supervisors went viral on social media earlier this month. Chinese netizens praised the whistleblowers' push for equal safety standards, but he is now left jobless and ignored.
On April 11, a Chinese day laborer by the name of Dou (窦) published a video on Kuaishou exposing the low-quality safety helmets for frontline construction workers.
In the video (embedded below), Dou shows two helmets. The yellow one, he claims, is the one worn by construction workers. The red one belongs to their supervisors. As he smashes the helmets together, Dou shows how the yellow one is immediately crushed, while the red one remains in perfect condition.
Dou's message was simple and strong: the helmets worn by supervisors are of much higher quality than those of construction workers, exposing them to considerable dangers while working.
The video was viewed at least 100 million times and sparked major online discussions on the safety of Chinese construction workers before it was taken down from video platform Kuaishou on April 18.
At time of writing, the hashtag "The Contrast between the Safety Helmets of Workers and Supervisors" (#工人和领导安全帽对比#) has been viewed 250 million times on social media platform Weibo, where netizens have collectively expressed their sympathies for vulnerable laborers whose "safety first", apparently, is not a priority at many construction sites.
The topic also made headlines in Chinese state media. State-owned broadcaster CCTV investigated the quality of Chinese safety helmets, and discovered that some available construction hats, priced as low as 4 RMB (0.59 U.S.$), did not meet safety standards.
A lawyer quoted by Global Times advocated that China's relevant government departments should launch a campaign to crack down on "inferior helmets" and "clean up illegal products from the source." The state-run newspaper also reported that workers wearing unsuitable helmets was "a norm in the construction industry," according to an industry insider.
China's Ministry of Emergency Management (中华人民共和国应急管理部) released a public statement on Weibo in response to the issue, reminding construction supervisors to abide by legal safety regulations.
But despite the overwhelming support for Dou, the day laborer is now left jobless and worried. In an interview with Chinese media outlet The Paper, Dou says that he can no longer find work since his video has gone viral: "I used to be able to find work every day," he said: "Why can't I find it now?"
In the interview, Dou suggests that his online fame over unequal safety helmet standards has made contractors afraid to hire him: "Even contractors that I used to work for are all declining my services." The situation has left Dou, father to three children, in financial troubles that have forced him to return to his hometown.
When reporters asked Dou why his viral video and earlier videos exposing the flimsy quality of construction hats were taken offline, he reportedly answered: "I need to live." Perhaps hoping to prevent further exclusion from the construction job market, Dou also claimed he had purchased the helmets in the video himself, and that his employer was not to blame.
"In the first few years of our lives we learn how to speak, and then we spend the rest of our lives learning to stay quiet."
News of Dou's predicament has attracted the attention of netizens. Earlier this week, the hashtag "Flimsy Safety Helmet Man Responds" (#脆皮安全帽当事人回应#) received more than 180 million views on Weibo, with many commenters expressing their worries over Dou's situation after addressing serious workplace safety issues.
One Weibo commenter wrote: "If this [unemployment] is the price you pay for speaking the truth, then who is willing to do so in the future?!" Another Weibo user wrote: "If you have nothing to hide, you'd have no problem hiring him."
"In the first few years of our lives we learn how to speak, and then we spend the rest of our lives learning to stay quiet," another commenter wrote.
Despite the public outcry against the injustice suffered by Dou, there are also those who point out that social media discussions can have an actual impact.
Some netizens referred to another incident that occurred last weekend when a video of a woman sitting on the hood of a brand-new Mercedes-Benz went viral.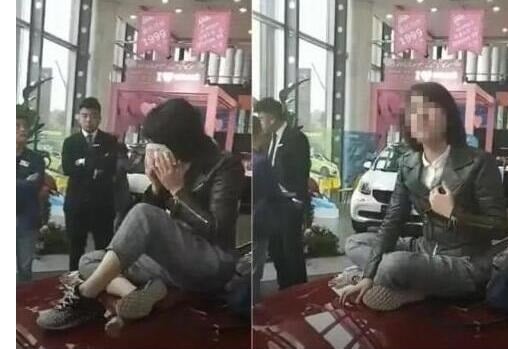 The woman had just purchased the Mercedes, and as the car was still standing in the showroom, it was leaking oil. After the dealer told her that she had to pay for the repairs, she climbed on the hood of the vehicle and, in tears, refused to get down.
A video of her protest immediately went viral, and millions from all over the country expressed their support for the woman. In light of the public controversy, Mercedes launched an investigation and suspended the showroom for violating regulations.
On Weibo, many people take the Mercedes incident as an example of how justice can prevail as long as netizens unite. But whether the power of social media will also have a positive outcome for Dou is yet uncertain. "He probably won't be able to find any work for the time to come," some Weibo users predict.
UPDATE 25 APRIL: Shortly after publishing this article, the hashtag "Flimsy Safety Helmet Man Finds Work" (#脆皮安全帽当事人已找到工作#) has taken off on social media platform Weibo. Dou has received the help of a friend in finding work at a local construction site in Qingdao, the same city where he previously worked.
Spotted a mistake or want to add something? Please let us know in comments below or email us.
©2019 Whatsonweibo. All rights reserved. Do not reproduce our content without permission – you can contact us at info@whatsonweibo.com
Blazing Memories: About the Comparison of the Notre Dame Fire to the Burning of the Old Summer Palace (Op-Ed)
Understanding why the Yuan Ming Yuan went trending in China after the Notre Dame fire.
First published
A What's on Weibo news article on Chinese online responses to the Notre Dame fire attracted very mixed reactions on English-language social media this week.
After the fire at the Notre Dame in Paris earlier this week, What's on Weibo published an article describing Chinese online responses to the devastating blaze, and the ubiquitous comments that compared the destruction of the iconic French cathedral to the burning of the Chinese Old Summer Palace (Yuan Ming Yuan) in Beijing by the Anglo-French army in 1860.
There have been many reactions to this story on various social media platforms. From one side, there were those who questioned why we would even publish an article like that, suggesting that our position in covering this trend was biased. On the other side, there were those who jumped into the discussion, blaming Chinese for playing the victim and ignoring the destruction of old historical buildings or Mosques within their own country over recent years.
The reactions to this article and overall trend show the polarized stances on social issues and media in China, and how to cover them. Some suggested that it was not fair to write down the "negative social media opinions of a few Chinese commenters," saying that it "reflected badly" on China overall, or that they were "irrelevant."
Covering the voices of a few dozen 'trolls' and presenting them as an 'overall sentiment' is not what we do at What's on Weibo.
Some people pointed out that the comparison of the Notre Dame blaze to the burning of the Old Summer Palace was not something that most Chinese agreed with. As also covered in our article, there were indeed many commenters, including historians and Key Opinion Leaders, who opposed to the Yuan Ming Yuan trend in light of the Notre Dame fire.
The fact of the matter still is that the Old Summer Palace became a massive topic of online debate following the Notre Dame fire. Ignoring such a trend in covering Weibo responses to the tragic Paris incident would be a huge blind spot problem.
Instead of condemning these Chinese online responses, ignoring they are there, or trivializing their relevance, it is perhaps more constructive to consider where they come from, and understanding that the history of the Old Summer Palace is still deeply ingrained in the collective memory of the Chinese people and nation.
Before further elaborating on this, let's first go back to the trend itself.
From Notre Dame to Yuan Ming Yuan
As news of the catastrophic fire that engulfed the Notre Dame Cathedral (巴黎圣母院) in Paris on Monday made headlines across the world, the Old Summer Palace (Yuan Ming Yuan 圆明园) suddenly became a trending topic on Chinese social media.
Besides all the people who mourned the destruction of the historic cathedral, and those who posted photos of their previous visits to the scenic spot, there were many Chinese netizens who started addressing the plundering and burning down of the Yuan Ming Yuan ("Garden of Perfect Brightness") in 1860, leading to the Notre Dame and the Old Summer Palace becoming top trending topics on Weibo at the same time.
On April 18, WeChat self-media account Fang Zhouzi (方舟子) wrote about the reaction: "On Chinese internet, a peculiar response started to emerge, as many people suddenly started remembering the burning of the Yuan Ming Yuan by the Anglo-French forces 159 years ago, and thereupon saying that the Notre Dame deserved to be burned."
It is unclear who first drew a comparison between the Notre Dame and the Yuan Ming Yuan, but on April 16, actor Zhou Libo (周立波) wrote on Weibo that "compared to the Yuan Ming Yuan, the Notre Dame is just a garden." A former editor at the Phoenix News Military Channel, Jin Hao (金昊), also published an article on WeChat titled "Mourning it, my ass! I'm pleased with the big fire at Notre Dame" ("哀悼个屁!巴黎圣母院大火,我很欣慰!") (since deleted).
On other social media sites, such as Douban, people also started posting blogs with titles such as "the Notre Dame collapse makes me think of the Old Summer Palace" ("巴黎圣母院的倒塌让我想起了圆明园").
An exploration of search queries on Chinese search engine Baidu shows that at the time when 'Notre Dame' peaks as a query on April 16, so does the term 'Yuan Ming Yuan.' Similarly, on Google Trends, the Chinese query 'Notre Dame' shows the Yuan Ming Yuan Park as the number two related topic in its overview of the past week.
At time of writing, there are dozens of pages on Weibo filled with comments relating to the Notre Dame/Old Summer Palace comparison. We won't list many of them here, but some of the comments include reactions such as: "Now you can also experience how it feels when art and culture are burned," "I might have a narrow sense of patriotism, but seeing the Notre Dame burn makes me happy inside," and "even a hundred Notre Dames still don't make the Old Summer Palace," with many netizens claiming that the loss of the Old Summer Palace was just as bad, or rather worse, than the destruction of the Notre Dame.
These collective responses to the Notre Dame fire also drew much criticism. State media outlet CCTV published an article that condemned the comparison of the Notre Dame and the Old Summer Palace, stating that people "should not vent their emotions in the name of history" (Li Xuefei 2019).
Various other news channels also published critique, including one article titled "The Notre Dame fire as retribution for the burning of Yuanmingyuan? Please stop this inhumane line of reasoning" ("巴黎圣母院大火是烧圆明园的报应?快停下反人类思维").
As covered in our previous write-up, there were also many voices on Weibo denouncing the trend. One of them was Yan Feng (严锋), a professor at Fudan University, who posted:
"The Notre Dame cathedral was constructed in 1163, the Yuan Ming Yuan was destroyed in 1860. The people who burned the Yuan Ming Yuan were not the people who built the Notre Dame of Paris. They were separated by 700 years. The French feudal separatists were in no way French according to modern-day standards. Every injustice has its perpetrator and every debt its debtor, why should you let the Notre Dame bear the responsibility of burning down the Yuan Ming Yuan?"
"First of all, we are people, then we are Chinese," another popular comment said: "The loss of such a historical cultural gem is a loss for all mankind."
Collective Memories of Yuan Ming Yuan
In October of 1860, British and French troops sacked and burned the Old Summer Palace, which was once a massive complex consisting of more than a hundred buildings, pavilions, and scenic spots, built since the 17th century for the Qing emperors.
The event took place at the end of the Second Opium War. Unsatisfied with the Treaty of Nanjing and, among others, demanding more Chinese cities and ports to open for trade, the Anglo-French army invaded Beijing in 1860. They plundered the Yuan Ming Yuan, which was filled with books and art treasures. The burning came afterward, to destroy the evidence of their looting. The fire blazed for three days and three nights, leaving the enormous palace grounds in ruins (Chey 2009, 79).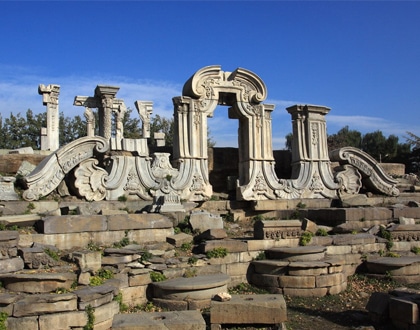 The site of the once magnificent Old Summer Palace is now the Yuanmingyuan Ruins Park, an initiative that was set up in the 1980s after decades of neglect. In "The Ruins of Yuanmingyuan," Haiyan Lee calls the site a "national wound" (2009). It is a symbolic space, where the ruins remind visitors of the injustice China once suffered at the hands of Western powers.
This injustice is an important incident in China's so-called "Century of Humiliation," the time from the mid-1800s to the mid-1900s during which China was attacked, weakened, and torn by foreign forces.
The "Century of Humiliation" still plays an important role in China today, as young people are also taught that this historical consciousness is important. The four character slogan "Wù wàng guóchǐ" (勿忘国耻), "Never forget national humiliation", is frequently repeated in Chinese media, museums, schools, documentaries, and in popular culture.
As described in the insightful work by Zheng Wang, Never Forget National Humiliation, the historical memory of China's era of humiliation has become part of Chinese national identity, promoted in official discourse, and often unconsciously yet profoundly influencing people's perceptions and actions. This is also what collective memory is: an accumulation of memory-forming processes that take place on both conscious and non-conscious levels (Koetse 2012, 10).
The Yuan Ming Yuan Park is a particularly significant cultural heritage site where the remembrance of the humiliations and injuries China suffered at the hands of foreign imperialists comes to life through the ruins (Lee 2008, 169).
Blazing Memories
Collective memory and nations are tied together in many ways, as historical memories serve as an important vehicle to unify the nation. They also play an important part in how people from different communities, societies, or nations will interpret big or important events that happen in the world today.
When certain news makes headlines, it is not uncommon for people to reflect on it speaking from their own experiences and the collective memory of their own nation or bigger community – especially when the place where it happens is far removed from them.
This is not unique to China. To grasp, process, and comment on faraway incidents, it is sometimes easier to relate it to something that is closer to you.
Former American first lady Michelle Obama visited Paris earlier this week for her book tour, and told the audience about how shocked she was about the Notre Dame blaze, briefly comparing the incident to the devastating American 9/11 attacks.* Does it make sense to compare the burning of the Notre Dame to the 9/11 attacks? Perhaps not. Yet Obama was not the only one to raise the 9/11 events; some on Twitter even called the burning of the Notre Dame "a cultural 9/11" disaster.
Seeing the overwhelming responses to the Notre Dame fire on Chinese social media, where so many people linked it to Chinese history, the reaction perhaps should not be whether these online responses and media discussions were either 'good' or 'bad' – instead, it is important to understand where they come from, and how people from various backgrounds, cultures, or religions, often use their own cultural or social frameworks, historical narratives, and dominating ideas to make sense of what is happening around them.
As the Notre Dame trend on Chinese social media shows, but what's beyond the scope of this article, is that the mechanisms of online nationalism and anti-foreign sentiments often also come into play once these memory-machines start running.
In the end, the Notre Dame fire actually has nothing to do with the history of the Old Summer Palace. But the news of the Notre Dame blaze was enough reason for many Chinese netizens to trigger and bring up this memory of Chinese suffering that still exists in the minds of the people today.
Instead of condemning that, or trivializing news reports on these trends, one could try to understand it, and then see it as a completely separate issue from the Notre Dame fire – as many people on Weibo also do.
By Manya Koetse
Recommended reading:
References
Fang Zhouzi 方舟子. 2019. "巴黎圣母院和圆明园有什么关系?" April 18, Fang Zhouzi / Self-Media WeChat link[4.18.19].
Koetse, Manya. 2012. "The 'Magic' of Memory. Chinese and Japanese Re-Remembrances of the Sino-Japanese War (1937-1945)." Research Master thesis, Leiden University.
Lee, Haiyuan. 2009. "The Ruins of Yuanmingyuan – Or, How to Enjoy a National Wound." Modern China 35 (2): 155-190.
Li Xuefei 李雪菲. 2019. "巴黎圣母院火灾怎能与火烧圆明园混为一谈 狭隘的民族主义可休矣." April 16, CCTV,Sina News https://finance.sina.com.cn/roll/2019-04-16/doc-ihvhiqax3118848.shtml [4.18.19].
Ong, Siew Chey. 2009. China Condensed: 5, 000 Years of History & Culture. Singapore: Marshall Cavendish International.
Weatherley, Robert D., and Ariane Rosen. 2013. "Fanning the Flames of Popular Nationalism: The Debate in China over the Burning of the Old Summer Palace." Asian perspective 37(1):53-76.
Zheng Wang. 2012. Never Forget National Humiliation: Historical Memory in Chinese Politics and Foreign Relations. New York: Columbia University Press.
* Segment on Michelle Obama in Paris from Dutch "Talkshow M" of April 17th, 36.00 min.
Spotted a mistake or want to add something? Please email us.
©2019 Whatsonweibo. All rights reserved. Do not reproduce our content without permission – you can contact us at info@whatsonweibo.com.