TikTok CEO Shou Zi Chew Hailed as Asian "Solitary Hero" on Chinese Social Media
After the congressional hearing of the TikTok CEO, some called Shou Zi Chew "Mr. Perfect in the eye of the storm."
While there were enough people on Chinese social media swooning over celebrities this weekend during the Weibo Award Night, there were also many netizens admiring another person, namely Shou Zi Chew (周受资, Zhou Shouzi), the CEO of TikTok.
Earlier this week, Shou Zi Chew appeared before the House Energy and Commerce Committee in the United States, facing a four-and-a-half-hour hearing over data security and harmful content on the TikTok app.
The hearing took place in light of Washington's increasing concerns over TikTok "as a threat to national and personal security," with officials calling for a nationwide ban on the app's U.S. operations – unless Chinese owners sell their stake in the social media platform (more here).
TikTok is a super popular short video app by Chinese company Bytedance, which also runs Douyin, the Chinese counterpart of the international Tiktok app. TikTok has over 150 million users in the U.S. alone.
Being grilled about concerns over China's influence over the Beijing-based Bytedance and China's access to American data, Chew emphasized that ByteDance is a private business and "not an agent of China or any other country."
During the hearing, Chew faced various questions from officials. One clip that was shared a lot on Twitter showed Arizona Republican Congresswoman Debbie Lesko asking Shou Zi Chew:
– "Do you agree that the Chinese government has persecuted the Uyghur population?"
"It's deeply concerning to hear about all accounts of human rights abuse," Shou answered: "My role here is to explain – "
– "I think you're being pretty evasive. It's a pretty easy question. Do you agree that the Chinese government has persecuted the Uyghur population?"
"Congresswoman, I'm here to describe TikTok, and what we do as a platform, and as a platform, we allow our users to freely express their views on this issue and any other issue that matters to them," Shou replied.
– "Well, you didn't answer the question, " Lesko said while interrupting Shou.
Another moment that was widely shared was when Congressman Richard Hudson asked Shou Chew: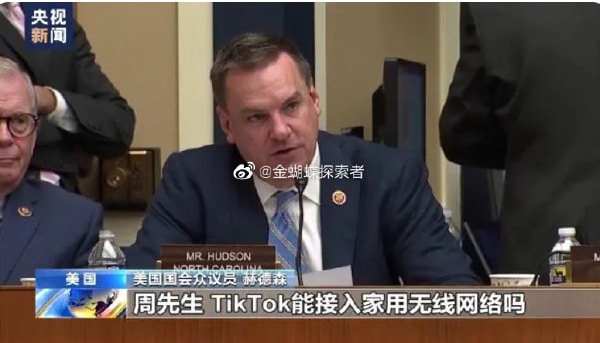 – "Does TikTok access the home WiFi network?"
"Only if the user turns on the wifi," Shou replied: "I'm sorry I may not understand the.."
– "So if I have TikTok on my phone, and my phone is on my home wifi, does TikTok access that network?", Hudson asked.
"It will have to access the network to get connected to the internet, if that is your question."
– "Is it possible then that it can access other devices on that home wifi network?" Hudson asked.
"Congressman, we do not do anything that is beyond any industry norms. I believe the answer to your question is no," Chew replied.
On Chinese social media, the hearing received extensive discussion and analysis.

A "Collective Cursing Activity"

Chinese blogger Chairman Rabbit (兔主席), a conservative political commentator who often comments on US-related issues (read more), analyzed the hearing in a recent blog.
According to Chairman Rabbit, the hearing was a one-way conversation from the Congress side, and was more like a "collective 'cursing' activity" ("一场集体"骂娘"活动") than dialogue, with the American officials not giving Shou the time to reply and basically – and rudely – answering their own questions.
The blogger also suggested that Chew was questioned as if he himself represented the Communist Party of China, even though he is Singaporean and the CEO of a private company. Regardless, the Americans seemed to take this time of questioning Shou as an opportunity to vent their anger at the Party and the Chinese government at large.
The main gist of Chairman Rabbit's blog was shared by many others on social media, with some calling the hearing not much more intelligent than a "kindergarten fight" ("比幼儿园吵架高明不了多少").
One meme making its rounds on Weibo and Wechat showed a photo of Apple CEO Tim Cook in China versus TikTok CEO Shou Zi Chew in the U.S., suggesting that while the Chinese side treated an American tech giant CEO with warmth and kindness, the American side had treated a Chinese tech giant CEO with coldness and paranoia.
Another image circulating on Weibo is a political cartoon by the Singaporean artist Heng that was also published on Twitter by Lianhe Zaobao, the largest Singaporean Chinese-language newspaper.
The image shows the TikTok CEO tied to a tree, and a pile of wood stacked around him. Three 'executioners,' including Uncle Sam, are about to burn Chew at the stake with the help of some "Anti-Chinese Sentiment" fuel.

Shou Zi Chew: Mr. Perfect in the Eye of the Storm

Meanwhile, Chew himself has become super popular on Chinese social media, including on Weibo, Douyin, and Xiaohongshu, where he has become idolized by some ("I won't even compare you with the stars, you're much better than the stars.")
Some bloggers and commenters noted how Chew fits the supposed idea of a 'perfect Asian' by staying calm despite unreasonable allegations and emphasizing business interests over culture. One Weibo user (@老叔开画) called Shou Zi Chew "Mr. Perfect in the eye of the storm."
Mostly, people admire how he stood up against Congress despite being "bullied" by American officials and "defended" China's interests although he is Singaporean himself. Some called him a "solitary hero" ("孤胆英雄").
Then there are those who praise the Singaporean businessman and entrepreneur for his career journey and his work ethic. The now 40-year-old studied in London and graduated from Harvard, he previously worked at Goldman Sachs and Xiaomi, and became the CEO of TikTok at 38 years old.
On the Xiaohongshu app, Chew is mentioned as a source of inspiration on how to remain calm and professional when facing a difficult situation.
Lastly, many fans just think Chew is "charming" and "handsome" – and they focus on details of Chew and his life that have nothing to do with the contents of the hearing. Some Weibo users pointed out how he came to his hearing well-prepared with four bottles of water, others discuss his personal life, including his wife Vivian Kao.

From Weibo to TikTok: Criticism from Two Sides

Besides receiving support from Chinese social media users, Chew's handling of the hearing was also praised on the TikTok app by international users, including many Americans.
One popular Chew quote during the U.S. congressional hearing that came up on TikTok is how Chew said:
"I don't think the [Chinese] ownership is the issue here, with a lot of respect, American social companies do not have a good track record when it comes to data security and privacy, just look at Facebook and Cambridge Analytica – and that's just one example."
Another popular quote was Chew defending TikTok, saying:
"There are more than 150 million Americans who love our platform, and we know we have a responsibility to protect them, which I'm making the following commitments to you and all our users. Number one: we will keep safety, particularly for teenagers, as a top priority for us. Number two: we will firewall protect the U.S. data from unwanted foreign access. Number three: TikTok will remain a place for free expression and will not be manipulated by any government. And fourth, we will be transparent and we will give access to third-party independent monitors to remain accountable for our commitments."
Many TikTok users are not just fond of the app – and do not want it to get banned, – they also criticize the U.S. officials for how they handled the hearing, with their lack of technological knowledge and unfamiliarity with the TikTok app shining through in their questions.
Some TikTok creators suggested that the officials missed an opportunity to gain actual knowledge of TikTok's data handling, and should have asked things like (suggested by TikTok user @sharonsaysso):
– "Are you collecting any passive data from the back end of the phones, even if the person isn't logged in?"
– "How long are you storing this data for?"
– "What data is being passed to advertisers?"
– "If a user would like to have their data expunged from your systems, is there a process in place with them to easily and fairly quickly have that done?"
– "Have you ever willingly or unwillingly relinquished any of your user data to the government of China or any other country?"
– "Please explain in detail what elements your algorithm considers in its optimization process?"
After American media outlet NBC reported about how TikTok users declared their support for the platform and its CEO after the hearing, screenshots of the article were also shared on Chinese social media.
Chinese political commentator Hu Xijin (@胡锡进) wrote a lengthy post about the TikTok hearing on Weibo, and he also criticized how Chew was facing questions that were already framed and filled with "imaginary accusations" against China.
Hu Xijin and others do not necessarily hail Chew as a "hero," but instead point out the arrogance and biased approach taken by U.S. official during the hearing.
"They give a dog a bad name and hang him," some say, with others agreeing that this matter is no longer about the actual facts regarding TikTok's operations, but about how American authorities have already set their agenda on how TikTok content is problematic and how the app is controlled by Beijing and cannot guarantee the security of U.S. users' data and privacy.
Some commenters are already predicting the outcome of this matter: "You should prepare for the possibility of being banned or forced to sell."
Watch a video of the hearing on YouTube here.

By Manya Koetse 
With contributions by Miranda Barnes and Zilan Qian
Get the story behind the hashtag. Subscribe to What's on Weibo here to receive our newsletter and get access to our latest articles:
Spotted a mistake or want to add something? Please let us know in the comments below or email us. First-time commenters, please be patient – we will have to manually approve your comment before it appears.
©2023 Whatsonweibo. All rights reserved. Do not reproduce our content without permission – you can contact us at info@whatsonweibo.com.
Tick, Tock, Time to Pay Up? Douyin Is Testing Out Paywalled Short Videos
Is content payment a new beginning for the popular short video app Douyin (China's TikTok) or would it be the end?
The introduction of a Douyin novel feature, that would enable content creators to impose a fee for accessing their short video content, has sparked discussions across Chinese social media. Although the feature would benefit creators, many Douyin users are skeptical.
News that Chinese social media app Douyin is rolling out a new feature which allows creators to introduce a paywall for their short video content has triggered online discussions in China this week.
The feature, which made headlines on November 16, is presently in the testing phase. A number of influential content creators are now allowed to 'paywall' part of their video content.
Douyin is the hugely popular app by Chinese tech giant Bytedance. TikTok is the international version of the Chinese successful short video app, and although they're often presented as being the same product, Douyin and Tiktok are actually two separate entities.
In addition to variations in content management and general usage, Douyin differs from TikTok in terms of features. Douyin previously experimented with functionalities such as charging users for accessing mini-dramas on the platform or the ability to tip content creators.
The pay-to-view feature on Douyin would require users to pay a certain fee in Douyin coins (抖币) in order to view paywalled content. One Douyin coin is equivalent to 0.1 yuan ($0,014). The platform itself takes 30% of the income as a service charge.
According to China Securities Times or STCN (证券时报网), Douyin insiders said that any short video content meeting Douyin's requirements could be set as "pay-per-view."
Creators, who can set their own paywall prices, should reportedly meet three criteria to qualify for the pay-to-view feature: their account cannot have any violation records for a period of 90 days, they should have at least 100,000 followers, and they have to have completed the real-name authentication process.
On Douyin and Weibo, Chinese netizens express various views on the feature. Many people do not think it would be a good idea to charge money for short videos. One video blogger (@小片片说大片) pointed out the existing challenge of persuading netizens to pay for longer videos, let alone expecting them to pay for shorter ones.
"The moment I'd need to pay money for it, I'll delete the app," some commenters write.
This statement appears to capture the prevailing sentiment among most internet users regarding a subscription-based Douyin environment. According to a survey conducted by the media platform Pear Video, more than 93% of respondents expressed they would not be willing to pay for short videos.
"This could be a breaking point for Douyin," one person predicts: "Other platforms could replace it." There are more people who think it would be the end of Douyin and that other (free) short video platforms might take its place.
Some commenters, however, had their own reasons for supporting a pay-per-view function on the platform, suggesting it would help them solve their Douyin addiction. One commenter remarked, "Fantastic, this might finally help me break free from watching short videos!" Another individual responded, "Perhaps this could serve as a remedy for my procrastination."
As discussions about the new feature trended, Douyin's customer service responded, stating that it would eventually be up to content creators whether or not they want to activate the paid feature for their videos, and that it would be up to users whether or not they would be interested in such content – otherwise they can just swipe away.
Another social media user wrote: "There's only one kind of video I'm willing to pay for, and it's not on Douyin."
By Manya Koetse
Get the story behind the hashtag. Subscribe to What's on Weibo here to receive our newsletter and get access to our latest articles:
Spotted a mistake or want to add something? Please let us know in comments below or email us. First-time commenters, please be patient – we will have to manually approve your comment before it appears.
©2023 Whatsonweibo. All rights reserved. Do not reproduce our content without permission – you can contact us at info@whatsonweibo.com.
Too Sexy for Weibo? Online Discussions on the Concept of 'Cābiān'
Delving into the ongoing discussion on 'cābiān' and its influence on women's expression in China's digital realm.
Chinese social media is seeing more discussions recenty on the blurred boundaries of Cābiān. This seemingly never-ending discussion raises questions – not just about sexually suggestive content, but also about the evolving perceptions of women's bodies and freedom in the digital age.
In the fast-moving world of China's internet, a new term has emerged: Cābiān (擦边). Originally a sports term describing a ball grazing the edge of a table (擦边球), it now primarily refers to the delicate balance in content that may be seen as sexually suggestive, teetering on the line between 'sexy' and 'sexually explicit' in the context of China's internet culture.
The term mainly refers to women's behavior, style, language, and actions that are considered inappropriate or that are pushing the boundaries of acceptability. Cābiān can be understood as borderline sexual content that basically navigates the boundaries of platform rules without actually breaking them. Nevertheless, is generally seen as 'not in line' with what is expected of Chinese women in today's society.
This term has sparked controversy recently, prompting fervent debates surrounding its implications for women's self-expression.

Too Sexy for Weibo? Jingchuan Liyu's Divisive Pictures

Social media plays a central role in the "cābiān" debate. A recent example involves a Weibo post by Jingchuan Liyu (井川里予, @悲伤荷包蛋), a prominent Chinese influencer active on Weibo and Xiaohongshu.
Jingchuan Liyu is known for embodying both innocence and sensuality in her online persona. Mainly by male netizens, she has been labeled as a symbol of "chúnyù" (纯欲). This term signifies a blend of childlike innocence (纯洁, chúnjié) and allure (欲望, yùwàng).
Jingchuan Liyu became a focal point in the cābiān debate when she posted a series of photos during the summer of this year. While these photos didn't violate any official guidelines, they departed from her typical "innocent yet sexy" style. In these pictures, she was seen wearing thongs and other undergarments, which apparently made some social media users uneasy.
The controversy surrounding the photos intensified when Jingchuan Liyu responded to these criticisms on her Weibo page. While her supporters defended her freedom to dress as she pleases, others viewed her photos as being more about provocative sexual suggestion than about freedom of fashion.

Dog-Headed Lolita: Judged, Harassed, and Labeled Cābiān

Beyond online debates, the condemnation of "cābiān" is also having real-world consequences. One recent example is the case of the Chinese influencer known as Dog-Head Lolita (狗头萝莉 @我是狗头萝莉).
Despite having a problematic childhood, 'Dog-Head Lolita' managed to turn her life around and became a successful streamer. But her reputation suffered a severe blow when explicit videos of her, recorded by her ex-boyfriend, were made public.
This incident and its aftermath damaged her career and, partly due to getting cheated by her manager, was left with a staggering debt of 6 million RMB ($836K). Trying to start an alternative career, Dog-Head Lolita took up selling Chinese pancakes (jiānbǐng 煎饼) at a street stall as a means to make a living and work towards repaying her debts.
In addition to her physical labor, she also posted short videos of herself selling pancakes online and continued to livestream and engage with her followers to generate more income.
While her efforts garnered sympathy and admiration from some netizens, she also faced accusations of using her pancake-selling business as a form of cābiān.
Her choice of attire, which emphasized her figure, became a central topic of discussion. Some netizens raised questions about whether her videos, showcasing her interactions with fans while selling pancakes, carried a sexual undertone. Moreover, there were arguments suggesting that her true business wasn't selling pancakes but rather producing sexually suggestive content.
Some critics of Dog-Head Lolita went further and turned online criticism into harassment. Some filed reports regarding the hygiene conditions of her business, while others intentionally vandalized her pancake cart and left insulting messages on it.
Facing this harassment linked to accusations of being cābiān, Dog-Head Lolita voiced her frustration on her Weibo page.
She emphasized that her physique was something beyond her control and that selling pancakes shouldn't be judged in the same way as her previous online presence. She complained that her livelihood was being scrutinized, even in the most ordinary and innocuous settings.

Challenging the Concept of Cābiān

Defining the precise boundaries of what is and is not cābiān is not easy, as it has become a catch-all term for anything remotely sexually suggestive, erotic, or resembling "soft pornography."
While the distinction between suggestive and non-suggestive content remains hazy, new voices have emerged to challenge the very idea of "cābiān."
Some believe that cābiān is a societal construct imposed on women, rather than an intrinsic concept. They argue that before the term "cābiān" gained popularity, suggestive pelvic dances were widespread in China due to the prevalence of K-pop boy groups, and male celebrities could appear shirtless and flirtatious on TV without anyone accusing them of "cābiān."
But when it comes to women, the standards of cābiān can be unclear and are often unforgiving. This term is used not only to regulate their clothing choices but also their behavior or even facial expressions—essentially, anything a woman might do.
Once a female online influencer is seen as attractive and desireable, she seemingly becomes more prone to be labeled a "cābiān nǚ" (擦边女) – a woman who is seen as flaunting her sensuality within the context of social media and online platforms.
If this trend of labeling people as sexually suggestive continues, "cābiān" might turn into an unclear social rule, resulting in ongoing moral judgments of women, especially female online influencers.
On the other hand, some netizens see the increasing acceptance of women displaying their bodies in a sensual manner as a form of female empowerment.
One notable Weibo by 'Wang'ede' (@王饿德) post that gained a lot of attention suggested that there is a distinction between how others interpret women's bodies and how women themselves perceive it. The post asserts that revealing skin and wearing "sexy" clothing can be a proactive expression of women's own desires and confidence rather than solely meaning to please a male audience.
This active pursuit is seen as a form of 'decolonization' of the traditional patriarchal gaze— it's described as "a reevaluation of women's bodies by women themselves that allows us to reclaim ownership of our bodies," as stated by the author of the post.

Neverending Discussions

As the debates continue, Weibo users are noticing a deadlock in these online discussions. Conversations about the who, what, and why of cābiān are recurring and appear to be never-ending.
In 2019, a significant debate arose concerning the attire worn by actress Rayzha Alimjan. In 2022, controversies revolved around busty women. There was also a cyberbullying incident involving a mother who had recently lost her son in a car accident and faced criticism for wearing elegant clothing and makeup (read). Most recently, there has been a series of new discussions, ranging from criticizing the latest TV drama starring singer/actress Lai Meiyun and onwards.
Contemplating this phenomenon, some internet users are thinking about the evolution of Jingchuan Liyu's style. A decade or two ago, her aesthetic might have been categorized as 'emo,' 'alternative,' or just seen as a form of decadent beauty. However, nowadays, it is quickly subjected to examination to determine whether or not it falls into the category of cābiān.
In the eyes of many Chinese netizens, this trend is seen as a discouraging step backward. Influential bloggers repost their previous cābiān-related Weibo posts from years or even just months ago, highlighting the seemingly futile nature of these discussions.
Who will be the next woman to be branded as cābiān? Will she face online insults and offline harassment? On Weibo, some express their exhaustion at being stuck in this repetitive loop, engaging in similar debates time and time again.
Perhaps it is time to reevaluate the term "cābiān" and engage in more meaningful discussions about women's bodies and their freedom in China. As one netizen put it on Weibo: "Maybe we should redirect this energy toward discussions that genuinely promote progress instead of endlessly revisiting these cyclic debates."
By Ruixin Zhang
edited for clarity by Zilan Qian & Manya Koetse
Get the story behind the hashtag. Subscribe to What's on Weibo here to receive our newsletter and get access to our latest articles:
Spotted a mistake or want to add something? Please let us know in comments below or email us. First-time commenters, please be patient – we will have to manually approve your comment before it appears.
©2023 Whatsonweibo. All rights reserved. Do not reproduce our content without permission – you can contact us at info@whatsonweibo.com.
Subscribe to our newsletter
Stay updated on what's trending in China & get the story behind the hashtag
Sign up here to become a premium member of What's on Weibo today and gain access to all of our latest and premium content, as well as receive our exclusive Weibo Watch newsletter. If you prefer to only receive our free newsletter with an overview of the latest articles, you can subscribe for free here.
Would you like to become a contributor, or do you have any tips or suggestions for us? Get in touch with us here.